It's hard to imagine there are many major studio films left from 1970 onwards that have yet to receive a home video release, much less one with talents like Paul Newman and Joanne Woodward involved. Twilight Time has unearthed one of them this month, at last giving the oddly-titled THE EFFECT OF GAMMA RAYS ON MAN-IN-THE-MOON MARIGOLDS (101 mins., 1972, PG) a domestic home video release 46 years after its theatrical debut.
Paul Zindel's play of the same name won the Pulitzer Prize in 1971 and was quickly snapped up by Newman as a vehicle for wife Woodward. Shot in and around the Bridgeport, Connecticut area, Woodward plays Beatrice Hunsdorfer, a hard-edged widow in a blue collar town trying to raise her two girls – already-troubled Ruth (Roberta Wallach, Eli's daughter) and younger, promising Matilda (the Newmans' own daughter, Elinor, billed as Nell Potts), who takes care of the family's pet rabbit and enters her flowers into a school science fair.
Newman produced and directed what's essentially a three character piece, expanded slightly here by the great, veteran screenwriter Alvin Sargent. Sort of like a "Northeast Tennessee Williams," "Effect" gives Woodward (in a stage role originated by Swoosie Kurtz) a plum part as the overbearing, pathetic matriarch of two girls already on divergent paths – one of whom is already damaged and seems destined for a troubled existence, while the younger Matilda is eternally, but quietly, optimistic in spite of the family's miserable circumstances. The movie plays out sadly and expectedly – there's no real happy ending for any of these characters, though one is left with the hope that Matilda (superbly played by the young Newman in the movie's best performance) might beat the odds in spite of the hand she's been dealt.
An interesting if decidedly one-note drama that captures time and place effectively, I had seen "Effect of Gamma Rays…" on television at some point while I was in high school, so the film hasn't been entirely out of circulation since Fox released it in 1972. Still, the film has never even received VHS distribution, making Twilight Time's new limited-edition Blu-Ray its first exposure outside a random TV broadcast over the years. This is a wonderfully detailed, fresh-looking 1080p (1.85) scan of the film, offering strong colors and high detail. Maurice Jarre's extremely low-key, dour score is the sort of thing Newman's later collaborator Henry Mancini was generally more effective at, but it serves its purpose, and is also isolated in a music/effects track. A rough looking theatrical trailer is also included.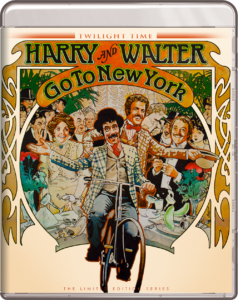 HARRY AND WALTER GO TO NEW YORK Blu-Ray (111 mins., PG, 1976): If you want to impress your friends with your vast knowledge of film trivia, ask them "which film nearly bankrupt Columbia Pictures?" If they aren't serious buffs, they're unlikely to know that the answer was this mondo-expensive 1976 period comedy, which forced Columbia at the time to enter into co-production partnerships with other companies for several years until the studio was back in the clear (one reason, for example, why Columbia co-produced "Close Encounters of the Third Kind" with England's EMI).
All these years later, "Harry and Walter Go to New York" is an interesting misfire that Twilight Time has brought to Blu-Ray for the first time, preserving the original Panavision cinematography of Laszlo Kovacs in high definition.
Elliott Gould and James Caan play a pair of traveling comics in the late 1800s who end up in prison after being arrested for fraud. There, they meet up with master English thief Michael Caine, who informs them of his plan to break into a New York safe — plans which Caan and Gould use on their own after escaping. In New York (meticulously recreated on sets designed by Harry Horner), the duo meet up with suffragette Diane Keaton, improbably fall in love with her, and have to deal with Caine himself after he gets out.
"Harry and Walter" certainly has the look of quality (plus a nice score by David Shire), but the problem with the movie is the same as it was in 1976: it just isn't funny. Mark Rydell's film is most definitely an admirable attempt at producing an old-fashioned, purely comic romp, but the John Byrum-Robert Kaufman script is relentlessly one-note, despite hard work put in by the cast and crew. As has been discussed over the years, the film's haphazard editing didn't help matters, either. Director Rydell and the stars complained that many scenes that would have given the film shape were left on the cutting room floor, making the final cut seem awfully disjointed (which it certainly does, most noticeably in the first hour).
Twilight Time's commendable Blu-Ray offers a 1080p (2.35) AVC encoded presentation in keeping with Sony's typically strong catalog transfers. The single channel DTS MA mono audio is fine, with the trailer and a new commentary with TT's historian group of Eddy Friedfeld, Lee Pfeiffer and Paul Scrabo on-hand. Despite its flaws, TT's Blu-Ray comes recommended for fans of Caan, Caine, Keaton and Gould – or for die-hard movie buffs interested in a movie that's an interesting footnote to '70s cinema history.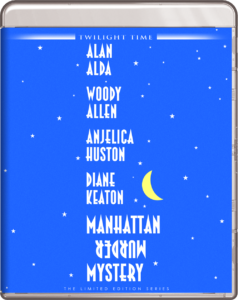 MANHATTAN MURDER MYSTERY Blu-Ray (107 mins., 1993, PG): After the strident "Husbands and Wives," Woody Allen decided to shift gears back to comedy for "Manhattan Murder Mystery," reteaming him with Diane Keaton in the story of a long-married couple who've hit the wall – but find new inspiration in the mystery surrounding the death of one of their recently moved-in neighbors. With an assist from friends Alan Alda and Anjelica Huston, the duo track the shady older man who's wife has just passed, leading to a particularly engaging finale. Somewhat overpraised by critics at the time as a throwback to Woody's "lighter" films, "Manhattan Murder Mystery" is stuck in first gear for a while, with Allen's insecurities manifesting themselves through Keaton's friendship with Alda. This part of the film feels worn-out to a degree despite the amiable performances, but the second hour – when the various "mystery" components start to gel – is engaging enough. Twilight Time's now-available Blu-Ray offers a satisfying 1080p (1.85) Sony-licensed transfer (this was the second of two films he produced for Tri-Star after departing Orion, and prior to his association with the Weinsteins), clear DTS MA mono sound, the trailer, and an isolated music/effects track.
THE INCIDENT Blu-Ray (99 mins., 1967): Tony Musante and Martin Sheen play New York City thugs who decide to inexplicably harass and terrorize a succession of passengers on a subway bound for Grand Central Station in this 1967 Fox release. Performed on an alternately effective or overbearing scale by a diverse cast of Hollywood vets and newcomers alike (you get everyone from Donna Mills to Thelma Ritter, Brock Peters, Jack Gilford, Ruby Dee and Ed McMahon!), "The Incident" is an interesting product of a changing time for Hollywood studios in the late '60s, starkly shot in black-and-white by Gerald Hirschfeld and director Larry Peerce, with Nicholas Baehr adapting a story that had been filmed earlier for television. A crisp 1080p (1.85) transfer and DTS MA 1.0 mono sound comprise Twilight Time's Blu-Ray, capped by an isolated music/FX track of Charles Fox's score, a new commentary with Peerce and Nick Redman, and the original trailer.
---
Also New & Noteworthy
THOR: RAGNAROK 4K UHD Combo Pack (***, 130 mins., 2017, PG-13; Marvel/Disney): After a rousing, Kenneth Branagh-directed first installment and a tepid, uninspired second go-around, Thor (Chris Hemsworth) settles into firmly comedic territory – and is all the more entertaining for doing so – in his third "solo" outing. This time out, the disposable plot has Thor and brother Loki (Tom Hiddleston) trying to stop the sister they never knew, Hela (Cate Blanchett), while being imprisoned on a desolate planet overseen by a goofy emperor (Jeff Goldblum) who's also holding a certain green-skinned Avenger hostage as well.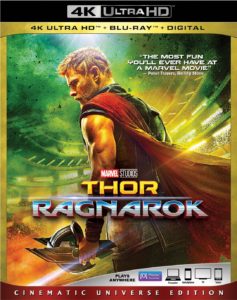 Director Taika Waititi brings a goofy sensibility to "Ragnarok," which works hard to implement, and then sustain, its own '80s-centric charm (complete with synth overlays from composer Mark Mothersbaugh) while bouncing around a fantasy with plenty of enjoyable characters. Tessa Thompson makes a strong debut as Valkyrie while returning faces from the prior Thor adventures (Anthony Hopkins, Idris Elba) and several amusing surprise cameos add even more amusement to the adventure. It's ultimately too long and probably too lightweight to really score, but "Ragnarok" is mostly positioned, thankfully, as its own vehicle and doesn't have a list of Marvel "tie-in" boxes to check off as it confidently presents fans with one of the most entertaining of the company's standalone films.
4K Rundown: With its candy-coated visuals (a far cry from the drab visuals of "Thor: The Dark World"), "Ragnarok" looks smashing on Blu-Ray and even more fetching with its HDR enhancements on 4K UHD. Disney's combo pack houses both presentations with dynamic 2.39 transfers plus either Dolby Atmos or Dolby TrueHD sound that's always active with directional effects. Extra features include deleted scenes, a gag reel, commentary from Waititi, and a group of featurettes.
COCO 4K UHD Combo Pack (***, 105 mins., 2017, PG; Disney): Saving us from a year filled with endless reboot/recyclings and super-hero films, Pixar's delightful if overlong "Coco" proves that someone in Hollywood is still coming up with fresh viewing experiences for audiences.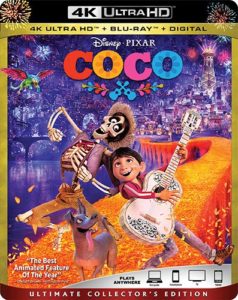 "Coco" follows a young boy named Miguel as he travels through a magical netherworld meeting the family he never knew – spirits of ancestors who make him understand, among other things, why his living family continuously thwarts his interest in playing music. Mexican culture is colorfully – and spectacularly – rendered in this enormously appealing film, which is sabotaged only by Pixar's usual overstuffing of plot elements, one of which – a murder that's been covered up for decades – seems a tad inappropriate given the otherwise family-friendly adventure being told here.
4K Rundown: Disney's 4K UHD presentation of "Coco" is enormously impressive, but so is the label's Blu-Ray, both of which render the movie's stunning animation in 2.39 widescreen. "Coco" does offer HDR enhancements but I did not detect a massive amount of difference between the two presentations, both of which replicate Pixar's peerless art direction in flawless form on home video. Nor is there any difference I could hear between the Dolby Atmos (4K) and DTS MA 7.1 (Blu-Ray) soundtracks, either of which offer active surrounds and Michael Giacchino's score. Extras include a commentary from director Lee Unkrich and fellow crew, over a half-hour of storyboarded deleted scenes, trailers, nearly two hours of short featurettes, a Blu-Ray and Digital HD copy.
MURDER ON THE ORIENT EXPRESS 4K UHD Combo Pack (**, 114 mins., 2017, PG-13; Fox): Director Kenneth Branagh puts the heavy accent (no pun intended) on star Kenneth Branagh's plum role of Detective Hercule Poirot in this forgettable new take on Agatha Christie's oft-adapted novel.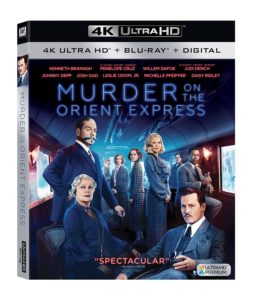 Although he utilizes Christie's list of suspects as fodder for an all-star supporting cast – Willem Dafoe, Penelope Cruz, Judi Dench, Josh Gad, Michelle Pfeiffer, Daisy Ridley, and Leslie Odom Jr. among them – Branagh vainly reworks the material as less of an ensemble piece (as Sidney Lumet's 1974 film was) and more a showcase for Poirot, even going so far as to set up the ending as a "franchise" for himself in the film's concluding frames!
Throughout, this Ridley Scott production also feels too contemporary in its casting and artificial in its visual gloss, with Branagh tediously using the same exterior shot of the train car over and over again. Johnny Depp also fails to register as the story's antagonist, while Michael Green's script sticks closely enough to the source so that anyone familiar with it will find no surprises at all. Ultimately, it's hard not to think buying a boarding pass for the 1974 version isn't still a much better idea.
4K Rundown: Fox's 4K UHD presentation of the 2017 "Orient Express" looks nice though the use of HDR tends to accentuate the movie's overly digital appearance. The Dolby Atmos audio is serviceable though the muddled accents are sometimes garbled in their delivery here. Extras on the Blu-Ray include deleted scenes, commentary from Branagh and Green, a handful of featurettes and a Digital HD copy.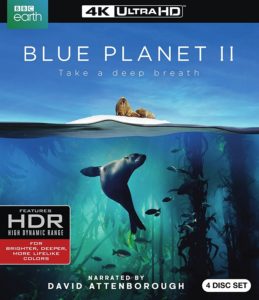 BLUE PLANET II 4K UHD Combo Pack (360 mins., 2017; BBC): If you're looking for the kind of superb, beautifully detailed visual eye candy that you can take out and use as "demo material" for prospective 4K owners, hunt no further than BBC's release this week of "Blue Planet II."
This David Attenborough-hosted follow-up to the original "Blue Planet" takes viewers above and below the sea for an examination of the oceanic world over some seven episodes — One Ocean, The Deep, Coral Reefs, Big Blue, Green Seas, Coasts and Our Blue Planet – all in spectacular 4K clarity. HDR highlights so many frames here that picking out one portion is a difficult task – greens, blues, the highlights on various fish and fowl are brilliantly detailed in every facet, making for the kind of release you're likely to get repeated viewing from.
BBC's 4K UHD is out this week with HVEC encoded (1.85) imagery that's spectacular from start to finish. The DTS MA 5.1 audio is perfectly serviceable though George Fenton's talents are missed on the musical side, as the "Hans Zimmer & Friends" score is generic and right along the lines of their soundtrack for "Planet Earth II."
---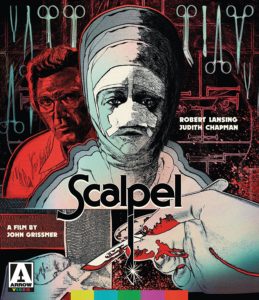 Arrow New Releases
Don't let the title or Arrow's artwork fool you: John Grissmer's SCALPEL (95 mins., 1976) isn't a horror movie but rather an entertaining Southern gothic thriller with fleeting moments that remind you of its low-budget genre origins. Robert Lansing gives a well-modulated, mostly low-key performance as a surgeon left out of a family inheritance, who "recreates" his wayward daughter's appearance in the guise of an amnesia-ridden stripper (Judith Chapman) who's been beaten to a pulp. The duo carry out their plan to cash in on a cool multi-million inheritance, at least until Lansing's real daughter shows up.
"Scalpel" is compelling, leisurely and well-acted across the board. Grissmer also produces some superb special effects when Chapman embodies both roles, and winds the material up with a satisfying ending. Aside from a couple of tawdry passages, this is an effective little thriller that's worth catching in Arrow's Blu-Ray. Presented in a 2K restoration in both "Arrow's color grade" as well as an excessively warm tint approved by cinematographer Edward Lachman (who's since worked on major projects like "Erin Brockovich"), "Scapel" fits the bill for B-movie fans, and extensive extras include interviews with Chapman, Grissmer, Lachman, the trailer, an image gallery, and commentary from critic Richard Harlan Smith.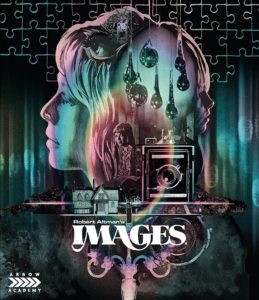 Coming later this March from Arrow is the highly anticipated Blu-Ray release of Robert Altman's IMAGES (101 mins., 1972, R), the twisty and downright disturbing tale of a children's author (Susannah York) seeing visions of a doppelganger and various apparitions of her husband and dead lover – even after her spouse sends her away for a vacation in the Irish countryside. Vilmos Zsigmond's widescreen lensing and John Williams' off-kilter score make this one-of-a-kind Altman project worth seeing, though Arrow's Blu-Ray does include a couple of instances of next-generation dupe materials spliced into its label-exclusive, 4K original camera negative restoration (2.35). The mono PCM sound is fine with extras including commentary from critics Samm Deighan and Kat Ellinger, Altman's vintage scene-select commentary, an archive featurette with Altman and Zsigmond, a new interview with actress Cathryn Harrison, Stephen Thrower's appreciation and the original trailer.
Finally, Jean-Luc Godard shifted gears in the late '60s to craft a series of politically-motivated films with critic Jean-Pierre Gorin. Arrow's elaborate, five-film Blu-Ray box-set GODARD + GORIN: FIVE FILMS 1968-71 houses a quartet of these 16mm-shot collaborations between the duo, all preserved in high-definition (1.37) transfers from the label. Included are "A Film Like Any Other" (a look at the social upheaval of 1968), "British Sounds" (life at a UK auto factory), "Wind From the East" (a "loosely connected leftist western"), "Struggles In Italy" (a look at an Italian woman putting her political theories into practice), and "Vladimir and Rosa," a comic-reportage on the Chicago Eight story. Long out of print, these films show Godard's evolving radicalization in cinematic form, with ample supplements including a 2010 interview with Godard; historian Michael Witt on the films in this collection; a 1971 Schick commercial Godard produced; a 60-page booklet with Witt's essay and vintage texts by Godard, both appearing in English for the first time; archival interviews with Godard and Gorin; and DVD platters for good-measure.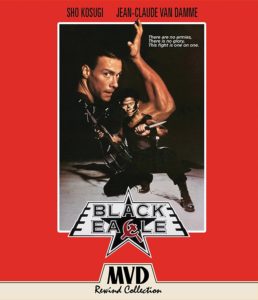 BLACK EAGLE Blu-Ray/DVD (93/104 mins., 1988; MVD): If you haven't heard of this 1988 teaming of Sho Kosugi and Jean-Claude Van Damme, you're not alone – this lackluster espionage thriller basically wastes the talents of both action stars as it spins a sluggish spy story involving a downed American fighter in the Mediterranean and the race to obtain its top-secret laser. Kosugi is the CIA op trying to stop the KGB including tough guy JCVD from getting their grubby hands on it, but complications also abound with Sho's kids (Kane and Shane) being kidnapped by the bad guys.
This Malta-lensed outing is tough going, with most of the participants looking like they got involved for a summer vacation with the movie itself an afterthought. This is especially true in the seemingly unnecessary involvement of Kosugi's real-life sons, while director Eric Karson never gains traction in providing the viewer with entertainment before a serviceable climax finally ensues between Kosugi – coming to the end of his starring vehicles – and Van Damme, who was just about to break out in leading roles of his own.
Still maybe worth a look for genre junkies, MVD has produced another superb Blu-Ray/DVD package with this latest entry in their "Rewind Collection" series. Both the movie's theatrical version (the preferred way to go) and a longer Director's Cut are included, each in respectable if noise-reduction riddled 1080p (1.78) transfers with PCM 2.0 stereo audio (the theatrical cut also includes a 5.1 Dolby Digital option). Copious extras include new interviews with Sho and Shane Kosugi, Karson, the writers, and many others, plus deleted scenes, the trailer, a poster reproduction and a featurette on working with the infamous Van Damme.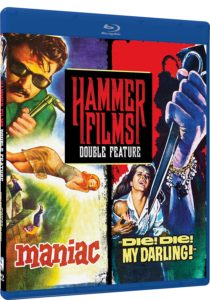 Mill Creek New Releases: Mill Creek continues to release a series of satisfying, affordably-priced Blu-Rays, with an exciting Charles Bronson set due out next month. In the meantime, a pair of new HAMMER FILMS DOUBLE FEATURE Blu-Ray releases should delight horror fans as they pair four Columbia-released Hammer productions.
Offering two titles that were previously part of Sony's "Icons of Suspense" Hammer DVD anthology, one set here pairs up the Kerin Matthews vehicle MANIAC (87 mins., 1963) with the full-color DIE! DIE! MY DARLING! (97 mins., 1965), the latter a "Psycho"-like effort scripted by Richard Matheson, starring Tallulah Bankhead, Stefanie Powers, and a young Donald Sutherland. Both transfers look quite good, "Maniac" in 2.35 B&W and "Die! Die! My Darling!" in 1.78, each backed with uncompressed PCM soundtracks.
Mill Creek's other Blu-Ray offering includes the U.S. Blu-Ray debut of one of Hammer's better non-horror outings, the thriller SCREAM OF FEAR! (82 mins., 1961) starring Susan Strasberg and Christopher Lee, plus NEVER TAKE CANDY FROM A STRANGER (82 mins., 1960), a widescreen (2.35) programmer from 1960 that was also a part of the "Icons of Suspense" set years back. "Scream of Fear," meanwhile, was previously issued as part of Columbia's DVD-R program, and looks solid here in a 1080p (1.85) AVC B&W encode.
The low price and decent quality of both discs should make these immeasurably appealing for Hammer films.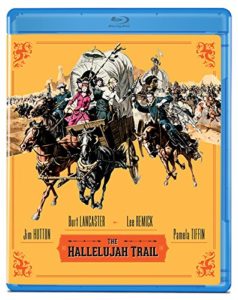 Olive New Releases: New from Olive on Blu-Ray this month are a pair of MGM licensed catalog titles. THE HALLELUJAH TRAIL (**½, 155 mins., 1965) is an overlong western-comedy from director John Sturges, offering Burt Lancaster, Lee Remick, Jim Hutton, Pamela Tiffin plus Donald Pleasence, Brian Keith and Martin Landau in a Cinerama presentation that has long held a cult following (my parents were fans way back when). Elmer Bernstein's joyful score is one of the film's strongest assets but one needs to be a big genre fan to be able to make it through the film's sprawling 2½ -hour running time. Olive's Blu-Ray offers the full "roadshow" version with Overture, Intermission and Exit Music, all in DTS MA 2.0 stereo – but the transfer is a real disappointment. This 1080p (2.35) AVC encode looks to have been derived from a standard-definition source, displaying jagged lines around objects and a lack of detail that are the telltale signs of an upscaled presentation. For that reason, caveat emptor as they say (a trailer is the sole extra).
Dennis Quaid's gonzo performance, meanwhile, as rock 'n roll legend Jerry Lee Lewis is one of the main reasons to revisit Jim McBride's uneven biopic GREAT BALLS OF FIRE (**, 108 mins., 1989, PG-13). This 1989 Orion box-office disappointment also stars Winona Ryder as his 13-year-old cousin – whom he marries – in a film that has difficulty balancing an "honest" portrayal of the "scandalous" backdrop of Lewis' life with his musical accomplishments. Olive's 1080p (1.85) AVC encoded presentation is fine and the 2.0 DTS MA stereo soundtrack is one of the best things about the picture.
Finally, back on DVD, this time from Olive, HAIR (**½, 121 mins., 1979, PG) was the belated filming of the hit Broadway musical – one that failed to take flight at the box-office in 1979 with many critics and audiences having found the material dated. It certainly has its moments (along with a couple of classic songs standing out in an otherwise mediocre book and score by Galt MacDermot, Gerome Ragni and James Rado), but since the show itself didn't age well, it's unsurprising that "Hair" the film hasn't either, despite the best efforts of director Milos Forman, cinematographer Miroslav Ondricek and a game cast (including John Savage, Treat Williams and Beverly D'Angelo). Olive's DVD offers a 16:9 (1.85) transfer with stereo audio dominated by overproduced songs.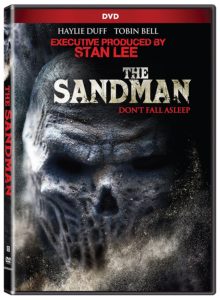 Lionsgate New Releases: Stan Lee is one of the Executive Producers on SANDMAN (86 mins., 2017, R), a better-than-expected horror affair starring Haylie Duff as a woman whose niece (Shae Smolik) has the ability to conjure a horrible boogeyman who's also being hunted by a government agent (Jigsaw himself, Tobin Bell). "Sandman" manages to deliver a couple of OK scares with Lionsgate's DVD boasting some R-rated material compared to its Syfy Channel airing, plus a 16:9 (1.78) transfer and 5.1 Dolby Digital sound…Season 2 of INTO THE BADLANDS (aprx. 7 hours, 2017) offers more action-packed martial arts sequences in this sophomore year of the AMC series, set in a world where civilization has broken down and essentials are controlled by a series of "Barons" living in a feudal society dubbed "The Badlands." "Into the Badlands" recycles plenty of genre standbys, most notably "Mad Max" and other post-apocalyptic adventures, in a cliched but moderately entertaining fashion, thanks mainly to its well-edited fight scenes. Season 2 offers Sunny and MK separated and imprisoned in disparate places while The Widow seeks to consolidate more power against the other Barons. Anchor Bay's Blu-Ray package of "Badlands"' second season offers Dolby Digital 5.1 audio (a dropoff from the Season 1 TrueHD tracks), 1080p (1.78) transfers and Digital HD copies.
MONSTERS AT LARGE DVD (98 mins., 2017, PG; Lionsgate): Family-friendly fantasy finds a group of kids starting up a successful business taking down imaginary monsters when one of them, in fact, turns out to be real. This Prism Pictures production offers the likes of Mischa Barton and Austin St. John along with "Florida Project"'s Brooklynn Prince and Stephen Tobolowsky in a gently entertaining, "Ghostbusters"-type affair that youngsters might enjoy. Out March 13th, Lionsgate's DVD includes a behind-the-scenes featurette, 16:9 (1.78) transfer and 5.1 Dolby Digital sound.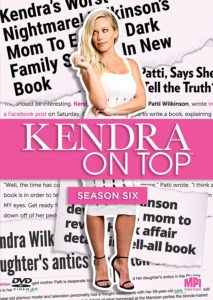 KENDRA ON TOP – Season 6 DVD (366 mins., 2017; MPI): Kendra Wilkinson relocates, minus her family, to Las Vegas in this sixth season of the now long-running reality series. Will Kendra's kids be able to sustain her absence, much less her long-suffering husband, former NFL player Hank Baskett? Throw in Kendra's new book – written much to the consternation of her mother – and you've got the recipe for another season of rumors, feuds and squabbles for "Kendra On Top" fans. Series 6 comes to DVD on March 13th from MPI sporting 16:9 transfers, stereo sound, deleted scenes, and a photo gallery…Also coming March 13th from MPI is FRANK SERPICO (98 mins., 2018), a documentary from Antonino D'Ambrosio that profiles the crusading NYC cop who exposed corruption and became the subject of one of star Al Pacino's defining films. IFC's DVD includes an alternate opening, deleted scenes, a featurette, 16:9 transfer and 5.1 sound.
CURSE OF THE MAYANS DVD (88 mins., 2018; Cinedigm): Carla Ortiz stars in Joaquin Rodriguez's story of an expedition to a lost Mayan underwater labyrinth, one which is intended to uncover information about the Mayans' disappearance but instead leads to the opening of an alien invasion instead. Cinedigm's DVD basically gives the entire film away on the back cover, but it's an OK Syfy Channel-level, Mexican-produced diversion for undemanding genre fans. Cinedigm's DVD includes a 16:9 transfer and 5.1 Dolby Digital sound.
NEXT TIME: DARK CRYSTAL in 4K! Until then, don't forget to drop in on the official Aisle Seat Message Boards and direct any emails to our email address. Cheers everyone!