A few months ago I was watching TCM when they ran one of those archival, fluffy promotional "Making Of" featurettes inbetween movies. I was captivated by it because I had never heard of the film – an early '70s MGM "hayseed drama" named LOLLY-MADONNA XXX – despite the film offering an amazing array of talent, including Rod Steiger, Robert Ryan and a dynamite young cast comprised of Jeff Bridges, Scott Wilson, Gary Busey, Randy Quaid, Ed Lauter and Season Hubley. This rarely-screened picture – which has never been released on video in any format – has finally made its way back into circulation courtesy of the Warner Archives, restoring the scope dimensions of cinematographer Philip Lathrop and director Richard C. Sarafian.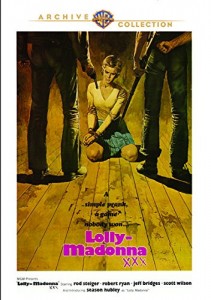 Beyond the curiosity factor, "Lolly-Madonna XXX" (105 mins., 1972) is as strange as its title. Resembling what you might expect if you crossed "The Waltons" with "Deliverance," this adaptation of the book by Sue Grafton – future bestselling mystery author – stars the young Hubley as a girl who's abducted at a bus station in the Tennesse mountains. Mistaken as part of a prank by the Gutshall family to trash the moonshining operation of their nearby neighbors – the Feather clan – Hubley pleads her innocence to no avail, and instead gets wrapped up in a family feud between rival patriarchs Steiger and Ryan, whose offspring – Bridges, Wilson and Lauter on Steiger's side, Busey and company on Ryan's – range from the not-entirely bright to the downright deluded. Ultimately, the feud escalates once Ryan's daughter is raped by Lauter and Wilson's bumbling duo, and turns violent and bloody.
It's hard to imagine how "Lolly-Madonna XXX" received a PG rating back in its day, as this bizarre, violent film – which is unique if nothing else – holds a strange, almost surrealistic spell on the viewer in spite of its shortcomings. Lathrop's vivid lensing is only diminished here by elements that are far from pristine, no shock given how seldom the picture has ever been shown outside of a 1972 theatrical run. The Tennessee locales are nevertheless beautifully shot, as are the dingy abodes of both families, who seem like they're living decades removed from the 1970s (only a black-and-white TV showing "Forbidden Planet" announces its specific era). The film starts off well, but derails once Lauter's character pretends he's an Elvis wannabe and croons to himself in a mirror (a spectacularly embarrassing sequence), and culminates in a downbeat climax heavy on a Vietnam allegory with needless bloodshed being spilled by both clans.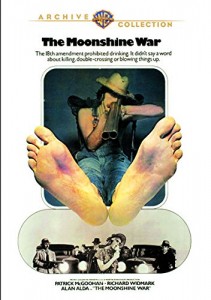 Director Sarafian also throws in all kinds of directorial tricks – flashbacks, still photos – in an effort to jazz up the picture, which only adds to its strangeness. With a fine Fred Myrow score, "Lolly-Madonna XXX" is a compelling film less for its dramatic content – which never gels – but rather its aesthetic trappings and presence of a young cast, many of whom were on the brink of stardom, plus a scenery-chewing Steiger, who's kept in check until a hilarious outburst in the final moments.
Also new from the Warner Archives this month – with a similar theme – is MGM's 1970 release THE MOONSHINE WAR (100 mins., PG), a ho-hum adaptation of Elmore Leonard's book – scripted by the author – starring Patrick McGoohan as a US government agent trying to get in on moonshiner Alan Alda's secret sauce, with an unlikely killer (Richard Widmark) trailing them both. Neal Hefti scored this watchable yet mostly unremarkable film, most memorable for Alda's none-too-convincing southern accent. The Archives' 16:9 (1.85) transfer is in generally better condition than "Lolly-Madonna XXX"'s comparable (2.35) presentation, but the film isn't as interestingly shot….MAYA: THE COMPLETE SERIES (927 mins., 1967-68) contains all 18 episodes from the small-screen version of MGM's 1966 jungle epic, with Jay North and Sajid Khan reprising their roles. Action, intrigue, elephant fun with the title character, and India location shooting mark this adaptation of Stirling Silliphant's original picture. Warner's five-disc DVD set offers good-looking 4:3 color transfers and mono soundtracks.
---
As I've written before, one of the positives about Hollywood's constant obsession with reboots/remakes – probably the only good thing, really – is that it gives studios an opportunity to dive back into the back catalog and give us Blu-Rays of oft-requested, similarly-themed titles. Following on the success of Legendary's "Godzilla" – and a quartet of their own, double-feature Blu-Rays last spring (reviewed here) – Sony is at it again next week, offering a trio of "Toho Godzilla Collection" Blu-Rays to satiate the appetites of Giant Monster fans everywhere.
Following the fan-detested 1998 Roland Emmerich film (a movie which, surprisingly, still sold more tickets than the new "Godzilla"), Sony opted to kibosh producing sequels to the film – settling instead for a small-screen animated TV series, as well as importing Toho's own "Godzilla 2000: Millennium" for a theatrical release. Thus, GODZILLA 2000 (***, 99 mins./107 mins., 1999, PG) was noteworthy for being the final Japanese-produced Godzilla film to see a U.S. theatrical run – and the first since Raymond Burr reunited with the big guy in New World's "Godzilla 1985."
The finished product was released to theaters through TriStar in late August of 2000, boasting a slimmed-down running time (which many feel helped the picture) and, best of all, a truly amusing English vocal track. Produced by Mike Schlesinger, the track is ripe with humor, keeping the tone of the film fairly light and self-aware without being overtly campy, and was – surprisingly – approved by Toho. It's as close to the modern equivalent of an old-fashioned Toho monster opus as you'll see in the "modern" Godzilla era, with silly characters, a dumb plot and rousing monster action making for a good time – provided you have a taste for the material. Sony's Blu-Ray of "Godzilla 2000″ includes both the American release as well as the longer, flabbier Japanese version, both with 1080p (2.35) transfers, though the image and sound quality (5.1 on the American release; 2.0 stereo on the longer Japanese cut) is stronger on the former than the latter -- and neither is outstanding. Commentary carried over from the DVD is included with the American version producers, along with a behind-the-scenes featurette and the original trailer.
Alas, the film's poor performance at the box-office led all future Godzilla sequels – including GODZILLA, MOTHRA AND GHIODRAH: GIANT MONSTERS ALL-OUT ATTACK (***, 105 mins., 2001) and GODZILLA AGAINST MECHAGODZILLA (**½, 88 mins., 2002) – to go straight to video in the U.S., offering only Toho's in-house English dubbed tracks, which – historically – are less entertaining than their American-produced counterparts. These later Godzilla sequels offer the same sorts of monster-on-monster battles as "Godzilla 2000," with "Giant Monsters All-Out Attack" being quite a bit more fun than its immediate follow-up, "Godzilla Against Mechagodzilla" (not to be confused with the 1993 "Godzilla Vs. Mechagodzilla II," or the 1975 "Terror of Mechagodzilla"!). Sony's double-feature BD of the two features includes 5.1 DTS MA soundtracks in either Japanese or dubbed English, with trailers for extras and perfectly acceptable 1080p (2.35) AVC encoded transfers.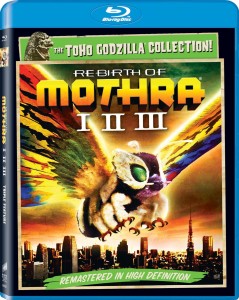 Sony's final release of Godzilla product from their back catalog is an appealing, double-disc set featuringREBIRTH OF MOTHRA I, II, and III. These three Toho films, produced from 1996-98, gave Mothra a modern retelling with lighter dramatic components than their Godzilla counterparts, and are collected here on a pair of Blu-Rays with colorful 1080p AVC encoded (1.85) transfers and 2.0 DTS MA soundtracks, again in Japanese or dubbed English. Fans should note "Rebirth of Mothra III" makes its North American home video debut here in any format, adding to the value of an already entertaining package. All three sets also include Ultraviolet digital copies.
Here's hoping Classic Media, which is sitting on many of the "Golden Age" Toho releases from the '60s, gets moving with Blu-Ray releases before "Godzilla 2″ crashes the big-screen sometime in 2018.
Also new on the genre front is Mill Creek's Double Feature pairing of Ray Harryhausen's 20 MILLION MILES TO EARTH and IT CAME FROM BENEATH THE SEA. In the latter (**½, 79 mins., 1955), a radioactive-enhanced octopus attacks Navy captain Kenneth Tobey and, later, the Golden Gate Bridge, in a movie that boasts a fun climax but an overly leisurely exposition, while in 20 MILLION MILES (**½, 82 mins., 1957), a pint-sized alien creature grows to oversized proportions in Nathan Juran's fantasy. Both films have previously been released as part of Sony's Ray Harryhausen Blu-Ray collection (reviewed here), with DTS MA sound and assorted special features. The Mill Creek release dispenses with the supplements and knocks the mono sound to plain Dolby Digital, while the 1080p AVC encodes seem roughly equivalent. For a budget release like this, it's perfectly acceptable, though Harryhausen fans would be better off tracking down the now out-of-print box-set before prices get out of control (and the one thing we know about Harryhausen fans, they'll be there to support his works on Blu-Ray, judging from the absurd secondary market prices commanded by the likes of Twilight Time's "Mysterious Island").
---
A music series fondly remembered by anyone who experienced the '70s, THE MIDNIGHT SPECIAL (Starvista/Time Life) winds its way back from the decade in a terrific new, six-DVD box-set that pays tribute to one of the best music programs of all-time.
By the time I was growing up and watching TV in the '80s, lousy shows like "Solid Gold" – where performances were almost always lip-synched – had supplanted more ambitious endeavors like NBC's "Midnight Special," which aired Friday night/Saturday morning at 1am following Johnny Carson. The goal was simple: create a forum for the artists of the day to drop in and perform live (well, most of the time), bringing the biggest songs to hungry viewers – and particularly young people – still awake in the wee hours without the benefit of 200 channels at their disposal.
The fact that the music was – mostly – performed live gives the program a real vitality and enduring component – each show is like its own concert, enabling fans of the musicians on-hand to experience their music in a way that, today, they no longer can.
Starvista's box-set includes performances by dozens of superstars, one-hit wonders and enduring artists. John Denver, Linda Ronstadt, Mama Cass, Crystal Gayle, Tom Petty & The Heartbreakers, Chuck Mangione, Mac Davis, The Doobie Brothers, Peter Frampton, Joan Baez, Hall & Oates, Jim Croce, The Bee Gees, ELO, Rupert Holmes< Todd Rundgren, Alice Cooper, Fleetwood Mac, The Cars, America, Janis Ian, Patti LaBelle, Aerosmith, Barry White, Olivia Newton-John, Village People, Gordon Lightfoot, Aretha Franklin, Ray Charlie, Gladys Knight, B.B. King, Orleans, Curtis Mayfield, Loggins & Messina, Billy Preston, Marvin Gaye, Bread, Neil Sedaka, Captain & Tennille and Earth Wind & Fire are all represented by episodes contained herein, taped from 1972-79.
Interviews with Peter Frampton, Loggins & Messina and others, plus three featurettes (including a look at Wolfman Jack's work on the program), and liner notes from producer Burt Sugarman make for a must-have release for '70s music fans, and one of the year's best TV-on-DVD releases.
---
DRAFT DAY Blu-Ray Combo Pack (***, 110 mins., 2014, PG-13; Summit): Kevin Costner adds another sports movie to his resume – this time with the focus on football, or at least the behind-the-scenes component to the gridiron game. As the GM of the hapless Cleveland Browns, Costner's Sonny Weaver, Jr. has to navigate through a series of big-time decisions as the NFL draft nears. After trading up to go after the #1 pick, Weaver's actions are called into question by the team's coach (Denis Leary) but are backed by the team's president (Frank Langella) who just wants to win – and win now. Jennifer Garner is around in a mostly unnecessary role as Weaver's wife, but Ivan Reitman's best film in quite some time scores – if not a touchdown – then a solid first down with its intriguing tale of "war room" infighting and politics off the field. Summit's Blu-Ray includes a BD exclusive documentary and behind-the-scenes featurette; commentary from writers Rajiv Joseph and Scott Rothman, deleted scenes, the trailer, a 1080p (2.40) AVC encoded transfer and 5.1 DTS MA audio, plus a DVD and digital copy.
R.L. STINE'S MOSTLY GHOSTLY: HAVE YOU MET MY GHOULFRIEND? Blu-Ray Combo Pack (91 mins., 2014, PG; Universal): Family-friendly sequel to 2008′s "Mostly Ghostly" finds teen Ryan Ochoa scoring a date for Halloween with popular girl Bella Thorne, only to have Phears, a ghoulish ghost, attempt to raise the dead in time for trick or treating. Madison Pettis returns from the original in director Peter Hewitt's sufficiently atmospheric, lightweight production that's just spooky enough to chill young kids but not (hopefully) send them to bed with nightmares. Universal's Blu-Ray combo pack includes a DVD, a digital Ultraviolet copy, 1080p (1.78) AVC encoded transfer and 5.1 DTS MA audio.
14 BLADES Blu-Ray (113 mins., 2010, R; Anchor Bay): Donnie Yen stars in the period actioner "14 Blades" as Quinlong, a royal guard trained from childbirth in the ways of martial arts. His allegiance is tested when a traitor, Jia (Law Kar-Yng), takes over the Imperial Court and sends Quinlong off to attempt to restore order to the land. Anchor Bay's Blu-Ray, out this week, includes a 1080p (2.35) transfer with 5.1 DTS MA audio in Mandarin with English subtitles. Not bad for genre fans.
FOR NO GOOD REASON Blu-Ray (90 mins., 2012, R; Sony): The influential artwork of British artist Ralph Steadman – whose work complemented the wild writing of journalist Hunter S. Thompson – is profiled in director Charlie Paul's documentary. Offering comments from Steadman, plus Terry Gilliam, Rolling Stone's Jann Wenner, Richard E. Grant (who starred in "Withnail & I," which Steadman designed one-sheet artwork), and Johnny Depp, who also serves as host for this fascinating portrait. Sony's Blu-Ray, available this week, includes commentary with Paul, deleted scenes, extended interviews, a Toronto International Film Festival Q&A, "Cherrywood Cannon" animated short, a 1080p (1.78) transfer, 5.1 DTS MA audio and a DVD copy for good measure.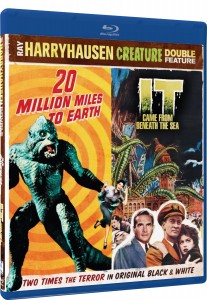 THE GOLDBERGS Season 1 DVD (495 mins., 2013-14; Sony): One of the few comedy hits from network TV's 2013 season, ABC's "The Goldbergs" stars Jeff Garlin and Wendi-McLendon Covey as the parents to a precocious set of kids led by geeky Sean Giambrone, his older sister (Hayley Orrantia) and brother (Troy Gentile). George Segal is also around as granddad in a series that's pretty funny on its own terms, but amplified by its '80s setting, allowing for the requisite gags involving the era's pop culture. It's consistently amusing and good-natured, with Sony's Season 1 DVD offering all 23 episodes of the first season on three discs. Commentaries, featurettes, 16:9 transfers and 5.1 soundtracks are all on-hand, along with an interview with Patton Oswalt, who narrates the series as Giambrone's adult incarnation.
PERSON OF INTEREST Season 3 Blu-Ray Combo Pack (1001 mins., 2013-14; Warner): J.J. Abrams-produced CBS series stars Jim Cavieziel as an ex-CIA agent who collaborates with eccentric billionaire Michael Emerson (Abrams' "Lost" alumnus) to stop crimes before they happen, all with the help of high-tech pattern-recognition software. The chemistry between the duo is palpable and the show well-produced, with Season 3 cleaning up some of its supporting characters – namely, a pair of NYPD detectives (Taraji P. Henson and Kevin Chapman) who stumbled onto the duo's vigilante "pre-crime" tactics. Despite the sometimes routine nature of the cases involved, "Person of Interest" continues to rank as one of TV's most watched dramas.
Warner's combo-pack of "Person of Interest"'s third season offers 1080p (1.78) transfers, 5.1 DTS MA soundtracks, a DVD, Digital HD copy, and loads of extras, including a 2013 Comic Con panel, "The Future of AI" and "Saying Goodbye to a Friend" featurettes, plus "Bear on Set," Digital Comic One-Shots, a gag reel, and Michael Emerson's commentary on the season finale, "Deus Ex Machina."
RICHARD LEWIS: BUNDLE OF NERVES DVD (269 mins., VSC): Fascinating, two-disc DVD anthology ought to be a must for fans of the stand-up comic. Included here is Lewis' 1997 HBO special "Magical Misery Tour," his 1979 TV-movie "Diary of a Young Comic," plus the 1995 film "Drunks" and "House of a Lifetime," a new documentary created expressly for the set. Lewis' neurotic humor, battles with sobriety and triumph over adversity are given equal weight in this retrospective on the comedian's life and times, nicely packaged by VSC with artwork from The Rolling Stones' Ron Wood. VSC's two disc set arrives in stores this week with extras including commentary on "Drunks" and other supplements for fans.
---
One of the more offbeat and endearing – and regrettably short-lived – series of its time, Glenn Gordon Caron'sNOW AND AGAIN (aprx. 16 hours, 1999-2000) chronicled what could happen if an ordinary, everyday family man (John Goodman), killed in an accident, was resurrected as part of a covert government project. With a younger, trimmer and more agile body – in the form of Eric Close – Michael Wiseman goes from insurance salesman to a secret agent of sorts, doing bidding at the hands of his scientist mentor ("24″'s Dennis Haysbert). Of course, Michael still pines for his wife (the wonderful Magaret Colin) and daughter (Heather Matarazzo), but is forbidden to see them or reveal his true identity. How they cope in his absence – with a close family friend (Gerrit Graham) stepping into help – and how Michael balances his new life with his old one comprised this terrific, cult-favorite CBS series.
"Now and Again" premiered to strong critical acclaim in the fall of 1999, but never generated enough of an audience to propel it to a second season. It's a shame, too, because not only is the entire cast wonderful, but the writing bears Caron's distinctive stamp, being warm, witty and unpredictable all at once.
CBS' box-set of the complete 22-episode series – which lamentably ended with a cliffhanger – offers a number of new featurettes for fans of the show. One of those series that seemed to captivate anyone who watched it, "Now and Again"'s legacy is paid tribute in a four-part documentary offering interviews with cast and crew members recalling their work on the show. An interview with Caron is also included along with some vintage, on-set materials. The 4:3 aspect ratio maintains the series' original aspect ratio – produced at a time just before HD was standard – with 2.0 stereo sound on-tap. Highly recommended for fans and newcomers alike.
CBS has plenty of other new releases lined up this September for TV-on-DVD fanatics.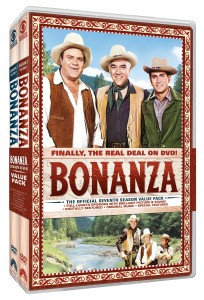 BONANZA: The Official Seventh Season Value Pack (1965-66) saddles up for more Cartwright family adventures, this time without Adam (Pernell Roberts). Lorne Green, Dan Blocker and Michael London are, of course, back for more full-color episodes, all of them completely restored here with original music and assorted extras. Episodes include The Debt; The Dilemma; The Brass Box; The Other Son; The Lonely Runner; Devil on Her Shoulder; Found Child; The Meredith Smith; Mighty is the Word; The Strange One; The Reluctant Rebel; Five Sundowns to Sunup; A Natural Wizard; All Ye His Saints; The Dublin Lad; To Kill a Buffalo; Ride the Wind; Destiny's Child; Peace Officer; The Code; Three Brides for Hoss; The Emperor Norton; Her Brother's Keeper; The Trouble with Jamie; Shining in Spain; The Genius; The Unwritten Commandment; Big Shadow on the Land; The Fighters; Home From the Sea; The Last Mission; and A Dollar's Worth of Trouble. The episodes are split between two volumes, available separately or as part of a bundle. More western action is on-tap in Season 10 ofGUNSMOKE (1964-65), which reunites the gang in Dodge City including Marshal Matt Dillon (James Arness), Miss Kitty (Amanda Black), Doc Adams (Milburn Stone), Festus Haggen (Ken Curtis) and Quint Asper, the half-Comanche blacksmith played by Burt Reynolds. This 36-episode 10th season has been split into two rather pricey volumes, each offering five discs of old-fashioned western entertainment in B&W with mono audio.
BLUE BLOODS – Season 4 (2013-14, aprx. 16 hours) continues to follow the Reagan family and their trials and tribulations on and off the streets of NYC. Tom Selleck, Donnie Wahlberg, Bridget Moynahan, Will Estes and Peter Hermann star in the highly-rated Friday CBS series, about to start its fifth season. Season 4, meanwhile, lands on DVD September 9th offering a gag reel, deleted scenes and commentaries on selected episodes and a number of featurettes…CRIMINAL MINDS – Season 9 (aprx. 17 hours, 2013-14) is the latest season of the long-running CBS series, starring Thomas Gibson, Joe Mantegna, Jeanne Tripplehorn, Shemar Moore and AJ Cook. Commentaries, a gag reel, deleted scenes and "Eyes Only" featurette comprise CBS' six-disc DVD set, with 16:9 (1.78) transfers and 5.1 Dolby Digital soundtracks on the technical side.
---
PBS New Releases: Brilliant photography distinguishes the new Nature program FABULOUS FROGS (60 mins., 2014), a David Attenborough-hosted journey into the odd rituals of the small, tiny creatures from all over the globe. Amazing footage and educational facts co-mingle in this Nature production from director Sally Thomson, which arrives on both DVD and Blu-Ray September 2nd. The 1080i (1.85) transfer is markedly clear and 5.1 Dolby Digital audio rounds out the release…JAMES McNEILL WHISTLER: THE CASE FOR BEAUTY (60 mins.) profiles the artist whose theatrics away from the canvas generated as much attention as his art itself. Recreations and interviews comprise the hour-long PBS documentary narrated by Anjelica Huston…SEX IN THE WILD: THE BIOLOGY OF MATING (4 hours, 2014) is a four-part series profiling reproductive behaviors in the animal kingdom, hosted by anatomist Joy Reidenberg and Mark Evans and filled with footage shot in Africa, Australia, New Zealand and Borneo. "Elephants," "Dolphins," "Kangaroos" and "Orangutans" are the subjects of the four episodes in PBS' two-disc DVD set…SECRETS OF HER MAJESTY'S SECRET SERVICE (60 mins., 2014) takes viewers behind the scenes – a little bit at least – at Her Majesty's Secret Service, whose existence wasn't even acknowledged formally until 1994. Samuel West narrates Kasia Uscinska's hour-long documentary…SECRETS OF WESTMINSTER (60 mins., 2014) offers the backstory of London's Houses of Parliament and Big Ben, as well as Westminster Abbey, in a nicely-filmed, hour-long documentary presented – as with the other PBS releases – in a 16:9 (1.78) transfer with stereo sound.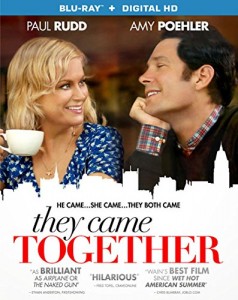 Lionsgate New Releases: DUCK DYNASTY: QUACK OR TREAT (66 mins., 2013) includes three "classic" episodes from the A&E series, including "Quack O'Lanterns," "Hallu-Si-Nations," and "Battle of the Brothers," plus the DVD-exclusive "Ducks on a Pond." Lionsgate's single-disc DVD includes 16:9 (1.78) widescreen and stereo 2.0 audio…THEY CAME TOGETHER (*½, 84 mins., 2014, R) is the latest film from director David Wain, whose highly uneven cinematic output includes the inspired "Role Models" and the decidedly less-successful "Wanderlust." Here, Wain works again with star Paul Rudd and a marvelous cast – Amy Poehler, Cobie Smulders, Christopher Meloni, Max Greenfield, Bill Hader, Ellie Kemper, Melanie Lynskey and Ed Helms – in what should've been an uproarious spoof of romantic comedies…but the end result is a colossal disappointment, scattershot and seldom funny. It's no surprise Lionsgate shuffled this disappointment off to the small screen, nixing a wide theatrical release. The studio's Blu-Ray includes deleted scenes, commentary, a featurette, trailer, table reading, 1080p (1.78) transfer and 5.1 DTS MA audio.
From MPI: CITIZEN KOCH (86 mins., 2013) is a liberal diatribe against the billionaire conservative brothers who funded, among other endeavors, Scott Walker's recall-election fight in Wisconsin. Folks who stand with Michael Moore – one of the film's admirers – will find sufficient ammunition in this preach-to-the-choir from writer-directors Carl Deal and Tia Lessin, brought to DVD from MPI this month. Extra features include extended/deleted scenes, a talk with Moore, a Sundance Film Fest segment, 16:9 transfer and 5.1 Dolby Digital sound.
Also New & Noteworthy
NIGHT MOVES Blu-Ray (113 mins., 2013, R; Cinedigm): Peter Sarsgaard, Jesse Eisenberg and Dakota Fanning star in director Kelly Reichardt's thriller as a trio of enviromentalists who decide to explode a hydroelectric dam in an attention-grabbing stunt with consequences that extend far beyond their initial intentions. A character-study with a moody and disturbing undercurrent, Cinedigm brings "Night Moves" to Blu-Ray this week in a 1080p transfer with 5.1 DTS MA audio.
Eisenberg is also on-hand in DOUBLE (93 mins., 2013, R), an independent drama from director Richard Ayoade about a timid man who finds his meager existence usurped by the arrival of his physical double who's — of course — adept at women, work, and everything else he's not. Mia Wasikowska, Cathy Moriarty, Wallace Shawn and James Fox co-star in this uneven film which is, at least, more entertaining than Jake Gyllenhaal's recent misfire "Enemy." Magnolia's Blu-Ray includes several featurettes, an interview with the director, AXS TV Making Of, the trailer, a 1080p (1.85) transfer and 5.1 DTS MA sound.
THE ORIGINALS: Complete Season 1 Blu-Ray Combo Pack (929 mins., 2013-14; Warner): Spin-off from CW's "The Vampire Diaries" focuses on the Mikaelson clan, the "Original" vampire family who helped build New Orleans' French Quarter. After being banished decades ago, the family returns along with vampire/wolf hybrid "Klaus" Mikaelson, to take on a witch coven trying to take control of the area. Fans of this kind of thing ought to gravitate towards "The Originals," which is slickly produced and a bit more outlandish than its "Vampire Diaries" sibling. All 22 first-season episode have been collected here in Warner's Blu-Ray combo pack, including 1080p (1.78) AVC encoded transfers, 5.1 DTS MA soundtracks, a DVD, Digital HD Ultraviolet copy, and extras including a pilot commentary, unaired scenes, and five behind-the-scenes featurettes.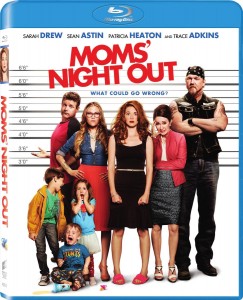 MOMS' NIGHT OUT Blu-Ray (99 mins., 2014, PG; Sony): Faith-based comedy is rife with stereotypes as a group of harried moms — led by "Grey's Anatomy"'s Sarah Drew — attempt to take a night off while their respective husbands, including Sean Astin, struggle to keep up with the kids. Unlike a number of similarly marketed films recently released through TriStar, "Moms' Night Out" didn't generate much in the way of box-office, but despite its paper-thin, sitcom-level premise, the movie is occasionally funny and, at least, suitable for all ages with laudable messages. Out on Blu-Ray this week, Sony's disc includes bloopers, deleted scenes, featurettes, commentary, a 1080p (2.40) transfer and 5.1 DTS MA sound.
LOUDER THAN WORDS DVD (93 mins., 2013, PG-13; Arc Entertainment): David Duchovny and Hope Davis star as parents attempting to move on following the death of their young daughter (Olivia Steele-Facloner). Their vessel is a children's hospital named in her honor, which becomes a reality thanks to their community and efforts led by a family friend played by Timothy Hutton. Based on a true story, director Anthony Fabian's film is well-acted and sincerely produced, with an effective Geoff Zanelli score. Arc's DVD, out September 9th, includes a 16:9 transfer with 5.1 Dolby Digital sound.
FED UP Blu-Ray (99 mins., 2014, PG-13; Anchor Bay): Pro-organic food documentary from director Stephanie Soechtig also exposes the U.S. food industry's campaign to "mislead and confuse the American public," creating an epidemic of diabetes in the process. Katie Couric narrates this probing look at what we eat and what we ought to do to change our diets effectively. Deleted scenes and a Spanish language track narrated by Kuno Becker are included in Anchor Bay's Blu-Ray, available this week with a 1080p (1.78) transfer and 5.1 DTS MA audio. Excuse me while I head off for a cheeseburger…
LEGO FRIENDS ARE FOREVER DVD (66 mins., 2014; Warner): Warner's single-disc DVD from the new animated series – aimed at the Barbie crowd – include the episodes "New Girl in Town," "Stephanie's Surprise Party" and "Dolphin Cruise." Young girls should enjoy the colorful animation and meaningful stories. Warner's DVD includes bright 16:9 (1.78) transfers and 2.0 stereo soundtracks.
NEXT TIME: GRADUATION DAY on Blu-Ray and more new releases! Until then, don't forget to drop in on the official Aisle Seat Message Boards and direct any emails to our email address. Cheers everyone!