With the highly anticipated new "Godzilla" opening in theaters this Friday, a number of epics starring the Big G and assorted giant monsters have been newly released on Blu-Ray. These run the gamut from Universal's "King Kong Vs. Godzilla" (covered here) to Mill Creek's low-priced Gamera anthologies. Now Sony has thrown their hat into the ring with four Double Feature Blu-Rays featuring eight of Toho's more contemporary Godzilla pictures.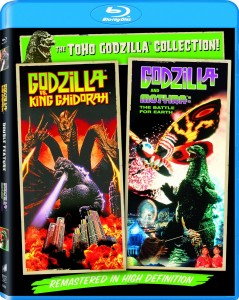 Newly remastered with enhanced picture and sound over the label's prior DVD editions, Godzilla fans should be delighted with these affordable (under $20) packages:
GODZILLA VS. KING GHIDORAH (101 mins., 1991; Not Rated) and GODZILLA AND MOTHRA: THE BATTLE FOR EARTH (102 mins., 1992; Not Rated) feature Godzilla battling old foes Ghidorah and Mothra (plus her offspring, Battra) in a pair of early '90s releases. Akira Ifukube's scores are the highlights of both pictures, presented here in 1080p (1.85) transfers with DTS MA stereo soundtracks (Japanese subtitled or English dubbed).
Godzilla returned in GODZILLA VS. MECHAGODZILLA II (108 mins., 1993, PG), which co-stars Rodan, Baby Godzilla and a pair of Mechagodzillas, while the wacky GODZILLA VS. SPACEGODZILLA (108 mins., 1994; Not Rated) includes cameos from Baby Mothra and Maguera while Godzilla takes on a Spacegodzilla from another galaxy. Sony's Blu-Rays here include crisp 1080p (1.85) transfers and 5.1 Japanese DTS MA audio with the option of English dubbed tracks (2.0 DTS MA on "Mechagodzilla II," 5.1 DTS MA on "Spacegodzilla").
One of the best Toho films, GODZILLA VS. DESTOROYAH (102 mins., 1995; Not Rated) finds Godzilla and son taking on the deadly Destroyoah. Intended to be the final Toho Godzilla in the lead-up to Tri-Star's American film, "Destoroyah" boasts exciting battle sequences, a fine Akira Ifukube score and a fitting ending that culminates in an end credits montage of classic Godzilla moments (excised from Sony's prior DVD edition but restored here on Blu-Ray). However, the failure of Roland Emmerich's 1998 "Godzilla" enabled Toho to resurrect the series for another go-around, starting with "Godzilla 2000″ (regrettably awaiting a Blu-Ray release) and its immediate follow-up GODZILLA VS. MEGAGUIRUS (106 mins., 2000; Not Rated). Both discs here include Japanese and English DTS MA audio (2.0 on "Destoroyah," 5.1 DTS MA on "Megaguirus") and 1080p (1.85 and 2.35) transfers.
Rounding out Sony's Blu-Ray double-features is the fast-paced GODZILLA: TOKYO S.O.S. (91 mins., 2003, PG), reviewed here, and the bloated yet entertaining 2004 Toho swan song, GODZILLA: FINAL WARS (125 mins., 2004, PG-13), the giant monster opus I previously covered in 2005. Both movies offer pleasing 1080p transfers (2.40) with 5.1 DTS MA English and Japanese soundtracks. While all movies feature digital copies and the original trailers, only this particular combo pack includes behind-the-scenes featurettes.
Here's hoping the new Godzilla leads not only Sony to finish off the titles they control in their back catalog (including "Godzilla 2000″), but also force Classic Media to release the titles they've licensed from Toho's Golden Age on Blu-Ray as well.
---
Aisle Seat Picks of the Week
It's always interesting to go back and revisit the early career of a current star, particularly when – as in the case of Robert Downey, Jr. – he's essentially gone through two separate stretches of stardom, divided by many years inbetween. One of Downey's first starring vehicles, the 1989 rom-com/fantasy CHANCES ARE (***, 108 mins., PG), is newly available on Blu-Ray from RLJ and gives audiences a chance to see the talented actor in a frothy, entertaining picture from the late Emile Ardolino.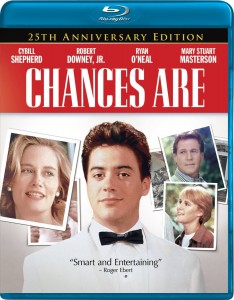 Downey plays a Yale University student who crosses paths with a fellow student and aspiring lawyer (Mary Stuart Masterson) right before graduation. After heading down to D.C. in the hopes of landing a job working at the Washington Post, Downey's Alex Fitch runs into Masterson's Miranda Jefferies yet again. If that wasn't star-crossed enough, Alex begins to witness flashbacks from another life when he meets Miranda's mother – a fashion editor played by Cybill Shepherd – and comes to the fast realization that he's living with the soul of her husband (Christopher MacDonald), who died in a tragic accident 23 years before.
Writers Perry and Randy Howze wrote one draft of "Mystic Pizza" as well as the forgettable Ally Sheedy comedy "Maid to Order," and their script for "Chances Are" is light as a feather. Though the film is anchored by Downey's capable performance, the story mostly focuses on Shepherd – then riding the crest of "Moonlighting"'s popularity – coming to grips with the passing of her late, beloved husband (she keeps a picture of him inside the refrigerator!) at the same time she's able to reconnect with his deceased spirit. Ryan O'Neal plays a prominent supporting role as the best friend of Shepherd's late hubby, while Downey generates ample chemistry with Masterson, who gives a low-key and appealing performance, as she did in "Some Kind of Wonderful" two years before.
Outside of a quick trip to Heaven wherein Shepherd's ghostly husband decides to be reborn, there's not a lot of supernatural elements in the story. That's perfectly fine, especially since it's never really clear if Downey and MacDonald are two entirely different people, with MacDonald's soul and memories taking a vacation in Downey's body (one hopes that's the case, since the Downey-Masterson coupling otherwise raises questions you'd rather not contemplate).
Fortunately, "Chances Are" isn't a movie that requires a lot of thinking, and the winning performances and the direction of "Dirty Dancing"'s Ardolino are all on-target. Adding to the picture is a breezy score by Maurice Jarre that works just fine, though musically, the soundtrack really belongs to Tom Snow's "After All," a gorgeous love theme that became a big hit as a duet between Cher and Peter Cetera. Instead of the song being shoehorned into the film like so many of its era's counterparts, it's actually used throughout the picture as a motif Alex plays on the piano, reappearing as an instrumental track before the familiar pop rendering is performed at the end. Incredibly – unlike a lot of '80s pop songs – the tune hasn't dated at all, and conveys a timeless quality in its song production with a heavy accent on strings instead of overpowering synths and guitars.
RLJ's no-frills Blu-Ray of "Chances Are" is certainly sufficient. The 1080p AVC encoded transfer is a bit dirty and grainy by Sony's standards, but it still offers appreciable detail over the DVD release. The DTS MA 2.0 stereo audio is just fine as well.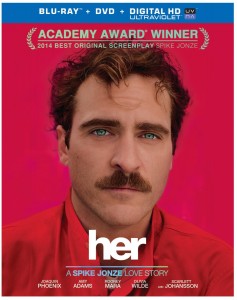 HER Blu-Ray/DVD Combo Pack (***, 126 mins., 2013, R; Warner): Spike Jonze's meditation on modern technology and personal isolation stars Joaquin Phoenix as Theodore, a man in the not-too-distant-future who writes letters – for other people – as his profession. His very-personalized greeting card job stands in stark contrast to his lonely life as a single guy pining over his lost love (Rooney Mara), but things change once he meets Samantha. She's funny, smart, caring and compassionate – and she's also an operating system, an A.I. who sends Theodore his emails, takes care of his internet life and speaks to him via Bluetooth. As voiced by Scarlett Johansson, Samantha is (almost) everything Theodore needs, but as his emotional involvement blooms, her limitations as a form of technology eventually come into view – even if he doesn't realize it.
"Her" has a lot to say about the fast-evolving world of technology and the social interaction of the online world – something that brings us all closer together at the same time it's pushing individuals further and further into their own separate universes. That's the area that writer-director Jonze most satisfyingly explores throughout "Her," which is anchored by a believable turn from Phoenix as the movie's sad, detached protagonist who's brought back to life, at least spiritually, by a computer. The movie has some poignant moments, a moody Arcade Fire score, and a satisfying ending, though it's also a picture that's easier to admire than actually "like." Perhaps that's the result of a lengthy running time and a somewhat predictable story arc (you're aware of the purpose Amy Adams' character is going to serve the moment she appears on-screen, for example).
Either way, "Her" is a recommended picture with a lot on its mind, and Warner's Blu-Ray combo pack boasts a pleasing 1080p transfer with 5.1 DTS MA audio and a couple of offbeat special features. A DVD and digital copy round out the package.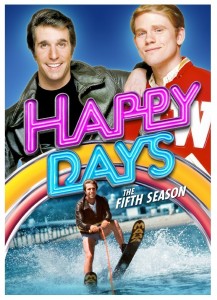 HAPPY DAYS Season 5 DVD (aprx. 12 hours, 1977-78; CBS): Nearly six years after Season 4 was released, CBS has finally revisited the adventures of Fonzie and the Cunningham clan with the belated arrival of "Happy Days"' fifth season on DVD.
Still a top-rated staple on the ABC airwaves in '77, the fifth season of Garry Marshall's sitcom offers some memorable highlights – and a few lowpoints – as it kicks off with the infamous three-part season opener "Hollywood." Yes, this "very special" episode includes the "Jump the Shark" sequence when Fonzie dares to water-ski over Jaws in a jaw-dropping bit that's since become a pop-culture catchphrase (at least CBS has decided to embrace the moment by including a photo of Fonzie on water skiis on the front cover!). Other fan-favorite highlights include the two-part Leather Tuscadero episode "Fonzie: Rock Entrepreneur," Chachi cutting school in "My Cousin the Cheat," the emotional fireworks of "Richie Almost Dies," the self-explanatory "Joanie's First Kiss," and the debut appearance of Robin Williams' Mork in "My Favorite Orkan" – a tribute to the popularity of 'Star Wars," which opened earlier that summer.
For anyone who grew up on the series – and especially those who've watched the syndicated re-runs of the program – these mostly unedited, broadcast-length shows will come as a revelation. Every show has bits of material that will be new for many viewers, though – unavoidable given the licensing costs – CBS has once again listed a disclaimer for music edits. Since most of the song replacements come in the form of background jukebox tracks, however, the changes have little impact on the actual episodes themselves. One notable exception is the deletion of Suzi Quatro singing "Johnny B. Goode" in the episode "Rules to Date By," where the song has been replaced by a generic, non-vocal track, which renders the scene utterly ridiculous (fortuately, most of Leather Tuscadero's songs have been retained here with one other exception: a vocal Quatro wrote for the episode "Richie Almost Dies").
The picture quality is fine, and the "4th Anniversary" flashback episode is included as a bonus. Hopefully fans won't have to wait as long for Season 6 – with the "Fonzie Goes Blind" episode that's funnier for its unintended yucks than intentional humor!
THE PAWNBROKER Blu-Ray (***½, 116 mins., 1965; Olive Films)
HOME OF THE BRAVE Blu-Ray (***, 86 mins., 1949; Olive Films): A pair of emotionally charged vintage dramas comprise two of Olive Films' recent releases on Blu-Ray.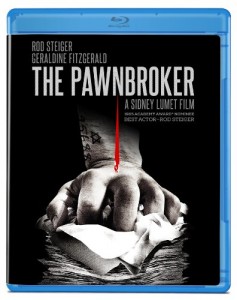 Sidney Lumet's "The Pawnbroker" is an unflinching, ahead-of-its-time portrait of Sol Nazerman (a riveting Rod Steiger performance), a Harlem pawnbroker who harbors unbelievable pain from his experiences in the Holocaust – trauma that eventually spills over through some of the rough and tumble characters he encounters in his neighborhood. Steiger is phenomenal in an Oscar-nominated turn that ranks with some of his strongest work on-screen, and Lumet's direction captures the atmosphere and pain of its troubled lead character in a gritty, fascinating, downbeat drama memorably scored by Quincy Jones. Olive's Blu-Ray is no-frills but includes a well-textured 1080p transfer with mono DTS MA audio.
Newly available this week from Olive is "Home of the Brave," a film with a strong social message typical of its producer, Stanley Kramer. This adaptation of Arthur Laurents' play stars James Edwards as an African-American serviceman who's deployed to Japan along with childhood friend Lloyd Bridges. Edwards' traumatic experiences after Bridges is captured – to say nothing of the discrimination he faces from his fellow squad members – makes for a taut, if somewhat heavy-handed, film directed by Mark Robson and scripted by Carl Foreman from Laurents' play. The performances from Edwards to Bridges and especially Frank Lovejoy are all excellent, and Olive's B&W 4:3 transfer is just fine – particularly considering the poor video releases the movie generated in the past.
---
ENDLESS LOVE Blu-Ray Combo Pack (**, 105 mins., 2014, PG-13; Universal): Scott Spencer's portrait of a crazy teenager who becomes fixated on a younger girl became a hilariously overwrought – if faithful – Brooke Shields film from director Franco Zeffirelli in 1981. This modern-day remake tosses Spencer's much more serious story aside and fashions it as a conventional teen drama with Alex Pettyfer's noble if troubled teen falling for privileged graduate Gabriella Wilde – only, of course, to run into resistance from her domineering father (Bruce Greenwood, in the role Don Murray hysterically filled in the '81 version). The original "Endless Love" is a lot more fun than this cleaned-up, and dramatically stripped-down, rendition, though Shana Feste's picture is still watchable and not entirely awful if you can strip away your memories of its source material (and if you aren't aware of it, the picture might function better in the first place). Universal's Blu-Ray, out May 27th, includes BD-exclusive deleted scenes and an extended ending, plus a Making Of, DVD, digital copy, a 1080p transfer and 5.1 DTS MA soundtrack.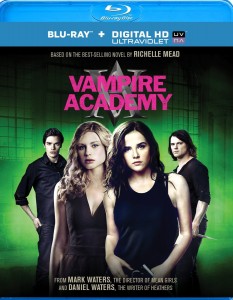 VAMPIRE ACADEMY Blu-Ray (*½, 104 mins., 2014, PG-13; Anchor Bay): Wiped out at the box-office this past winter, this adaptation of Richelle Mead's popular young-adult novels was a big disappointment for "Heathers" scribe Daniel Waters, who wrote the film for his brother, director Mark Waters ("Mean Girls"). Zoey Deutch plays a half-vamp/half-human training to be a protector to best-friend/vampire princess Lissa (Lucy Fry) at a boarding school for the undead. Sure to appeal to faithful readers of Mead's books, "Vampire Academy" is a dismal slog with an uninteresting cast, save for small supporting bits for Olga Kurylenko and Gabriel Byrne. Anchor Bay's Blu-Ray combo pack includes an alternate opening, deleted scenes, interview with Mead, a digital copy, 1080p transfer and 5.1 DTS MA soundtrack.
THAT AWKWARD MOMENT Blu-Ray (**, 94 mins., 2014, R; Sony): Weak romantic-comedy stars Zac Efron, Miles Teller and Michael B. Jordan as a trio of friends who celebrate Jordan's break-up from his wife by hitting the town and hooking up with several young ladies – including Imogen Poots' Ellie, who subsequently threatens their newfound collective "singlehood." Tom Gormican wrote and directed "That Awkward Moment," which offers a charismatic cast in a not especially appealing story that ends up going exactly where you'd expect it to. Sony's Blu-Ray, available this week, includes two format-exclusive special features (an extended gag reel and behind-the-scenes featurette), plus two other featurettes, a 1080p transfer, DTS MA 5.1 audio and an Ultraviolet copy.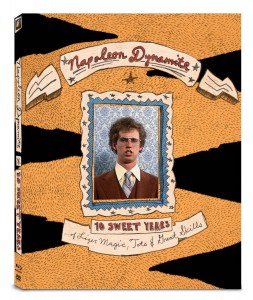 STILL MINE Blu-Ray (***, 103 mins., 2013, PG-13; Fox): Canadian-produced drama stars James Cromwell as a man who wants to build a new home for his Alzheimers-afflicted wife (Genevieve Bujold), only to run into interference from a government inspector. Michael McGowan wrote and directed "Still Mine," which opened to strong reviews on the festival circuit and makes its domestic Blu-Ray debut from Fox. The single-layer BD includes a 1080p transfer, DTS MA 5.1 audio and a digital copy.
NAPOLEON DYNAMITE: 10 Sweet Years Blu-Ray/DVD (***, 2004, 94 mins., PG; Fox): The cult hit is back on Blu-Ray in a combo pack offering the contents of its first release (commentary, deleted scenes) as well as its subsequent Special Edition, which boasted alternate and excised sequences; a cast commentary with Tina Majorino, Jon Gries, Efren Ramirez, and Aaron Ruell; audition clips; and the featurette "On Location: Napoleon Dynamite." Additional promo spots, the short film "Peluca," a 1080p transfer and 5.1 DTS MA soundtrack round out the release. Also new from Fox on Blu-Ray is JOHNSON FAMILY VACATION (96 mins., 2004, PG-13), the 2004 comedy starring Cedric the Entertainer as a family man bringing wife Vanessa Williams and kids on an endless cross-country drive. Steve Harvey co-stars with Fox's Blu-Ray offering the extras from its prior release (commentaries, deleted scenes), a 1080p transfer, and 5.1 DTS MA soundtrack.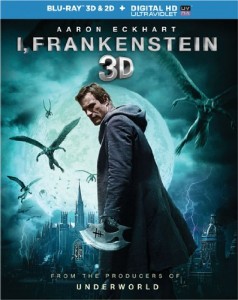 I, FRANKENSTEIN Blu-Ray Combo Pack (*½, 92 mins., 2014, PG-13; Lionsgate): Unbelievably dumb, forgettable special effects mismash attempts to recreate the "fun" of the "Underworld" movies by adding Mary Shelley's literary monster into the mix. Aaron Eckhart stars as Frankenstein's creation, here dubbed "Adam," who gets involved in a modern-day war between angels and demons, a gargoyle queen (Miranda Otto) and a nasty demon price (Bill Nighy) who wants to destroy mankind. It's a mishmash of story cliches and visuals ripped off from other, better films, with director Stuart Beattie – who adapted Kevin Grevioux's graphic novel along with the author – treating it all with an absurdly straight face. The actors – who also include Yvonne Strahovski and Jai Coutrney – likewise struggle with material that's beneath them. Lionsgate's Blu-Ray includes a 1080p transfer in both 3D and 2D, a DVD, digital copy, two commentaries and a pair of Making Of featurettes.
SOPHIA GRACE & ROSIE'S ROYAL ADVENTURE Blu-Ray Combo Pack (75 mins., 2014, G; Warner): After starring in a series of viral videos, British tweens Sophia Grace and Rosie became fixtures in the U.S. thanks to Ellen DeGeneres, who utilized the duo for red carpet interviews and assorted song performances on her talk show. Now the girls have been launched into their own feature – a lightly entertaining, inoffensive comedy that sends Sophia Grace and Rosie to "Switzelvania" as Ellen correspondents, covering the coronation of a new queen. Of course, they get into all kinds of shenanigans while helping the best candidate for the job – and singing a few songs along the way. Warner's Blu-Ray/DVD combo pack includes bloopers, favorite Ellen Show moments, sing-along songs, a 1080p transfer, DTS MA audio, and a digital copy. Available May 20th.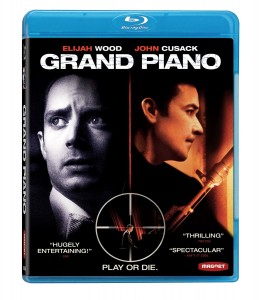 Magnolia New Releases: Elijah Wood gives a committed performance in GRAND PIANO (90 mins., 2013, R), a tidy and quite watchable thriller starring Wood as a pianist who comes out of seclusion to perform in concert – only to have a sniper (John Cusack) threaten his life should he hit one wrong note. Eugenio Mira's film is stylish and well-executed, and comes to Blu on May 20th from Magnolia. The disc features a Making Of and various behind-the-scenes featurettes and interviews, a 1080p transfer and nicely rendered 5.1 DTS MA soundtrack.
Coming From Well Go USA: "Glee"'s Cory Monteith gives one of his final on-screen performances in the dismal thriller McCANICK (98 mins., 2014, R), starring David Morse as the title character – a narcotics cop who tries to hunt down Monteith's Simon Weeks after he's released from prison. Rachel Nichols, Mike Vogel and Ciaran Hinds comprise a strong supporting cast in a disappointingly tedious and unappealing story Well Go brings to Blu-Ray on May 20th. The BD boasts a behind-the-scenes featurette, deleted/extended scenes, the trailer, a 1080p transfer and DTS MA 5.1 audio.
THE ART OF THE STEAL Blu-Ray (90 mins., 2013, R; Anchor Bay): Disappointing crime drama wastes Kurt Russell and Matt Dillon as brothers who get their old gang back together in order to try and steal a priceless book. Writer-director Jonathan Sobol's mix of "Ocean's 11″ by way of Tarantino results in a gloomy and derivative picture deserving of its direct-to-vid status. Anchor Bay's Blu-Ray includes a pair of Making Of featurettes, commentary from Sobol and producer Nicholas Tabarrok, a 1080p transfer and 5.1 DTS MA soundtrack. Skip it.
---
BBC Home Entertainment New Releases
AFTERLIFE: Season 1 DVD (282 mins., 2005; BBC Home Entertainment): Andrew Lincoln from "The Walking Dead" first encountered the supernatural in this 2005 British series just making its DVD debut from BBC. As a psychologist who doesn't believe in the paranormal, Lincoln is a lifelong skeptic until he meets Lesley Sharp's Alison Mundy, who can communicate with the dead. This more serious overseas take on "The Ghost Whisperer" makes for a potent drama with equally poignant and creepy scenes. BBC's two-disc DVD edition includes 16:9 transfers, commentary and stereo soundtracks.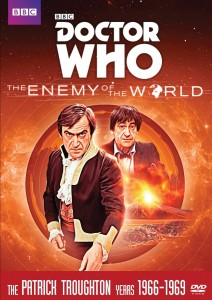 DOCTOR WHO: THE ENEMY OF THE WORLD DVD (139 mins., 1967-68; BBC Home Entertainment): The latest Doctor Who Special Edition DVD is a six-part adventure that has been fully remastered following the recent discovery of five episodes previously thought to have been lost. Here, Doctor Who (Patrick Troughton), Jamie and Victoria arrive in 21st century Australia where the Doctor takes on a virtual doppelganger in dictator Leader Salamander. Good fun for fans, with BBC's B&W transfers having been newly remastered and restored.
DALZIEL & PASCOE: Season 9 DVD (468 mins., 2005; BBC Home Entertainment): Popular British series starring Warren Clark as the gruff Detective Superintendant Andy Dalziel and Colin Buchanan as Inspector Peter Pascoe returns to DVD with BBC's two-disc set of the series' ninth season (2005). Four two-part mysteries are on-hand with 16:9 transfers and stereo soundtracks.
WAKING THE DEAD: Season 9 (584 mins., 2011; BBC Home Entertainment): The final episodes of the long-running British drama find Detective Superintendant Peter Boyd (Trevor Eve) and crew dealing with a new member (Eva Birthistle) forced on them by the Police Force at the same time they engage in a series of personal cases. BBC's three-disc DVD set arrives in stores May 20th offering 16:9 transfers and stereo soundtracks.
---
THE REVENGERS DVD (**½, 108 mins., 1972, PG; CBS)
THE MONEYCHANGERS DVD (aprx. 5 hours, 1976; CBS): It's good to see CBS getting back into releasing catalog content on DVD, and this week brings a pair of '70s productions from both the big and the small screen.
A box-office flop that placed one of numerous nails in the western genre's coffin during the 1970s, THE REVENGERS is a predictable but well-acted outing that plays like something akin to a PG-rated "Wild Bunch" by way of "The Dirty Dozen." William Holden stars as a rancher who recruits a number of tough hombres (including Ernest Borgnine and Woody Strode) in order to exact revenge on the killer who massacred his family. Wendell Mayes' script is pretty much by the numbers, but Daniel Mann's direction is assured and the picture – restored here to its widescreen trimmings – is certainly entertaining enough for genre fans. CBS' 16:9 DVD transfer is satisfying and the sole extra is a theatrical trailer (fans should note Explosive Media has recently released "The Revengers" on Blu-Ray, in a region-free release, in Germany).
Fans of '70s TV mini-series should enjoy a belated DVD release of ARTHUR HAILEY'S THE MONEYCHANGERS (aprx. 5 hours, 1976), a multi-part soaper that profiles life in the high stakes banking industry. Kirk Douglas, Christopher Plummer, Anne Baxter, Susan Flannery, Ralph Bellamy, and Timothy Bottoms star in a glossy good time for nostalgia buffs, backed by a fine Henry Mancini score. CBS' two-disc set offers respectable 4:3 transfers and mono sound – and a disclaimer that "the program may be edited from its original network version."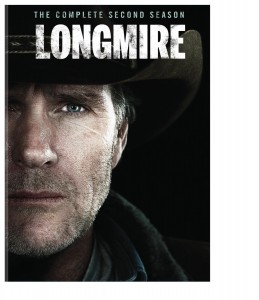 LONGMIRE: Season 2 DVD (560 mins., 2013; Warner): Popular A&E series stars Robert Taylor as Sheriff Walt Longmire, the protagonist from Craig Johnson's novels, as he tries to move on after the death of his wife. Cassidy Freeman from "Smallville" plays his daughter with Katee Sackhoff as his faithful deputy, Lou Diamond Phillips as his best friend, and Bailey Chase as an underling challenging Taylor in an election. Warner's Season 2 DVD edition of "Longmire" includes all 13 episodes in 16:9 transfers and 5.1 Dolby Digital soundtracks, with one featurette (Testing Courage: The Storm Defines the Man) and bonus extended episodes of "Sound and Fury" and "Election Day."
KENDRA ON TOP: Season 2 DVD (344 mins., 2013; MPI): In Season 2 of the WeTV series, Kendra Wilkinson tackles a variety of reality-show challenges: engaging in a celebrity high dive competition, hosting a bachelorette party, and balancing "work" with motherly duties to husband Hank Baskett III and their son Hank IV. MPI's DVD of "Kendra On Top"'s second season offers uncensored episodes, deleted scenes, webisodes, 16:9 transfers and 2.0 stereo soundtracks.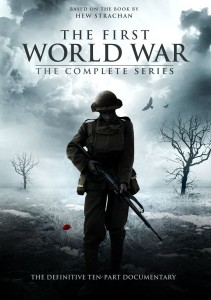 IS THE MAN WHO IS TALL HAPPY? DVD (89 mins., 2013, Not Rated; Sundance Selects/MPI): Eccentric documentary – as you'd anticipate from director Michel Gondry – profiles the mind of MIT professor and free thinker Noam Chomsky. Utilizing animation to punctuate Chomsky's words, "Is the Man Who is Tall Happy?" is a fascinating and visually engaging piece from the talented filmmaker. MPI's DVD includes a Making Of, Huffington Post live interview, the trailer, a Democracy Now! conversation, a NYC Q&A, 16:9 transfer and 5.1 Dolby Digital soundtrack.
THE FIRST WORLD WAR: THE COMPLETE SERIES DVD (500 mins., 2002; E One): A British series based on Hew Strachan's book, "The First World War" is a 10-part Channel 4 production that chronicles the events that led up to WWI as well as the conflict itself. 16:9 transfers and 2.0 stereo soundtracks comprise E One's three-disc DVD set, which is newly available this week.
WHOOPI GOLDBERG PRESENTS MOMS MABLEY DVD (71 mins., 2014; HBO): Whoopi Goldberg directed and produced this tribute to Jackie "Moms" Mabley, an African-American vaudeville entertainer who became one of the first black stand-up comics. Eddie Murphy, Bill Cosby, Joan Rivers, Kathy Griffin and Arsenio Hall are just a few of the talents who provide their thoughts on the groundbreaking comedienne in this HBO documentary, premiering on DVD May 20th in a 16:9 transfer with 2.0 stereo sound.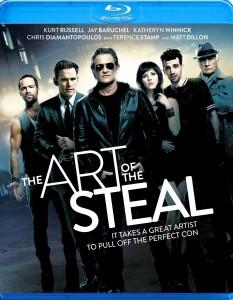 New this week from HBO is EASTBOUND AND DOWN: THE COMPLETE FOURTH AND FINAL SEASON (Blu-Ray, 240 mins., 2014), which concludes the adventures of Danny McBride's irreverent Kenny Powers – now married and a father of two, but convinced by former teammate Guy Young to mount a comeback. HBO's Blu-Ray package includes exclusive deleted scenes, outtakes, commentaries, a digital copy, 1080p transfers and DTS MA soundtracks.
HOUSE OF DUST DVD (88 mins., 2014, R; Anchor Bay): A cut-above for its genre, director A.D. Calvo's indie thriller follows a group of medical students who decide – unwisely, of course – to break into a long-abandoned mental asylum…only to reawaken the spirits of the dead and the damned that dwell inside. Horror fans may not find a lot of surprises in "House of Dust" but this is a well-executed little picture that's thankfully restrained, for the most part, in terms of violence and gore. Anchor Bay's DVD, available May 20th, includes a 16:9 transfer and 5.1 Dolby Digital soundtrack.
Also New From Lionsgate: John Malkovich toplines DEADLY CODE (103 ins., 2014, R), an Italian production featuring the actor as "Kuzya," a Siberian mob leader sent to live in a "punishment town" in 1985. Arnas Fedaravicuius plays his grandson, who's tutored by the elder Grandfather in the ways of "honorable crime," in Gabrielle Salvatores' film. Lionsgate's DVD, out this week, includes a featurette, digital copy, 16:9 transfer and 5.1 Dolby Digital (English) audio.
NEXT TIME: THE WIND AND THE LION, MEMPHIS BELLE and more! Until then, don't forget to drop in on the official Aisle Seat Message Boards and direct any emails to our email address. Cheers everyone!