These days it seems as if every new studio movie is a $100 million+ plus blockbuster starring a super-hero, CGI creature, or cartoon character in some type of "franchise" picture. Whatever happened to the family comedy – the one where the laid-back star brings his clan on a vacation gone awry? Whether it was Chevy Chase, or John Candy, or Jimmy Stewart long before them in MR. HOBBS TAKES A VACATION, it seems Hollywood has lost interest in producing the kinds of genial, star-driven comedies that once entertained audiences of generations past.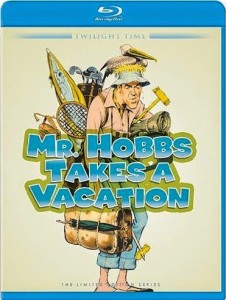 Kicking off Twilight Time's April releases, at least, is MR. HOBBS (***, 118 mins., 1962), a lengthy but likeable lark for Stewart, playing the bewildered father of the Hobbs clan, which sets out on a beach vacation where – of course – things don't pan out as planned. Instead of enjoying a trip alone with "old smoothie" Maureen O'Hara (as Hobbs' loving wife), Hobbs brings along his crazy kids – TV-addicted Danny (Michael Burns), teenager Katey (Lauri Peters), and two older daughters with their own respective husbands and children to boot. The house is a mess, the flirty nextdoor neighbor poses (minor) problems, and even worse, a father-son sailing sojourn turns dangerous when the duo become lost in the fog.
"Mr. Hobbs Takes a Vacation" is close to the very definition of "old school" – leisurely paced, laid back and just as likeable as its veteran star, it's a film that's sure to appeal to nostalgic viewers desiring a trip back to a simpler time of entertainment. It's also a picture that might win over a few new fans as well, seeing as the wide Cinemascope frame isn't filled with explosions or monsters or super-heroes, but rather one of Hollywood's most lovable leading men in a movie that's about people and the gentle humor of everyday predicaments. Regrettably, it's impossible to imagine a major studio funding a film like this today, much less with A-list talent like director Henry Koster and a script from the prolific Nunnally Johnson. Backed by a breezy Henry Mancini score that's as inviting as a warm summer day, "Mr. Hobbs" is a perfect viewing tonic for most of the junk we see in the multiplexes every week.
Twilight Time's Blu-Ray offers one of the nicest Fox transfers the label has released to date: warm colors, fine detail, and scant signs of DNR make for a splendid AVC encoded Blu-Ray presentation. The mono DTS MA 1.0 audio is perfectly fine, and extras include a Fox Movietone Newsreel, the trailer, and, of course, an isolated score track of Mancini's infectious work.
Although they were years away from their breakthrough hits ("Romancing the Stone" and "Back to the Future"), Robert Zemeckis and Bob Gale made an immediate impression on a young Steven Spielberg back in the '70s. The wunderkind had enough faith in the duo to not only hire them to pen his "1941," but also produce their first two features.
Neither picture was a hit: 1978′s "I Wanna Hold Your Hand" disappeared from theaters quickly, and the marginally more successful USED CARS (***, 113 mins., 1980, R) became a movie that few outside its cult following would ever talk about. That said, it's also an often uproarious comedy that's ripe for rediscovery on Blu-Ray.
Kurt Russell essays a young used car salesman who works for one half of the Fuchs brothers – a pair of polar opposite siblings, both portrayed in vastly different comic stylings by the great Jack Warden. Russell's boss, Luke Fuchs, dies early in the picture, forcing the would-be senatorial candidate to try and keep the dealership afloat – both away from Fuchs' arrogant brother Ray, who runs a rival lot across the street, and with increasingly wild advertising techniques. Some of the latter involve renegade broadcast transmissions that interrupt, among other things, local Arizona St. football games and even a Presidential address from then-POTUS Jimmy Carter.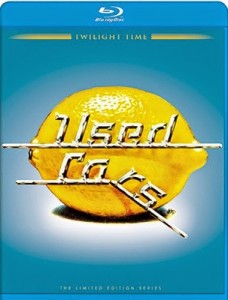 "Used Cars" has some notably funny moments – especially during its first hour – all of which are punctuated by memorable performances. In addition to Russell's energetic starring turn, Zemeckis and Gale pepper the film with zany roles written for Gerrit Graham, Deborah Harmon and Al Lewis, plus recruited a number of familiar faces from "I Wanna Hold Your Hand" and "1941″ (Joe Flaherty, Frank McRae, Dub Taylor, Wendie Jo Sperber, Marc McClure) to round out a highly capable comedic ensemble. As Julie Kirgo points out in her booklet notes, Zemeckis and Gale's original script connects all the dots so that seemingly random plot elements come together in a satisfying conclusion – even if the final 20 minutes run on a good deal longer than they should have.
A cult film that's sure to sell some Blu-Rays for Twilight Time, "Used Cars" is anything but a digital lemon: Sony's 1080p AVC encoded transfer is filled with detail, and the 5.1 DTS MA audio is surprisingly robust. Interestingly, both the movie's score by Patrick Williams and an "Unused Score" track – which doesn't mention composer Ernest Gold by name – are included, giving film score fans the rare opportunity to choose between the two on the fly. After just a few minutes it's easy to hear why Williams was brought into re-score the picture – Gold's score is overly serious and lacks the swagger of Williams' more "contemporary" outing, missing the self-parody that Elmer Bernstein brought to his score for "Airplane!" that same year.
Other extras include goodies carried over from the DVD: commentary from Zemeckis, Gale and Russell, a gag reel and outtakes, radio interviews, and the original trailer.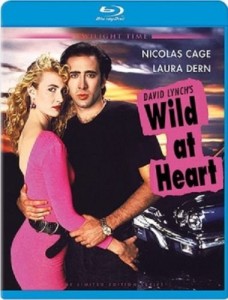 TT's other April releases include films from Woody Allen and David Lynch, as well as a British import that stirred up a bit of controversy in the '80s.
BROADWAY DANNY ROSE (***, 86 mins., 1984, PG) hails from one of Allen's most prolific – and enduring – filmmaking periods, and holds up well today as one of the director's warmer pictures. Allen stars as a talent agent who represents a series of show-biz underdogs including Nick Apollo Forte's lounge singer Lou Canova. Mia Farrow is terrific as Canova's mistress, with Gordon Willis' B&W cinematography adding appreciable texture to a short but sweet Allen vehicle. Twilight Time's 1080p transfer is crystal clear from the MGM vaults, with a DTS MA 1.0 mono soundtrack, the trailer and an isolated music and effects track comprising the supplemental end of things.
RITA, SUE AND BOB TOO (**½, 93 mins., 1987, R) generated some buzz when it opened in a limited U.S. theatrical run in 1987. Alan Clarke's low-budget, world-weary film, written by Andrea Dunbar, tells the story of two lower-class Yorkshire teens (Siobhan Finneran, Michelle Holmes) who become sexually involved with a married man (George Costigan) from a better part of town. Capable performances make "Rita, Sue and Bob Too" involving, though this fairly depressing story ends on a somewhat sour final shot. TT's 1080p transfer is derived from Film Four's vaults and is solid overall, with extras including a fresh commentary from Nick Redman and Julie Kirgo and an isolated music/effects track sporting an unobtrusive outing from Michael Kamen.
Finally, David Lynch devotees are certain to appreciate Twilight Time's WILD AT HEART (**, 127 mins., 1990, R), the director's highly stylized adaptation of Barry Gifford's novel that features a few allusions to "The Wizard of Oz." I have to confess that I'm not a particular fan of this movie – or Lynch for that matter – but aficionados of the picture are sure to appreciate the top-notch 1080p AVC encoded transfer on-hand here along with featurettes and other materials from the original DVD, an isolated music track, the trailer and four TV spots.
---
Blu-Ray owners who've hungered for more classic-TV releases ought to come out in full force for three sensational packages from CBS that arrive in stores next week.
The label, which has been consistently turning out a number of high-quality DVD releases of late, returns to the high-definition format on May 6th with deluxe packages of the first seasons of I LOVE LUCY (aprx. 15 hours, 1951-52) and THE ANDY GRIFFITH SHOW (aprx. 14 hours, 1960-61), along with a 39-episode THE HONEYMOONERS CLASSIC EPISODES anthology (1017 mins.).
These classic, long running situation comedies have already been released on DVD, but one hopes that viewers with Blu-Ray capability and HDTVs that will take advantage of their increased detail will give these releases a fair shake. Since the programs were shot on film, CBS' remastered editions – culled from the best surviving elements – boast an appreciable enhancement in contrast and clarity over any prior transfer of the shows seen before.
"I Love Lucy" defined the television sitcom format and immediately became a phenomenon upon its debut in the fall of 1951. All 35 first-season episodes are included here in CBS' six-disc Blu-Ray set, many in multiple versions as well – viewers can choose between the more commonly seen edits of the program (with the "heart on satin" opening and closing credits) as well as unexpurgated, original broadcast-length shows, complete with Philip Morris cigarette commercials, Lucy & Desi animated caricatures and occasionally extended dialogue snippets. When Lucy went out on a maternity leave, additional footage was shot for over a dozen episodes – material that's also included here on those respective shows. As you might expect, the elements for certain sequences are in rougher shape than others, with a loss of detail evident at times, though in general, the 1080p B&W transfers are more than satisfactory.
Special features are marvelous: costume and make-up tests, presented by TCM's Robert Osborne, are shown here for the first time anywhere; the original 35-minute "I Love Lucy" pilot has been remastered from the 35mm negative and is also presented in its Kinescope version, as well as a 1990 CBS special "I Love Lucy: The Very First Show"; on-set home movies include candid color production footage; commentaries boast material that hasn't been heard since Criterion's early '90s laserdisc release; radio programs; flubs, production notes and other goodies make for a fantastic, must-have package for "Lucy" fans that justifies its price tag.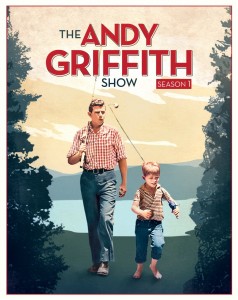 ANDY GRIFFITH SHOW fans are going to feel the same about CBS' four-disc Blu-Ray package, which includes the entire first season of the series in even more impressive high-def transfers. Though the occasional nicks and scratches are visible, the B&W presentation boasts exceptional clarity – so much that you can see the occasional shadow from a boom microphone lightly dance around in the background at times.
The classic series is a charmer, populated by warm stories, lovable characters and indelible performances, and CBS has sweetened the pot by including the "backdoor pilot" of the series, as originally broadcast as part of "The Danny Thomas Show." Several minutes of Ron Howard's family home movies are presented in color, along with original sponsor shots on select episodes ("drink Sanka!") and a '50s "Person to Person" brief interview with Griffith. Perhaps the nicest surprise is the hugely-successful '80s TV movie, "Return to Mayberry," which reunited Griffith, Howard, Don Knotts and other cast members in one of the top-rated shows of its respective season. Not only has it been included here, it's also – as with the other extras – been transferred in full high-definition as well.
THE HONEYMOONERS: The Classic 39 Episodes offers a high-def treatment of a previously available DVD package, enhanced here by new HD transfers of the quintessential American TV sitcom. One of the episodes that fans have long considered one of the show's best, the 1966 musical special "The Adoption," is presented here, along with original sponsor openings and closings for most shows, plus the 35th and 50th network TV specials saluting the classic Jackie Gleason comedy, a 1984 Gleason profile from "60 Minutes" (and assorted outtakes from the latter), a 1956 "Person to Person" interview with Gleason and other goodies. Like the Lucy and Andy Griffith sets, the package comes highly recommended – and hopefully will sell well enough to generate more releases in each respective series.
---
VERONICA MARS Blu-Ray (***, 108 mins., 2014, PG-13; Warner): Rob Thomas' cult-favorite WB/UPN/CW (I can't recall what designation the network carried when the program originally aired!) series returns in the form of a smart, compelling two-hour feature. Made in large part because of a Kickstarter campaign that went above and well beyond its target fundraising goal, "Veronica" picks up in the present with our sassy ex-high school P.I. (Kristen Bell) pulled back into the fray when former flame Logan (Jason Dohring) is accused of murdering his girlfriend. Veronica reunites with many of her past cohorts in a film that pays full fan service with cameos and quick references to the original series, though is also accessible to newcomers with its fast-moving "modern noir" mystery and witty dialogue. Warner's Blu-Ray offers a Making Of, deleted scenes, a 1080p transfer, DTS MA audio and a digital copy.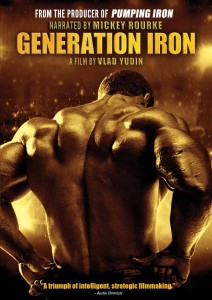 MR. JONES Blu-Ray (**½, 84 mins., 2013, PG-13; Anchor Bay): Jon Foster and Sarah Jones play an artist couple who decide to chuck it all and move to the sticks. Something eventually happens (is there ever a movie when it doesn't?) when the duo – trying to film a nature documentary – instead come across figures designed by an elusive artist. Yes, it's yet another "found-footage" movie – albeit a much-better one than most, with a faux-PBS type of tone brought to its early portions wherein "experts" discuss the work of the mysterious Mr. Jones. Although things become weirder and less effective in the movie's second half, this is still a superior genre outing from writer-director Karl Mueller that hits Blu-Ray on May 6th from Anchor Bay in a no-frills (1080p, 5.1 Dolby TrueHD) presentation. Nothing groundbreaking but nevertheless a decent viewing choice for horror buffs.
Coming from Anchor Bay on May 13th is GENERATION IRON (107 mins., 2014, PG-13), a spiritual sequel to "Pumping Iron" from writer-director Vlad Yudin, profiling seven present-day bodybuilders (Phil Heath, Kai Greene, Branch Warren, Dennis Wolf, Victor Martinez, Ben Pakulski, Hidetada Yamagishi and Roelly Winklaar) and their battles in and out of competition. Anchor Bay's DVD, narrated by Mickey Rourke, includes a commentary, featurette, extended interview with Lou Ferrigno (one of the stars of the original "Pumping Iron"), a 16:9 transfer, and 5.1 Dolby Digital soundtrack.
CALL ME CRAZY: A FIVE FILM DVD (89 mins., 2014, Not Rated; Sony): Actresses Bryce Dallas Howard, Laura Dern, Sharon Maguire, Bonnie Hunt and Ashley Judd directed this five-story anthology film about mental illness. Stars from Jennifer Hudson to Melissa Leo, Brittany Snow, Lea Thompson and Melanie Griffith appear in "Call Me Crazy," which was spearheaded by co-executive producer Jennifer Aniston and comes to DVD on May 6th from Sony. The disc includes a 16:9 (1.78) transfer with 5.1 Dolby Digital audio.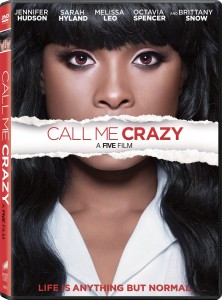 ADVENTURE TIME: THE SUITOR DVD (176 mins., 2014; Warner): The sixth DVD volume of the popular Cartoon Network series includes 16 wacky episodes: The Suitor, James Baxter: The Horse, Shh!, Another Five More Short Graybles, Wizards Only Fools, be More, Sky Witch, The Vault, Red Starved, Hug Wolf, Beyond this Earthly Realm, King Worm, Mituri Te Salutamus, Heat Signature, Blood Under the Skin, and Henchman, plus the special feature "Little Did You Know." 16:9 transfers and 2.0 stereo soundtracks comprise this single-disc Warner release, which hits stores May 6th.
CHINA BEACH Season 3 DVD (aprx. 17 hours; Starvista/Time Life): Following last year's deluxe Complete Series box-set and separate Season 1 and 2 releases, Starvista brings the penultimate season of "China Beach" to DVD in a standalone release May 6th.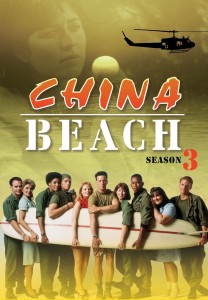 "China Beach," which aired on Wednesday nights at 10pm basically for the duration of its run, was one of several attempts at bringing the Vietnam War to television in the form of a serialized drama. CBS had tried but failed to muster a consistent audience with their more battlefield-oriented "Tour of Duty," but ABC and Warner Bros. TV fared better in the ratings with "China Beach." This multiple Emmy-winner starred Dana Delaney as Colleen McMurphy, a nurse at an EVAC hospital and USO entertainment center populated with both hard-working medical personnel (Robert Picardo's Dr. Dick; Marg Helgenberger's K.C., Colleen's assistant and a former addict; Concetta Tomei's hard-nosed Major Lila Garreau) and singers and entertainers who passed through the facility (Chloe Webb's Laurette Barber, Nan Woods' Cherry White among them).
Season 3 introduces viewers to Ricki Lake's Holly Pelegrino and Brian Wimmer's Boonie Lanier, and hits DVD with the same transfers and remastered audio soundtracks present in the complete box. Interviews with Dana Delany, Nancy Giles and John Wells are included here along with episode commentaries, deleted scenes, a gag reel, 4:3 transfers and stereo soundtracks.
THE SELFISH GIANT DVD (91 mins., 2013; MPI): Clio Barnard's unflinching portrait of working class England chronicles the misadventures of two 13-year-olds who try and make the most of their miserable lives by stealing power cables to a scrap dealer, only to have the man send them off on increasingly dangerous missions. Tough and raw, "The Selfish Giant" garners a DVD release this week from MPI offering cast/crew interviews, a behind the scenes featurette, the trailer, a 16:9 transfer and 5.1 Dolby Digital soundtrack.
NEXT TIME: More of the latest new releases! Until then, don't forget to drop in on the official Aisle Seat Message Boards and direct any emails to our email address. Cheers everyone!