If a Sylvester Stallone-written backwoods thriller that pits Jason Statham's former DEA agent against a rural drug dealer named Gator Bodine – played by James Franco! – sounds like fun B-movie fodder to you, then you're likely to enjoy HOMEFRONT (**½, 101 mins., 2013, R; Universal). This minor but competently performed thriller didn't generate much of an audience last November, but should find more takers with its home video release March 11th.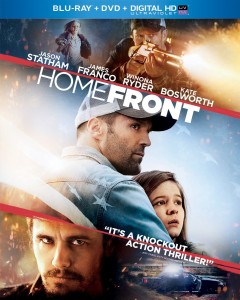 Stallone's script, adapted from Chuck Logan's novel, finds former undercover agent Phil Broker moving with his young daughter (Izabela Vidovic) to rural Louisiana after busting a local gang leader, whose son died in a fracas with government agents. Unfortunately for Phil, their new, seemingly quaint small town houses a drug operation presided over by Franco's Bodine, who – thanks to an otherwise innocuous schoolyard fight between Phil's daughter and Bodine's nephew – finds out about Broker's identity. He subsequently taunts Broker by kidnapping his daughter's cat, slashing his tires and threatening his well-being – but then ups the stakes from mere "Fatal Attraction" levels by using his floozy girlfriend (Winona Ryder) to offer Broker's whereabouts to the drug kingpin that Phil put away.
"Homefront" offers satisfying bursts of action but is mostly a slow-burn, with the movie's predictable twists and turns leading to a fairly exciting climax. It's mostly routine albeit well-executed across the board: director Gary Fleder ("Kiss the Girls," "Don't Say a Word") is a veteran in the genre and handles the material with a steady hand, with Theo Van De Sande's cinematography splendidly capturing the lovely Louisiana locales. Statham does his usual thing – and he's quite good at it at this point – while Ryder, Clancy Brown (essentially reprising his "Sleepy Hollow" small-town sheriff role) and Rachelle Lefevre (the attractive redhead from "Under the Dome") add solid support. The real surprise is Kate Bosworth's performance as Bodine's junkie sister – a role that's more thoughtfully handled than one might expect. "Homefront" isn't as inspired or outrageously excessive as one might like (I was hoping Franco would chew more scenery than he does), but it's nevertheless a decent rental choice, and should feel more at home (no pun intended) on the small screen.
Universal's Blu-Ray includes a dynamic 1080p transfer with DTS MA 5.1 audio that's a bit unbalanced between its dialogue and music levels. Extras include a few deleted scenes (including a superior, longer ending that answers what happened to Lefevre's character) and the featurette "Standoff," plus a DVD and digital copy.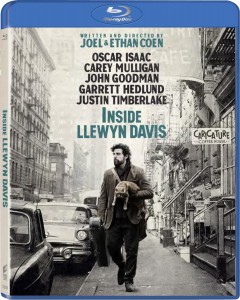 INSIDE LLEWYN DAVIS Blu-Ray (***, 104 mins., 2013, R; Sony): The latest eccentric Coen Brothers film – much like their earlier success "O Brother, Where Art Thou" – uses "The Odyssey" as a springboard for its tale of an obstinate Greenwich Village singer-songwriter (Oscar Issac) trying to land a record deal in the evolving folk music world of the early '60s.
The sense of time and place is – unsurprisingly – captured brilliantly in the Coens' picture: Bruno Delbonnel's cinematography and the production design of Jess Gonchor both splendidly evoke the Village's smoky clubs and offbeat hangouts. There's also a marvelous soundtrack featuring a handful of original songs – criminally overlooked at this year's Oscars – that set the scene as well, most especially "Fare Thee Well," performed by Issac along with Mumford & Sons frontman Marcus Mumford (whose wife, Carey Mulligan, plays Davis' ex-girlfriend in the film).
Less successful is the screenplay, which takes Davis on a quest to Chicago where he hopes to meet with a record executive (F. Murray Abraham) who holds Davis' shot at stardom in his hands. Along the way he runs into a series of misadventures involving weirdo hustler John Goodman and his "valet" Garrett Hedlund – this creates a mid-section that not only recalls earlier, better Coen films, but also tends to drag quite a bit. The lack of an empathetic character at the movie's center also takes away whatever emotional resonance the movie could've had, making for a picture that one tends to appreciate at a distance instead of fully embrace.
Nevertheless, for its music and atmosphere alone, "Inside Llewyn Davis" is a cinematic journey well worth taking, and Sony's Blu-Ray – out this week – captures the shadings of Delbonnel's cinematography with an excellent 1080p transfer and 5.1 DTS MA soundtrack. An Ultraviolet copy and one Making Of featurette are also included.
Coming on the 18th from Sony is another period drama, KILL YOUR DARLINGS (***, 103 mins., 2013, R), starring Daniel Radcliffe as Allen Ginsburg in a well-reviewed, if little-seen, picture from director John Krokidas, set during Ginsburg's days at Columbia University, where the future "beat generation" icon was influenced by Lucien Carr (Dane DeHaan). Ben Foster plays William Burroughs with Michael C. Hall as David Jammerer in a well-acted, compelling picture Sony brings to Blu-Ray featuring a commentary with Radcliffe, DeHaan, Krokidas and Ausin Bunn; deleted scenes; featurettes; a 1080p transfer; 5.1 DTS MA soundtrack; and Ultraviolet streaming copy.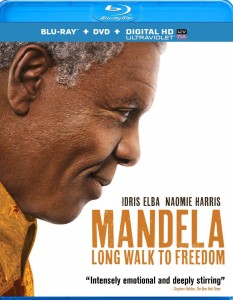 MANDELA: LONG WALK TO FREEDOM Blu-Ray Combo Pack (***, 141 mins., 2013, PG-13; Anchor Bay): Idris Elba's performance as Nelson Mandela is the main reason to check out this ambitious though not entirely successful cinematic adaptation of Mandela's own autobiography. As scripted by two-time Oscar nominee William Nicholson, "Mandela: Long Walk to Freedom" chronicles Mandela's early life and education, his marriage to Winnie Mandela (Naomie Harris), anti-apartheid activism and his eventual prison sentence of 27 years – all before he became the country's first democratically elected President.
Spanning 50 years in the span of a sub-2½ hour feature is a lot for a movie to chew on, and "Mandela" is hampered somewhat by its overly ambitious scope. Ultimately, though one wishes certain historical elements had been developed further, it's surprising how much material Nicholson and director Justin Chadwick manage to cram into the film – including a balanced portrait of Mandela himself. The film doesn't gloss over Mandela's philandering as well as Winnie Mandela's controversial acts of violence – and all of it is pitch-perfectly performed by Elba and Harris.
Anchor Bay's Blu-Ray, available March 18th, includes a commentary from Chadwick, behind-the-scenes featurettes and a Mandela documentary, DVD and Ultraviolet copy. The 1080p transfer and 5.1 DTS MA soundtrack are both excellent.
---
Also New This Month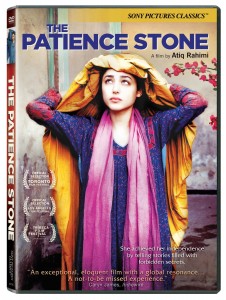 THE PATIENCE STONE DVD (102 mins., 2012, R; Sony): Afghan-produced drama, based on the Goncourt-prize winning novel, finds a young woman (Golshifteh Farahani), living with her comatose older husband, telling him her repressed hopes, dreams and desires while he lays paralyzed from a war injury. Eventually, she begins a relationship with a younger soldier in this acclaimed adaptation of Atiq Rahimi's book. Sony's DVD, available March 18th, offers a Making Of featurette, 16:9 transfer and 5.1 soundtrack in Persian and Farsi with English subtitles. An absorbing emotional drama that can be appreciated in any global context, though naturally most relevant to the plight of Afghan women in the modern world.
DOCTOR WHO: THE TIME OF THE DOCTOR Blu-Ray (60 mins., 2013, BBC): Writer Steven Moffat bids goodbye to Matt Smith's Doctor in an hour-long Christmas special, co-starring Jenna Coleman as Clara, that seemed to appease fans of the series. The show has quite a bit to do in the space of an hour – offer a fitting farewell to Smith's incarnation of the Doctor, introduce Peter Capaldi as the next actor to inherit the mantle, and mix in a series of aliens and monsters for good measure. Somehow "The Time of the Doctor" manages to get the job done, and BBC's Blu-Ray of the episode includes three featurettes including a goodbye to Smith, a 1080p transfer and 5.1 DTS MA soundtrack.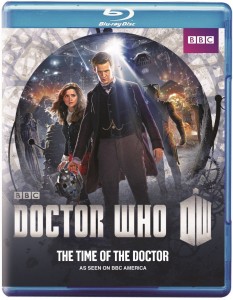 THE AGONY AND THE ECSTASY Blu-Ray (**½, 138 mins., 1965; Fox): Charlton Heston is Michelangelo to Rex Harrison's Pope Julius II in this gorgeously shot but somewhat lumbering 1965 Fox Cinemascope production. The widescreen cinematography is the most vivid element in Carol Reed's film, an element captured superbly in Fox's new Blu-Ray edition with a crisp and effective 1080p transfer. On the audio side, Alex North's score (and Jerry Goldsmith's "Prologue" music) likewise receive a strong rendering in a robust 5.1 DTS MA soundtrack. Best recommended for Golden Age fans.
From Magnolia: The Japanese thriller BEYOND OUTRAGE (112 mins., 2012, R) kicks off Magnolia's March releases. This latest film from director Takeshi Kitano follows an anti-gang detective who starts a war between rival Yakuza clans, with the rumored-dead crime boss of one family placed firmly in the middle. Kitano fans ought to enjoy the mayhem, which includes a 1080p transfer, 5.1 DTS MA Japanese audio, and an hour-long Making Of feaurette…A lack of gore distinguishes – at least somewhat – the Spanish import HERE COMES THE DEVIL (98 mins., 2012, Not Rated), a thriller from Adrian Garcia Bogliano that chronicles the disappearance – and then sudden reappearance – of a couple's children while traveling through the countryside. When they return, not all is right with the little ones… Far from a gory slasher, "Here Comes the Devil" might satisfy certain hard-core horror fans, though its leisurely pacing and ultimate lack of thrills make for a film only partially successful in its intentions. Magnolia's Blu-Ray includes an "extended nightmare scene," behind the scenes comparisons, rehearsals, commentary with Bogliano, a 1080p transfer and English/Spanish 5.1 DTS MA audio.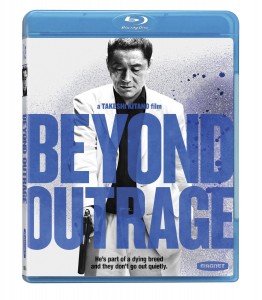 IN FEAR Blu-Ray (**, 85 mins., 2012, R; Anchor Bay): A young British couple (Iain De Caestecker and Alice Englert) drive around the Irish woods while heading to a music festival. Lost and increasingly concerned, the couple discuss their relationship – and eventually run into a psycho – in this odd independent import from director Jeremy Lovering. "In Fear" actually starts well, albeit slowly, in establishing the couple and their relationship, but fails to present a satisfying third act, leaving viewers, ultimately, in the dark. Anchor Bay's Blu-Ray offers a behind-the-scenes featuette and 5.1 Dolby TrueHD soundtrack.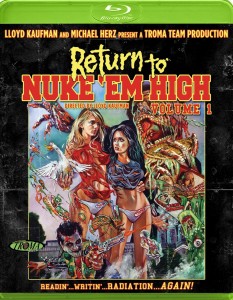 RETURN TO NUKE 'EM HIGH Volume 1 Blu-Ray (*, 85 mins., 2014, Not Rated; Anchor Bay): The wait for Troma fans is over as the puerile, belated sequel to one of the company's biggest '80s hits arrives on home video March 18th. This gore-soaked, obnoxious gore-comedy once again finds students at the same New Jersey high school falling victim to toxic sludge, creating all kinds of disgusting mayhem. And gross isn't even the word I'd apply to this film, which opens with a Stan Lee cameo and proceeds to show a couple having sex, succumbing to the slime with sliced off male genitalia and disintegrating organs oozing out. If this sounds like fun, there's another 80 minutes of bad performances and similarly icky special effects awaiting you. Anchor Bay's Blu-Ray is loaded with extras, including commentaries, featurettes, and a segment on director Lloyd Kaufman. The 1080p transfer and plain Dolby Digital 2.0 stereo soundtrack are as acceptable as the material allows.
---
PBS New Releases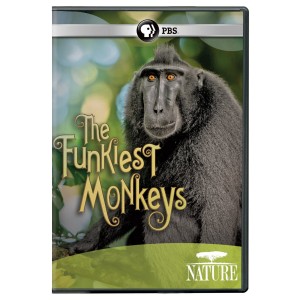 Filmmaker Colin Stafford-Johnson returns to Indonesia to examine the crested black macaques – "beach bum monkeys" – in the terrific Nature documentary THE FUNKIEST MONKEYS (60 mins., 2014). The monkeys' various personalities and intelligence are profiled in this hour-long special, as well as the work of environmentalists in trying to preserve their dwindling numbers. PBS' DVD includes a stereo soundtrack and 16:9 transfer…COMET ENCOUNTER (60 mins., 2014) looks at a sun-grazing comet passing by at speeds up to 425,000 mph. What the comet is made of, its interaction with our solar system and scientists' efforts to observe the rare phenomena are examined this documentary from Duncan Copp and Ed Watkins. PBS' DVD includes a widescreen transfer and stereo soundtrack…ALIEN PLANETS REVEALED (60 mins., 2014) shows how NASA's Kepler mission has identified more than 3,500 planets orbiting stars beyond the Sun. The likelihood of whether or not these planets could house human life are examined in this NOVA documentary directed by Nathan Williams, brought to DVD by PBS this month in a widescreen transfer and stereo soundtrack. Another NOVA documentary, COLD CASE JFK (60 mins., 2013) uses new forensic investigative techniques to look at the decades-old evidence in the JFK assassination. An intriguing technical report follows in PBS' production, sporting a 16:9 transfer and stereo soundtrack on DVD. GREAT CATHEDRAL MYSTERY (60 mins., 2014) chronicles the creation of Florence's Santa Maria del Fiore, in a NOVA special written and directed by David Murdock. PBS' DVD boasts another fine 16:9 transfer with stereo sound. A similarly presented Nova documentary, ROMAN CATACOMB MYSTERY (60 mins.), tackles the mystery involving a tomb of mass graves that were discovered under the streets of Rome when a water main broke in 2002.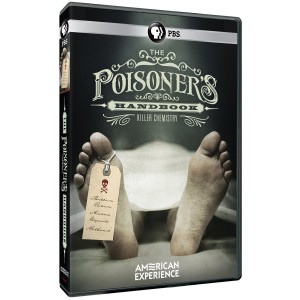 A DEATH IN ST. AUGUSTINE (60 mins., 2013) is a troubling Frontline investigation into the death of Florida single mother Michelle O'Connell, who was found with a gun belonging to her boyfriend – a local deputy sheriff – lying next to her. The mystery involving her alleged suicide is at the core of Glenn Silber's investigation, reported by Walt Bogdanich. PBS' hour-long DVD includes a widescreen transfer and stereo soundtrack…THE POISONER'S HANDBOOK (120 mins., 2013) presents a look at the birth of the American medical examiner, which was officially marked in 1918 with Charles Norris' appointment to the post in New York City. Norris' work, alongside chief toxicologist Alexander Gettler, makes for a compelling, in-depth American Experience production narrated by Oliver Platt, based in part on Deborah Blum's book of the same name. PBS' DVD is now available, boasting a widescreen transfer and 5.1 Dolby Digital soundtrack.
THE BEST OF MEN (90 mins., 2012) dramatizes the pioneering work of Dr. Ludwig Guttman, whose tenure at England's Stoke Mandeville Hospital included the encouragement of paraplegics – leading to the first Paralympic Games. Eddie Marsan stars in a fine production from director Harriet Davison. PBS' DVD includes a stereo soundtrack and 16:9 transfer…The Frontline documentary TO CATCH A TRADER (60 mins., 2014) fascinatingly profiles the investigation into the largest insider trading case in U.S. history. This documentary offers exclusively obtained video of hedge fund fraud Steven A. Cohen, and FBI wiretaps and interviews with Wall Street and Justice Department insiders…Finally,HAWKING (90 mins., 2013) offers an engaging look at the life and times of Stephen Hawking, produced with unique access through Hawking's private life and archives. Recommended viewing with PBS' DVD including a stereo soundtrack and widescreen transfer.
---
BARBIE: THE PEARL PRINCESS Blu-Ray Combo Pack (74 mins., 2014, Not Rated; Universal): Feature-length animated fun for kids stars Barbie as a mermaid – and aspiring princess – who joins with Kuda, a pink seahorse, in order to help her friends prepare for the Royal Ball. It's essentially a "Little Mermaid" retelling Barbie style (as you'd anticipate from this plot description) and will likely find takers among its target audience. Universal's combo pack includes an attractive 1080p transfer, DTS MA soundtrack, three music videos, episode from "Barbie: Life in the Dreamhouse," a DVD copy and Ultraviolet/digital copy for good measure.
THE WRATH OF VAJRA Blu-Ray (111 mins., 2013, Not Rated; Well Go USA): Xing Yu, a former Shaolin monk and subsequent martial arts star, plays an assassin who turns his back on the death cult who trained him as a child in 1930s Japan. Well Go's Blu-Ray edition of "The Wrath of Varja" includes an English soundtrack as well as the original Japanese/Mandarin audio in DTS MA; a 1080p transfer; Making Of featurette; and the trailer.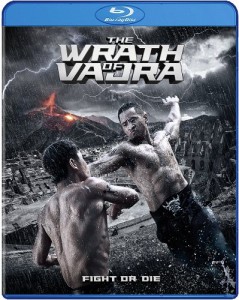 COMMITMENT Blu-Ray (113 mins., 2013, Not Rated; Well Go USA):Korean star/pop music sensation Choi Seung-Hyun (aka T.O.P.) stars as a North Korean sent – along with his younger sister – to a labor prison camp after an espionage mission gone wrong. In order to have his sibling, Seung-Hyun has to infiltrate South Korea as a teenage defector. Well Go's Blu-Ray of "Commitment" includes a 1080p transfer, DTS MA soundtrack (in Korean with English subtitles), a Making Of featurette and the trailer.
VIKINGS DVD (177 mins., 2014; BBC): Historian Neil Oliver digs for clues in Norway, Sweden and Denmark in this BBC documentary on the Norsemen, divulging whether or not the Vikings were barbaric pillagers or savvy business traders of their era. Reenactments of the Viking settlements of Britain, Iceland and Greeland are included in this single-disc BBC DVD release in 16:9 with 2.0 stereo audio.
NEXT TIME: THE BOOK THIEF on Blu-Ray. Until then, don't forget to drop in on the official Aisle Seat Message Boards and direct any emails to our email address. Cheers everyone!