With Woody Allen in the news lately – for all the wrong seasons – it might be hard for some to entirely divorce their personal feelings about the filmmaker's off-screen life from his cinematic output. Yet, distanced from the tabloid stories, two of the writer/director's pictures have arrived on Blu-Ray for the first time from Twilight Time: one showcasing his talents solely as an actor, the other a feature from the peak of his prolific cinematic output in the late '70s and '80s.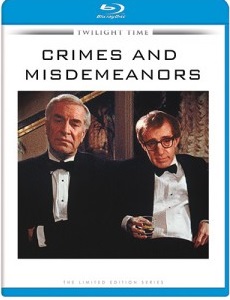 THE FRONT (***, 95 mins., 1976, PG) is one of the few films Allen appeared in that he did not write or direct: a tale of a cashier in New York City during the McCarthy era who acts as a front for Blacklisted writers (including Michael Murphy). Allen's Howard Prince takes just a small cut of the profits to shop quality scripts around town, but gains more of a conscience over time – primarily in his relationship with an unfairly accused blacklisted actor (Zero Mostel) targeted by the HUAC.
With a cast and crew filled with blacklisted talents – including director Martin Ritt and writer Walter Bernstein – "The Front" comes across less as an authentic drama set during the era and more of a basic – albeit impassioned and angry – tirade against it (which is completely understandable from the point of view of the persecuted individuals who produced the picture). Allen's performance is quite good, with his usual nebbish persona incorporating some emotional layers as the film progresses, but it's Mostel's tragic character who generates the most emotion in the picture.
Ritt's 1976 film makes its Blu-Ray debut from Twilight Time in a perfectly respectable transfer from the Sony vaults. This 1080p AVC encoded presentation isn't as pristine or detailed as some of the other Sony catalog titles TT has licensed, but it's still satisfying enough and an appreciable enhancement from DVD. The disc includes an enlightening commentary chat between Nick Redman, Julie Kirgo and co-star Andrea Marcovicci, along with the trailer and an isolated music track sporting a sparse score from Dave Grusin.
Allen's CRIMES AND MISDEMEANORS (****, 104 mins., 1989, PG-13), meanwhile, is one of the filmmaker's finest: the parallel story of a married Ophthalmologist (Martin Landau) who can't shake off a woman (Anjelica Huston) he had an affair with, as well as a married neurotic New York City filmmaker (Woody Allen) pining for a production assistant (Mia Farrow) on a project involving his brother-in-law: an obnoxious TV sitcom producer (Alan Alda, in a role supposedly based on Larry Gelbart). While the latter is a bittersweet, typical Allen tale with a few comedic moments, the former is a tense and searing thriller, with Landau's family man probing the moral depths of his soul in deciding to hire his brother (Jerry Orbach) to kill the woman who won't let go. The ultimate solution, as Allen once said, isn't so much pessimisstic as it is realistic – a statement on the vacuous morality in the modern world that leaves you believing only the most vain and self-absorbed individuals truly get ahead.
It's a startling Allen film that put a cap on the 1980s and arguably his strongest filmmaking period. The Sven Nykvist cinematography is outstanding, reflecting the turmoil of Landau's Judah Rosenthal and his surroundings in an effective, yet unobtrusive, manner, and Allen's casting is, as always, second to none, with Sam Waterston, Joanna Gleeson, Claire Bloom, and uncredited appearances by Daryl Hannah and Mercedes Ruehl adding to a film that's one of the decade's very best. (Hannah's appearance was reportedly part of Allen's original opening act of "Crimes and Misdemeanors." After the director determined that the film wasn't clicking, he reworked, and jettisoned, the movie's early portions).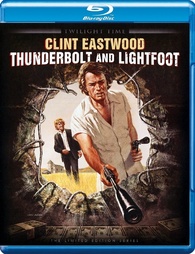 Twilight Time's Blu-Ray offers a highly detailed, nicely balanced 1080p transfer from the MGM vaults. Nykvist's cinematography receives a major boost from the high-def treatment with its many colors and shadings, making it a prime upgrade from DVD. The mono sound is fine, and a brief – and effective – theatrical trailer rounds out the disc as well as an isolated score track.
THUNDERBOLT AND LIGHTFOOT (***, 114 mins., 1974, R) offers a decidedly "'70s" crime thriller that ought to appeal to aficionados of stars Clint Eastwood (as a veteran bank robber on the run) and Jeff Bridges (the young hotshot likewise running from stealing a car, whose path intersects with Eastwood).
Michael Cimino, who had co-written Eastwood's Dirty Harry sequel "Magnum Force," took the reigns behind the scenes for his first feature, showing an affinity for widescreen scope composition (shot in gorgeous Montana locales by Frank Stanley) and colorful characterizations. "Thunderbolt and Lightfoot" is as much about the friendship between the two men as it is the robbery the duo – along with Eastwood's former partners (George Kennedy, Geoffrey Lewis) – are planning with the help of "Thunderbolt"'s 20-millimeter cannon.
"Thunderbolt and Lightfoot" is an early prototype, of sorts, for what would eventually become the "buddy movie"– Eastwood and Bridges generate an amiable chemistry here that makes the movie's almost requisite detour into downbeat tragedy even more striking (if not somewhat disappointing) at the end. As much as folks complain about the "happy endings" of most modern films, the ending of this picture is as predictable given its era, even concluding with a similar shot (as Nick Redman, Julie Kirgo and Lem Dobbs point out in their audio commentary) to the finale of "Midnight Cowboy."
Still well worth seeing for its sense of time and place and its lead performances, "Thunderbolt and Lightfoot" makes a pleasing addition to Twilight Time's library: the 1080p AVC encoded transfer has been newly minted from the MGM vaults, offering clear detail and no obvious signs of digital processing. The mono sound is acceptable given its vintage, sporting a score by Dee Barton with a Paul Williams original song popping up here and there. Extras include the before-mentioned new commentary and the original trailer.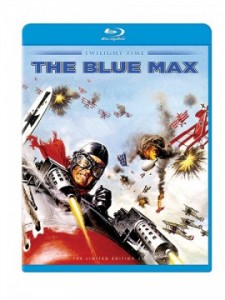 THE BLUE MAX (**½, 156 mins., 1966; Fox) also flies onto Blu-Ray from Twilight Time this month. Best enjoyed for its sweeping aerial photography and, of course, Jerry Goldsmith's magnificent, soaring score, "The Blue Max" is an overlong tale of Bruno Stachel, a gruff German soldier (played by George Peppard of all people) who works his way through the ranks to becoming a member of his country's elite air forces during WWI – in spite of his lack of a proper Aristocratic background and his eventual romance with a commanding officer's wife (Ursula Andress). James Mason leads a cast of familiar international character actors in John Guillermin's 1966 film, which is hard to grasp onto emotionally due to its lead character's icy demeanor. What does work in the film is the aerial photography by Douglas Slocombe and Goldsmith's music, elements of which are heavily praised in Twilight Time's Blu-Ray commentary with Nick Redman, Julie Kirgo and Jon Burlingame, which adds some additional Goldsmith cues onto the track (a full isolated score track is, of course, also included). The 1080p AVC encoded transfer is spectacularly detailed – this is one of the best of TT's Fox catalog releases, and the 5.1 DTS MA soundtrack is likewise satisfying.
Finally, THE EDDY DUCHIN STORY (**½ , 123 mins., 1956) offers an attractive, glossy widescreen treatment of the life of the late, great 1930s pianist and bandleader whose career highlights were followed by his serving in WWII and a subsequent, eventually fatal bout with leukemia. Tyrone Power fills Duchin's role with sufficient panache and Kim Novak essays the New York socialite who loves him in a heavily fictionalized account of Duchin's life, filled with great music and luminous shots of period NYC – but the less said, the better about the movie's cornball script. TT's Blu-Ray offers a splendid AVC encoded presentation of "The Eddy Duchin Story," with 2.0 DTS MA audio, an isolated music-and-effects track and the trailer rounding out the release – all exclusively available through Screen Archives.
---
Out of print on DVD for some time, Warner's re-issue of George Roy Hill's THE WORLD ACCORDING TO GARP (**½, 136 mins., 1982, R) leads off this week's wrap-up of Archive new releases.
Arguably the most successful film to be produced from John Irving's bestsellers of the era, "Garp" gave Robin Williams his first starring role as T.S. Garp, a writer whose life and times are recounted in an episodic film adapted by Steve Tesich. Like the book, the movie version swings wildly from the comedic to downbeat drama and is filled with memorable performances, not only from Williams, but particularly John Lithgow in his Oscar-nominated role of a transgendered former football player and Glenn Close as Garp's independent mother. Issues from feminism to sexual identity, war and gun violence are raised in a movie that doesn't always have a cogent point – but is, at least, much more accessible than other cinematic endeavors based on Irving's books (particularly the borderline-unwatchable 1984 filming of "The Hotel New Hampshire"). Warner's Archive DVD reprises the prior, out-of-print DVD edition with a 16:9 (1.85) transfer and 2.0 stereo sound.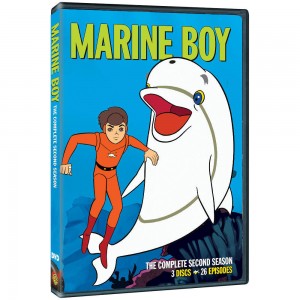 Now available in a Season 2 DVD edition, MARINE BOY (637 mins., 1966-67) was noteworthy for being one of the first Japanese animated cartoons to reach American shores. Produced originally in 1965 by Japan Tele-Cartoons, "Marine Boy" was – along with early Asian animated imports "Kima" and "Speed Racer" – intended for the North American audience, captivating young viewers who tuned in to see Marine Boy keep the oceans of the world safe on behalf of the Ocean Patrol. Along with a pair of other Ocean Patrol agents, a mermaid named Neptina and his faithful dolphin, Splasher, Marine Boy swam through 26 second-season episodes, all of which have been collected here by Warner in a three-disc set.
For anime fans or nostalgic viewers who might remember the series – which aired in syndication after Warner-Seven Arts purchased the English language rights – "Marine Boy" is a blast of early "anime," and should delight kids and those who might recall its original broadcasts.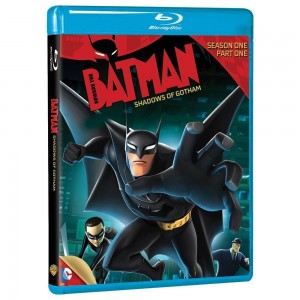 Animation fans may also want to check outBEWARE THE BATMAN: SHADOWS OF GOTHAM (286 mins., 2013), a new Cartoon Network series that envisions Bruce Wayne in his earliest days as the Caped Crusader, fighting off evil in a more contemporary looking Gotham City minus Robin and with a young Japanese female sidekick (and Alfred's a former MI6 agent here as well!). The stylized computer animation is decidedly a shift from the Bruce Timm era, and the plots are likewise less cartoony, with more obscure villains included to further differentiate the series from its brethren. The result hasn't been widely embraced – in fact there are rumors the program is about to be canceled by Cartoon Network since it's been on a hiatus, with two of the episodes here having never been aired. Warner's single disc "Season 1, Part 1″ Blu-Ray includes the episodes Hunted, Secrets, Tests, Safe, Broken, Toxic, Family, Allies, Control, Sacrifice, Instinct, Attraction and Fall (the latter two yet to be broadcast). The 1080p transfers are well detailed and the Dolby Digital 2.0 audio is also just fine.
Golden Age comedy fans will find much to savor in FREE AND EASY (94/96 mins., 1930), the first talkie to star the great Buster Keaton, here as a gas station employee who accompanies an aspiring actress (Anita Page) and her mother (Trixie Friganza) to Hollywood. This send-up of Hollywood is available here in two different edits: its original 94-minute release as well as a Spanish-language version, "Estrellados," which offers Keaton working off a different cast (much like the two versions of Universal's "Dracula").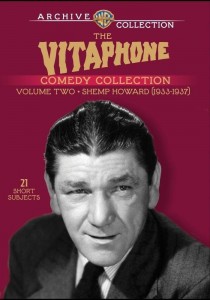 More Golden Age entertainment can be found in THE VITAPHONE COMEDY COLLECTION VOLUME 2, which celebrates the 1930s shorts of future Three Stooges member Shemp Howard. Included here are Howard's solo vehicles as well as his scene-stealing turn as Knobby Walsh in the Joe Palooka series, based on the comic strip. Shorts include: Gobs of Fun (1933); Daredevil O'Dare, My Mummy's Arms, Smoked Hams, So You Won't T-T-T-Talk, A Peach of a Pair, His First Flame (1934), Dizzy and Daffy, Why Pay Rent?, Serves You Right, On the Wagon, The Officer's Mess (1935) When the Cat's Away, Absorbing Junior, Joe Palooka: For the Love of Pete, Joe Palooka: Here's Howe, Joe Palooka: Punch and Beauty, Joe Palooka: The Choke's on You, Joe Palooka: The Blonde Bomber (1936), Joe Palooka: Kick Me Again, and Joe Palooka: Taking the Count (1937).
Last but not least, George Cukor's WHAT PRICE HOLLYWOOD (88 mins., 1932) is a fascinating early vehicle from the prolific director: a tragic tale of fame with Constance Towers playing Mary Evans, a waitress at the Brown Derby whose life changes when she meets veteran director Maximillan Carey (Lowell Sherman). Carey's career is on a downward slope but Mary is nevertheless able to catapult her way into stardom, marrying – then divorcing – a dashing polo player (Neil Hamilton) while Carey becomes suicidal. This pre-code drama is filled with adult themes – melodramatic but nevertheless fascinating stuff, presented – like the Vitaphone shorts – from the best-surviving elements in its original 4:3 B&W format.
---
ICE SOLDIERS Blu-Ray (95 mins., 2014, R; Sony): Formulaic, watchable sci-fi actioner finds a group of scientists trying to stop a trio of genetically-engineered Russian soldiers from thawing out and causing a global crisis. Shot in Canada by Iceland's Sturla Gunnarsson, "Ice Soldiers" offers fairly engaging performances from Dominic Purcell as the main man out to stop the Soviet Universal Soldiers with Michael Ironside and Adam Beach livening things up as well. It's all pretty ordinary but still not half bad for what it is. Sony's Blu-Ray includes a 1080p transfer and 5.1 DTS MA soundtrack.
THE LAST DAYS ON MARS (98 mins., 2013, R; Magnolia) is a disappointing sci-fi thriller that starts off promisingly – as a group of astronauts (including Liev Schreiber, Elias Koteas and Romoloa Garai) discover life on the Red Planet right before they leave for Earth – before turning into just another zombie slaughter flick. Stylishly helmed considering its low budget but an eventual waste of time from director Ruari Robinson, based on Sydney J. Bounds' book "The Animators." Magnolia's Blu-Ray offers a Making Of, visual effects featurette, AXS TV special, and behind-the-scenes comparison. A 1080p transfer and 5.1 DTS MA soundtrack round out the release.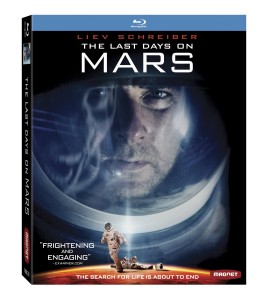 Cinedigm Upcoming Releases: Available March 18th, ALMOST SHARKPROOF (82 mins., 2013, Not Rated)is a wacky comedy with Jon Lovitz as an L.A. loan shark who tries to help out a couple of young guys (Cameron Van Hay, Michael Drayer) living in their parents' backyard. Simon Chan and Joe Rubalcara co-directed this comedy that boasts an appearance by former late '80s cinematic fixture Joan Severance. Cinedigm's DVD includes a 16:9 transfer and 5.1 soundtrack…"Jeepers Creepers" director Victor Salva is back with a new thriller, DARK HOUSE (102 mins., 2013, R), out on March 11th. Luke Kleintank plays a guy who celebrates his 23rd birthday by heading out to an asylum where dear old mom (Lesley-Anne Down) reveals that the father he believes is dead is really alive – and responsible for his psychic "gift" that enables him to see when someone will die, just by touching them (Happy Birthday!). Tobin Bell and Zack "Scut Farkas" Ward co-star in a leisurely paced chiller with a suitable score by Bennett Salvay, though I found "Dark House" ultimately slow-going and forgettable. Behind-the-scenes footage is on-tap in Cinedigm's Blu-Ray release, along with a 1080p transfer and 5.1 DTS MA audio.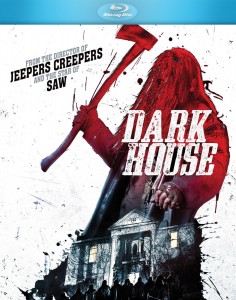 Lionsgate New Releases: History's popular ANCIENT ALIENS returns to Blu-Ray this March in a Season 5, Volume 2 high-def set including eight episodes from the long-running series on two discs: Emperors, Kings and Pharaohs, Alien Operations, Mysterious Relics, The Satan Conspiracy, The Anunnaki Connection, The Crystal Skulls, The Power of Three and Magic of the Gods. 1080p transfers (1.78) and DTS MA soundtracks comprise Lionsgate's new BD release…THE VIKINGS: DARK WARRIORS (135 mins., 2006-08) includes three History Channel specials: The Vikings – Voyage to America, Leif Ericson: Voyages of a Viking, and Viking Undeground, all in 1.33 full-screen transfers and stereo soundtracks…Issued to coincide with the release of the much-discussed Russell Crowe-Darren Aronofsky film, NOAH AND THE GREAT ARK (135 mins., 1996-2007) is another History Channel DVD compilation including three documentaries related to the Biblical tale: Noah & the Ark: Voyage to a New Beginning, Mega Disasters; Noah's Great Flood, and Mysteries of the Bible: Noah and the Flood are included in the single-disc Lionsgate release in 1.33 full-screen transfers…LEAP FROG LETTER FACTORY ADVENTURES: THE LETTER MACHINE RESCUE TEAM (35 mins., 2014) ought to engage very young viewers with problem-solving adventures starring Leap, Tad, Lily and friends. Lionsgate's DVD, available this week, includes sing-along videos, a parent curriculum, a 16:9 transfer and stereo soundtrack.
SIBERIA: Season 1 (484 mins., 2013) was an NBC limited-run series last summer that found sixteen reality-show contestants heading to Siberia, only to run into supernatural shenanigans that weren't part of the planned script. Lionsgate's DVD set, out March 11th, includes the 16:9 transfer and 5.1 Dolby Digital soundtrack of the Season 1 set (though as of now, no Season 2 has been announced)...ENEMIES CLOSER (84 mins., 2014, R) sports a wildly over-the-top Jean-Claude Van Damme as a drug lord searching for lost cargo in the Canadian wilderness. Only Tom Everett Scott can stop him in the third collaboration between Van Damme and director Peter Hyams. Though this latest picture boasts a considerably lower budget than "Timecop" and "Sudden Death," it's still one of Hyams' most watchable efforts in some time, thanks mostly to JCVD going way, way over the line in a delightfully hammy performance. Hyams also contributes a commentary on Lionsgate's Blu-Ray, which also boasts a 1080p transfer, Ultraviolet copy, DTS MA soundtrack and a Making Of featurette...BIG HISTORY (aprx. 8 hours, 2013) is a History Channel series narrated by Bryan Cranston, looking at all kinds of scientific trivia related to Earth's history. Seventeen episodes include The Superpower of Salt; Horse Power Revolution; Gold Fever; Below Zero; Megastructures; Defeating Gravity; World of Weapons; Brain Boost; Mountain Madness; Pocket Time Machine; Deadly Meteors Decoded; Rise of the Carnivorse; The Sun; Silver Supernova; H20; and The Big History of Everything. Over 30 minutes of unbroadcast footage is included in Lionsgate's Blu-Ray along with an Ultraviolet copy and 5.1 DTS MA sound...Finally, 100 YEARS OF WRIGLEY FIELD (85 mins., 2013) is a Major League Baseball documentary charting 100 years in the friendly confines of Chicago's landmark ballpark. Ample game footage, retired-number ceremonies, and an Ernie Banks Statue dedication are on-hand in Lionsgate's DVD along with a 16:9 transfer and stereo soundtrack.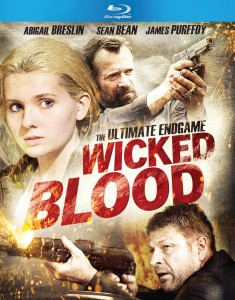 Finally, Lionsgate's After Dark line of independent horror pictures brings viewers something a little more close to home – but no less horrific – with the release of CHILDREN OF SORROW (88 mins., 2013, R), Jourdan McClure's tale of a young woman, looking for her sister, who joins a cult lead by the predictably charismatic Simon Leach (Bill Oberst, Jr.). Better than average, well-acted and quite horrifying stuff that's not for the faint of heart. Lionsgate's DVD of "Children of Sorrow" includes a 16:9 (1.78) transfer, 5.1 audio and an Ultraviolet digital copy.
WICKED BLOOD Blu-Ray (94 mins., 2013, Not Rated; E One): Abigail Breslin and Alexa Vega play siblings living in and around a criminal underworld overseen by their ruthless "Uncle" Frank (Sean Bean). Vega ultimately falls for one of Frank's rivals – an outlaw played by James Purefoy – thereby setting the tables in motion for the girls' revenge. Mark Young's "Wicked Blood" is pretty hackneyed as a story but Breslin, Bean and Purefoy perform admirably under the circumstances, making this at least a watchable direct-to-video outing. E One's Blu-Ray includes interviews with Breslin, Purefoy, Bean and Vega, along with a good looking 1080p (1.85) transfer with DTS MA 5.1 audio.
MADEMOISELLE C Blu-Ray (93 mins., 2013; Cohen Media Group): Documentary focuses on fashion publisher Carine Roitfeld, who ran the French version of Vogue for a decade, becoming one of the influential players in her field. Fabien Constant's 2013 film follows Roitfeld on the launch of her new magazine "CR Fashion Book," interviewing major fashionistas like Kate Upton, Donatella Versace, Linda Evangelista, Sarah Jessica Parker and others. Cohen's Blu-Ray includes bonus Paris premiere footage, the trailer, a DTS MA soundtrack and 1080p transfer.
ROGUE - Season One DVD (500 mins., 2013; E One): Thandie Newton stars in this Canadian/UK co-production that aired on DirecTV this past season. "Rogue" stars Newton as an undercover detective who's infiltrated the ranks of a crime boss played by Marton Csokas, convinced that the killer of her son resides in his network. E One's Season 1 DVD includes a "Script to Screen" featurette, "Rogue Files: Reparation Webisodes," 16:9 transfers and 5.1 Dolby Digital soundtracks.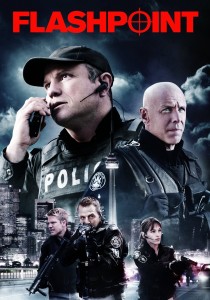 FLASHPOINT: The Final Season DVD (aprx. 10 hours, 2012-13; CBS): Canadian-produced police procedural starrs Hugh Dillon and "Veronica Mars"' dad Enrico Colantoni in a fan-favorite series that finished off its run in the U.S. on the ION network. In the sixth and final season, a serial killer is on the run, a "smart" gun is stolen and Dillon's Ed has to kill a teenager in the line of duty – all before a terrorist is on the loose. Thirteen episodes comprise the final shows from "Flashpoint"'s sixth season, presented here in 16:9 transfers with stereo soundtracks in a three-disc DVD set from CBS. Extras include reflections from the cast and crew on the series and two featurettes.
New Warner Animated Releases
THE VENTURE BROS.: The Fifth Season Blu-Ray (198 mins., 2013; Warner): The Cartoon Network's Adult Swim series that spoofs – among other things – "Johnny Quest" styled '60s cartoons still ranks as one of the more amusing series on the outlet. Warner's fifth season Blu-Ray edition inludes 1080p transfers and Dolby TrueHD soundtracks for the episodes What Color is Your Cleansuit?; Venture Libre; Sphinx Rising; Spanakopita!; OSI I Love You; Momma's Boys; Bot Seeks Bot; The Devil's Grip' A Very Venture Halloween; From the Ladle to the Grave: and The Shallow Gravy Story. Assorted special features include deleted scenes, episode commentaries, and bonus episodes.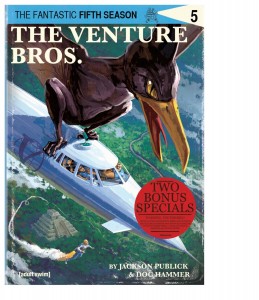 ADVENTURE TIME: Season 3 Blu-Ray (286 mins., 2013; Warner): Season three of the quite eclectic Cartoon Network series has arrived on Blu-Ray, offering 26 offbeat episodes for die-hard fans of the Adult Swim series. Episodes include Conquest of Cuteness; Morituri Te Salutamus; Memory of a Memory; Hitman; Too Young; The Monster; Still; Wizard Battle; Fionna and Cake; What Was Missing; Apple Thief; The Creeps; From Bad to Worse; Beautopia; No One Can Hear You; Jake Vs. Me-Mow; Thank You; The New Frontier; Holly Jolly Secrets (parts 1 and 2); Marceline's Closet; Paper Pete; Another Way; Ghost Princess; Dad's Dungeon; and Incendium. 1080p transfers are included along with commentaries, an alternate intro, "How an Idea Becomes Adventure Time," and 2.0 Dolby Digital soundtracks.
TEEN TITANS GO! MISSION TO MISBEHAVE DVD (289 mins., Warner): Collection of 26 episodes from the kid-centric animated series find Robin, Cyborg, Raven, Starfire, and Beast Boy trying to get along in the real world whenever they're not out fighting evil. Warner's two-disc DVD set includes 16:9 transfers and 2.0 stereo soundtracks for the affordably-priced show clearly aimed at young viewers.
NEXT TIME: HOMEFRONT with Statham & Franco. Until then, don't forget to drop in on the official Aisle Seat Message Boards and direct any emails to our email address. Cheers everyone!