The near 2½-hour extravaganza opens up with "Driving Miss Daisy" though the overall accent here is on Zimmer's more recent cinematic excursions. Suites from "Pirates of the Caribbean" and 'The Dark Knight" offer music that will be familiar to even casual listeners – as will a particularly impressive collection of tracks from "The Lion King," complete with Lebo M appearing to offer his trademark vocals. Dramatic performances of "Crimson Tide" and "Inception" are also on tap, with Zimmer appearing throughout, giving quick anecdotes and introductions to some of the selections.
Though I wish more of Zimmer's earlier scores were represented – and I had to quickly fast-forward through a suite from "The Amazing Spider-Man 2" — I doubt Zimmerites are going to be disappointed with this concert, which has been spectacularly captured in HD. The transfer is superb but it's the Dolby Atmos audio that should prove to be the main draw here, with pounding bass (I had to turn my subwoofer down!) and excellent fidelity making for one of the best-sounding titles I've yet heard on my new HD receiver. A PCM stereo track is also available, but it sounds limp in comparison with the tremendous Atmos audio in Eagle Rock's just-released Blu-Ray.
---
Shout! New Releases
GREEN ACRES: The Complete Series DVD (1965-71, aprx. 75 hours, Shout! Factory): Several decades ago, it wasn't uncommon for sitcoms to be stretched out to some 30 new episodes per-season, which is the case with the well-remembered slice of '60s TV known as "Green Acres." Obviously this silly but intermittently inspired sitcom starring Eddie Albert and Eva Gabor as a NYC couple who move "down on the farm" needs little introduction to most viewers: though the show is outlandish and cartoonish at times, it also sports some occasional self-parody that makes it a lot smarter than you might anticipate…especially when compared to other shows like "The Beverly Hillbillies."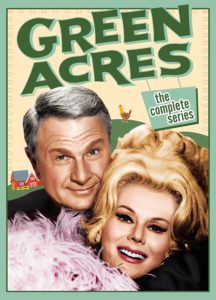 A series that's been kept in circulation for years through syndication, "Green Acres" was a big hit but became a casualty of TV's "rural purge" in the early '70s. Sony previously released Seasons 1-3 from the series on DVD but (as they had for too many other series) never completed the run. Thankfully Shout! Factory has come to the rescue with this brand-new set, sporting all 170 episodes from the show's 1965-71 run. Transfers are all decent though obviously not recently remastered, but should still suffice for any fan. Extras include the new featurette "Green Acres is the Place to Be" with show expert Stephen Cox; a 1966 clip from The Merv Griffin Show with Gabor and Albert; original "Granby's Green Acres" radio shows; a commentary on the pilot from Russell Dyball; and a photo gallery.
Leading the way among Shout's November Blu-Ray releases is THE PAUL NASCHY COLLECTION II, the second HD retrospective celebrating the "Spanish Lon Chaney," who starred in countless genre exercises over the years, earning him widespread celebrity in his native country and the Spanish-speaking world. Naschy is a name I recall reading in many a horror movie guide, but I confess to having actually seen little of his work — goofy efforts that get the job done through Naschy's unique charisma and enthusiasm, with the actor often writing/producing/directing many of his own efforts. This second go-around includes Blu-Ray presentations of "Hunchback of the Morgue" (87 mins., 1972), "A Dragonfly For Each Corpse" (85 mins., 1973), "The Devil's Possessed" (95 mins., 1974), "Exorcism" (90 mins., 1974), and "The Werewolf and the Yeti" (94 mins., 1975). All titles include English dubs and their original Castilian audio, plus 1080p (1.85 on all except 1.33 on "Werewolf and the Yeti") transfers and a number of extras. Among the supplements are commentaries on "Hunchback," "Dragonfly" and "Exorcism," plus still galleries, trailers, and selected additional extras on "Exorcism" including alternate "clothed" scenes for its Spanish release and a 24-page booklet by Mirek Lipinski that fans should love.
Shout Select New Releases: A pair of Universal catalog titles make a welcome return to the home video arena as Shout Select Blu-Rays this month. I have vague memories of watching THE INCREDIBLE SHRINKING WOMAN (89 mins., 1981, PG) as a kid, with Lily Tomlin starring in a comic spin on Richard Matheson's original "Shrinking Man," which had previously been brought to the screen as a serious (and seriously good) '50s Jack Arnold-directed fantasy. With a script by Tomlin's associate Jane Wagner, this one targets '70s/'80s consumerism as housewife Pat Kramer (Tomlin) begins shrinking after being exposed to new household chemicals. Charles Grodin, Ned Beatty and Henry Gibson star in this enjoyable if not especially memorable picture which finally receives a satisfying transfer via Shout's 1080p (1.85) AVC encode. Though still grainy and soft looking (as many of Universal's films from the era typically are), the image is far more satisfying than any prior video release, and Shout's extras are exemplary. A new talk with Tomlin and Wagner leads an impressive slate of extras that also include a lengthy audio conversation with composer Suzanne Ciani, who talks about her work writing commercial jingles and new wave music, and also spurning a career in film scoring; an interview with Schumacher; a talk with cinematographer Bruce Logan; an "On Location: Now and Then" featurette; the trailer, a photo gallery, and a brief "Edith Ann" deleted scene that showed up in Universal's syndicated TV airings.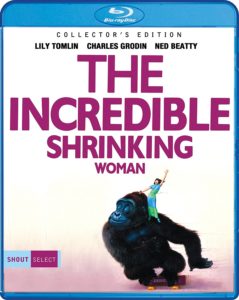 John Landis' INTO THE NIGHT (115 mins., 1984, R) is also new to Blu-Ray from Shout this month. This is a quite watchable, yet very uneven, thriller that pairs Jeff Goldblum – as an unhappily married engineer who finds out his wife is cheating on him – with Michelle Pfeiffer's mysterious heroine, who jumps out of a car and is pursued across the L.A. nightscape by a group of terrorists. All kinds of directors and David Bowie pop up in cameos during "Into the Night," which was written by Ron Koslow, whose handful of screenwriting credits include the terrific "Lifeguard" and underrated '80s drama "Firstborn." I'm not sure how Koslow's script read but "Into the Night" is a film that's occasionally marred by jarring shifts of tone, from some brief bursts of violence to broadly played comic shenanigans involving the killers. Goldblum is also dialed down so much that his hero is often glum, resulting in a film that's not really "fun" but is still entertaining enough for buffs. The 1080p (1.85) AVC encoded transfer and mono DTS MA soundtrack are fine – the score graced by B.B. King's vocals – and extras include new interviews with Landis (himself involved in the "Twilight Zone: The Movie" trial at the time of shooting) and Goldblum, plus the vintage documentary "B.B. King Into the Night" and the trailer.
Also New From Shout: Coming November 14th from Shout is the Blu-Ray/DVD combo pack release of IN THIS CORNER OF THE WORLD (128 mins., 2017, PG-13), a sensitively drawn if episodic Japanese production. Set in Hiroshima and surrounding areas during WWII, Sunao Katabuchi's film examines the life of a young girl who marries a man from a nearby city and moves away from Hiroshima. Her daily struggles once the war impacts their quiet, previously idyllic area are framed in an interesting picture that seems to linger on a bit longer than it should've, but is nevertheless effectively drawn and atmospheric. Shout's attractive Blu-Ray houses a 1080p (1.85) transfer with 5.1 English and Japanese audio (with optional English subs), interviews with the director and producer Masao Maruyama, the trailer, U.S. Tour highlights, the featurette "Hiroshima & Kure; Then & Now," and a DVD copy.
A pair of IFC Midnight/Scream Factory releases are also new in Blu-Ray/DVD combo packs. The Australian import KILLING GROUND (89 mins., 2016, Not Rated) focuses on a couple who head out to the beach for a weekend, only to run into a pair of killers who terrorize both them and a young child they find at an abandoned campsite. Shout's combo pack includes 5.1/2.0 DTS MA soundtracks and 1080p (2.37) AVC encoded video on the BD side. DARKNESS RISING (81 mins., 2016, Not Rated) is a more conventional haunted house affair starring Tara Holt as a young woman whose mother murdered her younger sister. Austin Reading's film is new to disc as well, hitting stores in a Blu-Ray/DVD combo with 1080p (1.78) video and 5.1/2.0 DTS MA stereo offerings.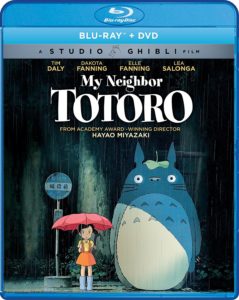 Studio Ghibli Titles
GKids has taken over distribution of the Studio Ghibli catalog, resulting in a series of attractive new Blu-Ray/DVD combo packs that are affordably priced at a myriad of venues.
Despite boasting nicely detailed animation and a gorgeous score by Joe Hisaishi, one of the highest-profile Ghibli releases in North America, PRINCESS MONONOKE (**½, 133 mins., 1997, PG-13), left me a little cold. Yes, this fairy-tale adventure (suitable only for teenagers due to a good deal of violence) was the highest grossing picture released in Japan in 1997, and there are some unforgettable sequences mixed into the fabric of Hayao Miryazaki's film. But at over 130 minutes, this is a sluggish, slow-moving fantasy, one that tends to ram home its pro-environmental message without adding any additional subtext.
Although the Disney Americanization featured a solid vocal track featuring Minnie Driver, Billy Cudrup, Billy Bob Thornton, and Claire Danes among others, perhaps something was lost in the translation of the film to American shores — or too much of the movie is steeped in Japanese culture and legend to have the same significance here. (As my friend Paul MacLean pointed out to me, why is the movie called "Princess Mononoke" when she's basically a supporting character to the Prince?).
Still, even for those not familiar with Ghibli's features, I would recommend the movie due to its artistic design and the lyrical score by Hisaishi, both of which are prominently highlighted by GKids' Blu-Ray offering 5.1 DTS MA English or Japanese tracks. Extras carried over from the previous releases include TV spots, trailers, storyboards, two featurettes and a booklet.
More satisfying among Ghibli's output over the last 15 years is SPIRITED AWAY (***, 125 mins., 2001, PG), the Oscar winner from Miyazaki that became an international hit for Ghibli; the entertaining fantasy HOWL'S MOVING CASTLE (***, 119 mins., 2004, PG); plus THE SECRET WORLD OF ARRIETTY (***, 95 mins., 2012, G), even though this Disney release generated just modest box-office despite being geared more to western audiences, through its adaptation of Mary Norton's beloved book "The Borrowers."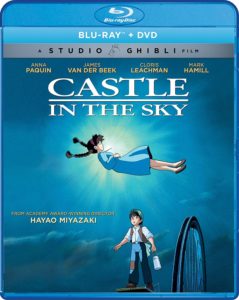 Directed by Hiromasa Yonebayashi but scripted and designed by Miyazaki, "Arrietty" charts the relationship that develops between a human boy and Arrietty – one of the tiny Borrowers who lives under the floor in a house owned by the elderly Aunt Jessica. When her great-nephew, Sean, comes to live with her, he uncovers the Borrowers and strikes up a relationship with the little Arrietty, in spite of the Borrowers being forbidden to make contact with humans.
"The Secret World of Arrietty" isn't quite on the level of the best Studio Ghibli pictures – it's more of a straightforward picture aimed specifically at children – but it's nevertheless an enchanting film with lovely animation and a pleasant score by French singer Cecile Corbel.
Disney's prior Blu-Ray was just fine but this Gkids effort does add a few new extras, while the other discs mostly reprise supplemental contents from their earlier counterparts (including Miyazaki's trip to Pixar on "Castle"). In addition to a comparable 1080p transfers and 5.1 DTS MA English/Japanese soundtracks, the disc includes interviews with director Yonebayashi and Miyazaki, storyboards, and the trailer.
PONYO (103 mins., 2008, G) was Miyazaki's gentle variation on Andersen's "The Little Mermaid," co-produced by Disney and Kathleen Kennedy, Frank Marshall and John Lasseter. Like Disney's prior Blu-Ray, GKids' offering boasts the movie's original Japanese language track plus an English-dubbed version with a script authored by Melissa Mathison and voices provided by Cate Blanchett, Matt Damon, Tina Fey, Liam Neeson and Lily Tomlin among others. With beautiful animation and a typically terrific score by Joe Hisaishi, "Ponyo" offers more Miyazaki magic, and like "Arrietty," the film is particularly geared towards young viewers than other, later Ghibli outings, as evidenced by its G rating and somewhat broadly drawn, and not always well-defined, characters. Disney's Blu-Ray presentation was gorgeous and Studio Ghibli's Blu-Ray/DVD carries over the same transfer/sound (5.1 Japanese/English tracks) plus extensive extras chronicling the film's production and a history of Studio Ghibli, plus a storyboard presentation of the film and an introduction from the producers. The standard DVD rounds out the package.
Early Ghibli efforts are also among the GKids releases, including Miyazaki's films KIKI'S DELIVERY SERVICE (***, 105 mins., 1985, G), MY NEIGHBOR TOTORO (***½, 86 mins., 1988, G), and CASTLE IN THE SKY (***, 125 mins., 1986, PG). All three combo packs include 1080p (1.85) AVC encoded transfers, and DTS MA soundtracks in Japanese or English (5.1 on "Castle"'s English mix, 2.0 on everything else). Extras here include storyboards, textless credits on Kiki & Totoro, "Behind the Microphone" featurettes, "World of Studio Ghibli" segments, trailers and other goodies from prior releases.
Finally, NAUSICAA OF THE VALLEY OF THE WIND (***, 117 mins., 1984, PG) and PORCO ROSSO (***, 93 mins., 1992, PG) round out the releases. Miyazaki's 1984 effort "Nausicaa" and his odd 1992 work "Porco Rosso" were treated to newly-recorded English dialogue tracks in 2005, with the original Japanese language versions also being available (with subtitles). Gkids' AVC encoded transfers and DTS MA English/Japanese 2.0 soundtracks nicely repesent the Joe Hisaishi soundtracks, and Miyazaki's original storyboards have been included on each release. Also available is a featurette on the vocal stylings of the new English tracks, offering interviews with talents like Patrick Stewart and Uma Thurman ("Nausicaa"), Michael Keaton and Brad Garrett ("Porco Rosso"). "Nausicaa" also boasts a commentary with animator Hideaki Anno and AD Kazuyoshi Katayama plus an interview with Toshio Suzuki and Hideaki Anno as well as a featurette.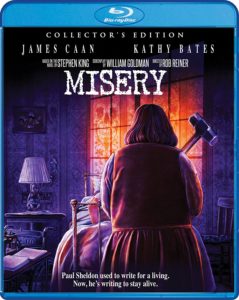 The films themselves are a mixed bag: Miyazaki's early "Nausicaa" is a fan favorite despite its relatively simplistic animation. "Porco Rosso," meanwhile, is a decidedly offbeat, short Miyazaki work, one that will most appeal to Ghibli fans. All titles are available now except for "Arrietty" and "Porco Rosso," which will be available November 21st.
Finally, Shout brings a long-overdue Scream Factory Collector's Edition of MISERY (***½, 107 mins., 1990, R) to Blu-Ray on November 28th. Rob Reiner's memorable 1990 filming of the Stephen King book boasts an Oscar-winning performance from Kathy Bates as a crazed "fan" who takes crippled author James Caan's recovery after a car accident under her wing, plus plenty of suspense, a dash of black comedy and a terrific ending. MGM previously released a Blu-Ray of the film sans the extras that were contained in a Special Edition DVD; Shout's Blu-Ray carries them all over to BD for the first time, including commentary from Rob Reiner, another talk with William Goldman, three featurettes on the production of the movie (including a profile of composer Marc Shaiman), and several other featurettes about celebrity stalkers and anti-stalking laws.
What's new here is a brand new 4K restoration of the film from original film elements, resulting in an excellent 1080p (1.85) transfer even more detailed than the already-strong MGM Blu-Ray. 5.1 DTS MA audio is on par with the previous release while two new supplements boast a fresh interview with Reiner – detailing his career as well as Castle Rock's work on mostly non-horror King adaptations – and another conversation with make-up artist Greg Nicotero.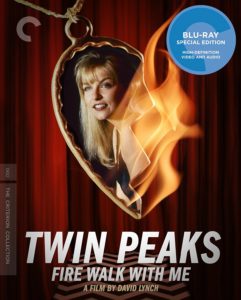 Criterion New Releases
David Lynch and Mark Frost's groundbreaking series TWIN PEAKS debuted to controversy, acclaim and big ratings in the spring of 1990, and has recently been relaunched in the form of a divisive, more violent – and mostly humorless – Showtime revival. Along the way, people seem to have missed one of the initial show's most appealing components: that its original ABC run benefitted from Lynch working within the then-stagnant confines of network TV, playing with conventions but also dialing down his own self-indulgent directorial flourishes in order to do so.
Stripped of those elements, "Twin Peaks" lost a lot of its original appeal – first in its poorly-received, more convoluted second season, then again with the release of Lynch's TWIN PEAKS: FIRE WALK WITH ME (*½, 135 mins., 1992, R). This bizarre prequel charts the demise of the series' central figure, the homecoming queen (Sheryl Lee) living a double life in a sleepy Pacific Northwest town that's not nearly as quaint and conventional as it appears on the surface. That's not to say that Lynch fans – the same ones who defended the new Showtime series with its even more off-putting components – won't find sufficient entertainment in "Fire Walk With Me," which opened sans critic screenings during the dog days of Summer '92, and first made a Blu-Ray appearance in CBS' Original Series box-set a few years back.
Criterion's Blu-Ray includes a new, 4K-restored 1080p (1.85) AVC encoded transfer of the movie, preserving all the information from the film's Super 35 framing (the movie was cropped to 2.35 for theaters). Both 7.1 and 2.0 DTS MA soundtracks are included plus 90 minutes of deleted/alternate takes from the already-length 135 minute film, plus new interviews with Sheryl Lee and composer Angelo Badalamenti, a 2014 Lynch interview with Lee and co-stars Ray Wise and Grace Zabriskie, plus excerpts from a 1997 book on Lynch by writer Chris Rodley.
---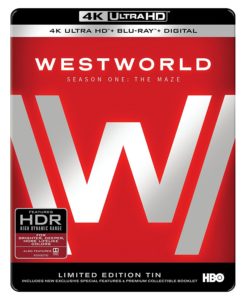 4K Wrap
WESTWORLD – Complete First Season 4K UHD Combo Pack (675 mins., 2016-17; Warner): Michael Crichton's '70s sci-fi thriller about a theme park run amok – an early precursor to "Jurassic Park" with western tropes (including a Yul Brynner-embodied "Gunslinger") filling in for dinosaurs – has been overhauled in the form of this elaborate, big-budget HBO series. With Jonathan Nolan (Chris' brother) and Lisa Joy scripting and producing, "Westworld" takes Crichton's original concept and expands it with a marvelous cast – Anthony Hopkins, Evan Rachel Wood, Jeffrey Wright, Thandie Newton, James Marsden, and Ed Harris in Brynner's "role" — in a leisurely-paced series that's undeniably good-looking. The problem is mostly the pacing, with the show following a languid pace that, especially in its middle episodes, seems like it's meandering around and killing time until it picks up near the end. For patient viewers, this is nevertheless a compelling production that eventually pays off – you just wish it hadn't taken so long to reach its end game, setting up the stage for a second season coming in 2018.
4K Rundown: Warner's first 4K release for an HBO series, "Westworld" should be a must-have for sci-fi addicts in its UHD presentation. The HDR enhancements and overall color scheme are a cut-above the 1080p Blu-Ray and broadcast versions, making for a technical presentation of "Westworld" viewers haven't been able to absorb before. Dolby Atmos audio and Dolby Vision capability are also on-hand, plus the standard Blu-Ray and a Digital HD copy. A booklet and a slew of featurettes should intrigue fans in one of the top 4K releases of 2017.
ATOMIC BLONDE 4K Ultra HD Combo Pack (**½, 114 mins., 2017, R; Universal): Charlize Theron kicks, punches and blasts her way through David Leitch's follow-up to his original "John Wick" – a film which this graphic novel adaptation follows in more ways than one. Theron is as fetching as ever here as MI6 operative Lorraine Broughton, sent into Berlin during the end of the Cold War along with a fellow agent (James McAvoy) to retrieve a list belonging to Lorraine's recently-slain former lover. Flashbacks and double-crosses make for a convoluted story that plays second fiddle to the same sorts of blistering choreography that punctuated "John Wick" – and just like that film, a little of "Atomic Blonde" goes a long way as it mostly adheres to style over substance.
4K Rundown: Universal's 4K UHD presentation of the movie does look impressive with HDR enhancements that offer a noticeably wider color range than the regular Blu-Ray. DTS X audio and a slew of extras (commentary, deleted scenes and featurettes on the Blu-Ray) are also included plus a Digital HD copy.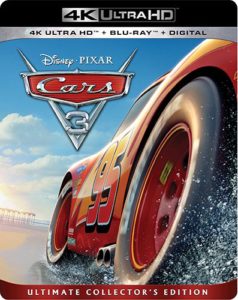 CARS 3 4K UHD Combo Pack (***, 103 mins., 2017, G; Disney): Our three-year-old son is a big fan of "Cars," most specifically Lightning McQueen, whom he calls "Red Car." While there's no question he enjoys the characters, his interest in the films themselves usually wanes after a little while – and that's especially the case with the convoluted "Cars 2," which unwisely tried to position the franchise in a "Mission: Impossible" mold. This third entry in Pixar/Disney's series is a big improvement, at least, as it recalls the charm of the original and cuts down the bloated running time of both predecessors – a major plus for kids, who ought to enjoy this story of Lightning McQueen coming to grips with his aging engine.
4K Rundown: Disney's 4K UHD combo of "Cars 3" is an absolute stunner, thanks to HDR that brings out the wider color gamut of UHD and lighting effects that are on abundant display throughout. The 7.1 Dolby Atmos audio revs up consistently from start to finish, offering demo-worthy dynamic effects and music, with Randy Newman making a pleasant return to the series after bypassing the misguided second film. Extras include the short "Lou," deleted scenes, commentary, and a whole slew of featurettes plus the Blu-Ray, DVD and Digital HD copy.
Also New & Noteworthy
THE GOOD CATHOLIC Blu-Ray/DVD (97 mins., 2016, PG-13; Broadgreen): Sincere performances and authentic Indiana location shooting are the highpoints of Paul Shoulberg's film, which was loosely based on the life of his own parents. Zachary Spicer plays a young priest being pushed in different directions by two divergent mentors (Danny Glover and John C. McGinley) after he meets a woman (Wrenn Schmidt) who challenges his vow to the priesthood. "The Good Catholic" goes in a fairly predictable direction but executive producer David Anspaugh at least knows the value of location filming, as the movie – much like his 1986 classic "Hoosiers" – boasts flavorful Midwestern settings, here in the form of Bloomington, Indiana locales. Broadgreen's Blu-Ray includes a 1080p (1.78) transfer with 5.1 DTS MA sound and a DVD.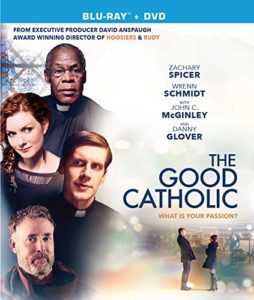 HOME ALONE 2: LOST IN NEW YORK Blu-Ray/DVD (**½, 120 mins., 1992, PG; Fox): For the follow-up to their 1990 box-office blockbuster "Home Alone," writer-producer John Hughes and director Chris Columbus opted to recycle the first movie's formula, bringing back Macaulay Culkin as little Kevin McCallister, who this time is left alone to fend for himself in a Big Apple hotel during Christmas time after his folks, once again, leave him stranded. The gags involving thieves Joe Pesci and Daniel Stern are more elaborate this time out, but there's a definite air of familiarity about "Home Alone 2," which in addition to bringing back its original cast, also reunites most of its key behind-the-scenes personnel, including John Williams (who composed another marvelous score with a pair of new, original Christmas carols), editor Raja Gosnell and cinematographer Julio Macat, who really makes NYC sing with his dreamy, colorful visuals. There are also engaging supporting turns from Tim Curry, Eddie Bracken and Brenda Fricker (in what amounts to a reprisal of the Roberts Blossom next-door neighbor role from the original), making for a festive sequel that's principally let down by Hughes' copycat script, which takes no chances whatsoever. Fox's Blu-Ray – billed as the 25th Anniversary edition but is identical to its 2009 release – offers a 5.1 DTS Master Audio soundtrack and adequate AVC-encoded transfer, yet extras are limited to trailers for the "Home Alone" series (this does not offer the "Home Alone" trailer that had Bruce Broughton's name attached as composer). Its main addition is the inclusion of a Digital HD copy.
OVERDRIVE Blu-Ray (93 mins., 2017, PG-13; Paramount): Scott Eastwood again attempts to hit the leading man jackpot in the derivative small-screen thriller "Overdrive," a "Fast and Furious" wannabe starring Eastwood and Freddie Thorp as car thieves who run afoul of a tough crime boss. They have to steal a car in order to gain their freedom and assemble a top notch crew (sound familiar?) in Antonio Begret's familiar pastiche. Paramount's Blu-Ray includes an attractive 1080p transfer, three featurettes, 5.1 DTS MA sound, and a Digital HD copy.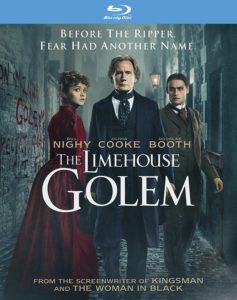 THE LIMEHOUSE GOLEM Blu-Ray (109 mins., 2016, Not Rated; RLJ): Bill Nighy stars in this Victorian-era thriller as a grizzled detective with demons of his own, attempting to find out who – or what – is behind a series of brutal murders. Olivia Cooke is the suspect who might know more than she's letting on in this atmospheric yet unsatisfying picture written by Matthew Vaughn's associate Jane Goldman, adapting a Peter Ackroyd novel. The ending is a particular letdown and director Juan Carlos Medina takes too long getting to that point, though Cooke – a young lead who was quite good in the "Bates Motel" series – is fetching and deserves better. RLJ's Blu-Ray is out this week sporting a Making Of, behind-the-scenes featurettes, a photo gallery, good looking 1080p (2.35) transfer and 5.1 DTS MA sound.
Warner Archive New Releases
Pre-Code New Releases on DVD: New on DVD are a trio of early pre-code releases from the Warner Archive. WIDE OPEN (69 mins., 1930) stars Edward Everett Horton in a rare turn as a romantic leading man, playing opposite Louise Fazenda in the story of a confirmed bachelor, pursued by a determined coworker (Fazenda), who finds a young woman in his apartment during a dark and stormy night. Patsy Ruth Miller co-stars in this Warner Bros. release. Loretta Young, meanwhile, stars in SHE HAD TO SAY YES (66 mins., 1933), a First National-Vitaphone production co-directed by Busby Berkeley and George Amy. Young here plays a stenographer who's plucked along with several of her fellow corporate girls to entertain out-of-town prospects in an engaging concoction that could only happen during the pre-code era. This first Berkeley directorial credit debuts on DVD this month from the Warner Archive along with MGM's THE WASHINGTON MASQUERADE (88 mins., 1932). This political drama stars Lionel Barrymore as a senatorial candidate dubbed "the new Lincoln," only to have his idealistic dreams dashed by a woman (Karen Morley) set up to take him down. An interesting early '30s melodrama with all of the Archive's DVDs featuring 1.33 black-and-white transfers from the best surviving elements.
---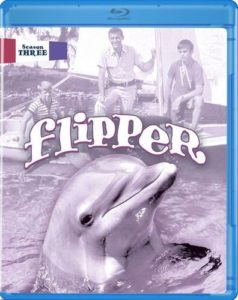 Olive New Releases
FLIPPER – Season 3 Blu-Ray (730 mins., 1966-67; Olive Films): I spent many a weekday afternoon in kindergarten and elementary grades rushing home to watch TV, where local UHF channels out of Providence and Boston aired a variety of syndicated re-runs geared specifically at kids just getting home from school.
"Flipper" was one of those shows – a very engaging and delightful series that was spun off from producer Ivan Tors' two MGM movies from the early '60s starring the title – and quite resourceful — dolphin. In fact, as I sat down to watch the series in Olive's Blu-Ray for the first time since I was a kid, I showed the first episode to our three-year old recently – and he seemed to enjoy it every bit as much as I did when I was his age!
Part of the reason why the series works – and endures — is its colorful mix of underwater action and easily accessible family drama. "Flipper" never veers outside its lane and concentrates on telling straightforward, and still-relatable, dramatic stories revolving around Porter Ricks (Brian Kelly, later a producer on "Blade Runner"!), a Florida park ranger who helps out those in need on the water with the help of his precocious kids (Luke Halpin and Tommy Norden). Most of those adventures require the assistance of Flipper as well, the intelligent dolphin who avoids sharks and manages to save the day, often in the nick of time.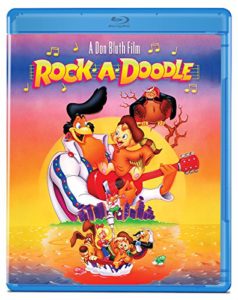 I don't recall the "Flipper" movies outside the fact that Brian Keith starred in Kelly's role in the first film. Its sequel (which co-starred a young Pamela Franklin and Francesca Annis) served as a rough pilot for the prospective TV series – turning the father into a widower and adding Kelly in the title role. By the time the series began, Porter Ricks had a second, younger son (Norden) also, and the formula was set for a long-running series that's fondly remembered by those who grew up in the '60s and lived through re-runs in the '70s and '80s.
After releasing Seasons 1 and 2 last month, Season 3 of "Flipper" now makes its way to Blu-Ray from Olive. This third season was the final one for the series, even though it tried to introduce a new cast of youngsters in its concluding episode for a fourth season that didn't materialize. The MGM-licensed 1080p (1.33) transfers are generally excellent with source elements that sometimes show their age, but fans of the series should be delighted by the show's completion in high-definition thanks to Olive.
Also new from Olive on Blu-Ray: The troubled Don Bluth animated film ROCK-A-DOODLE (**, 74 mins., 1992, G) nevertheless has generated something of a small following among nostalgic kid viewers – at least enough that the discontinued MGM DVD has typically commanded decent coin on the secondary market over the years. It has to be mostly for curiosity value and not the movie itself, for this is a near-total misfire about a rooster (voiced by Glen Campbell) shunned by his farm buddies, and a young boy who's swept up in his adventures and is turned into a kitten along the way. Awkward live-action scenes, terrible, tacked-on narration (which ruins at least one of the musical numbers), and a jagged editorial rhythm caused by extensive cutting sink a reportedly problematic production that failed to find an audience upon its spring '92 release. For fans of Bluth and handdrawn animation, Olive's Blu-Ray gives them another chance to assess this box-office dud with an impossibly convoluted story, and the MGM licensed 1080p (1.85) transfer is healthy and colorful, albeit seemingly framed too tightly on animated sequences that were reportedly drawn at 1.33. The stereo sound is fine, with Robert Folk offering a pleasant score, and the trailer is the sole extra. In a career filled with ups and downs (and more of the latter), "Rock-a-Doodle" is one of Bluth's weakest, so viewer beware.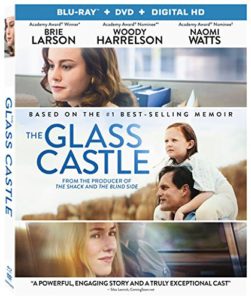 Lionsgate New Releases: It's always strange to see previous A-listers attached to such a bland, ordinary thriller like UNLOCKED (98 mins., 2017, R). This tale of a CIA analyst who's called back into action after failing to stop a prior attack doesn't offer much in the way of surprises – outside of the superior talents involved in its production, from Noomi Rapace in the lead role to support turned in by Orlando Bloom, Toni Collette, Michael Douglas and John Malkovich. Directing the action is veteran Michael Apted – but there's just something distressingly by-the-numbers about this straightforward effort, especially considering its pedigree. Lionsgate's Blu-Ray is out November 14th featuring a Making Of, 1080p (2.40) transfer, 5.1 DTS MA sound and a Digital HD copy…Barely released, the finely acted THE GLASS CASTLE (128 mins., 2017, PG-13) finds a superb cast in the story of a young woman's (played as an adult by Brie Larson) life with a pair of dysfunctional parents: an artist mother (Naomi Watts) and an alcoholic father (Woody Harrelson) whose difficulties lead to their family living in poverty and constantly being uprooted. Larson, Harrelson, Watts and Max Greenfield are all fine in Destin Daniel Cretton's adaptation of Jeannette Walls' autobiographical memoir, which readers of the book felt wasn't done justice here due to an inconsistent tone. Lionsgate's Blu-Ray boasts deleted scenes, an interview with Walls, a Making Of, scoring segment with Joel P. West, DVD, Digital HD copy, 1080p (2.40) transfer and 7.1 DTS MA sound.
Film Movement New Releases: Though not exactly historically accurate, the SISSI films are a fascinating document of time and place – a highly romanticized look at the life of Austria's Princess Elisabeth which, over the course of three films, became huge hits in Europe during the mid to late '50s. The trilogy – "Sissi" (1955), "Sissi: The Young Empress" (1956) and "Sissi: The Fateful Years of an Empress" (1957) – launched its lead, the luminous Romy Schneider, into immediate stardom, and while neither Schneider's own life nor Sissi's met with the candy-coated happy ending seen here, the pictures were lavish period affairs that delighted viewers of the era. In the U.S., Ernst Marischka's "Sissi" films were combined by Paramount into "Forever My Love," a lengthy dubbed import complete with a Burt Bacharach title tune.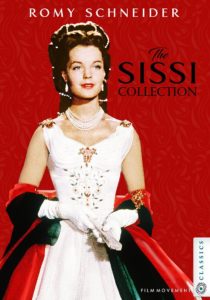 All four features – along with Schneider's 1954 appearance as Princess Victoria, "Victoria in Dover" – have been assembled in one of Film Movement's most ambitious releases to date. THE SISSI COLLECTION presents a gorgeous package for cinephiles, boasting four Blu-Rays with 2K restorations (1.78 widescreen on the "Sissi" pictures, 1.33 on "Victoria in Dover") of Schneider's star-making performances. The bonus DVD houses "Forever My Love" plus the featurette "From Romy to Sissi" and the documentary excerpt "Sissi's Great-Grandson at the Movies." Farran Smith Nehme's essay is included in a 20-page booklet, giving these long out-of-circulation pictures a new lease on life in the high-definition era. Recommended!
Also New From Film Movement on Blu-Ray is Andrzej Wajda's final film, AFTERIMAGE (100 mins., 2016, Not Rated), a profile of avant-gard Polish artist Wladyslaw Strzeminski, played by Boguslaw Linda. Film Movement's Blu-Ray/DVD combo includes the documentary "Wajda By Wajda," filmed shortly before his death, plus commentary by CUNY professor Stuart Liebman, a 1080p (2.35) transfer and 5.1 DTS MA audio…Shimon Dotan's documentary THE SETTLERS (110 mins.,, 2017, Not Rated) profiles the diverse Jewish settlers who live in the West Bank and have occupied it since the Six-Day War in the late '60s. Dotan uses historical footage and current interviews to produce a fascinating look at modern Israeli life in "The Settlers," which is available this week on DVD from Film Movement. A 16:9 transfer and 2.0 stereo sound (often subtitled) comprise the release.
Well Go New Releases: The stylish Korean actioner THE VILLAINESS (124 mins. 2017, Not Rated) offers an Asian variation on "La Femme Nikita." This new import follows a sleek, sexy female assassin who's been bread since childhood into becoming a killing machine, and is consistently thwarted by her attempts to break outside the system after nearly a decade of work. She subsequently turns the tables on those who recruited her in this superior thriller worth a look for action fans. Well Go's attractive Blu-Ray presentation (1080p, 5.1 DTS MA in Korean or dubbed English) is housed in a DVD/BD combo pack and will be available on November 21st.
---
DVD Wrap
PERSON TO PERSON DVD (85 mins., 2017, Not Rated; Magnolia): Indie drama from writer-director Dustin Guy Defa stars Michael Cera, Abbi Jacobson, Tavi Gevinson and Philip Baker Hall in the story of multiple characters – a record collector, a teenager, and a rookie reporter – hustling around the big city. Defa provides an interview in Magnolia's release of "Person to Person," available this week with the trailer, a 16:9 (1.85) transfer and 5.1 Dolby Digital sound included in the label's DVD.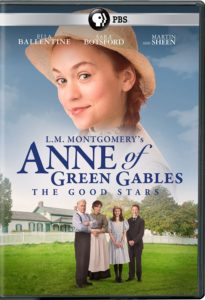 ANNE OF GREEN GABLES: THE GOOD STARS DVD (90 mins., 2017; PBS): New version (one of several apparently) of L.M. Montgomery's beloved books finds the precocious 13-year-old (Ella Ballentine) falling for Gilbert Blythe while cultivating her relationship with Diana Barry. A Canadian production that aired on PBS, this new "Anne" may evoke negative comparisons with the superior Megan Follows version from the '80s, but younger viewers – and those who've never seen it – still may find this Hallmark-esque presentation entertaining. PBS' DVD is out November 7th with a 16:9 transfer and 5.1 sound.
AGE OF KILL DVD (86 mins., 2015, Not Rated; Sony): British thriller stars Martin Kemp as a special ops sniper who's assigned to assassinate six targets after his daughter is taken hostage by a terrorist. Neil Jones' film assembles a strong supporting cast including Patrick Bergin, Nick Moran and Dexter Fletcher in a film now on DVD from Sony sporting a 16:9 transfer and 5.1 sound.
THE JOURNEY DVD (94 mins., 2016, PG-13; IFC/MPI): Nick Hamm's fact-based true story stars Timothy Spall as Ian Paisley, a conservative British loyalist, and Colm Meaney as an ex-IRA leader at odds with one another in 2006. Their impromptu car ride through Northern Ireland leads both men to forge an unlikely relationship in a humanistic drama on DVD this week from MPI offering a 16:9 transfer (2.40) and 5.1 Dolby Digital sound. Also new from MPI in their Sundance Selects line is FROM THE LAND OF THE MOON (121 mins., 2016, R), an adaptation of the international bestseller about a French woman (Marion Cotillard) who's married off to a Spanish farmer, only to live a miserable existence. She eventually falls for a WWII veteran (Louis Garrel) in Nicole Garcia's film of Milena Agus' book, which is atmospherically filmed and offers a strong performance from the always compelling Cotillard. Out November 21st, MPI's DVD boasts a behind-the-scenes featurette, the trailer, a 16:9 transfer (2.40) and 5.1 sound in French/Spanish with English subs.
TEEN WOLF: Season 6, Part 2 DVD (420 mins., 2017; MGM/Fox): Second-half of episodes from the final season of the MTV "Teen Wolf" revival rounds up its cast for one last go-around. Here, Scott and the gang find a new enemy hiding in the shadows that threatens all in this satisfying end to the program. MGM's DVD includes the featurette "How Far We've Come: A Farewell to Beacon Hills," a gag reel, a 16:9 (1.78) transfer and 5.1 Dolby Digital sound.
NEXT TIME: Kino Lorber November Blu-Rays and more! Until then, don't forget to drop in on the official Aisle Seat Message Boards and direct any emails to our email address. Cheers everyone!