Before H.R. Giger and Dan O'Bannon created "Alien" for director Ridley Scott, the duo worked alongside fellow artists Chris Foss and Jean "Moebius" Girard as part of director Alejandro Jodorowsky's failed attempt at bringing Frank Herbert's "Dune" to the screen in the mid 1970s. That collaborative effort has been chronicled in the entertaining new documentary JODOROWSKY'S DUNE (***, 90 mins., 2013, PG-13; Sony), which details the now 84-year-old's attempt at adapting the legendary sci-fi novel to the screen through his own unique vision.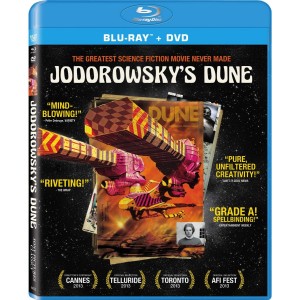 Though it's unmentioned here, "Planet of the Apes" producer Arthur P. Jacobs had initially optioned "Dune" for the screen. After Jacobs passed away in the early '70s, the rights landed in the hands of Jodorowsky – the avant-garde filmmaker of "El Topo" and "Holy Mountain" – and French producer Michel Seydoux. Despite having an unconventional cinematic track record, Frank Hebert had taken to Jodorowsky, who proceeded to fashion a wild treatment of the author's classic novel. Filled with audacious visual designs executed by the likes of Giger, Girard and Foss, Jodorowsky's free-flowing vision of "Dune" took liberties with its source material and would have resulted, if nothing else, in a unique filmmaking experience. The director tapped Pink Floyd and the French band Magma to write music for the film (their contrasting styles reflecting the different planets of the book), had contacted the likes of Salvador Dali and Orson Welles to fill out the cast, and compiled all of his storyboards, script ideas and fragments into a tome the size of several phonebooks.
Ultimately, Jodorowsky's "Dune" wasn't to be – the director's name carried little weight in Hollywood, with American studios balking at the prospects of funding a major investment from an eclectic filmmaker. More over, Jodorowsky wanted the film to be released in multiple installments – a concept foreign to the filmmaking culture of the mid '70s, when studios only wanted to release a single 90-minute movie.
Director Frank Pavich's "Jodorowsky's Dune" gives viewers a fascinating glimpse into what might have been. As one might expect, Jodorowsky is the whole show here, relaying an ultimately inspiring message at the same time he laments the loss of his dream project. His recollections of assembling his "team" – who would later become a driving force behind "Alien" – are candid and funny, as is his anecdote about seeing the Dino De Laurentiis/David Lynch "Dune" nearly a decade after his own version went bust. Seydoux, Giger, and Foss are also interviewed along with Gary Kurtz and admirers like "Drive" director Nicolas Winding Refn and "Hardware"'s Richard Stanley. The latter don't add a whole lot to the picture as a whole; since Jodorowsky is such an engaging and charismatic presence, he carries the production all on his own, and the documentary briefly loses steam when a couple of talking heads attempt to place the film's legacy into a modern context.
Ultimately, even if "Jodorowsky's Dune" doesn't leave you convinced that the unmade film would've been a classic had it been produced (I remain skeptical), its influences on numerous films that followed is well argued, and the documentary as a whole highly recommended for all sci-fi/fantasy fans.
Sony's Blu-Ray, available July 8th, includes a 1080p AVC encoded transfer, nearly 45 minutes of additional sequences, a DVD copy, and 5.1 DTS MA soundtrack.
---
Twilight Time New Releases
Westerns and war dominate Twilight Time's roster of limited-edition Blu-Rays this month, and what better way to kick off the summer than with another terrific sagebrush saga: Anthony Mann's THE MAN FROM LARAMIE (***, 102 mins., 1955), an early Cinemascope production that's been dazzlingly restored here in a gorgeous new 4K high-definition master.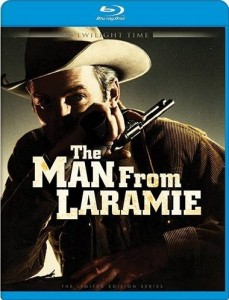 Jimmy Stewart collaborated with director Anthony Mann on a series of westerns, culminating in this 1955 Columbia production that many feel is as good as the best of their efforts (which also included the highly regarded "Naked Spur" and "Winchester 73″). Reworking "King Lear" and Thomas T. Flynn's Saturday Evening Post story, "Man From Laramie" finds Stewart as Will Lockhart, a man traveling through New Mexico, trying to track down those responsible for selling guns to the Apaches – repeater rifles that were used in the massacre of a U.S. calvary squad that included Will's brother.
In the small town of Coronado, Will makes a fast, and bad, first impression on the Waggoman family – the resident proprietors of the "Barb" ranch who, led by aging patriarch Alec (Donald Crisp), run things their own way. The Waggoman family tree also includes troubled, hotshot younger son Dave (Alex Nicol) and a comparatively brighter bulb – surrogate son/foreman Vic (Arthur Kennedy) – both of whom run into Will on his quest for justice. Ultimately, not only is Will eventually framed for the death of the town drunk, but has his own hand blown off (in a particularly nasty moment) and his mules executed at the hands of the overzealous Waggoman son.
Filled with action and lovely scenery, and anchored by Stewart's strong performance, "The Man From Laramie" is a real discovery on Blu-Ray and a must for western fans. Sony's Grover Crisp supervised the transfer from the original Cinemascope elements, resulting in a marvelous, highly detailed, natural looking 1080p AVC encoded presentation. The full stereo sound has also been impressively restored in 5.1 DTS MA as well, offering a healthy, vibrant sound stage for George Duning's satisfying if unmemorable contribution – with a Lester Lee/Ned Washington theme song that offers the unforgettable lyrics "he was kind of sociable and friendly/friendly as any man could be." The disc is capped by two trailers and an isolated music-and-effects track.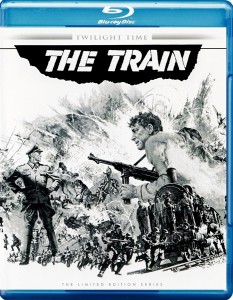 Also new from Twilight Time is a splendid release of John Frankenheimer's 1964 WWII thriller THE TRAIN (***½, 133 mins.).
The director – coming off two of his most memorable '60s outings ("The Manchurian Candidate" and "Seven Days in May") – here works from an original Franklin Coen-Frank Davis screenplay that finds Burt Lancaster as Labiche, a French rail worker who becomes involved in a scheme to save priceless artwork from a Nazi train headed for Germany in the final days before the Allies liberated Paris. Paul Scofield is the Nazi commandant determined to see this last gasp of his failing movement's glory through, only to run into resistance from the initially ambivalent Labiche. Only eventually does Lancaster's hero decide to prevent the works from the great masters from falling into German hands – using it as a last opportunity to fight back against the Nazi oppressors who invaded their country.
With its stark B&W cinematography by Jean Tournier and Walter Wottitz, "The Train" is often heralded as one of Frankenheimer's finest films, even if it often flies under the radar compared to his other classics. In fact, it's hard to believe the DVD of this picture has been out-of-print for so long (fetching decent prices on the secondary market), making Twilight Time's limited-edition Blu release particularly attractive. The 1080p transfer (1.66:1) occasionally shows the wear and tear present in its source elements, but is freed from any obvious DNR manipulation and boasts enormous gains in detail over the DVD. The mono audio, presented in a 1.0 DTS MA track, is as effective as the original mix allows (Maurice Jarre's score lacks the kind of grand stereophonic stage it deserves), with extras including the trailer, an isolated score track, and both Frankenheimer's original commentary as well as a new discussion with Nick Redman, Julie Kirgo and Paul Seydor.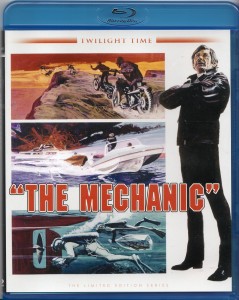 Robert Mitchum stars as a marine stranded along with Deborah Kerr's devout nun on a remote South Pacific island in the 1957 John Huston drama HEAVEN KNOWS, MR. ALLISON (***, 106 mins.). Huston and John Lee Mahin adapted Charles Shaw's novel for this Cinemascope affair, which offers the expected run-ins with Japanese forces lurking nearby, but is most memorable for its character development of two contrasting personalities attempting to make it out of a dire situation by relying on one another. The print Fox provided to Twilight Time looks a little bit faded and the transfer isn't nearly as detailed as "The Man From Laramie," but it's certainly watchable, with 2.0 DTS MA mono audio providing an adequate stage for Georges Auric's effective score. Extras include a music-and-effects track, a Fox Movietone news reel, and the original trailer.
Numerous Charles Bronson films (even "Caboblanco"!) have already been released on Blu-Ray overseas (particularly in Germany), leading U.S. labels to play catch up – which they will, as a smattering of the star's 70s outings are scheduled for release over the next few months. One of Bronson's more memorable vehicles, THE MECHANIC (***, 100 mins., 1972, PG), debuts on domestic Blu-Ray from Twilight Time this month, and finds the stoic star as a hitman who tutors the son (Jan-Michael Vincent) of one of his associates (Keenan Wynn) in the art of assassination. Lewis John Carlino's script offers a few twists and director Michael Winner – making his second film with the actor – expertly executes a number of action sequences in this early '70s cult favorite. Twilight Time's BD appears to have been culled from the same MGM master as the German release I imported – it's generally quite good in terms of its audio/video presentation (1080p AVC, 1.0 DTS MA mono) with extras including a TT-exclusive new commentary with cinematographer Richard H. Kline and Nick Redman, plus an isolated score track of Jerry Fielding's musical contribution, and the original trailer.
Completing Twilight Time's June releases is RESURRECTED (92 mins., 1989), director Paul Greengrass' film that helped propel both his career as well as its leading man, David Thewlis, who stars as a Falklands war veteran who faces prejudice and harsh treatment from his colleagues and friends when he suddenly reappears after being presumed dead. Rita Tushingham, Tom Bell and Rudi Davies co-star in Greengrass' 1989 film, brought to Blu-Ray for the first time here in Twilight Time's 1080p presentation. Extras include Greengrass and Thewlis interviews and an isolated score track.
---
Richard Lester's A HARD DAY'S NIGHT (***½, 87 mins., 1964) remains a defining film for its generation – the Beatles generation, of course. A playfully edited montage of slapstick comedy and songs (offering "A Hard Day's Night," "Can't Buy Me Love," and "I Should Have Known Better"), Lester's black-and-white feature was released just a month after the Fab Four's legendary appearance on "The Ed Sullivan Show," managing to capitalize on Beatlemania and also establishing a "music video" type of film that broke from musical tradition. It's a groundbreaking picture that's quite entertaining and enhanced all the more here by Criterion in a multi-format package.
Making its U.S. Blu-Ray debut, Criterion's release offers a Lester-approved new 4K digital restoration with three different sound options: the original mono mix, plus a pair of new 2.0 and 5.1 DTS MA stereo mixes supervised by Abbey Road's Giles Martin. The new multi-channel tracks – remixed from original album sessions and film elements – open up the sound stage considerably in comparison with the mono track, though purists can still select the latter if they so choose. Special features include a commentary; "In Their Own Voices," a new video retrospective; a 1994 documentary on the film's production; a 2002 documentary about the movie featuring Lester; "Picturewise," a Lester retrospective; Lester's 1960 short "The Running Jumping & Standing Still Film"; "Anatomy of a Style," another piece on Lester's filmmaking methods; an interview with author Mark Lewisohn; and an extensive booklet notes along with a DVD copy. Highly recommended!
---
With its eye-popping colors, the MGM Cinemascope production of KISMET (**½, 113 mins., 1955) is an ideal fit for Blu-Ray. This 1955 adaptation of the hit Broadway musical – a notorious box-office failure in its day – stars Howard Keel as the down-trodden beggar who gets swept up in an Arabian fantasy of music and mistaken identity, with his daughter (Ann Blyth) falling for Badgad's Caliph (Vic Damone) while he gets involved with the lonely wife (Ann Blyth) of the conniving Wazir (Sebastian Cabot).
The great Vincente Minnelli directed this straightforward if uninspired filming of its source material, with Charles Lederer and Luther Davis, who penned the stage book, writing the screenplay as well. Robert Wright and George Forrest based their score on the music of Alexander Borodin, resulting in a handful of gorgeous songs ("Stranger in Paradise," "Baubles, Bangles and Beads", "Not Since Ninevah") that bring the sometimes slow-going story to life.
While the movie is reportedly faithful to the show in some respects (with some music cuts here and there), it's also burdened a bit by its stage-bound restrictions, though Minnelli manages to pack every inch of the Cinemascope frame with something to look at. The real problem is that the overriding tone is heavier than it ought to be, with the light touch required to make the material sing missing – something that was reportedly attributed to Minnelli being more interested in directing his pet project, "Lust for Life," than this film, which MGM necessitated he direct in order to fund the latter.
That said, the score alone will be worth a listen for musical fans, and Warner's Blu-Ray presentation is glorious: a gorgeous 1080p AVC encoded transfer brings the costumes and sets to life, while the DTS MA 5.1 audio packs an impressive punch. Extras carried over from the DVD include (in non-anamorphic standard definition) the partially deleted "Rahadlakum" song outtake, the audio-only "Rhymes Have I," the half-hour Cinemascope short "The Battle of Gettysburg," the cartoon "The First Bad Man," two "MGM Parade" TV series excerpts, and trailers for both the film and the 1944 "Kismet."
LONGMIRE Seasons 1 and 2 Blu-Ray (Warner Archives): Popular A&E series stars Robert Taylor as Sheriff Walt Longmire, the protagonist from Craig Johnson's novels, as he tries to move on after the death of his wife. Cassidy Freeman from "Smallville" plays his daughter with Katee Sackhoff as his faithful deputy, Lou Diamond Phillips as his best friend, and Bailey Chase as an underling challenging Taylor in an election. Warner's Seasons 1 and 2 Blu-Ray – available exclusively through the Archive manufactured on demand program – includes the featurettes from the respective DVD releases of both seasons, along with enhanced 1080p transfers and DTS MA soundtracks.
TV on DVD from the Archives: David Carradine returned as Kwai Chang Caine in the 1992-93 seriesKUNG FU: THE LEGEND CONTINUES (1010 mins.), a contemporary action adventure with Caine and his son (Chris Potter), now a cop, battling crime in the early 90s USA. This syndicated series ran for several seasons, the first of which arrives on DVD this month from the Warner Archives with full-screen transfers and stereo soundtracks…DR. KILDARE: THE COMPLETE THIRD SEASON (1700 mins., 1963-64) continues the education of intern Dr. James Kildaire (Richard Chamberlain) working at Blair General Hospital under the guidance of curmudgeonly Dr. Gillespie (Raymond Massey). Warner's box-set includes the entire third season of the series, offering guest star appearances from Claude Rains, Charles Bronson, Yvette Mimieux, Walter Pidgeon, Gena Rowlands, Cesar Romero, Yvonne Craig, Jack Lord, Ralph Bellamy, Celeste Holm, Sal Mineo, Lauren Bacall, Glenda Farrell and Joan Blondell…THE FBI: THE COMPLETE EIGHTH SEASON (1315 mins., 1972-73) brings back Efrem Zimbalist, Jr., Philip Abbott and William Reynolds for another assembly of episodes from the series' 1972-73 campaign. Guest stars include David Soul, Robert Urich, Mariette Hartley, Martin Sheen, Sondra Locke, Belinda Montgomery, Dean Stockwell, Ross Martin and William Windom, with Warner's Archive set boasting 4:3 transfers and mono soundtracks….SUGARFOOT: THE COMPLETE THIRD SEASON (993 mins., 1959-60) again stars Will Hutchins as drifter Tom Brewster, quite a different protagonist from most '50s and '60s western heroes. Hutchins' charming star turn anchors an engaging genre series Warner brings to DVD this month in a Season 3 release. Guest stars include George Kennedy, Adam West, Connie Stevens, Troy Donahue, Ruta Lee and Hutchins himself in a dual role as "The Canary Kid" (Will's cousin).
On the cinematic side, the ARSENE LUPIN DOUBLE FEATURE combines two films starring the "gentlemanly thief". First, John and Lionel Barrymore team up in the 1932 "Arsene Lupin," a pre-Code mystery that finds Lupin attempting to take off with the Mona Lisa. In the 1938 "Arsene Lupin Returns," Melvyn Douglas takes over the role. Both films are included on a single-disc DVD…Van Johnson and Walter Pidgeon starred in MGM's MEN OF THE FIGHTING LADY (80 mins., 1954), a brief B-programmer following U.S. jet pilots in the Korean war, based on James Michener's "The Forgotten Heroes of Korea" and Comdr. Harry Burns' "The Case of the Blind Pilot." Warner's DVD includes a 16:9 (1.75) transfer of the "Ansco Color" feature with mono audio…John Garfield stars as a journalist who tries to get the inside scoop on prison corruption by heading into BLACKWELL'S ISLAND (71 mins., 1939), a WB-First National picture co-starring Rosemary Lane, Dick Purcell and Victor Jory, making its DVD debut this month from the Archives…Diane McBain's lead performance as CLAUDELLE INGLISH (99 mins., 1961), the good-girl-gone-wrong in a small Georgia town, is the main reason to check out this steamy (for its time), melodramatic adaptation of Erskine Caldwell's popular novel. Arthur Kennedy, Claude Akins and a young Chad Everett appear in the 1961 film, brought here to DVD in a 16:9 transfer with mono audio…Finally, two new Archive DVDs resurrect a pair of out-of-print Paramount titles: the breezy 1960 Clark Gable-Sophia Loren comedy IT STARTED IN NAPLES (100 mins.) as well as the superior Gable-Doris Day collaboration TEACHER'S PET (119 mins., 1958), co-starring Gig Young in a solid George Seaton-directed vehicle. Both pictures include the same 16:9 (1.85) transfers as their previous DVD editions.
---
THE BRIDGE Season 1 DVD (590 mins., 2013; Fox): FX summer series stars Diane Kruger as a detective who works with a Mexican inspector (Demian Bichir) to nab a serial killer working both sides of the American-Mexican border near El Paso. All 13 episodes from the series – which is about the start its second season – are included in Fox's four-disc DVD box set along with featurettes, deleted scenes, and commentary on the pilot episode.
THE WITCHES OF EAST END – Season 1 DVD (417 mins., 2013; Fox): Entertaining enough Lifetime series follows the lives of two sisters (Jenna Dewan-Tatum and Rachel Boston) who find out their mom (Julia Ormond) is a witch – and so are they! Madchen Amick pops in as the girls' aunt in this agreeable mix of light supernatural suspense and soap opera domestic drama, with Fox's Season 1 DVD coinciding with the debut of the series' second season. Deleted scenes, a gag reel, a featurette, 16:9 transfers and 5.1 soundtracks comprise Fox's package.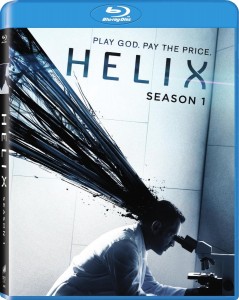 MONSTER HIGH: Fright On!/Escape From Skull Shores Blu-Ray Combo Pack (92 mins., 2014; Universal): The insanely popular teen franchise returns with a pair of lightheartedly haunted features: "Escape From Skull Shores," with the gang heading to Spring Break but shipwrecked on a remote island along the way; and "Fright On!", where a regular "normie" tries to infiltrate the student body. Universal's combo pack offers DVD and digital copies, plus 1080p AVC encoded transfers and 5.1 DTS MA soundtracks on the Blu-Ray side.
HELIX – Season 1 Blu-Ray (530 mins., 2014; Sony): Ronald Moore co-produced this above-average Syfy Channel series set in the Arctic, where a group of scientists from the Centers for Disease Control try to prevent a deadly contagion from getting out. Plenty of twists and turns dominate the at-times gory affair starring Billy Campbell and with an exceedingly high body count given its pedigree. Sony's Blu-Ray release includes commentary on the pilot and the episode "Dans L'Ombre"; deleted scenes; outtakes; two BD-exclusive format featurettes; four other featurettes; 1080p transfers, 5.1 DTS MA lossless soundtracks, and an Ultraviolet streaming copy.
THE BOONDOCKS Season 4 DVD (225 mins., 2014; Sony): The fourth and final season of the Adult Swim animated series belatedly premiered on Cartoon Network, following the further adventures of Granddad, Huey and Riley. All 10 episodes are included here in Sony's two-disc DVD set, along with two featurettes, a 16:9 (1.78) widescreen presentation and 5.1 Dolby Digital audio.
---
WALK OF SHAME Blu-Ray (**, 95 mins., 2014, R; Universal): Elizabeth Banks single-handedly tries to sell this otherwise pedestrian comedy about a wannabe Los Angeles TV anchor who walks out on her one-night stand (James Marsden) and into a succession of increasingly wild comedic situations. Under the guidance of veteran comedy director Steven Brill, "Walk of Shame" is certainly better packaged than your average direct-to-vid production (it barely played in theaters), but Banks is the only aspect really hanging the film together. Universal's Blu-Ray is a no-frills affair offering a 1080p AVC encoded transfer, 5.1 DTS MA sound and a digital copy.
BAD WORDS Blu-Ray Combo Pack (**½, 89 mins., 2014, R; Universal): Jason Bateman's directorial debut is a mildly engaging, decidedly profane, attempt at recreating the same kind of comedic experience as Billy Bob Thornton's "Bad Santa." Here, Bateman plays a malcontent who crashes a national spelling bee at age 40, claiming he never finished 8th grade. His relationship with one of the much-younger contestants (Rohan Chand) and a reporter (Kathryn Hahn) following his story make for a briskly told, if cosmetically unappealing (the wh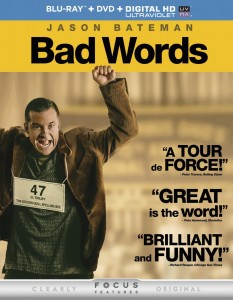 ole movie is bathed in teal and orange), outing carried by Bateman's curmudgeonly lead character. Universal's Blu-Ray, out July 8th, includes deleted scenes, a featurette, commentary by Bateman, a 1080p AVC encoded transfer and 5.1 DTS MA soundtrack, plus a DVD and a digital copy.
THE CLASS OF '92 DVD (119 mins., 2013, Not Rated; Universal): Documentary profiles the massive talent (David Beckham, Nicky Butt, Ryan Giggs, Gary neville, Phil Neville and Paul Scholes) that played soccer (err, football) at Manchester United in the early '90s. A must for "footy enthusiasts," though Universal's extended edition DVD will be exclusive to Walmart when it streets on July 8th. The single-disc release includes a digital copy, 16:9 transfer and 5.1 Dolby Digital sound.
AFFLICTED Blu-Ray (86 mins., 2014, R; Sony): Yet another found footage horror effort, though this one is certainly better than most. Writer-directors Clif Prowse and Derek Lee also star in their picture as a pair of friends traveling through Europe who run into a woman in Paris (Baya Rehaz) who grants Derek the curse of vampirism – albeit with some physical gifts to go along with it. "Afflicted" doesn't offer a lot of surprises but it's well-executed for its genre, with a satisfying pace and tone. Sony's Blu-Ray includes deleted scenes, two behind-the-scenes featurettes, a 1080p (1.85) transfer and 5.1 DTS MA soundtrack.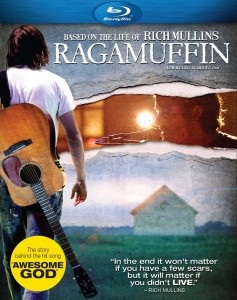 RAGAMUFFIN Blu-Ray (137 mins., 2013, Not Rated; Millennium Entertainment): The life of Rich Mullins – a Christian musician who broke from conservative church tenants – is portrayed in this independent bio-pic starring Michael Koch as the one-time musical prodigy. Mullins' music (including his hit, "Awesome God") contrasts with his struggles with alcoholism and relationships, and makes for a watchable if lengthy picture – sincerely made by director David Leo Schultz – that will, naturally, most appeal to those with an interest in the subject matter. Millennium's Blu-Ray, out July 8th, includes a Making Of, deleted scenes, and commentary from Dave Mullins (the singer's brother) and director Schultz.
Coming From Well Go: KID CANNABIS (110 mins., 2013, Not Rated) stars Jonathan Daniel Brown as an Idaho high school drop-out who builds a pot ring with his best pal (Kenny Wormald from the "Footloose" remake) that's funded by a drug kingpin (Ron Perlman). John Stockwell's directorial career has ranged from the highs of "Blue Crush" to a series of disappointing direct-to-video features, of which this is the latest. Well Go's Blu-Ray includes a 1080p transfer and 5.1 DTS MA soundtrack…The Hong Kong supernatural action flick RIGOR MORTIS (101 mins., 2013, Not Rated) is a collaboration between director Juno Max and producer Takashi Shimizhu, following the exploits of a down-on-his-luck actor after he moves into the wrong (haunted) apartment. Well Go's Blu includes Cantonese audio and an English dubbed track, plus the trailer, 5.1 DTS MA audio and a 1080p transfer.
Coming From Lionsgate: Christopher B. Stokes, who directed the commercially successful "You Got Served," helmed NO VANCY (81 mins., 2013, R), a thriller about a group of young friends who encounter more than they bargained for in a rundown hotel outside of Las Vegas. Standard-issue stuff brought to DVD by Lionsgate with a digital copy and 16:9 (2.35) transfer…ONCE UPON A TIME IN VIETNAM (107 mins., 2014, R) stars Dustin Nguyen in a period adventure he also wrote, directed and produced. Lionsgate's DVD includes interviews, a 16:9 (2.40) transfer, a digital copy, and 5.1 audio in either English or Vietnamese...The "Wings" crew flies high again in WINGS: SKY FORCE HEROES (84 mins., 2014; Not Rated), the follow-up to last year's animated adventures of Ace, Colonel and the crew (not to be mistaken with Disney's "Planes" despite similar visual design). Lionsgate's DVD includes a 16:9 transfer, 5.1 soundtrack, recording session featurette, bonus episodes and a Vudu HD copy. The disc will be a Walmart exclusive when it streets July 8th...Luke Goss and Nestor Carbonell star in DEAD DROP (89 mins., 2013, R), a revenege thriller about a CIA operative who loses his memory and tries to figure out how he became wrapped up in the precarious situation he's now involved in. Lionsgate's DVD boasts an Ultraviolet copy, 16:9 transfer, 5.1 sound, and a photo gallery.
From Virgil: INFLICTION (106 mins., 2014, Not Rated) is another found-footage picture, comprised of "actual assembled footage" from two brothers who witnessed a North Carolina murder spree in 2011. Grizzly and dark stuff, as you might anticipate, with Virgil's DVD including a music video, 16:9 (1.85) transfer and 2.0 stereo sound.
NEXT TIME: A special Aisle Seat SUMMER VIDEO VAULT with Stephen King's CAT'S EYE and MAXIMUM OVERDRIVE. Until then, don't forget to drop in on the official Aisle Seat Message Boards and direct any emails to our email address. Cheers everyone!