Message Board - Come and Discuss The Latest Videos, Movies & Anything Else!
One of Francis Ford Coppola's "commercial" films of the '80s, PEGGY SUE GOT MARRIED (***, 102 mins., 1986, PG-13; RLJ) announced to Hollywood that the "Godfather" director could shake off the failure of recent cinematic experiments "One From the Heart" and "The Cotton Club" and package a slick piece of studio filmmaking.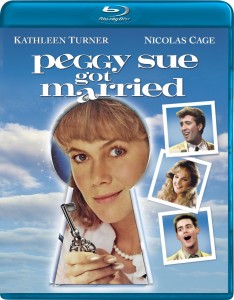 Jerry Leichtling and Arlene Sarner's script offers a definite "Back to the Future"-type feel wherein unhappy domestic housewife Peggy Sue (Kathleen Turner) blacks out at her high school reunion and flashes back to life in the idyllic 1950s. There, she's able to revisit the past through her adult perspective, realizing that the relationship she has with her high school boyfriend – and future husband – Nicolas Cage isn't as black or white as she may have remembered.
"Peggy Sue Got Married" is a very likeable but flawed film with a big, gaping hole at its center in Cage's misguided performance. Critics took him to task for his portrayal of Peggy Sue's philandering husband and with good reason, as the film nearly sinks under the weight of his overly eccentric character interpretation. Everyone from Kathleen Turner to – ultimately – Cage himself derided his performance here, but what's worth asking is how much of the blame lies not with the actor but Coppola. Given that Coppola was directing his then-young nephew here, shouldn't he have at least given Cage some guidance and said, "here, tone it down"?
Still, the wistful atmosphere of the picture, punctuated by so many familiar faces (Jim Carrey, Helen Hunt, Catherine Hicks, Kevin J. O'Connor, even Joan Allen…who looks middle aged even when she's in her high school scenes!), is impossible to deny. So is the cinematography of Jordan Cronenweth and especially John Barry's beautiful score. I had forgotten how much of the film relied on Barry's contribution and not just period tunes (there are actually very few songs in the film), and his effort is bittersweet and lovely – the antithesis to the nondescript, bland film music of today.
Of course, Turner is wonderful as well, giving one of her finest performances, in a movie that offers a very interesting, mature take on a well-worn time travel premise. However, I honestly think the film would've been even more remembered and acclaimed had Cage delivered a performance that could've elevated the material onto a truly emotional level that it only intermittently flirts with.
RLJ's Blu-Ray of "Peggy Sue Got Married" includes an attractive 1080p AVC encode from the Sony vaults that does a fine job conveying the film's color scheme and soft lighting…this isn't an especially "crisp" looking transfer, but that has more to do with how the film was shot and not an issue with the mastering. The 5.1 DTS MA soundtrack is mostly confined to the front speakers, and no extras are included.
"Peggy Sue Got Married" isn't the only '80s picture to find its way onto Blu-Ray this month.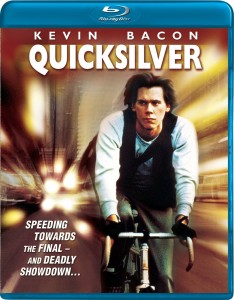 Movies about bike messengers seem to have a knack of striking out at the box-office: witness last year's solid Joseph Gordon-Levitt sleeper "Premium Rush" and its spiritual predecessor, the 1986 Kevin Bacon vehicle QUICKSILVER (**½, 106 mins., PG-13; RLJ). This dated but watchable picture follows Bacon's Jack Casey as he falls from grace on Wall Street and gets a job as a bike messenger in the Big Apple. Bacon's new gig provides plenty of exercise and danger after a fellow female messenger (Jami Gertz at her sultry '80s finest) gets mixed up with a local drug dealer.
Tom Donnelly wrote and directed the slick but vacuous "Quicksilver," graced by attractive cinematography and a throbbing Tony Banks score. The filmmakers recruited Giorgio Moroder and "Footloose"'s Dean Pitchford to write a theme song, "Quicksilver Lightning," performed by Roger Daltrey, which adds to the entertainment for nostalgia buffs, and likewise interjected a few "musical numbers" via montages involving the messengers fooling around on their cycles for good measure. All of this was an obvious attempt to cater to the "Footloose" crowd, but despite the thinness of the material, the picture still provides ample fun for viewers with Bacon, Gertz, a young Larry Fishburne and even Louie Anderson appearing in the cast. RLJ's Blu-Ray includes a nice 1080p transfer and DTS MA 2.0 soundtrack.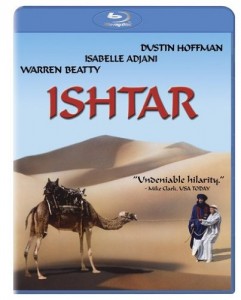 Viewers might not understand the economics behind Sony's decision to release ISHTAR (*½, 104 mins., 1987, PG-13) on Blu-Ray, particularly when the studio has licensed out dozens of far superior films to smaller labels over the last few years.
Granted, there are some viewers out there who truly believe that "Ishtar" isn't just one of the more notorious studio bombs of all-time, and that it's a brilliant offbeat comedy that the masses just couldn't understand. The truth, regrettably, falls short of those claims, as Elaine May's misfire sends songwriters Dustin Hoffman and Warren Beatty (playing against type) off to the Middle East where they become mixed up with espionage related to a pending revolution.
There are a few scattered chuckles in "Ishtar" but the movie is pretty awful, particularly once Hoffman and Beatty – who won't be mistaken for "Spies Like Us"' Chevy Chase and Dan Aykroyd, never mind Hope & Crosby – leave New York for the republic of Ishtar. Where the film's then-massive $40 million budget went is anyone's guess, but May took most of the blame and with good reason: the cash isn't on-screen, the laughs are non-existent and the film is strained instead of charming. Even Dave Grusin's pokey electronic score is leaden.
Making its first North American home video appearance since VHS (the film never made it to DVD domestically), "Ishtar" has been recut by May, trimming a couple of minutes from the movie's 107 minute theatrical print. The 1080p transfer is generally quite good, if a bit soft, with DTS MA 5.1 audio preserving May and Paul Williams' intentionally awful songs. If only the film itself hadn't been unintentionally horrific…
---
Also New on Blu-Ray
The late '90s were a time of reflection for middle age Americans. Movies like the Oscar-winning "American Beauty" surveyed the suburban malaise that enshrouded the culture arong the same time that President Bill Clinton went through his trials with Monica Lewinsky.
One film that turned its attention to the past in order to draw a parallel to the present was Ang Lee's hypnotic THE ICE STORM (***½, 1997, 113 mins., R; Criterion), which arrives on Blu-Ray this month courtesy of Criterion.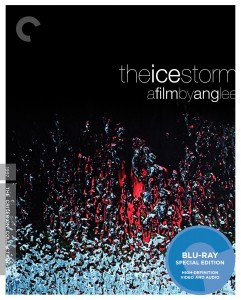 A marvelously written and multi-layered film that's now as noteworthy for the presence of its young cast (Tobey Maguire, Christina Ricci, Elijah Wood, Katie Holmes) as it is for its veteran stars (Kevin Kline, Joan Allen, Sigourney Weaver, Jamey Sheridan), "The Ice Storm" was based on Rick Moody's novel about wealthy New Canaan, Connecticut socialites who opt — with tragic consequences — into clandestine relationships with one another, all the while neglecting their misguided children, who are fast getting into trouble of their own.
Set against the beginnings of the Watergate scandal, "The Ice Storm" was shot in authentic New England locales and boasts a natural, haunting feel courtesy of director Lee and cinematographer Frederick Elmes. Composer Mychael Danna's unconventional score incorporates Native American instrumentation, accentuating the natural setting of the story's surroundings while enhancing its protagonists' disillusionment and the downside of the '70s sexual revolution. This is a movie that examines cultural and societal change and the negative consequences of its era's mores, yet does so in such a compelling filmmaking manner that it's impossible not to get lost in the picture's subtle and melancholy atmosphere. I've always found it to be a far more interesting and satisfying piece than Sam Mendes' more overtly in-your-face "American Beauty," and rightly regarded on Criterion's jacket as one of the finest films of the 1990s.
Criterion's Blu-Ray includes a 2K digital transfer (1080p) with 2.0 DTS MA audio. Extras, carried over from the label's prior two-disc DVD set, include Lee and screenwriter James Schamus' commentary, while interviews with Allen, Kline, Maguire, Ricci, Weaver and Wood are on-hand along with a video interview with author Moody. Visual essays on the film (featuring additional interviews with crew members), footage from a New York Museum of the Moving Image gathering with Lee and Schamus, and deleted scenes make for a marvelous release all around.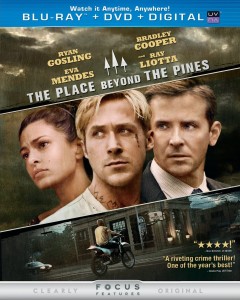 THE PLACE BEYOND THE PINES Blu-Ray Combo Pack (***, 141 mins., 2012, R; Universal): Derek Cianfrance's second picture is an impressively shot, absorbing character study of two individuals: a struggling young man (Ryan Gosling) who makes several poor decisions in order to support his girlfriend (Eva Mendes) and their young son – even though she's already moved on with another man – and the cop (Bradley Cooper) whose life crosses paths with him and is irrevocably altered as a result.
Although the picture runs nearly two-and-a-half hours, Cianfrance, Ben Coccio and Darius Marder's original screenplay can be summed up over the course of just a few sentences. For some viewers that may be an issue as "The Place Beyond the Pines" (named for the film's Schenectady, New York setting) is definitely leisurely paced, though other viewers may find the picture's straight, uncluttered narrative to be refreshing. What's unquestionably remarkable is Cianfrance's spectacular use of widescreen – the angles and dimension of the movie's visual scope give the material dramatic heft, and with Sean Bobbit handling the cinematography, I'd go so far as to say this is one of the more memorably shot crime-dramas I've ever seen.
"The Place Beyond the Pines" doesn't have a powerhouse conclusion, and the movie's female leads don't have much to do (Rose Byrne's role is especially thankless), but this is nevertheless an ambitious and occasionally spellbinding dramatic work that signals great things may lie ahead for its director.
Universal's Blu-Ray includes deleted/extended scenes, a Making Of featurette, commentary with Cianfrance, a DVD and digital copy. Both the 1080p transfer and DTS MA soundtrack are outstanding.
---
New Warner Archive Releases
A fascinating curiosity but something of a troubled and uneven picture, GREYSTOKE: THE LEGEND OF TARZAN, LORD OF THE APES (**½, 137 mins., 1984, PG) was originally the brainchild of "Chinatown" writer Robert Towne. After languishing in pre-production hell for years, Warner Bros. finally decided to rework Towne's script – which he had originally wanted to direct himself — as a vehicle for director Hugh Hudson, then a red hot commodity after the Oscar-winning "Chariots of Fire."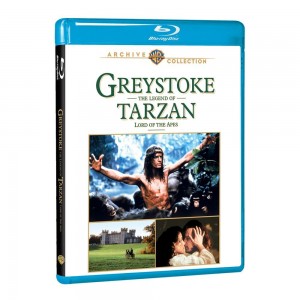 The resulting film, which Towne removed his name from (in favor of the pseudonym "P.H. Vazak" – Towne's dog!), reportedly retained the structure of Towne's script in its first half – showing the upbringing of young Lord Greystoke (Christopher Lambert) in the wilds of Africa by a society of apes and his eventual discovery by a group of adventurers led by Ian Holm. However, Hudson deviated from both the script, as well as Edgar Rice Borroughs' source material, in its tedious second half, when Tarzan returns to the family manor in Scotland and meets dear old grandpa (Ralph Richardson). Suddenly the film shifts gears from a gorgeous, albeit serious adaptation of Tarzan in the wild to a drawing room drama a la Merchant-Ivory, compounded by leaden scenes (Richardson's Earl of Greystoke sliding down a flight of stairs on a dining service tray) and the decision to have Glenn Close dub the movie's Jane – Andie McDowell (a film debut she's spent her career living down). The latter eliminates any chance of Lambert and McDowell generating any chemistry together, so the love story comes across as limp while the dramatic development of Greystoke (he's never called Tarzan at any point in the film) and his failure to acclimate to civilization seems misplaced compared to the upbeat, exciting thrills of Borroughs' original stories.
Further hampered by extensive post-production cutting (after poor test screenings, Warner Bros. reportedly slashed nearly 40 minutes from the film), "Greystoke" comes across as an entertaining missed opportunity that flirts with greatness but was sabotaged by poor filmmaking decisions – defined most clearly by the clashing sensibilities of Towne's script (which envisioned portraying Tarzan's story from the point of view of the apes) with Hudson's interest in depicting stuffy Anglo aristocracy. It's nevertheless a gorgeous looking letdown, thanks to John Alcott's stellar cinematography; between the movie's visuals and lush production, the film provides a feasts for the ears and eyes, even if it leaves you lamenting that Towne never had the chance to bring his original script to the screen (regrettably, the failure of "Personal Best," and its spiraling budget, forced the writer to sell his "Greystoke" script to Warner Bros. in order to get that picture completed).
After being delayed for several months, "Greystoke" – the fourth Blu-Ray release from the Warner Archives – is a winner. The 1080p AVC encoded presentation preserves Alcott's cinematography in a crisp, beautiful image that does justice to its most accomplished technical attribute. The 5.1 DTS MA track is likewise potent with a nice array of sound effects and one of John Scott's finest scores filling the sound stage. Extras include commentary from the director and associate producer Garth Thomas along with the original trailer. Viewers should note this is the slightly extended version of the movie previously seen on laserdisc and DVD, offering a brief Overture and prologue sequence that was trimmed from the theatrical release.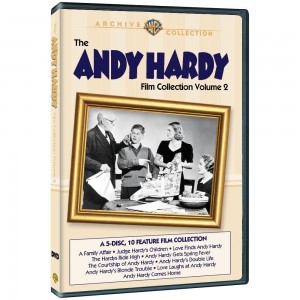 THE ANDY HARDY FILM COLLECTION VOLUME 2 (1937-58) continues the adventures of the girl-crazy small-town boy with Mickey Rooney as the title character, who causes much consternation for his father – the forever-frustrated Judge Hardy (Lewis Stone) – in this long running film series. Warner's Archive DVD collection offers the very first appearance of the characters in the 1937 "A Family Affair," then continues the formula in a handful of sequels: Judge Hardy's Children, Love Finds Andy Hardy (one of the best entries, co-starring Judy Garland), The Hardys Ride High, Andy Hardy Gets Spring Fever, The Courtship of Andy Hardy (with a young Donna Reed), Andy Hardy's Double Life (with Esther Williams), Andy Hardy's Blonde Trouble, Love Laughs at Andy Hardy (all produced between 1937 and 1946), and the belated final entry in the series, Andy Hardy Comes Home, a disappointing 1958 attempt at continuing the character's exploits with his own family (shades of "Father Knows Best" and "Leave it to Beaver" permeate this final installment). Warner's multi-disc DVD set contains B&W full-screen transfers with the exception of Andy Hardy Comes Home, which is presented in a 16:9 (1.78) widescreen format. Highly recommended for Golden Age buffs!
In the second season of TIME TRAX (973 mins., 1994), Darien Lambert (Dale Midkiff) heads back in time in order to stop a hundred criminals on the loose and the mastermind who created the time machine in the first place. This second and final season of "Time Trax," produced and developed by "Star Trek" movie sequel guru Harve Bennett, heads to DVD this month from the Warner Archive, featuring guest star appearances from Jeri Ryan, Vanessa Angel, John Schuck, Ronny Cox and Tamlyn Tomita among others, along with 4:3 transfers and stereo soundtracks.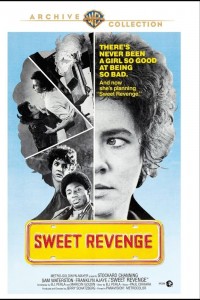 THE GREAT SANTINI (116 mins., 1979, PG) adapted Pat Conroy's autobiographical novel of a tough marine (Robert Duvall) who finds life on the homefront nearly as difficult as the wars he's fought. Duvall's relationship with his eldest son (Michael O'Keefe) serves the primary dramatic juice in this Lewis John Carlino-directed film version of Conroy's book, which sports a fine Elmer Bernstein score and a strong supporting cast including Blythe Danner as Duvall's wife. Warner's Archive DVD includes the first-ever widescreen presentation of the film on video thanks to a new 16:9 transfer.
HILDEGARDE WITHERS MYSTERY COLLECTION collects all six RKO cinematic adventures starring Stuart Palmer's schoolteacher with a knack for sleuthing. Edna May Oliver stars as Withers in Penguin Pool Murder, Murder On the Blackboard and Murder on a Honeymoon, Helen Broderick in the role in Murder on a Bridle Path, and Zasu Pitts in the final two installments, The Plot Thickens and Forty Naughty Girls. James Gleason co-stars in the series (produced between 1932-37) as Inspector Piper, with Warner's two-disc set mastered from the best surviving elements.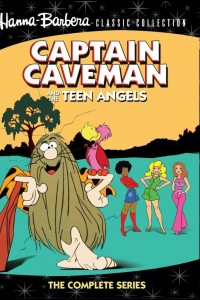 SWEET REVENGE (90 mins., 1976) is a rarely-seen, offbeat '70s picture starring Stockard Channing as a crafty car thief and Sam Waterston as the public defender who takes her case. This Jerry Schatzberg-directed MGM production offers appealing performances and solid use of Panavision widescreen – elements that come across quite well in Warner's new Archive release thanks to a 16:9 transfer (2.35) and mono soundtrack.
THE ADVENTURES OF SUPERBOY: Season 3 (560 mins.) mixed up the formula of the syndicated Salkind-produced series' first couple of seasons by having Clark (Gerard Christopher) and Lana Lang (Stacy Haiduk) graduate and head off for the "Bureau of Extra-Normal Matters," where young Mr. Kent could conveniently turn into Superboy in order to save the world from a series of dastardly creatures (as Warner's Archive packaging notes, this was several years before "The X-Files"!). This three-disc Warner release includes all 26 episodes of the third season with full-screen transfers and stereo soundtracks.
Finally, CAPTAIN CAVEMAN AND THE TEEN ANGELS (440 mins) offers the complete Hanna-Barbera series that mixed up the wild slapstick antics of Captain Caaaaaaaaaaaaveman with the Scooby-like sleuthing of the Teen Angels. All 40 episodes are included on two discs with full-screen transfers and mono soundtracks.
---
New From Shout!
Blu-Ray owners have to take catalog releases whenever they can get them, which makes Shout's MOVIES 4 YOU: TIMELESS WESTERNS double-disc set so appealing: offering three studio westerns that feature the music of Jerry Goldsmith, it's a terrific package from the Fox vaults for genre fans.
The first disc pairs the sturdy – if somewhat one-note – 1964 unofficial remake of "The Comancheros," RIO CONCHOS, with Fox's quirky 1975 release TAKE A HARD RIDE.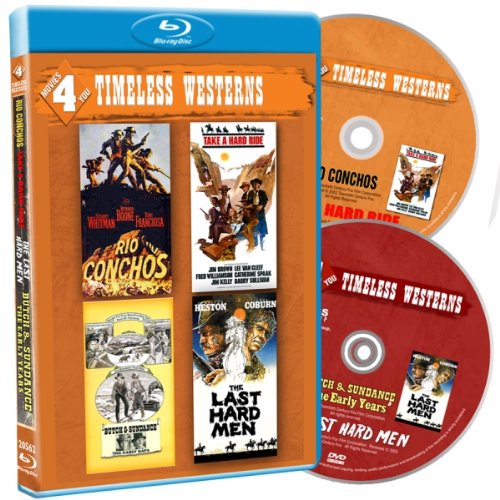 The latter offers Jim Brown, Fred Williamson and Jim Kelly taking on Lee Van Cleef in an oddball outing (an American studio-produced Spaghetti western with a Blackexploitation cast) shot in the Canary Islands. Goldsmith's score is the best part of the film, though the frail mono soundtrack does it no favors, and portions of the mix sound damaged, adding further insult to injury. "Rio Conchos," on the other hand, is a more serious, conventional tale of a former Confederate officer (Richard Boone) who joins with a union captain (Stuart Whitman) in a western that was surprisingly violent for its time and offers plum supporting roles for Jim Brown and Anthony Franciosa. It's not great, and could've used more humor, but the widescreen lensing is at least attractive and Goldsmith's music punctuates the material flawlessly.
Two later westerns are on-tap on disc two, combining the lousy 1976 Charlton Heston-James Coburn effort THE LAST HARD MEN with the surprisingly not-bad BUTCH & SUNDANCE – THE EARLY DAYS.
The troubled "Last Hard Men" is an unpleasant late-genre effort with retired lawman Charlton Heston battling escaped convict James Coburn, who's still harboring a grudge against Heston for sending him off to the big house a decade prior. Barbara Hershey co-stars as Heston's daughter, who's raped in one of several ugly sequences in a lethargic, unsatisfying film from veteran director Andrew V. McLaglen.
The real discovery in the set is "Butch & Sundance," a box-office disappointment from producer William Goldman that looks at the early adventures of Butch Cassidy (Tom Berenger) and the soon-to-be Sundance Kid (William Katt). Richard Lester's film was poorly received at the time through comparisons to the George Roy Hill smash with Redford & Newman; decades later, it's much easier to accept the film on its own terms, with the charismatic leads working hand in hand with a top notch supporting cast (Brian Dennehy, Christopher Lloyd, Jeff Corey, John Schuck, Peter Weller, Vincent Schiavelli and Jill Eikenberry among them). Patrick Williams' delightful score is another asset, playfully mixing an Irish lilt in with melodic themes that separate it from most conventional western scores.
Shout's packaging is no-frills ("Butch & Sundance"'s subtitle is even erroneously listed as "The Early Years"), though a few extras have been carried over from the prior DVD, including fairly recent interviews with Fred Williamson and the late Jim Kelly on "Take a Hard Ride," as well as William Katt on "Butch & Sundance." The transfers are certainly decent, pretty much on par with some of the Fox catalog releases we've seen from Twilight Time, though none have the vibrant pop of a typical Sony catalog release. The mono soundtracks run the gamut from the acceptable to the problematic ("Take a Hard Ride"), and trailers are included for each picture.
A BOY AND HIS DOG Blu-Ray/DVD (91 mins., 1975, R; Shout! Factory): Harlan Ellison's offbeat sci-fi novella made it to the screen in 1975 as a suitably eclectic cinematic tale written and directed by character actor L.Q. Jones. Don Johnson plays a loner in a post-apocalyptic world who travels through the desolation with his telepathic dog, Blood; their run-ins with scavengers, scoundrels and underground mutants makes for an episodic film that's generated a cult following over the years since its original release. Shout's excellent Blu-Ray combo pack includes a newly restored 1080p transfer plus an expectedly interesting talk with Ellison and Jones, commentary with Jones, cinematographer John Arthur Morrill and critic Charles Champlin, and the original trailer.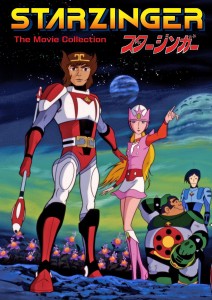 STARZINGER – THE MOVIE COLLECTION DVD (326 mins., 1978; Shout! Factory): One of my favorite cartoons growing up was a show called "Force: Five," which ran on Channel 25 up in Boston. The five-days-a-week program offered a different Japanese cartoon each day, imported and dubbed by Jim Terry Productions, and most featuring large, colorful robots who first hit American shores as "Shogun Warriors" a couple of years prior (by the time the series premiered in the early '80s, confusion over the Richard Chamberlain "Shogun" mini-series prompted the name change to "Force: Five"). For those of us who grew up in the early '80s, the show was impossible to forget (much like "Star Blazers"), even if the series never did generated an official home video release outside a few, long out of circulation VHS tapes.
This new, licensed package from Toei Animation offers a newly dubbed version of one of those "Force: Five" cartoons – "Starzinger," which was known as "Space-keteers." The original series ran much longer than the 326 minutes offered here, yet the entire narrative arc of the program is distilled in these "feature movies," so it's nevertheless a respectful abridgement of the show and nostalgia buffs – and Japanese animation enthusiasts – ought to get a kick out of it. The lone problem are the 16:9 reconfigured transfers, which blow up the original 1.33 frame and look blurry and pixillated in this two-disc DVD set.
---
New From Fox
Francis Ford Coppola is hopefully enjoying the good life on his vineyard, because his filmmaking career is the midst of a nose dive. After electric offerings "Tetro" and "Youth Without Youth," Coppola hit rock bottom with TWIXT (88 mins., 2011, R; Fox), an incomprehensible tale of a Stephen King-like writer (Val Kilmer) whose trip to a small town reveals a corpse with a steak through its heart, the ghost of a young girl (Elle Fanning), and other assorted mysteries. Coppola's film was supposed to have been something of an "interactive road show" but the finished film – which Fox sat on for the better part of two years before releasing it straight to video – is just a mess that even Coppola devotees will be hard pressed to appreciate. A documentary from Gia Coppola is the sole extra on Fox's Blu-Ray, which contains a 1080p transfer and DTS MA soundtrack, along with a "DigitalHD" copy.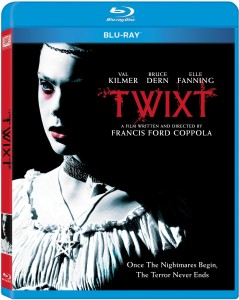 LOVE ME TENDER (89 mins., 1956) is best known as the film that introduced Elvis Presley to movie-goers as the youngest of the Reno brothers, married to lovely Debra Paget, who's really in love with elder brother Richard Egan – presumed dead, but now home from the war, in a Fox Cinemascope western set during the Civil War. The movie's enjoyable enough, but it's Presley's tunes that most viewers will recall, even if they're gratuitously incorporated into the story. Fox's Blu-Ray boasts a nice 1080p transfer and DTS MA 5.1 audio (the original 1.0 DTS MA mono track is also included) and extras including a commentary from Elvis historian Jerry Schilling and a slew of featurettes.
Fox has also tapped into the Marilyn Monroe catalog for two more '50s features making their debut on Blu-Ray. NIAGARA (89 mins., 1953) was one of Monroe's first starring vehicles: a Henry Hathaway-directed thriller co-starring Joseph Cotten in a tense affair written by Charles Brackett, Walter Reisch and Richard Breen. BUS STOP (94 mins., 1956) finds Monroe opposite Don Murray as a rodeo rider who falls for Marilyn's showgirl. Joshua Logan's Cinemascope direction and George Axelrod's script (based on a William Inge play) are both compelling in this decidedly romantic affair. Both pictures include good-looking 1080p transfers (4:3 on "Niagara," 2.55 on "Bus Stop"), DTS MA 4.0 ("Bus Stop") and 5.1 ("Niagara") soundtracks ("Niagara" also includes its original mono mix), and the original trailers.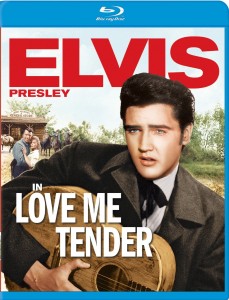 DRAGONS: RIDERS OF BERK Parts 1 and 2 (Fox) each offer nearly a dozen episodes from the small-screen series adaptation of "How to Train Your Dragon." Colorful animation and 16:9 transfers ought to make both releases fun for kids, with extras including free "Battle Pack" vouchers for the online/mobile game "School of Dragons" and additional featurettes.
TRANCE Blu-Ray (101 mins., 2013, R; Fox): Danny Boyle's follow-up to his Oscar winning hit "Slumdog Millionaire" failed to generate the same level of enthusiasm with viewers, though on the small screen and with reduced expectations, this tale of an art dealer (James McAvoy) who loses his memory – and a $27 million dollar painting – provides enough twists and turns to keep you interested. Vincent Cassel and Rosario Dawson co-star. Fox's Blu-Ray includes deleted scenes, a Making Of program, Danny Boyle Retrospective, DigitalHD copy and "Eugene," a short film by Spencer Susser.
---
Acorn New Releases
MIDSOMER MURDERS – Set 22 (aprx. 372 mins., 2011) marks one of several scintillating new Acorn releases this August. Set 22 returns Neil Dudgeon and Jason Hughes as Inspector John Barnaby and his partner Det. Sgt. Ben Jones, in four new mysteries: The Sleeper Under the Hill, The Night of the Stag, A Sacred Trust, and A Rare Bird. 1080p transfers and 2.0 DTS MA soundtracks comprise the two-disc set's technical side, with a 34-minute bonus "In Conversation" featurette providing some enlightening information for fans.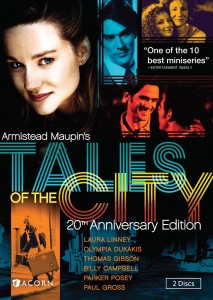 Alec Guinness returned as former master agent George Smiley in the 1982 adaptation of SMILEY'S PEOPLE (324 mins.), co-starring Patrick Stewart, Eileen Atkins, Michael Lonsdale and Bill Paterson among others. Slightly more distinguished in its 4:3 1080i presentation than the prior Blu-Ray of "Tinker, Tailor, Soldier, Spy," Acorn's two disc set includes over an hour of deleted scenes, an interview with author John Le Carre, production notes, a glossary of main characters and terms, and a biography/booklist of the author.
Finally, Armistead Maupin's TALES OF THE CITY (321 mins., 1993) comes to DVD this month in a 20th Anniversary special edition from Acorn. This profile of early '70s San Francisco as seen through the wide eyes of recently arrived Cleveland transplant Laura Linney offers a great cast (Billy Campbell, Thomas Gibson, Olympia Dukakis, Chloe Webb) and compelling characters to match. All six episodes from the British-produced series are included in Acorn's two disc set along with extras, including commentary with Maupin, director Alastair Reid and various cast members on episodes 1, 3, and 6; a reel of behind-the-scenes location and rehearsal footage, running nearly 40 minutes; and an eight-page booklet including an introduction from Maupin, liner notes and background on location landmarks. The 4:3 full-screen transfer and stereo soundtrack are both just fine.
---
BOARDWALK EMPIRE – Season 3 Blu-Ray/DVD (720 mins., 2013; HBO): Jimmy's gone but the '20s continue to roar in this third season of the popular HBO series that once again finds Steve Buscemi's Nucky Thompson fending off rival gangsters for control of Atlantic City's bootlegging business. HBO's lavishly produced Blu-Ray box set, available August 20th, includes the entire 12-episode third season (episodes: Resolution, Spaghetti and Coffee, Bone for Tuna, Blue Bell Boy, You'd Be Surprised, Ging Gang Goolie, Sunday Best, The Pony, The Milkmaid's Lot, A Man, A Plan…, Two Imposters, and Margate Sands) in dynamic 1080p AVC encoded transfers and DTS MA soundtracks.
Extras include 24 exclusive "Newsreel" featurettes; "Boardwalk Chronicle" in-episode guide; "American Empires" historical information; a "Director's Chair" with series directors Tim Van Patten and Allen Coulter; Scorsese on the third season; a guide to new characters and a retrospective look at Season 2; and six audio commentaries.
While "Boardwalk Empire" hits Blu-Ray on August 20th, the second and final season of HBO's ENLIGHTENED (240 mins., 2013) streets on August 13th. Laura Dern (who co-produced and created the series with Mike White) once again essays an executive still crusading against the corporation she's working for. Luke Wilson, Diane Ladd, and White himself co-star in this second season of the program, which HBO canceled after it failed to generate sufficient ratings. HBO's DVD-only release includes commentaries and "Inside the Episodes" featurettes along with 16:9 transfers and 5.1 soundtracks.
Finally, the controversial GIRLS (aprx. 300 mins., 2013) continued its mix of raunch, vulgarity and eccentric dramatic material as seen through the prism of creator/star Lena Dunham. As with the series' first season, you're likely to either enjoy this program – or not – though even fans admitted a quality letdown during the program's second season. HBO's Season 2 release of "Girls" on Blu-Ray is chock full of extras: deleted/extended scenes, an Episode 5 Table Read, Charlie Rose interview with Dunham, Making Of material, commentaries, a gag reel, DVD, digital copy and a 2012 New Yorker Festival interview with its star are all on-hand, plus 1080p transfers and DTS MA soundtracks.
COMMUNITY – Season 4 DVD (278 mins., 2013; Sony): The little series that could keeps on trucking in this fourth season of the ratings-deprived, critically acclaimed and fan-beloved "free form" comedy starring Joel McHale, Gillian Jacobs, Danny Pudi, Yvette Nicole Brown, Alison Brie, Donald Glover, Jim Rash, Ken Jeong, Chevy Chase and a gaggle of cameos. All 13 fourth-season episodes from the NBC program are on-hand in Sony's two-disc DVD set, which also features another strong assortment of supplements, from cast/crew commentaries on each episode to outtakes, deleted/extended scenes, "Inspector Spacetime: Inspection," "Adventures in Advanced Puppetry", plus 16:9 transfers and 5.1 Dolby Digital soundtracks.
SMASH Season 2 DVD (aprx. 13 hours, 2013; Universal): Second and final season of the expensive, Steven Spielberg-produced NBC series again divulges the backstage drama involved with mounting a Broadway musical centered around Marilyn Monroe. Katherine McPhee, Debra Messing, Anjelica Huston and Megan Hilty are joined by guest stars Jennifer Hudson and Liza Minnelli in this 17-episode conclusion to the series. Universal's DVD includes never-before-seen musical numbers, deleted scenes, a gag reel, 16:9 transfer and 5.1 audio.
POLITICAL ANIMALS DVD (290 mins., 2012; Warner): Hillary Clinton might not be running for office until 2016 but the entertainment industry already seems preoccupied with her election, as evidenced by NBC's upcoming mini-series starring Diane Lane, CNN's announced Hilary film, and this USA limited series from a year ago. Sigourney Weaver doesn't star as Mrs. Clinton per se, but she does essay a current secretary of state who's trying to dodge tough questions from reporter Carla Gugino and domestic crises involving her ex husband…who bears more than a passing resemblance to Big Bill in his philandering activity. Warner's DVD of this acclaimed mini-series offers a 16:9 transfer and 5.1 soundtrack.
Also new from Warner is THE AMAZING WORLD OF GUMBALL: THE PARTY (132 mins., 2012-13), offering 12 episodes from the Cartoon Network series (The Party, The Debt, The Painting, The Kiss, The Goons, The Secret, The Poltergeist, The Date, The Fight, The Ghost, The Prank, The Robot) in 16:9 transfers and 2.0 Dolby Digital soundtracks. A character gallery is the sole extra feature.
---
CBS New Releases
Season 4 of STAR TREK: THE NEXT GENERATION (20 hrs., 1990-91) finds the TNG crew at the peak of their talents, kicking off with the second half of "The Best of Both Worlds" and continuing on through a series of memorable episodes that rank with the series' most consistently entertaining. The roster includes Family, Brothers, Suddenly Human, Remember Me, Legacy, Reunion, Future Imperfect, Final Mission, The Loss, Data's Day, The Wounded, Devil's Due, Clues, First Contact, Galaxy's Child, Night Terrors, Identity Crisis, The Nth Degree, Qpid, The Drumhead, Half a Life, The Host, The Mind'e Eye, In Theory, and the cliffhanger finale Redemption (Part 1).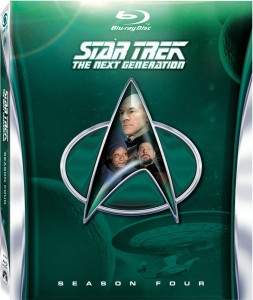 Remastered special effects and superb 4:3 1080p transfers are included once again in CBS' dynamic Season 4 Blu-Ray box-set, which again affords viewers the option of listening to a 7.1 DTS MA remix or the original 2-channel stereo sound. A new multi-part documentary, "Relativity: The Family Saga of Star Trek The Next Generation" is included on the supplemental side along with "In Conversation: The Star Trek Art Department," audio commentaries on "Brothers" and "Reunion," a new gag reel assembled from original film elements, deleted scenes, archival mission log featurettes and episodic promos. Another must for Trekkies!
Along similar lines, STAR TREK THE NEXT GENERATION: REDEMPTION (aprx. 86 mins., 1991; CBS)splits the two-part TNG arc into a single feature, with an exclusive commentary track with writer Ronald D. Moore and Denise and Mike Okuda; episodic promos; and "Survive and Succeed: An Empire at War" featurette. As with the TNG Blu-Ray, the 4:3 1080p transfer and DTS MA soundtrack are excellent.
BONANZA: Season 6, Volumes 1 and 2 (CBS) brings viewers a remastered presentation of the long-running western's 1964-65 campaign, which was notable for offering the final appearances of original star Pernell Roberts, who departed midway through this sixth season. CBS' full-screen remastered transfers and mono soundtracks are all terrific, and the original music tracks have been retained.
DYNASTY: Season 7, Volumes 1 and 2 (CBS) enables fans to enjoy more of the cat fighting, dastardly melodrama and personal scandals between the Carringtons and Colby clans. John Forsythe, Joan Collins and Linda Evans return for this 1986-87 season of the ABC prime-time soap, presented here in two separate volumes (bundled together) with full-screen transfers and mono soundtracks.
---
Also New & Noteworthy
AMOUR Blu-Ray (127 mins., 2013, PG-13; Sony): A critical sensation, "Amour" stars Jean-Louis Trintignant and Emmanuelle Riva as a couple of elderly music professors whose relationship is changed forever when Riva suffers a stroke. Her health declines from there, which pushes their lifelong bond to its limits as Riva loses her ability to move and function.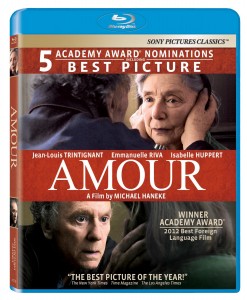 Viewers who have elderly parents or relatives ought to generate great sympathy for the characters of "Amour," though director Michael Haneke's picture is far from entertaining – it's quite difficult to watch, not to mention slow, and could bring back bad memories viewers may recall from their own experiences. Watching family members struggle with old age, physical limitations, Alzheimer's, etc. is hard enough – and seeing it on-screen may not be everyone's idea of a good time.
That said, "Amour" is still commendable for its sensitivity and certainly its performances, and Sony's Blu-Ray – available August 20th – offers a fine 1080p transfer with DTS MA audio and extras including a Making Of featurette and a Q&A with the director.
MAGIC MAGIC DVD (98 mins., 2013, R; Sony): Michael Cera plays against type in this psychological thriller about a young girl (Juno Temple)'s fragile psyche – one that crumbles after she heads down to South America to visit her cousin (Emily Browning) and meets a series of her oddball friends while on a remote island off the Chilean coast. Cera plays a particularly unhinged American exchange student in Sebestian Silva's picture, which is being sold like a typical teen horror movie but is a bit more disturbing and cerebral than its marketing suggests. Sony's DVD includes a Making Of, 16:9 (2.40) transfer and 5.1 soundtrack.
OLIVER & COMPANY Blu-Ray (***, 74 mins., 1988, G; Disney): Cute, if forgettable, late '80s Disney modernization of "Oliver Twist," set in New York City and populated with both furry characters and slight pop tunes (from Billy Joel, Huey Lewis and Bette Midler), isn't on the level of the Menken-Ashman renaissance that would follow a year later in "The Little Mermaid," but it's still fun for young viewers and Disney aficionados. Disney's new 20th Anniversary Blu-Ray of "Oliver and Company" includes a pleasing, if not pristine, 16:9 AVC encoded widescreen transfer with 5.1 DTS MA sound, a Making Of featurette, sing-along songs, two different vintage shorts, and games and activities for the lit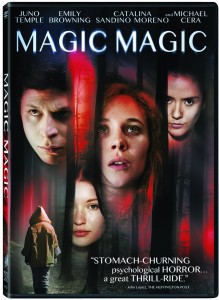 WEST OF MEMPHIS Blu-Ray (147 mins., R, 2012; Sony): The conviction of three West Memphis, Arkansas teenagers for the horrifying deaths of three eight-year-old boy scouts has already provided fodder for a series of documentaries. Amy Berg's latest, produced by Peter Jackson and Fran Walsh (who all served as activists for getting the "West Memphis Three" to agree to a time-served plea deal), recounts the harrowing deaths of the boys and the judicial atrocities involved in the prosecution. Most interestingly, it tries to find the real killer of the three boys as well, in a lengthy but compelling piece that only loses its way in some icky material that Berg presses too hard to sell (like a child abuse victim recounting her experiences to her therapist). Sony's Blu-Ray includes deleted scenes, commentary with Berg, Damien Echols and Lorri Davis, a Toronto Film Festival Red Carpet segment, Q&A and press conference, a 1080p transfer and DTS MA soundtrack.
JUSTICE LEAGUE: THE FLASHPOINT PARADOX Blu-Ray Combo Pack (81 mins., 2013; Warner): The Flash attempts to change his troubled past – and in particular, save his mother from a violent death – which he does via his superpowers…only to find out it's irrevocably changed the future, where Batman is an even harder-edged Dark Knight, Superman is MIA, and Wonder Woman and Aquaman find themselves at the opposite sides of a war. This latest DC Comics animated adaptation is a fast-paced affair that ranks as one of the best of its kind, from its superb, veteran voice casting (Kevin Conroy, Dana Delany among them) to its compelling time travel plot. Warner's combo pack includes an attractive 1080p transfer, DTS MA soundtrack, commentary, bonus cartoons and featurettes, with some content exclusive to the BD platter. A DVD and digital copy rounds out the release.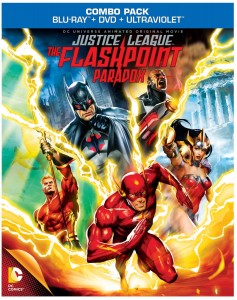 Syfy Channel's most reliable production company, Cinetel Films, has fashioned another enjoyable diversion with SUPER STORM (89 mins., 2012, PG-13), which finds a young teen's science project as the sole object that can save the world after a phenomena on Jupiter causes massive weather catastrophes on our planet. A younger cast works with Mitch Pileggi in this routine yet satisfying B-movie brought to Blu-Ray by Anchor Bay on August 13th. The disc includes a Dolby TrueHD 5.1 soundtrack and a good looking 1080p transfer.
AFTERSHOCK Blu-Ray (89 mins., 2013, R; TWC-Radius/Anchor Bay): Eli Roth stars and produced this godawful exercise in torture porn, here mixed with the conventions of a disaster film. "Aftershock" follows Roth ("acting" as an American tourist), his friends and several American girls they hook up with in Chile, right before a catastrophic earthquake hits. "Aftershock" might sound like "fun" in theory but the carnage isn't confined to falling buildings – there are bodies set aflame, nasty gore and an explicit rape sequence to go along with the bad performances and general unpleasantness. So lowbrow that Dimension essentially sent this latest Roth vanity project straight to video, "Aftershock" hits Blu-Ray on August 6th from Anchor Bay sporting a 1080p transfer, DTS MA 5.1 soundtrack, two featurettes and an "international" commentary with Roth in L.A. joined by director Nicolas Lopez in Chile.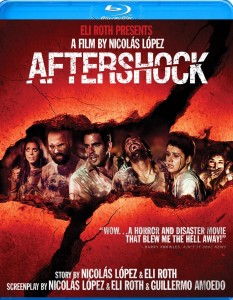 FLOATING CITY Blu-Ray (105 mins., 2012, Not Rated; Well GO USA): Yim Ho's fascinating chronicle of a blue-eyed Asian boy's rise from humble beginnings in British occupied Hong Kong to a successful businessman searching for his roots decades later hits Blu-Ray on August 20th from Well Go. "Floating City" is the kind of absorbing character-driven drama we usually don't see imported a whole lot on domestic disc, making this release strongly recommended for Asian cinema devotees in particular. Well Go's Blu-Ray offers a 1080p transfer and 5.1 DTS MA audio…also coming soon from Well Go is THE GUILLOTINES (113 mins., 2012), a period Hong Kong import from the director of "Infernal Affairs," following a group of lethal assassins hiding from an oppressive new regime. Well Go's Blu-Ray includes a Making Of and cast/crew interviews, along with a 1080p transfer and DTS MA soundtrack, though genre fans should be advised that the movie is decidedly low on the action quotient.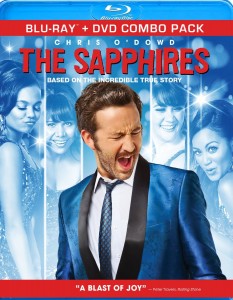 THE SAPPHIRES Blu-Ray/DVD (99 mins., 2012, PG-13; Anchor Bay): Somewhat uneven but likeable Australian import chronicles the real-life story of four Aboriginal girls (from the same family) who performed for U.S. troops in Vietnam. "Bridesmaids" co-star Chris O'Dowd plays their Irish manager in a good-natured Australian picture from director Wayne Blair that feels a bit slick and conventional in its formulaic construction but still manages to entertain thanks to appealing performances. Anchor Bay's Blu-Ray of this Weinstein Company co-production offers a Making Of, music featurette and, most interestingly, an interview with the original Sapphire girls. Both the 1080p transfer and DTS MA 5.1 soundtrack are exemplary.
Label Wrap
E One New Releases: Rene Clement's THE DAMNED (105 mins., 1947) is the latest Blu-Ray release in the Cohen Film Collection, offering a taut tale of Nazis attempting to escape to South America on a submarine during the waning days of WWII. This little-seen French production is a claustrophobic, gritty affair, with Cohen's Blu-Ray including a feature length commentary with Judith Mayne and John Davidson; Dominique Maillet's 2010 documentary "Rene Clement or The Cinema of Sketches"; the theatrical re-release trailer; a 1080p (1.33) transfer and 2.0 LPCM audio…Marco Ristori and Luca Boni, those loveable Italian filmmakers who brought the world "Eaters," and Uwe Boll, the less-than-lovable B-movie auteur, present ZOMBIE MASSACRE (90 mins., 2012, E One), a tale of a biological weapon intended to create a mass of "super soldiers" that instead turns an entire town into hungry hordes of the undead. Decent genre filler for the indiscriminate horror fan, "Zombie Massacre" comes to Blu-Ray on August 6th from E One, featuring a 1080p transfer, DTS MA soundtrack, Making Of featurette, storyboard comparison, the teaser and trailer….Roger Daltrey provides the voice of Argon the Dragon in WHEELS ON THE BUS: ANIMAL ADVENTURE (45 mins., 2013), featuring four episodes of animal fun for very small children, mixing puppets and bouncy music together over the course of its 45 minute running time...Kids will enjoy CHIHUAHUA TOO! (80 mins., 2013, Not Rated), which finds the Fastener family and their golden retriever Homer discovering Sophie, their ancestors' chiahuahua who's still very much alive in a good-natured, fun feature for family viewers. E One's DVD includes a 16:9 (1.78) transfer and 2.0 Dolby Digital audio.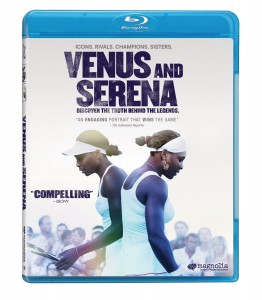 Magnolia New Releases: Maiken Baird and Michelle Major's VENUS AND SERENA (100 mins., 2013, PG-13) chronicles the life and times of tennis' outspoken Williams sisters. On and off-court footage tries to humanize Serena and Venus and show their relationship with one another, though it feels somewhat sugercoated in regards to Serena's demeanor, which isn't universally embraced by the duo's on-court rivals. John McEnroe, Billie Jean King and others appear in this doc, which is nevertheless quite entertaining for tennis buffs. Magnolia's Blu-Ray includes deleted scenes, the trailer, interviews with the filmmakers and a featurette, along with a 1080p transfer and DTS MA soundtrack.
New From IFC: THE JEFFREY DAHMER FILES (76 mins., 2012) is a small, low-budget independent production from director Chris James Thompson, profiling the life of the infamous Wisconsin resident who killed 17 and was sentenced to 957 years. IFC's DVD includes deleted scenes, Kickstarter videos, the trailer, a Q&A at Hot Docs 2012, a 16:9 transfer and 5.1 Dolby Digital soundtrack…ON THE ROAD (124 mins., 2012, R; IFC) was director Walter Salles' unsuccessful attempt at bringing Jack Kerouac's novel of a young writer (Sam Riley) who joins Garrett Hedlund and Kristen Stewart on a cross-country journey of self-discovery, and self-destruction, in the late '40s. Salles film, scripted by Jose Rivera, meanders along without any conventional narrative focus, and also without much entertainment, despite a fine cast (Viggo Mortensen, Elisabeth Moss and Amy Adams chip in supporting appearances). IFC's Blu-Ray includes deleted scenes, the trailer, a 1080p transfer and 5.1 DTS MA soundtrack...MY AMITYVILLE HORROR (89 mins., 2012, Not Rated) brings Daniel Lutz's tale of life with his allegedly abusive stepfather George – better known as the man who claimed to have lived through the infamous haunting – to the screen. Lutz discusses the actual Amityville haunting (what he remembers of it), but it's clear he was most impacted by his stepfather's actions, as director Eric Walter generates ample sympathy for the troubled man throughout the movie's 90 minutes. Regrettably, this frustrating documentary is also told solely from Lutz's point of view, making his accusations over individuals no longer alive to defend themselves something of a one-note viewing experience. IFC's DVD includes commentary with the filmmakers, a featurette, the trailer, 16:9 transfer and 5.1 Dolby Digital soundtrack…ERRORS OF THE HUMAN BODY (102 mins., 2012, Not Rated) finds a Canadian scientist working in Germany where his work on a regenerative gene could be an asset to humanity – or a disaster waiting to happen. This restrained indie film is anything but Cronenberg's "The Fly" or "The Human Centipede," despite the packaging's claims to the contrary. IFC's DVD includes a Q&A with co-writer/director Eron Sheean, a behind the scenes photo gallery, the trailer, a 16:9 transfer and 5.1 soundtrack.
New From PBS: THE PATH TO VIOLENCE (60 mins., 2013) asks difficult questions about school safety after Columbine and Newtown. Instead of profiling the tragedies, this PBS documentary from writer Kathy Slobogin pays more attention to the 120 assaults were prevented over the last decade, and looks at what schools can keep doing to make their environments safer for students. Sam Waterston narrates, with PBS' DVD including a 16:9 transfer and stereo soundtrack…
New From Lionsgate: BLAZE YOU OUT (98 mins.) finds an aspiring female DJ who has to infiltrate the underworld when her sister witnesses her boyfriend's murder and promptly disappears. Mateo Frazier and Diego Joaquin Lopez's picture hits DVD in a 16:9 transfer with three featurettes and a 5.1 Dolby Digital soundtrack from Lionsgate.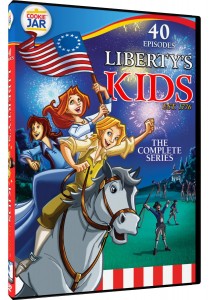 Mill Creek New Releases: The 65-episode SECRETS OF WAR (54 hours) takes viewers to arenas around the world for a history of covert ops, gadgets and military secrets with archival footage and historian interviews mixed in. Mill Creek's DVD box set contains the complete series as narrated by Charlton Heston…The 7-discTHE WAR BETWEEN THE STATES (18 hours) includes three complete historical series: the 10-part "Civil War: America Divided," "The Ultimate Civil War Series," and "Up From Slavery." Check the Aisle Seat archives for individual reviews of these titles...LINCOLN: PROFILES OF THE GREAT EMANCIPATOR (19 hours) offers a box-set presentation of the original Hal Holbrook miniseries "Sanburg's Lincoln" along with "Abraham Lincoln: Trial By Fire" and "The Ultimate Civil War Series" (same content as is contained in "The War Between the States"). Again, check the site archives for separate reviews of these titles…Finally, Mill Creek has re-issued the highly entertaining LIBERTY'S KIDS (aprx. 15 hours) animated series on DVD, following Ben Franklin's teen reporters as they chronicle the American Revolution. This budget package doesn't offer the same extras as Shout's prior DVD box-set or its higher-quality transfers, but for under $10 this is a great pick up for families that should entertain, and enlighten, young viewers.
From Vivendi: FILLY BROWN (99 mins., 2012, R) charts the life of a female hip-hop artist and her attempts to maintain her authenticity in spite of commercial interests. The late Jenni Rivera co-stars with Gina Rodriguez, Edward James Olmos, and Lou Diamond Phillips in this independent drama brought to Blu-Ray by Vivendi this month offering extended/deleted scenes, commentaries and a music commentary. The 1080p transfer and DTS MA soundtrack are both excellent…the insane ALYCE KILLS (94 mins., 2011) stars Jade Dornfeld as a party girl who pushes her best friend off a building, lies about her involvement in the incident, only to find out that she's still alive in writer-director Jay Lee's extremely offbeat tale. Vivendi's DVD includes a behind-the-scenes featurette, cast interviews, the trailer, a 16:9 transfer and 5.1 soundtrack (available August 20th).
NEXT TIME: ACTION JACKSON on Blu-Ray plus Shout's latest, Q and DARK ANGEL! Until then, don't forget to drop in on the official Aisle Seat Message Boards and direct any emails to our email address. Cheers everyone!