Message Board - Come and Discuss The Latest Videos, Movies & Anything Else!
If the words "we're building a fighting force of extraordinary magnitude" mean anything to you, then chances are good that 1977′s KENTUCKY FRIED MOVIE (82 mins., 1977, R) is one of your all-time favorite comedies. At 75 minutes, this sketch-comedy epic boasts as many memorable comedic moments as any film I've ever seen, from a hilarious parody of "Enter the Dragon" ("A Fistful of Yen") to satires on morning TV shows, commercials, coming attraction trailers (who will ever forget "Catholic High School Girls in Trouble" or "That's Armageddon"?), reality- based programs ("Danger Seekers"!), and an assassination board game that – as the filmmakers point out in their commentary — makes more sense in less than three minutes than Oliver Stone's JFK did in three hours!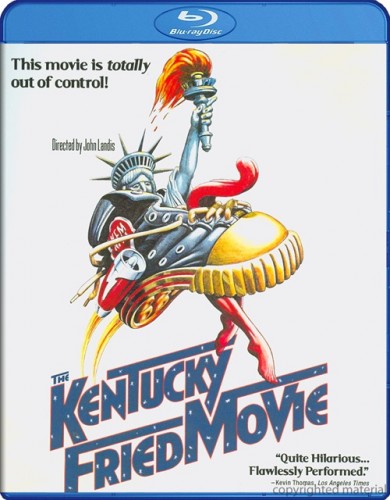 A film that launched the careers of director John Landis (who went onto "Animal House" shortly thereafter) and writers Jim Abrahams, David and Jerry Zucker (who hit paydirt with "Airplane!" a couple of years later), "Kentucky Fried Movie" is one of the funniest, raunchiest examples of sketch comedy you're going to find. Along with Ken Shapiro's "The Groove Tube" (which predated this film and also deserves to be screened on Blu-Ray), KFM helped to establish a new kind of post-Mel Brooks sight gag comedy on-screen.
Shout's Blu-Ray offers, as you might expect, certainly a major enhancement on older video releases of the picture, with a DNR-free 1.78 AVC encoded presentation and clear DTS MA mono audio. The print offers excellent clarity and detail, while occasionally looking like something you'd see at the drive-in back in 1977 with scratches and dirt popping up here and there – but that, for me at least, is also part of its charm, and no attempt has been made to smooth over its rougher patches. The aspect ratio is also accurately rendered for the first time, since Anchor Bay's old DVD featured either a 1.85 image that cropped the top and bottom out of the image, or a full-screen 1.33 image that did the same partially to the sides.
Extras include the original trailer and an hour-long 2010 interview with David and Jerry Zucker that was produced for Arrow Video's UK DVD release. Aside from the interview being broken up by title cards for each question being asked, this is a fun talk with the Zucker Brothers, while fans will also go bonkers over the hysterical audio commentary for the film – reprieved from the Anchor Bay DVD release – which features Landis, the Zucker brothers, Abrahams, and producer Robert K.Weiss recounting their frequently hilarious adventures during the film's production. While the speakers constantly talk over each other, it's jam-packed with funny bits of trivia (like how the composer of "Kingdom of the Spiders" scored the "Fistful of Yen" segment with music so bad it made the sequence even funnier than they thought it would be!) and is one of the most entertaining chats you'll hear on a commentary track. The trailer completes the package.
THE FOG Blu-Ray (90 mins., 1979, R; Shout!): John Carpenter's highly atmospheric — but heavily flawed — 1979 feature (his first of two films for Avco Embassy Pictures) boasted a bigger budget and cast than his previous smash, "Halloween." Unfortunately, the Carpenter-Debra Hill script about a fog that enshrouds a Northern California coastal town and the mysterious figures lurking within it is a relatively disappointing genre affair that teases more than it satisfies…despite some creepy moments and superb Dean Cundey cinematography. Tellingly, Carpenter had to re-shoot large chunks of the movie after the rough cut was deemed a dud by the studio, so the finished film perennially comes up "just short," despite a great genre cast (Adrienne Barbeau, Jamie Lee Curtis, Tom Atkins, Hal Holbrook, Janet Leigh) and some memorable moments.
Still a movie beloved by fans, "The Fog" has taken quite a while to arrive on Blu-Ray in the US. During the format's early days, Studio Canal issued a Blu-Ray overseas in a frightfully poor, DNR'd presentation that scarcely offered more detail than an upscaled DVD, and that disc has now been rendered utterly obsolete with this superior 1080p AVC encoded presentation supervised by Dean Cundey himself. Cundey's marvelous use of the Panavision frame is enhanced by a clear, crisp (if darker) image that enhances the picture's already most accomplished technical attribute. The DTS MA 5.1 audio is in line with the previous 5.1 DVD remix, while 2.0 DTS MA mono audio conveys the original theatrical soundtrack.
Extras are a mix of the best supplements from the movie's prior laserdisc/DVD releases and new materials produced by Shout! expressly for this Blu-Ray Collector's Edition. The fresh supplements include an engaging 20-minute conversation with Jamie Lee Curtis, who talks about her time making both of her John Carpenter outings, as well as the awkward off-screen triangle involving Carpenter and Debra Hill (whom he had broken up with at the time) and Adrienne Barbeau (who Carpenter was then in a relationship with). Dean Cundey is also interviewed in a general 18-minute talk that encompasses his work with Carpenter as well, including the "The Thing" and the "Halloween" sequels. There's another fun "Horror's Hallowed Grounds" featurette revisiting the filming locations, running 20 minutes and also – along with the new interviews – presented in HD. Finally, a newly recorded commentary track offers a group discussion with Adrienne Barbeau, Tom Atkins and Tommy Lee Wallace.
Reprieved from prior video releases are the vintage featurette "Fear on Film: Inside 'The Fog'"; the half-hour DVD documentary "Tales From the Mist"; a "Storyboard to Film" reel; outtakes and special effects tests; trailers; TV spots, a photo gallery and storyboards as well as the original laserdisc commentary track with Carpenter and Hill.
Despite its shortcomings, "The Fog" is a cult favorite because of Carpenter's trademark use of widescreen and a few unnerving moments. Even if you've bought it before, Shout's fine new HD transfer and supplements will make this a must-have for Carpenter buffs.
COHEN AND TATE Blu-Ray (85 mins., 1989, R): Roy Scheider and Adam Baldwin play a pair of hit men who take down the parents of nine-year-old Harley Cross, a witness to a mob slaying, and then kidnap the boy in order to drive him back to Houston where he too will likely be executed. Fortunately for Cross, his scrappy personality manages to slowly turn the quarreling pair of killers against one another.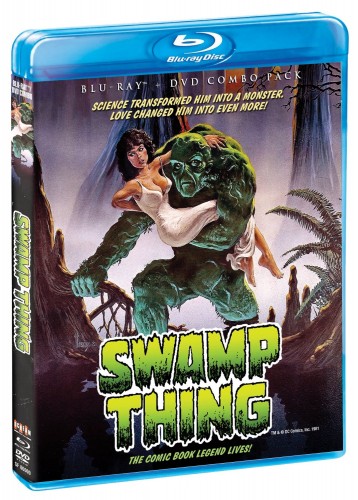 Eric Red's modern variation on the O'Henry story "Ransom at Red Chief" has generated a minor cult following over the years despite its lack of availability – in fact, a 2011 MGM manufactured-on-demand DVD release marked the picture's first appearance on video since VHS/laserdisc editions over 20 years ago.
"Cohen and Tate" has moments of effectiveness and Scheider tries hard to bring nuance to what's basically a thinly-written role, but it's also a nasty, violent little movie that ultimately plays out like a gory, would-be more "realistic" variation on Red's prior script "The Hitcher," complete with a blood-soaked finale. Aside from Scheider, the picture is most distinguished by a superb dramatic score from Bill Conti, which adds a touch of class to a low-budget film that's rough around most of its edges.
Shout's Blu-Ray includes a couple of all-new extras: nearly 20 minutes of deleted scenes, culled from an old VHS workprint, reveal even more explicitly violent passages and an extended ending; and a 20-minute retrospective featurette boasts new comments from Eric Red, Harley Cross, cinematographer Victor J. Kemper and others, discussing the movie's production. It's even-handed and critical of some of the picture's failings (particularly the sometimes overly bombastic performances), while a trailer and still gallery round out the release. The 1080p AVC encoded transfer is terrific, adding clarity and depth to the previously muddy video releases, and both 5.1 DTS MA and stereo soundtracks comprise the audio side. Red also participates in an informative new commentary track that's not listed on the back cover.
SWAMP THING Blu-Ray/DVD Combo Pack (91 mins., 1982, PG; Shout!): MGM's initial DVD of the 1982 Avco-Embassy box-office dud "Swamp Thing" offered, by mistake, the unexpurgated, R-rated international version of Wes Craven's DC Comics adaptation. Long a collector's item — primarily for its uncensored footage of star Adrienne Barbeau's breasts — Shout brings to Blu-Ray (on July 30th) what MGM ended up reissuing on DVD domestically: the PG-rated U.S. theatrical version of the movie, which was never intended to include Ms. Barbeau's assets to begin with.
"Swamp Thing" is a sort-of clunky adaptation of the DC Comics protagonist, which over time turned into a trippy, adult comic book (or "graphic novel" as they say nowadays). One could see a "Swamp Thing" movie made today being a graphic and surreal affair, but back in '82, the property was filmed as a straight monster flick — with too much talk and not enough action (almost certainly the result of a meager production budget). It's not a total slog in the swamp, however: Barbeau's performance and some hammy work from villainous Louis Jourdan do partially overcome the movie's sluggish pace.
Shout's combo pack includes both Blu-Ray and DVD versions of the picture with all-new extras, beginning with two commentary tracks that offer comments from Wes Craven and makeup artist William Munns, respectively. New interviews are also on-hand with Barbeau, who discusses working on the film and with Craven, and also notes her surprise over seeing her topless nudity after signing a contract that prohibited it (obviously the reason why MGM pulled the initial DVD release of the picture, and why that "uncensored" version has only been shown in Europe). There's also a 13-minute talk with "Swamp Thing" creator Len Wein, along with an interview with co-star Reggie Batts. Trailers and photo galleries are also included, while the remastered 1080p AVC encoded transfer affords, as you'd anticipate, the best looking presentation of the low-budgeted Avco Embassy release we've ever seen, with a pleasing lack of DNR on display. The DTS MA mono audio is rendered as crisply as the source material allows.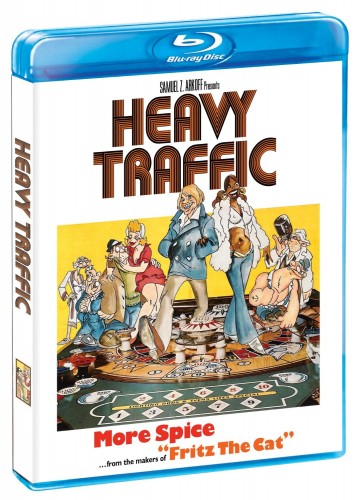 HEAVY TRAFFIC Blu-Ray (77 mins., 1973, R; Shout!): Ralph Bakshi's most striking animated feature, the 1973 "Heavy Traffic" paints a surrealistic, exaggerated take of New York City in the midst of urban decay, as seen through the perspective of a twentysomething cartoonist whose life is troubled in any number of areas. His relationship with his bickering parents, black girlfriend, greasers, dopers and the mob form a typical Bakshi pastiche of colliding ethnic personalities, less than subtle social commentary and semi-autobiographical passages. The difference is that "Heavy Traffic" works on a cohesive level more effectively than Bakshi's other works, with live-action framing and a memorable score (by Ed Bogas and Ray Shanklin) making for a colorful and certainly audacious animated trip into early '70s urban life that remains a unique film for the artform. Shout's Blu-Ray looks and sounds just fine with a satisfyingly framed 1080p AVC encoded transfer and DTS MA mono sound. No extras are included.
THE INCREDIBLE MELTING MAN Blu-Ray (84 mins., 1977, R; Shout!): A staple on the "Creature Double Feature" growing up, AIP's "The Incredible Melting Man" is '70s genre trash that's worth a look for non-discriminating horror fans, starring Alex Rebar as an astronaut who finds out that he can't survive unless he feeds on the flesh of other humans after returning from outer space. Threadbare production values mark William Sach's 1977 non-opus, which boasts anemic performances and a clunky script that leads to some unintentional humor. All that said, nostalgic monster fans and aficionados of '70s drive-in fare ought to gravitate towards the movie – which includes impressive make-up from Rick Baker that was heavily promoted in its advertising – as well as Shout's Blu-Ray, which includes commentary from Sachs, trailers, and new interviews with Rick Baker and fellow make-up artist Greg Cannom, along with Sachs. The 1080p transfer is pleasingly detailed and DTS MA mono audio completes the package.
THE BEST OF FRIDAYS DVD (aprx. 14 hours; Shout!): ABC's attempt to take on Saturday Night Live via its own sketch comedy series (with comics like Michael Richards, Mark Blankfield and Bruce Mahler among the cast) didn't entirely succeed, though the program certainly isn't any less funny – on balance – than the rocky early '80s era of SNL. Fans have clamored to get their hands on a Fridays home video release for years, and Shout has placated them with this five-disc DVD set that includes some 16 episodes from the series' two seasons, with guests including Kenny Loggins, William Shatner, Karen Allen, Tab Hunter, Billy Crystal, KISS, The Cars, Devo, and, most notably, Andy Kaufman, whose crazy antics provided the show with some of its most memorable moments. Similar to Shout's marvelous SCTV releases, full booklet notes and supplements are offered, including a cast/writers reunion, behind the scenes photos, and a talk with director John Moffitt about Kaufman's "unscripted" behavior.
---
42 Blu-Ray Combo Pack (***, 128 mins., 2013, PG-13; Warner): Brian Helgeland wrote and directed this solid, well-told chronicle of Jackie Robinson's rise to baseball greatness – while breaking through racial barriers – in the late '40s. Instead of employing a standard-issue biopic approach, Helgeland wisely confines the film's perspective to two formidable years in Robinson's life, beginning when Branch Rickey (Harrison Ford), owner of the then-Brookyln Dodgers, opted to bring in African-American players. As portrayed by Chadwick Boseman, Robinson's fast rise to success and issues acclimating himself to the game in a world where segregation was still present are compelling and honestly rendered in Helegeland's movie. What's more, the period atmosphere is believably rendered as well, with sincere performances and excellent cinematography from veteran Don Burgess.
Warner's Blu-Ray combo pack includes a nifty 1080p transfer. Mark Isham's score fares well in a DTS MA soundtrack while three featurettes, a DVD and Ultraviolet copy round out the release.
Worth picking up in conjunction with "42″ is the Major League Baseball production LETTERS FROM JACKIE: THE PRIVATE THOUGHTS OF JACKIE ROBINSON (45 mins., 2011). This 2011 documentary offers a glimpse of Robinson's unedited letters written to public figures like Martin Luther King, Jr. and President Dwight D. Eisenhower. Interviews with his daughter, historians and numerous players make for a fine companion piece to "42." Lionsgate's DVD includes a 16:9 transfer and 2.0 stereo soundtrack.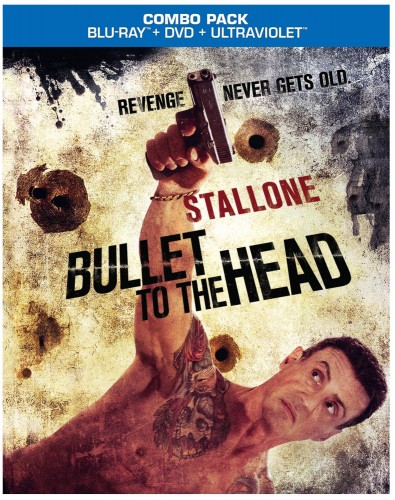 BULLET TO THE HEAD Blu-Ray Combo Pack (*½, 92 mins., 2013, R; Warner): One of those movies that studios shelve, only to dump it out in the coldest days of winter, Walter Hill's "Bullet to the Head" is a wholly depressing affair for both its director and star Sylvester Stallone. In this adaptation of a French graphic novel, Stallone plays a New Orleans hit man whose partner is murdered, and ultimately takes up arms with a Washington cop (Sung Kang from the "Fast and the Furious" movies) in order to track down the culprits. Stallone's character is as grumpy as the star has ever been on-screen, and things get even worse when his tattoo artist daughter (Sarah Shahi) ends up being involved in the scenario.
With a reported $50 million budget, it's hard to see where most of the money was spent on "Bullet to the Head," which is dominated by the kinds of low-grade thrills one comes to expect from any number of direct-to-video offerings turned out by Steven Seagal or, more recently, Bruce Willis. The claustrophobic, unappealing cinematography bears little resemblance to Hill's prior works, even though the loud, noisy score by Steve Mazzaro seems to be aiming for a Ry Cooder like approach. Even worse is Alessandro Camon's uninvolving screenplay, which sends most of the cast into a grizzled growl to bark its leaden dialogue. The movie's dreary, solemn and dull – and an easy candidate for one of the year's worst.
Following non-existent box-office returns, "Bullet to the Head" comes to Blu-Ray this week as a combo pack also sporting a DVD and digital copy. The 1080p AVC encoded transfer is okay (though little can enhance the drab look of the film), and the disc also includes a DTS MA soundtrack and one featurette on the movie's climactic – and poorly executed – fight sequence.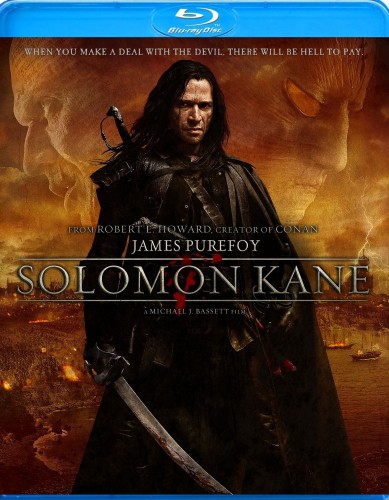 SOLOMON KANE Blu-Ray (***, 104 mins., 2009, R; Radius/TWC/Anchor Bay): At last making its North American home video debut, "Solomon Kane" is a surprisingly entertaining, robust adaptation of Robert E. Howard's pulp hero — kind of a reformed warrior trying to live a life of peace in the 17th century when he's thrust into trying to save the daughter of a family he meets along his travels.
Shot mostly in the Czech Republic with some Scottish location shots, the derivative yet stylish "Solomon Kane" is competently handled for the most part across the board: James Purefoy is pitch-perfect as the haunted Solomon seeking redemption (despite his Van Helsing-like appearance), with support turned in by Max von Sydow as his estranged father, and the late Pete Postelthwaite (that's how long ago this was produced) and Alice Krige as the parents of Rachel Hurd-Wood who's abducted by a mysterious sorcerer who sold his soul to the devil. While the fight sequences are more or less routine, the story is surprisingly compelling (and has a healthy dose of religion added into the mix), the cinematography top-notch (the locations are visually appealing) and even Klaus Baldelt's scoring is better than average. Ironically, because of the $40 million budget, the film doesn't have loads of CGI (just some monsters at the beginning and end), and benefits from a physical production modest in scope but feels more "real" because it's not entirely green-screened.
Filmed five years ago, "Solomon Kane" finally comes to Blu-Ray courtesy of Radius/Weinstein. The 1080p transfer is excellent along with the 5.1 DTS MA soundtrack, while ample extras include a deleted scene, commentary, Making Of, interviews with Bassett and Purefoy, and original concept art. For the pulpy fantasy genre, this is far better than the recent "Conan" misfire and comes with a strong recommendation for fans.
THE DEMENTED Blu-Ray Combo Pack (92 mins., 2012, R; Anchor Bay): Six college pals hole up in a New Orleans estate down on the Bayou, only to see a zombie apocalypse – or some type of infectious plague that turns the nearby townspeople into hordes of the possessed – break out around them. It's an old, formulaic story woven by writer-director Christopher Roosevelt, but the cast (including Sarah Butler and Kayla Ewell) is capable enough, and "The Demented" is watchable for about its first half. Unfortunately, things go very wrong en route to one of the more maddening endings you'll see this year, giving this one a grade of "you'd have to be demented to think this is a good movie." Anchor Bay's Blu-Ray includes a Dolby TrueHD 5.1 soundtrack and 1080p transfer.
BLOOD AND SAND Blu-Ray (125 mins., 1941; Fox): Tyrone Power and Rita Hayworth star in Fox's 1941 Oscar winner, with Power portraying Juan Gallardo, the Spanish matador seduced by Hayworth's beauty. Anthony Quinn co-stars in Darryl F. Zanuck's production, which was directed by Rouben Mamoulian and scripted by Jo Swerling from Vincent Blasco Ibanez's novel. Fox's "Cinema Classics" Blu-Ray boasts a crisp 1.33 1080p transfer with mono audio and commentary from cinematographer Richard Crudo.
---
WOULD YOU RATHER Blu-Ray (93 mins., 2012, Not Rated; IFC): Brittany Snow stars in this attempt at making a more "intellectual" variation on the "Saw" movies. Faced with having to care for her terminally ill brother after the death of their parents, Snow receives an invitation from philanthropist Jeffrey Combs (never a good sign) to attend an exclusive dinner party where the guests are in a similar financial bind…and end up the participants in a deadly game of "Would You Rather." IFC's Blu-Ray includes commentary with director David Guy Levy and writer Steffen Schlachtenhaufen, a poster gallery, trailer, 1080p transfer and 5.1 DTS MA soundtrack.
FEMME FATALES: Season 2 DVD (392 mins., 2012; E One): Season 2 of the Cinemax series offers more anthology thrills – and plenty of sex – as hostess Tanit Phoenix brings viewers another assortment of 13 self-contained pulp tales. Episodes include 16 Minutes of Fame; Gun Twisted; Trophy Wife; Extracurricular Activites; Killer Instinct; Bad Science; Family Business; Jail Break; Crazy Mary; One Man's Death; Hell Hath No Furies and Libra. Ample extras abound, from commentary on every episode to an international version of "Libra," numerous featurettes, deleted scenes, 16:9 transfers and 5.1 Dolby Digital soundtracks.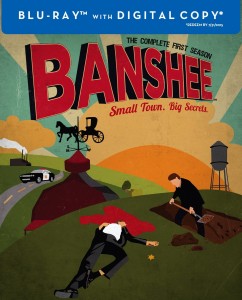 BANSHEE: Season 1 Blu-Ray (600 mins., 2012; HBO): Cinemax original series stars Antony Starr as an ex-con and master thief who – through a twist of fate – improbably becomes the sheriff of Banshee, Pennsylvania, a quiet town in Amish country. Banshee is also the home of his former partner (Ivana Milicevic) who's now married to the local D.A. and has kids, while also an attraction for gangster Kai Proctor and "Mr. Rabbit," the mob boss still hunting for Starr and Milicevic.
"Banshee" is an entertaining, (very) quirky and at-times over-the-top series that does exactly what you'd anticipate any Cinemax original series would. HBO's Blu-Ray release of the program's first season, available July 30th, includes numerous extras, from four featurettes to commentaries, deleted scenes, and interactive, format-exclusive supplements. The 1080p AVC encoded transfers and DTS MA soundtracks are all top notch.
CLOUDBURST DVD (93 mins., 2013, Not Rated; Wolfe Video): Brenda Fricker and Olympia Dukakis star as an old lesbian couple who leave their nursing home behind, hit the trail for Canada and take on a hitchhiker (Dyan Doucette) in writer-director Thom Fitzgerald's indie comedy-drama. Wolfe Video brings "Cloudburst" to DVD on July 30th offering interviews with the stars, a behind the scenes featurette, trailer, 16:9 transfer and 5.1 Dolby Digital soundtrack for extras.
MEET THE SMALL POTATOES DVD (70 mins., 2013; Universal): Family friendly animated picture about a group of humble potatoes who become a global signing sensation offers songs from "Fiddler on the Roof"'s Jerry Bock and vocals from Malcolm McDowell among others. Nearly a dozen bonus shorts include additional fun for kids, along with a 16:9 transfer with 5.1 Dolby Digital sound.
MINDLESS BEHAVIOR Blu-Ray (86 mins., 2013, G; Millennium): Concert documentary follows "The Band," a teeny bopper R&B/hip-hop group, on a recent tour. "Mindless Behavior" profiles each of the four young men (Roc Royal, Ray Ray, Princeton and Prodigy) in the group, divulging their humble backgrounds and rise to stardom. Millennium's Blu-Ray includes a 1080p transfer of the 86-minute feature with 5.1 Dolby TrueHD audio. Extras include deleted scenes, never-before-seen footage, a full length song performance of "Mrs Right.," commentary, and episodes from the "AwesomenessTV" series.
New From Lionsgate: POWER RANGERS SAMURAI: THE ULTIMATE DUEL (92 Mins., 2011) includes four episodes from the conclusion fo the series: The Tengen Gate, Boxed In, Broken Dreams and The Ultimate Duel are all on-hand in 16:9 transfers and 5.1 soundtracks, with extras including several videos and a character gallery…HECHO EN MEXICO [Made in Mexico] (100 mins., 2012, R) offers viewers a road trip through modern day "Mexicanity." Lionsgate's DVD of Duncan Bridgeman's Spanish language film includes English subtitles, 5.1 sound and a 16:9 transfer.
NEXT TIME: Criterion's latest! Until then, don't forget to drop in on the official Aisle Seat Message Boards and direct any emails to our email address. Cheers everyone!