Message Board (open 24 hours!)
Twitter - @andredursin (for everything else!)
Few movies scream "'90s" as much as FREEWAY (104 mins., 1996), a very odd staple on the home video circuit in the late VHS/pre-DVD era – and a movie now brought to 4K UHD by Vinegar Syndrome in a features-packed 4K restoration. It's a movie that also showcases two big stars at a relatively low ebb in their respective careers: Kiefer Sutherland, prior to relaunching his career with the hit series "24," and Reese Witherspoon, here moving into "young adult" roles but yet to achieve the kind of superstardom she would soon hit with "Cruel Intentions."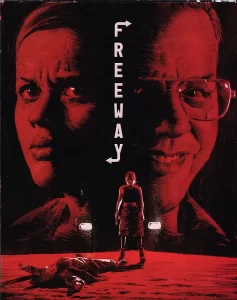 In "Freeway," Witherspoon plays Vanessa, a young girl who runs afoul of a serial killer (Sutherland) on the way to her grandmother's house – she survives the initial attack and disfigures "Bob Wolverton" (yes this movie tries its hand at a Red Riding Hood riff), only to end up in prison where she cooks up a revenge scheme to remove the world of killer Bob forever.
"Freeway" had a reputation for being off the wall among cult movie fans and, certainly, for adventurous viewers visiting their local Blockbuster Video, offered a change of pace from the usual studio product of its time. Yet it's also a shrill, one-note cinematic exercise from a director, Matthew Bright, whose career quickly stalled out, and a picture whose look, style and feel come across, quite aggressively, as a product of 1996. Witherspoon and Sutherland both try hard, and Danny Elfman even contributed a relatively sparse score for the film (he was, no surprise, a friend of the director's), yet one comes away feeling "Freeway" – which even counted Oliver Stone as one of its producers – had too much talent invested considering its pulpy B-story and acidic "black comic" script. The picture may work for some viewers, but I found it a caustic viewing experience that's not much fun in spite of the fact that Bright seems to be going for a wacky comedic approach much of the time.
Vinegar Syndrome's 4K UHD/Blu-Ray sports a meticulous, HDR10-capable 4K restoration (1.85) of a movie originally released by Republic on home video way back when – with the benefit of two added minutes of uncut footage restored to the picture. The image and the 2.0 DTS MA stereo soundtrack are both vividly natural and clear, and the extras should be of interest for any fan of the picture. These include a new commentary from Bright, moderated by video producer Brad Henderson, plus Bright's older commentary. There are also interviews with Bright, producer Brad Wyman, editor Maysie Hoy, actors Wolfgang Bodsion, Robert Peterson, Leanna Creel and Monica Lacy. Archival interviews can be found with Bright, actress Amanda Plummer, composer Danny Elfman (a brief five minute chat), producer Oliver Stone, and co-producer Samuel Hadida. There are also EPK materials, behind-the-scenes set footage, the video trailer, and alternate scenes from the R-rated cut.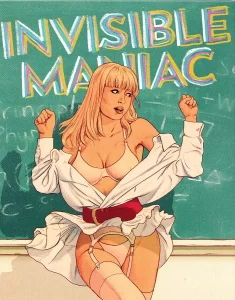 Another B-staple from earlier in the decade was director Adam Rifkin's INVISIBLE MANIAC (86 mins., 1990), an engaging, low-budget affair with Rifkin (who later helmed "Detroit Rock City") taking credit under the pseudonym "Rif Coogan." This home video fave and cable TV frequent flier follows a troubled scientist (Noel Peters) who, despite creating an invisibility serum, loses his marbles and his job, subsequently taking a new gig as a high school teacher – all the better to cause mayhem and spy on some of the buxom girls around him.
"Invisible Maniac" plays like some kind of "Cinemax After Dark" version of "Hollow Man," obviously years before that Paul Verhoeven film was made. It has the some kind of lewdness as that later R-rated Invisible Man flick, albeit with a dash of soft-core components and black comedy – though arguably even more disturbing since this movie's violence seems to pop up every now and then out of nowhere. Peters launches some one liners to offset the sleaziness, and familiar faces like adult film star Savannah show up in support.
It's a wild and woolly little picture debuting here on disc for the very first time time on home video – and in a 4K UHD no less, mastered from the original 35mm camera negative with mono sound and full HDR10 support. The transfer is terrific, as are the extras: commentary with Adam Rifkin, plus another commentary with The Hysteria Continues! podcasters. There's also a 32-minute Making Of; deleted scene (shot for an overseas version); a public access TV interview with Rifkin; music video, trailers, and behind-the-scenes footage, with most of the supplements found on the accompanying Blu-Ray disc.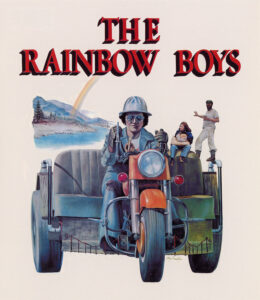 THE RAINBOW BOYS Blu-Ray (90 mins., 1973, Not Rated; Canadian International Pictures): An amazing discovery from Vinegar Syndrome partner label CIP, "The Rainbow Boys" was the only live-action feature from animator Gerald Potterton, who later helmed "Heavy Metal," and has been unseen for decades. It's an offbeat character drama that features a marvelous lead role for Donald Pleasence, playing a WWII vet who crosses paths with a drifter (Don Calfa, arguably best known on-screen for his role as the hitman in "Weekend at Bernie's") and brings him – and Pleasence's bickering girlfriend (Kate Reid) – along on an adventure looking for his father's gold stash, hidden in the British Columbia mountains.
Spectacularly shot in scope – and presented here in a 4K scan (2.35) from the interpositive – "The Rainbow Boys" is a peculiar but appealing little movie with amiable performances from all three leads. It's "talky" and not a lot happens in terms of action, but between the characterizations, widescreen lensing and Howard Blake's enjoyable score, it's the kind of little-seen movie that Vinegar Syndrome and CIP have become renowned for unearthing – and movie buffs, especially Pleasence fans, ought to be thrilled with its presentation on Blu-Ray here. The disc includes a number of superb interview segments, including an hour-long interview with Potterton; a half-hour look at Calfa's career with friend/author Gary Smart; segments on the movie's restoration and old VHS release; and four animated segments based on Harold Pinter's works as animated by Potter, produced in 1969. A full booklet with notes and a slipcover round out this 2000-copy limited release (Vinegar Syndrome has noted the title will not be repressed beyond this run).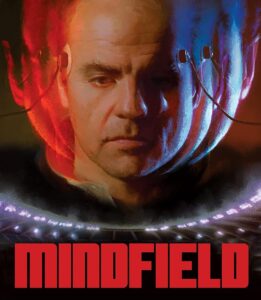 Also new from Canadian International Pictures is the solid MINDFIELD (91 mins., 1989, R), a Canuck import following a flashback-plagued CIA vet (Michael Ironside) who's suffering PTSD – and more – from his treatments at the hands of its project's designer (Christopher Plummer). Lisa Langlois co-stars in an eclectic genre-mashup from director Jean-Claude Lord, reuniting with his "Visiting Hours" star. If you're an Ironside fan (and really, who isn't if you've seen one of his lead roles), "Mindfield" is an easy recommend, especially with CIP's terrific Blu-Ray. The disc includes a 2K restoration (1.85, 2.0 stereo) with commentary by historians Paul Corupe and Jason Pichonsky; an interview with original director George Mihalka, whom Lord replaced; a talk with producer Tom Berry; and a 20-minute featurette with Langlois.
SOLOMON KING Blu-Ray (84 mins., 1974; Deaf Crocodile Films): Intermittently amusing, ultra low-budget slice of Black exploitation from the mid '70s stars Sal Watts as the suave title character, a swinger trying to stop Middle Eastern terrorists from taking out American oil supplies. Shot in and around the Oakland, California area by Watts himself (who also scripted), "Solomon King" has some choice lines and captures time and place well – but you need to be a serious scholar of the genre to get past its meager production values and languid pacing. Deaf Crocodile's extensive restoration (1.85, mono) fuels their Blu-Ray with ample extras onboard: commentaries from Walter Chaw and Steve Ryfle; a three part interview with Watts' widow; booklet essay; reproduction of the pressbook; and plenty more.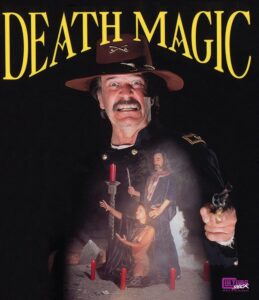 BURNING PARADISE Blu-Ray (105 mins., 1994; Vinegar Syndrome): Ringo Lam's sole entry in the "Wuxia" genre follows a Shaolin Monk disciple and a young prostitute after they're captured and sent to work in an underground prison. Their efforts to escape fuels "Burning Paradise," which Lam injects some fantasy – and ample violence – into, thereby juicing up the usual formula conventions of the period genre. Newly scanned and restored in a 2K transfer (1.85) from 35mm original negative elements, Vinegar Syndrome's Blu also features a commentary with Samm Deighan; an interview with star Wong Kam Kong; archival interview with producer Tsui Hark; a video essay by Chris O'Neill; and booklet.
EVIL LAUGH Blu-Ray (91 mins., 1986; Vinegar Syndrome): There's plenty of energy on-hand in Dominick Brascia's 1996 directorial feature debut, which places a number of medical students in jeopardy after they decide to help their pal fix up the old foster home he's repurchased. A killer is afoot and there's plenty of gory murders to satisfy slasher fans in this 1986 effort, restored in 2K (1.33) from 16mm vault elements. A full 78-minute retrospective documentary examines the production while a Hysteria Lives! commentary and behind-the-scenes photo gallery comprise the supplements.
ETR New Releases: The goofy LIEUTENANT JANGLES (99 mins., 2018) is a zany Australian low-budget action outing set in the 1980s, where the Cobra-like title detective goes on a rampage to avenge his slain partner by taking on a Brisbane crime boss. A new 2022 commentary is included in this features-packed Blu-Ray (1.78, 2.0 stereo) also sporting a Making Of, deleted scenes, bloopers, featurettes and trailers…I THINK WE'RE ALONE NOW (61 mins., 2006) is an irreverent documentary that profiles a pair of individuals who love…as in really, really love...'80s pop princess Tiffany. Commentary from the two documentary subjects, along with a third director commentary, are included here along with updates on the participants and assorted featurettes (pillarboxed 1.33, 2.0).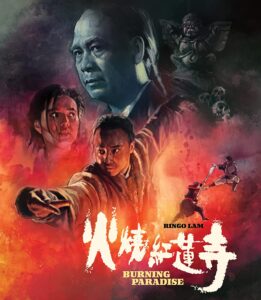 New From Culture Shock Releasing: A group of magicians unknowingly conjure up a Civil War Major who's out for revenge in the home video special DEATH MAGIC (93 mins., 1992), a B-grade early '90s item from director Paul Cinco. Culture Shock's Blu-Ray offers commentary by the director, a rough cut ending with extra gore and plenty more, all remastered from the "highest quality SVHS materials available" (1.33, 2.0 stereo)…Ginger Lynn Allen and Wings Hauser appear in director Rick Sloane's MIND, BODY AND SOUL (93 mins., 1992), a thriller about a woman pursued by a satanic cult. A new 4K restoration (1.85, 2.0 stereo) of the original 35mm negative is on tap in Culture Shock's now-available Blu-Ray plus a handful of supplements, from Sloane's commentary to archival interviews with the director and Allen.
Factory 25 New Releases: An off-the-wall follow-up dubbed the "Gremlins 2" of obscure indie sequels, UNCLE KENT 2 (73 mins., 2016) debuts on Blu-Ray this month from Factory 25. Joe Swanberg, Jennifer Prediger and Tipper Newton return from the original with Kent Osborne again on-hand, also writing and Todd Rohal helming – it's an unconventional pic that seems to have drawn polarizing reviews even amongst its fanbase. Factory 25's Blu-Ray (1.78) offers bonus Osborne-Rohal films, commentary with the duo, and a 32-page booklet…In WHITE REINDEER (92 mins., 2013), Anna Margaret Hollyman plays a well-to-do Washington, D.C. retailer whose husband is murdered around Christmas time. She ends up bonding with a stripper her hubby had a relationship with in offbeat tale of female companionship now on Blu from Factory 25 (1.78) with extras including a short film, deleted scenes, cast/crew commentary and a 28 page booklet.
From Darkstar Pictures comes Michael Grodner's THE ICARUS LINE MUST DIE (82 mins., 2017), an indie feature set in the modern day L.A. underground music scene, where Joe Cardamone, playing himself, tries to keep band The Icarus Line together while navigating the pitfalls of the ever-changing music industry. Commentaries, unreleased concert scenes and footage are all included in Darkstar's now-available Blu-Ray (1.78, 5.1 DTS MA)…Reggie Yates' PIRATES (82 mins., 2021) is set in London circa New Year's Eve 1999, where two teens attempt to find tickets for the city's most desirable Millennium party. Commentary with Yates, an EPK video, behind the scenes footage, a 1080p (2:1) transfer and 5.1 DTS MA sound are all included in Gunpowder & Sky's Blu-Ray.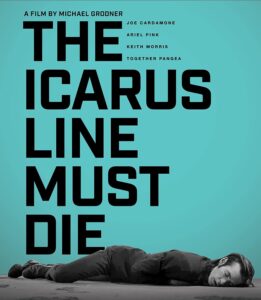 Utopia New Releases: Actress/filmmaker Charlotte Gainsbourg examines her relationship with mother Jane Birkin in the documentary JANE BY CHARLOTTE (88 mins., 2021), a 2021 Cannes selection now on Blu-Ray from Utopia. The acclaimed doc includes a 1080p (2:1) transfer, 5.1 DTS MA audio, two different Q&A's featuring Gainsbourg, and a booklet sporting an essay with Heather Drain…FREAK SCENE: THE STORY OF DINOSAUR JR. (82 mins., 2021) is Philipp Reichenheim's documentary about Dinosaur, Jr., one of the early, major players in the "alt rock" genre that sprang up during the 1990s. Band interviews and plenty of archival footage mark this feature, with Utopia's Blu-Ray including commentary, 11 minutes of additional interviews, NY premiere Q&A and more.
Big World Pictures recently released DISTANT (110 mins.) on Blu-Ray, Nuri Bilge Ceylan's Turkish film award-winner (1.85, 5.1 DTS MA) with a video essay by Chris O'Neill, a 42-minute Making Of, and 2003 Cannes footage…Albert Birney and Kentucker Audley's SYLVIO (80 mins., 2022) looks at the "rise and fall" of a man who becomes an unlikely popular guest on a local Baltimore TV show, all in his "destructive ape persona." Commentary from the duo, deleted scenes, the trailer, bonus scenes and music videos, and all of Birney's "vines" that inspired the movie (1.85, 5.1 DTS MA) are included in the Music Box/OCN Blu-Ray…Finally, SELL-OUT (111 mins, 2008) is a Malayasian comedy-musical here presented on Blu-Ray by Kani in both its "Vancouver Cut" (111 mins.) and shorter "Venice Cut" (107 mins.) along with oodles of extras: a bonus soundtrack CD, archival interview with director Yeo Joon Han, interviews with the stars, a video essay by Andy Darrel Gomes, cast commentary, booklet and more.
---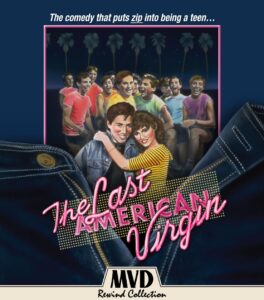 Also New & Noteworthy
We all know that the Cannon Group was never known for making intelligent, thought-provoking movies – Menahem Golan and Yoram Globus would have rather turned out "American Ninja 5" than "Rashomon." Still, every once in a while some quality shined through the exploitation — or sometimes along with it — and that happy combination occurred in 1982 with the release of "Lemon Popsicle" auteur Boaz Davidson's THE LAST AMERICAN VIRGIN (93 mins., R), which is back on Blu-Ray this month from MVD as part of their fan-favorite "Rewind Collection."
This cable TV staple has become something of a cult classic over the years not so much because it offers silly, ridiculous high school fun (which it does to a degree), but rather because of its painful, realistic ending that punches the unsuspecting viewer right in the gut. It could have easily been an Afterschool Special titled "Look What Happens When You Fall in Love With the Pretty Girl."
Lawrence Monoson plays Gary, a high schooler who — like pals Rick and David — wants to "score" with the opposite sex. While the trio's attempts at sexual conquest include run-ins with willing classmates, a burned-out hooker, and a lonely housewife, Gary really just wants to find one particular girl to settle down with. And, this being 1982, Gary only cares about the most gorgeous girl in his class (Diane Franklin, who played high schoolers for years following this film), neglecting clear and obvious obstacles like she doesn't care about him whatsoever. Still, that doesn't stop our hero from falling for the mysterious Karen, even going so far as to help her out once she gets pregnant.
Yes, it is heavy stuff for a brainless teen comedy, but it's what makes "The Last American Virgin" such an audience favorite. Here's a movie that offers the requisite sex jokes and dumb fun of "Porky's" but takes a sharp, unexpected turn towards the dramatic in its final 30 minutes. If you've never seen the movie before, I wouldn't dream of spoiling the movie's painful conclusion – backed by the strains of the James Ingram/Quincy Jones classic "Just Once" – which initially seems to come out of left field but works so well that you'll be remembering it for days afterwards. In fact, a book on high school movies went so far as to compare it to the end of "Seven." (I have to admit that it might be even more jolting!).
MVD's Blu-Ray (1.85, 2.0 LPCM stereo) preserves the same older MGM HD master as seen on respective Olive and Arrow Blu-Rays. However, the higher bit-rate and superior compression give this disc a slight edge in the tech department, while an amazing slipcover is a virtual reproduction of the movie's original MGM/UA VHS release (kudos to whoever at MVD designed it!). Even better are the extras by Robert Fischer's Fiction Factory, which have been carried over from the 2013 Arrow disc and debut in the U.S. for the first time. These include long interviews with Lawrence Monoson, Diane Franklin, Boaz Davidson and cinematographer Adam Greenberg, plus the original trailer and TV spots.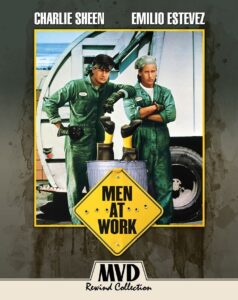 Also new from MVD is MEN AT WORK (98 mins., 1990, PG-13), a pet project for Emilio Estevez, who wrote, directed and stars – alongside brother Charlie Sheen – in a mostly lightweight tale of two garbagemen who get crossed up with the murder of a local politician. Seeing Jack "24" Bauer's wife Teri (Leslie Hope) here with long, frizzy hair is one of the more memorable elements from a film that was nearly universally derided as a vanity production for the Estevez/Sheen family at the time of its release. These days, it's a harmless though forgettable picture that fans of the two stars might enjoy – but likely few else.
A Triumph release that was sent out to die a quick death at the box-office during the tail end of August, 1990, "Men at Work" returns to Blu-Ray from MVD after an older, out of print Shout disc, which paired the picture with the tepid Rodney Dangerfield comedy "Easy Money." The MGM master (1.85, 2.0 LPCM stereo) appears to be the same, with just the trailer and a collectible slipcover included on the supplemental side.
VIOLENT NIGHT Blu-Ray (112 mins., 2022, R; Universal): The bizarre world of theatrical exhibition in 2022 typically means new releases either fall into hugely expensive, corporate driven IP or low-budget efforts from major studios like "Violent Night," an insipid waste of time for "Stranger Things" David Harbour, playing a drunken Santa who has to save an estranged, wealthy family from thieves led by John Leguizamo, taking a much needed break from Papa Johns commercials.
The concept of this movie says "Die Hard meets Home Alone!" but there's really nothing at all equating this piece of trash from either of those movies. In order for any movie, even like "Violent Night" to function, you have to believe in the concept, no matter how outlandish it is, enough that you invest in the material. Alas, director Tommy Wirkola (of the equally dumb but comparatively more watchable "Hansel & Gretel" movie with Jeremy Renner) never gets this picture beyond the stage of resembling a 2-minute SNL digital sketch. "Santa takes a leak!" and "Santa vomits!" — and…what else do you have? Nothing really. The entire movie plays like some young executive's "high concept" where they didn't bother to hire anyone to cultivate an actual story or screenplay worth even a few minutes of the audience's time (much less a feature).
Ultimately, the entire film is phony — the bloody and badly choreographed action scenes work hand in hand with a cheap digital look to create a stillborn project accentuated by a witless, terrible screenplay. Even the score (ooo, Christmas Carols with a flourish of Michael Kamen! how fresh!) pays predictable homage to Christmases past — and movies so, so much better than this one.
Universal's Blu-Ray (2.39, 7.1 DTS MA) is out this week sporting behind-the-scenes featurettes, deleted/extended scenes, a DVD and Digital HD copy.
NEXT TIME: The latest from Kino Lorber! Until then, don't forget to drop in on the official Aisle Seat Message Boards and direct any emails to our email address. Cheers everyone!