Message Board (open 24 hours!)
Twitter - @andredursin (for everything else!)
It's been a really good time to be a 4K UHD owner at this stage of the game, with the format finally the recipient of a number of outstanding catalog releases, as well as big new announcements coming up through the end of the year. This week brings collectible Limited Edition Steelbook 4K UHD editions of David Lean classics THE BRIDGE ON THE RIVER KWAI as well as LAWRENCE OF ARABIA – the latter especially noteworthy as it marks its standalone 4K format debut, after being previously available only as part of Sony's out-of-print "Columbia Classics" box-set anthology.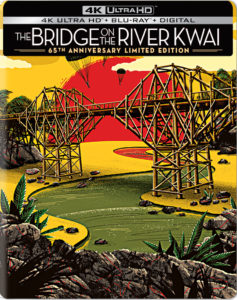 First up is Lean's THE BRIDGE ON THE RIVER KWAI (162 mins., 1957, PG), which remains one of the quintessential WWII films, a brilliant adaptation of Peirre Boulle's novel from screenwriters Carl Foreman and Michael Wilson that was unforgettably brought to the screen by Lean and producer Sam Spielgel in Columbia's 1957 release. A winner of seven Oscars, "River Kwai" is a quintessential "epic" that's grounded in the human dimension of its characters, from Alec Guinness' Col. Nicholson to William Holden's American POW and likewise outstanding performances provided by Jack Hawkins, Sessue Hayakawa, James Donald, and Geoffrey Horne among others.
Sony performed a meticulous restoration on "River Kwai," utilizing a 4K digital process to clean up the original negative. The results with Dolby Vision HDR here are impressive, with strong detail and brilliant colors, with whatever shortcomings there are in the image being a result of the source materials and not the transfer itself. The Dolby Atmos audio – as is the case with its likewise-included DTS MA 5.1 mix – was provided from a recent remastering, though a good deal of the audio originates from the front channels with only the occasional stereophonic thrust coming from Malcolm Arnold's score or sound effects. Meanwhile, purists will be happy that the original mono track is also included (note the original mono was not included on the previous 4K, and that disc didn't include Dolby Vision HDR but rather "plain" HDR10).
The included Blu-Ray boasts supplements including a vintage clip of Holden and Guinness on "The Steve Allen Show," along with archival audio of Holden narrating the premiere night of the picture. A picture-in-graphics pop-up track is also on-hand, offering historical insight and comparisons with Boulle's novel. Other extras are culled from the prior DVD Special Edition including John Milius' thoughts on the picture, a documentary, trailers and a few other archival featurettes.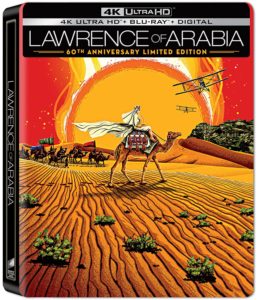 "River Kwai" was released on UHD back in 2017 but Sony's Steelbook UHD release of LAWRENCE OF ARABIA (226 mins., PG) marks its first in a standalone form this week – a cause for celebration for cinephiles who may have missed the "Columbia Classics" UHD box that Sony produced a few years ago that quickly sold out. Backed by outstanding Dolby Vision and Dolby Atmos enhancement, "Lawrence" has long been a flagship for Columbia across many prior home video formats, and their 4K UHD is spectacular to behold: the gains in the staggering visuals of David Lean's classic are nearly incalculable when taken in on a large screen. Colors, details, basically everything is enhanced by the HDR and clarity of this disc, which also includes a majestic Atmos audio track (as well as a 5.1 DTS MA mix from older releases) and a UHD-exclusive reconstruction of an unused international text prologue which Lean felt wasn't necessary. In addition to the film on Blu-Ray, Sony has again included a specific BD supplemental disc featuring a full array of interviews, documentaries, archival featurettes and other extras pulled from previous format discs.
Both Steelbooks come with new artwork (your mileage as so far as "revisionist" art goes will vary) and Digital HD copies, and come highly recommended if they aren't in your UHD library already.
---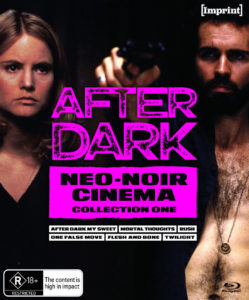 New From Imprint Editions
One of Imprint Editions' most compelling Blu-Ray boxes to date is new this month: the AFTER DARK: NEO-NOIR CINEMA COLLECTION, a six-film anthology that offers a curated journey through modern film noirs of the 1990s, reviving several long-forgotten films from the brink of obscurity.
What's interesting about this lavish, multi-studio licensed collection are the films that many critics chose to champion at the time of their release, and which ones were nearly dismissed outright upon their original theatrical debuts.
In terms of comparing and contrasting with the prevailing critical consensus of the '90s, two pictures I had a divergent reaction to were James Foley's 1990 adaptation of Jim Thompson's noir book "After Dark, My Sweet" and Steve Kloves' original screenplay "Flesh And Bone," which the future "Harry Potter" scribe directed, coming off his 1989 triumph "The Fabulous Baker Boys."
AFTER DARK MY SWEET (111 mins., 1990, R) may be a film that Thompson devotees admired at the time – Roger Ebert among others lavished it with 4-star praise – but truthfully I found it to be a rather unappealing updating of one of Thompson's '50s noir pieces.
Jason Patric plays an (apparently) mentally troubled ex-boxer who crosses paths with a widow (Rachel Ward) about to pull off a kidnapping with the help of a former cop (Bruce Dern) near Palm Springs. Things, naturally, don't go as planned in a movie that doesn't really evoke the kind of claustrophobic tension and mood one associates with these types of films – its aesthetic seems firmly anchored to the early '90s in terms of its look and feel – while the universally off-putting characters make it hard to care about what happens to any of them. The casting likewise doesn't help – Patric's overly articulated performance doesn't come off as convincing, while Ward is little more than serviceable in a plum role you could envision any number of other actresses of the era better fitting into.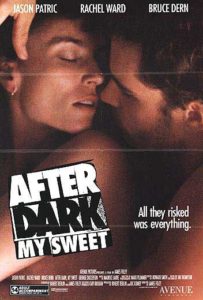 Maurice Jarre's effective electronic score ends up being less aggressive than one might expect and one of the film's most positive assets, but ultimately, it took me numerous viewings to get into "After Dark, My Sweet," which James Foley – whose odd career took him from the heights of David Mamet ("Glengarry Glen Ross") to the depths of the "50 Shades" sequels – helmed to mostly positive critical notices.
A small release from Avenue Pictures, which produced the acclaimed "Drugstore Cowboy," Imprint's Blu-Ray here debuts on disc a perfectly serviceable, Lionsgate-licensed 1080p (2.35) transfer with a nicely mixed 2.0 DTS MA soundtrack. Superb extras – as they are throughout this set – offer new commentaries by Foley as well as critic Travis Woods, plus recent interviews with Foley, Patric (who discusses his entire career), Dern and Thompson expert Robert Polito, plus the trailer.
While "After Dark My Sweet" was something of a critical darling, FLESH AND BONE (126 mins., 1993, R) was instantly dismissed by most critics. It didn't help that this picture wasn't a small independent movie but rather a big studio film with some unfortunate baggage: stars Dennis Quaid and Meg Ryan were near the height of their box-office appeal and, then married, generated nearly as much publicity off-screen as they did on it. This third teaming for the duo following 1987's "Innerspace" and "D.O.A." (1988) was produced by Sydney Pollack and set up at Paramount, which slotted the film as a nationwide release in early November '93.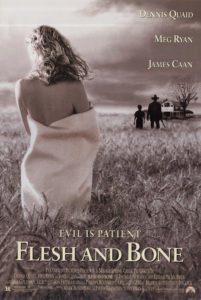 None of this helped the moody, elegiac "Flesh and Bone," which had mainstream critics castigating the picture as a vanity project for its stars, which is unfortunate because – while not a great film – "Flesh and Bone" has some very compelling components working for it. This isn't a particularly suspenseful movie, it's not even as "noir-ish" as some of the other pictures in this set – but if you're looking for an atmospheric, beautifully shot mood piece that captures time and place, and is also well acted by two stars in their prime, then "Flesh and Bone" can cast an appropriately haunting spell on the right viewer.
Kloves' original script begins with a young boy venturing into a family's remote Texas farm house – he's promptly greeted by the parents, who are then – along with their son – slain by the boy's father (James Caan), leaving only their infant baby girl alive. Flash ahead decades and the boy has grown into Dennis Quaid's stoic Arlis, an emotionally disconnected man servicing vending machines across small, mostly barren Texas towns. He ends up meeting a woman named Kay (Meg Ryan) trapped in a troubled marriage and with a sad family history – and while what happens between them is predictable, Kloves' script doesn't utilize its plot to surprise the viewer. Instead, you're meant to be aware of what's happening at every moment, and as fate plays out both for them and Quaid's father (who, of course, makes a return appearance), the viewer feels the mounting buried pain and anguish in Arlis, who has spent a lifetime of misery living through the sins of his parent.
While I found it difficult to get into "After Dark My Sweet," "Flesh and Bone" was a movie I had a hard time turning off. Cinematographer Philippe Rousselot does an outstanding job capturing the roadside lives of these characters, and Kloves manages to generate a quiet sympathy for them throughout. Quaid and Ryan had a lot of chemistry on-screen and the movie even lightens up a little in a section where their relationship blossoms – naturally, this isn't an especially uplifting movie in any regard, but while it ends up in a place you'd expect, it's also minus some of the dramatic twists you might be expecting. The level of restraint in the film is commendable, but that may also have kept some critics and audiences – those expecting conventional Hollywood formula, and more overt dramatic fireworks, to eventually manifest themselves – at bay.
Both Quaid and Ryan are excellent here, and Gwyneth Paltrow provides a striking early screen performance as Caan's moll. Speaking of Caan, he's arguably the picture's weakest element, chewing up too much of the scenery in a film where so much is underplayed, right down to Thomas Newman's atmospheric score.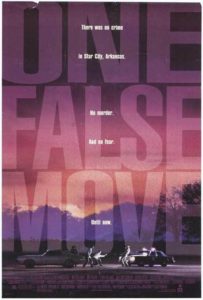 "Flesh and Bone" makes its Blu-Ray debut here with a quite excellent 1080p (1.78) AVC encoded transfer. The 5.1 DTS MA sound is expertly engineered with a less enveloping 2.0 PCM track also included. Supplements include a commentary with Kloves, accompanied by a moderator, plus interviews with editor Mia Goldman, production designer Jon Hutman, and the trailer. There are also archival EPK interviews with Caan, Paltrow and Quaid on-hand (note Paramount is releasing an extras-free Blu-Ray disc of "Flesh and Bone" stateside in June).
The remainder of "Neo Noir"'s initial volume takes viewers through both studio-made and independent outings with big and future stars alike making major appearances.
Carl Franklin's ONE FALSE MOVE (105 mins., 1992, R) is a memorable low-budget film that earned numerous critical kudos upon its initial release – albeit one that's fallen through the cracks, seemingly, as the years have flown by. Another film that Siskel & Ebert championed, helping to generate interest in a small movie from I.R.S. Releasing that reportedly was headed nearly straight to VHS, "One False Move" follows a pair of drug dealers (Billy Bob Thornton, Earl Billings) and their accomplice (Cynda Williams) after they commit a series of murders in L.A. Bill Paxton is the Arkansas sheriff waiting for their arrival after they flee the West Coast in a gritty, realistic picture Thornton also co-wrote with Tom Epperson.
Making its Blu-Ray premiere with a capable HD master (1.78, 2.0 PCM stereo), Imprint has amassed another collection of superb extras here, including a 2022 commentary with Shaka King and Brandon Harris; new interviews with co-star Michael Beach, Cynda Williams, and editor Carole Kravetz Aykanian; a video essay from Chris O'Neill; the trailer; and a commentary by Franklin himself.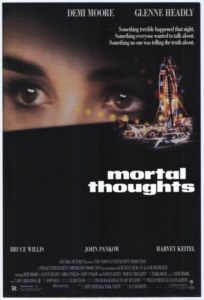 The star power of Demi Moore – coming off "Ghost" – is one of the most compelling components of MORTAL THOUGHTS (103 mins., 1991, R). A small-scale Taylor Hackford production about two big-haired New Jersey friends (Moore and Glenne Headly) and their relationship with the abusive spouse (Bruce Willis) of the latter makes for a taut crime drama, anchored by a superb performance from its star. Her then-off screen love, Willis, meanwhile, plays against type as a Horrible Movie Husband through and through, with the story of how he's offed – and by whom – fueling a picture that's grounded in the at-times offbeat characterizations of director Alan Rudolph.
Harvey Keitel co-stars in this Spring '91 Columbia release, which did moderately well at the box-office considering its scale and budget. "Mortal Thoughts" is very much the type of picture that studios have no interest in making today, and its success was a surprise given a turbulent pre-production period that saw its original director escorted out with co-star Peter Gallagher following him (Gallagher would be replaced by John Pankow as Moore's husband).
Hackford provides an interesting interview in Imprint's Blu-Ray, detailing the movie's quirky original script, the firing of its helmer and how he was able to pass the baton off to Rudolph; Hackford also, intriguingly, divulges that Moore was none too happy that he had separately recruited Willis for the movie, despite their relationship status at the time. All told, even with its numerous off-screen problems, "Mortal Thoughts" is a well-acted and solid little early '90s film that's aged well in spite of its characters' frizzy mops.
Imprint's Blu-Ray seems to be derived from an older Sony master (1.78, 2.0 PCM stereo surround) that's a little fuzzy around the edges and arguably the least impressive of these six transfers. It's still certainly watchable, but could clearly use a fresh remastering. Other extras include a historian commentary with Adrian Martin; the trailer; and new interviews featuring composer Mark Isham, production designer Howard Cummings and art director Bob Shaw.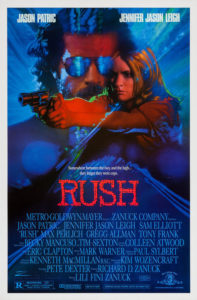 The one picture that seems a little out of place in this collection because it's less "noir" and more a gritty police procedural – based on a true story – is RUSH (120 mins., 1991, R), a slick but at-times unconvincing, '70s-set account of undercover Texas narcotics officers – a veteran, played by Jason Patric, and a young newbie played by Jennifer Jason Leigh – who become addicted to their jobs in more ways than one, and end up paying a steep price by doctoring evidence in order to net a series of dealers in action.
Kim Wozencraft's book was based in part on her own experiences as an undercover police officer, but while Pete Dexter's script reportedly (mostly) sticks to her narrative, "Rush" is a little too calculated in certain areas to feel entirely authentic. This especially holds true in scenes where Patric's NARC tries sobriety again, set to the "damn, it's not working yet" strains of Eric Clapton's overbearing guitar score. Novice director Lili Fini Zanuck's inexperience at the time of filming (this would, tellingly, be her only feature film credit) can be felt at times in the story's rather conventional mood, yet the central performances of Patric and especially Leigh, who's excellent as Wozencraft's alter-ego, carry the film to the point of it being worthwhile. In fact, the movie would've been better off if it was told directly from Leigh's point of view – as the book apparently was – something that was lost in the translation of the source material to the screen.
New interviews with Patric, Zanuck, and Wozencraft (over Zoom) are included here plus a video essay by Chris O'Neill, a vintage featurette, Eric Clapton's "Tears in Heaven" music video, the trailer, and two commentaries (one by Zanuck, and a new one by critic Bryan Reesman). The movie's murky look is done few favors by MGM's older, drab HD master for the film (1.85 with 5.1 DTS MA/2.0 PCM sound options).
The final film in the set, director Robert Benton's TWILIGHT (94 mins., 1998, R), certainly does qualify in the noir categorization, even though this box-office disappointment failed to live up to the tremendous cast that Benton assembled.
A reunion for Benton with writer Richard Russo, whose book "Nobody's Fool" had become a big hit for both Benton and star Paul Newman several years prior, "Twilight" finds Newman here playing a weary, veteran cop-turned-PI. Saddled with delivering an envelope at the behest of a cancer-stricken movie star (Gene Hackman) on his last legs, Newman also finds himself drawn to the actor's wife (Susan Sarandon) and, eventually, a murder buried deep in all of their pasts.
The conventional noir set-up and mood of old-time Hollywood fading away sets the perfect stage for "Twilight," which wants, badly, to talk about aging, mortality, the sins of the past, and the desire to do the right thing in the present. It's clearly a "goodbye letter" to cinema's Golden Age, of stars like Newman, Hackman and James Garner (oddly credited only in the film itself) – but it's also a letdown in terms of its scope. Benton's claustrophobic film doesn't offer much in the way of atmosphere or back story – it dives right into its mystery, which is never that involving, and sadly comes off as both stagy and stodgy.
At least the cast tries, and it's an embarrassment of riches in that regard, from the leads down to Stockard Channing as a former police colleague of Newman's to Giancarlo Esposito as his ex-investigative partner. There are also notable early turns from Margo Martindale and Liev Schrieber, even Reese Witherspoon (topless!) in a role that bridges Hollywood's past with its future, yet "Twilight"'s script fails to support them with a drama worthy of their talents.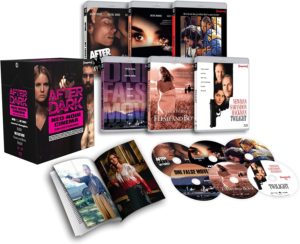 Still a compelling work because of its stars, "Twilight" falls here on Blu-Ray for the first time with a clearly older if servicevable Paramount master (1.78). The audio options are again comprised of dual 5.1 DTS MA and 2.0 PCM tracks, and this is the one instance where the original two-channel Dolby track sports a wider sound stage than the cramped-sounding 5.1 remix. Extras include two new commentaries, one with genre experts Alain Silver and James Ursini, another featuring critics Alexei Toliopoulos and Blake Howard; and on-camera interviews with editor Carol Littleton and Daniel Schweiger, on-hand to talk about Elmer Bernstein's career with, perhaps tellingly, only a few minutes devoted to the composer's mostly unremarkable, downbeat score for this particular film.
All six movies are packaged inside their own plastic cases, collected in one of Imprint's patented, hardbound boxes sporting a booklet featuring essays on all six movies. Despite the varied quality of the respective films, as bundled here by Via Vision, "Neo Noir" makes for a compelling "modern noir" box-set that's going to appeal to genre fans – setting the stage for a future volume that I'm already eagerly awaiting.
---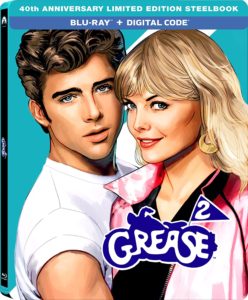 New From Paramount
GREASE 2 Blu-Ray Steelbook (114 mins., 1982, PG; Paramount): While I grew up in the days when "Grease 2" was released, I never actually saw the movie until I was long out of college. Going into it, I knew the much-maligned sequel had a reputation as being an all-time turkey, but after watching "Grease 2," I have to say it's actually a good deal of fun.
An energetic, wacky teen musical with a few catchy tunes (though obviously not of the "classic" pop quality of the original's soundtrack), Patricia Birch's inauspicious directorial debut is not one of the worst movies of all-time as its rep would lead you to believe. Sure, it's silly, corny, and star Maxwell Caulfield will never be mistaken for John Travolta, but in its own small way "Grease 2" manages to be nearly as entertaining as the original film.
The "plot" places Caulfield as Olivia Newton-John's cousin, newly arrived at Rydell High in 1961. In a reverse of its predecessor's plot, the straight-arrow Caulfield falls for Pink Lady member Michelle Pfeiffer, who spent years trying to live this one down (the movie she should have been worried about was actually "Wolf"). Tuneful though forgettable songs ensue, as Caulfield dons an alter-ego — a mysterious motorcycle bandit — in an effort to woo the otherwise uninterested Pfeiffer.
Birch's choreography is often effective, the performances energetic enough, and the movie filled with an upbeat attitude that's tough to dislike. I mean, the original film offered as flimsy a plot, albeit with better songs and performers. In its own, "roadshow company" kind of way, "Grease 2" offers ample nostalgic fun for musical lovers, and it looks terrific here in Paramount's new, glossy Steelbook edition. This 40th Anniversary de facto release includes the same 1080p (2.35) transfer and overproduced stereo soundtrack (via a 5.1 Dolby TrueHD mix) as its previous Blu-Ray along with a Digital HD copy.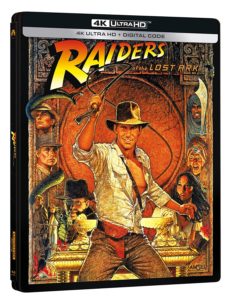 RAIDERS OF THE LOST ARK 4K UHD Limited Edition Steelbook (115 mins., 1981, PG; Paramount): Limited Steelbook edition of "Raiders" retains its original on-screen title (despite its packaging as "Indiana Jones and the Raiders of the Lost Ark") plus its fabulous theatrical artwork, all the while remaining a classic of the action-adventure genre. With a smart Lawrence Kasdan script (from a George Lucas-Philip Kaufman story), classic stunts and Spielberg working at the peak of his talent, "Raiders" is pure and unadulterated fun, with Ford introducing us to the centerpiece role of his career and Karen Allen easily providing the best female love interest of the series.
Paramount's UHD offers a refinement on the studio's earlier Blu-Ray presentation. That 1080p transfer was not nearly as green and "lush", especially in the early jungle sequences, as previous home video releases, and offered loads of detail but also a color tone that leaned towards the reddish side. While being light years ahead of any prior video release in terms of detail, the UHD also offers a more pleasing, slightly more balanced color tone than the Blu-Ray, backing off the heavy warmth of the latter and presenting a wonderful replication of cinematographer Douglas Slocombe's original work. The Dolby Vision HDR brings background details to the forefront and has been appreciably yet not excessively applied, while the Dolby Atmos soundtrack engages overhead surround activity in a spirited, active enhancement on the already fantastic 7.1 DTS MA mix from the Blu-Ray — once again offering a broad stage for John Williams' legendary score and crisp sound effects. Three original trailers are the disc's sole extras (plus a digital copy) – a short teaser (selling the film on the merits of Spielberg's past blockbusters), full theatrical trailer, and a 1983 re-release trailer (from the "Superman" trailer voice-over guy).
THE CONTRACTOR 4K UHD (103 mins., 2022, R; Paramount): STX production stars Chris Pine as a special forces op, discharged from the Army without his pension and a means of supporting his family. Minus a lot of options, Pine takes a job as a contractor, working for a private security force overseas when things, of course, go wrong. Tarik Saleh directed this action affair where Pine gives a convincing performance, yet the picture's script isn't tight or nearly as believable. Ben Foster, Gillian Jacobs and Kiefer Sutherland lead a cast superior to the material, but "The Contractor" is still worth a view for action fans. Paramount's 4K UHD (2.39, 5.1 DTS MA) includes an attractive HDR10 transfer with a Digital HD copy.
---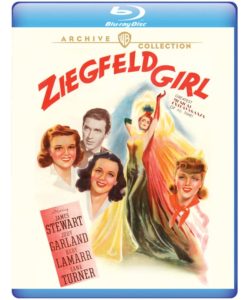 Warner Archive New Releases: Three with Judy
A trio of MGM favorites featuring Judy Garland comprise Warner Archive's June Blu-Rays.
MGM's musical extravaganza ZIEGFELD GIRL (131 mins., 1941) entertained WWII audiences with an old-time formula and plenty of song and dance to spare. Judy Garland, Lana Turner and Hedy Lamarr are the three Ziegfeld girls whose professional and romantic entanglements fuel this all-star affair co-starring Jimmy Stewart and backed by lavish Busby Berkley set-pieces. Warner Archive's lovely 1080p B&W (1.33) transfer is enhanced with copious extras including an introduction from biographer John Fricke, vintage shorts, two audio-only outtakes including the the deleted, original "We Must Have Music" finale, and the trailer.
Berkley directed FOR ME AND MY GAL (104 mins., 1942), the story of a vaudeville couple (Judy and Gene Kelly in his debut) clawing their way through WWI show biz with plenty of vintage tunes along the way. A commentary by John Fricke highlights Warner's Blu-Ray (1.37 B&W) with extras including outtakes; audio-only bonuses like a Screen Guild Players radio production featuring Garland and Kelly; the deleted "For Me and My Gal" finale; a pair of vintage musical shorts; radio promos; and the original trailer.
Rounding out the group is Garland's 1945 vehicle THE CLOCK (90 mins.), an especially breezy WWII era tale of an everyday gal (Judy of course) who meets a soldier (Robert Walker) on a two day pass. They promptly fall into a whirlwind romance set against a luminous New York City in Vincent Minnelli's acclaimed MGM hit, debuting here on Blu-Ray (1.33 B&W) with extras including a Pete Smith Specialty short; classic cartoon; a radio adaptation starring Garland and John Hodiak; and the trailer.
---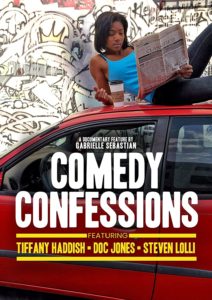 Quick Takes
Film Movement New Releases: Tiffany Haddish is one of the comedians profiled in Gabrielle Sebastian's COMEDY CONFESSIONS (81 mins., 2018), a documentary account of three homeless performers who aspire to become something more. Haddish's stardom is contrasted with stories of still-struggling comedians Doc Jones and Steven Lolli, all of whom are profiled in this 2018 feature on DVD from Film Movement (1.33, 2.0)…last year's Best Foreign Film entry from Bulgaria, FEAR (100 mins., 2022) spins a comedic satire about a Bulgarian widow whose village is turned upside down after she offers food and shelter to an African refugee, eventually indoctrinating him into her everyday life. Ivaylo Hristov's acclaimed feature (2.39, 2.0) is new on DVD from Film Movement this month also sporting Marina Stepanska's short "Desaturated."
New on Blu-Ray From Film Movement, Tsai Ming-Liang's VIVE L'AMOUR (118 mins., 1994) is regarded as one of the key Taiwanese cinematic imports of the 1990s. This second feature from the director looks at the relationships between three characters sharing a Taipei apartment, in the director's distinctly offbeat – occasionally funny, often insightful – manner. A new 2K restoration (1.85) graces Film Movement's Blu-Ray, available June 14th. The disc also sports a 16-page booklet with comments from critic Nick Pinkerton and a featurette with the director.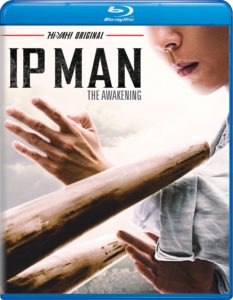 Well Go USA New Releases: Available June 21st, IP MAN: THE AWAKENING (80 mins., 2021) is another in the long, long-running saga with a young Master Ip getting involved with a kidnapping attempt – and thereby inadvertently kickstarting a gang war – when he visits Hong Kong. Ip ends up taking on human smugglers after his involvement becomes personal in this Hi-Yah! Original – a short martial arts affair – debuting on Blu-Ray from Well Go (1080p, DTS MA Mandarin or English dubbed)…Brian Presley, Matt McCoy, Craig Tate and Natalie Whittle star in Presley's western HOSTILE TERRITORY (94 mins., 2022, R). This independent Saban Films production finds Presley's Civil War vet returning home, only to find out his kids are on a train headed for hostile territory in the West after his wife's death. He teams up with a number of disparate supporting characters in a race to save them in a picture which Presley also wrote and co-produced. Well Go's Blu-Ray boasts a 1080p transfer, behind-the-scenes segment, trailer, and DTS MA audio.
New From Screen Media: Coming June 21st from Screen Media, GOLD (96 mins., 2021, R) is not a remake of the Roger Moore movie, and offers Zac Efron and Anthony Hayes (who also directed) as drifters who – in the not-too-distant future – come across a fortune in a barren wasteland. Hayes' character-driven film at least tries something different but isn't all that appealing (1080p, 5.1/2.0)…Lena Headey plays a former dancer who's become a respectable author and redeems herself after saving a young neighbor who witnessed his parents' murder. She's promptly put on the run from a local crime boss (Sam Worthington), also her ex, in 9 BULLETS (97 mins., 2021), co-starring Barbara Hershey and new on Blu-Ray from Screen Media (1080p, 5.1/2.0).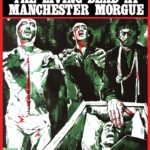 THE LIVING DEAD AT MANCHESTER MORGUE Blu-Ray (93 mins., 1974, Unrated; Synapse): Also known as "Let Sleeping Corpses Lie," Spanish director Jorge Grau's mid '70s zombie thriller boasts vivid imagery, shot in Britain's Lake District, as well as Gianetto De Rossi make-up effects that hardcore horror fans still rank with the best zombie thrillers. The story itself on this Spanish/Italian co-production is mostly predictable, and the ending is a disappointment, but zombie aficionados ought to be thrilled that "The Living Dead at Manchester Morgue" is back on Blu-Ray from Synapse. Previously available in a 2009 Blue Underground release, Synapse's disc includes a brand new 4K (1.85) restoration from the original 35mm camera negative along with a 5.1 DTS MA mix produced exclusively for this disc (the original mono is also on tap, in a newly restored "true original theatrical mix"). Two new commentaries offer insight from Troy Howarth, Nathaniel Thompson and Bruce Holecheck, while additional extras include an 89-minute documentary, "Jorge Grau: Catalonia's Cult Film King," plus a 16-minute interview with Giannetto De Rossi and a 43-minute Q&A from the UK Festival of Fantastic Films. A full run of trailers complete the package.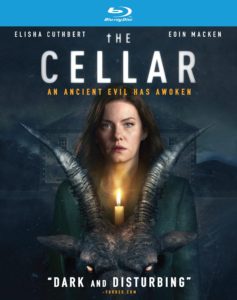 Horrors From RLJE: It's been a while since we've seen Elisha Cuthbert ("24"'s Kim Bauer) on-screen but she's back this month headlining the disappointing Irish-produced horror outing THE CELLAR (95 mins., 2021). Cuthbert plays a mother who moves into a new house, promptly losing her daughter, who vanishes in (where else?) the cellar. Brendan Muldowney's movie never explains how Cuthbert and her daughter have American accents while her on-screen husband (Eoin Macken) and son speak with Irish brogues – or provides a satisfying explanation for the haunting at the center of the supernatural shenanigans the family encounters. Maybe there will be a sequel called "The Attic"? RLJE's Blu-Ray is available June 21st featuring commentary, a VFX featurette, interviews, 1080p (2.39, 5.1 DTS MA) transfer, and Muldowney's original short movie, "The Ten Steps," which inspired this feature.
Jocelin Donahue plays a woman who's called back to an isolated, off-shore island where her mother is buried after learning that her grave has been vandalized. No sooner does she arrive there than the bridges are raised with no transportation until spring in the intriguing Mickey Keating film OFFSEASON (84 mins., 2021, Not Rated), where Donahue quickly realizes there's something very, very wrong about the locals living there. This is a decent offering for horror buffs, with RLJE's Blu-Ray (2.39, 5.1 DTS MA) available June 14th…Sierra McCormick, Vinessa Shaw, and Pat Healy star in the wild WE NEED TO DO SOMETHING (97 mins., 2021, Not Rated), Sean King O'Grady's picture about a family that's holed up during a storm with something seriously spooky lurking outside it. A claustrophobic affair with competent performances, RLJE brings "We Need to Do Something" to Blu-Ray also on June 14th (1.66, 5.1 DTS MA).
CURB YOUR ENTHUSIASM: The Complete Eleventh Season DVD (373 mins., 2021; HBO/Warner): Larry David returns as "himself" as Larry cranks up a new TV project while simultaneously toiling in local politics with a city councilwoman (Tracey Ullman). Jeff Garlin, Cheryl Hines, Richard Lewis, Ted Danson and JB Smoove reprise their past roles with ample guest stars popping up in this 11th season of the celebrated HBO comedy. HBO's DVD (16:9, 5.1) is out this week featuring its latest episodes in a two-disc set.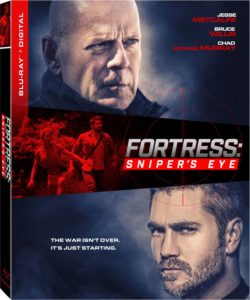 BILLIONS – Season Six DVD (11 hours, 2022; CBS): With Corey Stoll's Michael Prince taking the place of Axe (Damian Lewis), it's up to Paul Giamatti's Chuck to develop a new game plan in this sixth season of the Showtime series. Maggie Siff, Jeffrey DeMunn and David Costabile reprise their roles as well in "Billions"' sixth go-around, which should prove to be familiar (and entertaining) for series fans. CBS' four-disc DVD set (16:9, 5.1) is out June 14th featuring "Blue Chip Cameos," "Becoming Wags" and "The Spark: Paul Giamatti" featrettes.
FORTRESS: SNIPER'S EYE Blu-Ray (87 mins., 2022, R; Lionsgate): Sequel to the recent "Fortress" brings back a beleagured looking Bruce Willis, who tries to send out a rescue mission to save the widow of old nemesis Chad Michael Murray. Yet is Murray's Balzary even dead? Top-billed Jesse Metcalfe also returns in "Sniper's Eye," a feeble action thriller that will end up, sadly, being one of Willis' last on-screen appearances. Lionsgate's Blu-Ray (2.39, 5.1 DTS MA) is now available featuring a Making Of, the trailer, and a digital copy.
---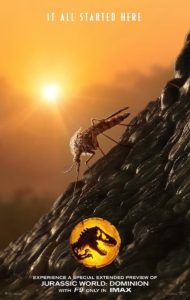 In Theaters
JURASSIC WORLD: DOMINION (**, 146 mins., PG-13): "Jurassic World"'s Colin Trevorrow returns to direct and co-wrote this "final" entry in the JURASSIC WORLD "trilogy" — an overwritten, overplotted, overcast finale that's drably shot and offers nothing new at all in terms of special effects set-pieces or dinosaur action.
What's worse, dinos often take back seat to Trevorrow and co-writer Emily Carmichael's main scenario — that a genetically engineered crop of locusts inadvertently produced by an original "Jurassic Park" character, Louis Dodgson (Campbell Scott, who wasn't in the old movie), now threaten the world's food supply unless something can be done. That "something" means two things: first, the bad guys abducting the young girl clone from the last "World" installment, who's since been cared for by series heroes Chris Pratt and Bryce Dallas Howard; while original "Jurassic Park" stars Sam Neill and Laura Dern head to the same European biolab in the hopes of exposing the locusts as products of the company.
It's "nice" that Trevorrow brought back Neill, Dern and Jeff Goldblum (who disappears from the movie for nearly an hour) but none of them are supported by the dialogue they had nearly 30 years ago in Steven Spielberg's original "Jurassic Park." Even worse, the fact the trio — who notably lack the energy they had 30 years ago — have been elevated to co-stars means whatever momentum the movie tries to generate is consistently undercut by having to cross-cut, none too effectively, between "A" and "B" plot strands. The net result comes off feeling more like a "Fast and the Furious" sequel than a "Jurassic Park" movie.
This also means Pratt and Howard's natural chemistry is curtailed — along with whatever emotion there could have been with the raptor "Blue"'s offspring, Beta, also having been abducted by Dodgson's goons. There's simply too much happening in this overstuffed movie for it to register — too many characters, including brief returnees from the original "Jurassic World" and its previous sequel, "Fallen Kingdom," plus a black lesbian pilot whose sole function in the movie seems to be the one line that declares her sexuality.
These are issues that might have been more forgivable had Trevorrow staged this sequel with some exciting set-pieces — but there's literally nothing here we haven't seen before. Dinosaurs lunging at Pratt in an open field? Seen it a bunch of times. Helpless humans trying to use a car as a staging ground to get by a large meateater? Ditto. Flying dinosaurs that attack from the skies — it's all recycled leftovers, making you think COVID protocols may have forced Trevorrow to "reskin" scenes that not only have been produced before, but far more effectively. Even "Fallen Kingdom" had some stylish dino scenes intended to scare audiences, and were more exciting than anything in this particular film.
With Michael Giacchino's forgettable score mostly tossing all of John Williams' themes aside — despite more a direct connection with the 1993 "Jurassic Park" — "Dominion" is the least of this trilogy, and probably ends up neck and neck with Spielberg's misfired "The Lost World" sequel as the nadir for the franchise. The dinos surely still have some cinematic life left in them — but it's time to find some fresh filmmaking voices to bring them back from the brink of extinction.
NEXT TIME: Fun City Editions' THE COCA-COLA KID and more. Until then, don't forget to drop in on the official Aisle Seat Message Boards and direct any emails to our email address. Cheers everyone!