Message Board (open 24 hours!)
Twitter - @andredursin (for everything else!)
It's going to be hard for future generations to understand the dynamics of how movies functioned in the days before streaming – back when films that weren't "tentpoles" or franchise-driven IP's could not only find a place at the box-office, but also become bonafide commercial hits in the process. Unlikely sleeper successes were commonplace decades ago, as evidenced by the stunning performance of THE OTHER SIDE OF THE MOUNTAIN (102 mins., 1975, PG), which fit right into the "Love Story"-established '70s formula of a romance doomed by a personal tragedy that its lead character has to overcome.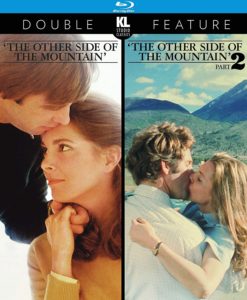 In the case of "Other Side," director Larry Peerce's film is at least grounded in a true story – Olympic-level skiier Jill Kinmont (Marilyn Hassett) is all set to scale the heights and go for the Gold when she's tragically paralyzed in an accident. Losing all feeling from the neck down, she's relegated to a wheelchair and subsequently tries valiantly to find a place in a 1950s society that frowned upon even her teaching aspirations. In addition, other tragedies fill the picture every so often, including her fellow skiing friend (Belinda Montgomery) succumbing to Polio and her on-again, off-again daredevil boyfriend (Beau Bridges) risking life and limb while undertaking his own exploits (spoiler alert: he's not in the sequel).
All of these incidents did actually occur in real life, though they're utilized so manipulatively in David Seltzer's script that it nearly feels like Damien Thorne might be lurking just off-camera, pulling the strings (Seltzer would hit paydirt with his "Omen" screenplay just a year later). Still, despite the seeming manipulation and Charles Fox's at-times saccharine score, the performances in the movie are sincere and the central storyline compelling enough that it's understandable how the film held an audience during its day and became a major box-office hit.
The Edward S. Feldman production would be followed by a mostly needless sequel, THE OTHER SIDE OF THE MOUNTAIN: PART 2 (100 mins., 1978, PG) which, as Peerce acknowledges here in an exclusive Kino Lorber Blu-Ray interview, is more like a coda that offered just a half-hour's worth of actual story, and needed to be padded out to feature-length.
Focusing on Jill's relationship with her eventual husband – a trucker (Timothy Bottoms) who falls in love with her – "Part 2" also brings back Montgomery and Jill's coach (Dabney Coleman) for an uncredited cameo, but mostly feels more like a TV-movie continuation than anything else. Lee Holdridge's score is a step up from its predecessor and the movie isn't as sad in terms of overall tragedies, but screenwriter Douglas Day Stewart (who, like David Seltzer, would go on to a successful career writing the likes of "The Blue Lagoon" and "An Officer and a Gentleman") clearly had to work overtime to inject some drama into the preordained story, relying too often on flashbacks to the original.
Both "Other Side of the Mountain" installments make their Blu-Ray debuts in a single-disc Kino Lorber release that kicks off their February releases. These are acceptable 1080p (1.85) AVC encoded transfers from pre-existing Universal masters, both in decent shape with mono sound.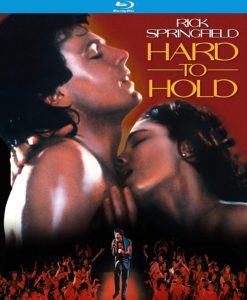 A terrific interview with Peerce – sharp as a tack at age 90 – and trailers comprise the supplements.
Peerce's later cinematic exploits included the infamous HARD TO HOLD (93 mins., 1984, PG), a box-office bust that was intended to launch music superstar Rick Springfield into movie stardom. That didn't happen after this unappealing vehicle featuring Springfield as a rock star who quickly falls for a psychologist (Janet Eilber, whose career sank nearly as quickly as this film at the box-office) became an instant "Worst of the Year" candidate. Nevertheless, the movie's soundtrack was still popular and Springfield fans have made it something of a minor cult item – elements that Kino Lorber wisely hopes to capitalize on with their new Blu-Ray. The Universal catalog master (1.85) is solid, the 2.0 DTS MA stereo sound is nice, and extras include a conversation with Larry Peerce, radio spots, the trailer, and new commentary with journalist Bryan Reesman.
"Bangles" lead songstress Susanna Hoffs also attempted an acting career with the Universal teen dramedy THE ALLNIGHTER (95 mins., 1987, PG-13), starring alongside Joan Cusack and Michelle's sister, Dedee Peiffer, in an ensemble film about a trio of friends experiencing life on the last night of college. Though teased as a "going all the way" affair, this is something of a bait-and-switch – perhaps unsurprising with Hoffs' mother, Tamar Simon Hoffs, writing and directing the picture! – where the girls experience a series of misadventures en route to their graduation from a California oceanside institution. Sure, there's eventually a hook-up for its star, but mostly, this is a subpar, tedious formula youth comedy from the '80s, though some of the performances – especially from Michael Ontkean as a rock guitarist who refuses to "do it" – are at least sincere.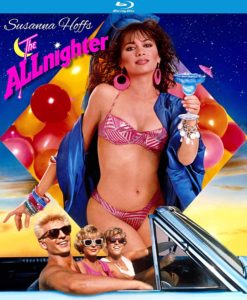 Kino Lorber's Blu-Ray hails from a very attractive 1080p (1.85) AVC encode capturing all the sunny settings and '80s attire in a detailed and solid presentation; the 2.0 DTS MA stereo surround audio is effectively mixed as well. A good array of supplements will be worthwhile for fans, including a vintage commentary with both of the Hoffs, a secondary commentary with historian Alexandra Heller-Nicholas, a music video from the day, and the trailer.
B&W Classics From Kino Lorber: Making its home video debut is the well-regarded, if seldom-seen, 1944 Universal suspense drama THE SUSPECT (85 mins.), a Robert Siodmak picture which stars Charles Laughton as an unhappily married, corpulent accountant in Victorian-era England who strikes a fancy with a young stenographer (Ella Raines) who initially comes looking for a job. Laughton wants more than friendship but his stern wife refuses to divorce him; when she turns up dead, he becomes the prime suspect in an adaptation of James Ronald's novel, crisply shot in B&W (1.37) and preserved here in a new 2K master licensed from Universal. Commentary from Troy Howarth and trailers are also included in Universal's disc.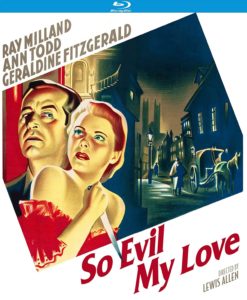 Ann Todd plays a widow in the 1948 Paramount drama SO EVIL MY LOVE (109 mins.) who becomes attached to a criminal (Ray Milland) renting a room in her boarding house. She quickly falls under his spell and, after she steals from her wealthy friend (Geraldine Fitzgerald), eventually resorts to blackmail and murder in order to keep their scheme afloat in a Hal Wallis production helmed by Lewis Allen. Another new B&W 2K master (1.37) from Universal graces Kino Lorber's Blu-Ray, recommended – like "The Suspect" above – heartily for genre fans. The disc also includes a commentary from Imogen Sara Smith and the trailer.
The presence of director James Whale and the re-use of "Frankenstein" sets are the most compelling attributes in THE KISS BEFORE THE MIRROR (69 mins., 1933), an otherwise unremarkable early '30s drama about a lawyer (Frank Morgan) who defends a man (Paul Lukas) who killed his wife for having an affair – then finds out he's in the same circumstance with his own wife's (Nancy Carroll) behavior. Atmosphere is why buffs should check out this pre-Code Universal release shot by Karl Freund, and preserved here in a 2K master (1.37) from Universal and Kino Lorber. The disc includes a commentary from historian Alexandra Heller-Nicholas and the trailer.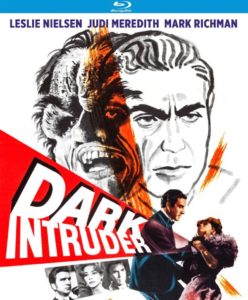 DARK INTRUDER Blu-Ray (59 mins., 1965; Kino Lorber): Now here's a definite curio: a Universal produced supernatural thriller set in late 19th century San Francisco, where occult expert Brett Kingsford (Leslie Nielsen) is brought in to investigate a series of Ripper-esque murders with his friend (Mark Richman) at the center of the horrific crimes. Barre Lyndon (George Pal's "War of the Worlds") scripted for producer Jack Laird, thereby creating a reunion of formidable talents behind "The Lodger," while Harvey Hart directed with the "Albert Hitchcock Presents" company mounting this one-off as a TV pilot. When the project didn't sell, Universal opted to release it to theaters instead, without filming (as they likely would have in other circumstances) additional scenes to pad it to "feature length." The end result is quite atmospheric and entertaining, if understandably underbaked. A really good looking 2K master (1.66) from Universal is the highlight of Kino Lorber's Blu-Ray, which also boasts a welcome commentary from Gary Gerani, the trailer, and a new interview with makeup artist Bud Westmore's nephew, Mike.
Two Starring Sammy Davis, Jr.: A pair of features starring Sammy Davis, Jr. both debut on Blu-Ray this month from Kino Lorber. Philip Yordan's play ANNA LUCASTA (97 mins., 1958) was brought to the screen a couple of times – first in a 1949 Paulette Goddard adaptation, then transferred with a Black cast in this 1958 adaptation. Again scripted by Yordan, this taut B&W filming from director Arnold Laven features Eartha Kitt in the title role of a wayward daughter who returns home, trying to leave her troubled past behind, only to have her father (Rex Ingram) get in the way of her newfound love. Sammy Davis, Jr. is the sailor also involved in Anna's turbulent life in a melodramatic yet very well performed piece with a superb Elmer Bernstein score. Kino Lorber's Blu-Ray (1.66) is based on a new MGM-licensed 2K master with mono audio and the trailer…Davis was the main headliner in A MAN CALLED ADAM (99 mins., 1966), the story of a successful jazz trumpeter dogged by the death of his wife and child, fighting racism, battling alcoholism, and generally being an all-around problem to those around him. This low-budget character drama was something of a vanity project for Davis, who recruited pals Peter Lawford, Louis Armstrong, Frank Sinatra, Jr. and Mel Torme to join a cast that also includes Cicely Tyson and Ossie Davis. The performers are capable, the music isn't bad, but the Les Pine-Tina Rome script is pretentious and heavy-handed, making for a movie recommended strictly for Davis aficionados. Kino Lorber's Blu-Ray hails from a Studio Canal licensed 4K master (1.66) with trailers and an insightful commentary by Sergio Mims.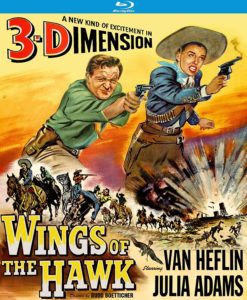 Western Blu-Ray Premieres From Kino Lorber: Since my last Panasonic plasma bit the dust, I'm unable to gauge the three-dimensional virtues of WINGS OF THE HAWK (81 mins., 1953), but Golden Age western fans should be reassured by the quality of the work on Kino Lorber's debut Blu-Ray of the film. The 3-D Film Archive produceed the restoration of this Van Heflin vehicle – an exciting Universal-International sagebrush saga where "Gringo" miner Heflin (playing "Irish Gallager") joins the fight against the Federales in early 20th century Mexico. Expert genre helmer Budd Boetticher gives the viewer plenty of action throughout this fast-paced affair co-starring Julia Adams – I'm sure the 3-D is great (this is a new 2K scan of the left and right-eye interpositives), but the movie is still fun in 2-D, and Kino Lorber allows you to watch the movie either way. Also on-tap here is the 3-D Woody Woodpecker cartoon "Hypnotic Hick", commentary from historian Jeremy Arnold, and a shorter commentary with 3-D expert Mike Ballew.
Spaghetti western fans will be most appreciative of THE HILLS RUN RED (89 mins., 1966), a widescreen lensed Italian import set in the Civil War. Thomas Hunter and Henry Silva play the former friends at odds with one another in a conventional genre exercise that gets mixed reviews across most platforms, but should still carry a certain appeal for devotees with its Techniscope lensing and Ennio Morricone score. Dan Duryea and Nicoletta Machiavelli co-star, Carlo Lizzani (aka "Lee W. Beaver"!) helms, and Alex Cox provides a commentary in Kino Lorber's Blu-Ray sporting a respectable MGM licensed transfer (2.35) and the trailer…Another, lighter Italian import, MAN OF THE EAST (124 mins., 1973, PG), is a typical vehicle for star Terence Hill, playing "Sir Thomas Fitzpatrick Phillip Moore," a transplant from England who's tutored in the ways of the Old West by his late father's surviving friends (Gregory Walcott, Harry Carey Jr., Dominic Barto). Kino Lorber's Blu-Ray features an MGM licensed catalog master (2.35) with a new commentary from Alex Cox and the trailer.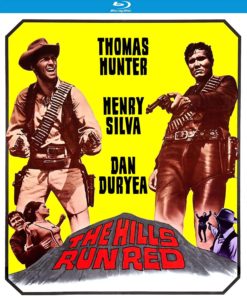 A pair of UA westerns starring Anthony Quinn have been collected in a Blu-Ray double-feature from Kino Lorber. MAN FROM DEL RIO (82 mins., 1956) stars Quinn as a Mexican gunslinger, hired as a new sheriff, who runs afoul of his town's corrupted saloon owner, while THE RIDE BACK! (79 mins., 1957) features the star as a falsely convicted criminal, imprisoned in Mexico, who teams up with the Texas Marshal (William Conrad) transporting him back to the States after they're attacked by Apaches. Conrad also produced this genre programmer, which due to both pictures' brevity, fits comfortably in Kino Lorber's single-disc release. Both 1080p (1.85) B&W transfers have been licensed through MGM and look just fine, while theatrical trailers are also on-hand.
'90s Catalog Titles: Prolific producer Robert Evans recounted his life in his autobiography THE KID STAYS IN THE PICTURE (93 mins., 2002, R), and narrated his own experiences in Brett Morgen's dynamic documentary adaptation. Directed and produced by Morgen with Nanette Burstein, this is a fluid and thoroughly captivating look at Hollywood during its maverick '60s/'70s era, which Evans embodied as the head of Paramount Pictures, churning out the likes of "Chinatown" and "The Godfather." Evans' fall from grace – and his eventual return to the studio system – is charted via a "three dimensional" visual approach by Morgen, utilizing still frame imagery in a then-unique manner and offering Evans' own commentary to immerse the viewer in his story. Kino Lorber's Blu-Ray (1.85) debuts the acclaimed 2002 doc on Blu-Ray with Morgen and Burstein's commentary; numerous featurettes; and the trailer.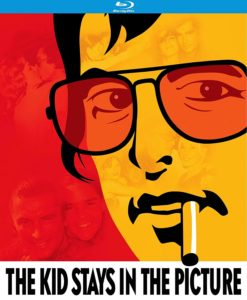 THE WAR Blu-Ray (126 mins., 1994, PG-13; Kino Lorber): Heavy-handed allegory from director Jon Avnet stars Kevin Costner as a Vietnam vet who returns home and tries to pick up the pieces of his life, along with imparting life lessons to his young son Elijah Wood, who's involved with a "war" of his own with a local group of bullies. A nice score from Thomas Newman and sincere performances can't quite shake a pretentious script by Kathy McWorter with sentiment that's often laid on thick. Kino Lorber debuts "The War" on Blu-Ray (making it one of the few HD-DVD exclusives that had yet to be released in the format) with new commentaries from director Avnet on one track, and historians Emma Westwood and Paul Anthony Nelson on the other. The 1080p (1.85) AVC encoded transfer and DTS MA stereo sound are perfectly acceptable…Another mid '90s film that failed to make much noise at the box-office receives a standalone Blu-Ray debut this month from Kino Lorber, after previously being a "special feature" in Criterion's release of "King of the Hill." THE UNDERNEATH (99 mins., 1995, R) was director Steven Soderbergh's follow-up and adaptation of the noir novel (and Burt Lancaster-Robert Siodmak '40s favorite) "Criss Cross," starring Peter Gallagher as a drifter who attempts to reconnect with his ex (Alison Elliott) in the town he left, while getting involved in a scheme to steal from the armored car company he works for. Elisabeth Shue, Shelley Duvall, William Fichtner, Paul Dooley and Joe Don Baker lead a terrific cast in a film that was mostly met with indifference from critics and particularly audiences. Kino Lorber's Blu-Ray features a Universal catalog master (2.35) with the trailer and a commentary from critic Peter Tonguette.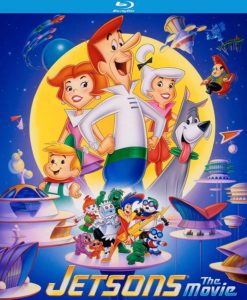 JETSONS The Movie Blu-Ray (82 mins., 1990, G; Kino Lorber): Growing up back in the '80s there were constant rumors floating around about a live-action "Jetsons" movie starring Chevy Chase or any "Insert Bankable Comic Actor Here." The property seemed ripe for the big-screen treatment – especially since an ungodly amount of '50s and '60s TV series made the leap to the cinema during the era – but instead, Universal decided to produce this slender animated feature treatment from Hanna-Barbera themselves. Sporting slightly upgraded animation from the '80s TV revival Hanna-Barbera had recently completed, this is a mostly mediocre translation of the show with a pedestrian Dennis Marks script and bubblegum pop songs by Tiffany, who performed the voice of daughter Judy in the hopes that it would spur box-office revenue (it didn't). Die-hard "Jetsons" fans may still want to check Kino Lorber's Blu-Ray out, as the disc includes a satisfying Universal catalog master (1.85, 2.0 DTS MA stereo) with a lengthy chat with voice artist Jeff Bergman, a new commentary with critic Lee Gambin and the trailer.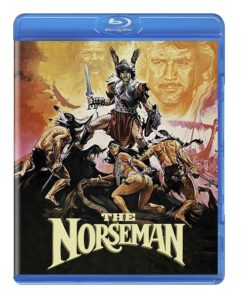 THE NORSEMAN Blu-Ray (90 mins., 1978, PG; Scorpion/Kino Lorber): Dopey marriage of star Lee Majors, "Boggy Creek" auteur Charles B. Pierce, American-International and a Viking adventure plot results, alas, in something a lot less fun than you might expect. Pierce's original script sends a group of Vikings – including Majors – across the sea to Florida, where they attempt to find their long-lost King (Mel Ferrer) but first run into some (mainly) sadistic Iroquois natives.
The costumes and production values are laughable, but Pierce's helming is just competent enough to avoid the unintentional hilarity that the movie could've otherwise produced with Majors, Cornel Wilde, and a number of football players (including Deacon Jones and Fred Biletnikoff) comprising the cast. That's not an especially good thing, though, in this case, since "The Norseman" is often just dull. Kino Lorber and Scorpion's Blu-Ray (2.35) includes a DTS MA mono soundtrack and a good looking MGM catalog master hampered only by the movie's mostly flat visuals.
Kino Classics New Releases: One of the most groundbreaking films of the silent era, Dzigs Vertov's MAN WITH A MOVIE CAMERA (67 mins., 1929) pioneered rapid editing and other technical innovations as it captured Soviet life circa 1929. An orchestral score written and conducted by Michael Nyman in 2002 is included in this Blu-Ray restoration that also features a commentary by historian Adrian Martin; a 46-minute interview with Ian Christie on the director; and a 20-minute video essay from David Cairns…Helmut Kautner's PORT OF FREEDOM (111 mins., 1944) is a fascinating film produced in Germany during the final year of WWII, illustrating that artists like Kautner could spin a heartfelt tale of lost times even during the fading days of the Third Reich. A 4K color restoration is included in this 1080p (1.37) AVC encoded Kino Cassics presentation, accompanied with a commentary by historian Olaf Moller.
New Documentary/Special Interest Titles From Kino Lorber: A rich array of documentary titles have been released in time to celebrate Black History Month. JAZZ ON A SUMMER'S DAY (82 mins., 1959) is a wonderful document – especially for a life-long Rhode Islander like myself who's just a few minutes away from Newport – of the 1958 Newport Jazz Festival. This was the 5th edition of the world-renowned festival, and producer-director Bert Stern captured it all in a lovely documentary filled with footage of Newport and its surrounding waters, especially an America's Cup trial going on right off-shore. Musically, Louis Armstrong, Mahalia Jackson, Anita O'Day, Gerry Mulligan, Thelonious Monk, Chuck Berry and Dinah Washington are some of the formidable talents captured here in this meticulously restored independent documentary. Kino's Blu-Ray (1.37) offers an archival interview with Stern; a 2011 documentary on the "Original Madman"; a commentary by music critic Natalie Weiner; photo galleries; booklet notes; and a wonderful, full stereo 2.0 DTS MA audio track.
Prolific documentary filmmaker William Greaves' work is mostly focused on black politics and culture. His 1972 feature NATIONTIME (80 mins.) documents the National Black Political Convention held in Gary, Indiana, featuring a vast amount of figures from politics and entertainment – Jesse Jackson, Coretta Scott King, Isaac Hayes and Richard Roundtree. This 4K restoration from Indiecollect preserves the entire, uncensored 80-minute version of Greaves' work, which apparently was cut for TV broadcasts at the time, losing over 20 minutes of footage. Interviews with Louise and David Greaves (and a commentary from the latter), the trailer, and booklet notes grace another worthwhile documentary release from Kino Lorber, newly available on Blu-Ray…James Erksine's documentary BILLIE (96 mins.) is a new look at Billie Holiday's career, personal background and pioneering performances as one of the indelible African-American performers of the 20th century. Framed in 2.35 widescreen, this is a potent and worthwhile outing with previously unheard interview segments featuring Tony Bennett, Count Basie and others. Kino Lorber's DVD is now available featuring a 16:9 transfer and both 5.1/2.0 stereo audio.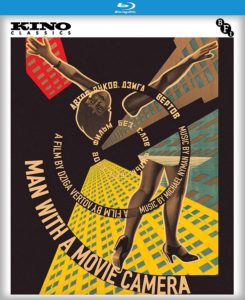 Finally, from Kino Lorber and Virgil Films comes 7 YARDS (93 mins., 2020), a moving and impressive documentary from director Jonathon Link that relays the story of a college football player who suffered a spinal cord injury during his freshman season. Years of therapy and training results in Chris walking across the graduation stage with his fiancee Emily, with the couple subsequently setting the goal of them walking down the aisle together. Norton's inspirational story is captured in this feature-length effort that's hard not to be moved by. Kino's DVD includes a 16:9 (2.39) transfer and 2.0 stereo audio, and streets February 23rd.
DVD Quick Takes: Quinn Armstrong's parody SURVIVAL SKILLS (84 mins.) is a black comedy shot in the style of a 1980s training video, wherein narrator/host Stacy Keach shows us how not to "police" as it follows cop Vayu O'Donnell as he takes on a domestic violence call and unravels thereafter. The short film version of the movie and additional featurettes are included in Kino Lorber's now-available DVD (1.33)…YOU NEVER HAD IT: AN EVENING WITH BUKOWSKI (53 mins., 2020) offers producer/journalist Silvia Bizio sitting down with the cult writer Charles Bukowski in a 1981 conversation alongside his future wife, Linda Lee Beighle. The original U-matic tapes have been digitized and edited here with new shots of L.A. – captured on Super 8 – alongside Bukowski's prose in Matteo Borgardt's 2020 documentary. Kino's DVD includes an extended interview with Bizio and the trailer.
Warner Archive New Releases
Last year Criterion issued a dynamic, Warner-licensed edition of the 1936 "Show Boat," the landmark Jerome Kern/Oscar Hammerstein II musical that has endured throughout many decades. Now it's Warner's own turn to provide a smashing restoration via the Warner Archive with SHOW BOAT (108 mins.), the 1951 MGM studio version that's lush and quite spectacular on its own merits.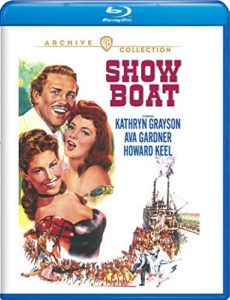 This vividly saturated Technicolor rendition captures all the pageantry of the classic story, adapted from Edna Ferber's novel here by John Lee Mahin and director George Sidney. There are some alterations and tweaks here and there from the source material, but the core of capturing life on a Mississippi river boat and the central relationships between its characters – backed by one of the musical theater's greatest scores – remains. Kathryn Grayson and Howard Keel capably fill the central leads, Joe E. Brown renders a soulful "Ol' Man River" and Ava Gardner is surprisingly good as Julie – her singing voice was ultimately dubbed, but even her own vocals were at least respectable (they can be heard here in a pair of audio-only extras, as well as reportedly on the soundtrack album).
Warner Archive's transfer of the 1951 "Show Boat" is magnificent, popping with color in an AVC encode (1.37) that bears all the hallmarks of a freshly restored and remastered presentation. The movie was apparently released in mono, but Warner remastered the film for genuine stereo and that magnificent mix has been included here alongside the original single-channel track. It's a great looking and sounding disc with an archival commentary with Sidney, two radio adaptations, the trailer, and the entire "Show Boat" sequence from the Kern biopic, "Till the Clouds Roll By," also included (1.37) in full high definition.
More singing, dancing and overall fun are on-hand in a pair of early Doris Day features produced at Warner Bros. in the late '40s and early '50s.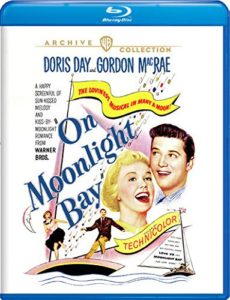 MY DREAM IS YOURS (101 mins., 1949) features Day billed behind Jack Carson, who essays a talent agent who nixes arrogant Lee Bowman in favor of goodhearted Doris, whose sweet tone turns her into an immediate radio sensation. Michael Curtiz helmed this 1949 Warner release – complete with a Bugs Bunny cameo – and packaged it as one of Day's earliest vehicles after helming her in "Romance on the High Seas." This Hollywood-lensed studio concoction is slight but nevertheless endearing in its own way, with Warner's Blu-Ray offering a 1.37 transfer, mono sound, vintage Joe McDoakes short "So You Want to Be An Actor," the Oscar-nominated dramatic short "The Grass Is Always Greener," the WB cartoon "A Ham in a Role" and the trailer.
More successful for Day was ON MOONLIGHT BAY (96 mins., 1951),a delightful musical pairing Doris with Gordon MacRae in an adaptation of Booth Tarkington's "Penrod" stories about life in a small Indiana town pre-WWI. Pleasant tunes, comedy and assorted fun make for an enjoyable Roy Del Ruth-helmed offering that was followed by a sequel, "By The Light of the Silvery Moon," two years later. Warner Archive's Blu-Ray boasts yet another detailed and lovely 1080p (1.37) transfer with mono DTS MA audio, the vintage musical short "Let's Sing a Song About the Moonlight," classic cartoon "A Hound for Trouble," and the trailer.
---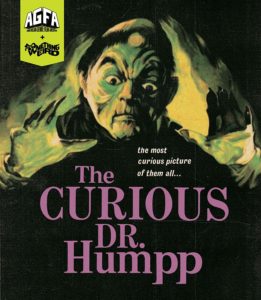 New From AGFA/Vinegar Syndrome
Two new AGFA Blu-Ray releases are now available for cult horror fans. Presented in conjunction with Something Weird Video, THE CURIOUS DR. HUMPP (87 mins., 1969) is an utterly bizarre cult movie experience with a loosely defined story wherein the title character and his monster henchmen kidnap young couples and drain them of their blood. There are talking brains, sex, gore and similar shenanigans on-hand in Emilia Vieyra's wild and woolly Argentinian import, here fully restored by AGFA via a 2K restoration from the 35mm internegative (1.37). There's also a commentary track with "Basket Case" director Frank Henenlotter, plus the original "horror cut" (in Spanish with English subs) of Vieyra's work ("La Venganza Del Sexo"), also derived from a 2K restoration (this one from a 35mm fine grain lab print), and additional shorts and trailers from "Dr. Humpp's laboratory." It's wild cinematic insanity for the (very) adventurous.
Also new and recommended for cult buffs is THE AGFA HORROR TRAILER SHOW (80 mins.), a specially curated assortment of trailers all scanned in 2K via a 35mm theatrical print of the show. The days of Grade Z drive-in fare are revived with this 80-minute AGFA presentation, whose value is augmented here with "The AGFA Horror Trailer Show: Videorage," a full-length companion piece created exclusively for this Blu-Ray. The latter "celebrates the wildest shot-on-video" and direct-to-vid trailers from the AGFA archive. The short "Say Goodbye to Your Brain" and commentary from the AGFA team round out the disc.