Message Board (open 24 hours!)
Twitter - @andredursin (for everything else!)
American director Delbert Mann helmed a series of literary adaptations for both film and TV in the early '70s, including KIDNAPPED (107 mins., 1971, G). The Scottish location filming and delineation of the Jacobite Rising provide this take on the Robert Louis Stevenson novel (as well as a portion of its sequel) with a different flavor than the earlier Disney screen version, yet there are times this production could've used an infusion of its predecessor's youthful swashbuckling.
Michael Caine is terrific as Alan Stuart, a Jacobite who becomes imprisoned off the Scottish coast on a British boat where young David Balfour (Lawrence Douglas), after having been sold into slavery by his uncle (Donald Pleasence), serves as the vessel's new cabin boy. The duo manage an escape and their subsequent adventures – which encompass a portion of Stevenson's follow-up "Catriona" – comprise this British Lion production that American-International released in the U.S.
Caine really does a nice job with a modulated performance but the casting of leads Douglas and actress Vivien Heilbron is a major obstacle – Douglas has little charisma and Heilbron, who was nearly 30 when the film was made, seems much too old as heroine Catriona. These roles should've been filled with younger, more strapping actors, and the film tends to slow down in its second half as well, with much of the action found in its opening sections.
Still a watchable and good-looking version, "Kidnapped" makes its Blu-Ray debut this month from Kino Lorber. The 1080p (2.35) transfer is excellent, capturing all of Mann's widescreen lensing, with a crisp DTS MA mono soundtrack and trailer also on-hand.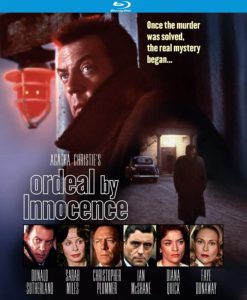 ORDEAL BY INNOCENCE Blu-Ray (90 mins., 1985, PG-13; Kino Lorber): When Thorn EMI's film division was purchased by the Cannon Group, the rights to a long line of Agatha Christie novels came with them. Even though the box-office popularity of the Christie films had begun to slow by the early '80s (after the likes of "The Mirror Crack'd" and "Evil Under the Sun"), producers Menahem Golan and Yoram Globus still wanted to exploit their new acquisitions at the box-office, and did so with a leaden first effort.
Cannon's initial Christie film was this dismal 1985 adaptation of "Ordeal By Innocence," for which Golan-Globus recruited an all-star cast under the direction of "Clash of the Titans"' Desmond Davis. Donald Sutherland plays a doctor distraught over the death of a friend executed for the murder of his mother (Faye Dunaway); in lieu of Poirot or Miss Marple, Sutherland's Arthur Calgary subsequently attempts to put the pieces of this mystery together, gathering together a group of potential suspects (Sarah Miles, Christopher Plummer, Diana Quick, Ian McShane) in an effort to exonerate his late colleague.
Though the drama itself is limp, it doesn't help that "Ordeal By Innocence" has, unquestionably, one of the worst soundtracks ever committed to celluloid. While carrying the eye-popping credit "Music By Dave Brubeck," the score isn't original at all, but rather an edited string of licensed Brubeck recordings that couldn't possibly be more jarring in their application during the film. Calling attention to itself in nearly every scene, the "score" is an outright disaster that makes it hard to fully judge the gloomy, oppressive mood Davis and screenwriter Alexander Stuart establish.
Offering a lean 90 minute running time, reports claim the film was originally much longer and initially carried a score by Pino Donaggio that no longer fit the completed, shorter edit of the picture. Even a hacked-up Donaggio score, though, would've been preferable to this disastrous musical accompaniment, which has to be seen, and heard, to be fully believed.
Kino Lorber's Blu-Ray of "Ordeal By Innocence" offers a superb, fresh 2K scan of the 35mm interpositive, which results in a crystal-clear 1080p (1.85) image with mono sound and a pair of trailers on-hand for extras.
---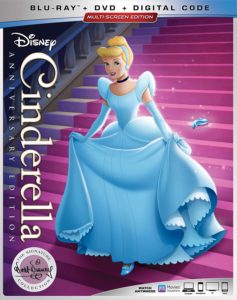 New & Noteworthy
CINDERELLA Anniversary Edition Blu-Ray/DVD (75 mins., 1951, G; Disney): Making a return to home video this week, Disney's outstanding "Anniversary Edition" of their 1951 animated classic offers a reprise of their prior Blu-Ray's AVC encoded 1080p transfer (1.33 full-frame) and both a 7.1 DTS MA soundtrack as well as 2.0 and 1.0 theatrical mixes. One of the most enduring animated features in the Disney stable, "Cinderella" boasts enchanting songs ("A Dream is a Wish Your Heart Makes," "So This Is Love," "Bibbidi-Bobbidi-Boo") and delightful character animation; while not as sumptuously framed as the Cinemascope version of "Sleeping Beauty," this is a warmer and more accessible fairy tale that's delighted generations of viewers, and Disney's Anniversary combo pack (also boasting the Blu-Ray and a Digital copy) ranks as another must for Blu-Ray animation fans and Disney lovers.
Extra features include a brand-new doc "In Walt's Words: The Envisioning of Cinderella" plus over two hours of previously-released bonuses looking at the film's conception. Much like the prior Disney Blu-Ray, fans will note that various vintage extras haven't been ported over here from the old DVD edition (including an appearance on the Perry Como Show by members of the cast), but the movie itself is so masterful – and the restoration as sparkling as Cinderella's dress – that it's hard to rain on the parade…if you haven't owned the previous BD, that is.
Also new on 4K UHD and home video this week is Tim Burton's DUMBO (111 mins., 2019, PG), an ill-conceived, lumbering live-action take on the classic Disney cartoon that stalled the studio's Remake Machine earlier this spring.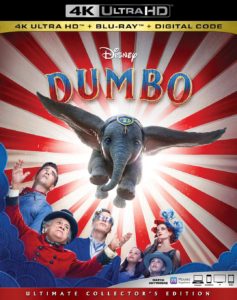 Burton's sensibilities prove to be an odd match with the source material, here extended by writer Ehren Kruger into a bloated tale less focused on the title character, and more on the machinations of vile humans (here played by Burton's Batman alums Michael Keaton and Danny DeVito) who exploit Dumbo and the kindly circus workers (including WWI vet Colin Farrell) who attempt to protect him. Gone are the more magical components of the source (the talking animals) and in their place is a picture that's shockingly generic, even with Burton having assembled his usual team (Danny Elfman, Rick Heinrichs, Colleen Atwood, etc.). Content to rely more on copious CGI scenes of Dumbo flying about than generating real emotion, the new "Dumbo" scarcely gives you any reason why it had to exist beyond the obvious commercial concerns from its studio.
Ultimately a box-office disappointment, "Dumbo" will try to connect with audiences more on home video, where Disney has issued a generally attractive 4K UHD presentation. Despite the general drabness of the film's design, this is at least a technically superior film with HDR and Dolby Atmos, one that ups the 7.1 DTS MA sound design from the standard Blu-Ray, though both seem to suffer from a general lack of bass activity. Extras along with the DVD and a Digital HD copy include deleted scenes, bloopers, easter eggs, and behind-the-scenes featurettes.
WONDER PARK Blu-Ray (85 mins., 2019, PG; Paramount): Animated feature for young viewers from Paramount and Nickelodeon follows a young girl whose imaginary theme park – one populated with wacky, talking animals – comes to life…at least until her mother gets sick, and "Wonder Park" is promptly infested with undead monkeys (!), leading her to attempt to set things straight. While lacking the visual flair and invention of typical Disney outings, "Wonder Park" still offers a positive message and a story line that's just dramatic enough to entice children, courtesy of a script by vets Josh Applebaum and Andre Nemec. Paramount's attractive Blu-Ray (1080, 7.1 Dolby TrueHD) is now available featuring a sing-along and numerous extras geared towards kids, plus a DVD and Digital HD copy.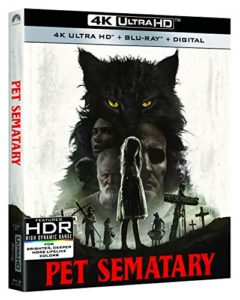 PET SEMATARY 4K Ultra HD Combo Pack (100 mins., 2019, R; Paramount): The box-office magic conjured up by "It"'s recent big-screen success failed to translate over to this feeble, disappointing new version of Stephen King's bestseller. Jeff Buhler's script deviates from King's source in a number of ways, but the bigger sin is that directors Kevin Kolsch and Dennis Widmyer seem to be going through the motions with this dark but not necessarily compelling version, offering Jason Clarke and Amy Seimetz as the not-so-fortunate Boston family who move to the Maine woods where they find out "sometimes dead is better" (cue John Lithgow filling Fred Gwynne's shoes). This new version of "Pet Sematary" is bleak and depressing, but also unsatisfying as it fails to really grip the viewer, even with its heightened production values compared to the (more financially successful) 1989 version from director Mary Lambert. Paramount's 4K Ultra HD release offers Dolby Atmos sound and a vivid HDR usage – extras include some 90 minutes of bonus content with an even bleaker alternate ending, seven deleted scenes and featurettes plus the Blu-Ray and Digital HD copy.
LITTLE Blu-Ray (109 mins., 2019, PG-13; Universal): It's been a few years since we've had a "Body Switching" flick, and Tina Gordon's "Little" recycles from the best fairly effectively. It helps young Marsai Martin steals the show as the teen version of a ruthless executive (Regina Hall), who becomes trapped in her younger self with only her harried assistant (Issa Rae) in on the situation. It's "Big" with an African-American twist, and Gordon, who co-wrote with Tracy Oliver, manages to do a good job letting the three central performances power the familiar material – and familiar it is. Still, Universal should have a solid home video performer on their hands when "Little" streets on July 9th. The 1080p (1.85) AVC encoded transfer and 5.1 DTS MA audio are complimented by a full range of extras: commentary, a gag reel, DVD, Digital HD copy, and a slew of behind-the-scenes featurettes.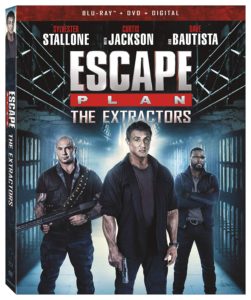 ESCAPE PLAN: THE EXTRACTORS Blu-Ray Combo Pack (86 mins., 2019, R; Lionsgate): Second sequel to the passable, albeit underwhelming, 2013 teaming of Arnie Schwarzenegger and Sly Stallone is a step above the meager "Escape Plan 2," mainly because the Italian Stallion gets a little bit more to do here. Nabbing top billing despite being on-screen less than half of the time, Stallone's security expert Ray Breslin is back for additional mayhem after his girlfriend (Jaime King) is kidnapped following a mission to rescue the daughter of a HK mogul. Dave Bautista has even less screen time in a cameo as part of Sly's new team, along with a returning Curtis "50 Cent" Jackson. John Herzfeld directs the script he co-authored with Miles Chapman, and the result is an adequate, if claustrophobic, genre programmer coming to home video July 2nd. Lionsgate's Blu-Ray includes commentary with Herzfeld, Stallone and co-stars Devon Sawa and Daniel Bernhadt; a Making Of; 1080p (2.40) transfer, 5.1 DTS MA sound, the Blu-Ray and a Digital HD copy.
Also New From Lionsgate: Stallone's pal Dolph Lundgren is back with an all-new action outing of his own on July 2nd. DEAD TRIGGER (92 mins., 2019, R) is a cheap, agreeable time-killer melding "The Last Starfighter" with zombies (yes!), as a government-produced video game that simulates a zombie outbreak recruits its top players to actually battle swarms of the undead. Lundgren is here paired with the delightful Autumn Reeser (Hallmark Channel regular) for this silly, terrible and yet mildly entertaining confection, which Lionsgate brings to BD with a 1080p (2.40) AVC encoded transfer and 5.1 DTS MA sound.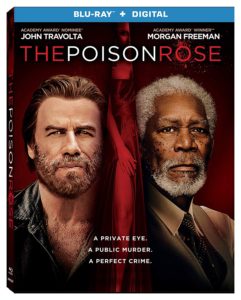 George Gallo once had a promising filmmaking career going back in the early '90s. After writing the hit "Midnight Run," Gallo directed the criminally underrated "29th Street" (a movie still inexplicably not on Blu-Ray) before flopping with duds like the Nicolas Cage comedy "Trapped In Paradise."
Gallo has managed to work here and there since as a writer (including co-writing "Bad Boys") but he steps in and misses the mark as the director of THE POISON ROSE (98 mins., 2019, R), an attempt at a noir-esque thriller with a cast that's all seen better days. John Travolta plays a hardened private eye who heads to Texas searching for a missing woman and encounters a litany of suspects – a crime boss (Morgan Feeman), a doctor (Brendan Fraser), and his former lover (Famke Janssen) – en route to a tedious ending. Kat Graham, Peter Stormare and Travolta's daughter (Ella Bleu Travolta) co-star in this late '70s-set drama that's listlessly helmed by Gallo, but at least he can't be blamed this time for the script (from producer Richard Salvatore). Lionsgate's Blu-Ray (2.40, 5.1 DTS MA) is available this week featuring commentary from Gallo and Salvatore and a Digital HD copy.
THE AFTERMATH Blu-Ray (108 mins., 2019, R; Fox): Rhidrian Brook's novel makes for a rather chilly WWII story of a British woman (Keira Knightley) whose military husband (Jason Clarke) is tasked with the rebuild of Hamburg following the war. Tensions mount when a widower (Alexander Skarsgard) and his daughter come to share their home, leading to a predictable triangle and rushed conclusion. Nicely shot but emotionally vacant, "The Aftermath" makes its Blu-Ray debut this week from Fox. In addition to a 1080p (2.40) transfer and 5.1 DTS MA sound, Fox's combo pack includes a DVD, Digital HD copy, deleted scenes, featurettes, and commentary from director James Kent.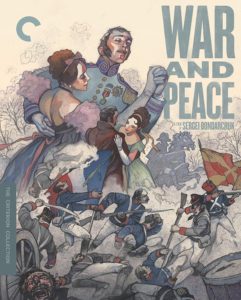 Foreign film fans have reason to celebrate this week with Criterion's 2K digital restoration of WARAND PEACE (422 mins.; Criterion), Sergei Bondarchuk's sprawling adaptation of Tolstoy's novel. Produced several years after the U.S./Italian version starring Henry Fonda and Audrey Hepburn, this faithful and lengthier production was shot during the early and mid '60s, eventually being released in four different parts throughout 1966 and '67.
A widescreen epic that captures the romance between its leads against the backdrop of the Napoleonic Wars, "War and Peace" looks absolutely dynamic in Criterion's two-disc Blu-Ray – the 2K-restored 1080p (2.35) transfer is marvelously detailed and layered with beautiful color images. With so many inferior prior releases of the film especially in North America, this will rank as the definitive release of "War and Peace," which also includes a robust Russian 5.1 DTS MA stereo soundtrack. Extras include new interviews with cinematographer Anatoly Petritsky and Bondarchuk's son, Fedor; two archival documentaries from the late '60s about the production; a 1967 TV segment on actress Ludmilla Savelyeva; a new program with historian Denise J. Youngblood discussing the film; and new English subtitles.
---
Twilight Time New Releases
Three "Marquee Musicals" mark this month's new limited-edition Blu-Ray releases from Twilight Time.
Betty Grable was at the pinnacle of stardom when she starred in Fox's full-color WWII musical PIN UP GIRL (**½, 83 mins., 1944), though the movie is a bit on the flimsy side in terms of score (nothing overly memorable in the song department) and plot (basically, and predictably, just an excuse for a series of those musical numbers). Still, Grable devotees will find plenty of amusement on-hand as the actress plays a secretary and regional USO entertainer who opts to leave her midwestern town for D.C. En route, she ends up in New York City, where Grable claims she's a famous Broadway star, which impresses Navy man John Harvey — shenanigans (of course) follow.
Twilight Time's Blu-Ray offers an upgrade on Fox's previous DVD-only release, boasting a colorful and quite appealing 1080p (1.33) transfer with 2.0 or 1.0 (enhanced stereo or mono) DTS MA sound. Extras carried over include commentary from critic Richard Shickel, a deleted song ("This Is It"), and the trailer.
Grable also stars in the 1947 Fox release MOTHER WORE TIGHTS (107 mins.), likewise making its Blu-Ray debut from Twilight Time this month. Here, Grable and Dan Dailey play married dancers tapping up a storm in a Vaudeville family musical filled with popular period tunes. Alfred Newman won an Oscar for Best Scoring in this genre favorite, included here in another lovely 1080p (1.33) AVC encoded transfer with mono DTS MA sound and the vintage "Mother Wore Tights" radio dramatization included on the supplemental side.
Alice Faye stars as an aspiring Vaudeville entertainer who tries to attain fame by navigating through San Francisco's Barbary Coast in HELLO, FRISCO, HELLO (99 mins., 1943), another Fox musical premiering this month in high-def from Twilight Time. John Payne co-stars as her entrepreneur muse, who vies for Faye's affections along with a smooth socialite (Lynn Bari). Jack Oakie and June Havoc co-star in this Technicolor production with a Harry Warren/Mack Gordon score that won an Oscar for Original song ("You'll Never Know," which became a smash hit during WWII). Twilight Time's Blu-Ray offers a number of extras (isolated music; "Hello Again: The Remaking of Alice Faye"; two different radio versions of the story; trailer) and another strong Fox-licensed 1080p (1.33) transfer and mono DTS MA mono sound.
Twilight Time wraps up their June releases with something very, very different – the 1980 drama HUSSY (95 mins., R), a mostly-forgotten British melodrama offering a plum role for a young Helen Mirren. The actress stars as a weary prostitute working in a London Cabaret with John Shea as the club's technician – their relationship and hopes of a better future are thrown into jeopardy when her ex-con lover (Paul Angelis) and his former smuggler partner (Murray Salem) reappear on the scene. Twilight Time's Blu-Ray of this Matthew Chapman-directed curio includes a 1080p (1.85) transfer, DTS MA mono sound and the trailer.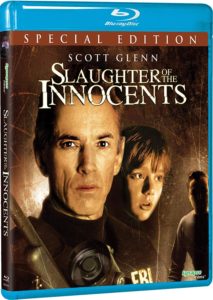 Quick Takes
SLAUGHTER OF THE INNOCENTS Blu-Ray (104 mins., 1993, R; Synapse): B-movie auteur James Glickenhaus wrote, directed and financed this silly serial killer thriller – an obvious attempt to cash-in on the "Silence of the Lambs" craze, from its title right down to Scott Glenn's diligent FBI agent out to stop a religious fanatic who eventually captures Glenn's young son – a budding computer genius who the nut believes is the next-coming of Noah (or something). A lot of contrivances and totally unbelievable bits populate Glickenhaus' outing, a comedown from the likes of his mild hit "Shakedown" in both story and execution. Much of the problems stem from the casting of Glickenhaus' own son – second-billed Jesse Cameron-Glickenhaus – for whom this project seems to have been tailored around.
Synapse's Blu-Ray edition of "Slaughter of the Innocents" should appeal to its admirers, offering a 1080p (1.78) transfer and 2.0 DTS MA stereo sound. Extras include a commentary with Glickenhaus, archival interviews with Glickenhaus, his son, and Glenn; a 2019 featurette with make-up designer Gabe Bartaos and cinematographer Mark Irwin; U.S. and international trailers; an archival EPK; deleted scenes and an alternate assault sequence.
HEROES SHED NO TEARS Blu-Ray (89 mins., 1986, Not Rated; Film Movement): A brand-new 2K restoration (1.85) awaits John Woo fans with this Film Movement Blu-Ray debut of his 1986 war flick. Eddy Ko stars as a Chinese commando whose team is enlisted by the government to capture a Thai drug lord. Their efforts take them across the Vietnam border where they not only have to deal with their target but a vindictive military colonel who sends his own troops after him. This early Woo effort shows signs of the director's typical flourishes even though it lacks polish; Film Movement's Blu-Ray is still worthy of a look, especially for the director's devotees. The main draw is the superb new transfer with a multitude of audio options (5.1, 2.0 in Cantonese, Mandarin and English) and an interview with star Ko.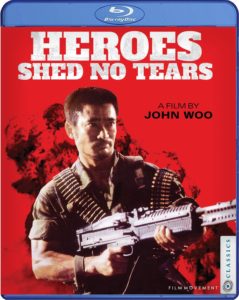 BROAD CITY – The Complete Series DVD (1087 mins., 2014-17, 2019; Paramount): Caustic Comedy Central series is collected in a new complete series box from Paramount. Including every episode from the series (running from 2014 through 2017 and then finishing its run this year), the DVD set offers the same 16:9 transfers and stereo soundtracks as its individual season releases – but adds an exclusive special features disc sporting previously-released and all-new content. Among the latter are a full half hour of additional extras: Abbi & Ilana's Broad City, Behind the Scenes, Fan Surprise, The Making of Season 5, A NYC Broad City Send-Off Fit for a Queen, and other goodies. The at-times strident humor of "Broad City" isn't for everyone but this is a superb complete series set perfect for fans. (Available July 9th)
SWING KIDS Blu-Ray (134 mins., 2018; Well Go USA): Soldiers being held at a POW camp during the Korean War attempt to take their minds off their precarious situation by staging a tap dance show. With a defecting North Korean soldier and a former Broadway dancer helping out, the "Swing Kids" produce a rousing show captured in this Korean production financed by Annapurna Films. Well Go's Blu-Ray is out this week sporting a 1080p transfer and DTS MA Korean soundtrack…Also new from Well Go is FURIE (98 mins., 2019, Not Rated), a Vietnamese thriller starring Veronica Ngo as an ex-gang leader whose young daughter is kidnapped by a trafficking ring. Picking on the wrong girl, Ngo goes for broke trying to get her back in this crisply directed action outing Well Go has just released on home video. Their Blu-Ray offers a dynamic 1080p transfer and 5.1 DTS MA Vietnamese or English soundtracks, a behind the scenes segment, and the trailer.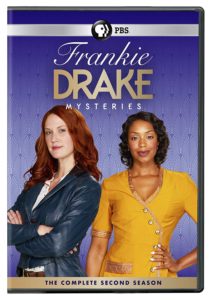 PBS New Releases: David Sutherland's MARCOS DOESN'T LIVE HERE ANYMORE (120 mins., 2019) is a documentary feature that examines the US immigration system, and its current problems, through the perspective of Elizabeth Perez, a US marine vet trying to reunite her family after her husband is deported. His perspective, living in Mexico and working as a soccer referee, is also profiled in this Frontline broadcast, now on DVD featuring a 16:9 transfer and stereo soundtrack…Season 2 of FRANKIE DRAKE MYSTERIES (7 hours, 2018) is new on DVD from PBS this month. This Canadian series from the CBC stars Lauren Lee Smith as Frankie and Chantel Riley as Trudy Clarke – female detectives working in 1920s Toronto, where speakeasies, prohibition, communism and jazz are all on the lips of its populace. This period-set program is heavy on revisionist history but works as an entertaining enough diversion, with PBS' multi-disc Season 2 DVD including several behind-the-scenes featurettes, 16:9 transfers and stereo soundtracks.
Film Movement New Releases: Coming July 2nd from Film Movement, STYX (94 mins, 2019) is a German film starring Susanne Wolff as a woman who sets sail on a solo journey to Ascension Island – only to run into a sinking ship of refugees along the way. More of a moralistic parable than a survival tale, "Styx" is an interesting work from director Wolfgang Fischer, coming to home video from Film Movement featuring a 16:9 transfer and 5.1/2.0 German/English audio and commentary from Fischer and Wolff. There's also a short film, "Ashmina," from director Dekel Bersenson, presented as a bonus in Film Movement's release.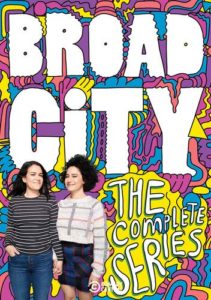 LUTHER 5 DVD (227 mins., 2019; BBC): Idris Elba returns for the fifth season of the BBC series as DCI John Luther. Now working alongside DS Catherine Halliday (Wunmi Mosaku), Luther's latest assignment finds him trying to find the culprit behind a series of grotesque killings. With gangster George Cornelius (Patrick Malahide) and assorted police headed in his direction, Luther has to balance personal conflicts with his own safety in this well-acted, taut series co-starring Ruth Wilson. BBC's now-available DVD includes two featurettes, 16:9 transfers and 5.1 Dolby Digital soundtracks.
DEADSIGHT DVD (82 mins., 2019, Not Rated; RLJ): Leave it to director Jesse Thomas Cook to mix standard zombie thrills with "The Bird Box"-esque suspense in its story of a pregnant cop (Liv Collins) who wakes up in a plague-ridden, post-apocalyptic nightmare where a mysterious blind man (Adam Seybold) requires her help. RLJ debuts "Deadsight" on DVD July 2nd featuring a 16:9 (1.78) transfer and 5.1 Dolby Digital sound. Recommended for zombie addicts only.
NEXT TIME: Shout Summer reviews, more Kino Lorber and plenty of the latest releases! Until then, don't forget to drop in on the official Aisle Seat Message Boards and direct any emails to our email address. Cheers everyone!