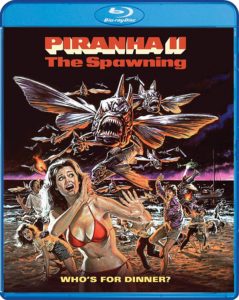 Another "Jaws" variant, this Italian-made production stars Tricia O'Neil as a scuba diving teacher at a scenic vacation resort overrun not just by salt-water dwelling piranha — but salt water-dwelling, FLYING piranha! Gratuitous T&A, blood and guts all ensue once O'Neil fails to convince the club's owners of the dangers that lurk near the beach (apparently the owner is a charter member of the Amity Town Council), but prominently-billed Lance Henriksen and Steve Marachuk manage to assist her in keeping "The Spawning" under control.
While it takes a while for the flying fish to appear — and you won't find a whole lot of similarities between this and "Aliens" — Cameron's movie is surprisingly decent if you're looking for B-grade thrills. The characters are well-developed for this kind of film, with Henriksen and O'Neil creating a pair of believable protagonists whom you actually care about. In that respect, one can see a little bit of the filmmaker's talent shining through a predictable story with few production values outside of the scenic Caribbean locales.
Part of Sony's catalog for some time, "Piranha II" was last seen swimming along in a full-frame DVD transfer that cropped the film slightly on the sides (it was shot in a hard-matte 1.85). Shout's Blu-Ray boasts an exceptionally nice, brand-new 2K scan from the original negative, besting the DVD in terms of both composition (naturally) and also fine detail. This is a splendid presentation with nice detail and color – even if Roberto Piazzoli's cinematography leans on the soft side, the Shout transfer is just fine, and the DTS MA mono sound is clear. Extras include the trailer and two new interviews featuring supporting actor Ricky Paull and FX artist Brian Wade.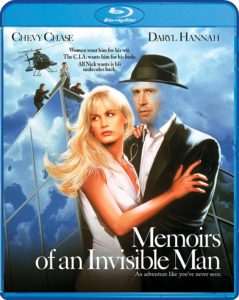 Often times when an expensive special effects-driven picture bombs, it impacts its star and director to the point where those individuals never get a chance at making another one. That was the case for both Chevy Chase and John Carpenter – each out of their respective comfort zones – with MEMOIRS OF AN INVISIBLE MAN (**½, 99 mins., 1992, PG-13), a pricey failure that's nevertheless interesting for its pre-"Jurassic Park" use of CGI from many of the same ILM animators who would work on that Steven Spielberg smash just a short time later.
A serio-comic thriller with Chase mostly playing it straight as a stock analyst who turns invisible after an accident, "Memoirs" never finds a comfortable groove as it mixes sci-fi adventure, a conspiratorial thriller, comedy and romance – all elements mostly unfamiliar to Carpenter, who from most accounts was a hired hand on this Chase production funded primarily by Arnon Milchan's Regency Entertainment. Chase is pursued by the likes of Sam Neill and Stephen Tobolowsky while attempting to woo Daryl Hannah, essaying a love interest uneasily shoehorned into the worked-over script, credited to Robert Collector, Dana Olsen and William Goldman, who reportedly toiled on a more comedic version when Ivan Reitman was attached to direct the picture years before.
Though the film doesn't really work, the special effects – utilizing ILM tech that they had employed on the likes of "The Abyss" and "Terminator 2" – are still fascinating and some of them, including Chase's outline being visible in the falling rain, are well-executed by Carpenter. Though not entirely digital, "Memoirs" is one of those films that bridged the gap between the eras of optical and digital FX, and between that and the superb widescreen lensing of William A. Fraker, the picture is worth a look.
Shout's Blu-Ray of "Memoirs" boasts a very nice, new 2K scan from the interpositive. Detail, color and framing are all superb, with slim extras reprised from the DVD package: outtakes, a brief FX featurette, five minutes of archival interviews with Chase, Hannah and Carpenter, the trailer (which credits Shirley Walker with the music and not Jack Nitzsche, whose original score was tossed), TV spots, a 1080p (2.35) transfer and 2.0 DTS MA stereo sound.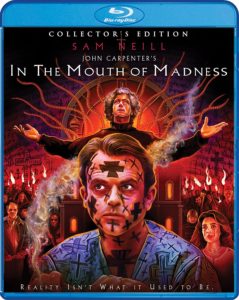 Another Carpenter '90s box-office disappointment — despite being one of his few decent films from that era — IN THE MOUTH OF MADNESS (**½, 95 mins., 1995, R) stars Sam Neill as an insurance adjuster hired by publisher Charlton Heston to track down the whereabouts of M.I.A. bestselling horror novelist Sutter Cane (Jurgen Prochnow). Along with book editor Julie Carmen, Neill travels to a small New Hampshire town where Cane's insane mind is slowly starting to come to physical life, with slithery creatures and possessed townsfolk making for a particularly unpleasant stay for our narcissistic and increasingly demented protagonist.
New Line's Michael DeLuca scripted "In the Mouth of Madness," which has a definite feel of an H.P. Lovecraft story working for it. Like a lot of Carpenter's films, however, the set-up is more compelling and satisfying than the resolution, with the director producing a number of unsettling shocks and creating a moody atmosphere in the film's initial stages. Once Prochnow shows up as Cane, however, the movie falls apart and has nowhere to go, ending on a dismal note with one of Carpenter's most leaden rock soundtracks adding further insult. A fine supporting cast (John Glover, David Warner, Heston, Bernie Casey) also has precious little to do during this early '95 box-office bomb. Though admired by the director's devotees, I confess I have a softer spot for Carpenter's subsequent outing — the underrated 1996 remake of "Village of the Damned," which featured one of Christopher Reeve's strongest late-career performances (and is also available as a Scream Factory Collector's Edition).
Previously available in a no-frills Blu-Ray from Warner, Shout's Collector's Edition of "Madness" is a notable upgrade. A new 4K scan from original film elements leads the technical presentation while a fresh commentary with Carpenter and wife Sandy King is a sizable enhancement over Carpenter's ancient, dull laserdisc talk with cinematographer Gary Kibbe (also reprised here). Other new extras include a "Horror's Hallowed Grounds" featurette, exclusive interviews with Julie Carmen and make-up artist Greg Nicotero, plus the trailer, TV spots, and 5.1 DTS MA soundtrack. A solid recommendation for Carpenter fans.
Due out August 7th from Shout is another welcome John Carpenter Blu-Ray debut, SOMEONE'S WATCHING ME! (97 mins.., 1978). This excellent Carpenter-directed TV movie stars Lauren Hutton as a woman being victimized by a peeping tom in a taut suspense thriller, co-starring David Birney and Adrienne Barbeau, and boasting a solid score from Harry Sukman. Warner's DVD only included a matted 16:9 transfer that was disappointing since the film was produced for television – the good news is Shout's Blu-Ray is based off a 2K scan and includes the option of watching either a 16:9 presentation or the movie's superior, original 1.33 framing (the "widescreen" version crops out information on the top and bottom). Shout's Blu-Ray also offers a new 10-minute interview with Barbeau and a fresh commentary with TV-movie author Amanda Reyes, along with an archival Warner featurette, profiling the director and his early work on this network "Movie of the Week."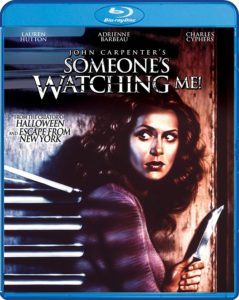 MAC AND ME Blu-Ray (99 mins., 1988, PG): By the Summer of 1988 I was well past the age for this Orion Pictures box-office bomb, an "E.T." rip-off that was savaged by critics for its cloying script, weak special effects and McDonald's promotional tie-ins. Yet, here we are some 30 years later and there's enough of a fanbase out there to fuel a 30th Anniversary Shout Collector's Edition – so clearly some little kids did get a kick out of it. Journeyman helmer Stewart Raffill also co-wrote this tale of a young, wheelchair-ridden boy's relationship with the plastic-y space alien, MAC, who's separated from his family. Capped by a McDonald's dance sequence and Alan Silvestri's syrupy score, "Mac and Me" is definitely for a specific set of viewers carrying around an excess of nostalgia – and for them, Shout's Blu-Ray serves up an intergalactic success. The 1080p (1.85) MGM-licensed transfer is strong with 2.0 DTS MA stereo sound and all-new extras, including commentary with Raffill, a conversation with the director, a talk with songwriter Ailee Willis, plus a full range of trailers and TV spots.
Coming August 14th on Blu-Ray is a lovely animated adaptation of THE BOXCAR CHILDREN: SURPRISE ISLAND (82 mins., 2017). This time around, the Alden children are permanently settled with their grandfather when they head off on a new adventure – to a private island teeming with delights, and also a kind stranger who may be harboring a secret. As with the previous "Boxcar Children" animated production, the visuals are fairly simplistic yet boast more dimension and color here in high-def, with Shout's Blu-Ray including a 1080p (1.78) transfer, 5.1 DTS MA audio and a Digital copy. Extras include interviews with the cast and crew, composer Kenneth Burgomaster, and conversations with the sound editing/mixing team.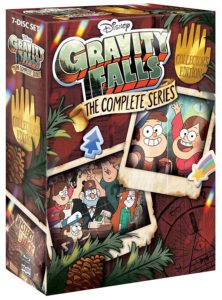 TV on Disc From Shout Factory: A little Disney Channel animated series that's gained something of a cult following, GRAVITY FALLS (15 hours, 2012-16) winds its way to Blu-Ray from an unlikely source: Shout! Factory, partnering with Disney to bring fans this comprehensive, features-packed Special Edition that streets on July 24th. This animated series gave kids something of a genial "X-Files"/"Twin Peaks" spoof, where 12-year-old twins Dipper and Mabel Pines head to the title Oregon town on a summer vacation with their great uncle Stan – a con man who works at a low-rated tourist trap named the Mystery Shack. Amongst their fabricated goods, though, are real monsters and mysteries which comprise the 40 episodes of the series, one which actually comes to an end in a satisfying three part-finale. Shout's Blu-Ray is, like their "Freaks & Geeks" set, one of their finest releases, sporting a wealth of supplements in addition to 1080p (1.78) transfers and 5.1 DTS MA soundtracks: commentaries on all episodes, the "One Crazy Summer" featurette, interviews with Alex and Ariel Hirsch, deleted scenes, shorts, promos, the "Between the Pines" special and other goodies. Highly recommended for fans!
Also strongly recommended this summer from Shout is another fantastic release, this one perfect for vintage TV fans: SID CAESAR: THE WORKS (14 hours), a five-disc anthology that pays tribute to one of television's pioneers – comedic and otherwise. Working with some incredible talents – Imogene Coca, Mel Brooks, Carl Reiner, Neil Simon and Woody Allen among them – Caesar established "Your Show of Shows" as one of the benchmarks for television sketch comedy. Shout's retrospective set includes copious highlights from that series plus "The Admiral Broadway Revue' and "Caesar's Hour," then follows with numerous tribute specials and clips from sources as varied as the shortlived "The Chevy Show" and late-night programming. The "Sid Caesar, Imogene Coca, Carl Reiner, Howard Morris Special" is also included, along with the 2014 Paley Center tribute to Caesar featuring Brooks, Reiner and Billy Crystal, and countless other goodies – even the feature-film anthology "Ten From Your Show of Shows." Shout's DVD is available at retail August 14th and comes as a must for fans of Golden Age TV….Season 2 of THE GOOD PLACE (6 hours, 2017) finds Kristen Bell and Ted Danson back in the sophomore season of executive producer Michael Schur's NBC comedy. After Michael's attempt to torture Eleanor and the gang backfires, the group is resurrected for another season of ethereal supernatural comedy with a more hellish bent. Extended episodes, commentary, a gag reel, visual FX reel, 16:9 transfers and 5.1 soundtracks grace Shout Factory's DVD box-set, available July 17th.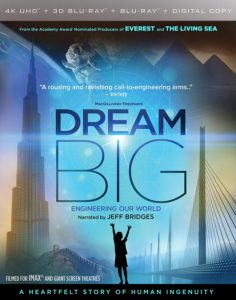 On 4K UHD/3D Blu-Ray Combo Pack: Two new Shout! releases bring the IMAX experience home with a trio of viewing options available on both. DREAM BIG (42 mins., 2017) hails from Greg MacGillivray and mixes some terrific, large-format footage of the Great Wall of China, rollercoasters and other man-made marvels in a Jeff Bridges-narrated feature with as much of a focus on the engineers who produced them as the landmarks themselves. The mix works in a simultaneously inspiring/educational manner with beautiful photography, as you'd anticipate. Shout's two-disc set offers both a 4K Ultra HD platter, along with a Blu-Ray featuring both 2D and 3D transfers, bonus shorts, behind-the-scenes videos, a Digital copy and Dolby Atmos sound. Robert Redford, meanwhile, narrates another MacGillivray/Freeman production, NATIONAL PARKS ADVENTURE (43 mins, 2016). This 2016 large-format film does a sturdy, if unsurprising, job bringing viewers a casual overview of our nation's National Parks, their history and abundant natural beauty. The 43-minute feature feels familiar but it's well-executed and, of course, expertly filmed. As with "Dream Big," Shout's combo package includes both Blu-Ray (with 2D and 3D presentations) and 4K UHD discs with bonus videos, a Making Of and a Digital HD copy.
IFC Midnight/Scream New Releases: Finally, a trio of new entries in the collaboration between IFC Midnight and Scream Factory hit stores on August 7th. PYEWACHET (88 mins., 2017, Not Rated) is Adam MacDonald's story of a teenager (Nicole Munoz) who dabbles in black magic after the death of her father. Laurie Holden co-stars as her mother in this Canadian production Shout brings to home video in a Blu-Ray sporting 5.1/2.0 DTS MA sound, a 1080p (2.40) transfer, Making Of featurette and 5.1/2.0 DTS MA sound…In WILDLING (92 mins., 2017, R), Liv Tyler plays a cop who is thrust into the guardianship of a young teen (Bel Powley) who's been taken care of a man named "Daddy" (Brad Dourif) since birth. Fritz Bohm's unusual werewolf tale recalls other genre exercises like "Ginger Snaps," albeit with a more rural twist. Scream's Blu-Ray boasts deleted scenes, outtakes, the trailer, a 1080p (2.40) transfer and 5.1 audio…Ryan Prows' debut feature LOWLIFE (96 mins., 2017, Not Rated) is a low-budget indie chronicling the futile efforts of three down-trodden types who get mixed up in an organ-harvesting scheme. Manic exploitation fare served up with some energy, "Lowlife" hits Blu-Ray from Scream Factory boasting two commentaries (one with Prows and his cinematographer, Benjamin Kitchens; another featuring Prows and his writers), plus short films, a Making Of, 1080p (2.40) transfer and 5.1/2.0 DTS MA stereo sound.
---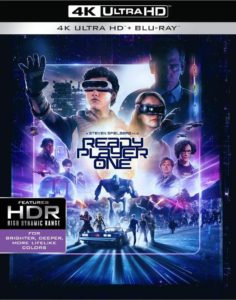 Also New & Noteworthy
READY PLAYER ONE 4K Ultra HD/Blu-Ray (**½, 140 mins., 2018, PG-13; Warner): The easiest way to sum up my reaction to Steven Spielberg's "Ready Player One" in a manner apropos to its internet world would be ¯\_(?)_/¯
Nearly 2½ hours long – but disappointingly threadbare in terms of character development and the "human touch" Spielberg was once so renowned for – this watchable adaptation of Ernest Cline's bestselling novel ultimately never gels.
Like Cline's novel, Spielberg's film is set in a future Ohio where a series of vague disasters have resulted in a somewhat dilapidated world where most humans are content to spend time in the "Oasis" – an internet community filled with all kinds of interactive worlds. One group of gamers utilize the Oasis to try and find Easter Eggs left by the system's late designer (Mark Rylance), including a young man (Tye Sheridan) who spends time rewatching the genius' recorded life and times, hoping to find clues to the whereabouts of three magical keys that will unlock the entire kingdom to the person who retrieves them. In hot pursuit are both Sheridan's friends – including a sassy female cohort (Olivia Cooke) – and foes, the latter in the form of a vile corporation presided over by a ruthless suit (Ben Mendelsohn) who wants the Oasis for his own greedy desires (of course).
Cline infused "Ready Player One" with endless references to '80s pop culture that, I've been told from several friends, at times read more like a catalog than a novel. Spielberg retains this device through plenty of pop music and appearances by a variety of familiar faces from "nerd culture" – yet the novelty of this wears off quickly, with neither Spielberg nor the credited screenwriters (Zak Penn and Cline himself) utilizing the likes of Batman, or Chucky, or Mechagodzilla to any tangible effect in terms of the overall drama. They're just "there," ultimately functioning as background filler with Alan Silvestri's score incorporating a couple of bars of, say, Ikafube's "Godzilla" theme or his own "Back to the Future" motif – but there's no actual development of this component, which feels like it was more important to sell the movie's marketing than the picture itself.
In fact, shorn of its references ("listen, it's a line from 'Excalbur!'", "they're playing Atari's Adventure!"), what you're left with in "Ready Player One" is a lightweight hybrid of "The Matrix" and "Avatar" that's just not that interesting. Spielberg toys with a romance between Sheridan and Cooke – but because most of the duo's scenes come in the guise of their cartoony CGI alter-egos, there's no real attachment the viewer feels towards them. Nor is there a convincing articulation of the overall future environment that Cline apparently portrayed as a far darker place – by contrast, Spielberg doesn't seem to have a good handle on the story's backdrop or the film's overall tone, which offers a fleeting glimpse at Sheridan's rough extended family (who seem to pop up only to get killed off) that plays in stark opposition to an increasingly lightweight, virtually kid-friendly tone that becomes more prevalent as the picture progresses.
Spielberg has had problems trying to recapture the magic of his early genre pictures over the last 20 years, and while "Ready Player One" would seem to be right up his alley, the movie's script simply isn't there – you can just sense the writers struggling to give some structure to it all, adding in a flurry of peripheral characters who aren't developed, not to mention several false endings. Throw in a bloated running time (yet another Spielberg turn from Rylance with his…deliberately….slow….line…readings doesn't help) and you're left with a movie that manages to be glitzy but ultimately as hollow as the artificial experience the Oasis provides to its inhabitants.
Debuting on home video July 24th, Warner Home Video bows an impressive – both in terms of its overall visual design and use of HDR – 4K UHD disc that offers a sizable lead over the conventional Blu-Ray in terms of overall "glitziness." Highlights, colors and the prevailing look of the film greatly benefits from 4K, which is graced with Dolby Vision and Dolby Atmos audio as well. Typical of Spielberg's home video releases, 90 minutes of behind-the-scenes interviews are provided in lieu of a commentary, with a Blu-Ray and Digital copy rounding out the release.
---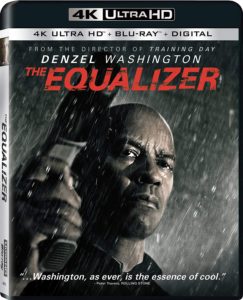 Sony New Releases
THE EQUALIZER 4K UHD (**½, 132 mins., 2014, R; Sony): An extremely well made but uncomfortable action film shot "the old fashioned way" without CGI — but also one of the most singularly violent movies I've ever sat through, utterly sadistic and so excessive that it makes any Stallone or Arnold '80s romp look like G-rated Disney fare by comparison.
Denzel Washington is cool and likeable as Robert McCall, the mysterious do-gooder with a secretive past, and he has good chemistry with Chloe Grace Moretz as a young Russian girl being used as a hooker in the early going. Alas, Moretz very quickly disappears — completely — from the film when McCall takes on the Russian mob in a furious array of killings, each one gorier than the last. Missing is a sense of character development and drama, making the film somewhat soulless — no matter how effective it may be in what it sets out to do, with Boston location filming that's quite good, and even an occasionally effective bit of scoring here and there.
"The Equalizer" – based on the far more restrained and satisfying Edward Woodward '80s TV series – in many ways still represents everything that's wrong with Hollywood today. Does this film need to be this violent? What does it achieve by being this disgusting, especially when McCall uses every power tool in the Home Depot-like hardware chain he works at in dispensing the killers?
Years ago, when Gene Siskel slammed bad movies, he'd say that listening to a certain actor talk about themselves would be more interesting than the junk they were starring in. Despite its box-office success and solid construction, "The Equalizer" is really beneath an actor like Denzel Washington. He's an intelligent and charismatic star, and to see him reduced to playing a role that makes Bronson's "Death Wish" character seem like a David Mamet creation is a disappointment.
"The Equalizer" has made the move to 4K UHD from Sony. Featuring Dolby Atmos and Dolby Vision, this is a solid UHD platter whose enhancements over the earlier (and quite excellent) Blu-Ray are more modest than anything else. Fuqua's use of dark surroundings doesn't necessarily make for 4K eye candy, though there's naturally more texture to the image and individual colors do stand out at times (and with so much blood on-hand, red is a primary color). Extras are contained on the also-included Blu-Ray platter along with a Digital HD copy.
THE LEISURE SEEKERS DVD (112 mins., 2017, R; Sony): Feeble character-driven drama stars Donald Sutherland and Helen Mirren as an elderly couple who decide to head out on the road from Boston to Key West. Along the way, they encounter colorful characters and even some Trump rallies (surprise, they're not fans!) in Paolo Virzi's film, which is well acted by both veteran stars but offers few surprises. Sony's DVD includes a Making Of segment and interviews with Mirren and Sutherland. The 16:9 (2.39) transfer and 5.1 sound are both fine.
---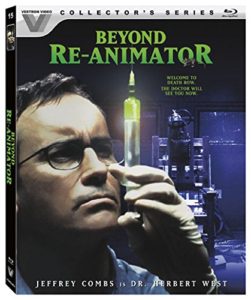 Lionsgate New Releases
B-horror fans should be delighted by two welcome new entries in Lionsgate's "Vestron Video Collector's Series," coming to Blu-Ray next week.
BEYOND RE-ANIMATOR (96 mins., 2003, R) was the mediocre, belated follow-up to Stuart Gordon's Lovecraft hit, bringing back Jeffrey Combs as Dr. Herbert West. Out after serving a decade in prison, West isn't done experimenting on the dead, working with a new, younger protégé (Jason Barry) after having spent time cultivating his unique scientific methods on rats. "Beyond Re-Animator" is an admitted comedown from its predecessor, lacking the directorial touch of Gordon (make-up artist Brian Yuzna here handled the chores) and hampered somewhat by a bland supporting cast. Combs does try, but it's a film mostly suited to devotees of the original, and ones with an open mind at that. Lionsgate's Vestron release includes a 1080p (1.78) AVC encoded transfer and 5.1 DTS MA sound plus an abundance of extras. These include Yuzna's commentary; isolated score and an interview with composer Xavier Capellas; conversations with Yuzna, Combs, and Lovecraft authority S.T. Joshi; a production art gallery; music video; the trailer; a still gallery and vintage FX featurette.
While Gordon wasn't involved in the sequel to "Re-Animator," he tried his hand at another Lovecraft story with DAGON (98 mins., 2002, R), a little-seen Spanish production starring Ezra Gooden and Raquel Merono as a couple whose yacht is destroyed – leaving them stranded in a seaside town harboring (no pun intended) a bizarre secret. "Dagon" is a film I hadn't even heard of, making Lionsgate's decision to release the film as part of their Vestron Collector's Series a baffling one (even with its loose connection with "Beyond Re-Animator"). Nevertheless, Gordon aficionados should appreciate the TLC exhibited to this minor outing, with Lionsgate's Blu-Ray boasting commentary from Gordon and writer Dennis Paoli; another commentary with Gordon and Gooden; interviews with Gordon, Brian Yuzna (who produced the picture), and S.T. Joshi again; a vintage EPK featurette, a number of still galleries, the trailer, archival interviews, a 1080p (1.78) transfer and 5.1 DTS MA audio.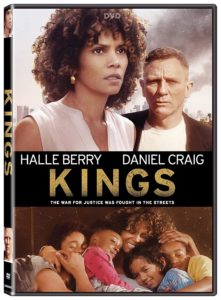 If you're wondering what Halle Berry and Daniel Craig were doing in KINGS (87 mins., 2018, R), then join the club. This well-intentioned yet baffling drama is set during the L.A. riots, where foster mother Berry tries to keep her extended family safe after the Rodney King verdict is read. Craig plays her "eccentric neighbor" – a recluse who tries help her – in an awkward movie that mixes the romantic (and more or less lightweight) entanglements of Berry's offspring with the powderkeg backdrop of the riots. A failure from Turkish director Deniz Gamze Erguven, who also penned the script, "Kings" streets on July 31st from Lionsgate, exclusively on DVD with a 16:9 (2.35) transfer and 5.1 sound…Another star-driven disappointment, DARK CRIMES (93 mins., 2018, R), offers Jim Carrey as a detective who links an unsolved murder with a crime outlined in a book by an author (Marton Csokas) and his girlfriend (Charlotte Gainsbourg), the latter retaining a shady past. "Dark Crimes" was produced by Brett Ratner's Ratpac Entertainment but failed to be picked up by a major distributor – no shocker given the seedy, unappealing material adapted from a novel by David Grann. Lionsgate's Blu-Ray, also available July 31st, boasts a Making of, Digital HD copy, 1080p (2.40) transfer and 5.1 DTS MA sound…Scarcely more "fun" is YOU WERE NEVER REALLY HERE (90 mins., 2018, R), a bleak albeit technically well-executed adaptation of Jonathan Ames' book from writer-director Lynne Ramsay. The always-eclectic Joaquin Phoenix plays a troubled PTSD-riddled vet who tries to find missing girls – but that just skims the surface of a picture that's more of a punch to the gut, and a compelling visercal experience, than it is a fully formed piece of drama. Either way, this strange piece is now available on Blu-Ray from Lionsgate sporting a 1080p (2.39) transfer, 5.1 DTS MA sound and a Digital HD copy…A new entry in the History series, THE MEN WHO BUILT AMERICA: FRONTIERSMEN (6 hours, 2018) includes a fresh retrospective look at Daniel Boone, Davy Crockett, Kit Carson, Andrew Jackson, Lewis & Clark, John Fremont and Tecumseh, utilizing historian interviews with new dramatic footage – making for a fine prequel to the prior "Men Who Built" series. Lionsgate's DVD includes 16:9 (1.78) transfers and 2.0 stereo audio.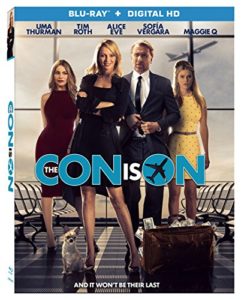 New on Blu-Ray July 24th, THE CON IS ON (95 mins., 2018, R) boasts a fine ensemble cast in a poor effort that looks like it was shot over a weekend (several years ago at that). Uma Thurman and Tim Roth play a con-artist couple who head to L.A. where they try to steal a jewel from Roth's ex-wife (Alice Eve) in order to repay the debt they have to a gangster (Maggie Q). Parker Posey, Sofia Vergara, Stephen Fry and Crispin Glover must have had nothing better to do than to appear in James Haslam's shoddily-made effort, which Lionsgate bows in a no-frills Blu-Ray with a 1080p (2.40) transfer, 5.1 DTS MA sound, and a Digital HD copy…Remakes may be all the rage, but most of them have been total wipeouts at the box-office. The genial reworking of OVERBOARD (112 mins., 2018, PG-13) isn't all bad, switching up the protagonists from the silly Kurt Russell/Goldie Hawn '80s vehicle in the form of a rich playboy (Eugenio Derbez) who can't remember who he is, and subsequently falls for a working-class single mom (Anna Faris) after falling overboard from his luxury yacht. Eva Longoria and John Hannah co-star in this co-production between MGM and Pantelion, which generated decent dollars at the box-office this past spring. Lionsgate's Blu-Ray includes commentary with director Rob Greenberg, three featurettes, a 1080p (2.39) transfer, 5.1 DTS MA sound, a Digital HD copy and DVD…younger viewers might enjoy A.R.C.H.I.E 2: MISSION IMPAWSIBLE (82 mins., 201, PG), featuring Michael J. Fox as the voice of Archie – a talking, flying robot dog who here joins his runaway owner Sidney's attempt to save a small family circus on its last legs. This Grindstone Entertainment production is new this week to DVD including a 16:9 (1.78) transfer, 5.1 sound and a behind-the-scenes segment with cast/crew interviews.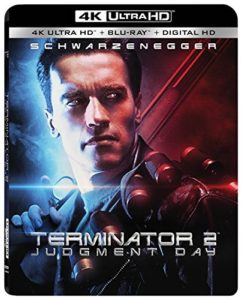 Finally, back again on 4K UHD is TERMINATOR 2: JUDGMENT DAY 4K UHD (***, 137 mins., 1991, R; Lionsgate). This uneven 4K edition of James Cameron's 1991 blockbuster occasionally looks better than its last Blu-Ray release (a Van Ling-produced 2014 edition also included here), though it doesn't always show off the benefits of HDR. In fact, there are times the UHD looks scarcely different than the Blu-Ray, with a drab transfer and an overly glossy, DNR-riddled appearance. Fans may still prefer this to any prior video release, but it's not the big remastered package the film deserves.
Lionsgate's UHD includes just the theatrical cut of T2 along with DTS MA audio and a Digital HD copy. Those looking for extras can find them in the Blu-Ray, offering both the Special Edition of the film and the theatrical version, as well as the "extended Special Edition" with the "conclusive" futuristic ending that was excised shortly before the film's release. The supplements from ancient home video releases are also a hoot to revisit.
---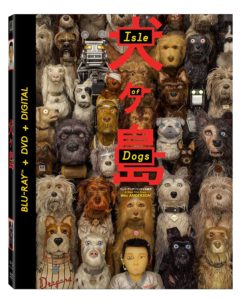 Also New & Noteworthy
ISLE OF DOGS Blu-Ray (101 mins., 2018, PG-13; Fox): Wes Anderson returns to dabble in animation with "Isle of Dogs," his second such stop-motion picture after the offbeat "The Fantastic Mr. Fox." "Dogs" is actually – eventually – a warmer and more satisfying piece, set in a world where canines have been sent to live on "Trash Island" after an epidemic. There, a young boy named Atari tries to find his bodyguard, Spots, setting off on an adventure that's wholly unique and Japanese in its cultural components – yet seen, of course, through Anderson's distinctive lens. Not for young kids but ultimately not a depressing affair either, "Isle of Dogs" ranks as one of the filmmaker's more satisfying overall productions, and has been brilliantly captured on Blu-Ray by Fox. A number of featurettes are included plus an attractive 1080p (2.39) widescreen transfer, 5.1 DTS MA sound, a DVD and Digital HD copy.
SUPER TROOPERS 2 Blu-Ray (99 mins., 2018, R; Fox): I can't say I was much of a fan of the original "Super Troopers," a Broken Lizard comedy that nevertheless became the troupe's most beloved feature film amongst their fans. That fanbase turned out in ample numbers for "Super Troopers 2," the belated sequel that features the Vermont Highway Patrolmen bumbling their way through an international dispute along the U.S. and Canada border. It goes without saying if you liked the first film, you're the core audience for this follow-up, which is now on Blu-Ray from Fox. Extended/deleted scenes, trailers, a Making Of and Kevin Heffernan featurette are on-hand with a 1080p (1.85) transfer, 5.1 DTS MA sound, DVD and Digital HD copy.
LAUGH-IN The Complete Fifth Season DVD (6 Discs, 1971-72; Time Life): Standalone DVD release of the influential TV comedy's fifth season is now available from Time-Life. When it premiered as a one-shot NBC special on September 9th, 1967, "Rowan & Martin's Laugh-In" broke new ground on television. Viewers had scarcely seen such a rapid-fire comic anthology on TV before, and the hour-long program was the right show at the right time in the turbulent late '60s. "Laugh-In" was timely, motivated by generation-gap/culture-clash jokes, the hippie movement, and provided the right tonic for audiences looking to laugh while the country was embroiled in numerous struggles socially, politically and militarily. Ratings for the initial special were strong, leading to a weekly series that aired on Mondays at 8pm starting in January of '68 – a time slot the series would occupy until it signed off, finally, in May of 1973. Time-Life's six-disc DVD, now available, of the series' fifth season offers Raquel Welch's only guest appearance, plus "Hogan's Heroes" co-stars Richard Dawson and Larry Hovis joining a cast that now includes Judy Carne, Arte Johnson, Henry Gibson, Jo Anne Worley and Teresa Graves.
WINDRIDER MVD Rewind Collection Blu-Ray (92 mins., 1987, R; MVD): MVD's Rewind Collection taps into the MGM-owned back catalog for this rather dopey Australian drama, which was scarcely distributed outside its native land. "Man From Snowy River"'s Tom Burlinson stars as an aspiring wind surfer whose climb up his sport's ladder is complicated by his new relationship with a popular rock singer – played by none other than a young Nicole Kidman. While it's fun to see Kidman in an early role, "Windrider" is hung up on Burlinson's domestic befuddlements, both with his new girlfriend and his wealthy father, who wants him to spurn the sea and find a real job. Mostly ho-hum stuff, "Windrider" has been treated to a full-fledged Special Edition from MVD. The movie looks a little worn in its 1080p (1.77) master with uncompressed mono sound, though it's generally quite acceptable for a low-budget, mostly obscure Australian export like this. Extras include a commentary with director Vincent Morton and veteran Aussie cinema scribe Everett De Roche, a music promo with Kidman and several other archival segments, a mini-poster and the trailer.
SNEAKY PETE – The Complete First Season DVD (515 mins., 2015; Sony): Giovanni Ribisi stars in this Amazon series as a con man who takes over the identity of a prison cellmate in order to stay hidden from a ruthless gangster. After being reunited with "his" family, Pete finds himself part of their oddball clan, tracking down criminals as part of their bail bond business – and likewise grows closer to them in the process. Margot Martindale, so good on "The Americans," is just as terrific here, lending strong support to a freshly written and entertaining series just making its DVD debut from Sony. The studio's DVD is a no-frills affair with fine 16:9 (1.78) transfers and 5.1 Dolby Digital soundtracks.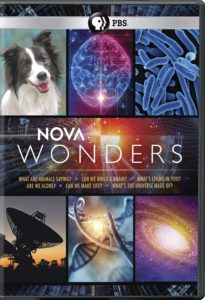 NOVA WONDERS DVD (6 hours, 2018; PBS): A series within a series, this six-episode Nova program takes a different approach to oft-discussed topics – using new technology and interviews to ascertain how along in modern science we are to answering these perennial questions. Included in PBS' double-disc set are the episodes What Are Animals Saying?, What's Living In You?, Are We Alone?, Can We Build a Brain?, Can We Make Life?, and What's the Universe Made Of? 16:9 transfers and 5.1 Dolby Digital sound adorn PBS' release, available August 31st.
OPERATION RED SEA Blu-Ray/DVD (139 mins., 2018; Well Go USA): Director Dante Lam returns with this follow-up to his 2016 Hong Kong hit "Operatin Mekong." This time out, when terrorists plot to obtain nuclear missiles while using a violent coup as a cover, the Chinese Navy's Jiaolong Assault Team has to spring into action once again. Large-scale action and testosterone-laden characters fuel this lengthy affair that Well Go brings to Blu-Ray July 24th. The BD/DVD combo pack includes deleted scenes, trailers, a 1080p transfer and 5.1 Mandarin DTS MA audio with English subtitles.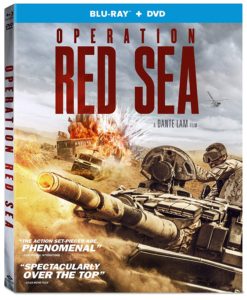 LOVE AFTER LOVE DVD (93 mins., 2018, Not Rated; IFC/MPI): Andie MacDowell leaves behind the Hallmark series "Cedar Cove" (not that I watched it or anything…) for this independent drama about a family's matriarch who's left stranded after her husband's passing. Her contrasting relationships with her two adult sons (Chris O'Dowd, James Adomian) is at the heart of Russell Harbaugh's character study of grieving and loss, coming to DVD this week featuring the short "Rolling On The Floor Laughing" and the trailer, a 16:9 transfer and 5.1 sound.
Film Movement New Releases: Personal relationships fuel two very different releases this month from Film Movement. THE THREE-WAY WEDDING (100 mins., 2018) is Jacques Doillon's saucy French import starring Pascal Greggory as a celebrated playwright stuck on his latest work. He looks to his ex-wife (Julie Depardieu), her leading man (Louis Garrel) and his lovely young assistant (Agathe Bonitzer) for inspiration in a zesty dramatic work on DVD featuring a 16:9 transfer and 2.0 French sound with English subs. Meanwhile, Sophi Laloy's YOU WILL BE MINE (100 mins., 2009) is a different kind of French release, starring Judith Davis as a young, aspiring concert pianist who moves in with her childhood friend (Isild Le Besco) who then unloads a Single White Female-type of obsession with her in this 2009 release. Making its DVD debut from Film Movement in North America, "You Will Be Mine" features a 16:9 transfer and 2.0 French audio again with English subtitles…Finally, Sam Garbarski's BYE BYE GERMANY (102 mins., 2018) is set in Frankfurt circa 1946, where Moritz Blelbtreu leads a group of locals into selling linens at inflated prices to the Germans. An offbeat comedy with Coen Brothers aspirations, "Bye Bye Germany" arrives on DVD August 7th featuring Erin Morris' short 'Strings," 5.1/2.0 German audio with English subtitles and a 16:9 transfer.
NEXT TIME: More of the latest releases! Until then, don't forget to drop in on the official Aisle Seat Message Boards and direct any emails to our email address. Cheers everyone!