Message Board (open 24 hours!)
Twitter - @andredursin (for everything else!)
After stumbling at the box-office with the supernatural thriller "Jacob's Ladder," "Flashdance" and "Fatal Attraction" director Adrian Lyne struck box-office gold again with 1993's INDECENT PROPOSAL (116 mins., R; Kino Lorber). At one point, this slick romantic drama was supposed to star Warren Beatty, Tom Cruise and Nicole Kidman. After the movie stalled in pre-production, "Indecent Proposal" ended up with Robert Redford (okay), Demi Moore (fine), and Woody Harrelson (huh?) as its leads. Even if the original casting might have made "Indecent Proposal" more durable over the years (people seem to have forgotten about it completely), it didn't hurt the movie too much at the time, since despite unfavorable reviews, Lyne's film rode the crest of over-hyped controversy to a $100-million domestic gross.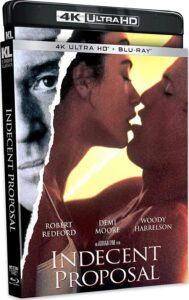 Woody and Demi play a happily married couple whose relationship is strained by financial difficulties. A trip to Vegas (seldom the cure for anyone's ills) results in the couple running into millionaire Robert Redford, who puts a proposal on the table for the two to ponder: if Demi will sleep with the millionaire for one night (and one night only), he'll give them a nice prize of $1 million.
Clearly, Lyne and producer Sherry Lansing were hoping for a repeat of the publicity that surrounded "Fatal Attraction" with "Indecent Proposal," though – in the stark contrast to "Fatal" not to mention the likes of the previous year's smash "Basic Instinct" – this movie is really just a romantic piffle that Lyne accurately describes as a "fairy tale" in his audio commentary. From Howard Atherton's soft-focus cinematography to John Barry's lush, lyrical score, "Indecent Proposal" is a cinematic soap opera with unbelievable dialogue and ridiculously overwrought dramatic situations — but that's also still part of its appeal years later. Redford's just-for-the-money performance is thankfully restrained, Moore gives a fine turn as the wife going to extremes to help out her husband (while falling for Redford's one-percenter), though Harrelson is little more than adequate here as the weakest-drawn character of the trio.
Amy Holden Jones's script, adapted from a Jack Engelhard book, didn't win any awards, but then again, it didn't have to: "Indecent Proposal" is a glossy melodrama that looks good, and no matter how silly it becomes at times, remains watchable because of its score and stars. Its biggest issue is that its first half – the one anyone will remember – is much stronger than its second portion, wherein Harrelson's character simply mopes about to such a degree you start rooting for Moore to leave him – and not take him back. The lack of dramatic tension makes the final half-hour a real slog, since we're all aware the movie isn't going to do something truly interesting and have Moore abandon her sad-sack husband completely, and the picture can do little but bide the time until it reaches its preordained destination.
Debuting in a 4K UHD/Blu-Ray combo this month from Kino Lorber, "Indecent Proposal" offers glossy Dolby Vision HDR grading (1.85) that propels the movie's slick visuals in 4K while easily surpassing Paramount's previous, old HD catalog master. Lyne's frank though sporadic commentary track is the sole supplement here, while 5.1 and 2.0 DTS MA sound options provide a perfect backdrop for one of Barry's dreamy '90s scores and decent songs (Sheena Easton and Herbie Hancock also pop up in cameos as themselves). Recommended for romantics, Redford fans, and Moore aficionados as well.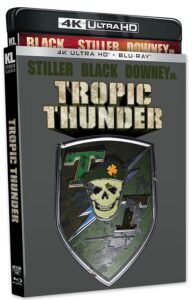 TROPIC THUNDER 4K UHD/Blu-Ray (107/120 mins., 2008, R/Unrated): A group of Hollywood stars (Ben Stiller, Jack Black, and a "pigment altered" Robert Downey, Jr.) appearing in a megabudget Vietnam movie get an unforgettable lesson in "method acting" when their director (Steve Coogan) opts to send them into the jungle, where they quickly have a difficult time separating the world of moviemaking from reality itself.
Stiller and Justin Theroux wrote this at-times uproarious, if uneven, action comedy which skewers the Hollywood studio system at the same time it pokes fun at the shallow, egotistical movie stars who populate it. Because of his work behind the camera (he also directed the film), Stiller understands the ins-and-outs of the business and, as a result, "Tropic Thunder" directly sets its sights on a variety of targets and hits the mark more often than not.
The movie is hilarious at times and a bit coarse in others, but generally "Tropic Thunder" delivers big laughs, especially in its early satirical moments and through the performances of the leads – albeit more so in its theatrical version than the padded, two-hour unrated cut. Either way, between Downey's "controversial" performance as an Aussie who "dyes" his skin to better prep for his role as an African-American, to the cameo appearances of Matthew McConaughey and Tom Cruise (unrecognizable in a hilarious bit), "Tropic Thunder" still packs plenty of entertainment into its two-hour running time, with laughs and pointed barbs for insiders along the way.
A popular Dreamworks title, "Tropic Thunder"'s 4K master comes to 4K UHD this month courtesy of Kino Lorber, and offers the expected gains in Dolby Vision HDR (2.35) that separate it from its previous 1080p rendering. The disc includes DTS MA 5.1 sound and both the movie's R-rated and unrated versions, along with extras including two different commentary tracks: one with Stiller, Black and an in-character Downey, and the other with Stiller and members of the crew (Theroux plus producer Stuart Cornfeld, cinematographer John Toll, production designer Jeff Mann and editor Greg Hayden). The latter is a obviously a lot more technical in nature than the former, which boasts plenty of laughs throughout its duration.
Deleted and extended scenes, an alternate ending, a hilarious "Hearts of Darkness" documentary parody (a little overlong at 30 minutes but still well worth checking out), other Making Of featurettes, and other goodies (including a Cruise make-up test) round out the release.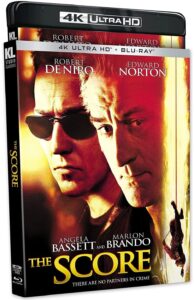 THE SCORE 4K UHD (124 mins., 2001, R): In Frank Oz's 2001 heist flick, Robert DeNiro is an aging thief who needs just one more robbery so he can leave his criminal life behind and move on with his girlfriend (Angela Bassett); Edward Norton is the young upstart who thinks he knows everything faster and better than DeNiro does in coordinating the heist of a priceless artifact guarded closely in the basement of the Montreal Customs House; and Marlon Brando is the big man (literally and figuratively) behind the operation.
The third of Kino Lorber's 4K UHD premieres this month, "The Score" is constantly low-key, doesn't have any major action set-pieces or car chases, prominently features just a handful of characters, and doesn't hit you over the head with violence, sex, or needless "hip" comic relief. It's a kind of well- crafted heist thriller that could have been made exactly the same 20, maybe even 30 years before, and while Norton is sensational, and watching three generations of stars interacting is the main draw to "The Score."
A film whose 4K master premiered on streaming some time back, "The Score" offers superb Dolby Vision HDR grading via a high bit-rate HVEC encode (2.35) that blows away Paramount's previous DVD and Blu-Ray edition, while reprieving the earlier 5.1 DTS MA sound mix. Extras include commentary with director Frank Oz and several deleted sequences (showing off Brando and DeNiro's improvisations on the set), along with the standard promotional featurette and trailer.
"The Score" was undoubtedly a wacky set to be on, considering the strong personalities of Norton, DeNiro and Brando, who reportedly took off his pants because he was too hot. Add that together with Oz, who had a rep of clashing with actors on the sets of his films, and it's probably a minor miracle that "The Score" turned out as well as it did. While Oz's first foray into R-rated, strictly-adult filmmaking wasn't overly flashy or as beloved as something like "The Usual Suspects," it sure feels like a refreshing, star-driven vehicle from a different time in Hollywood – which is a good thing.
---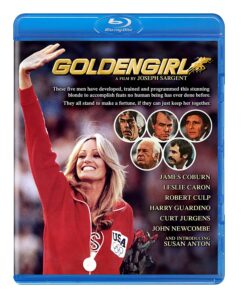 Scorpion New Releases
A fascinating late '70s box-office bomb making its first home video appearance in decades, GOLDEN GIRL (105 mins., 1979, PG) is one of those films I've been hoping to see for many years – and not only has Kino Lorber and Scorpion Releasing brought us a 4K restoration from Studio Canal, they've added a plethora of terrific extras including a highly enjoyable conversation with composer Bill Conti.
Model/singer Susan Anton plays an athlete "engineered" by German scientist father Curt Jurgens to become America's next big track and field star – just in time for the 1980 Moscow Olympics (oops!). To capitalize on "Goldie"'s athletic prowess, Jurgens assembles a "team" of financiers to hawk her guise on cereal boxes and commercials, including wise agent James Coburn. Coburn, though, is suspect of Jurgens' methods – dating back to the Nazi days – while Anton's naivete is on display as Goldie has difficulty functioning, emotionally and otherwise, away from the track.
"Golden Girl"'s "science" might have formed the basis for a really crackling, Michael Crichton-like thriller – think a mix of "Marathon Man" and "Personal Best" – but this co-production of Avco Embassy and NBC is not that. In fact, it's hard to tell at times what director Joseph Sargent was aiming for with "Golden Girl," which assembles a big cast but never settles into a comfortable dramatic rhythm. Perhaps that's because NBC's involvement meant this John Kohn-scripted adaptation of Peter Lear's novel was supposed to – and may have been – shot for a three or four hour running time (seems like there's plenty of conflicting information there). Whether all of this material was ever shot, the resulting theatrical cut moves quickly from one dramatic element to the next – Coburn beds Anton one moment, tries to keep her away from meddlesome sportscaster Robert Culp the next, only to have her succumb to diabetes – with little dramatic tissue connecting its fast-moving narrative.
Yet, for all its faults, I can't say "Golden Girl" didn't keep me watching. The suaveness of Coburn and Anton's physicality compensate for the gaps, while Bill Conti's score (conducted by Harry Rabinowitz, who shares an on-screen credit) adds some class.
"Golden Girl"'s Blu-Ray debut (1.85) looks good – the framing seems a little tight at times (perhaps further evidence this was intended for TV more than the cinema) and the source displays its age, but the transfer itself is superlative. The mono sound is okay, and one wonders if the Dolby Stereo recording listed in the credits ever made it out to theaters.
Extra features is where the disc really shines. A commentary from the engaging Nathaniel Thompson/Howard S. Berger duo speculates on the longer version that may or may not exist (NBC didn't even end up airing the film, handing it off to CBS instead), while Anton and co-star Nicolas Coster offer their insights. Best of all is a 15-minute talk with Bill Conti that spans his entire career, covering "Rocky" to turning down "Saturday Night Fever" (lamenting that David Shire pocketed a million for his limited space on the soundtrack album), working with Alan Alda on a rescore for "The Seduction of Joe Tynan," and having to personally pay for a session with the London Symphony to get "The Right Stuff" recorded after the LP was canceled (he notes he was "paid back" after Varese ended up releasing that classic "Right Stuff/North and South" album).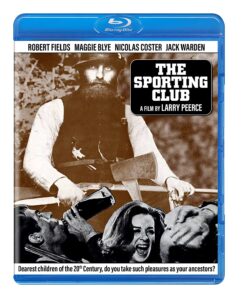 Another obscure cult item, THE SPORTING CLUB (107 mins., 1971, R), hails from the tandem of director Larry Peerce and prolific screenwriter Lorenzo Semple, Jr., who tackle Thomas McGuane's satirical novel about uppity WASP's of all ages and generations who congregate at a mountain lodge. A plot involving the opening of a time capsule forms the basis for the movie's plot, but this is mostly a free-wheeling, odd examination of "white privilege" that really did exist back in the day, with Semple and Peerce being less interested in providing a story than they are grotesque images of these increasingly detestable individuals, with little sympathy extended to the lot. In that regard, it reminded me a little of (the admittedly more entertaining) "Cold Turkey," Norman Lear's strident '70s satire about smoking and small-town life. Nicolas Coster, Jack Warden, Robert Fields, the lovely Jo Ann Harris, and Maggie Blye star with Michael Small contributing a sparse score; the movie bombed (understandably), but interested viewers can find an attractive 4K restoration here (1.85, mono) from Studio Canal with an interview with Peerce, another talk with Coster, and commentary by Daniel Kremer comprising the supplements.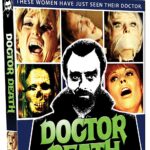 The little-seen Cinerama horror outing DOCTOR DEATH (90 mins., 1973, R) offers an over-the-top John Considine playing a centuries-old man who uses "selective reincarnation" to keep himself living. Former "Three Stooges" cast member Moe Howard pops up in a cameo in Eddie Saeta's drive-in genre exercise which lays on the silliness via Considine's go-for-broke performance; your affinity for early '70s low-budget chillers, complete with a twist ending you can see telegraphed from a mile away, will determine your tolerance for the material. Scorpion's Blu-Ray (1.78, mono) boasts an attractive 2015 HD master from the original camera negative with commentary by Considine, an interview with the actor, conversation from Saeta's son, Steve, and the trailer.
---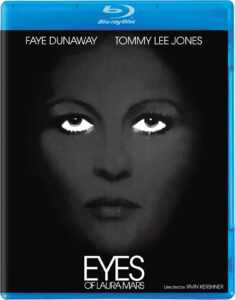 From the '80s (and '70s)
The second Blu-Ray release of THE EYES OF LAURA MARS (104 mins., 1978, R) is a nice enhancement over Mill Creek's 2019 bargain-priced offering. This disco-era guilty pleasure stars Faye Dunaway as a fashion photographer who comes to have visions of murders – all of whom are people she knows. Tommy Lee Jones co-stars with Raul Julia (billed here only as "R.J."!), Brad Dourif and Rene Auberjonois comprising a stellar supporting cast; it's a silly yet slickly made thriller with a sometimes hysterical script credited to John Carpenter and David Zelag Goodman, which Irvin Kershner helms with more flamboyance than one might anticipate.
Dated as you might expect but nevertheless a film that's developed a cult following, likely due to Carpenter's involvement as he wrote the script for "Blob" producer Jack H. Harris (though Carpenter eventually disowned the finished film), "Eyes of Laura Mars" boasts a much better encoded 1080p (1.85, mono) transfer than Mill Creek's disc, while also including a 1978 promo featurette, an image gallery, TV/radio spots, the trailer, and Kershner's DVD commentary, which too often talks about the action on-screen instead of the actual shoot.
HAPPY BIRTHDAY TO ME Blu-Ray (110 mins., 1981, R): Studio-produced, early '80s genre film is better made than most (J. Lee Thompson directed the movie before he sank into the abyss at Cannon Films), but it's still an odd mix of mystery-thriller, teen horror, and gory slasher film. Melissa Sue Anderson plays a seemingly demure student whose friends are murdered — in increasingly grotesque fashion — at a Canadian college. Glenn Ford (yes!) plays her psychiatrist, who attempts to help Anderson cope with the trauma that she still suffers from a tragic accident the previous year. Is Anderson responsible for the murders? And, if not, will she find out the culprit before it's too late?
Though the dated soundtrack is snappy and the performances perfectly adequate (Anderson makes for an ideal tortured heroine, and certainly has a great scream), "Happy Birthday to Me" ultimately succumbs to a ridiculous ending that leaves you with a bad taste in the mouth, dampening its status as a flick a cut above the usual hack 'n slash of its era.
Kino Lorber's Blu-Ray offers a 1080p (1.85, mono) transfer from a Sony master we've seen before, but the encoding here again surpasses a previous edition on Mill Creek. All-new extras sweeten the pot for genre fans: a commentary by co-writer Timothy Bond and moderator Daniel Kremer and a new interview with co-star Tracy E. Bregman, plus the usual array of vintage TV/radio and movie trailers.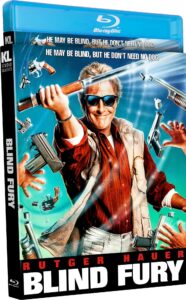 Rutger Hauer's performance as a blinded Vietnam vet who learns the ways of the samurai and comes to the aid of pal Terrance (Terry) O'Quinn is the main selling point of BLIND FURY (86 mins., 1990, R), an agreeable action-comedy that brought Australian director Philip Noyce to the U.S. Fresh off the success of "Dead Calm," Noyce's direction keeps this tidy Interscope/Tim Matheson production on the right track – while not any kind of classic, "Blind Fury" is still entertaining and netted its share of positive reviews back upon original release. Kino Lorber's Blu-Ray (1.85, 2.0 stereo) looks and sounds fine and includes a new commentary by writer Charles Robert Carner, joined by Douglas Hosdale…A movie that wasn't nearly well-received was writer-director John Lafia's off the wall late '80s noir THE BLUE IGUANA (90 mins., 1988, R), one of the many genre exercises released in the wake of "Blood Simple" that tried to one-up one another with black comic stylings grafted onto the detective genre. Dylan McDermott, Jessica Harper and Dean Stockwell lead the ensemble cast here in a movie that's all style and little substance, though it seems like the picture has its share of admirers here and there. This no-frills Kino Lorber disc includes a decent Paramount HD master (1.85, 2.0).
---
'50s and '60s Catalog Releases
ISLAND OF THE BLUE DOLPHINS Blu-Ray (93 mins., 1964): Scott O'Dell's book, dramatizing a young Native-American girl's struggle for survival on a remote California island after she's stranded there, won the coveted Newbery award for outstanding children's literature in 1960. Not long after, Universal brought the book to the screen in the form of a workmanlike picture that's been scarcely distributed on home video over the years, and for nostalgic viewers who might only distantly recall the film – as well as anyone who ever read the book – Scorpion Releasing and Kino Lorber's Blu-Ray sports a nifty new 2K master (1.85, 2.0 DTS MA mono) of the picture, looking good with only the occasional speckle and debris popping up here and there. Celia Kaye (later married to John Milius) plays Karana in a movie decidedly "Hollywoodized" in its depiction of her tribe, yet enough of O'Dell's central narrative is retained (albeit little sense of time having passed, seeing as what feels like months in the movie was actually years in the original book!). Paul Sawtell's score and the location filming are its main assets, with Scorpion's Blu-Ray also including the trailer.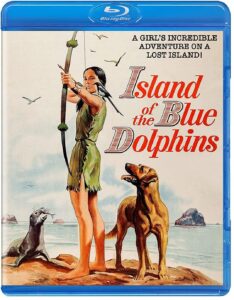 THE COUNTERFEIT TRAITOR (140 mins., 1962) was one of the many spy thrillers to hit screens in the early-mid '60s, just when Ian Fleming's James Bond became an international cinematic icon in addition to his popularity on the printed page – although George Seaton's film comes from a slightly different era both in its filmmaking style and story setting.
In this WWII tale adapted from Alexander Klein's book, William Holden plays an American entrepreneur and Swedish oil mogul coerced into becoming an Allied spy. Holden loses his friends and family in the process of posing as a Nazi sympathizer, and runs into a German woman (Lili Palmer) also working for the Allied cause behind enemy lines.
With a superb score by Alfred Newman and excellent performances across the board (be on the lookout for a young Klaus Kinski), "The Counterfeit Traitor" is a perfect blend of old-fashioned Hollywood filmmaking with a sophisticated story that delves into the motivations of its characters and the choices they have to make during war time. Seaton's film is a good deal more complicated and honest than most WWII films produced in the period, and its mature script results in a taut and exciting adventure on Blu-Ray (1.85, mono) for the first time from Kino Lorber. This new 4K scan of the original camera negative looks so much healthier, detailed and satisfying than its last release via a Paramount DVD that it nearly appears like a whole new film. Julie Kirgo provides a fresh commentary with the trailer also included.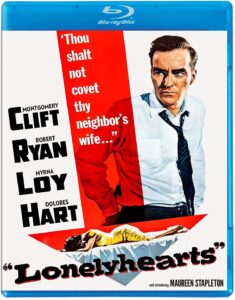 THE RAINMAKER Blu-Ray (121 mins., 1956): Richard Nash adapted his hit Broadway play for this teaming of Burt Lancaster with Katharine Hepburn, playing the stern rancher who clashes with, and falls for, a traveling con man claiming to have the answer for dusty, dry towns in the Old West. Hepburn's performance fuels this breezy star vehicle, helmed by Joseph Anthony and scored by Alex North. A brand new scan of the 35mm VistaVision frame makes Kino Lorber's Blu-Ray (1.85) sing here with mono sound and another new commentary from Julie Kirgo putting the picture into the proper historical perspective…A new HD master from MGM highlights LONELYHEARTS (103 mins., 1958), a drama starring Montgomery Clift as a newspaper advice columnist whose personal problems rival that of the readers who submit their issues to him. This UA release co-starring Robert Ryan, Dolores Hart, Jackie Coogan and Myrna Loy also debuts on Blu-Ray from Kino Lorber (1.85 B&W, mono).
---
Film Noir: The Dark Side of Cinema
Two brand new volumes in Kino Lorber's exemplary "Film Noir" box-sets are out on shelves this month for fans, bringing a slightly more eclectic array of pictures within them than usual.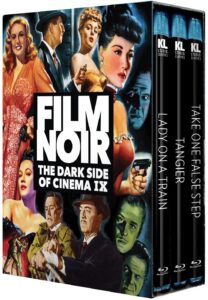 FILM NOIR: THE DARK SIDE OF CINEMA IX kicks off with one of Deanna Durbin's most enjoyable outings, LADY ON A TRAIN (93 mins., 1945), wherein Durbin witnesses a murder on a train and gets involved in the subsequent investigation in a mix of mystery, comedy and typical Durbin vehicle, with the actress crooning some songs, of course, along the way. Also on-hand here: Maria Montez plays a Madrid dancer involved with a war correspondent (Paul Kenyon) and a Nazi collaborator she's tracking down in TANGIER (76 mins., 1946), co-starring Sabu; and TAKE ONE FALSE STEP (94 mins., 1949), which stars William Powell as a married professor who gets into trouble after he's seduced by an ex-flame (Shelley Winters), who promptly disappears. All three Universal licensed B&W (1.37) transfers have either 2K or 4K remasters backing them with extras including a commentary on "Tangier" by Felicia Feaster and "Take One False Step" by Eddy von Mueller.
We jump from the '40s to the '50s with the boxing-themed FILM NOIR: THE DARK SIDE OF CINEMA X. A young Tony Curtis is a deaf-mute boxer who gets involved with femme fatale Jan Sterling and veteran fight manager Wallace Ford in FLESH AND FURY (82 mins., 1952), while Curtis again essays a prize fighter in THE SQUARE JUNGLE (86 mins., 1955), this time as a grocery clerk who punches his way to the top in order to keep his girl (Pat Crowley). Finally, Audie Murphy plays an aspiring boxer in WORLD IN MY CORNER (82 mins., 1956), who likewise learns fame doesn't necessarily ensure happiness. 2K remasters are here included for all three Universal titles (1.37, B&W, mono) with new commentaries included on "Flesh and Fury" by Daniel Kremer and "Square Jungle"/"World in My Corner" by Eddy von Mueller.
---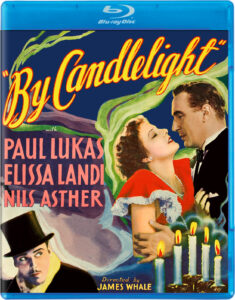 Pre-Code Remasters
James Whale devotees will be most receptive to BY CANDELIGHT (72 mins., 1933), an early pre-Code effort that gives the "Frankenstein" auteur a chance to switch up genres at his Universal home. That he does in this tale of a prince's butler (Paul Lukas) who pretends to be his master in order to woo the lovely Elissa Landi, whom he thinks is a countess…but in reality is in the same place of nobility (or lack thereof) as he is. P.G. Wodehouse's adaptation of a then-popular stage play, "By Candlelight" is a stage-bound effort that's moderately entertaining – if not obviously "talky" in more ways than one – and agreeably performed. Kino Lorber's Blu-Ray hails from a new 4K restoration at Universal (1.37 B&W) and includes an insightful commentary by critic Troy Howarth, placing the film in the context of Whale's overall filmography.
More entertaining is EARL CARROLL'S MURDER AT THE VANITIES (89 mins., 1934), a punchy, genre-mixing '30s mash-up of musical comedy and mystery "whoduneit" wherein detective Victor McLaglen is hired by producer Jack Oakie to find out who's threatening Vanities star Kitty Carlisle on opening night – when an actual murder occurs backstage! Duke Ellington "and His Famous Orchestra" pops up while songs include "Sweet Marijuana" in a movie Leonard Maltin called "the smuttiest Hollywood musical ever made" (!), compete with pre-Code nudity and sexual innuendos abounding throughout. This fascinating curio comes off as a must for Golden Age fans of early Hollywood, with a new 2K master (1.37 BW) gracing Kino Lorber's Blu-Ray. The disc looks good considering its vintage and includes a commentary from historian Anthony Slide.
---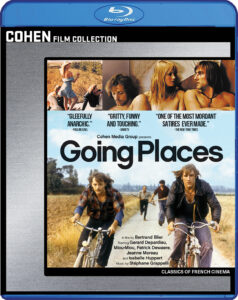 Also New on Blu-Ray
The music of Stephane Grappelli underscores GOING PLACES (118 mins., 1974), a controversial French comedy that offers a young Gerard Depardieu as a drifter who, along with his friend, roam around the countryside assaulting women and carrying out petty crimes. They eventually do some growing up on Bertrand Blier's film, newly remastered here from the Cohen Film Collection, the Blu-Ray including a commentary by Columbia professor Richard Pena, the trailer, and a 1080p (1.66, mono) transfer in French with English subtitles.
SQUEAL Blu-Ray (85 mins., 2021): Latvian horror comedy is set in rural Eastern Europe wherein a man searching for his father meets a pig farmer's daughter – and wishes he never did – after she imprisons him into becoming a worker on her farm. Aik Karapetian's film debuts on Blu-Ray from GDE and Kino Lorber this month, the 1080p (1.85) AVC encode featuring 5.1/2.0 audio, in Latvian with English subtitles…Natascha McElhone stars in CARMEN (87 mins., 2021), Valerie Buhguar's character drama about a woman who lives in a Mediterranean village as a caretaker for her priest brother. Her life gains a new independence after his passing in this 2021 picture, new on Blu-Ray (2.39, 5.1/2.0)…Aly Muritiba's PRIVATE DESERT (120 mins., 2021) looks at a Brazilian gender-fluid worker who lives as a male by day and a woman at night. Kino Lorber's Blu-Ray (1.85, 5.1/2.0) includes a Making Of featurette.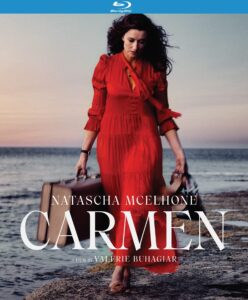 On DVD
MY DONKEY, MY LOVER AND I (97 mins., 2020) is a French import about a woman looking forward to a summer sojourn when her married lover takes off on his own vacation; she attempts to follow their lead with the help of a protective donkey in Caroline Vignal's funny, poignant film, driven by Laure Calamy's central performance (2.39, 5.1/2.0, French with English subtitles)…Another French drama, AN IMPOSSIBLE LOVE (135 mins., 2021) is an adaptation of Christine Angot's novel about a young woman who has a daughter with a wealthy man who spends the next 50 years spurning her affections and being absent/abusive to his child. Catherine Corsini's film offers a 16:9 transfer and 5.1/2.0 French sound with English subtitles.
Documentaries on Disc: RETURN TO AUSCHWITZ: THE SURVIVAL OF VLADIMIR MUNK (56 mins., 2021) is a spellbinding tale of a 95-year-old Czech Holocaust survivor and retired SUNY Plattsburgh professor who returns to the Auschwitz-Birkenau concentration camp where he was held during WWII (DVD, 56 mins., 5.1)…Zaya Zinshtein's 'TIL KINGDOM COME (76 mins., 2019) is a documentary tracing the relationship between Kentucky evangelical pastors and Israeli's primary philanthropic organization, the International Fellowship of Christians and Jews (DVD, 16:9, 5.1/2.0)…The vintage film THE AIDS SHOW (59 mins., 1986) chronicles the impact the then-just evolving disease had on the gay community, as seen through a filmed adaptation of a San Francisco stage play. Peter Adair and Rob Epstein's film is new on DVD featuring a 1.33 transfer, stereo sound and over a half hour of bonus features…Finally, Tommy Haines' HOCKEYLAND (109 mins., 2022) looks at high school hockey rivals in the state of Minnesota. Greenwich's Blu-Ray (1.78, 5.1/2.0) is now available.
---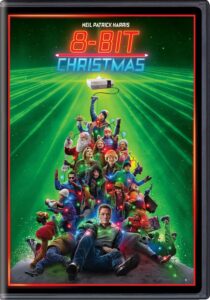 Also New & Noteworthy
8-BIT CHRISTMAS DVD (98 mins., 2021, PG; Warner): HBO Max/New Line Cinema original adapts Kevin Jakubowski's book about growing up in the '80s, as seen through the lens of the author's presumed grade-school alter-ego, who conspires with his friends to find a Nintendo Entertainment System by any means possible.
This movie, though, actually isn't awash in nostalgia as you might expect. The movie completely understands the nature of what the NES meant to kids back in the era, but does a nice job integrating it into a timeless, family-oriented story that has a really sincere, moving payoff. Neil Patrick Harris reminds you what a fine serious actor he can be as he narrates the film and appears in bookending sequences as the older version of our protagonist, and Steve Zahn is also solid as the boy's father. The kids are mostly likeable and the film moves at a good clip, and is enhanced by a pleasant score by Joseph Trapanese.
"8-Bit Christmas" does seem a little too generic and "smooth" for its own good — whether it's because of the COVID-era shooting in Toronto, the movie has a processed, digital sheen that doesn't feel "lived in." Jakubowski's own screenplay also mimics Jean Shepherd's "A Christmas Story" a little too much for its own good also, incorporating the same rhythms in the narration and types of episodic happenings that marked that (far) superior Christmas classic.
Still, even if it ends up being little more than a decent, PG-rated Hallmark movie, "8-Bit Christmas" is easy-going viewing for the holidays, and for those without HBO Max, debuts on DVD this month from Warner (16:9, 5.1) sporting a number of featurettes.
BATMAN AND SUPERMAN: BATTLE OF THE SUPER SONS 4K Ultra HD/Blu-Ray (79 mins., 2022, PG-13; Warner): It's time for the next generation of DC super-heroes to find out their apparent destinies in this second DC animated offering of the month. Once Jonathan Kent finds out about his father's alter-ego and his own super-powers, he teams up with Damian Wayne, aka Batman's son, who's also strutting his stuff as the new Robin. The duo take on aliens in a fast-moving, generally agreeable affair, on UHD with 5.1 DTS MA sound and HDR10 grading that looks nice. Extras include two bonus cartoons, a featurette and Blu-Ray copy.
Also new from the DC universe is Season 3 of TITANS (603 mins., 2021-22; Warner). After Jason Todd's tenure as Robin ends disastrously, he heads back to Gotham City as Red Hood seeking vengeance, while Dick Grayson is able to convince Police Commissioner Barbara Gordon to assist the Titans' pursuit of him. Meanwhile, former super villain Dr. Jonathan Crane also joins in the trail in this third season of the popular CW series, new on Blu-Ray from Warner (1.78, 5.1 DTS MA) with multiple featurettes and a Digital HD copy also on-hand.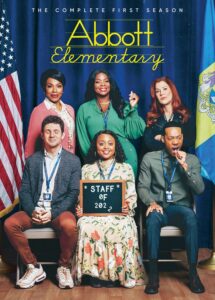 Even though it's been canceled, THE TIME TRAVELER'S WIFE (290 mins., 2022) is a superior take on the best-selling novel than the Rachel McAdams big-screen flick we saw several years back. This short-lived HBO series follows time-traveling Theo James as he meets his lifelong love Rose Leslie at different stages of her life, and not always in the proper chronological order at that. A number of featurettes are included in Warner's DVD (16:9, 5.1); alas, despite generally positive reaction, HBO nixed the series after six episodes, meaning this Season 1 release is also its "Complete Series."
Also new from Warner is TRICK OR TREAT SCOOBY-DOO! (78 mins., 2022), the latest entry in the long running Hanna-Barbera cartoon franchise. This time the Mystery Inc. gang continue to track down the costumed crime syndicate Coco Diablo and its members Black Knight, Space Kook and Ghost Diver — yet their work isn't done yet after more vintage villains pop up in Coolsville, just in time to ruin Halloween. Warner's DVD (16:9, 5.1) includes three featurettes and is available this week.
ABBOTT ELEMENTARY Complete First Season DVD (282 mins., 2021-22; Warner): Sporadically funny ABC comedy is set in a Philadelphia public elementary school, where a group of hard-working teachers (think "The Office" with kids) keep pressing ahead in spite of administrative challenges. Credit writer/star Quinta Brunson and the show's staff for keeping "Abbott Elementary" light and amusing, especially when it'd be easy to favor political commentary. Warner's DVD is out this week (5.1, 1.78).
NEXT TIME: ARMY OF DARKNESS in 4K! Until then, don't forget to drop in on the official Aisle Seat Message Boards and direct any emails to our email address. Cheers everyone!