Message Board (open 24 hours!)
Twitter - @andredursin (for everything else!)
Being a movie buff and a Blu-Ray format enthusiast usually leads you to far corners of the globe in search of certain titles and limited-edition packages. Even though beloved labels like Twilight Time have closed up shop, others both here and abroad have taken up the reigns for the devoted, with Imprint Editions – an off-shoot of Australia's Via Vision – having released dozens of wonderful titles over the last couple of years from studios like Paramount, Sony, and MGM, many of them debuting in HD for the first time, with others premiering exclusive new supplements. These Collector's Edition packages are nearly always highly recommended, and aren't difficult to find here in the U.S. either.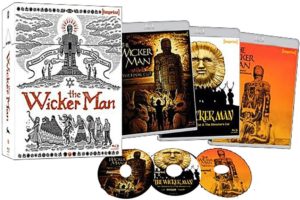 Via Vision has been kind to provide The Aisle Seat with review samples and the timing couldn't be better as Imprint's new, deluxe Blu-Ray box of THE WICKER MAN (88/93/102 mins., 1973, R) offers the most ambitious release yet from the label.
Robin Hardy's filming of Tony-winning "Sleuth" author Anthony Shaffer's original screenplay has long been a cult favorite for obvious reasons. Edward Woodward gives one of his most distinguished performances as a cop summoned to a remote Scottish island in order to find a missing girl – what he uncovers instead is a living Pagan world of ancient customs, presided over by Christopher Lee's Lord Summerisle, who initially doesn't come off as overly menacing. Neither do some of the locals who pose quirks but seldom outright menace to Woodward's devoutly Catholic police officer – yet the placidity of their demeanor masks true horror within, leading to Shaffer's legendary shock finale that regrettably has been spoiled in countless artworks utilized for the picture's releases over the years.
"The Wicker Man" has been hailed as one of the great horror movies of all-time by some. For others, myself included – who were overhyped on the picture's virtues before seeing it for the first time – the picture may seem somewhat overpraised. Yet there's no denying the curious pull this picture has, even for those who've seen it before. Hardy and cinematographer Harry Waxman create a fully credible foreign environment for Woodward to visit, from its opening shots of his sea plane to the small village environments which only casually reveal their true intentions – albeit too late for its doomed protagonist to save himself. The scoring by Paul Giovanni is fascinating in of and itself, sporting a number of performed on-screen folk songs which add a further surreal element to the picture – during these moments the film threatens to turn into one of the strangest musicals ever committed to the screen! The presence of the nubile Britt Ekland and Lee's sly performance add further appeal to an offbeat movie that – with its overt contrast of ancient and contemporary religions – unquestionably offers a unique cinematic experience on a number of levels, and one that functions just as successfully on repeat viewing.
Imprint's Limited Edition of "The Wicker Man" should have enormous appeal for the movie's fans, not just worldwide but especially in the U.S., where Lionsgate released a Blu-Ray of Hardy's "Final Cut" (93 mins.) nearly a decade ago; Studio Canal, meanwhile, debuted a multi-disc Blu-Ray overseas around that time that offered far more features. Imprint's new region-free box-set collects the contents of that more substantial edition while adding, as is the case with the label's releases, exclusive supplements and features that make it the definitive presentation of the movie yet on home video.
Fans of the movie are well aware that a variety of cuts exist for the movie, each championed by respective quarters of the fanbase. There's the original Theatrical Cut (88 mins.) which marked the first experience most audiences had with the material. A later Director's Cut (102 mins.) premiered on home video which included a long prologue, completely cut out of the other versions, with Woodward's cop on the mainland. Finally there was Hardy's "The Final Cut" (93 mins.), sort of a mixture of both versions, but again minus the prologue. While Lionsgate's previous U.S. Blu-Ray only contained the latter, Studio Canal's UK Blu-Ray offered all three edits – albeit with the Director's Cut in standard-definition.
Imprint's release also includes the three "Wicker Man" versions – but with the added benefit of the Director's Cut having been reconstructed in HD for the first time, utilizing standard-def inserts for the materials unique to that cut, and the movie's gorgeous HD remaster (1.85, 2.0 PCM mono) for its other sequences. Despite the obvious shift in detail from one source to the other, this is an otherwise seamless viewing option that – for the fans who prefer the longest version of the movie with its prologue intact – offers an essential new way of viewing and appreciating "The Wicker Man."
Beyond the trio of viewing options (technically there's also a fourth – the ability to watch the Director's Cut wholly in its previous standard-definition master), Imprint has included an embarrassment of riches in terms of extras.
Disc 1 in the set houses the "Final Cut" plus a brand new commentary by BFI historians Vic Pratt and Will Fowler. Also on-hand here are extras from Studio Canal's previous special editions: Mark Kermode's 2001 documentary "Burnt Offering: The Cult of the Wicker Man" (in full HD), plus "Worshiping the Wicker Man" and "The Music of the Wicker Man" featurettes. There's also a later interview with Robin Hardy, a restoration comparison, trailers, and a 25-minute 1979 New Orleans TV interview between Lee and Hardy.
Disc 2 offers the reconstructed Director's Cut plus the Theatrical Version, the latter debuting a superb new commentary from critics Kim Newman and Sean Hogan, who detail the changes in this long-maligned "producer's cut" that some fans now feel is the best cut of the movie, gaining in pacing and shock value what it loses in continuity and some narrative exposition over its other versions.
Disc 3 includes a bevy of extras, many of them newly produced for Imprint's release. These include "Willow's Song & The Liberation of Eve," a video essay by critic/writer Kat Ellinger; Adam Scovell's video essay "Forged Folklore"; "The Music of the Wicker Man," a conversation with author David Huckvale, plus another segment with Huckvale on the movie's symbolism; and Robert Reed's comments on the picture, along with "The Willow Song," a promo video Reed produced. Imprint also gives us two archival documentaries (1998's "Ex-S: The Wicker Man" and 2001's "The Wicker Man Enigma"), a 2013 movie Q&A, a segment with folk musicians discussing the soundtrack, plus TV and radio spots. And then, to cap it off, the standard-definition presentation of The Director's Cut along with its vintage audio commentary (and corresponding "Making Of" featurette) featuring Robin Hardy, Christopher Lee, and Edward Woodward.
The deluxe-packaged set – featuring a hardbound case and three individual Blu-Ray containers – is capped by a copy of Paul Giovanni's soundtrack CD. Limited to 2000 units, the set comes as a must for "Wicker Man" fans regardless of your geographic location – and a strong candidate already for "Disc of the Year."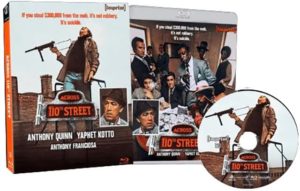 Also new this month from Imprint is ACROSS 110th STREET (101 mins., 1972, R), a nasty, downbeat early '70s thriller about small-time crooks who cross paths with both the mob and local gangs after they pull off a Harlem robbery that claims the lives of mobsters, gangsters and a pair of cops alike. Two police officers (Anthony Quinn and Yaphet Kotto) are on the scene, with Kotto's detective taking center stage for political appearances – much to Quinn's chagrin – in a "realistic" film that hits upon power-keg social issues, race relations, and more obvious "crime doesn't pay" themes in a gritty, location-based work from director Barry Shear, who produced with Quinn, and adapted Wally Ferris' book. The grimy cinematography and Bobby Womack's title song fit like a glove, but this picture makes even "The French Connection" look positively upbeat with its nihilism, right down to a bleak "'70s ending."
"Across 110th Street" has been out of circulation on Blu-Ray for some time, making this Imprint release worthwhile for fans. The disc seems to include the same MGM catalog master (1.85, mono) as Kino Lorber's out-of-print Blu-Ray, with new extras including a commentary by critic Matthew Asprey Gear and an interview with Mikel J. Koven. The archival 1990 documentary "Anthony Quinn: An Original" is also on-hand plus the trailer.
All Imprint releases, incidentally, can be found at the official Imprint website; domestically, they are also available through vendors like Deepdiscount.
---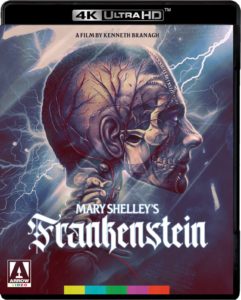 New From Arrow
MARY SHELLEY'S FRANKENSTEIN 4K UHD (123 mins., 1994, R; Arrow): Kenneth Branagh's adaptation of the Mary Shelley horror classic was expected – much like another Sony genre property from its mid '90s era, Mike Nichols' "Wolf" – to be a major success. Unfortunately a convoluted plot filled with overpowering, operatic moments turned "Mary Shelley's Frankenstein" into one of the year's biggest flops, the film barely scraping up $22 million in domestic box-office revenues.
Viewed now it's not a total disaster, mainly due to Roger Pratt's outstanding cinematography, a few plot twists (courtesy of the Steph Lady-Frank Darabont script) and interesting cast (from Robert DeNiro's somewhat thankless role as the monster to Ian Holm, John Cleese and Tom Hulce in small supporting turns), but there are still too many scenes of Branagh shouting and running up and down staircases — all to the strains of an equally bombastic Patrick Doyle score. Meanwhile, the bookending sequences involving Aidan Quinn and his frozen Arctic ship confirm that James Whale and other filmmakers were wise in their decisions to axe that element of the story from prior adaptations.
A good looking movie though on every level, "Mary Shelley's Frankenstein" makes sense as a 4K UHD, and Arrow's Special Edition – featuring a new Dolby Vision HDR grading from the original negative (1.85) – does not disappoint. The presentation boasts a clear and warm rendering of Branagh's visual pallet, doing justice to Pratt's cinematography. Both uncompressed stereo (matrixed surround) and the movie's 5.1 DTS MA mix comprise the audio offerings.
Never having been issued before as a Special Edition, Arrow's release marks the first "deluxe" home video treatment of "Mary Shelley's Frankenstein." New interviews with Patrick Doyle, costume designer James Acheson and make-up designer Daniel Parker lend a retrospective look at the movie, while "Mary Shelley and the Creation of a Monster" offers a wider examination of the source material's genesis, sporting the participation of genre vets Jonathan Rigby, David Pirie and Stephen Volk. The group also appear in a separate featurette that profiles Branagh's alterations to the source material, while a 2K restoration, provided by the Library of Congress, is on-hand for the 1910 "Frankenstein" – the very first cinematic adaptation of the story – complete with music by Donald Sosin. Trailers and a new commentary by historians Michael Brooke and Johnny Mains round out the single-disc UHD release.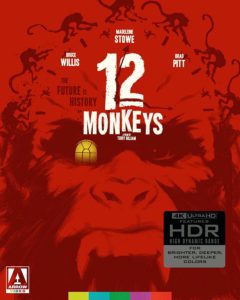 A surprise box-office misfire, intended by producer Francis Ford Coppola to be a companion to his "Bram Stoker's Dracula" smash from a few years before, "Mary Shelley's Frankenstein" is an interesting but not altogether successful attempt at elevating Shelley's tale to a level of almost Shakespearian tragedy. Portions of it work, others fall flat, but Arrow's 4K UHD pays respect to its ambitions, highlighting its strongest virtues and enriching the project with solid extras across the board.
Also newly released from Arrow on 4K UHD is one of director Terry Gilliam's biggest commercial hits, 12 MONKEYS (129 mins., 1995, R), a reworking of Chris Marker's short "La Jetee" featuring Bruce Willis as a time traveler from the future who heads back to 1996 in order to prevent the outbreak of a virus that's going to wipe out most of humanity. Madeleine Stowe and an over-the-top Brad Pitt play opposite Willis in a gritty film – again shot by Roger Pratt – that ranks as one of Gilliam's more accessible pictures. Arrow's 4K UHD is a format upgrade over its 2018 Blu-Ray Special Edition derived from the same source, highlighted by an exclusive restoration of the original negative, produced by Arrow, along with 5.1 and 2.0 DTS MA soundtracks. Extras are mostly reprised from Universal's old release, including the Keith Fulton-Louis Pepe documentary; Gilliam and producer Charles Roven's commentary; a 1996 Gilliam interview with critic Jonathan Romney; an appreciation from author Ian Christie; and the trailer.
---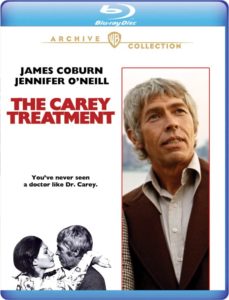 Warner Archive May Releases
One of the least known offerings in Blake Edwards' filmography, THE CAREY TREATMENT (101 mins., 1972, PG) was one of several problematic productions for the director during the early '70s. Making his second film for beleaguered studio MGM, Edwards' frustrations on his first effort for the studio – "The Wild Rovers" – ended up being repeated in this follow-up, where MGM executives, according to star James Coburn, pulled the plug on the picture before it was completed. Edwards likewise butted heads with MGM brass over the final cut, eventually satirizing his ordeal as part of his trenchant 1981 satire "S.O.B."
Remastered this month on Blu-Ray from Warner Archive, "The Carey Treatment" has lots of compelling viewing components in spite of its obvious problems. Irving Ravetch and Harriet Frank Jr. (utilizing the pseudonym "James P. Bonner") scripted the first novel from Michael Crichton (then using a pseudonym of his own, "Jeffrey Hudson"), which allows star James Coburn – easily the movie's strongest asset – to give a laid-back, appropriately "Coburnish" performance as a West Coast pathologist who quickly gets wrapped up in a murder investigation after he joins a Boston hospital staff. Timely issues involving an abortion gone wrong and a fellow colleague (James Hong) being unfairly targeted ensue, but the movie's pacing and assorted components – the main "thriller" line, Coburn's romance with Jennifer O'Neill, Edwards' occasional comedic flourish – fail to gel, despite the strong widescreen lensing and Boston location work.
Warner Archive's Blu-Ray looks dynamic with a superlative 1080p (2.41) transfer and mono sound. "The Carey Treatment" was produced during Edwards' divorce from Henry Mancini, resulting in a score by Roy Budd that's groovy and functional, even with its main title coming off like an "NBC Mystery Movie" theme. It would take one more high-profile disappointment – "The Tamarind Seed" – for Edwards to get back on track, Mancini finally in tow, with "Return of the Pink Panther" in 1975.
Also debuting on Blu-Ray this month is the celebrated 1941 MGM version of DR. JEKYLL AND MR. HYDE (113 mins., 1941) starring Spencer Tracy as Robert Louis Stevenson's tortured dual identity. Ingrid Bergman and Lana Turner back up Tracy in a finely acted film more psychological than other takes on the oft-adapted story, which director Victor Fleming handles with a sure, atmospheric hand. Warner Archive's Blu-Ray (1.37 B&W, mono) offers another strong transfer with the trailer as its sole extra.
---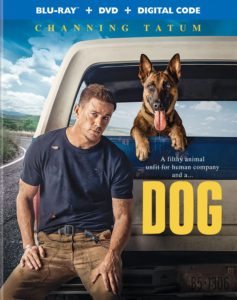 Also New & Noteworthy
DOG Blu-Ray (101 mins., 2022, PG-13; MGM/Warner): Strange yet enjoyable character drama for star Channing Tatum, here playing a PTSD-afflicted vet who, in order to receive a letter restoring him to active duty, is tasked with taking a road trip with a equally traumatized Belgian Malinois en route to a friend's wedding. Tatum also directed this film along with writer Reid Carolin and the result is a dramatized rendition of an HBO documentary they previously made about veterans and the canines who help them through their battle scars, internal and external injuries – it's a little uneven but its heart is certainly in the right place, and Tatum is terrific. Warner's Blu-Ray is light on extras (1080p, 5.1 DTS MA) but does include a Digital HD copy and DVD.
BELLE Blu-Ray/DVD (122 mins., 2021, PG; Gkids/Shout! Factory): Studio Chizu ("Mirai") and director Mamoru Hosoda reunite for this contemporary story of a shy girl named Suzu who lives in a rural, quiet community. Her mundane life is contrasted by her online persona, Belle, a world-renowned singer in an online virtual world named "U." Once she finds out about a mysterious Beast, she sets out to uncover the creature in a fascinating reworking of "Beauty & The Beast" that critics hailed upon its distribution a year ago. Gkids' Blu-Ray (2.39, 5.1 DTS MA Japanese and English) is available this month featuring a Making Of, Hosada interview, featurettes and more, along with a DVD copy.
NEXT TIME: Kino Lorber May releases! Until then, don't forget to drop in on the official Aisle Seat Message Boards and direct any emails to our email address. Cheers everyone!