Message Board (open 24 hours!)
Twitter - @andredursin (for everything else!)
John Landis' wild 'n wacky horror favorite AN AMERICAN WEREWOLF IN LONDON (91 mins., 1981, R), his offbeat 1981 box-office hit, debuts on 4K UHD this month from Arrow boasting a new, Dolby Vision HDR graded 4K transfer working off color grading Landis himself approved in a 2018 HD master. The movie's disappointingly flat ending aside, Landis' revisionist genre exercise remains a blast of enthusiastic, then risk-taking filmmaking from a director coming off a smash success ("National Lampoon's Animal House"). Though often imitated, Landis' mix of horror and comedy was groundbreaking at the time of its release, as was its outstanding, Oscar-winning Rick Baker make-up effects.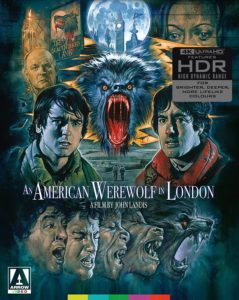 Housed in a familiar Limited Edition slipcase, Arrow's new 4K UHD presentation greets fans with a Dolby Vision graded transfer that's brighter and clearer than any presentation we've seen of the film before. Sure, the film's soft and grainy spots still look well, softish and a bit dirty, but the colors and clarity of the image (especially during the London sequences) still shine through, in a manner surpassing all previous Blu-Rays – as well as a German 4K UHD import that may well have simply been an upconversion of a 1080p source. Arrow's 4K UHD, by comparison, not only looks notably brighter, but the colors are warmer and there are s/[harper details in the image throughout, making this the definitive presentation of Landis' comic-horror favorite on home video to date.
Audio options remain from Arrow's prior Blu-Ray edition: the 5.1 remixed DTS Master Audio soundtrack is limited in its fidelity by the age of its elements, but it's pleasing at times whenever the sound takes advantage of directional effects, or the bouncy array of genre-themed tunes that pop up (along with Elmer Bernstein's sparse score) on the soundtrack. Arrow also pitch corrected some of the track for this release, while the original mono soundtrack is on-hand for purists.
Arrow's extras boast a bountiful assortment of goodies carried over from their Blu-Ray release. While (most) all the supplements from the movie's prior Special Edition packages are back here (commentary, Landis interview, outtakes, the prior "Making Of" and other featurettes), a feature doc produced by Arrow looks at the history of the Werewolf in film and sports interviews with Landis, Joe Dante, David Naughton and many others. There are also video essays from filmmaker Jon Spira (about the film's "Jewish identity"), Colin Hardy and Simon Ward (on the film's influences), and SFX artist Dan Martin (various props from the film), plus a 2018 commentary from filmmaker Paul Davis (an older commentary from Griffin Dunne and David Naughton has also been ported over).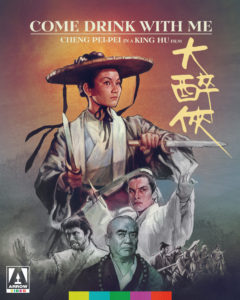 Speaking of Davis, his terrific documentary "Beware the Moon" is also on-hand, offering a feature-length recounting of the picture's inception and production, from Landis' original script through casting, filming and its extensive special effects work. Image galleries, trailers and TV spots, a mini fold-out poster, and 60-page softcover book – all reprieved from Arrow's 2018 Blu-Ray limited edition – put the finishing touch on another stellar Arrow release. Highly recommended!
Also New From Arrow: Before Shaw Brothers' kung fu faves lit up the HK box-office during the 1970s, the studio produced a number of "wuxia" films wherein sword fights are played out with wild, tumbling aerial assaults. One of the higher-regarded of these films was COME DRINK WITH ME (95 mins., 1966), the story of a young swordsman who has to rescue the Governor's son from bandits – themselves unaware the warrior is a girl (Cheng Pei-pei, who later appeared in Ang Lee's "Crouching Tiger, Hidden Dragon"), and the sister of their captive. A film that set the standard for numerous genre films that followed, Arrow's Blu-Ray houses a good-looking 1080p (2.35) transfer with English or Mandarin audio; a new commentary from HK authority Tony Rayns; a 2003 interview with its star; a 2007 interview with co-star Yueh Hua, a 2003 talk with co-star Chen Hung-lieh; a 2016 with Pei-Pei shot in Hawaii; a documentary on the history of the wuxia film produced in HK by Celestrial Pictures in 2003; an image gallery; and trailers…Historically difficult to track down outside its native Japan, Kaizo Hayashi's strange TO SLEEP AS TO DREAM (83 mins., 1986) debuts on Blu-Ray this month from Arrow, enabling North American audiences the opportunity to see the film in a pristine HD transfer. Hayashi's story, about two private detectives searching for an actress trapped within a silent ninja film reel, pays homage to everything from Japan's cinematic history to David Lynch with its offbeat B&W imagery. Best appreciated by Japanese cinephiles, Arrow's BD includes a 1080p (1.37 B&W) transfer with mono sound; a commentary from critics Tom Mes and Jasper Sharp; a 2000 Japanese commentary with the director and lead actor Shiro Sano; additional new interviews, featurettes, trailers and an image gallery.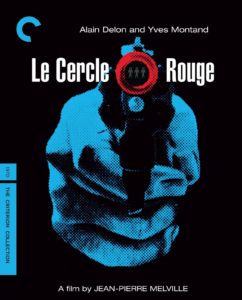 Also debuting this month in a 4K UHD/Blu-Ray combo package from Criterion is Jean-Pierre Melville's LE CERCLE ROUGE (140 mins., 1970), a well-acted if…well…leisurely tale of four desperate men: a thief (Alain Delon), just out of prison, who hatches a plan to steal diamonds after being spurred on by a guard; another thief (Gian Maria Volonte) who coincidentally crosses his path, and is on the lam after escaping from a dogged Inspector (Andre Bourvil), hot on their trail; and an ex-cop (Jves Montand), battling his own personal demons, who assists in Delon's heist.
The 4K Dolby Vision HDR grading in this Studio Canal restoration of "Le Cercle Rouge" has met with some mixed reaction from long-time admirers of the film, yet I can't say that – just based on a single viewing – that the crisply rendered images and cool, blueish tone of the transfer weren't compelling from start to finish. Criterion's UHD looks dazzling, and the film itself is certainly "good" but its hefty running time isn't entirely warranted – no wonder the movie was cut back a seeming number of times outside its native France, as plenty of moments drag, even in its concluding half.
Nevertheless, "Le Cercle Rouge" is a strong remaster Criterion has just released with a UHD sporting the Dolby Vision grading and uncompressed PCM mono sound. The accompanying Blu-Ray (1.85) presents a 1080p rendering of this new presentation, along with extra features: a 1971 French TV program featuring Melville; interviews with assistant director Bernard Stora and Rui Nogueira; on-set and archival footage featuring interviews with the stars; the trailer; and essays including an appreciation from director John Woo.
---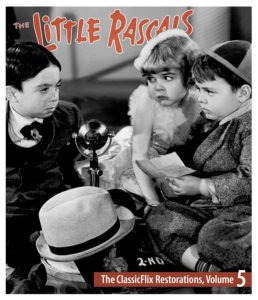 New on Blu-Ray
Coming home from kindergarten I remember my grandfather having the TV on and watching reruns of "The Jackie Gleason Show" which would run into "The Little Rascals" and a block of programming for kids just getting home from school. It was then that I first encountered the adventures of Spanky, Alfalfa and the LITTLE RASCALS gang – the Hal Roach-produced black-and-white shorts that captivated audiences during the '30s and for many years thereafter on the big-screen and syndicated TV packages.
Classic Flix has done a sensational job remastering these archival shorts for Blu-Ray, producing spectacular compilations of the first "Our Gang" shorts in a quartet of previous releases that ought to be essential purchases for fans. The label's all-new Volume 5 (214 mins., 1935-36), which becomes available April 5th, provides over three hours of Little Rascals fun from the mid '30s – shorts that likely mark the beginning of most viewers' familiarity with the series, as these episodes hail from a transition away from star Wally Albright and into the classic teaming of George "Spanky" McFarland with Carl "Alfalfa" Switzer, who makes his debut among these shorts, and who would soon become the breakout co-star of the franchise.
Among the specific shorts included in Classic Flix's disc are "Anniversary Trouble," "Beginner's Luck" (Alfalfa's debut), "Teacher's Beau," "Sprucin' Up," "Little Papa," "Little Sinner," "Our Gang Follies of 1936," "The Punch Singer," "Divot Diggers," "The Lucky Corner," "Second Childhood," and "Arbor Day." Also making her debut here, in the "Our Gang Follies of 1936," is Darla Hood, who would, like Alfalfa, become a series mainstay across some 51 shorts that later generations of viewers (like myself) would be more familiar with than the previous shorts Classic Flix assembled in the series' first four volumes. The set also includes episode synopses and trivia tidbits, and comes, like Classic Flix's previous Blu-Rays, highly recommended!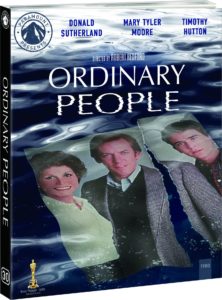 Paramount's latest "Paramount Presents" Blu-Ray remaster – working off a fresh 4K scan – offers the premiere (and long-overdue) format presentation of Robert Redford's Oscar winner ORDINARY PEOPLE (124 mins., 1980, R). This searing adaptation of Judith Guest's novel looks at a seemingly "ordinary" yet deeply hurt and dysfunctional domestic clan presided over by parents Donald Sutherland and Mary Tyler Moore. Timothy Hutton is their wounded child with Judd Hirsch his understanding psychiatrist in a uniformly well-performed picture that earned Oscars for Best Picture, Redford's direction, Alvin Sargent's adapted screenplay, and Hutton's performance – making him the youngest at the time to win Supporting Actor.
Despite being a widely acclaimed film, "Ordinary People" has never been released on Blu-Ray until now. Paramount's Redford-approved 4K transfer (1.85) looks fine in 1080p but one wishes the studio would include a legitimate Dolby Vision HDR 4K transfer on UHD, as that package is available digitally. Extra features include new interviews with Judith Guest and Timothy Hutton, and a Digital HD code which redeems the full 4K version on Itunes.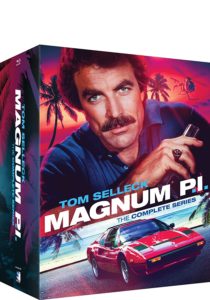 One of the most enduring series of the 1980s, MAGNUM, P.I. (1980-88, Mill Creek) debuted shortly before Christmas 1980 on CBS. The series it replaced – the similarly long-running, successful "Hawaii Five-O" – was a hugely popular, classic show, and CBS smartly looked for way to utilize that series' Hawaii locations and sets that were still standing.
The result might have locked up star Tom Selleck and prevented him from playing Indiana Jones, but it nevertheless proved to be the signature role for the actor – an easy-going private detective who takes on a bevy of cases on the island paradise, accompanied by war vet friends T.C. (Roger E. Mosley) and Rick (Larry Manetti), while living on the estate of the secretive author Robin Masters. There, Magnum would spar with estate runner Higgins (John Hillerman), causing some trouble – but more trying to help assorted people out of it throughout the course of its eight seasons.
Airing for the bulk of its run on Thursday nights at 8 – at least until "The Cosby Show" took enough of a bite out of its ratings that CBS moved it back a night – "Magnum P.I." was an immediate hit and remains an endearing show. The mix of Selleck, reliably written scripts, Hawaiian locales and the right tone proved undeniably appealing, and Mill Creek's new Blu-Ray box includes the complete run of the Glen Larson/Donald P. Bellisario-created series across some 30 discs. The 1080p (1.33) AVC encoded transfers are satisfactory for the set's economical price, and the Universal HD masters are strong – it's just the encoding of them leaves a bit to be desired with wonky compression, most visible during outdoor shots. Yet it's not enough to not give a hearty recommendation for this package, as the gains over standard-def masters are obvious.
Mill Creek has also included some new extras here: fresh conversations with composer Mike Post (whose theme replaced a more laid back, Mancini-like composition from Ian Freebairn-Smith that ran early in the show), show vet Reuben Leder, and actress/writer Deborah Pratt. There are also commentaries on final season episodes by writer Jay Huguely and Charles Floyd Johnson, while a DVD-era "Great '80s TV Flashback" episode, promo for the long-defunct Sleuth network, and pair of "Rockford Files" crossover episodes are on-hand, plus a short featurette detailing the series' crossover with another '80s CBS prime-time institution, "Murder, She Wrote." Warmly recommended!
---
Also New & Noteworthy
MARRY ME Blu-Ray/DVD (112 mins., 2022, PG-13; Universal): I'll give Jennifer Lopez credit for producing and starring in what's supposed to be a throwback to the kinds of romantic comedies of years past – yet the flaccid "Marry Me" isn't about to evoke memories of Julia Roberts cavorting about some 30 years ago. J Lo plays a "betrayed pop star" (shades of reality at play here, clearly) who decides to spurn the celebrity singer (Maluma) she's supposed to publicly marry, and instead brings a high school teacher (Owen Wilson) on-stage as her husband to be. Kat Curo's movie is all about whether or not the duo can actually have any kind of relationship – but while Lopez and Wilson try hard, their chemistry isn't all that convincing, nor is the John Rodgers-Tami Sagher-Harper Dill screenplay. Universal's Blu-Ray (2.39, 5.1 DTS MA) is now available sporting deleted scenes, a gag reel, commentary, a DVD, Digital HD copy, and numerous behind-the-scenes featurettes.
FOR LOVE OR MONEY Blu-Ray (99 mins., 2021, R; Lionsgate): In Leslie Small's film, Keri Hilson plays a woman who left a successful career in the corporate world – only to be pulled back into the fray, at the expense of her daughter's safety, after a suspicious individual threatens her life. Katt Williams and Lisaraye McCoy co-star in this Freestyle Releasing production, new to Blu-Ray this month from Lionsgate (1.78, 5.1 DTS MA), with their disc also including a Digital HD copy.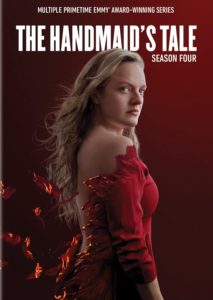 RICK & MORTY – Seasons 1-5 Blu-Ray (1143 mins., Warner): Complete package of the first five seasons of the Cartoon Network "Adult Swim" series finds Rick Sanchez (voiced by Justin Roiland) living with his daughter's family and causing all kinds of trouble across the universe. This off-the-wall show is back on Blu-Ray in an updated anthology coupling its first five seasons – all 51 episodes – with 1080p HD transfers and DTS MA 5.1 soundtracks. Extensive special features include Animatics; deleted animatic sketches; featurettes; and episode commentaries from the series' creators. Not for every taste, but fans should eat it up, with a Digital HD code available as well in the multi-disc set.
THE HANDMAID'S TALE: The Complete Fourth Season DVD (519 mins., 2021; MGM/Warner): Elisabeth Moss' June claims her position as a rebel leader and decides to take on the oppressive Gilead while risking her own soul with a potentially all-encompassing quest for vengeance in this fourth season of the popular cable series. Joseph Fiennes, Yvonne Strahovski, and Alexis Bledel co-star in the latest go-around for the acclaimed, dystopian series, whose fourth season debuts on DVD (16:9, 5.1) on April 5th. Extra features include "One Burning Question" supplements with cast, crew/fan reactions related to each episode.
Film Movement New Releases: Ivan Ostrochovsky's SERVANTS (81 mins., 2021) chronicles the life of two novitiates living under the oppressive Communist regime in 1980 Czechoslovakia, specifically the government and secret police's attempts at molding their school's students into proper slaves in the system. Film Movement's DVD (1.33, Slovak with English subtitles) is available April 12th also including Martin-Christopher Bode's German short "A Good Story" as a bonus feature…From Corinth Films comes the DVD compilation DRIVE-IN RETRO CLASSICS Science Fiction Triple Feature, which includes three Wade Williams-licensed '50s B-genre favorites: "Rocketship X-M" (77 mins., 1950) starring Lloyd Bridges; the 1958 John Agar vehicle "The Brain From Plant Arous," directed by Nathan Juran; and the Z-grade effort "The Hideous Sun Demon" (74 mins., 1959).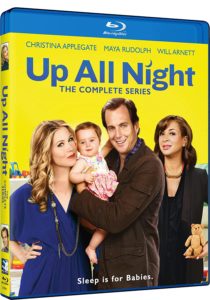 Mill Creek New Releases: Available for the first time in a Blu-Ray set is the early '10s network TV comedy UP ALL NIGHT (aprx. 12 hours, 2011-12; Universal). In its two-season run, Christina Applegate and Will Arnett played a couple with a newborn who struggled to mix parenthood with their former social life in this amiable, if not particularly funny, Lorne Michaels/NBC series. "Up All Night" co-stars Maya Rudolph as Applegate and Arnett's talk-show host best friend with a wide array of guest stars including Jason Lee, Molly Shannon, Megan Mullally and Stevie Nicks among others. Mill Creek's Blu-Ray includes perfectly serviceable 1080p (1.78) transfers and 5.1 DTS MA soundtracks.
Also new from Mill Creek are a pair of the label's low-priced "Decades" DVD anthologies, each featuring nearly a dozen titles culled from the Columbia/Tri-Star Sony vaults. THROUGH THE DECADES: 10 FILM COLLECTION 1980s boasts Like Father Like Son; Vice Versa; Roxanne; Punchline; Who's Harry Crumb?; Blue Thunder; Suspect; Band of the Hand; Little Nikita; and The New Kids, all in 16:9 transfers. THROUGH THE DECADES: 10 FILM COLLECTION 1990s, meanwhile, also offers a mix of titles from Universal along with Sony offerings. On-hand here are Housesitter, The Matchmaker, White Palace, One True Thing, Donnie Brasco, The Devil's Own, The Freshman, Anaconda, I Know What You Did Last Summer and The Deep End of the Ocean.
---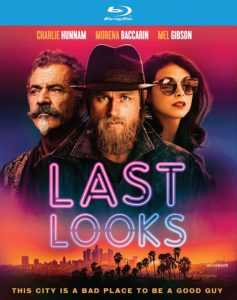 Quick Takes
Well Go USA New Releases: Debuting April 4th from Well Go, THE LONG NIGHT (91 mins., 2021, R) is a predictable yet reasonably competent horror outing from director Rick Ragsdale. Rob Zombie vet Scout Taylor-Compton plays a young woman who heads back south alongside her boyfriend (Nolan Gerard Funk) looking for the parents she's never known – only to run afoul of a satanic cult who wants her as part of a ritual. Ragsdale provides a commentary with three featurettes, the short "The Loop" and the trailer included in a Well Go release (1080p, 5.1 DTS MA) for a Shudder offering a cut above the usual for this kind of thing – at least until a perfunctory, by-the-numbers ending – thanks to a good cast that also includes Deborah Kara Unger and Jeff Fahey…Following on April 12th from Well Go is Yoon Jae-Keun's SPIRITWALKER (109 mins., 2021), a Korean import about a car accident victim who wakes up in a new body every 12 hours – all the while being pursued by agents and criminals alike. Well Go's Blu-Ray includes a behind-the-scenes featurette, trailers, and both DTS MA Korean audio and an English dub.
LAST LOOKS Blu-Ray (110 mins., 2021, R; RLJE Films): Charlie Hunnam is Charlie Waldo, a former cop who comes out of retirement in order to find out who killed the wife of a washed-up Hollywood star (Mel Gibson). Howard Michael Gould adapted his own book for this modern day noir which includes a superb cast across the board, with Morena Baccarin and Rupert Friend among them, but director Tim Kirkby is unable to make this into anything more than a messy wannabe "contemporary crime thriller" with characters you never care about – and a cast that deserved better. RLJE's Blu-Ray (2.39, 5.1 DTS MA) is available April 12th and includes a Making Of featurette.
DESPERATE RIDERS Blu-Ray (90 mins., 2022, PG-13; Lionsgate): Limp western stars Drew Waters as a gunslinger who rescues a young boy and promptly finds out his mother has been kidnapped by a notorious outlaw (Trace Adkins). Tom Berenger pops in a cameo in Michael Feifer's pedestrian drama that's sunk by alternately bland or deficient performances (Adkins especially) and a script that offers few surprises. Lionsgate's Blu-Ray (1.78, 5.1 DTS MA) is available this week and includes a Digital HD copy.
FAMILY SQUARES DVD (95 mins., 2021, R; Screen Media): I'm not sure how many takers there will be for pandemic-shot movies filmed "remotely" over Zoom, but Stephanie Lang's movie "Family Squares" — which follows an estranged family coming together after the death of their matriarch — is at least a noble effort, even if it does come off like a movie that was filmed the same way as all those insufferable "remote learning days" us parents have had to live through since 2020. Ann Dowd, Judy Greer, Margo Martindale, June Squibb and Henry Winkler star in the film, debuting this week on DVD (16:9, 2.0/5.1) from Screen Media.
THE HONEYMOONERS SPECIALS DVD (MPI): Jackie Gleason reunited with Art Carney and Jane Kean for a handful of "Honeymooners" specials from 1976-78, some time after the series had left the air. Included here in this complete set are "Second Honeymoon," "A Christmas Carol" plus "Valentine Special" and "Christmas Special." An interview with Kean is included plus a pair of Honeymooners parody sketches and more in MPI's now available DVD.
NEXT TIME: Kino Lorber March Mania Redux! Until then, don't forget to drop in on the official Aisle Seat Message Boards and direct any emails to our email address. Cheers everyone!