Message Board (open 24 hours!)
Twitter - @andredursin (for everything else!)
The majestic visuals found in much of French director Jean-Jacques Annaud's work makes them ideally suited for a reappraisal in 4K UHD, yet none of Annaud's films have seen a release in the format – until now. THE LOVER (115 mins., 1992, R; Capelight/MPI), Annaud's controversial 1992 picture, marks the first of his movies to receive a 4K restoration presented with Dolby Vision HDR, and the combination of Robert Fraisse's cinematography and Annaud's attentive eye produce a sumptuous visual feast enhanced by warmly saturated colors and details – all heightened on UHD, where it's even easier to appreciate Annaud's trademark capture of specific historical settings, which often have a transportive, "you are there" effect on the viewer.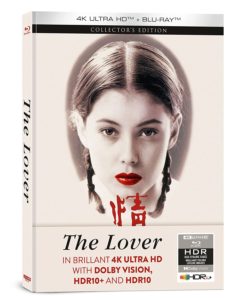 The setting in "The Lover" is French Indochina circa the late 1920s, where a French teenager (Jane March) from a rural, poverty-stricken family – a widowed schoolteacher mother, an opium-addicted older brother and developmentally troubled younger brother – meets a wealthy Chinese man (Tony Leung Ka-Fai) en route back to her school in Saigon. The two engage in an affair that was taboo both for her age and its interracial components, with Annaud and writer Gerard Brach adapting Marguerite Duras' autobiographical writings for a film that superbly captures time and place, anchored by a "forbidden" love affair that one character seems much easier to ultimately break free from than the other.
"The Lover" generated some publicity when it premiered in the fall of 1992 due to the subject matter and its steamy love scenes. MGM released the film in the U.S. and cut some 13 minutes from the picture, with the movie losing much of its cumulative power in the process. Annaud's original version was eventually released – with an R rating – on home video by MGM, though the studio's distribution of the picture has since lapsed back to Renn Productions, resulting in this new Special Edition.
The 4K UHD restoration of "The Lover" offers a beautiful Dolby Vision/HDR10+ grading that plays to the strengths of Annaud's film, heightening the look, mood and feel of a film that's locked in the memory of its young protagonist, almost like a cinematic daydream. The sound design (presented in a 5.1 DTS MA track) is likewise integral to the presentation, overflowing with directional activity and atmosphere, not to mention an alternately uneasy/ethereal Gabriel Yared score. This restoration, released by Capelight overseas and here distributed by MPI in an identical Digibook package, also includes a Blu-Ray of the restored transfer, which should make it additionally appealing to viewers seeing as the movie never generated a home video release beyond MGM's initial home video and later DVD editions. Extra features include an English-subtitled, hour long archival look at the production; a conversation prior to the film's shoot featuring Annaud and Dumas herself; picture galleries; a 24-page booklet; and roughly 10 minutes of deleted scenes, albeit without any audio.
Watching "The Lover" here makes one hope some of Annaud's other works which capture a variety of historical settings – be it the Russian battlefields of "Enemy at the Gates," the medieval mystery of "The Name of the Rose," and prehistoric adventure found in "Quest For Fire" – receive a similar treatment in 4K UHD soon.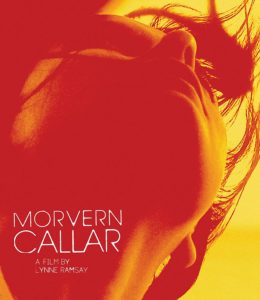 MORVERN CALLAR Blu-Ray (97 mins., 2002, R; Fun City Editions): Samantha Morton gives a superb performance in the oddly titled "Morvern Callar," an adaptation of Alan Warner's novel about a Scottish woman who wakes up to find her boyfriend having committed suicide. If that wasn't shocking enough, it's what happens afterwards that's so intriguing in Lynne Ramsay's film – Morvern takes his unpublished manuscript, hacks up his body, and passes off his work as her own. Eventually Morvern takes a trip to Spain along with a friend of hers, hoping to start a new life with a big advance for the novel, while seldom contemplating her actions from the gloomy landscape they've just left.
Morton's turn in the title role is the big draw to this independent picture which I scarcely recall making much noise here in the U.S., but it's certainly a moody, atmospheric, character-driven film that's beautifully shot by Alwin Kuchler and another unique entry in Fun City Editions' growing roster of offbeat Blu-Ray premieres. This 2K restoration (1.85) from the 35mm interpositive looks superb and enhances the contrasting Scottish and Spanish settings of the film. A new video essay from Chris O'Neill dissects the material, as does a new commentary from frequent format commentators Alexandra Heller-Nicholas and Josh Nelson. Both US and UK trailers are on-tap along with essays from K.J. Reith and Margaret Barton-Fumo.
---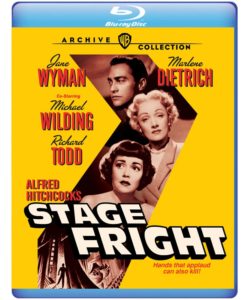 Warner Archive New Releases
Even second-tier Alfred Hitchcock is superior to many filmmakers, which is what we have on-hand in STAGE FRIGHT (110 mins., 1950). One of the last remaining U.S. studio films of the director to receive a Blu-Ray release, this B&W thriller was shot in London with Jane Wyman starring as a drama student who takes a job as a maid to a stage star (Marlene Dietrich) whom her boyfriend (Richard Todd) says is responsible for a murder he's being blamed for. This Warner outing offers a dynamic cast with Alastair Sim and Michael Wilding also on-hand, and while most critics have long rated this as sub-par based on the Master of Suspense's comparable genre efforts, "Stage Fright" is still entertaining and capped by a satisfying ending. Warner Archive's Blu-Ray (1.37 B&W) presents a new HD master of the film that offers gains in detail and contrast over its previous DVD, though the source elements were reportedly long a hold-up for the movie's HD debut, and aren't quite as pristine as other restorations of the director's works we've seen. The trailer and a Making Of retrospective featurette comprise the extras in the now-available Archive Blu-Ray.
Wrapping up "The Thin Man" saga – as well as its series release on Blu-Ray – SONG OF THE THIN MAN (86 mins., 1947) offers one last go-around for William Powell and Myrna Loy as Nick as Nora Charles, here tasked with finding the killer responsible for taking the life of a jazz bandleader. Dean Stockwell plays little Nick Jr. in this last of the "Thin Man" films – a slight (particularly compared to its predecessors) but genteel outing scripted by Steve Fisher and director Nat Perrin. Fans of the series will want to add the franchise's goodbye outing to their Blu-Ray libraries and Warner Archive's Blu-Ray (1.37 B&W) does not disappoint, the disc also including a "Passing Parade" short ("A Really Important Person"), the cartoon "Slap Happy Lion," and the original trailer.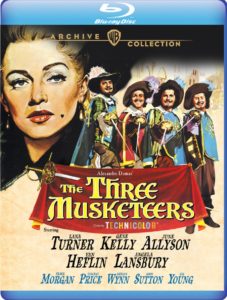 1948 brought audiences a rousing – if somewhat odd given its MGM studio trappings – adaptation of Dumas' THE THREE MUSKETEERS (126 mins., 1948). This lavish vehicle from director George Sidney sports top-billed Lana Turner as Lady de Winter with dastardly Vincent Price as Cardinal Richelieu and a Musketeering group spearheaded by Gene Kelly. It's sufficiently entertaining if a little ramshackle at times, scored robustly by Herbert Stothart and shot in warm Technicolor cues by Robert Planck. Warner Archive's 1080p (1.37) transfer is gorgeous with extras including a vintage cartoon and FitzPatrick Traveltalks short, radio promo, the trailer, and DTS MA mono sound.
Errol Flynn starred in EDGE OF DARKNESS (119 mins., 1943), a Warner Bros. wartime production set in a Norwegian village during the blitzkrieg, showing the heroic if ultimately tragic fight waged by its residents against the Nazis. Flynn's star casting alongside Ann Sheridan, Walter Huston, Judith Anderson and Ruth Gordon fuels a taut and well-regarded WWII picture, scored by Franz Waxman and presented here on Blu-Ray in a detailed B&W 1080p (1.37) transfer with the trailer, WB short "Gun to Gun" and classic cartoon "To Duck…Or Not to Duck" as bonus features.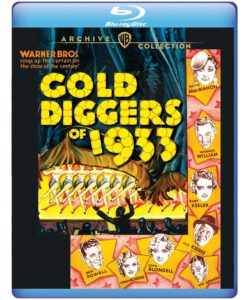 Finally, musical fans should love GOLD DIGGERS OF 1933 (98 mins., 1933), which alternates between romantic/comedic shenanigans and toe-tapping Busby Berkeley production numbers. Hit songs include "We're in the Money," the cast includes Ginger Rogers, Joan Blondell, Ruby Keeler and Dick Powell, who would return for a pair of sequels throughout the 1930s – but this one is regarded as the series' finest as it reworks its 1929 early-sound predecessor with a greater degree of artistry and overall entertainment. Four vintage featurettes, three classic cartoons and the trailer grace Warner Archive's good-looking, restored 1080p (1.37) Blu-Ray alongside mono sound.
THE CAPTURE Blu-Ray (91 mins., 1950; The Film Detective): Early John Sturges drama showcases the director's sensibility to offbeat characterizations as well as embraces a Mexican setting that lends atmosphere to its drama. Lew Ayres stars as an oil man whose payroll is stolen – but pursuing the culprit leads to Ayres killing an injured man who didn't commit the crime. In order to make as much right as he can, he takes a job on the man's farm and eventually falls for his widow (Teresa Wright), in a compelling little RKO programmer that has been restored here in a decent 1080p (1.37 B&W) transfer that's been pulled from a serviceable source though some occasionally dodgy compression/encoding is apparent at times. Featurettes on Sturges and Wright are included along with an essay from Don Stradley and a commentary from author C. Courtney Joyner.
---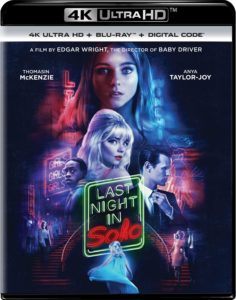 Also New & Noteworthy
LAST NIGHT IN SOHO 4K UHD/Blu-Ray (117 mins., 2021, R; Universal): Edgar Wright's movies are always an interesting watch, often filled with bold visuals, offbeat humor and lots of energy – components which, regrettably, mostly elude the dour, unpleasant "Last Night in Soho."
In Wright and Krysty Wilson-Cairns' original screenplay, Thomasin McKenzie plays a young, timid fashion design student who leaves her grandmother for a bustling London with a dreamy expectation of what the world may have been like back in the romanticized, "mod," swinging '60s. Once she gets there, she's hit with the cold reality of Soho itself and visions of a past involving an aspiring singer/nightclub performer (Anya-Taylor Joy), faceless, cruel men and murder – though the who, the what, and the how elude her as she's pursued by supernatural forces…and possibly some alive ones as well.
Wright's soundtrack is, expectedly, peppered with the era's tunes, appearances by great British stars like Rita Tushingham, Terence Stamp and the late Diana Rigg, and glitzy flashbacks saturated with color – but none of it can shake the banal nature of the movie's screenplay. The picture is stunningly predictable most of the way, with Wright leading the audience down a familiar path where McKenzie slowly finds out about her specter's sad fate, saving a late-game twist for a reveal that's supposed to be shocking yet really isn't, nor does it alter the film's overall effectiveness (or lack thereof). What's more, the picture's fairly engaging first hour gives way to a genre framework that feels overly familiar, especially in its climax, which devolves into an endless bloodbath that's neither satisfying or surprising.
Along the way, Wright also misses an opportunity to really contrast the present with his heroine's visions of an era that never truly existed – one could easily envision a few larger-scaled musical interludes or other set-pieces here that could've injected some energy into the picture, but the mundane "Last Night in Soho" is stuck in neutral for too much of its duration, making it one of the director's few outright cinematic missteps to date.
Universal's currently-available 4K UHD (2.39) offers both Dolby Vision HDR and a Dolby Atmos soundtrack along with deleted scenes and interview segments. The Blu-Ray and a Digital HD copy round out the release.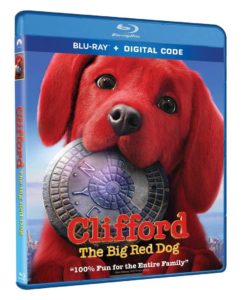 WAYNE'S WORLD Steelbook Blu-Ray (94 mins., 1992, PG-13; Paramount): I guess we can blame Wayne and Garth for the long line of terrible Saturday Night Live movies we've received in the wake of the "Wayne's World" movies, which ruled the box-office in 1992 and, to a lesser extent, in its quickly-shot 1993 sequel. But, taken on their own terms, the pictures movies provided some laughs that hold up fairly well today — references to now-defunct rock groups notwithstanding.
Penelope Spheeris' original 1992 film brought the antics of Illinois' favorite public access TV hosts — rocking metalheads Wayne and Garth — into a feature film that enabled stars Mike Myers and Dana Carvey to utilize their comic skills in a sketch-styled format filled with spoofs, references to movies and TV commercials, and pop culture in general. Clearly, the magic was with the original, where Wayne and Garth are offered a slot at a network TV gig by bigwig Rob Lowe (in a surprisingly amusing performance). Tia Carrere, Donna Dixon, and Lara Flynn Boyle provide the eye candy for our two heroes in the picture, along with a host of cameos.
Paramount brings "Wayne's World" back to Blu-Ray in a new 30th Anniversary "Party On!" Steelbook sporting commentary from Spheeris and exclusive cast/crew interviews; a 1080p (1.85) transfer; 5.1 DTS MA soundtrack; and a Digital HD copy.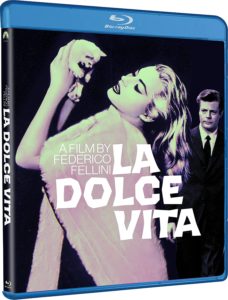 Sporting a new 4K restoration is LA DOLCE VITA (175 mins., 1960), the Italian "New Wave" classic from director Federico Fellini which became one of the cinema's earliest foreign sensations and influenced generations of filmmakers over the years since. Marcello Mastroianni stars as the papparazzi chronicling Rome's rich and famous, with Otello Martelli's cinematography and Nino Rota's scoring making for an instant film classic that would define the "arthouse" experience for decades to come. Paramount's Blu-Ray premieres the Cineteca di Bologna's 4K digital restoration of the film, supervised by The Film Foundation, with Martin Scorsese offering an introduction to a film that he holds dear to his heart.
CLIFFORD: THE BIG RED DOG Blu-Ray (96 mins., 2022, PG; Paramount): The lovable canine star of the long-running bestselling book series created by Norman Birdwell toplines this mostly mediocre kids film from director Walt Becker. On the one hand, kids might still enjoy this "origin tale" about the giant dog's attachment to its young heroine (Darby Camp) and his scattered adventures around New York City, but adults – especially those who may have read the source books, which are comparatively more genteel and sweet – may be turned off by the movie's formulaic, modern shenanigans and over-the-top humor, atypical to the character's previous PBS TV incarnation. Paramount's Blu-Ray is now available featuring a Dolby Atmos soundtrack, deleted scenes, featurettes and a Digital HD copy.
KING RICHARD Blu-Ray (145 mins., 2021, PG-13; Warner): Allegedly (heavily) sanitized version of Richard Williams' story of how he turned daughters Venus and, to a lesser extent, Serena into tennis prodigies is mostly quite well-executed on the part of writer Zach Baylin and director Renaldo Marcus Green. Will Smith is convincing as Williams, whose uncompromising/erratic behavior pushes his girls into the spotlight while trying to promote them on a national level; their inspirational story of rising up, out of Compton and into national prominence is the film's strongest asset. It's only when the movie struggles to find a conventional movie climax that it loses its momentum, settling on an early match Venus had with Arantxa Sanchez Vicario for a typical "big game" formula ending. Otherwise, "King Richard" is sufficiently engaging, and Warner's Blu-Ray looks well detailed in its 1080p (2.39) transfer with Dolby Atmos sound, deleted scenes, a digital copy and featurettes.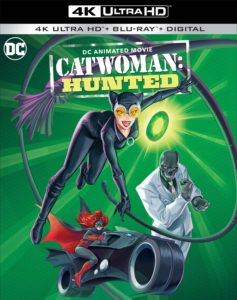 THE SPINE OF NIGHT 4K UHD/Blu-Ray (94 mins., 2021, Not Rated; RLJE): Philip Gelatt and Morgan Galen King wrote and directed this unusual animated fantasy, set in a mystical kingdom where a man gains knowledge and power from a sacred plant – thereby becoming a villain to humanity for generations to follow. The battle waged against him is told in a hand-drawn "style" (even if, I'm assuming, much of this was CG rendered) reminiscent of "Heavy Metal" and other genre efforts from decades ago, while a heap of gore and violence make for a picture suited for "adults" and teen viewers especially. RLJE's UHD includes a deluxe Steelbook package preserving its 4K presentation (1.78) with 5.1 DTS MA sound, a look at the production of the film, and "Exordium" and "Mongrel" short films.
CATWOMAN: HUNTED 4K UHD/Blu-Ray (79 mins., 2022, PG-13; Warner): More colorful than usual DC animated movie puts Selina Kyle – better known as Catwoman – into the spotlight. After dodging the likes of Batwoman around town, Catwoman heads out to steal a prized emerald while having to contend with Leviathan as well as a slew of other assassins in an anime-styled affair that should appeal more to younger viewers than hardcore DC fans. It's still passable, with Elizabeth Gillies and Stephanie Beatriz providing the lead voices under the direction of Shinsuke Terasawa. An HDR10 HVEC-encoded transfer graces Warner's 4K UHD, out this week, along with the Blu-Ray and a Digital HD copy in the studio's combo pack. The set also includes a pair of featurettes.
DITCHED Blu-Ray (86 mins., 2021, Not Rated; Epic Pictures): Better than average indie suspenser about a group of disparate characters – paramedics and violent prisoners – trapped in an overturned ambulance after a planned ambush from an enemy that hunts them down one by one. Marika Sila and Mckenzie Gray star in director Christopher Donaldson's taut and graphic thriller coming to Blu-Ray February 22nd from Epic Pictures (1080p, 2.0 stereo). The disc includes commentary from Donaldson whose original cut of the film is also on-tap here.
---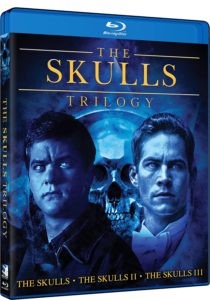 Mill Creek New Releases
THE SKULLS TRILOGY Blu-Ray (Mill Creek): Rob Cohen's 2000 hit THE SKULLS (106 mins., PG-13) was heavily scrutinized by critics for its juvenile plot and lack of believable characters — but what were they expecting, "Three Days of the Condor"? This silly and at times gleefully absurd youth thriller is at least as good as the bottom half of the assorted '90s John Grisham adaptations and presents solid, mindless entertainment for kids and other, undiscriminating viewers (who shall remain almost nameless).
Joshua Jackson (then a hot commodity on "Dawson's Creek") nabs his first top-billed performance as a student at a "Ivy League college in Southern New England that's not Brown" who is indoctrinated into a hush-hush society so secretive that they place a big Skulls logo on the top of their fraternity house. Leslie Bibb, of the underrated late '90s series "Popular," makes for a cute, believable heroine to compliment Jackson's typically charismatic persona, while Craig T. Nelson and William Petersen appear as two of the most powerful "Skull" members.
It's all ridiculous, unbelievable, and predictable from the get-go, but director Cohen – then coming off high-priced disappointments "Dragonheart" and "Daylight" – was obviously was hungry enough to infuse sufficient energy in this trite material to make it work. He also dragged Randy Edelman along to do the score, resulting in a polished production that's a guilty pleasure from start to end.
Mill Creek has brought "The Skulls" to Blu-Ray in a no-frills, bargain-priced Blu-Ray alongside its direct-to-video sequels "The Skulls II" (2001, R) and "The Skulls III" (2003, PG-13). The single disc compilation has no extras and a modest AVC encoded bit-rate (1080p 1.85) but looks fairly good considering some of Mill Creek's recent output in the format, with warm colors. Even better are the full 5.1 soundtracks encoded well in DTS MA.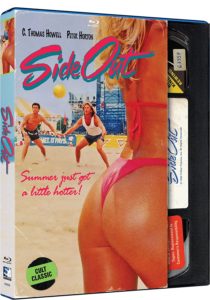 Also new from Mill Creek is the Blu-Ray debut of the Tri-Star volleyball flick SIDE OUT (104 mins., 1990, PG-13). C. Thomas Howell stars as the Midwestern fish-out-of-water who hits Malibu, promptly meets up with lovely Courtney Thorne-Smith, and joins Peter Horton's volleyball sage in spiking some serious volleys against lovely surf and sand backdrops. Harley Jane Kozak and Christopher Rydell co-star with real-life pros Sinjin Smith and Randy Stoklos appearing for good measure in a silly formula picture Tri-Star picked up for distribution. This offers one of Mill Creek's attractive, nostalgic Retro VHS slipcovers but the transfer (1.85, 2.0 DTS MA stereo) is, as usual with the company's recent Sony-licensed titles, up-and-down in terms of compression with some macroblocking and other issues cropping up here and there.
Finally, ULTRAMAN ZERO – THE CHRONICLE (aprx. 11 hours) is focused on the adventures of Ultraseven's son, Ultraman Zero, who has to rise up and defeat Belial and save his Land of Light homeland; later, he stops a Hyper Zetton which attempts to enslave mankind by threatening Earth itself. Mill Creek's 1080p transfers and Japanese 2.0 DTS MA stereo soundtracks are all just fine here, with English dubs available for "Ultraman Zero: The Revenge of Belial" and "Ultraman Saga."
---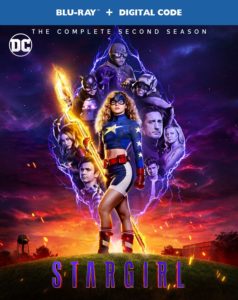 Also New & Noteworthy
STARGIRL Season 2 (535 mins., 2021; Warner): After having to move to Nebraska, teenager Courtney Whitmore continues to balance – or attempt to balance – her life as both a high school student as well as a super-hero. She continues weighing her "day job" as she flunks out summer school with the responsibility of holding the Cosmic Staff which turns Courtney into Stargirl, while also reviving a dormant super-hero team that here takes on the menace of Eclipso and The Shade. Brec Bessinger's engaging lead performance anchors this colorful, unpretentious show – a nice switch from the other DC CW shows – which is back on Blu-Ray in a Season 2 package from Warner (1.78, 5.1 DTS MA). A gag reel, featurettes and a Digital HD copy are included in Warner's Blu-Ray.
GINTAMA: THE VERY FINAL Blu-Ray/DVD (104 mins., Shout! Factory): It's the end of the line for the anime "Gintama." Here, with the Earth facing certain armageddon, the Odd Jobs members come together one last time to stop an extraterrestrial menace. Meanwhile, as Utsuro's strength increases, Takasugi has to stay alive while Gintoki offers the only way out of a difficult situation. Fans of the Eleven Arts series, based on Hideaki Sorachi's source material, ought to be excited by Shout's Blu-Ray/DVD combo pack housing the concluding feature to the series. An exclusive 16-page booklet offers art and storyboards while the 5.1 DTS MA soundtracks include the original Japanese audio or an English dub; the 1080p (1.78) transfer is superb and a DVD rounds out the release.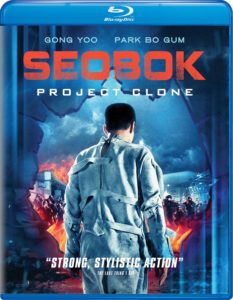 SEOBOK: PROJECT CLONE Blu-Ray (115 mins., 2020, Well Go USA): Coming February 15th is this Korean import starring "Train to Busan"'s Gong Yoo as a former special ops agent tasked with escorting the world's first human clone – whose own DNA possibly houses the answer to skirting death altogether. Action and a discussion over the ethics of cloning inform Lee Yong Zoo's sci-fi thriller, debuting on Blu from Well Go USA sporting a 1080p transfer and DTS MA audio in either Korean (subtitled) or an English dub track.
HEELS: The Complete First Season DVD (8 hours, 2021; Lionsgate): Starz original series stars Stephen Amell and Alexander Ludwig as brothers in a small Georgia town who also serve as wrestling rivals, sparring in the ring and out of it as they battle for their late father's legacy. This is an interesting take on a family drama with a gritty, rural setting lending more atmosphere into the picture than you might expect. Season 1 of the series is new to DVD this week (1.78, 5.1 Dolby Digital) from Lionsgate featuring all eight episodes which were initially broadcast last fall.
FORTRESS Blu-Ray (100 mins., 2021, R; Lionsgate): Jesse Metcalfe goes to visit his retired CIA agent dad (Bruce Willis), only to have him tailed by an old foe (Chad Michael Murray) in this tired direct-to-video effort from director Cames Cullen Bressack, complete with sleepy performances from leads who clearly wish they were elsewhere (and does it even require a mention that Willis is the lead culprit?). Lionsgate's Blu-Ray (2.39) includes a Digital HD copy.
Also New From Lionsgate: POWER BOOK III: RAISING KANAN (aprx. 9 hours, 2021) is a spinoff from the Starz original series — a prequel to be precise, involving Ghost and Tommy's mentor, Kanan Stark, here portrayed as a resourceful teenager, trying to find his identity with a single mother who's also a rising cocaine dealer. Lionsgate's DVD (16:9, 5.1) is now available…An Emmy nominee for Outstanding Television Movie, MAHALIA (110 mins., 2021) stars Danielle Brooks as the "Queen of Gospel," who joined the Civil Rights movement, Martin Luther King, Jr. and Aretha Franklin in preaching racial harmony and social change. Kenny Leon's Lifetime film is well-performed across the board and now available on DVD (16:9, 5.1)…Nathalie Cox plays the title role in MISS WILLOUGHBY AND THE HAUNTED BOOKSHOP (95 mins., 2022, PG), a light period mystery for the Agatha Christie set. Willoughby is skilled in both the fine arts and the martial arts, skills needed as she tries to figure out if her bookshop is actually haunted. Kelsey Grammer co-stars in Brad Watson's film, fresh on DVD (16:9, 5.1) this week from Lionsgate.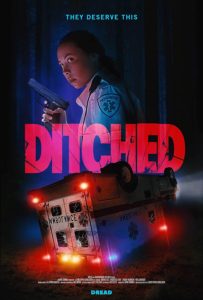 Film Movement New Releases: New on DVD, Joe Odagiri's THEY SAY NOTHING STAYS THE SAME (137 mins., 2019) is the Japanese star's directorial debut. Akira Emoto plays an elderly ferryman in a remote community whose life carries meaning through his interactions with the people and goods he transports – a life threatened when word comes that a bridge is being constructed nearby. A thoughtful and beautifully shot film filled with cameos from assorted Japanese stars, Odagiri's picture debuts February 15th on DVD from Film Movement (2.35, 5.1/2.0 Japanese with English subtitles) and Takuya Chisaka's "School Radio to Major Tom" short as a bonus.
LITTLE GIRL Blu-Ray (88 mins., 2021; Music Box Films): Sensitive French documentary comes to Blu-Ray from Music Box. Director Sebastien Lifshitz profiles a family of a seven-year-old who was born male but who they identify as a female. Their efforts to preach understanding in the rural community they live in forms the basis of this well-reviewed picture now on Blu-Ray featuring an interview with the director; deleted scenes; a Filmmaker Q&A; and a conversation from the New York premiere. The 1080p transfer (2.40) and 5.1 DTS MA soundtrack are both fine.
NEXT TIME: THE ABBOTT & COSTELLO SHOW gets fully restored and remastered for Blu-Ray! Until then, don't forget to drop in on the official Aisle Seat Message Boards and direct any emails to our email address. Cheers everyone!