Message Board (open 24 hours!)
Twitter - @andredursin (for everything else!)
Director Milos Forman's RAGTIME (154 mins., 1981, PG; Paramount) may have been a film that didn't entirely live up to its lofty aspirations, yet seen afresh in Paramount's 4K-mastered new Blu-Ray transfer, it's a beautifully mounted, sumptuously designed adaptation of E.L. Doctorow's celebrated novel, spectacularly shot by the great Miroslav Ondricek and memorably scored by Randy Newman.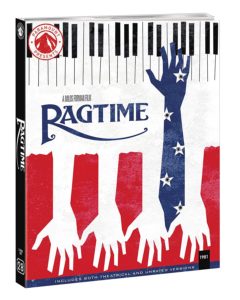 Doctorow's novel captured time and place in its depiction of New York City at the turn of the century, mixing fictional characters from different backgrounds with real people and incidents. Its dramatic "collage" would prove to be a challenge for any filmmaker to adapt, and for producer Dino DeLaurentiis, it meant jumping from director Robert Altman to Forman, who then hired screenwriter Michael Weller ("Hair") to pare down Doctorow's novel for feature length.
The ensuing film attempts to juggle several threads: showgirl Evelyn Nesbit (Elizabeth McGovern) has to take the stand after her husband (Robert Joy) shoots architect Stanford White (Norman Mailer) in Madison Square Garden; a New Rochelle family led by "Father" (James Olson) and "Mother" (Mary Steenburgen) takes in a young black woman (Debbie Allen) and her baby after she's abandoned by the child's father (Harold Rollins, Jr.), the hot-headed yet brilliant pianist "Coalhouse Walker Jr." While Coalhouse later becomes the victim of a racial incident at the hands of bigoted Irish firefighters (presided over by Kenneth McMillan), European immigrant Tateh (Mandy Patinkin) arrives with his daughter in New York City, hoping to stake a new life in the fledgling United States of America.
"Ragtime" brings its era to vivid cinematic life thanks to brilliant art direction, photography and a supportive Randy Newman score that's one of his finest. At some 155 minutes the movie is also never dull, but Forman and Weller ultimately never find a comfortable cinematic way through Doctorow's narrative maze. Understandably, the film tries to hone in on the "Family" and Coalhouse stories, which most directly intersect, yet there's just too much story here to cram into a single feature film, at least not in the manner that the screenplay was configured. Most significantly, the transition of Coalhouse into a legitimate domestic terrorist seems to happen so quickly that the viewer has no measure of time passing – one moment his beloved Model T is ransacked, the next he has a gang of vigilantes (including a young Samuel L. Jackson) deploying bombs around the city. Brad Dourif, playing "Younger Brother" to Steenburgen's character, is also given short shrift, with not enough scenes to augment his downward spiral. Finally, Tateh's arc – meant to convey the immigrant experience – has been diminished down to just a handful of scenes, leading his ultimate fate with Steenburgen's character to come off as completely confounding.
The difficulty in translating "Ragtime" can be clearly seen here in Paramount's marvelous new Blu-Ray, which ranks as one of my favorite catalog releases of the year – not so much because the film itself is a classic (which it's not), but because the supplements provide a movie buff with a rare chance to see the filmmaking process at work. Here, that means the inclusion of a never-before-seen workprint (174 min.) cut of the movie, which shows the movie in a not-quite-finished state.
Forman's longer cut, unearthed for the first time from archival materials provided by the Museum of Modern Art and The Film Foundation, includes many deleted moments and editorial changes. The sequence of scenes is quite different early on as well, illustrating that the director and his editors (including Anne V. Coates) were trying to figure out where and when to place certain scenes (it's worth pointing out this cut is also missing one sequence involving Dourif and McGovern that's included in the theatrical release print). Yet while this version breathes a little bet better and restores some character gaps, the movie's main shortcomings – involving the Tateh character in particular – remain.
Still, the fact Paramount found this cut and included it here in their "Paramount Presents" 2-disc set is a remarkable occurrence (if only Disney had done the same for Jack Clayton's "Something Wicked This Way Comes"!). That comes in addition to even more deleted scenes; a new interview between Michael Weller and screenwriter Larry Karaszewski, who later worked with Forman; and archival materials (a Forman interview and commentary) from the old DVD.
Visually the theatrical version's 4K-mastered 1080p (2.35) AVC encoded transfer is just spectacular, restoring the widescreen grandeur of the film with an equally well-rounded Dolby TrueHD 5.1 soundtrack. The workprint has been transferred on its own platter in a 1080p (2.35) mono encode that's understandably constrained by the source materials, which include sudden shifts to black-and-white. A digital HD copy rounds out the limited-edition, slipcovered release.
"Ragtime" may just miss the mark yet it's still a worthwhile viewing experience for its ambitious story line, Forman's aesthetics, and its interesting passing of the Golden Age of Hollywood – through the appearances of Jimmy Cagney (making his first film in nearly two decades), Pat O'Brien and Donald O'Connor – to young, up-and-coming stars like Samuel L. Jackson and Jeff Daniels. A superb release from Paramount all around.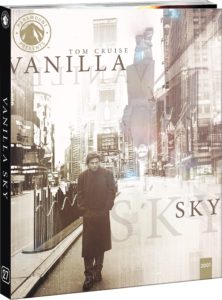 Tom Cruise is in nearly every scene of VANILLA SKY (135 mins., 2001, R; Paramount), Cameron Crowe's American remake of Alejandro Amenabar's overpraised "Abre Los Ojos," and that should tell you something about this overheated relationship drama/sci-fi thriller that suffers from all of the same ailments that plagued Amenabar's original Spanish version.
Cruise plays a pretty boy magazine mogul who falls for gorgeous Penelope Cruz at the same time his jealous, long-time sex partner (Cameron Diaz) decides to commit suicide with Cruise along for the ride. What happens thereafter is difficult to describe without giving the entire film away, but it involves Cruise's possible disfigurement (or does it?), his murder of either Cruz or Diaz (or both?), a possible corporate takeover of his magazine, and a virtual reality company that intrigues not just Cruise but also psychiatrist Kurt Russell.
If you haven't seen Amenabar's film, "Vanilla Sky" offers few surprises, incorporating almost all of "Abre Los Ojos"' plot twists and developments as they occur. For a while, the film is fascinating, but as it unravels — with so many outlandish plot revelations thrown at the viewer — it becomes harder to stay with, with Cruise's memorable line "what the $&#! is going on?" a rallying cry for the audience as well. In the American version, Crowe slings some humor at the viewer, as well as a handful of pop culture references (from album covers to film references), but if anything, they serve to further clutter the already-tangled story, particularly for those who didn't see the Spanish version.
Paramount first brought "Vanilla Sky" to Blu-Ray in 2015 and the title has become another in the studio's superb line of "Paramount Presents" 4K remasters highlighted by a fresh new transfer (1.85, doing full justice to John Toll's effective cinematography; 5.1 Dolby TrueHD audio). This release also offers a new Cameron Crowe interview along with an alternate ending and assorted supplements carried over from prior releases (alternate sequences, vignettes, commentary, Paul McCartney interview, makeup tests) and a Digital copy.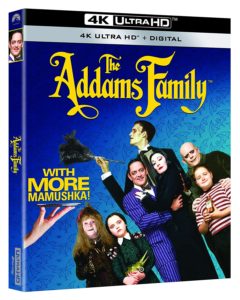 THE ADDAMS FAMILY 4K UHD (101/99 mins., 1991, PG-13; Paramount): Orion Pictures couldn't catch a break back in the early '90s, as the cash-strapped studio managed to produce Oscar winners like "Dances of Wolves" and "Silence of the Lambs," while selling off projects like "The Addams Family" to Paramount – then sat on the sidelines as the latter became the kind of box-office smash they so desperately needed.
Director Barry Sonnenfeld's initial movie adaptation of the Charles Addams characters remains arguably the most entertaining of the lot, carrying a heavy Tim Burton influence through its production design and script by Burton collaborators Caroline Thompson and Larry Wilson. Their overly convoluted plot, however, isn't nearly as much fun as the performances, with Raul Julia and Anjelica Huston delightfully vamping it up as Gomez and Morticia, Christina Ricci in a star-making turn as daughter Wednesday, and Christopher Lloyd a suitable Fester, even if he's saddled with playing a faux imposter (or is he??) for most of this particular story.
Despite the film's commercial success, "The Addams Family" has never been the recipient of any kind of "Special Edition" home video release. This new Paramount 4K UHD is as close as we're going to get, as it sports an all-new extended version that restores the full "Mamushka" song composer Marc Shaiman penned with Broadway greats Betty Comden and Adolph Green. The song was jarringly sliced in half in the finished version, and its restoration here in a 101-minute "More Mamushka" Unrated cut enables viewers to appreciate more of the stage work that the late Julia excelled at. That's included here along with the theatrical edit in a Dolby Vision HDR graded UHD with 5.1 DTS MA sound, an archival featurette, digital copy, and a remotely-conducted interview with Sonnenfeld.
---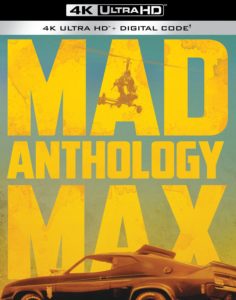 New From Warner Home Video
Soon after George Miller's "Mad Max" and "The Road Warrior" burst onto the cinematic landscape in the early '80s, a whole new genre was born where warring gangs ruled the roads, fighting for gasoline and whatever scraps of food were left behind by scavengers. Many of those imitators have been (deservedly) forgotten as the years have passed, yet the MAD MAX ANTHOLOGY (Warner) itself remains a favorite of fans, with Miller's brilliantly edited set-pieces keeping viewers enthralled despite the familiar settings of its post-apocalyptic wasteland.
Warner Home Video's new 4K UHD box-set offers all of the Max films in HDR10 4K transfers with Dolby Atmos remixes on "The Road Warrior" and "Mad Max Beyond Thunderdome" plus original theatrical audio on parts 1-3 (albeit with an erroneous "Road Warrior" track). The slender four-disc case also features the superb "Road War" documentary on the production of "Mad Max 2" (previously available only in the "High Octane" Blu-Ray box-set) and Digital HD copies for all four films.
The original MAD MAX (88 mins., 1979, R) finds Mel Gibson launching his career as a tough cop in a world where unhinged loonies – including Hugh Keays-Byrne as the nefarious "Toecutter" – attack unsuspecting motorists and innocent civilians. Max's battles with his own bosses – desperately hoping to keep "heroes" on the road – are contrasted with the violent attacks of the gangs, and once Max's partner is killed and his wife and child targeted by the thugs, Max turns from desperation to anger in a soon-to-be-post-apocalyptic society quickly spiraling out of control.
Though "Mad Max"'s world is only semi-futuristic compared to the films that followed, it's still a bleak, and captivating, environment that Miller captured on-screen – particularly considering the era in which the movie was originally released. The various car chases and action sequences deliver the goods, and while the picture – penned by Miller and producer Byron Kennedy from James McCausland's original story – isn't as compelling or tightly packaged as the film's immediate sequel, the original "Mad Max" remains one of the most important productions to originate Down Under. The picture ignited Gibson and Miller's respective careers, single-handedly ushered in a whole genre of similarly-themed cash-ins, and along with the works of Peter Weir, announced the Aussie film industry as a major player in world cinema.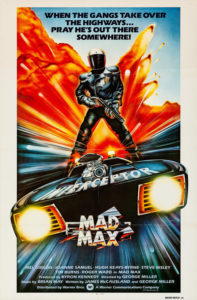 It's also a movie that's perpetually had to shake off a nagging reputation that it's inferior to its sequel – something not helped by the fact that many of us originally saw the film second, after "The Road Warrior" was released, and usually in lousy TV prints at that. With its widescreen Todd-AO dimensions cropped, and its original Aussie dialogue dubbed by Samuel Arkoff's American-International, it's no wonder "Mad Max" came off for many years as the weaker sibling compared to "The Road Warrior." Still, taken on its own terms as an appetizer before the main course, and with its technical trappings restored, it's an involving, memorable picture with striking directorial choices.
"Mad Max"'s 4K UHD transfer here includes an HDR10 transfer, 5.1 DTS MA sound and the original, untouched Australian mono; note this disc is Warner's own encode of the movie, and does not contain previously-issued supplements from MGM or other labels who've released the film over the years.
One of the best looking Blu-Ray catalog releases, "Max"'s sequel, THE ROAD WARRIOR (94 mins., 1981, R), has now been surpassed by a new 4K UHD remaster with HDR10 courtesy of Warner – a release only sabotaged (for now at least) by the lack of its original audio mix.
Gibson returns here as a more haunted, grizzled Max, with the world now completely dominated by punks while bands of humanity attempt to survive in the wasteland. Miller, Terry Hayes and Brian Hannant's script works in elements of classic westerns like "Shane" as Max reluctantly bands together with the survivors – including Bruce Spence's Gyro Captain – to ward off the villains.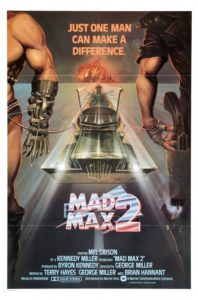 "The Road Warrior" has always been one of my favorite films of the early '80s – an improvement on the original "Mad Max" in every way (from Miller's direction to Gibson's performance and Brian May's more sophisticated, richer score) and a driving, thrilling piece of sci-fi action that's never been duplicated in its genre. Its straightforward story, lack of extraneous dialogue and subplots, emphasis on the pursuit and energy of its chase sequences, and the brilliant editing and choreography of those set-pieces makes it an all-time classic – a movie that stands alone from its bookending pictures as a spectacular piece of filmmaking.
Working from the original negative, "The Road Warrior" looked great on the prior Blu-Ray and has been improved here by finer detail and HDR10 grading. As with before, Dean Semler's rugged, atmospheric cinematography is enhanced by high-def, with eye-popping colors and detailed textures on-hand at every turn; it's a dazzling transfer of a film that demands to be seen this way, or not at all. The audio, alas, is the problem, with the Dolby Atmos remix boasting new effects that carry over to both a 5.1 mix and a 2.0 track that was supposed to be the "original theatrical" soundtrack. Clearly a mistake was made here that Warner will hopefully correct on future pressings. In addition to "Road War," the disc includes a commentary track with George Miller and Dean Semler, along with a brief introduction from Leonard Maltin that puts the movie into the context of its other series films.
The worldwide success of "The Road Warrior" – and in particular its breakthrough performance at the U.S. box-office in 1982 – lead to another sequel, this time augmented by a larger budget afforded by its predecessor's commercial success.
Deciding to go in something of a different direction, George Miller opted to turn MAD MAX BEYOND THUNDERDOME (107 mins., 1985, PG-13) into something of a more "emotional" piece less driven by violence and high-octane set-pieces. Miller and writer Terry Hayes took a cue from Max's arc in "The Road Warrior" and turned him into a slightly more charismatic, "Man With No Name" sort here, with Max stumbling into a post-apocalyptic village named "Bartertown." There, a political struggle ensues between leader Aunty Entity (Tina Turner) and the diminutive "Master" (Angelo Rossitto), who's the only one (apparently) who understands how to produce methane to power the town. Aunty strikes a deal with Max to knock off Master's physical bodyguard "Blaster," but circumstances eventually send Max off into the wasteland again, where he finds a "Lord of the Flies" type community of youngsters waiting for the messianic "Captain Walker" to return.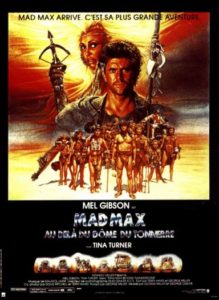 Miller co-directed "Thunderdome" with associate George Ogilvie, something that might explain the uneven pacing of this more ambitious, though decidedly least successful, of the original "Mad Max" trilogy. There are a pair of dynamite set-pieces on-hand when Max takes to the Thunderdome to battle the hulking Blaster, and Miller caps the film with one last, stirring chase with Max and the young refugees trying to escape from Aunty's gang on a train. As potent as these moments are, however, they're surrounded by a meandering mid-section where Max finds the castoff children, who look as if they've come out of the William Golding novel by way of the Ewoks in "Return of the Jedi." Their society isn't nearly as developed as it should've been, and for a group of naive youngsters who presumably haven't encountered anything of the punk-driven outside world, why one of them would drop an f-bomb when they re-enter Bartertown is patently nonsensical.
There's also an obvious lack of energy in "Mad Max Beyond Thunderdome" at times. The thrilling, fast-paced intensity of the earlier films is replaced here with a more deliberately paced fantasy approach, and for fans of "The Road Warrior," this PG-13 rated, decidedly less violent picture can be (and has often been written off as) a shock to the system. Even the production design of Bartertown seems uninspired, employing a "Temple of Doom"-like aesthetic that makes you think Mola Ram is going to pop out at any second.
Still, there are assorted pleasures to be found: Gibson exudes more of his natural charisma here, and this decidedly "looser" Max feels like a natural progression of the hardened warrior who rediscovered his humanity at the end of "The Road Warrior." Dean Semler's wide scope cinematography is once again stylish, and Turner brings sufficient life to her scenes as a scavenger who's recreated herself as the leader of Bartertown ("he's just a raggedy man!"). What's more, Maurice Jarre's glorious orchestral score helps to smooth over some of the picture's rough passages – with its sweeping scale and melodic interludes, "Thunderdome" is one of Jarre's strongest efforts from one of his most prolific periods (his marvelous "Enemy Mine" score would follow just a few months later). In fact, the climactic, 12-minute chase cue has to rank as one of Jarre's greatest in his esteemed career.
Although it's a definite comedown from "The Road Warrior," "Mad Max Beyond Thunderdome" is an admirable attempt at tweaking the formula established by its predecessors. Miller even manages to craft a surprisingly moving epilogue for the film as well, paying tribute to his late associate – producer Byron Kennedy – as the movie fades out and brings the original "Mad Max" trilogy to an emotionally satisfying close.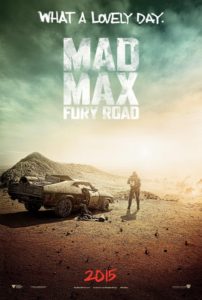 With only the theatrical trailer as an extra, "Mad Max Beyond Thunderdome"'s 4K UHD premiere comes in the form of a robust HDR10 transfer with Dolby Atmos audio (the original audio mix is included as well). That soundtrack packs an impressive punch when Jarre's score takes center stage, though it's unfortunate his final cue was dialed in so low in the original mix.
Bombastic, blaring and bursting with action, George Miller's long-gestating MAD MAX: FURY ROAD (120 mins., 2015, R; Warner) is the very definition of a "hardware movie": a spectacularly assembled collection of set-pieces that, ultimately, comprise one long, sensational chase through a post-apocalyptic wasteland.
A very loose sequel to Miller's groundbreaking trilogy of the '70s and '80s only in that the thinly defined character of Mad Max – here played by Tom Hardy, taking over for Mel Gibson – becomes an unwitting part of the action, "Fury Road" scarcely resembles the films that came before it. Here, Max is taken prisoner by an insane gang presided over by "Joe," their psychotic leader (Hugh Keays-Byrne, who starred in the original) whose harem of young women – designated to produce his offspring – dare to escape their imprisonment. With the help of one of the Big Bad's top drivers, Furiosa (Charlize Theron), the girls break free from Joe's automotive battalion with Max in tow – just in time to take on the villains and other marauders of a desolate, nightmarish world in hot pursuit of the group.
"Fury Road" is an easy movie to review for the most part. There's so little room for character development that the cast is mostly there just to take part in the mayhem. There's so little story that the few fleeting moments in which Max recalls "something bad" in his past are both haunting but frustratingly spare, while the relationship between one of the girls and Nicholas Hoult's anemic "War Boy" feels like a minor aside that was concocted during reshoots. In fact, the opening narration from Max feels, ultimately, unnecessary given how sparse the narrative is – yet Miller also acknowledged this from the very start. "Fury Road" is, in every facet, one long chase designed by the director: every shot, angle, and edit is the work of Miller, who once planned on this sequel being made in 2001 with Gibson returning to the title role, then was nearly re-conceived as an animated film (you can sense some of the more outlandish action bearing some of that sensibility here).
Over a decade later, and after numerous stops and starts, Miller produced a film that spent as much time in post-production as any in recent memory, so it figures that the finished picture is a polished, kinetic blast of action filmmaking. This is a movie in which you, as a viewer, feel as if you're constantly moving: from the opening of Max fleeing from an assortment of albino-skinned warriors to the elaborately staged automotive battles, Miller keeps the film in a perpetual state of motion. There are a few quick interludes where the characters catch their breaths, but you'll have to read more into the story – crafted by Miller, Brendan McCarthy and Nico Lathouris – to extract a deeper meaning than what's really there.
The entire world Miller displays here is notably wilder, more violent and also grotesque than the earlier films. It's also louder and more insane, embodied most obviously by a "music truck" with a guitarist and drummers acting out the non-stop Zimmer Company score by Junkie XL – a far cry from the likes of Brian May and Maurice Jarre, but that's film music in the 21st century as we all know. Of the cast, Theron registers the strongest as Furiosa, while Hardy's Max is a bit of an unfinished creation – daffy and depressed, but capable of being heroic, this Max lacks Gibson's grounded intensity and could've used more screen time…or at least a story that enabled him to play more of a role. Either way, Hardy is passable, but one can sense the actor's admitted frustration with Miller over the character's lack of development and purpose on-screen. Ultimately, the real stars of the show are the roaring machines and rapid-fire editorial intensity set by Miller's directorial tour de force.
This is the same 4K UHD presentation Warner previously issued for "Fury Road," looking and sounding great albeit minus all the extras that its format predecessor offered. Warner's UHD box houses all four films with a slipcover and Digital HD copy – highly recommended except for that "Mad Max 2" audio issue that hopefully will get ironed out soon.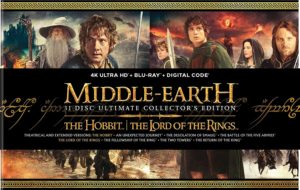 Also New on 4K UHD
Peter Jackson's two J.R.R. Tolkien trilogies have been combined in a massive new multi-format MIDDLE-EARTH ULTIMATE COLLECTOR'S EDITION (Warner), sporting both THE LORD OF THE RINGS and THE HOBBIT trilogies – extended and original cuts alike. There are no expansive special features here, but this spectacularly packaged release contains not just the same HDR10-enhanced, 4K UHD discs that Warner released last year, but newly remastered Blu-Ray editions of the movies as well.
THE FELLOWSHIP OF THE RING (178/228 mins., 2001, PG-13) launched the "Lord of the Rings" series in 2001, meeting with positive acclaim and solid commercial box-office. After watching the first three hours of Jackson's series, I initially wrote at the time that I had some mixed feelings – though overall, I felt that I had seen one of the few films "that had succeeded in establishing its own visually realized universe and an epic quest that lures you in the way that great fantasy can."
As a standalone film, "Fellowship" is the kind of film that most genre fans loved, though it's curious how repetitive the action is: the characters run into a monster or new supporting character, walk to another location, run into a monster or new supporting character, run to another venue, all the while staying ahead of the bad guys.
That's not to say that I wasn't entertained by the movie or enthralled by parts of it, because what I found most satisfying about "Fellowship" – and the series as a whole, ultimately – was the look of Jackson's film and the fact that he captured the essence of an epic adventure on-screen without getting sidetracked by the many supporting characters and subplots. When the characters travel through the mine of the dwarves, are pursued by a fire-spewing demon, and jump across a crumbling bridge, you truly feel as if you're in the middle of a great fantasy adventure, where each turn could lead down a different path to doom or discovery.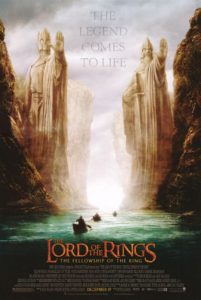 I also concluded my original review of "Fellowship" by writing: "Is this the next 'Star Wars'? I think the jury is still out, but Jackson at least laid the foundation here to craft one of the fantasy genre's few epic cinematic works. Whether the remaining installments hit the dramatic heights that this one doesn't quite reach, or if it's all just a great-looking tease made unique only through its connection with the classic text, at least it seems apparent that it's going to be a journey worth taking." A journey, indeed, that would be followed by superior sequels, released in 2002 and 2003.
THE TWO TOWERS (179/235 mins., 2002, PG-13) continues Tolkien's story and, overall, comes across as a superior fantasy adventure than its predecessor.
This sequel picks up right from the end of "Fellowship" and is comprised of big action scenes, sprawling battles, and fascinating new creatures. Gollum is a tremendously articulated CGI character, and Andy Serkis' "performance" gives this second part of Peter Jackson's trilogy a boost of energy in all the scenes he appears. There are some amazing moments here, marked by the climactic tussle at Helm's Deep that will surely draw repeat viewing from action and FX enthusiasts for years to come. While I've never understood how Liv Tyler nabbed herself third billing on the credits (generating about a half-hour of total screen time between Parts 1 and 2 combined), the movie manages to deliver the goods most of the way.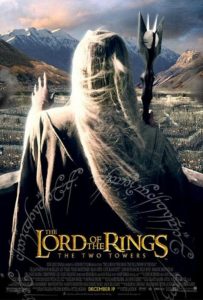 Jackson concluded the series with his massive, overlong and Oscar-winning finale, RETURN OF THE KING (201/263 mins., 2003).
This particular installment, arguably the most satisfying of the three films, features some brilliant moments — a marvelous climactic battle that surpasses anything in "The Two Towers," a chillingly effective confrontation with a giant spider, and a moving ending that sweetly concludes the adventure — along with some of the same issues that have plagued each of Jackson's films. Like its predecessors, the first hour of "Return of the King" takes forever to get going, and along the way there are a few too many "operatic" slow-motion shots that build to an endless series of false crescendos. Jackson easily could have trimmed the movie by a good half-hour, and despite one unintentionally hilarious moment (when one character ends up on fire and runs off the edge of a castle), there's no denying the overall artistry involved in the production and its compelling central story. I also felt that Howard Shore's score was more balanced and introspective here than his work on "The Two Towers," with new themes nicely complimenting an adventure that didn't quite enthrall me as much as it did for other fans, yet remains a memorable stab at epic fantasy filmmaking few have attempted before.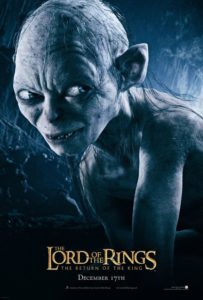 All three films are contained here in both their theatrical cuts as well as their extended versions, capped with impressive HDR10 enhancement on UHD that gives new life to the transfers – cinematography that at times came off as drab and flat in previous Blu-Ray releases gains an added texture here, while the Dolby Atmos audio offers ample overhead effects that take advantage of the latest home theater audio format. The remastered Blu-Rays lack HDR but should prove to be worthwhile upgrades for 1080p owners as well, as they also include commentaries from Peter Jackson and crew.
A decade later (and following the departure of original helmer Guillermo Del Toro), Jackson couldn't resist coming back to Middle Earth for a prequel trilogy – playing to diminished returns both critically and commercially.
THE HOBBIT: AN UNEXPECTED JOURNEY (169/182 mins., 2012, PG-13): Thanks to a dinner sequence that feels longer than a typical Julia Child lesson in culinary cuisine, it takes a good 40 minutes for the journey to even begin in "The Hobbit: An Unexpected Journey," the first of three installments that bloat Tolkien's genteel children's book into a transparent cinematic cash grab.
This time out, Jackson has not only adapted Tolkien's enchanting "The Hobbit" – the earlier adventures of Bilbo Baggins, Gandalf and company – but expanded what was written more as a children's tome as opposed to the large-scale epic fantasy of "Lord of the Rings." Thus, Jackson's take on Tolkien's book bloats the source material – with a reluctant Bilbo joining a journey to recover the lost treasure of the dwarves stolen by the villainous dragon Smaug – into the same category as Jackson's "Rings" pictures, with some lightweight gags and cartoony action being augmented by a narrative that feels pushed beyond its breaking point. The assorted trips over mountains, fields and streams seem even longer than the dullest of its predecessors' comparable sequences, while the appearance of numerous "Rings" veterans in cameos (Ian Holm, Hugo Weaving, Christopher Lee, Elijah Wood, Cate Blanchett among them) feel more like an unnecessary bone thrown to fans than a needed component to the story being told.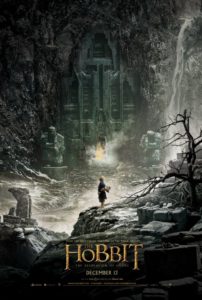 Ultimately, this movie has all the weaknesses of Jackson's "Lord of the Rings" trilogy amplified by two. There's no sense of dramatic momentum, with even some of the movie's major set-pieces coming off as repetitive and pointless. One understands why Jackson decided to return to Middle Earth (especially after the disappointment of "The Lovely Bones" and Del Toro handing him back the directorial reigns), but it's ultimately just a safety blanket for the director. With the same digitized backdrops and art direction as its predecessors, "The Hobbit" really just offers less of the same, especially when dealing with a story here that doesn't require the same treatment as the Rings pictures (heck, I'm old enough to remember when Rankin-Bass did a respectable, animated-TV movie adaptation of "The Hobbit" – and it only ran 75 minutes!).
Jackson's second film derived from "The Hobbit," THE HOBBIT: THE DESOLATION OF SMAUG (161/186 mins., 2013, PG-13), left no doubt that the filmmaker extended the author's original work into the bloated category — adding characters (including Evangeline Lilly's female elf, Tauriel), secondary subplots, and action sequences that never existed in the original text. That being said, "Smaug" is at least a more watchable picture than the first part of Jackson's prequel trilogy, once again picking up the action with Bilbo (Martin Freeman), Gandalf (Ian McKellen) and the dwarves attempting to unite the latter's lost kingdom and hike to the Lonely Mountain — where a giant, deadly dragon named Smaug resides, presiding over a fortune in untold riches.
"Smaug" dispenses with some of the talky, dull stretches that marred its predecessor and heavily favors action throughout its 2½ hour running time. From hand-to-hand combat to fanciful creatures, Jackson has stuffed the picture with so many "things" — for lack of a better word — that it's easy to look at any number of individual set-pieces and marvel at the visual effects packed into each and every frame. The problem, as it has been with Jackson's body of work as a whole, is that it never knows when to quit, running on beyond the point of merely fulfilling its requirement as the middle part in what's become an "event franchise" designed to gobble up mass quantities of box-office dollars.
Jackson finished off his Middle Earth adventures with THE HOBBIT: THE BATTLE OF THE FIVE ARMIES (144 mins., PG-13 and 164 mins., R, 2014), wherein Bilbo and his merry men partake in a sprawling final confrontation. This installment – while the shortest at 144 minutes – in some ways feels like the longest, seeing as Jackson spends most of the running time on lengthy special effects sequences involving the climactic confrontation between Middle Earth's various factions, Sauron and the Dragon Smaug – material that apparently comprised a total of a half-dozen pages (!) in the actual "Hobbit" book. Character interplay is dialed back from the prior entries as well, though fans will still enjoy seeing how the story plays into the opening of Jackson's first trip to Tolkien land as, once again, several "LOTR" veterans show up in cameos. Overall, it's mostly a film for fans, with lots of FX wizardry and excessive bombast (the Extended cut is even R-rated!) that's become synonymous with Jackson's filmmaking.
As with Warner's 4K UHD/Blu-Ray presentation of "Lord of the Rings," each entry of "The Hobbit" is presented in both its theatrical cut as well as its longer extended edition. The HDR10 transfers and Dolby Atmos soundtracks are all top notch with just a little DNR smearing here and there – with the exclusive introduction here of remastered Blu-Rays sweetening the pot for those who have yet to make the leap to 4K UHD.
Warner's big set includes an exclusive Blu-Ray bonus disc featuring an Alamo Drafthouse "Lord of the Rings" cast reunion plus a Cannes presentation reel. A 64-page booklet features costume sketches, photography and production notes, while seven travel post art cards debut along with a Digital HD code for the entire lot – good for both the extended and theatrical versions. Pricey, but still recommended for Hobbit fans on your Christmas shopping list!
---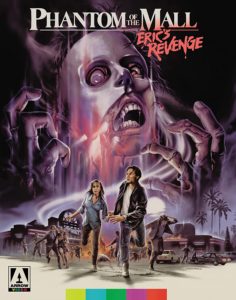 Arrow New Releases
I recall passing by a VHS copy of PHANTOM OF THE MALL: ERIC'S REVENGE (90 mins., 1989) on the shelves at "Major Video" back in Greenville, Rhode Island for many years. This Charles Fries direct-to-tape production has never been a title I've read or heard much about ever since, but it's been restored in a new, full-fledged, double-disc Arrow Limited Edition Blu-Ray.
On the level of other mall-centric '80s horror efforts, this one ranks a little under "Chopping Mall" but still comes off as an agreeably lightweight outing from director Richard Friedman – one that was apparently chopped up (no pun intended) in pre-production by a number of writing staff comings-and-goings that, by all accounts, severely impacted the quality of the final product. What is on-screen is a late '80s, So-Cal shot "Phantom of the Opera" variation starring Kari Whitman as a young woman who finds out her ex-boyfriend who died in a fire didn't really perish in the blaze, but still haunts the new Midwood Mall. This proves to complicate her relationship with Rob Estes (future "Silk Stalkings" star) while Pauly Shore and Morgan Fairchild try to avoid being lambs for the Phantom's slaughter.
The story and killings are strictly standard-issue but Friedman keeps the movie mostly light as it rolls along, and the footage of the mall and its various stores – including a CD longboxed-stocked Sam Goody – generated the most entertainment upon my viewing. The movie was partially filmed at the same Sherman Oaks Mall where Spicoli and buds hung out in "Fast Times At Ridgemont High," so the picture's nostalgia factor is high even if its dramatic content is decidedly on the low end.
Arrow's Blu-Ray is yet another of their beautifully packaged Limited Editions with a hardbound case and booklet notes, superb transfers (2K restoration from 35mm film elements), and extensive extras. These include a separate disc housing the TV cut (1.33) with standard-def inserts of its exclusive footage, along with a composite "Phan Cut" (96 mins.) combining those inserts with the uncut theatrical version. A commentary with Richard Friedman is moderated by Michael Felsher, while another commentary includes disc producer Ewan Cant and historian Amanda Reyes. There are also audio interviews with composer Stacy Widelitz and associate producer Robert J. Koster; on-camera interviews with Friedman, screenwriters Scott J. Schneid and Tony Michelman, actors and make-up artists; an interview with Joe Escalante of The Vandals on the theme song; alternate and deleted scenes; trailers; and BD-ROM content that includes storyboards and the original screenplay.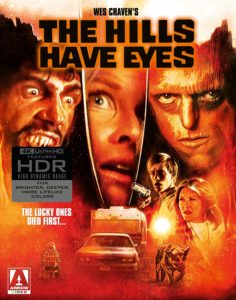 Also new from Arrow Video is a spectacular 4K UHD/Blu-Ray Limited Edition of Wes Craven's 1977 backwoods horror favorite THE HILLS HAVE EYES (90 mins.). This one finds a family's RV breaking down during a detour to California, resulting in them meeting a group of cannibals who run down from the hills and cause all kinds of terror.
This Studio Canal 4K restoration includes HDR10 and the option of seeing the film with its original or alternate endings, in either lossless 2.0 stereo or a 7.1 remix (original ending only). There's a 40-page booklet featuring plenty of original writing; commentaries featuring actors Michael Berryman among others on one track, Wes Craven and Peter Locke on another, and "academic" Mikel J. Koven rounding out the trio; a Making Of documentary featuring Craven, Locke and others; an interview with actor Martin Speer; a talk with composer Don Peake; outtakes, the alternate ending by itself, trailers/TV spots, an image gallery; and original screenplay.
Finally, coming November 30th from Arrow is the first volume in their GAILLO ESSENTIALS Blu-Ray boxes, this one featuring three films, each restored from their original camera negatives: THE FIFTH CORD (1971) starring Franco Nero; THE POSSESSED (1965) featuring Peter Baldwin and Virna Lisi; and THE PYJAMA GIRL CASE (1978). Extensive extras include commentaries, interviews, and 2K restorations for all three films. Needless to say this a must for gaillo fans, and streets at the end of the month.
---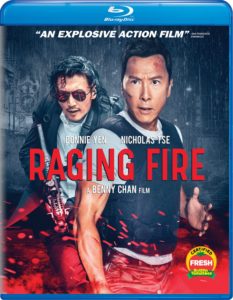 Quick Takes
KEVIN CAN GO F—K HIMSELF Season 1 Blu-Ray (6 hours, 2021; AMC Studios/RLJE): "Schitt's Creek" alumnus Annie Murphy receives her own breakout series with "Kevin Can Go F—k Himself," a dark comedy wherein literal "sitcom wife" Allison Roberts escapes her conventional confines and heads out with her neighbor on a journey that shifts from laugh-track laden comedy to single-camera drama. This is an ambitious series from producer/creator Valerie Armstrong that doesn't always hit the mark, but manages to remain a compelling view throughout its eight episodes thanks to its intriguing concept and Murphy's performance anchoring all aspects of the material. Three featurettes are on-tap along with 1080p (1.78) transfers and 5.1 DTS MA soundtracks.
RAGING FIRE Blu-Ray (127 mins., 2021, Not Rated; Well Go USA): Donnie Yen plays a tough cop who has to go up against his former protege (Nicholas Tse) after the latter commands a group of criminals to take vengeance on a sting operation Yen is running with his new team. This robust Hong Kong import offers both stars in a lengthy but crisply choreographed action thriller with some potent fight sequences; Well Go's Blu-Ray is out this week featuring Dolby Atmos sound and Cantonese, English or Mandarin sound options. The label has also included a Making of featurette and trailers.
DEEP BLUES Blu-Ray (91 mins., 1991, Not Rated; Film Movement): David A. Stewart, Eurythmics member and occasional film composer, produced this documentary from director Robert Mugge, which follows scholar/writer Robert Palmer into the heart of North Mississippi Hill Country and the Mississippi Delta, looking for real, bonafide blues performers. This is a fascinating musical document which profiles performers off the beaten path and comes strongly recommended for any blues fan. Mugge provides a commentary with a behind-the-scenes featurette also included in this newly 4K restored Blu-Ray transfer (1.33) from Film Movement sporting 2.0 stereo sound.
NEXT TIME: Kino Lorber November wrap! Until then, don't forget to drop in on the official Aisle Seat Message Boards and direct any emails to our email address. Cheers everyone!