That vintage look does aid Erwin Hillier's cinematography, which mostly through off-angles, attempts to lend atmosphere to director J. Lee Thompson's picture, wherein French nobleman David Niven has to return to the old, dark castle of his youth to fill out an ancestral pagan bargain. Kerr plays the creeped-out wife trying to maintain the sanity of her young children, especially after meeting the local lot: weirdo priest Donald Pleasence, archer David Hemmings and his sister, Sharon Tate, "introduced" here in her first leading film role.
"Eye of the Devil" manages to be involving enough to sit through but never generates the excitement and suspense one imagines Philip Loraine's novel – scripted by Robin Estridge and Dennis Murphy – may have contained. The supporting turns, meanwhile, are more interesting than Kerr and Niven's mostly indifferent performances, perhaps a result of the movie being heavily reshot after Novak's departure. It's still an intriguing piece due to the subject matter and Tate's involvement, but one that may have been better off in the hands of another director, or perhaps without its off-screen baggage.
Warner Archive's Blu-Ray (1.85, mono) debuts "Eye of the Devil" in a really attractive 1080p AVC encode with strong detail; like all other versions, the end credits list the film as "13," its original title, with the trailer as the sole extra feature.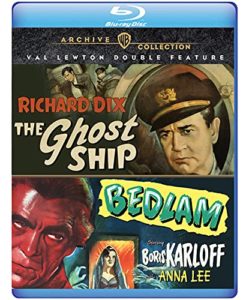 Golden Age horror fans are likely to be compelled by the Val Lewton Double Feaure of THE GHOST SHIP (69 mins., 1943) and BEDLAM (80 mins., 1946), preserving these later productions Lewton turned out for RKO, both helmed by Mark Robson. The scare-free "The Ghost Ship" is heavy on atmosphere with Richard Dix starring as a crazed freighter captain who murders a mate on the way to Patagonia, and Russell Wade as the young crewman who suspects he may be next. The superior "Bedlam," meanwhile, offers Boris Karloff as an asylum overseer who holds innocent, sane Anna Lee captive in an 18th century tale that marked the third and final collaboration between Karloff and Lewton. Both 1.37 B&W transfers are well composed and filled with grainy detail; extras include a commentary on "Bedlam" by genre authority Tom Weaver and trailers for both movies.
Grand '30s horror fun is on-hand in MAD LOVE (68 mins., 1935), an MGM production that brought Peter Lorre to the United States, where he plays a mad doctor whose obsession with actress Frances Drake is taken to another level after he tries to "fix" her husband/pianist Colin Clive's hands after a tragic accident. He grafts the hands of a murderer onto Clive – and eventually goes completely mad – in a terrific production helmed by Karl Freund, who also directed "The Mummy" and shot "Dracula" for Tod Browning several years prior. Warner Archive's Blu-Ray (1.37 B&W) includes the trailer and a commentary by Steve Haberman.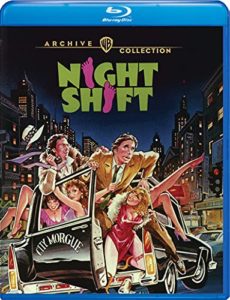 Not a horror movie but nevertheless a fascinating Vitaphone picture from pre-Code Hollywood, MARY STEVENS, M.D. (72 mins., 1933) stars Kay Francis in the title role: a hard-working doctor who's dedicated to her patients while fighting sexual prejudice. She also falls for Lyle Talbot's fellow doctor, who ends up in a rotten marriage to Thelma Todd – but that's not the half of it, as Dr. Stevens later becomes pregnant, unwed, and battling her old flame's alcoholism. As you can tell, there's a lot going on in this adult soap opera, on Blu-Ray this month from Warner Archive sporting another remastered 1080p (1.37 B&W) AVC encoded transfer.
Also from 1933 is one of MGM's most memorable studio comedies: DINNER AT EIGHT (111 mins.), the David O. Selznick production that adapted the hit George S. Kaufman/Edna Ferber stage play for the screen. Under the direction of George Cukor, this glossy production follows the dramatic, comedic, and romantic entanglements of Manhattan society types attending a dinner party, with a peerless cast including Marie Dressler, John and Lionel Barrymore, Wallace Beery, Billie Burke, Jean Hersholt and Jean Harlow. They form a remarkable ensemble in a sophisticated MGM vehicle here presented with another outstanding Archive 1080p AVC encode (1.38 B&W) with extras including the short "Come to Dinner," the trailer, and a Sharon Stone-hosted documentary "Harlow: The Blonde Bombshell."
More modern comedic shenanigans are on-hand in NIGHT SHIFT (106 mins., 1982, R), Ron Howard's breakout comedy success that pairs his "Happy Days" co-star Henry Winkler with Michael Keaton's charismatic "Billy Blaze," who talks his buttoned-down NYC morgue co-worker into hustling girls – including Shelly Long's hooker with a heart of gold – during their overnight hours. As benign as an R-rated film with this kind of subject matter could possibly be, "Night Shift" scores with the chemistry between Winkler and Keaton – sizzling here in his first big feature role – plus a breezy comic script by Lowell Ganz and Babloo Mandel. Burt Bacharach's score adds the icing to the cake of this Ladd Company release, with Rod Stewart's "That's What Friends Are For" serving as the movie's love theme (a song that would later become a chart-topping hit for Dionne Warwick "and friends" in 1985). Making a long overdue appearance here on Blu-Ray, Warner Archive's spotless, attractive 1080p (1.85) transfer includes a 2.0 DTS MA stereo soundtrack with the trailer as the disc's sole supplement.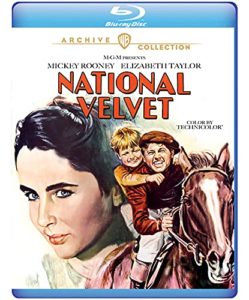 Warner Archive's November releases include an array of titles highlighted by the long-awaited Blu-Ray debut of NATIONAL VELVET (124 mins., 1944), the MGM classic starring Elizabeth Taylor as a young girl who teams up with Mickey Rooney to run her raffle-winning horse in the Grand National Steeplechase. This beautifully mounted studio production adapted from Enid Bagnold's bestselling book became a children's favorite and looks gorgeous in a new 1080p (1.37) AVC encode that at last presents the film in a superb high-def transfer that truly shows off its Technicolor hues. Curious there are no extras here, but this is still a highly recommended release for newcomers and fans alike…Doris Day, meanwhile, dances and sings Cole Porter in the enjoyable LULLABY OF BROADWAY (92 mins., 1951), a Warner Bros. release pairing her with Gene Nelson in a star-driven vehicle afforded another superlative 1080p (1.37) transfer doing justice to the movie's Technicolor cinematography…Pre-Code dramatics make the women-in-prison story LADIES THEY TALK ABOUT (69 mins., 1933) a worthwhile watch for Golden Age fans. Barbara Stanwyck stars as a bank robber reformed by the man who sent her away (Preston S. Foster) in a Warner Bros./Vitaphone production that reportedly had numerous tussles with the Hays Office according to Leslie Halliwell due to its "man-hungry characters." Warner Archive's Blu-Ray (1.37) features a top-notch transfer given the age of the elements plus the trailer and vintage cartoon "I Like Mountain Music."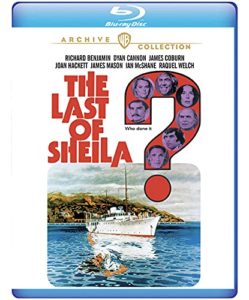 William Powell and Myrna Loy returned in 1944 for the penultimate entry in MGM's "Thin Man" series, THE THIN MAN GOES HOME (101 mins.), with Nick and Nora leaving Nicky, Jr. behind for a trip back to the former's hometown of Sycamore Springs. Murder, a bit of booze, and comedic shenanigans follow in the fifth entry in the classic mystery-comedy series based on Dashiell Hammett's characters. Warner Archive's Blu-Ray (1.37) here includes the Robert Benchley comedy short "Why Daddy?", cartoon "Screwball Squirrel" and the trailer…Regarded by many as Fritz Lang's finest American film, FURY (92 mins., 1936) is a potent drama wherein Spencer Tracy's Joe Wilson is wrongly accused as a murderer and sentenced to death by a lynch mob. After he improbably escapes his fate, he vows to bring the persecutors to justice in a compelling MGM production scored by Franz Waxman and presented here in a crisp Warner Archive 1080p (1.37 B&W) transfer. Extras include the trailer and a commentary with Peter Bogdanovich, who shares extracts of interviews with Lang.
Stephen Sondheim and Anthony Perkins collaborated on the screenplay for THE LAST OF SHEILA (119 mins., 1973, PG), a mystery-thriller set on movie mogul James Coburn's yacht in the Mediterranean. Richard Benjamin, Dyan Cannon, Joan Hackett, James Mason, Ian McShane and Raquel Welch are the friends who might know more about the hit-and-run death of Coburn's wife in this Herbert Ross-directed suspenser debuting on Blu-Ray from the Archive (1.78, mistakenly listed as 2.40 on the back cover) with the trailer and a vintage commentary from Benjamin, Cannon and Welch…Finally, MGM's big-screen soap opera SOME CAME RUNNING (136 mins., 1958) stars Frank Sinatra as a writer and disillusioned WWII vet who returns to his hometown of Parkman, Indiana where he finds ample subjects as fodder for his work, including Dean Martin's gambler and Shirley MacLaine as the hooker with a heart of gold vying for his affections. Vincente Minnelli's widescreen lensing and Elmer Bernstein's score are the highlights of this glossy adaptation of James Jones' novel, here bestowed with another 1080p (2.41) Archive restoration with mono sound, a vintage featurette and the trailer.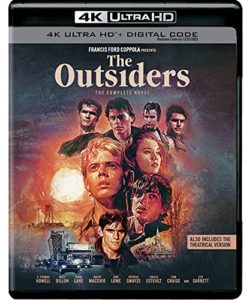 Distributed through the Warner Archive is the sterling new 4K restoration of Francis Ford Coppola's THE OUTSIDERS (92/115 mins., 1983, PG/PG-13; Warner), his first of two adaptations of classic "young adult" bestsellers by S.E. Hinton, and by far the more commercially successful. A tale of Oklahoma teens hanging out and getting into trouble in mid '60s Tulsa, the movie embraced a stylish cinematic aesthetic (a la "Rebel Without a Cause") and captivated audiences with its roster of young and/or future stars: Matt Dillon, C. Thomas Howell, Ralph Macchio, Tom Cruise, Rob Lowe, Emilio Estevez, and Diane Lane among others.
In going over my columns through these many years, I was struck by the fact that I never reviewed any home video release of "The Outsiders," which was theatrically released in a 92-minute version and then reconstructed by Coppola in 2005 under the moniker "The Complete Novel." While that version's 30 minutes of additional footage are mostly excellent and further flesh out the narrative, sadly, those alterations are almost totally negated by Coppola essentially tossing out all of his father Carmine's original orchestral score in the process.
Adding further insult is that Coppola replaced most of his dad's intentionally-melodramatic cues with blaring period rock tracks, some of which ruin scenes altogether (such as the burning church sequence). To be fair, Carmine's score was criticized by some at the time of its release since it tried to evoke Max Steiner-like swells of emotion, but I felt it made the movie's message clear and helped the glossy visual design of the movie — it was a vital part of Francis' overall artistic statement and, dramatically, it's infinitely superior to the "jukebox underscore" that detracts from the movie's cinematic "revision."
The good news is that this 4K UHD release of "The Outsiders" produced by Zoetrope and available through Warner Home Video (Studio Canal has it overseas) is that both versions have been afforded the HDR10 4K restorative process here. This means, for the first time since DVD, audiences will have the original 92-minute theatrical cut of the movie available to them on one disc, with the "Complete Novel" recut on another platter. Both transfers look spectacular with their use of HDR and high level of detail, with 5.1 DTS MA audio on-hand for both versions plus a few all-new extras. These include fresh interviews with Coppola and cinematographer Stephen H. Burum, plus a look at the restoration and several newly unearthed deleted scenes. These extras are in addition to numerous "legacy extras" from the previous DVD/Blu-Ray, with a retrospective featurette among those supplements. A Digital HD copy rounds out the release.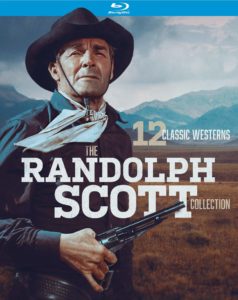 Not from the Warner Archive but rather the fine folks at Mill Creek Entertainment, THE RANDOLPH SCOTT COLLECTION is one of the year's more enticing Blu-Ray anthologies: a six-disc, Sony-licensed package comprised of a dozen vintage westerns that the silver-screen cowboy produced at Columbia Pictures mostly during the 1950s. Included here are The Desperadoes (1943); The Nevadan (1950); Santa Fe (1951); Man in the Saddle (1951); Hangman's Knot (1952); and The Stranger Wore a Gun (1953), all in 1.33. A Lawless Street (1955), The Tall T (1957), Decision At Showdown (1957) and Buchanan Rides Alone (1958) are included in 1.85, while full 2.35 anamorphic transfers are present for the Cinemascope-sized Ride Lonesome and Comanche Station.
Mill Creek's encodes aren't their best here but they're far from their worst compression efforts (seen in the likes of "Like Father Like Son"), making this a serviceable, bargain-priced package for western and Scott enthusiasts, especially since Powerhouse-Indicator released some of the titles in pricier editions in the UK. Extras include commentaries on "The Tall T" by C. Courtney Joyner and Elmore Leonard researcher Gregg Sutter (the film was the first screen adaptation of a Leonard story); "Buchanan Rides Alone" by "Cheers" producer Phoef Sutton and NPR radio personality Mark Jordan Legan; "Hangman's Knott" with western movie experts Robert Nott and Johnny D. Boggs; and "The Strange Wore a Gun" with Nott and historian/screenwriter Henry Parke. Joyner's booklet notes put the finishing touch on the set.
---
New & Noteworthy
SCREAM 4K UHD (111 mins., 1996, R; Paramount): Director Wes Craven and writer Kevin Williamson's hugely successful, self-referential 1996 horror hit receives a spiffy new 4K UHD release, a few months ahead of yet another revival of the series.
The original "Scream" came out of nowhere 25 years ago and ignited a whole genre of imitators with its hip, if occasionally smug, dialogue, which references classic slashers as it spins a tale of high school students (Neve Campbell, Drew Barrymore, Skeet Ulrich, Matthew Lillard, Jamie Kennedy among others) being stalked by a hooded masked killer. TV reporter Courtney Cox is on hand to chronicle the ghastly killings (and exploit them for the betterment of her ratings) while David Arquette is the lovable if mostly clueless sheriff trying to make sense of the murders.
"Scream" is a tight, solid piece of entertainment, and it was followed by a trio of sequels – each offering variations on the same theme (funny dialogue, seriously gory murders, rinse and repeat) with attractive cast members being killed left and right by others who don the masked killer guise. And even more imitators cropped up in its wake, all of them inferior to its mix of hip humor and horror.
Paramount, which has absorbed the Miramax catalog, offers a good looking HDR10 transfer (2.35) here on 4K UHD with 5.1 DTS MA audio and a Digital HD copy. Extras include a new "25 Years Later" featurette and archival extras, with a cast/crew Q&A, production featurette, and commentary from Craven and Williamson among those.
THE SHEIK Paramount Presents Blu-Ray (66 mins., 1921; Paramount): Rudolph Valentino's seminal performance pairs him with Agnes Ayres, playing a western woman in North Africa who spurns a marriage proposal and heads out into the desert for adventure; she eventually ends up in the hands of the dashing Sheik Ahmed Ben Hassan, played by Valentino with all of the charisma he can muster. "The Sheik" was a box-office smash but Valentino's career soon took a downward spiral, leading to a fast fade from the height of his popularity here.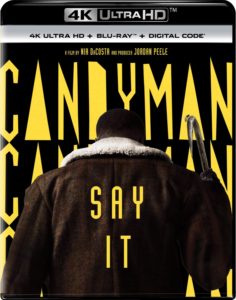 This legendary silent has been restored in a Paramount Presents limited-edition Blu-Ray featuring the same Roger Bellon score (2.0 Dolby TrueHD) as Kino Lorber's previous format release of the film. The disc includes a 1080p (1.37) AVC encoded transfer plus a new "Desert Heat: 100 Years with The Sheik" featurette with Professor Leslie Midkiff DeBauche discussing the film's themes.
CANDYMAN 4K Ultra HD/Blu-Ray (91 mins., 2021, R; MGM/Universal): Disappointing updating of the Clive Barker/Bernard Rose 1992 hit, configured as a sequel by producer/writer Jordan Peele and director Nia DeCosta, with an added "social justice" edge that ultimately dilutes the central message of its predecessor. Yahya Abdul-Mateen II stars as a Chicago artist who becomes the latest conduit for Candyman's return, while a mostly unremarkable set of supporting characters serve as the formulaic lambs for the slaughter. The new "Candyman" is slickly made yet mostly ho-hum all the way, with the picture's ending trying to make an (obvious) point but at a cost to its source material and its thematic core. Universal's 4K UHD is superbly presented with HDR10 and Dolby Atmos sound, though Philip Glass' haunting music from its predecessors is sorely missed. An alternate ending, extended/deleted scenes, the Blu-Ray and a Digital HD copy are also on-tap.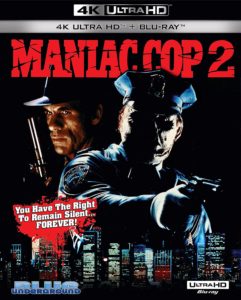 MANIAC COP 2 4K UHD/Blu-Ray (87 mins., 1990, R; Blue Underground)/MANIAC COP 3 4K UHD/Blu-Ray (85 mins., 1993, Not Rated; Blue Underground): Larry Cohen and William Lustig's sequels to the original "Maniac Cop" arrive debut in brand-new UHD editions from Blue Underground this month, each offering 4K scans from their original camera negatives with Dolby Vision HDR grading and Dolby Atmos audio.
"Maniac Cop 2″ is undoubtedly the more entertaining of the duo, staring Robert Davi, Claudia Christian, Bruce Campbell, Leo Rossi and Laurence Landon (the original's heroine, offed here in a "Friday the 13th" like manner) in an amusingly bonkers action/horror hybrid written by Cohen and directed by Lustig. It's B-movie fun on a fast-moving scale, one that's attracted a cult following and arguably ranks as the best of the series. Blue Underground's UHD offers commentary from Lustig and admirer Nicolas Winding Refn along with other extras from their previous Blu-Ray: a Making Of retrospective, Lustig Q&A, trailers, deleted scene, poster and still gallery, and an isolated music track of Jay Chattaway's score. In addition to Dolby Atmos audio the original 2.0 stereo track is on-hand as well.
Alas, the fun didn't carry over to the problem-plagued "Maniac Cop 3," which finds Robert Z'Dar's undead cop back for another go-round – this time with a decidedly lower budget and fewer thrills. Cohen again wrote the sequel but conflicts between Lustig and producer Joel Soisson lead to the director removing his name from the picture – replaced here with Alan Smithee's pseudonym applied. Once again sporting a dynamic 4K UHD, Dolby Vision-graded transfer and Dolby Atmos audio (plus the original stereo soundtrack), "Maniac Cop 3" debuts a new commentary from "Alan Smithee" himself (!), along with supplements from the previous Blue Underground edition (Making Of, deleted/extended scenes, the trailer, and poster/stills gallery).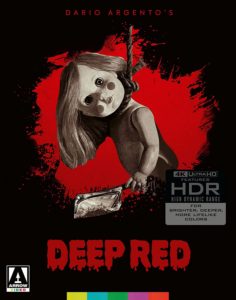 DEEP RED 4K Ultra HD Limited Edition (127/105 mins., 1975; Arrow): Arrow Video makes good for fans of Dario Argento and "Spaghetti Splatter" with another sterling 4K UHD restoration, this one o the Italian director's 1975 "giallo" thriller, which has made the rounds in previous releases from both Anchor Bay and Blue Underground, as well as Arrow itself back in 2018 – a Blu-Ray fans might want to hang onto because certain extras remain exclusive to it.
Though I'm not the biggest fan of Argento or Euro-horror, "Deep Red" offers plenty of interesting visual flourishes for curious horror aficionados, and certainly ranks as a "must-have" for Argento-philes. "Profondo Russo," which follows David Hemmings as an English jazz musician who joins up with a female journalist (Daria Nicolodi) to track down the killer of a renowned psychic, is regarded as one of Argento's most celebrated works, and it looks stunning in Arrow's 4K UHD.
Offering a fresh restoration from a 4K scan, direct from the original negative, this is an upgrade over Blue Underground's earlier format release, and improves over Arrow's previous disc in that it includes the original "Export Version" with English mono audio, itself on a 4K UHD in this two-disc, UHD-only Limited Edition. Audio for the original cut is on-hand in either Italian mono or 5.1 DTS MA, while an English 1.0 DTS MA track features some Italian dialogue for scenes either not included in the English-language cut or material that's been lost to the ravages of time.
Arrow's robust extras, split between both discs, offer a mix of previously released extras (a visual essay by Michael Mackenzie on the film; an introduction from Goblin's Claudio Simonetti; interviews with Argento, Daria Nicolodi, Simonetti and Argento collaborator Luigi Cozzi, plus the Italian trailer) and new additions. The latter include 2018 interviews with cast and crew, mostly in Italian with English subtitles, as well as image galleries.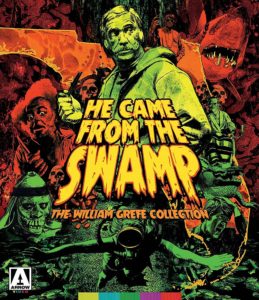 Also new from Arrow this month is the enjoyable retrospective HE CAME FROM THE SWAMP: THE WILLIAM GREFE COLLECTION, a multi-disc anthology of the independent filmmaker who turned out low-budget exploitation fare for the drive-in market – somem of which viewers might recall from snow-riddled UHF broadcasts when they were kids.
Present and accounted for here are "Song of Death," "Death Curse of Tartu," "The Hooked Generation," "The Psychedelic Priest," "The Naked Zoo," "Mako: Jaws of Death," "Whiskey Mountain" and a bonus documentary that accompanies hours of bonus materials. These include new introductions and commentaries from Grefe himself, plus archival content like trailers and still galleries, reversible sleeves with newly commissioned artwork by The Twins of Evil, 1080p transfers and DTS MA mono sound.
I personally count Grefe's "Impulse" as his strongest work – the one-of-a-kind tale of a psycho killer played by William Shatner who gets into all kind of trouble. Co-starring Harold Sakata, it's entertainment of a different kind, and is long overdue for a Blu-Ray release!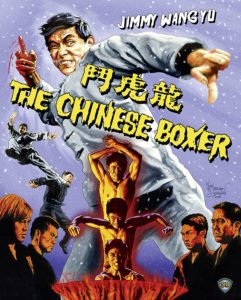 Also new from MVD and its associated labels this month are a Double Feature Blu-Ray pairing the first and last films of sagebrush superstar Roy Rogers in MACKINTOSH AND T.J. (96 mins., 1975), in the same Special Edition I covered a few months back, here paired with the 1938 effort UNDER WESTERN STARS (65 mins.), where Rogers slid into a role intended for Gene Autry. The latter is included in a new 4K scan from a print made for the movie's director Joe Kane, and is believed to be the only uncut version in existence.
88 Films has produced some marvelous releases overseas over the years, and the label at last debuts a pair of titles here in North America for the first time.
THE CHINESE BOXER (90 mins., 1970) is an early but potent kung-fu vehicle starring Jimmy Wang Yu, who also wrote and directed this story of a young man who vows revenge on the thugs who attacked his martial arts school. A good-looking period Hong Kong import here restored in a full-fledged 88 Films Special Edition (2.35, restored from the original 35mm negatives) with both English and Mandarin PCM audio. Extras include booklet notes and a collectible slipcover; commentary with Samm Deighan; interviews with journalist David West and Wong Ching; TV spots and trailers.
A far different type of exploitation sleaze is on-hand in THE GESTAPO'S LAST ORGY (96 mins.), an infamous "Video Nasty" that's still banned in the UK. Also known as "Caligula Reincarnated As Hitler" (!), this Italian import stars Daniela Poggi as a death camp prisoner who's tortured and put through some salacious paces by the Nazis. Fans of Euro-trash might appreciate the 2K restoration from the original negatives (1.85) 88 Films produced here, with extras including a slipcase with Richard Davies artwork; English and Italian (subtitled) tracks; commentary with Troy Howarth and Nathaniel Thompson; another commentary with Samm Deighan; the original Italian ending; interviews with Pierpaolo De Sanctis and Luigi Cozzi; and the trailer.
Ronin Flix has long been one of the top landing spots for Blu-Ray genre enthusiasts, and the outfit has produced a pair of their own restorations this month in the format.
I SPIT ON YOUR GRAVE (101 mins., 1978, Not Rated) needs little introduction for horror junkies: a nasty tale of one woman's (Camille Keaton) revenge on a group of sadists after she's ruthlessly attacked and raped. A brand new 4K scan (1.85) from the OCN graces Ronin Flix's restoration along with a fresh location featurette; other extras include a commentary with director Meir Zarchi and another featuring Joe Bob Briggs. An alternate main title sequence and a featurette with Meir Zarchi round out the release, presented with both a 5.1 DTS MA remix and the original mono sound…Zarchi returned in 2018 for his own sequel I SPIT ON YOUR GRAVE: DEJA VU (148 mins., Not Rated), an overlong and unsatisfying follow-up that brings Camille Keaton back to save her kidnapped daughter (Jamie Bernadette) from the same backwoods degenerates. A new commentary with Joe Bob Briggs is on-tap here with a Making Of, cast interviews, behind-the-scenes footage and the trailer (2.39, 5.1 DTS MA).
---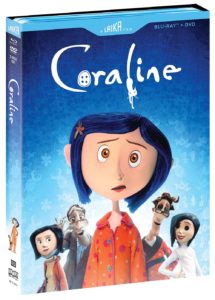 Shout! New Releases
Weird, offbeat, creepy, lyrical and even downright disturbing, Henry Selick's gorgeous stop-motion adaptation of Neil Giaman's CORALINE (101 mins., 2009, PG) is just the tonic for viewers beaten down by a dearth of imagination in most children's fare.
"Coraline" is essentially a modern Grimm's Fairy Tale, focusing on a young girl who moves into a new apartment along with her parents. While her folks are forever typing on their keyboards, and saying "no" to some of the young lady's demands (such as buying a pair of gloves), Coraline explores her newfound surroundings, and finds a parallel universe through a small door that's been sealed off in one of the rooms. It's a bizarre dimension where their house and the land outside have been reproduced faithfully in some regards but strangely in others, including being populated by a pair of friendlier parents with sewn-in buttons for eyes! "Other Mom" and "Other Dad" beckon Coraline to come and stay, and at first you can't blame her: fresh food cooks in the kitchen, toys and clothes which Coraline doesn't have in the "real world" adorn her room, and even the neighbors in this dimension are more engaging, from the elderly former actresses who live downstairs, to the eccentric former circus performer who lives above Coraline. Unfortunately, what starts off as a dream turns into a nightmare after Coraline spends more time in the parallel world, and is asked by her "other" parents to sew buttons on her eyes, thereby "joining" them permanently.
With its spectacularly imaginative collection of characters, supernatural flights of fancy and a beautifully eclectic score by Bruno Coulais, "Coraline" is certainly a unique and compelling work — not to mention unsettling, even for adults. Anyone expecting a benign, slightly eccentric fantasy like "The Nightmare Before Christmas" (which Selick directed for producer Tim Burton) may be shocked once the parallel world Coraline encounters turns into a freakish display of surreal images, from dogs that become vampire bats to ghostly children whose lives were claimed by our heroine's "other" Mom. It's certainly not suitable for younger children (and inexplicable to think this got away with the same rating "Nightmare" and "Tim Burton's Corpse Bride" received), and may even freak out some adults as well.
That said, for older kids and viewers willing to take the ride, "Coraline" is filled with cinematic magic, from the vivid imagery and marvelous stop-motion animation through the articulation of the characters and corresponding vocal work provided by Dakota Fanning (as Coraline), Teri Hatcher and John Hodgman as both sets of parents, and especially Keith David as a wise feline who helps our young heroine through her nightmarish adventure. Selick has paced the movie perfectly, and not enough can be said about the strange and evocative score by Coulais, which incorporates children's choir, full symphonic backing, female vocals, a bit of jazz and a lot of fresh musical ideas into what could've been just another run-of-the-mill, Elfman-esque fantasy score.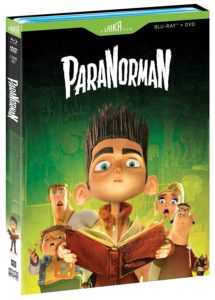 Shout! Factory has brought "Coraline" back to Blu-Ray in a new restoration (1.85) with 5.1 DTS MA audio and plenty of extras: a featurette, Inside Laika, sporting never-before-seen test footage; new segments on the animated puppets and artwork; and ample legacy supplements, from commentary to deleted scenes and other goodies. A DVD and collectible slipcover are also on-hand.
Joining "Coraline" as part of their Laika Special Collector's Editions is PARANORMAN (93 mins., 2012, PG), which isn't quite as inspired as "Coraline" but nevertheless manages to be entertaining, fun fright fare for kids and horror buffs. Directors Chris Butler and Sam Fell's animated effort is chock full of genre references and great looking stop-motion animation, and Shout's BD/DVD combo pack includes a new AVC transfer (1.85, 5.1 DTS MA) and many new extras: storyboards, interviews and, again, never-before-seen test footage, plus supplements (commentary, featurettes) from Universal's original release.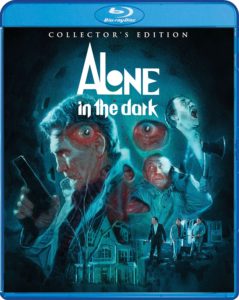 Also new from Shout! and perfect for holiday giving – or viewing at any time – is the Complete THE ADVENTURES OF JIMMY NEUTRON: BOY GENIUS (2002-2006, 22 hours). This popular Nickelodeon animated series followed the whiz kid and his trusty robotic dog as he tried to tech his way through life's adventures both big and small – not all of his creations, of course, end up as planned but with his friends alongside, Jimmy always managed to learn some vital lessons along the way. Shout's DVD (1.33, 5.1) box-set contains all three seasons of the show with the 1998 pilot, five featurettes, storyboards, and all three "Jimmy Timmy Power Hour" crossover specials alongside for good measure.
ALONE IN THE DARK Blu-Ray Collector's Edition (93 mins., 1982, R; Shout! Factory): Jack Palance and Martin Landau play psychos who go batty once they get free – just in time to haunt psychiatrist Dwight "The A-Team" Schultz in this offbeat New Line shocker from writer-director Jack Sholder ("The Hidden"). Mixing over-the-top performances with black comedy and horror, "Alone in the Dark" also offers up Donald Pleasence as the shrink Schultz is replacing plus Tom Savini make-up effects – it results in a serviceable outing, even with its fizzle of a climax that doesn't come off. Scream's terrific new 2K transfer (1.85) is licensed from Warner and boasts 2.0 DTS MA stereo, a new interview with Sholder, plus older extras (commentary by the director, conversation with co-star Carol Levy, the trailer, and an interview with the real NY punk rockers seen in the film).
Coming November 16th is FUTURE BOY CONAN: THE COMPLETE SERIES (799 mins)., the directorial debut of the great Hayao Miyazaki, who was behind this TV series set in a post-apocalyptic Earth after a war caused the planet's axis to tilt. Civilization was destroyed, but humanity lives on in the form of a young boy named Conan, whose life on an isolated island is changed after a girl named Lana washes up on their shores. Making its American premiere on home video in a 4K restoration (1.33), "Future Boy Conan" debuts on Blu-Ray from GKids and Shout! Factory featuring an all-new English language version plus its original Japanese audio with English subtitles. A 16-page booklet, promo trailer and the original trailer are also included.
---
The Film Detective New Releases
An intriguing new addition to The Film Detective's line-up, THE AMAZING MR. X (78 mins., 1948) is an independently-produced late '40s B-movie starring Turhan Bay as a fraudulent spiritualist who becomes involved in the case of a widow (Lynn Bari) who lost her husband (Donald Curtis) two years prior…or did she?? Bari and her sister (Cathy O'Donnell) end up as part of a larger blackmail scheme that's motivated by the living as opposed to the dead in this fairly well-regarded film that's most noteworthy for John Alton's assured cinematography, one that's enhanced here by a new 4K transfer restored from original 35mm film elements (1.37 B&W). The use of light and shadow in Alton's work makes this Eagle-Lion effort well worth checking out in high-definition, especially since the movie fell into the public domain years ago and has never looked this good. Extras on this one – which was released as "The Spiritualist" in the UK – include a new commentary by historian Jason A. Ney; Don Stradley's insightful booklet notes; and Ballyhoo's new documentary "Mysteries Exposed: Inside the Cinematic World of Spiritualism." Strongly recommended for genre fans of the era.
Also new from The Film Detective this month is the late '50s drive-in staple FRANKENSTEIN'S DAUGHTER (85 mins., 1958), a movie I first came across on an early '80s "Creature Double Feature" TV showing. This is a ridiculously low-grade affair more in-tune with the teeny-bopper films of its time (like "I Was a Teenage Werewolf," though not as good) than anything related to Karloff and friends, with Sandra Knight playing a girl who becomes the unwitting experiment of a mad doctor – also the grandfather of Dr. Frankenstein himself – who works for her father. Brainless monster antics ensue, with most of the fun from The Film Detective's Blu-Ray (which houses a 1080p B&W 1.85 transfer) occurring via Tom Weaver's enjoyable commentary. Another track features filmmaker Larry Blamire, while a new Ballyhoo doc includes an interview with and appreciation of director Richard E. Cunha; a career retrospective of star John Ashley from historian C. Courtney Joyner; and a booklet essay from Weaver, who places the film into its proper historical context.
---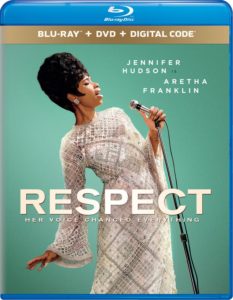 Also New
RESPECT Blu-Ray/DVD Combo Pack (145 mins., 2021, PG-13; MGM/Universal): Liesl Tommy helmed and Tracey Scott Wilson wrote this bio-pic of the legendary soul singer Aretha Franklin, charting her life in mostly conventional movie terms. This means telling the story of her rise from childhood to international stardom, and relying heavily on the dramatic – and musical – talents of Jennifer Hudson to make the film sing. Hudson is superb here, the film graced with a capable supporting cast across the board (Forest Whitaker, Marlon Wayans, Audra McDonald, Mary J. Blige), but it's worth noting how formulaic it is, while reportedly, a great deal of liberties were taken with the facts surrounding Franklin's actual life (her young pregnancies, for example, are scarcely mentioned).
Still a worthwhile movie for Hudson's performance and some naturally great music recorded along the way, "Respect" performed adequately in theaters last summer and now hits home video. Universal's Blu-Ray (2.39, Dolby Atmos) offers a terrifically mixed Atmos track with a superb transfer and numerous extras: a Making Of, "Becoming Aretha," "Capturing a Legacy," "From Muscle Shoals" and "Exploring the Design of Respect" featurettes take viewers behind the scenes, while a DVD and Digital HD copy are also included in the November 9th release.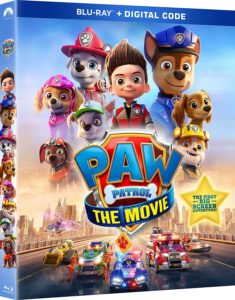 PAW PATROL: THE MOVIE Blu-Ray (85 mins., 2021, G; Paramount): Entertaining feature-film rendition of the uber-popular Nickelodeon kids series got a firm "thumbs up" from Theo, the youngest member of the Aisle Seat crew. This expectedly colorful adventure kicks Ryder and his fellow pups into another gear after rival Humdinger becomes the Mayor of Adventure City and starts wrecking havoc; it's up to the Paw Patrol to save the day, alongside their new friend Liberty, who joins the crew in Carl Brunker's energetic film that manages to retain the series' charms en route to a pleasing sub-90 minute run time. Paramount's Blu-Ray (1080p AVC) offers a robust Dolby Atmos audio mix, sing-alongs, and kid-centric behind-the-scenes segments. A Digital HD code is also included.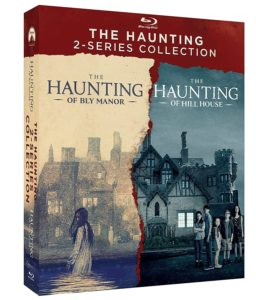 Also new from Paramount this week is a Double Feature pairing Mike Flanagan's acclaimed THE HAUNTING OF HILL HOUSE (569 mins., 2018) with its not-quite-as-satisfying follow-up THE HAUNTING OF BLY MANOR (484 mins., 2020), here making its home video debut. "Hill House" was the exceedingly effective – if a bit drawn-out – "remix" of Shirley Jackson's novel that follows a family of five, headed by parents Timothy Hutton and Carla Gugino, who move into the infamous haunted house where each of them are impacted by Hill House's ghosts in markedly different ways. Flanagan's Netflix series flashes back and forth from the perspective of the surviving children's experiences as adults to their harrowing lives in the belly of Hill House, and the secrets it threatens to keep to itself – forever. "Bly Manor," meanwhile, offers more of a romantic angle but is generally a less satisfyingly told tale that debuts here with three episode commentaries, two featurettes, 1080p transfers and Dolby TrueHD audio soundtracks. "Hill House" is presented in the same configuration as its previous Blu-Ray with the option of extended Director's Cut episodes, commentaries on four segments, 1080p transfers and 5.1 TrueHD sound…Finally, a new Collector's Set of IT'S A WONDERFUL LIFE will be available November 21st from Paramount, though the studio only sent a copy of the disc materials, which is comprised of the same 2018 release I've previously covered. The recipe cards of this new release you will have to cook up for yourself!
WALKER: Season 1 DVD (13 hours, 2021; CBS): "Supernatural" alumnus Jared Padalecki here steps into the boots of Chuck Norris for this reworking of the long-running CBS Saturday night staple "Walker: Texas Ranger." This five-disc DVD set preserves the entire first season, all 18 episodes, from the new Walker, who here returns to Austin after a year of undercover work, tackling new cases with a female partner and reconnecting at home with his kids. Two featurettes, deleted scenes and a gag reel are on-hand in CBS' now-available DVD (16:9, 5.1).
Also new from Paramount on DVD this month is YOUNGER: The Complete Series (1992 mins., 2015-19, 2021), the TVLand series that served as a showcase for Sutton Foster, playing a 40-year-old mom who pretends to be a younger woman in order to work at a publishing firm. The collision of her personal and professional lives provides comedic fun, soap opera romance and a sufficient level of overall drama in this Darren Star-created series, which concluded its run in 2021 after four seasons on TVLand. This Paramount DVD compilation is a 10-disc set housing all 84 episodes (16:9, 5.1) with extras including deleted scenes and bloopers…Lily Collins' delightful performance as a young Chicago marketing exec who heads to Paris in EMILY IN PARIS (270 mins., 2020), a new concoction from creator/producer Darren Star that premiered on Netflix last year. Paramount's Season 1 set (16:9, 5.1) debuts on DVD with 40 minutes of extras including three behind-the-scenes featurettes and a deleted scenes reel.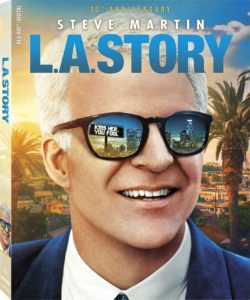 L.A. STORY Blu-Ray (98 mins., 1991, PG-13; Lionsgate): Steve Martin's love letter to the City of Angels still ranks as one of the comedian's more offbeat and engaging works, with the actor-writer starring as a weatherman with a trio of women (Marilu Henner, Sarah Jessica Parker, and then-real life wife Victoria Tennant) vying for his affections and the city itself hovering over all. Martin wrote and Mick Jackson directed Martin's amusing comic-fantasy with ample cameos of note (Patrick Stewart being just one of several) and some occasional big laughs. Making a long overdue Blu-Ray debut this week, "L.A. Story" features a beautiful, newly restored 1080p (1.85) transfer with both 5.1 and 2.0 DTS MA sound. Extras include a new 24-minute featurette, "02BINLA: Mick Jackson's L.A. Stories," along with outtakes and deleted scenes (newly retransferred in HD) featuring John Lithgow and Scott Bakula that hit the cutting room floor; "The Story of L.A. Story" and "The L.A. of L.A. Story," offering brief featurettes reflecting on the production; plus a 1991 vintage featurette, trailer and TV spots (all of which prominently feature Lithgow), and a Digital HD copy. Recommended strongly if you're a fan of the film!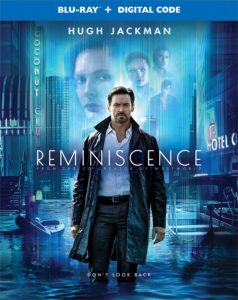 DC'S LEGENDS OF TOMORROW – The Complete Sixth Season Blu-Ray (640 mins., 2020-21; Warner): The Legends are tasked with their greatest challenge after Sara Lance is abducted by aliens. In order to find her, Mick Rory and Behrad Tarazi are sent out to recruit Esperanza "Spooner" Cruz, a Texan with tracking powers. Meanwhile, the group runs into a bevy of cameos from historical figures, from Spartacus and JFK to Amelia Earhart and David Bowie in some 15 world-trotting episodes filled with action, comic book fun and humor. Fans of the series should enjoy this latest assortment of episodes from "Legends," all wrapped up by Warner in 1080p (1.78) AVC encodes with 5.1 DTS MA soundtracks and a Digital HD code. Extras include unaired scenes, a gag reel, animation split-screen segments and three additional featurettes.
Also new from Warner is the second season of TNT series SNOWPIERCER (458 mins., 2021), the serialized adaptation of Bong Joo Ho's hit movie, set on a futuristic train with over 1000 cars circling the globe with the last vestiges of mankind onboard. Jennifer Connelly and Daveed Diggs lead the cast with Sean Bean here added into the mix as Mr. Wilford, who brings along baggage for Connelly's character, while Diggs' Layton vies for control of the Snowpiercer itself. A number of featurettes, 1080p transfers, 5.1 DTS MA soundtracks and a Digital HD copy are included in Warner's Blu-Ray package.
REMINISCENCE Blu-Ray (116 mins., 2021, PG-13; Warner): Disappointing sci-fi/fantasy stars Hugh Jackman as a private eye who helps his clients access their lost memories, enabling him to live through past/shared experiences. His latest client, Rebecca Ferguson, proves to be the most elusive of all his cases, with "Westworld"'s Lisa Joy writing and directing a cold fish of a movie that comes off as chilly and dull instead of moving and heartfelt. Warner's Blu-Ray (2.35, Dolby Atmos) includes a Making Of, music video, and several other featurettes, along with a Digital HD code.
New on 4K UHD from the studio is a 10th Anniversary Commemorative Edition of BATMAN: YEAR ONE (64 mins., 2011, PG-13; Warner), the animated adaptation of Frank Miller's seminal graphic novel, charting the early years of Bruce Wayne/Batman, Gotham City commissioner James Gordon, and Catwoman among other legendary DC figures. This was a reasonably well-received WB Animation effort, and this debut 4K release of the film includes a finely-tuned HDR10 transfer with the same 5.1 DTS MA soundtrack as its predecessor. The accompanying Blu-Ray houses a new featurette, "Reinventing Gordon," while commentary from Alan Burnett and other extras are reprieved from the previous release along with a Digital HD copy.
---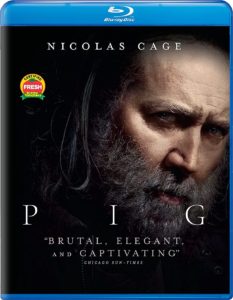 Nicolas Cage Premieres
PIG Blu-Ray (92 mins., 2020, R; Decal Releasing): Nicolas Cage earned some critical kudos (for a change) for his performance in this maudlin and unappealing drama about a truffle hunter who loses his foraging pig and scrambles through assorted lowlifes in an effort to find it. Writer-director Michael Sarnoski's downbeat movie doesn't offer much in the way of unintentional Cage humor – neither does it entertainment, since this slow-going, nihilistic picture wears out its welcome long before the story concludes. "Nicolas Cage Cooks…" and deleted scenes are included in Decal's Blu-Ray (2.39, 5.1 DTS MA), out this week.
Another brand-new Cage performance is on-hand in PRISONERS OF THE GHOSTLAND (102 mins., 2021, Not Rated), which debuts on Blu-Ray this week from RLJE. This genre mashup from director Sion Sono offers a front cover quote from the actor himself, saying it's "the wildest movie I've ever made." It's certainly the most nonsensical, as the Japanese director takes viewers – presumably those with a taste for his work – on a nutty, threadbare narrative involving a bank robber (you-know-who) hired to find a warlord's granddaughter (Sofia Boutella), while wearing a leather suit that will self-destruct within a week if he's unsuccessful in his mission. That might make more sense than the picture as it plays out, as the movie boasts bonkers imagery and references that prove to be more exhausting than entertaining. A Making Of and photo galleries are included in RLJE's disc (1080p, 5.1 DTS MA).
New From MPI: CHERNOBYL 1986 Blu-Ray (136 mins., 2020; Capelight/MPI): Russian-produced disaster movie follows the real-life explosion at the Chernobyl nuclear power plant on April 26th, 1986, specifically from the point of view of the firefighters who volunteered to drain the facility's reservoir before the nuclear reactor collapsed into it. How these courageous men saved the lives of millions is dramatized in Danila Kozlovsky's film, new on Blu-Ray from Capelight featuring 5.1 DTS MA sound in Russian (English subtitled) or dubbed…Capelight and MPI also bring viewers the Korean drama THE CONCUBINE (117 mins., 2012) on DVD. Set during the Joseon Dynasty, this follows the relationship between a minister's daughter (Cho Yeo-Jeong from "Parasite") and a commoner, one that's thwarted after she's ordered to become a concubine for the King. An English dub is included in this Capelight DVD which offers a 16:9 transfer and the original Korean 5.1 audio with subtitles…THE HIDDEN LIFE OF TREES (85 mins., 2020) is the documentary based on author Peter Wohlleben's book profiling the forest world, what it's trying to tell our society, and what most aren't hearing. Capelight's Blu-Ray (1080p, 5.1 DTS MA) is now available.
Also new from MPI on DVD – in time for the upcoming holiday season – is THE HONEYMOONERS SPECIALS: A CHRISTMAS CAROL (90 mins., 1977). One of several post-series reunions between stars Jackie Gleason, Audrey Meadows and Art Carney – plus Jane Kean – this yuletide show finds Ralph organizing his own rewrite of "A Christmas Carol" for an office holiday fund-raiser, complete with Ed as director. An interview with Jane Kean is on-hand along with a 1973 "Women's Lib" skit, and a 4:3 transfer from the best surviving tape elements.
Well Go New Releases: The Hi-Yah! Channel original THE EMPEROR'S SWORD (92 mins., 2020) is a Beijing import wherein a general's daughter battles a rebel who seizes power after the death of the emperor. Both are after a deadly sword that gives its user great power, with the balance of their kingdom hanging in the balance. Yingli Zhang and Handan Chen co-directed this new to home video martial arts adventure, on Blu-Ray November 9th from Well Go, in Mandarin with English subtitles (1080p, 5.1 DTS MA).
---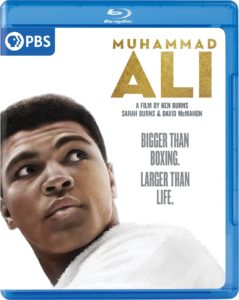 PBS New Releases
The life and times of MUHAMMAD ALI (7½ hours, 2021) have been chronicled before but never as in-depth as this near eight-hour documentary profile from Ken Burns, Sarah Burns and David McMahon. The latter two wrote this four-part production that showcases Ali from his upbringing to Islamic rebirth, refusal to participate in the U.S. Army, and naturally, his incredible physical prowess in the boxing ring. Archival footage, stills and interviews grace a typical project from Burns, which is leisurely paced yet engrossing, enriching a well-balanced biography of Ali that charts his athletic accomplishments as much as his social justice crusades in turbulent times. PBS' Blu-Ray release includes 1080p transfers and 5.1 surround spread across four finely-compressed discs.
Also new on DVD from PBS: American Experience's profile of the legendary newspaper mogul, which at one point covered 28 newspapers, a movie studio, radio stations and a syndicated wire service, CITIZEN HIRST (220 mins., 2021) profiles William Randolph Hearst in a very entertaining overview. This lengthy but never boring production by Stephen Ives, Amanda Pollak and Gene Tempest looks at one of America's biggest – and first – multi-media entrepreneurs, with the 3½ hour documentary presented here on two DVDs (16:9, 2.0)…Finally, the second season of BAPTISTE (6 hours, 2021) again follows the title retired detective (Theky Karyo) as he heads into the corrupt underground of Budapest looking for a British ambassador's family who went missing on a skiing holiday. PBS' two-disc DVD contains 16:9 transfers and 2.0 stereo soundtracks.
Coming November 30th from PBS is the Sixth Season of popular British mystery GRANTCHESTER (aprx. 7 hours, 2021). This time out, Leonard Finch is caught up in a scandal, much to the chagrin of Reverend Will Davenport (Tom Brittany), who's always willing to challenge convention to help his flock in the Cambridgeshire village of Grantchester. PBS' three-disc set contains the complete sixth season of "Grantchester" with 16:9 transfers and 5.1 soundtracks in a three-disc DVD set.
NEXT TIME: Mad Max? Kino Lorber November Wrap? Tune in next time to find out what trickles through the supply chain! Until then, don't forget to drop in on the official Aisle Seat Message Boards and direct any emails to our email address. Cheers everyone!