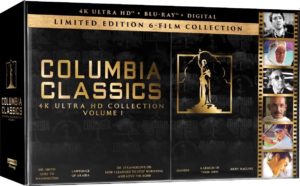 This assortment of Columbia titles again runs a wide gamut in terms of genre and content – understandably so. In trying to appeal to as many viewers as possible, Sony has chosen a smart array of pictures here that debut on 4K UHD with freshly remastered Blu-Rays (in five of the six instances) and new supplemental content accompanying them.
STRIPES (106/123 mins., 1981, R): One of the big hits of 1981, director Ivan Reitman's silly, frequently hilarious military comedy put Bill Murray and Harold Ramis through the paces of an R-rated "Buck Privates" for the "Animal House" generation.
As down-on-his-luck cab driver John Winger, Murray perfected his sarcastic leading man in "Stripes," a film that offers a standard framework to back its comedy: a group of misfits (including Murray, Ramis, Judge Reinhold and John Candy) join the army, butt heads with their tough drill sergeant (Warren Oates), put up with a stuffy commandant (John Larroquette), romance a pair of military policewomen (P.J. Soles, Sean Young), and ultimately have to save the day for real.
Dan Goldberg, Len Blum and Reitman's original script was intended to be a vehicle for Cheech & Chong, but after the project (fortunately) fell through, "Stripes" was snapped up at Columbia and re-tooled (sans most drug jokes) for Murray, who brought Ramis along to be his sidekick. The result is an '80s comedy classic: the combination of amusing sight gags and engaging performances by a terrific cast make for an irresistible slice of entertainment from its era. Candy and Reinhold are hilarious in some of their earliest roles, while Elmer Bernstein contributes a rousing score.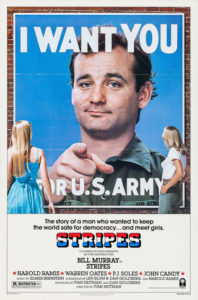 Sony's 4K UHD of "Stripes" boasts a superb new HDR10 grading of both the theatrical cut as well as the "Extended" cut of the film, sporting 18 minutes of added footage. A few of the additional scenes are amusing but "Stripes" has a tendency towards overlength, even in its original 107-minute theatrical version. For that reason, most viewers will likely prefer to stick with the theatrical cut, and watch the extended/deleted scenes in the supplemental section, which can be found here outside the movie's DVD Special Edition for the first time (these were left off the Blu-Ray). The extended cut is accompanied by an interesting commentary track by Reitman and Goldberg, who discuss the project's genesis, Murray's improvisational humor, shooting in Louisville, Kentucky (close to Sean Young's home), its box-office success and subsequent cult following.
Just as much fun is an hour-long 2005 documentary recounting the production. Split into two half-hour segments, "Stars and Stripes" is a superlative look back at the making of "Stripes," offering interviews with Reitman, Ramis, Goldberg, Judge Reinhold, Sean Young, P.J. Soles and John Larroquette among others (Murray is also on-hand in older material). Filled with humorous anecdotes, this is the kind of retrospective documentary most viewers will actually watch from start till end.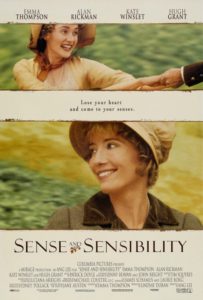 Sony has packed in new extras here as well: the included Blu-Ray boasts a new transfer of the film (both cuts) plus the original ABC Network TV edit, which marked the first time I saw "Stripes" (and could see it as a grade schooler!). Even better, the 4K UHD exclusively houses an all-new, 40-minute, pandemic-conducted conversation between Ivan Reitman and Bill Murray. The duo cover much terrain in a fun talk – including working with Elmer Bernstein – culminating in a surprise guest appearance from cinematographer Bill Butler, celebrating his 100th birthday! Seeing as Murray did not participate in the 2005 retrospective doc, this is a terrific and significant inclusion.
Both formats offer remixed Dolby Atmos and 5.1 DTS MA options, as well as the movie's original mono soundtrack for the first time in decades, making this a super "Stripes" Special Edition for both UHD and Blu-Ray format owners alike.
SENSE AND SENSIBILITY (136 mins., 1995, PG): Ang Lee's luminous adaptation of Jane Austen's novel offers a cast that's second to none – Emma Thompson, Alan Rickman, Kate Winslet, Hugh Grant, Hugh Laurie – in a breezy, romantic cinematic vision that was released as part of a series of Austen pictures in the '90s – movies that ran the gamut from Anna Hathaway's turn as the author in "Becoming Jane" to both period and modern takes ("Clueless") on Austen's "Emma." "Sense and Sensibility" sits at the top of the list, boasting a superb Patrick Doyle score, Michael Coulter's nuanced cinematography and wonderful performances by all.
Sony here has restored "Sense and Sensibility" from the original camera negative in a sparkling HDR10 transfer with both a new Dolby Atmos mix and its previous 5.0 DTS MA track. Extras include a brand-new 25th Anniversary Reunion segment, "Back to Barton Cottage," featuring Emma Thompson, Kate Winslet, Greg Wise, Imelda Staunton, Imogen Stubbs, Myriam Francois, producer Lindsay Dohan and Ang Lee. Content reprised from previous releases include commentaries from Thompson and Doran, as well as Lee with producer James Schamus; the featurettes "Elegance & Simplicity: The Wardrobe of Sense & Sensibility," "Locating the World of Sense & Sensibility," "A Sense of Character," "and A Very Quiet Man"; deleted scenes; and trailers. Pitch-perfect and timeless, "Sense and Sensibility" is one of Ang Lee's many outstanding pictures. Highly recommended!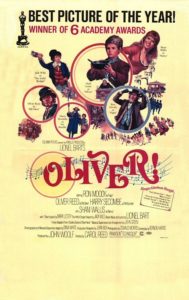 Carol Reed's filming of Lionel Bart's musical OLIVER! (153 mins., 1968, G) is one of the best stage-to-screen adaptations of all-time: a faithful, emotional and well-acted filmization with outstanding cinematography by Oswald Morris and production design by John Box. Mark Lester makes for an ideal Oliver with Ron Moody recreating his award-winning stage performance as Fagin, Harry Secombe as Mr. Bumble and Oliver Reed as Bill Sikes. While it's certainly not the grittiest Dickens ever committed to film, as a musical, "Oliver!" works extremely well and Reed's direction captures what made the original production such a smash on both sides of the Atlantic. Another marvelous OCN restoration in HDR10, "Oliver!" shines in UHD with a trio of audio options (Dolby Atmos, 2-channel stereo in DTS MA, and 5.1 DTS MA). Extras include a new commentary with Steven C. Smith and Jack Wild's screen test, while older extras include featurettes, sing-alongs and trailers.
Otto Preminger was certainly a "hot button" filmmaker for his era, and ANATOMY OF A MURDER (160 mins., 1959), regarded as one of the director's finest pictures, debuts here in 4K UHD after being available as a Criterion Blu-Ray release.
Jimmy Stewart stars as a Michigan small-town lawyer who takes the case of an army lieutenant (Ben Gazzara) charged with the killing of a local tavern owner who allegedly raped and assaulted his wife (Lee Remick). Stewart's folksy charm is on full display (and likely served as a blueprint for later characters like Andy Griffith's "Matlock") here in a Wendell Mayes-scripted adaptation of a bestselling novel that had been written under a pseudonym by a real Michigan Supreme Court Justice.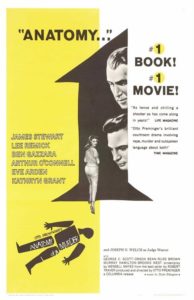 By today's standards "Anatomy of a Murder" is hard from graphic – in fact, any episode of "Law & Order: SVU" is about ten times as explicit as Preminger's movie, but younger viewers (myself included) have to keep in mind that at the time of its release, "Anatomy of a Murder" was a groundbreaking film for its frank discussion of sex and in its depiction of Remick's character, who may or may not have engaged in a consentual relationship with the slain bartender.
At over two-and-a-half hours, "Anatomy" does feel overlong, and with the "shock value" of its premise having worn off, the picture endures primarily through its performances: in addition to Stewart, Remick and Gazzara, Arthur O'Connell is marvelous as Stewart's alcoholic ex-lawyer confidant; George C. Scott shines in an early turn as a big-city prosecutor; Eve Arden ("Our Miss Brooks") perfectly embodies Stewart's secretary; while Murray Hamilton, Orson Bean and a number of other familiar faces likewise appear in support. In contrast to the story, the film aesthetically has lost little of its appeal, with a fresh, atypical jazz score by Duke Ellington (who also appears in the film) and Saul Bass' memorable opening credits sequence adding to the film's uniqueness for its period.
Sony's HDR10 UHD transfer from the OCN (1.85 B&W) is crisp and audio options include the original mono, though I preferred the true stereo remix – included here in both Dolby Atmos and 5.1 DTS MA – which does more justice to Ellington's music and gives the entire film a wider dynamic range. Extras include a new commentary with Preminger biographer Foster Hirsch, plus an interview with the author; a featurette with Gary Giddins exploring Duke Ellington's score; and Bass biographer Pat Kirkham examining the relationship between Bass and Preminger. There are also excerpts from a Preminger appearance on William F. Buckley's "Firing Line" circa 1967 and the trailer.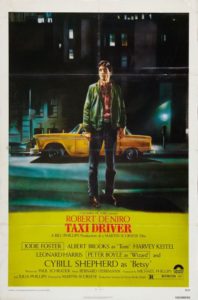 Martin Scorsese's TAXI DRIVER (114 mins., 1976, R) needs scant introduction to the director's fans or most aficionados of '70s cinema. It's never been a favorite of mine particularly but there's no questioning the influence the film has had or its enduring reputation. This new 4K UHD edition again sports a fresh remastering from the original camera negative (1.85), here with Dolby Vision grading and three audio options: Dolby Atmos, its 5.1 DTS MA remix, and the original mono. Supplements include a 20th Anniversary re-release trailer (on UHD), the Making Of retrospective documentary and storyboard/animatic galleries. Additional extras on the Blu-Ray (newly remastered from the 4K transfer) include a 2016 Tribeca Q&A; commentary with Scorsese and Schrader as recorded for the Criterion Collection; additional commentaries with Schrader and professor Robert Kolker; and numerous additional featurettes.
The set closes out with its most recent inclusion, David Fincher's superb THE SOCIAL NETWORK (120 mins., 2010, PG-13/Unrated), the chronicle of Facebook mogul Mark Zuckerberg (Jesse Eisenberg). The Dolby Vision-enhanced transfer looks impeccable with Dolby Atmos audio reflecting the movie's uncensored profanity (a 5.1 DTS MA track houses the theatrical, PG-13 mix) while trailers are also included on the UHD. Other extras can be found in the Blu-Ray which reprises its previous 2-disc release with commentaries and a slew of extras housed on a separate supplemental platter.
In addition to a hardbound, full color book and digital HD codes, Sony has included an exclusive bonus Blu-Ray filled with 20 shorts spanning multiple decades, from a '30s Three Stooges effort ("Disorder in the Court") to the recent "Puppy!" short that accompanied the release of "Hotel Transylvania." It's another faultless release that comes recommended for any fan of the respective films, seeing as the UHDs are accompanied by remastered Blu-Rays (save "The Social Network") and ample new supplemental content that adds the icing on the cake. Here's hoping a third volume follows in 2022!
---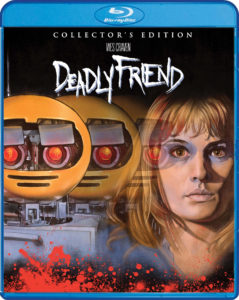 Also New & Noteworthy
DEADLY FRIEND Collector's Edition Blu-Ray (90 mins., 1986, R; Shout! Factory): Wes Craven-directed studio effort stars Matthew "Whiz Kids" Laborteaux as a nerdy teen who befriends troubled neighbor Kristy Swanson, only to see her suffer a terrible fate that young Matthew has a hard time getting over — so much that he tries to pull a Doc Frankenstein and bring her back to life! "Ghost" writer Bruce Joel Rubin's script works well enough in establishing the likeable characters and their surroundings, but the movie goes downhill once it turns into a standard-issue horror flick, leading to a dismal ending.
Nevertheless a thriller with a cult following, "Deadly Friend" makes its way to Blu-Ray from Scream Factory this month. The new 2K scan from the interpositive (1.85) results in an attractive, detailed transfer with mono DTS MA sound. Scream's terrific supplements include welcome, new interviews with Kristy Swanson, who made her first big splash with this picture; Bruce Joel Rubin, who adapted a book by Diana Henstell for the film; composer Charles Bernstein; and makeup effects wiz Lance Anderson. The trailer and TV spots round out the disc.
OLD 4K UHD/Blu-Ray (109 mins., 2021, PG-13; Universal): M. Night Shyamalan is back to his old tricks cinematically and turns out a second fizzle in a row after the languid "Glass" followed his comeback hit "Split." "Old" manages to take a weird premise — a group of characters gathered together on a secluded tropical beach begin to age at an intense rate — and sadly botches its treatment en route to an ending that was obviously never going to be less than unsatisfying, but comes across as especially weak here. Shyamalan adapted a graphic novel named "Sandcastle" for this attractively lensed but relentlessly downbeat — and increasingly silly — film now on 4K UHD from Universal. The disc sports both Dolby Vision HDR and Dolby Atmos sound plus a Digital HD code, deleted scenes, four featurettes, and a copy of the Blu-Ray (1080p, Dolby Atmos).
STAR TREK: THE ORIGINAL SERIES 55th Anniversary Steelbook Collection (1966-69; CBS/Paramount): As we near the holiday season a number of attractive new box-sets are on the docket, including this lavishly-produced Steelbook Edition of "Star Trek", the original Gene Roddenberry series.
The full color artwork looks superb and houses a repackage of the previous Blu-Rays, which include all 79 classic episodes, both with enhanced visual effects as well as the original broadcast versions; 7.1 remixed DTS MA audio plus original mono tracks; and over nine hours of comprehensive special features. There's nothing new here, but all 20 discs from Seasons 1, 2 and 3 have been collected here in their respective Steelbook covers, housed inside an exterior cardboard package. For individual reviews of the respective Blu-Ray season releases, check the Archives, but for fans (and collectors especially), this is a snazzy new release worth a purchase.
THE STAND Blu-Ray (8 hours, 2020-21; CBS): Stephen King's mammoth, apocalyptic novel was first brought to the screen in the form of a high-rated, and generally well-received, mid '90s ABC mini-series with a script by King himself. This new Paramount+ series brings King back into the fold to write a new coda on top of a fresh retelling of his book — but despite advances in technology and a more explicit, R-rated tone, this remake isn't as satisfying dramatically, hitting familiar beats but also making some curious alterations to the source material that generally irritated fans. A good cast does their best — Alexander Skarsgard as the villainous Randall Flagg, James Marsden on the other side of the good vs. evil battle, with Greg Kinnear, J.K. Simmons and Heather Graham in support — but it's something of a disappointment that never gels. CBS' Blu-Ray offers a superb 1080p transfer and 5.1 DTS MA sound, plus a gag reel and Making Of featurette.
For those who want both cinematic renderings of "The Stand," CBS has also issued a DEFINITIVE 2-SERIES COLLECTION Blu-Ray that includes the 2020 version alongside the much more satisfying ABC production from 1994. The latter is housed in a single Blu-Ray disc that offers a 4:3 transfer and 2.0 stereo audio that's as sharp as the source material allows, plus a commentary and an archival Making Of that celebrates the achievement of Mick Garris' original mini-series.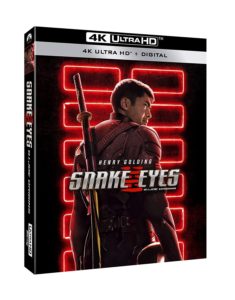 SNAKE EYES 4K UHD (121 mins., 2021, PG-13; Paramount): Paramount, MGM and Skydance again attempt to resurrect the "G.I. Joe" movie franchise by making a standalone adventure for Snake Eyes — the cool, silent, stealthy ninja assassin that's perennially been the most popular character in the series dating back to the '80s. Regrettably, writer Evan Spilotopoulos and director Robert Schwentke's movie is an origin film wherein Snake Eyes really isn't Snake Eyes for most of the way but rather Henry Golding, star of "Crazy Rich Asians," who — in addition to talking — eventually joins up with Samara Weaving's Scarlett in taking on the villainous Cobra. Ursula Corbero is effective as the Baroness but this overlong effort struggles to produce an engaging narrative, leaving only the intermittent action scenes to entertain. Paramount's 4K UHD looks spectacular at least with both Dolby Vision and Dolby Atmos; the disc also includes an all-new Snake Eyes Short plus five deleted scenes and several featurettes along with a Digital HD code.
AUDREY HEPBURN 7-Movie Collection Blu-Ray (Paramount): Terrific, affordable 7-disc set features BREAKFAST AT TIFFANY'S, FUNNY FACE, MY FAIR LADY, PARIS WHEN IT SIZZLES, ROMAN HOLIDAY, SABRINA and WAR AND PEACE, the latter previously available only in a now-out-of-print Warner release. Transfers and soundtracks are identical to previous editions of the films, though Paramount has sweetened the pot with Digital HD copies for all. Highly recommended, especially if you haven't purchased the bulk of these already.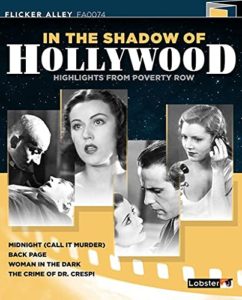 IN THE SHADOW OF HOLLYWOOD: Highlights From Poverty Row Blu-Ray (Flicker Alley): Flicker Alley's newest restoration anthology compiles four features from "Poverty Row" production houses — all pre-Code efforts that include future stars Fay Wray, Sterling Holloway and Humphrey Bogart among others appearing in fascinating productions each compelling for their capture of subject matter and time and place in Hollywood history.
Included here in restorations (1.37 B&W) by Lobster Films from original 35mm elements housed in the Blackhawk Films Collection are: Midnight (1934, aka Call it Murder), which sports Sidney Fox, Bogie and O.P. Heggie as a jury foreman wrapped up in his daughter's confession to a murder; Back Page (1934), featuring Peggy Shannon as a young reporter who leaves a big city job and promptly gets embroiled in local politics; the Dashiell Hammett adaptation Woman in the Dark (1934), which pairs Fay Wray with Ralph Bellamy, the latter starring as a parolee whose attempts to stay straight are kiboshed by a false murder accusation; and The Crime of Dr. Crespi (1935), a rendition of Poe's "The Premature Burial," offering Erich von Stroheim as a surgeon who puts a rival who married his girlfriend in a state of paralysis that everyone mistakes for actual death.
Commentaries are included on all four films by Leah Aldrige, Emily Carman, Jake Hinkson and Jan-Christopher Horak, respectively. There are also booklet notes from Horak in a double-disc set that should prove to be of major interest for Golden Age fans — and especially lovers of '30s B-movies — when it debuts from Flicker Alley on November 2nd.
---
New Releases From the DC Universe
There have been more Superman TV series than one can nearly count, but the CW is back for more, hoping SUPERMAN & LOIS (672 mins., 2020-21; Warner) might enjoy the same success as its long-running "Smallville," which ranks near the top of all contemporary comic book "reboots." This new series has met with generally positive reaction from the faithful, as Clark and Lois – now married with two kids – head back to Smallville, hoping to raise their possibly superpowered youngsters out of the spotlight. Alas, modern pressures and new (and old) villains put the screws on our popular couple, while all sorts of entanglements – at school and home – follow their sons, Jonathan and Jordan. For fans, Warner brings Season 1 of "Superman & Lois" to Blu-Ray this week featuring 1080p (1.78) transfers, 5.1 DTS MA soundtracks, extended episodes for all 15 shows, three featurettes, a DC Fandome panel, and a Digital HD copy.
The popular video game series "Injustice" was brought to the comic book realm and now the animated feature route with INJUSTICE (78 mins., 2021, R; Warner), though I wouldn't rank this Warner Bros. Animation effort with the better productions from the imprint. Like its source material, "Injustice" pits a batch of DC heroes against one another after Superman decides to use his powers for tyrannical purposes, leaving Batman to have to fight against him. Appearances by all kinds of good, and bad, DC characters will make this watchable for fans but the plot isn't well developed and it ends hastily as well. Warner's attractive 4K UHD includes an HDR10 transfer, 5.1 DTS MA sound, two featurettes and a pair of bonus cartoons on the included Blu-Ray platter. A Digital HD code rounds out the release.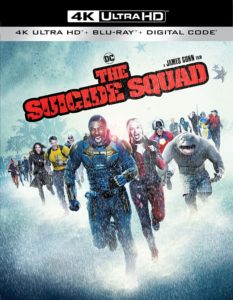 THE SUICIDE SQUAD 4K UHD/Blu-Ray (132 mins., 2021, R; Warner): Despite the positive word-of-mouth, I wasn't crazy about this revamp of "The Suicide Squad"'s 2016 David Ayer-helmed predecessor, starting with its claustrophobic direction and staging — "Guardians of the Galaxy" helmer James Gunn seems to have no conception of blocking or scope as his entire movie is shot (non-anamorphically too) in either close or medium shots. The story is drab, the design of the movie is drab, and it even looks and feels like some kind of Netflix production.
In some part I feel like this movie's commercial failure (COVID or not) with its formulaic components — the cutesy one-liners, the violence played over ironically utilized songs, the tedious gore and uninvolving story — may, in its own way, signal that we're finally coming to the end of the super-hero movie's popularity. Or at least signal that its heyday is over. Yes there are an endless array of Marvel movies to come, but they are now lacking the big names and star power that drove them to huge commercial receipts, mostly using B-tier heroes. And DC continues to have a major issue trying to figure out if it wants to go the "family friendly" Marvel route with "Aquaman"-styled stuff, or R-rated fare like this and "revisionist" fare like "Joker." The latter struck it rich at the box-office, but that success eluded the new "Suicide Squad."
No matter, this one mostly sputters — Gunn's effort has a few laughs but most of the cast is just there to get killed off (including a handful before the opening credits even run) while Robbie struggles to make Harley Quinn a compelling heroine (how many more chances is she going to get?). Elba fares best in what was obviously the Will Smith role, seeming like he's above the material with a tongue mostly in cheek performance, but for the most part, the film is just dull and thoroughly predictable.
Warner's 4K UHD offers both a good-looking HVEC encoded HDR10+ transfer with Dolby Atmos audio, the Blu-Ray, a Digital HD code, and plenty of extras on the Blu-Ray: deleted/extended scenes, a gag reel, multiple featurettes, a trio of retro-styled trailers, and Gunn's director commentary (also on the 4K UHD).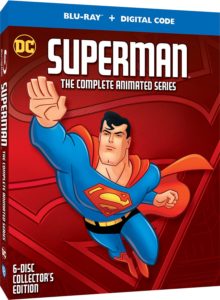 If you're looking for an extra Man of Steel fix, Warner Archive has produced a wonderful six-disc SUPERMAN: THE ANIMATED SERIES (1138 mins., 1996-2000) anthology that debuts on Blu-Ray October 26th.
The creative minds behind "Batman: The Animated Series" reunited for their own treatment of the Man of Steel, and while "Superman: The Animated Series" didn't prove to be quite as long-running as the Dark Knight's show, fans still rank this adaptation with the best Superman renditions in the visual medium.
This first Blu-Ray release of the series offers new 1080p AVC encoded transfers along with DTS MA stereo soundtracks. The video is crisp and colorful, along the lines of Warner's "Batman: The Animated Series" HD release. In terms of overall entertainment, "Superman" is plenty of fun, with later episodes alternating between self-contained stories and more ambitious multi-part "arcs," which introduce Supergirl ("Little Girl Lost") and feature appearances by the likes of Aquaman, the Green Lantern, Apokolips and others.
Warner's release also includes extras recycled from the previous DVDs: four episode commentaries and five behind-the-scenes featurettes, along with a Digital HD code for the entire show. Highly recommended!
---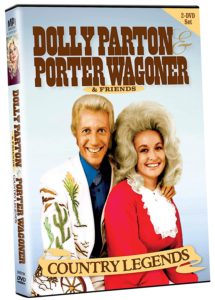 Quick Takes
DOLLY PARTON & PORTER WAGONER & FRIENDS: Country Legends DVD (210 mins., MPI): Fans of vintage country music and archival television will want to check out MPI's two-disc DVD compilation featuring Dolly Parton's many appearances on Porter Wagoner's '60s TV variety show along with clips from her subsequent "Dolly" series. The anthology includes over a decade's worth of performances from Parton, including her hits "Jolene," "I Will Always Love You" and "Coat of Many Colors," along with songs from Wagoner, special guests Freddy Fender and KC & The Sunshine Band and more.
ROADRUNNER DVD (119 mins., 2021, R; Universal): Morgan Neville's CNN/HBO Max production charts the life and times of chef/author Anthony Bourdain, going behind the scenes for a look at the late figure's work and adventures around the world. For fans of Bourdain this is a must-see, well-edited and energetic. Universal's DVD (16:9, 5.1) is now available.
STILLWATER Blu-Ray (139 mins., 2021, R; Universal): Well-acted yet tedious dramatic thriller tries to offer a little commentary on blue collar Americans while serving up a story very obviously patterned after the Amanda Knox case. Matt Damon stars as a oil-rig strongman from Oklahoma who heads to France, hoping to get his daughter (Abigail Breslin) out of prison for a murder she says she didn't commit. There, the stranger in a strange land struggles with France's legal system and its people, with director/co-writer Tom McCarthy taking forever to get to a big reveal that isn't worth the strenuous build-up. A languid effort, "Stillwater" debuts on Blu-Ray October 26th from Universal (1.85, 5.1 DTS MA) with the disc including two featurettes, an interview with McCarthy, the DVD, and a Digital HD code.
THE PROTEGE 4K UHD (108 mins., 2021, R; Lionsgate): Unremarkable yet competent suspense-thriller features small-screen "Nikita" alumnus Maggie Q going through familiar paces as an assassin, trained since birth by a veteran hitman (Samuel L. Jack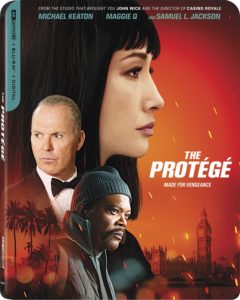 son), who has to piece together a mystery after he's killed (apparently). She soon meets and does a tango with a rival hitman (Michael Keaton) when she visits Vietnam in a movie that doesn't exactly crackle with energy, but nevertheless finds a way to get the job done thanks to Richard Wenk's ("The Equalizer") straightforward script and "Casino Royale"/Zorro vet Martin Campbell's direction. He's a long way from Bond here, but given this film's current competition, it's a serviceable slice of escapism all told, even if the ambiguous last scene is a downer. Lionsgate's 4K UHD looks spectacular with warm colors bathed in Dolby Vision HDR along with Dolby Atmos audio. The disc includes a Blu-Ray, Digital HD code, a deleted scene, two featurettes, the trailer, and Campbell's commentary.
WARNING Blu-Ray (86 mins., 2021, R; Lionsgate): Polish-lensed apocalyptic sci-fi shows us life could be even worse than the last 18 months after a global storm causes electronics to malfunction, leading to dire consequences for all kinds of characters. Alex Pettyfer, Alice Eve, Annabelle Wallis, Patrick Schwarzenegger, and brief appearances by Rupert Everett, Thomas Jane and James D'Arcy populate this brief, if attractively shot, doomsday drama on Blu-Ray October 26th from Lionsgate (2.39, 5.1 DTS MA, with a Digital HD copy)…Also new from Lionsgate is SAVING SLOANE (89 mins., 2021, PG), a coming-of-age story involving a troubled teen (Taylor Foster) who's sent by her stepmom to the country where she stays at a ranch, bonds with the family, and forges a relationship with a horse named Glory. Familiar subject matter is enhanced by capable performances in writer-director Steve Franke's film, on DVD October 26th (1.78, 5.1 Dolby Digital).
SURVIVE THE GAME (97 mins., 2021, R; Lionsgate): It's been nearly a month since Bruce Willis popped up in a direct-to-video flick, so this latest Grindstone production comes to Blu-Ray just in the nick of time. Here, Willis plays a veteran cop who's injured in a botched drug bust and sends his partner to take out the criminals who shot him; eventually, they make a stand at a remote farm owned by a vet (Chad Michael Murray) in a thoroughly by-the-numbers Emmet/Furla/Oasis production from director James Cullen Bressack. Lionsgate's Blu-Ray (2.39, 5.1 DTS MA) is now available featuring a Digital HD copy.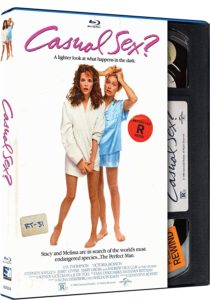 Mill Creek New "Retro VHS" Blu-Rays: Mill Creek's popular line of Blu-Ray catalog titles packaged with "Retro VHS" slipcover artwork adds a trio of new titles this month, all licensed from Universal.
SPLITTING HEIRS (87 mins., 1993, PG-13) was a box-office flop for writer/star/Monty Python alumnus Eric Idle, who attempted a modern "Prince and the Pauper"-type farce wherein a royal (Idle) is switched at birth with what turns out to be a crass American (Rick Moranis). Barbera Hershey, Catherine Zeta-Jones and John Cleese also pop up in a weirdly-cast comedy that tried to hit the "Fish Called Wanda" target with demographic appeal on both sides of the pond — unfortunately, just as "Fierce Creatures" (an actual reunion of that earlier comedy's talents) showed shortly thereafter, that was easier said than done.
Also new in the Mill Creek line are the 1988 comedy CASUAL SEX? (87 mins., R), an adaptation of a stage play from producer Ivan Reitman that works as a mildly enjoyable pairing of Lea Thompson with SNL comedienne Victoria Jackson, with Andrew Dice Clay scoring a few laughs as "The Vin Man"; and RENEGADES (105 mins., 1989, PG-13), an adequate action vehicle for director Jack Sholder, who was hot coming off the sleeper hit "The Hidden." This Morgan Creek/Universal production teams up Kiefer Sutherland with his "Young Guns" star Lou Diamond Phillips as they track down jewel thieves. The plot is utterly conventional but the action is reasonably well-executed and Phil Meheux's lensing is strong. Like "Splitting Heirs," Michael Kamen also scored the film, presented — as all three movies are — on Blu-Ray from Mill Creek with decent 1080p (1.85) AVC encoded transfers and 2.0 DTS MA sound.
Film Movement New Releases: New on DVD, THE RIFLEMAN (104 mins., 2021) is a Latvian import based on Aleksandrs Grins' book "Blizzard of Souls," wherein a 16-year-old serves alongside his father and brother, first as an observer – later a participant – in the horrors of WWI trench warfare. Film Movement's DVD includes a 16:9 (2.39) transfer and an English dub track only…the French drama FINAL SET (103 mins., 2021) is a fine character drama starring Alex Lutz as a career pro trying to keep going and play the French Open at age 37. He battles his own demons and physical decline in Quentin Reynaud's film, new on DVD with a 16:9 transfer (2.39) and 5.1/2.0 sound.
BEST SELLERS DVD (102 mins., 2020; Screen Media): Lina Roessler's 2020 film stars Aubrey Plaza as Lucy Stanbridge, a young woman who inherits her father's publishing firm, only to uncover that it's owed a book by reclusive, problematic author Harris Shaw (Michael Caine). Caine's the best thing in this conventional character comedy-drama that's kept afloat by a solid supporting cast (Scott Speedman, Cary Elwes, Ellen Wong among them) but doesn't really lead to anywhere of significance. Screen Media's DVD (16:9, 5.1) is out November 2nd featuring a bonus blooper reel.
NEXT TIME: Kino Lorber's October rundown! Until then, don't forget to drop in on the official Aisle Seat Message Boards and direct any emails to our email address. Cheers everyone!