Message Board (open 24 hours!)
Twitter - @andredursin (for everything else!)
The made-for-television movie has always received scant attention in the age of home video: not just Blu-Ray but DVD and laserdisc before it. Hundreds of well-crafted films produced for the small-screen haven't been seen since their original network broadcasts, burying a swath of gems that have – considering Hollywood's modern focus of producing worldwide blockbusters from regurgitated IPs – likely weathered the years better than you might've thought. Fun City Editions rolls the dice where other labels have mostly never ventured with a 3-disc Blu-Ray PRIME TIME PANIC set that salutes a trio of early '80s network "Movies of the Week" from producers Leonard Hill and Philip Mandelker, each with young stars and superb craftsmanship behind the lens.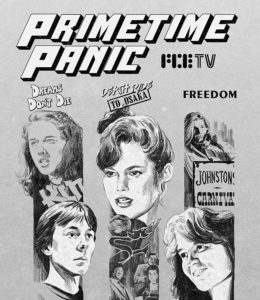 Fun City's set leads off with FREEDOM (95 mins., 1981), the mostly true account of a teenager (Mare Winningham) who takes her mother (Jennifer Warren) to court, winning emancipation in an effort to live free – which for her, includes hooking up with a circus and pursuing a music career. Writer Barbara Turner was married to actor Vic Morrow and had two daughters, Jennifer Jason Leigh as well as Carrie Ann Morrow, whose experiences heavily informed this dramatic account of Carrie's teen rebellion and combative relationship with her mother. It's a movie where the dramatic sparks entirely reside within the characterizations and performances, and both Winningham and Warren are convincing and relatable in their own respective ways – Warren's hard-working mother wanting the best for her daughter, whose youth and recklessness prevent her from understanding where Warren is coming from.
"Freedom" was directed by prolific TV veteran Joseph Sargent, who brought Turner's script to life with the writer being heavily involved in its creative decisions. According to an interview with Carrie's daughter Andrea Adams, whole scenes here were directly captured from real-life incidents involving her mother, from the circus scenes – where Winningham falls for one of its "lifers" (Peter Horton) – to the domestic sequences of Winningham and Warren eventually healing and coming to a mutual understanding of one another.
The movie is filled with pleasant songs both written by Janis Ian and performed by Winningham, who never enjoyed the kind of big-screen career that roles like this hinted at – as the '80s progressed she fell in with the "brat pack" and, regrettably, seemed to miss out on inhabiting an "earthy," Sissy Spacek-type niche that she comfortably falls into here. Warren is excellent as well, projecting a strong working woman with more in common with her daughter than her teen offspring realizes. If there's a downside to the story, it's that we never see what precipitated the mother/daughter rift – their "divorce" is already underway when "Freedom" begins, so the potential emotion generated by movie is a bit constrained as a result.
Nevertheless, "Freedom" is a nice and appealing story in every respect, and from Sargent's direction down to Lee Holdridge's underscoring, it speaks to the quality inherent in many TV films from its time.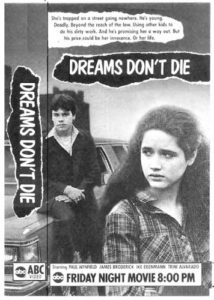 Production values are also high in the NYC-shot DREAMS DON'T DIE (94 mins., 1982), an ABC TV movie that arguably packs the most entertainment value in the "Prime Time Panic" box.
Ike Eisenmann stars as a talented yet troubled young man who utilizes graffiti as his artistic outlet – in fact, he's anonymously known for his drawings along the city's subway cars and dilapidated buildings in his tough neighborhood, one that poses challenges to him and girlfriend Trini Alvarado. Eventually, while she's tempted to leave her societal place behind by working for a brash young drug dealer (Israel Juarbe), Eisenmann receives an education from a different place through a veteran beat cop (Paul Winfield), who hopes to inspire the young graffiti artist that there's professional potential lurking within his artistic creations.
Roger Young was, like Joseph Sargent, an ace working in television when he helmed this effective, atmospheric picture that greatly benefits from location cinematography and artwork crafted by "Dondi," an influential graffiti artist whose work lends an air of authenticity to the production. There are times the script feels a little like a "very special" Afterschool Special – but that's not a bad thing in this case, as the movie's emotions are clearly articulated and Young does an excellent job contrasting the two very different ways out of the gutter, so to speak, that Eisenmann and Alvarado's characters separately contemplate. Also worthwhile here is a score by Brad Fiedel, which manages to be "contemporary" and thematic in a manner superior to much of his subsequent film work.
I had a feeling the most exciting film here was going to be DEATH RIDE TO OSAKA (97 mins., 1983; broadcast as GIRLS OF THE WHITE ORCHID) since its premise of a young L.A. waitress (Jennifer Jason Leigh, fresh off "Fast Times at Ridgemont High") heading to Japan to take what she thinks is a performing gig, only to be sold into prostitution by the Yakuza, screams "too hot for network TV" – especially by 1983 standards. Unfortunately, this is a dreary and tedious effort with scant location filming and much of the picture looking like it was shot in a Holiday Inn lounge, with Leigh trying to find a way out of her predicament and Ann Jillian (looking quite sultry here) as an older American woman who's learned to "get by" in the Land of the Rising Sun.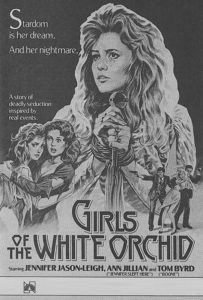 Brad Fiedel provides another solid effort musically but there are likely numerous reasons why "Death Ride to Osaka" – whose original TV title, "Girls of the White Orchid," is much more in-line with its mundane nature – turned out so dismally: director Jonathan Kaplan's Japan lensing was sabotaged by a location manager who fell off the wagon, while Leigh was still reeling from the death of her father Vic Morrow in the infamous "Twilight Zone" tragedy. Subsequently, you can detect a deflated sense of energy and engagement from this production, which might still be worth a look for Leigh devotees (she sings quite a bit as well – not all that effectively, but hey, she tries!) or Jillian completists, but its "controversial" subject matter aside, is a definite step-down in quality from the other two films in this set.
All three movies have been restored in 4K from their original 35mm camera negatives, and are presented in their proper 1.33 aspect ratio or a modified 1.85 (note "Osaka" reportedly boasts a couple of minutes of added material intended for overseas audiences). All of them look great, while Fun City's Jonathan Hertzberg has produced numerous supplements, the best of which is a 40-minute interview with Kaplan – who (inexplicably) had trouble getting a job after "Over The Edge" – discussing the production of "Osaka." Additional interviews include Andrea Adams discussing "Freedom" and the relationship she had with her mother and (more significantly) grandmother; a video essay by Chris O'Neill on "Osaka"; and commentaries with Amanda Reyes ("Freedom"), Hertzberg and Dino Proserpio ("Dreams Don't Die"); and Lars Nilsen ("Osaka"). The three-disc Blu-Ray set is now available through specialty outlets and hits major retailers at the end of October.
New from Time Life this month is an outstanding DVD anthology celebrating one of the most influential and funniest comics of all-time, THE ULTIMATE RICHARD PRYOR COLLECTION.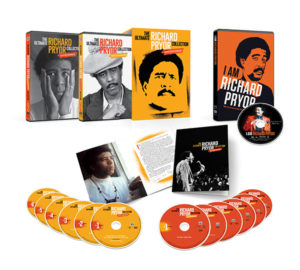 Very much a companion to other terrific Time Life sets, this 13-disc package – currently available through Time Life directly – takes fans and casual viewers alike through Pryor's varied creative endeavors on television and film, with a heavy emphasis on his stand-up work. Through it all, one gains a newfound respect for Pryor's often profane but incisive comedy and how other visual artforms mostly struggled to take advantage of his brilliance, yet are still universally compelling to see Pryor attempt to craft his talent in settings often dumbed-down from his concert performances.
For $99 you get Pryor's feature concert movies "Live & Smokin," "Live in Concert," "Live on the Sunset Strip" and "Here and Now", plus his primetime 1977 NBC special and the four episodes that constituted his infamous, short-lived "Richard Pryor Show," guest starring Robin Williams among others – with deleted scenes included on the supplemental side. There's also never-before-released footage from "The Legend of Uncle Tom's Fairy Tales," a Penelope Spheeris-helmed 1969 feature that's been held up in assorted legal proceedings for years, plus copious talk show appearances on Merv Griffin, Dick Cavett and Johnny Carson along with episodes of "Pryor's Place," his 1984 CBS Saturday morning kids program. We also get Pryor's quasi-autobiographical 1986 film "Jo Jo Dancer, Your Life is Calling" and numerous documentaries, from 2013's "Omit the Logic" to 2019's "I Am Richard Pryor."
Full color booklet notes and an interview with Pryor's widow, Jennifer Lee Pryor, grace a marvelous package that comes strongly recommended.
---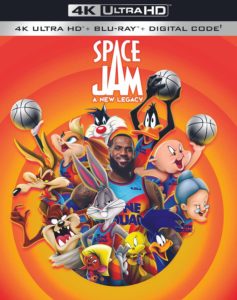 Also New & Noteworthy
SPACE JAM: A NEW LEGACY 4K Ultra HD (115 mins., 2021, PG; Warner): We've been deluged with endless "blasts to the pasts" on the big-screen of late — some slightly more necessary than others, several completely unnecessary by any measure. This recycling of the '90s Michael Jordan/Bugs Bunny team-up — which wasn't particularly great to begin with — falls entirely in the latter camp, as director Malcolm D. Lee's follow-up puts current NBA star LeBron James through the same paces as his Hall of Fame predeessor while striving to push his fatherly hoop skills onto his sons — one of whom is more interested in video games.
"A New Legacy" looks great and gives the Looney Tunes stars a welcome opportunity to strut their stuff on the big-screen again, but this sluggish corporate-studio concoction overstays its welcome by a solid half-hour, being mired in far too much plot — not to mention the fact there's no real "Space" in the title now either! Young kids might give it a pass, but it's tedious and uninvolving family fodder for everyone else. Warner's gorgeous 4K UHD includes HDR10 and Dolby TrueHD audio, along with four featurettes, deleted scenes, the Blu-Ray and a Digital HD copy.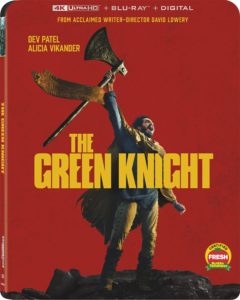 THE GREEN KNIGHT 4K UHD/Blu-Ray (129 mins., 2021, R; Lionsgate): The legend of Sir Gawain and the Green Knight gets an absorbing retelling from director David Lowery, whose film nevertheless keeps one emotionally at arm's length from its spiritual center. Perhaps that's because there's a high level of ambiguity in Lowery's take on the material, which stars "Slumdog Millionaire"'s Dev Patel as the Knight who's sent on a year-long quest to find himself before being decapitated by the title cipher. Visual splendor is on-hand throughout courtesy of Lowery and cinematographer Andrew Droz Palermo in terms of both natural beauty and CGI enhancements, including a talking fox and giant creatures that roam this revisionist Arthurian kingdom — yet in the end, there's not much the viewer feels for the material, and the leisurely running time makes the picture feel longer than it actually is. Lionsgate's gorgeous 4K UHD (1.85) is available this week and features a superlative Dolby Vision grading of the film along with Dolby Atmos sound and numerous extras: three featurettes, the trailer, Blu-Ray and Digital HD code.
---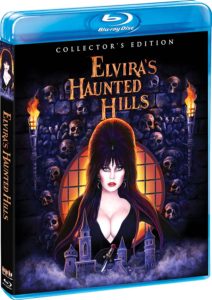 Halloween Horrors
ELVIRA'S HAUNTED HILLS Blu-Ray (90 mins., 2001, PG-13; Shout! Factory): Fresh from her current book tour, Cassandra Peterson's Elvira is also back on Blu-Ray with the format debut of her second (and final) feature: "Elvira's Haunted Hills," which sends Elvira and maid Zou Zou to a creepy mansion while performing in the mid 19th century. There, they meet Lord Vladimere Hellsubus (Richard O'Brien, vet of the "Rocky Horror Picture Show"), and soon find out our busty heroine is a dead ringer for the Lord's dead wife. Peterson and then-husband Mark Pierson self-funded this genial but less engaging follow-up to Elvira's first, NBC/New World-produced 1988 big-screen feature. The follow-up relies on Elvira's charisma to carry a drawing room spoof of the Roger Corman/Poe adaptations, a little of which is funny but isn't nearly enough to sustain a feature length movie.
"Haunted Hills" went right to video but remains a title coveted by Peterson's fans, which Scream Factory has thoroughly remastered in the form of a razor-sharp 1080p (1.85) transfer derived from a 4K scan of the original camera negative. Extras include a new introduction from Elvira herself; archival commentary with Peterson, co-stars Mary Scheer, Mary Jo Smith, Scott Atkinson and director Sam Irvin; a Making Of; interview with O'Brien; outtakes; and a photo gallery.
Coming October 19th from Shout! on Blu-Ray and DVD is COPPELIA (82 mins., 2021, Not Rated), a fantasy ballet starring one of the artform's biggest modern stars, Michaela DePrince, in the story of a cosmetic surgeon who casts a spell over a town, where a young heroine tries to save her boyfriend before his heart is used to power a robot-woman the mad doctor has created. Real-life dancers are enhanced with digital animation in this indie production, on Blu-Ray in a BD/DVD combo pack from Shout! with a 1080p transfer and 5.1/2.0 DTS MA sound. Extras include a featurette and interviews.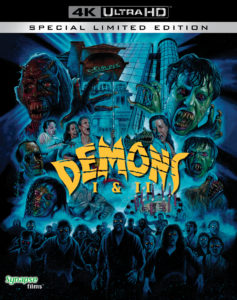 DEMONS I & II Blu-Ray Limited Edition (Synapse): Producer Dario Argento and director Lamberto Bava teamed up for a pair of mid '80s spaghetti horrors with plenty of gore and zombies to go around. Synapse's new Limited Edition of their two collaborations boasts brand new 4K restorations (1.85) on Blu-Ray, each from their original 35mm camera negatives, plus limited edition packaging with new artwork, a fold-out poster, and even a reproduction of a movie ticket from the original "Demons."
Fans should also be delighted by a treasure trove of supplements. On "Demons," that means two versions of the film (longer Italian and the shorter U.S. cut with its own overdubs); uncompressed 5.1/2.0 Italian or English audio on the longer version plus 2.0 DTS MA mono for the U.S. version. There are also commentaries by Kat Ellinger and Heather Drain and an archival commentary featuring Bava; a visual essay on Argento by critic Michael Mackenzie; interviews with Argento, composer Claudio Simoetti and trailers. For "Demons 2," audio options consist of 5.1 English, 5.1/2.0 Italian on its original version along with a "true stereo theatrical mix" for the U.S. release audio. There's also a new commentary from critic Travis Crawford plus interviews with Sergio Stivaletti, Roy Bava, composer Simon Boswell, a visual essay by Alexandra Heller-Nicholas, and brand new English subtitle streams on both versions if you wish to see the movies in Italian. Fantastico!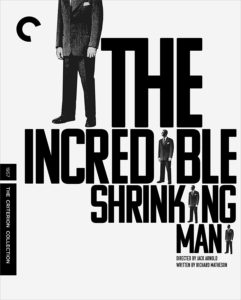 THE INCREDIBLE SHRINKING MAN Blu-Ray (81 mins., 1957; Criterion): One of the classic sci-fi films of the 1950s at last arrives on Blu-Ray in North America featuring a brand new 4K digital restoration (1.85) courtesy of the Criterion Collection. Genre buffs need little introduction to this Richard Matheson-penned tale of average Scott Carey (Grant Williams), who becomes anything but average sized after he's exposed to a radiation cloud and begins to shrink. Jack Arnold helmed this fast-paced and entertaining fantasy that's noteworthy both for its then-groundbreaking special effects and memorable set-pieces, not to mention an atypically "existential" ending.
Criterion's Blu-Ray looks superb, is backed by uncompressed PCM mono sound and is highlighted by an informative commentary sporting Universal genre expert Tom Weaver and David Schecter on the movie plus the patchwork score. There are also interviews with veteran FX greats Ben Burtt and Craig Barron on the movie's effects; Joe Dante and writer/comedian Dana Gould on the film's legacy; a Director's Cut of "Auteur on the Campus: Jack Arnold at Universal"; a 2016 interview with Matheson's son, Richard Christian Matheson; a 1983 interview with Arnold; an 8mm home-cinema version from the late '60s; the trailer; and "The Lost Music of The Incredible Shrinking Man" featurette.
Also due out from Criterion next week is Lynne Ramsay's RATCATCHER (93 mins., 1999), a starkly-shot visual tale of a poor young boy's upbringing, set during Scotland's garbage strike of mid 1970s. Urban decay matches with heady emotional content in Ramsay's film, here restored in a 4K digital transfer by Criterion (1.85, 2.0 DTS MA) with extras including both 2021 and 2002 interviews with Ramsay; an interview with cinematographer Alwin Kuchler from 2020; three of Ramsay's shorts (1995-97); and the trailer.
---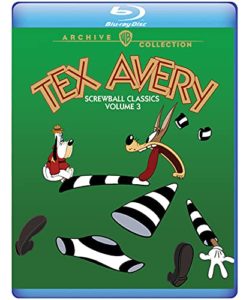 Warner Archive New Releases
TEX AVERY SCREWBALL CLASSICS Volume 3 (150 mins., Warner Archive): Third entry in Warner Archive's superior compilations of classic shorts from the legendary '40s/'50s animator, who settled in at MGM and produced dozens of memorable, often ribald cartoons that still delight — even if their occasionally un-PC humor force a "adult collector"-intended disclaimer these days.
In this third volume, Warner brings us the Avery shorts Blitz Wolf, The Early Bird Dood It, One Ham's Family, Happy-Go-Nutty, Jerky Turkey, The Shooting of Dan McGoo, the classic Swing Shift Cinderella, Wild and Woolfy, Northwest Hounded Police, Slap Hapy Lion, King-Size Canary, What Price Fleadom, Little Tinker, Senor Droopy, Cock-a-Doodle Dog, Rock-a-Bye Bear, Little Johnny Jet, Billy Boy, and Deputy Quail, plus Crackpot Quail with its original audio soundtrack. The 1080p (1.37) transfers and DTS MA soundtracks are all perfect for material of this vintage.
Also new from Warner Archive is the Fourth and Final Season of the CW DC series BLACK LIGHTNING (547 mins., 2021), with Jefferson Pierce's title hero back in the fold, dealing with his daughters' respective growing powers and having to combat both a criminal cartel and a gang plaguing their Freeland community. 1080p (1.78) AVC encoded transfers and 5.1 DTS MA soundtracks are on-hand in this latest and last release from the recently-concluded series.
On DVD, TIGER (192 mins., 2021) is the absorbing HBO Sports-produced documentary about Tiger Woods, his brilliance on the green and occasional self-destructive movement off it. This production is best recounting Woods' relationship with his father and upbringing within the game of golf, but does a remarkably even-handed job overall of painting what feels like a balanced portrait of Woods' life. HBO's DVD offers a 16:9 transfer and 5.1 sound.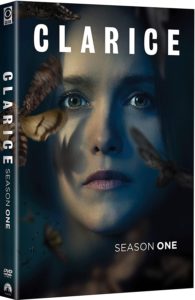 CLARICE: Season 1 DVD (aprx. 9 hours, 2021; CBS): What was launched as CBS' big mid-season debut series in 2021 follows intrepid agent Clairce Starling around on a succession of new cases after her run-in with Hannibal the Cannibal. Unfortunately for fans, contractual squabbling between CBS, which produced the show, and MGM, which owns the character, lead to a fast cancelation for what was supposed to be one of the network's big, new flagship series. Viewers will be left with a show that never quite lives up to its promise in its first season, here collected in a four-disc CBS DVD set with 16:9 transfers, 5.1 sound, deleted scenes, a gag reel, and a few featurettes.
NO MAN OF GOD Blu-Ray (100 mins., 2021, Not Rated; RLJE Films): Superior performances from Elijah Wood and Luke Kirby distinguish this independent dramatization of the meetings between Ted Bundy (Kirby) and FBI agent Bill Hagmaier (Wood), who seeks to understand and coax a confession from the notorious serial killer. Amber Sealey's film is emotionally disturbing but restrained in its actual on-screen depiction of Bundy's slayings, making for a film worthwhile for those interested in its subject matter. A featurette is contained in RLJE's Blu-Ray (2.39, 5.1 DTS MA), out October 19th.
NEXT TIME: Kino Lorber's October rundown! Until then, don't forget to drop in on the official Aisle Seat Message Boards and direct any emails to our email address. Cheers everyone!