Message Board (open 24 hours!)
Twitter - @andredursin (for everything else!)
A cult favorite and still one of the crown visual jewels in Ridley Scott's filmography – which, of course, is saying something – LEGEND (113/89 mins., 1986, PG; Arrow Video) has been revisited on Blu-Ray in a new deluxe Limited Edition from our friends at Arrow Video. In addition to reprinting my FSM interview with home video producer Charlie deLauzirika, the set offers a treasure trove of supplements, a fresh transfer of the compromised U.S. Tangerine Dream theatrical cut, and – in the case of both that version and the far superior "Director's Cut" – notably improved audio soundtracks. It's out there now, sitting on store shelves like the pot of gold Tom Cruise and his band of forest-dwelling friends find in Scott's lavish '80s fantasy.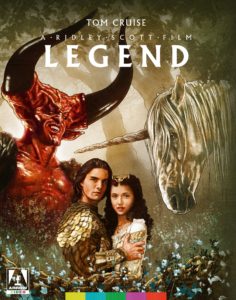 Most of us know the legendary tales (no pun intended) of "Legend"'s troubled history. How Scott took his original version with Goldsmith's classic orchestral score and cut it down worldwide—how he didn't have enough faith in himself to support his original vision. And, of course, how Scott went along with Universal executives and cut the film down further for the U.S., going so far as to re-score the movie with jarringly inappropriate, new-age rock by Tangerine Dream—all of which essentially bastardized what "Legend" was intended to be.
All of that was rectified with Universal's 2002 "Ultimate DVD Edition" of "Legend"– a package both reprised and enhanced here by Arrow in their Blu-Ray box-set – which features Scott's restored 113-minute "Director's Cut," with Goldsmith's score intact, along with the 89-minute American release version. The result is the most definitive release of "Legend" yet on home video in a package that gives the viewer the movie "Legend" should have been all along, plus the version North Americans were saddled with for many years.
In no version of the movie, however, does writer William "Angel Heart" Hjortsberg's script become as important as the film's visuals. The characters remain rather stilted no matter how long the movie runs, and the story stays as simple as its premise: in an undefined time, a world of fairies and fantasy, the Lord of Darkness (Tim Curry) seeks to banish all light from the world by destroying a pair of unicorns that represent purity and goodness. Into this scenario comes the noble, forest-dwelling Jack (Tom Cruise), who attempts to set things right after the naïve Princess Lili (Mia Sara) unwittingly creates a trap that Darkness' goblin minions use to capture one of the mythical creatures. The movie isn't great drama but is a marvelously conceived and executed visual experience, with some of the most incredible sets ever produced. The plot is secondary to the world of deep, lush forests, dark blue lakes, swaying trees and rolling hills that "Legend" so dreamily conveys.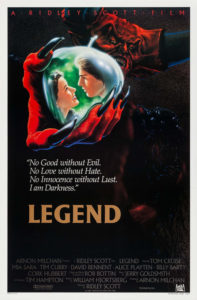 Of course, that fantastic vision was compromised on its way to theaters. Editing removed "Legend"'s consistent pace, and Scott's American version robbed the movie of its original intent. Character relationships and motivations were cut, condensed and often made confusing. In the U.S. version, scenes were clumsily altered to imply, for example, that Jack and Lili have sex, something that doesn't jibe at all with the movie's fairy-tale universe. Neither did Tangerine Dream's synthesized score, which felt completely inappropriate and itself was subject to studio meddling, with tracks shuffled around and Jon Anderson vocals added to the movie's climactic cue reportedly against the group's wishes.
It's worth mentioning again that "Legend" was cut down in all its original release versions around the world. In Europe, audiences received a 94-minute cut featuring Jerry Goldsmith's music, while in the U.S., the film ran 89 minutes without it. Certainly the European version was closer to Scott's Director's Cut than the American release, but it still felt abbreviated and did no favors to Goldsmith's original score, which had been diluted and dubbed down through all the editing room changes.
After years of hopeful speculation on the part of the film's—and the score's—fans, Scott's preferred, 113-minute Director's Cut was miraculously found (via a recovery of an answer print) in 2001, enabling the film to be reborn. The "Director's Cut" remains a sumptuous, lyrical fairy tale come to life, blessed with one of Goldsmith's finest scores, rich cinematography by Alex Thomson, and evocative set design by Assheton Gorton, constructed on the famed 007 stage at Pinewood shortly before it burned to the ground. Their "handmade" filmmaking feels more organic than many more contemporary fantasy films — even Peter Jackson's much-acclaimed Lord of the Rings trilogy, where CGI stands in for the kind of evocative production design seen in Legend.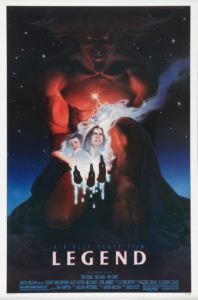 While the film – even in its restored state – is still flawed (the pacing is too slow in the second half), at least "Legend" looks and feels like a genuine, fully realized film in Scott's Director's Cut, and Arrow Video's new double-disc Limited Edition Blu-Ray includes a notably enhanced transfer of the 113-min. Director's Cut along with the U.S. theatrical version – this time in a brand new 2K restoration from original film materials, including a 4K scan of the original camera negative. Alas, contractual issues involving Disney, which is control of the European cut via its acquisition of the 20th Century Fox library, prevented Arrow from producing a full 4K UHD edition of that 94 minute version, which by all accounts (and previous home video releases) would've resulted in the healthiest looking transfer of the film.
The big surprise is the audio enhancement in Arrow's release. Producer James Flower and his team utilized the original Dolby Stereo tracks for both the Director's Cut and the U.S. version and included them here (2.0 DTS MA) alongside the older 5.1 mixes. This is the first time the original stereo tracks have been available on Blu-Ray, and the first time ever the Director's Cut has boasted audio other than 5.1 — and it makes a big difference. When properly matrixed into surround as intended, there's an appreciable enhancement in "spaciousness," there are more audible details and the entire surround field has a livelier presence on both tracks. Comparatively the 5.1 mixes, which I believe were engineered around the time of the DVD, both feel cramped and limp – lacking the precision and overall "airy" atmosphere the matrixed 2.0 tracks each generate.
The visual transfers are also improved on both versions, but especially where the U.S. theatrical cut is concerned, since Arrow performed a true restoration and the colors and detail level are an appreciate upgrade over the theatrical cut's prior appearance on the 2011 Universal Blu-Ray, which offered VC-1 encoding. Though the Directors Cut was initially billed as being the same master as that 2011 release, it has clearly been tweaked and improved as well in terms of colors and overall presentation. Meanwhile, the high bit-rate AVC encoding enables its inherent detail to come off as more transparent -- a touch crisper and superior to its prior releases.
Arrow also offers, as expected, a generous helping of supplements for fans, starting off with attractive limited edition artwork, glossy full-color cast portraits as captured by Annie Leibovitz (previously used in the original Filmtrax LP artwork), six double-sided, post-card sized lobby card reproductions, a foldout poster and extensive booklet notes. These include, again, my archival interview with Charlie deLauzirika plus new essays by Kat Ellinger and Hjortsberg's thoughts on the film from a 2002 hardcover release of his screenplay.
The new featurettes are all engaging, though I found that the most welcome supplement is a rough looking VHS dupe of an ancient EPK featurette that sports more footage from the long-lost Gump dance sequence than I had ever seen before. There are newly produced interview segments on the film and Rob Bottin's make-up designs plus two 15-minute segments on the music, one for each score, with Jeff Bond talking about the Jerry score and Daniel Schweiger and some other folks taking up the defense for Tangerine Dream's effort. Travis Crawford also supplies a strong 20-minute visual essay on the different versions and Paul Sammon provides a new commentary on the US cut, which also features an isolated music/effects track (in stereo) plus the DVD's "isolated score" mix of the Tangerine Dream soundtrack that's mostly comprised of cues from the MCA soundtrack album. The spoken narration from the US TV version (which I happily supplied) is on-hand plus a montage of alternate lines that were utilized in other edits. We also get all of Charlie deLauzirika's great extras from the DVD – including J.M Kenny's hour-long documentary, Ridley Scott's Director's Cut commentary, and the surviving footage of the original opening and fairy dance sequence. There's also one (superior) international trailer available on disc for the first time (plus the terrible US/UK trailers), still galleries, two drafts of the script, and Bryan Ferry's "Is Your Love Strong Enough?" music video.
Viewers campaigned for years to see the fully restored cut of "Legend" not because they wanted to unearth a masterpiece – which the film is not, even in the Director's Cut – but because the world Ridley Scott and his crew devised here renders a cinematic experience like no other. Arrow's beautifully packaged Limited Edition set is a stirring tribute to its craftsmanship, giving what was for many years a major disappointment for its director a happy ending its fans continue to celebrate 35 years after its original release.
---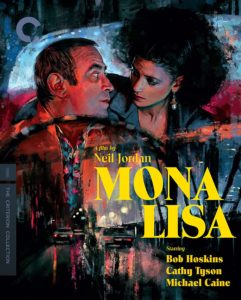 New From Criterion
The performances of Bob Hoskins and a particularly foreboding Michael Caine – exuding on-screen menace like no other performance in his career – make revisiting Neil Jordan's MONA LISA (104 mins., 1986, R) via Criterion's remastered Blu-Ray well worthwhile. This Handmade Films production netted international acclaim and served to catapult Hoskins into Hollywood, yet it remains a unique gangster film with a romantic center.
Hoskins plays a working class bloke struggling to get reacquainted with his daughter when he's hired by the gangster (Caine) who sent him to jail to watch over a call girl (Cathy Tyson). Hoskins and Tyson's characters spar and fight – then eventually forge an alliance – through London's underworld before her true motivations – and also Caine's – are revealed.
Jordan's film is an '80s noir but with its own, distinct feel, particularly through the use of Nat King Cole standards, the title song and "When I Fall In Love," both on the soundtrack and in Michael Kamen's score. Only when a montage set to Genesis' hit "In Too Deep" pops up does the movie feel like a product of its era; the rest of it is an effective, character-driven film that speaks to the class divide, functions as a typical mob drama and is at its best as a morality play wherein Hoskins' character struggles to separate right from wrong. That emotional anchor is what grounds "Mona Lisa" and prevents it from becoming overly depressing – in fact, Hoskins' performance and the Jordan-David Leland script is graced with a sense of humor that's constantly refreshing, leading to an ending that swings from violent and downbeat to ultimately optimistic, in keeping with its leading man's remarkable, wide-ranging performance.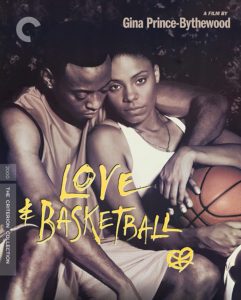 Criterion's Blu-Ray includes a 2K digital restoration (1.85) approved by Jordan and his cinematographer, the great Roger Pratt, with supplements including a 1997 commentary with Jordan and Hoskins; a Zoom interview with Jordan and Cathy Tyson, moderated by Ryan Gilbey; 2015 interviews with Leland and producer Stephen Woolley; and archival conversations with Hoskins and Jordan from the '86 Cannes Film Festival. The uncompressed mono sound is a little rough at times, with some of the dialogue being difficult to hear and the music (particularly that Genesis track) being much more forward by comparison.
Also new from Criterion is a welcome Blu-Ray of LOVE AND BASKETBALL (125 mins., 2000, PG-13), a flavorful work from writer-director Gina Prince-Bythewood and producer Spike Lee, starring Omar Epps and Sanaa Lathan as neighbors with their own professional hoop aspirations who fall for one another while trying to navigate life on the court. The movie's a little long and unfocused at times but both Epps and Lathan are superb in a likeable film here given the Criterion treatment via a new 4K (1.85) transfer and 5.1 DTS MA sound with some material cut from the theatrical release; two 2000 commentaries; new interviews featuring the director and WNBA star Sheryl Swoopes; deleted scenes; two of the director's shorts; and the proverbial "more."
---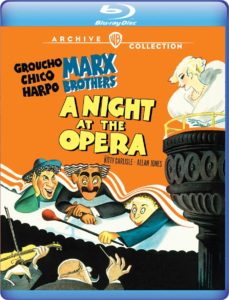 Warner Archive New Releases
A pair of favorites amongst western genre fans highlight Warner Archive's October slate of new Blu-Rays, including one of five memorable collaborations between star Jimmy Stewart and director Anthony Mann, THE NAKED SPUR (91 mins., 1953). This full color MGM sagebrush saga offers Stewart as a bounty hunter who leads a group of other nefarious types as they pursue their prey: Robert Ryan, who psychologically tries to turn the tables against Stewart. Mann's Rockies-lensed production is taut and exciting, well-acted and scored by Bronislau Kaper. A must for western fans, Archive's Blu-Ray includes a gorgeous 1080p (1.37) transfer with mono sound, a classic cartoon and Pete Smith short.
Critical consensus is that Michael Curtiz's 1940 Warner Bros. extravaganza SANTE FE TRAIL (109 mins.) is something of a mess – a big-budget portrayal of Jeb Stuart (Errol Flynn) and Custer (Reagan)'s exploits along the Santa Fe Trail, leading to their interactions with abolitionist John Brown (Raymond Massey). The history is apparently non-existent in Robert Buckner's original script, and the dramatic thrust of the movie meanders as a result in terms of its point of view – yet there's still something to be valued in terms of the movie's physical production, from its well-executed set-pieces to Max Steiner's score. Warner Archive's Blu-Ray includes another crisp (1.37 B&W) transfer with mono sound.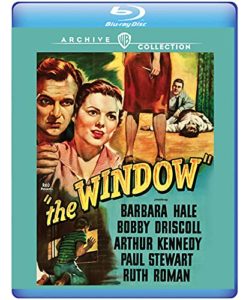 The Marx Brothers' MGM output has been woefully underrepresented on Blu-Ray – something that's been rectified in part by Warner Archive's splendid Blu-Ray of their 1935 classic A NIGHT AT THE OPERA (91 mins.). One of the boys' biggest hits, this still-hilarious mix of slapstick and musical fun represents the peak (or close to it) of Groucho, Chico and Harpo's big-screen adventures, even though some of the film was trimmed for WWII re-releases and has never been recovered. Warner Archive's Blu-Ray presents the same 91-minute version we've had for years, and it looks dynamite in a fresh 1080p (1.37 B&W) AVC encode here on Blu-Ray. Extras from previous home video editions include a trio of vintage shorts, the documentary "Remarks on Marx," an appearance by Groucho on the 1961 "Hy Gardner Show," and a commentary from Leonard Maltin.
The formula plot of a witness who can't convince others that they observed a murder received a twist in 1949's RKO noir THE WINDOW (73 mins.), with the witness being a nine-year-old (Bobby Driscoll) who fails to make his his parents (Barbara Hale, Arthur Kennedy) believe that he watched a killing that took place in their apartment building. Cornell Woolrich's original story "The Boy Who Cried Murder" was the inspiration for this effective box-office hit, which under the direction of Ted Tetzlaff, manages to remain entertaining and punchy today despite some creaky dialogue. Warner's Blu-Ray is a no-frills affair featuring a superb AVC encoded transfer (1.37 B&W, DTS MA mono).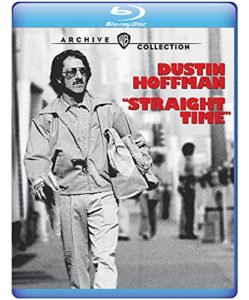 Finally, nothing screams "method actor" more than Dustin Hoffman who, in the mid '70s, followed an actual ex-con, Edward Bunker, around in preparation for a film adaptation of his non-fiction book. The resulting film, STRAIGHT TIME (114 mins., 1978, R), is a thoroughly well-performed yet relentlessly downbeat story of a former convict, newly released from prison, who tries – and fails – to make a new life for himself. Ulu Grosbard helmed a script credited to Bunker, Alvin Sargent and Jeffrey Boam, and while the picture is effectively scored by David Shire and acted by Harry Dean Stanton, Gary Busey, Theresa Russell and Kathy Bates, it's a difficult film to watch even with Hoffman's "all in," committed central performance. A box-office disappointment upon its initial release, "Straight Time" debuts this month from Warner Archive on Blu-Ray (1.85, 2.0 DTS MA mono) and offers commentary from Hoffman and Grosbard, the trailer, and an archival featurette.
---
Also New & Noteworthy
INGLOURIOUS BASTERDS 4K UHD Combo Pack (153 mins., 2009, R; Universal): Quentin Tarantino's 2009 excursion into the offbeat is still one of my favorite films of his to date — an uneven but cinematically vibrant collage of snappy dialogue, studied tributes to other pictures and most of all the WWII film genre itself, here reinvented as a Jewish revenge fantasy with Brad Pitt leading a squad of Jewish soldiers into Nazi occupied France for revenge. Even if the Basterds themselves are — disappointingly — only peripheral characters, the central, interlocking story is stylishly designed and leisurely told, with Tarantino taking advantage of the wide cinematic frame and employing a number of techniques to get his story across. Among the memorable performances are Christoph Waltz as a most vile Nazi commander and Melanie Laurent as the only surviving member of a Jewish family he wipes out in the film's opening set-piece; in addition to a few voice-overs from Samuel L. Jackson there are also "Guest Star" turns from Mike Myers and Rod Taylor as Winston Churchill along for good measure! Add in a typically eclectic Tarantino soundtrack, offering music as varied as cues from "The Alamo," Morricone westerns, "Cat People," "Kelly's Heroes" and even Charles Bernstein's "The Entity," and you have another Tarantino cinematic stew that's pure revisionist history, but also quite entertaining…even though the film sags as it moves along, coming off more like a slow burn than a real thriller. There should have been a bit more action and less talk in one of his later "Acts," particularly considering that the Q-man delivers the goods in a memorable, albeit brief, climax.
Debuting October 12 on 4K UHD, Universal's attractive HDR10+ transfer is superb, enhancing the already impressive work of cinematographer Robert Richardson with a wider lighting spectrum at its disposal. The 5.1 DTS MA mix is the same as previous releases, while extras include the Blu-Ray with a full array of deleted and extended scenes plus numerous featurettes, roundtable interviews, and a digital copy.
THE NEVERS: Season 1, Part 1 Blu-Ray (360 mins., 2021; HBO): What started off as Joss Whedon's return to TV before he was "canceled," "The Nevers" is a good-looking albeit familiar story set in a Victoria-era London where a supernatural occurrence grants a swath of the city's inhabitants – mostly women – extraordinary or strange new powers. Two women (Laura Donnelly, Ann Skelly) attempt to safeguard these new members of the populace in a very attractive looking show – the production values on the program are high – though the formula feels well-worn, even if the particular environment isn't. HBO's initial Blu-Ray of "The Nevers" includes the first half of episodes from the series in gorgeous 1080p (1.78) AVC encoded transfers; extras include over two hours of behind the scenes segments, interviews and featurettes, with two of them exclusive to this set. A Digital HD code is also included plus 5.1 DTS MA soundtracks.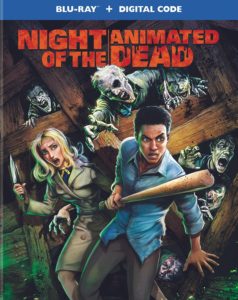 NIGHT OF THE ANIMATED DEAD Blu-Ray (71 mins., 2021, R; Warner): It might have seemed like a good idea at the time, but this too-faithful animated remake of George Romero's "Night of the Living Dead" comes off as an unnecessary endeavor that wasn't worth the effort. Director Jason Axinn basically takes Romero's 1968 horror classic and animates over it with mostly feeble visuals that are strictly small-screen quality, making this an exercise in tedium where fans will be best left sticking to the actual original that inspired it. Warners Blu-Ray (1.78, 5.1 DTS MA) includes a Making Of and Digital HD copy.
THE FLASH: The Complete Seventh Season Blu-Ray (762 mins., 2020-21; Warner): The CW DC multiverse continues to rock along with this seventh season of "The Flash," which offers another roster of 18 action-packed episodes that should appeal to die-hard fans. Storylines include Barry having to recover his powers after having them nearly depleted in the season six finale; wife Iris is trapped in the Mirrorverse by Eva McCulloch while Cisco and Chester head back to 1998. Meanwhile, the now-separated Caitlin Snow and Frost are still linked as the former tries to save the latter from being punished for crimes she didn't commit. Warner's Blu-Ray package (1.78, 5.1 DTS MA) is available October 12th sporting good looking transfers and sound, Digital HD copies, and extras including deleted scenes, a gag reel, and three featurettes.
TWIST Blu-Ray (92 mins., 2021, R; Lionsgate): Another "it seemed like a good idea at the time…" affair, "Twist" tries to update the Charles Dickens masterpiece as an R-rated, contemporary crime thriller, wherein Oliver (Raff Law) is a graffiti artist and Fagin a tired looking Michael Caine, whose lack of enthusiasm signals pretty much all you need to know about this disappointing Saban Films production. Martin Owen helmed with Lionsgate's Blu-Ray (2.39, 5.1 DTS MA) boasting a Digital HD copy and "The Artful Dodger: Twist's Underworld" featurette.
Film Movement DVD New Releases: Virpi Suutari's AALTO (99 mins., 2021) looks at the life and times of Alvar Aalto, one of the leading architects in Scandinavian design, from his work through his relationship with his wife, Aino. A moving documentary, "Aalto" includes a 16:9 (2.39) transfer with 2.0 stereo sound…Alexandre Rockwell's SWEET THING (91 mins., 2021) charts the relationship between a teenager and her 11-year-old brother, who walk through New Bedford, Mass., during one fateful summer, savoring its riches against a dysfunctional family dynamic surrounding them. An effective and flavorful independent film now on DVD from Film Movement also featuring Anika Benkov's short "The Binding of Itzik."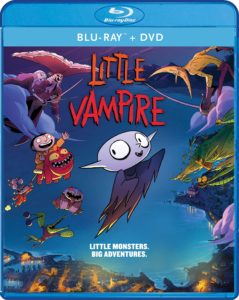 LITTLE VAMPIRE Blu-Ray/DVD (85 mins., 2020, Not Rated; Shout! Factory): French feature brings the oft-adapted comic book back to life, with the title character once again trying to find new human friends, much to the consternation of his family and the demonic Gibbus that's been pursuing him, and his parents, for centuries. Simple, cleanly drawn animation marks this new production, which might be more effective in its native Parisian language (offered here) than an English dub (5.1 DTS MA) which loses something in translation. Shout's 1080p (1.85) AVC encode is paired here with a DVD in a now-available combo pack.
WITCHING & BITCHING Blu-Ray (114 mins., 2013, Not Rated; IFC/MPI): A pair of fleeing bank robbers attempt to head over the border and out of the Spanish mountains, only to end up in a Basque village where witches welcome them as honorary guests for their upcoming ceremony. Alex De La Iglesia's film is a wild affair best left for the director's admirers, with MPI's Blu-Ray including a Spanish 5.1 DTS MA soundtrack, English subtitles, and a 1080p (2.35) AVC encoded transfer...…On Blu-Ray, DARK SHADOWS AND BEYOND: THE JONATHAN FRID STORY (102 mins.) is a feature-length documentary profile of the star of the cult-classic supernatural soaper, interviewing cast members as well as Frid's Yale Drama School classmate, Dick Cavett. Rare scenes from Frid's other performances, lost footage and photos from the actor's private collection are included in a superb package that MPI has issued on Blu-Ray with a slew of extras: an archival Dark Shadows special, promos, photo galleries and plenty more.
Also new on DVD this month from MPI is Pauolo Pilladi's independent comedy-drama LAST CALL (102 mins., 2020, R), a film that stars Jeremy Piven as a successful real estate developer who returns to his hard-working Philly home town, gets familiar with old friends and his old crush (Taryn Manning), just in time to figure out what to do about the family bar he's now tasked with running. Judging from the "2010-2020" copyright it seems this film must've been sitting on the shelf for some time, which is no shocker given how routine and unconvincing it feels. IFC's DVD (16:9, 5.1) is now available.
NAKED SINGULARITY Blu-Ray (93 mins., 2020, R; Screen Media): A New York City public defender (John Boyega) is pulled into participating in a drug heist by a former client (Olivia Cooke) in this messy drama from director Chase Palmer that mixes domestic drama, a courtroom thriller and social messaging – mostly to negligible effect. Screen Media's Blu-Ray is available October 5th featuring a 1080p transfer, two featurettes, and both 5.1/2.0 soundtracks.
PBS New Releases: New on DVD this month from PBS is LAND GIRLS: THE COMPLETE COLLECTION (12 hours, 2009-11), the BBC series set during WWII when the "Women's Land Army" assembled at the Hoxley Estate, cultivating food that kept the UK fed during a time of war and keeping the home front moving. Seasons 1-3 of the series show the evolution from the farm's establishment through its change into a military hospital during the later years of WWII, and all of it is captured here in a six-disc DVD set from PBS sporting 16:9 transfers and 2.0 stereo sound.
Also new from PBS in the American Experience series is SANDRA DAY O'CONNOR: THE FIRST (110 mins., 2021), an absorbing profile of the first female Supreme Court justice, appointed by President Reagan in 1981. Michelle Ferrari's documentary is well-rounded and new on DVD this month…Also new is MARY CHAPIN CARPENTER: ONE NIGHT LONELY (130 mins., 2020), which finds the singer-songwriter performing at Wolf Trap all alone. A unique concert experience well recommended for Carpenter fans (of which I'm one), featuring a broad range of songs from more recent outings to her hit singles. An interview is included along with a 16:9 transfer and 2.0 stereo sound.
NEXT TIME: Fun City Editions' PRIME TIME PANIC! Until then, don't forget to drop in on the official Aisle Seat Message Boards and direct any emails to our email address. Cheers everyone!