One of Blake Edwards' better, un-PC "man-child" comedies, SKIN DEEP (103 mins., 1989, R; Mill Creek) is also one of the only watchable films from late in the director's career. Essentially a remake of "10" (and other Edwards works in a similar vein), "Skin Deep" functions primarily as a vehicle for John Ritter, here playing a sexist, immature writer who leaps from one escapade to another, skirting moral responsibility before finally tackling his demons – drinking and sex.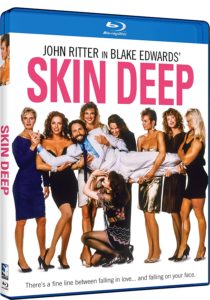 His encounters with a run-in of lovely ladies – Julianne Phillips and Chelsea Field among them – are mostly comedic in nature, including an infamous "glow in the dark condom" sequence (with ILM effects!) that was much talked-about at the time of its release and remains one of the funniest sight gags in Edwards' filmography.
Ritter is quite wonderful in "Skin Deep," displaying his natural charisma and gift for physical comedy, even though Edwards' script isn't as focused as "10", suffers from a stiff leading lady (dancer Alyson Reed, in one of her only big-screen leading roles), and shows clear signs of post-production finessing. The work of Henry Mancini, credited in the original advertising, was nearly entirely discarded in lieu of Ivan Neville's admittedly terrific pop song "Falling Out of Love" and its assorted instrumental versions (Mancini's name doesn't even appear on the finished film with former "My Three Sons" cast member Don Grady receiving a music credit for "arrangements").
A more tell-tale sign is that Ritter's beard has clearly been faked in most scenes during the final 20 minutes – evidence that Edwards brought the cast back to reshoot, and rework, the ending after his star had dropped his facial hair for another pursuit in the interim. The ultimate result is something of a patchwork – even the opening reel comes off as haphazardly edited – but there are some funny scenes, Ritter remains somehow sympathetic despite his character's behavior and, like most Edwards movies, it looks great in widescreen.
"Skin Deep" was a Morgan Creek production that Fox theatrically released, MEDIA Home Entertainment brought to VHS/laserdisc, and Warner eventually issued in a long out-of-print DVD. The rights have reverted to its production company and Mill Creek has released the film in an affordable Blu-Ray package that offers a terrific 1080p (2.35) AVC encoded transfer and 2.0 DTS MA soundtrack. This is one of Mill Creek's best-looking catalog transfers in some time, preserving a cult-favorite Ritter/Edwards collaboration that's positively "80s" – in the best possible way.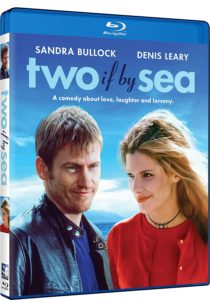 Another Morgan Creek property probably looked good on paper back at the time: TWO IF BY SEA (96 mins., 1996, R), which followed up comedian/actor Denis Leary's acclaimed (albeit little-seen) starring turn in the underrated 1994 Ted Demme comedy "The Ref." Leary also co-wrote this story about a down-on-his-luck, irascible thief (Leary) who tries to move a painting in a small New England coastal town along with his girlfriend (top-billed Sandra Bullock). Bullock appeared in "Demolition Man" with Leary and must have done this film as some kind of favor to him, but this is a dreadful "comedy" on every level – unappealing and grating, with a minimum of legitimate laughs. At least Mill Creek's Blu-Ray (1.85, 5.1 DTS MA) is more than adequate, with the disc's new HD transfer deftly showcasing Andrew Lesnie's lovely lensing, with Nova Scotia standing in for its southern neighbor.
Finally, ULTRAMAN: SECRETS OF THE RISE OF ULTRAMAN (aprx. 3 hours) is the latest Mill Creek release in the franchise, sporting 9 episodes from the original series now with English dubs, plus "Secrets of the Rise of Ultraman." These are the original Japanese broadcast edits that have been fully remastered and include the original Japanese audio – but here with English dubs for the first time in an official home video release. A collectible booklet and DTS MA sound are also on-tap in this Mill Creek package, currently an exclusive to Deepdiscount.com