Message Board (open 24 hours!)
Twitter - @andredursin (for everything else!)
I distinctly remember Channel 38, WSBK-TV in Boston, running a number of 3-D broadcasts over the air when I was growing up: "Creature From the Black Lagoon" and a few special Three Stooges shorts were among those advertised as requiring the old-school, red-and-blue 3-D glasses you could pick up at your local pharmacy or "participating stores." Another of those rare but memorable 3-D broadcasts was DYNASTY (98 mins., 1977, R), a ridiculously over-the-top action-fest from Hong Kong that has now made its way to Blu-Ray from Kino Lorber in a marvelous restoration from the 3-D Film Archive. Even if you no longer have a 3-D capable TV, this release has you covered thanks to a new anaglyphic transfer – complete with a set of included glasses – that shows how modern technology and brilliant restoration work can breathe new life into the oldest of 3-D exhibition formats.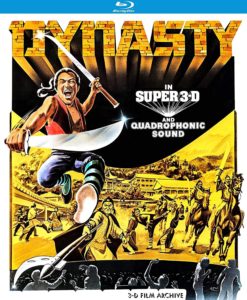 To be clear, "Dynasty" is not a great movie – this Eastern Media Film production is a thinly-plotted affair involving an exiled prince fending off challengers who have taken over his ancestral throne. Frankly I lost most sense of this story after a few minutes, which isn't much of an issue since it's just an excuse for acrobatics, swordplay, daggers, spears, and flying heads – all of which dance around the anamorphic frame courtesy of the strange "Super Touch 3-D" process, which was created by an American named Mike Findlay and used here by a HK/Taiwanese crew hoping to revitalize 3-D exhibition at a time when the format was inbetween two of its more popular eras.
The results may not be entertaining in 2-D but they're deliriously fun in 3-D, where depth-of-field effects are abundant and occasionally starling – I admit I ducked when a couple of daggers seemingly flew out of the frame at one point. The carnage is R-rated but not particularly gory (there's remarkably little blood on-hand given the amount of beheadings!), and the movie's gimmicky use of Quadrophonic stereo sound is every bit as bombastic – in a good way – as the movie's 3-D effects.
Thanks to the consistently outstanding work of the 3-D Film Archive, "Dynasty" has been restored – admittedly from less than pristine elements – in a dynamic new Blu-Ray from Kino Lorber. The stereoscopic presentation is here joined by a new "anaglyphic" 3-D transfer that marks the 3-D Film Archive's first "Compatible 3-D" release. Yes, the anaglyphic format utilizes those old red/blue tinted 3-D glasses I'd run around town trying to find in time for those Channel 38 broadcasts back in the day, but its inclusion is a necessity for 2021 since no new TVs on the market include the 3-D format as a viewing option.
The good news is this anaglyphic transfer is surprisingly effective – the 3-D Film Archive took the same care in producing this transfer as they did the conventional polarized 3-D version, and as a result, the transfer is downright remarkable. Ghosting is at a minimum, and the clarity of the 3-D is stunning – in fact, it's so much more effective than any old anaglyphic transfer that I'd love to see the 3-D Film Archive rework "Jaws 3-D" or "Amityville 3-D" for the 4K era. No, it's not polarized 3-D, but it's so good that it's likely to leave hungry 3-D fans with 4K sets desperate for more. (The 3-D Film Archive's only other anaglyphic transfer was for the '80s 3-D horror entry "Silent Madness," which is just as much fun as "Dynasty" and is currently available on Vinegar Syndrome's Blu-Ray).
Both polarized and anaglyphic 3-D transfers of "Dynasty" are included here on Blu-Ray along with a restoration of the movie's quadrophonic stereo sound (in a 5.1 DTS MA track). A mono track is also on-hand alongside two brief 3-D slide presentations from writer Eric Drysdale, a 3-D music video, and a 10-minute examination of the strange, but effective, "Super Touch 3-D" process that "Dynasty" utilized. Fans should note the Super Touch 3-D kung-fu opus that followed "Dynasty," "Revenge of the Shogun Women," currently has a 3-D Film Archive Kickstarter lined up here.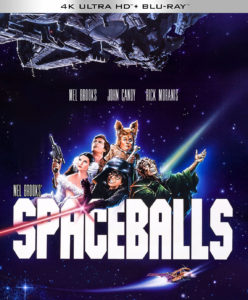 THE PRODUCERS Blu-Ray (89 mins., 1968): Kino Lorber's new Blu-Ray edition of Mel Brooks' 1968 comedy classic offers the first release of Studio Canal's 4K remaster in the U.S., albeit with some tweaked (i.e. less "hot" and yellow) color hues, plus a few nice supplemental features.
Chief among the returnees from the old MGM DVD are Laurent Bouzereau's hour-long "Making Of" documentary, sporting interviews with Mel Brooks, Gene Wilder, Kenneth Mars and others associated with the production; an outtake of the movie's "Playhouse" exterior scene with William Hickey; Paul Mazursky reading fan Peter Sellers' attempts to save the movie from box-office doom; and original trailers.
What's new is a commentary from filmmaker Michael Schlesinger and the 1080p (1.85) transfer, which takes the 4K remaster of the movie and dials back some of the colors from the European Blu-Ray release that's been available for a few years already. There are times this approach is more effective in certain sequences (interiors) than others (exteriors, which seem a little pale), but it's generally effective. The disc also includes the movie's original mono audio as well as the previously-released 5.1 DTS MA remix that offers a wider, stereophonic presentation of John Morris' wonderful score and, of course, Brooks' own "Springtime for Hitler."
Kino Lorber has also produced their own Blu-Ray – as well as the 4K UHD format debut – of the oft-released SPACEBALLS (96 mins., 1987, PG). Truthfully, I've never been overly fond of Mel Brooks' 1987 "Star Wars" spoof, which seemed to come years after the fact and boasts far more misfired gags than infrequent moments of inspiration. In fact, Ernie Fosselius' 1978 short "Hardware Wars" is funnier in its 15-minute duration than Brooks is here in an at-times labored 96 minutes.
That being said, "Spaceballs" is at least cheerful and offers a terrific John Morris score, which helps you gloss over its painfully unfunny characters (like John Candy's Chewbecca-inspired "man dog" Barf and Joan Rivers' take on C3PO) and the lesser moments of Brooks' script, which he co-wrote with Thomas Meehan and Ronny Graham. (I'll give them credit for John Hurt's cameo, however, which was hilarious).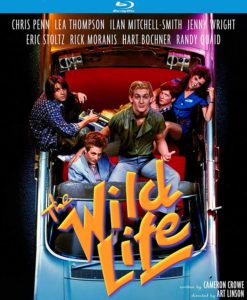 Nevertheless a title that has remained popular across multiple home video formats, "Spaceballs" debuts this month in a brand new arena – 4K UHD, where Kino Lorber has included a Dolby Vision enhanced HVEC encoded transfer (1.85) that aids the movie's color spectrum and contrast levels. Nick McLean's cinematography is pretty "plain," and doesn't evoke the widescreen trappings of the actual films it's parodying, but this is nevertheless an appreciable enhancement – through Dolby Vision – of the movie's Blu-Ray presentation. That disc, on its own merits, is still perfectly acceptable for anyone still living exclusively in the 1080p realm, and Kino Lorber is also releasing their own BD of "Spaceballs" this month for that audience.
Both discs feature all the extras from past releases of the property on home video, including commentary from Brooks and several featurettes, plus photo galleries and original trailers (which notably list John Candy and Rick Moranis as below-the-title "guest stars"). There's also an exhibitor trailer with Mel, image galleries, and watching the movie in "ludicrous speed."
Writer Cameron Crowe and producer Art Linson reunited shortly after the box-office success of their '80s teen classic "Fast Times at Ridgemont High" for THE WILD LIFE (96 mins., 1984, R). This Universal follow-up isn't a direct sequel but does paint a portrait of similar character types that could easily be mistaken as renamed protagonists from Crowe's predecessor. Imagine if Judge Reinhold and Sean Penn became post-graduate buds – and then had their roles recast in the form of recent graduate Eric Stoltz and his carefree party pal Chris Penn. Lea Thompson could be a slightly older variation on Jennifer Jason Leigh or Phoebe Cates' "Fast Times" roles. And Spicoli's younger brother could've well been Ilan Mitchell-Smith's high schooler here, obsessed with Vietnam and the music of the era.
Ultimately, it's probably just as well that "The Wild Life" didn't directly connect with "Fast Times," since this uneven piece doesn't offer the comedic spark of Crowe's first screenplay – probably unsurprising with producer Linson taking over directorial duties from the more capable Amy Heckerling. It is, however, an entertaining enough piece of mid '80s studio filmmaking, with a terrific cast that also counts Jenny Wright, Rick Moranis and Randy Quaid as part of its ensemble, plus a soundtrack co-composed by "Edward" Van Halen and a roster of pop tunes, as you'd expect, playing constantly in the backdrop.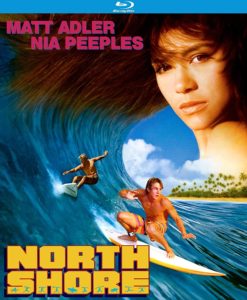 A box-office disappointment, "The Wild Life" has made scant appearances on home video over the years, and certainly never in the quality presentation Kino Lorber has given it here, with a solid Universal catalog master (1.85) and DTS MA 2.0 stereo sound. Due to an endless array of licensed songs, the movie has long carried a "rescored for home video" soundtrack that's also featured here – completely understandable given the movie's vast roster of performing artists that would be financially impractical to placate (especially given the movie's small following). Terrific extras include a commentary with Ian Christe and the late Mike McPadden, the trailer, radio spots, and a wonderful 15-minute talk with Ilan Mitchell-Smith, who engagingly talks about his time as a young actor in Hollywood and current life as a English/Medieval Studies professor.
A more satisfying and fun feature among Universal's 80s output is NORTH SHORE (96 mins., 1987, PG-13), a highly entertaining story of a high school surfing champ (Matt Adler) from Arizona (the home of big waves!) who heads to Hawaii to prove himself before heading off to college. There, he requires the help of a sage guru (Gregory Harrison, on sabbatical from "Trapper John, M.D.") to get in championship-shape and earn the respect of not just the locals but real-life surfer greats Gerry Lopez and Laird Hamilton. Oh, and there's also a lovely local lass (Nia Peeples) who offers some romance in a fast-paced, attractively shot '80s "beach movie" from producer Randal Kleiser that offers ample repeat viewing potential.
Kino Lorber at last premieres "North Shore" on Blu-Ray in a perfectly acceptable Universal catalog master (1.85, 2.0 DTS MA) with extras carried over from Universal's older DVD. These include a half-hour of retrospective interviews with the cast, Kleiser and director William Phelps; deleted scenes; the trailer; and an alternate ending which looks like rehearsal footage and features a different actress subbing for Peeples.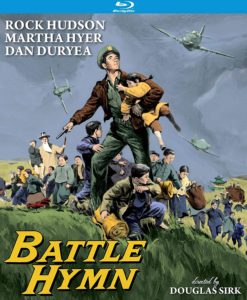 BATTLE HYMN Blu-Ray (108 mins., 1957): Though generally not regarded as one of director Douglas Sirk's finest films, "Battle Hymn" is nevertheless an effective widescreen drama, featuring Rock Hudson as a WWII pilot/preacher who re-enlists in the Air Force in order to train pilots in South Korea – and also make amends for his accidental bomb release that wiped out a German orphanage years before. He does the latter by building a shelter for local war orphans in this Cinemascope drama, scripted by Charles Grayson and Vincent B. Evans from a true story. Kino Lorber's Blu-Ray spotlights another capable Universal catalog master (2.35) with the trailer and a commentary from critic Nick Pinkerton.
A LOVELY WAY TO DIE Blu-Ray (103 mins., 1968, Not Rated): Kirk Douglas goes "mod" in a standard late '60s Universal private-eye exercise from director David Lowell Rich. Here, Kirk plays a disgraced cop who becomes a bodyguard for the gorgeous Sylvia Koscina, who's accused of murdering her husband. Eli Wallach is the defense attorney who hires him in a watchable but formulaic picture that's often undermined by a daffy Kenyon Hopkins soundtrack that could be mistaken for an episode underscore from "The Brady Bunch." Kino Lorber's Blu-Ray (2.35, mono) features a decent Universal catalog master with trailers and a new commentary from Howard S. Berger and Steve Mitchell.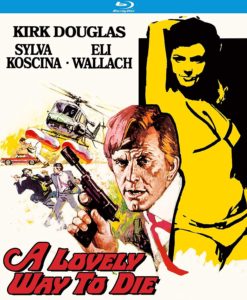 THE TIME TRAVELERS Blu-Ray (84 mins., 1964): Decently executed American-International sci-fi thriller about a group of scientists who, after jumping into the future, find a desolate world of mutants and humans living underground following a nuclear war. Preston Foster, Philip Carey, John Hoyt and Merry Anders star in this production from writer-director Ib Melchior, who also turned out the solid B-movie "Angry Red Planet," and here spins a small-scale effort with a decidedly downer ending. The movie also marked the initial work of cinematographer Vilmos Zsigmond, with Kino Lorber and Scorpion Releasing's Blu-Ray sporting an MGM licensed 1080p (1.85) master with the original trailer.
Multi-Disc Blu-Ray Retrospectives: Golden Age fans should be excited by a pair of new Kino Lorber Studio Classic box-sets. CAROLE LOMBARD COLLECTION II spotlights the legendary actress in three 1930s offerings: the romantic comedy THE HANDS ACROSS THE TABLE (81 mins., 1935), which features Lombard as a manicurist out to marry a rich playboy (Fred McMurray); another genre effort, LOVE BEFORE BREAKFAST (91 mins., 1936), which stars Preston Foster and Cesar Romero as men dueling for socialite Lombard's affections; and the enjoyable, fast-paced THE PRINCESS COMES ACROSS (76 mins., 1936), spotlighting Lombard as a Brooklyn girl who pretends to be a princess on-board an ocean liner and gets wrapped up in a murder-mystery. Fred MacMurray again co-stars with Lombard in a well-reviewed mid '30s Paramount release. All three titles feature 1080p 1.33 B&W Universal-licensed transfers and new commentaries, with director Allan Arkish and historian Daniel Kremer discussing "Hands" and "Princess," and Alexandra Heller-Nicholas and Joshua Nelson tackling "Breakfast."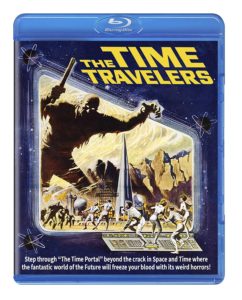 A trio of Universal '50s westerns comprise WESTERN CLASSICS II, which is highlighted by the Blu-Ray format debut of THE REDHEAD FROM WYOMING (80 mins., 1952), a full-color vehicle for Maureen O'Hara, playing a saloon owner trying to protect cattle while picking between a pair of suitors (William Bishop, Alex Nicol); a terrific cast, including Jeff Chandler, Dorothy Malone, Lee Marvin and Ward Bond, make George Marshall's PILLARS OF THE SKY (95 mins., 1956) an enjoyable Cinemascope-shot offering; while Fred MacMurray plays a ranch herder trying to do his job while dealing with younger brothers (Dean Stockwell, Jeffrey Hunter) with contrasting personalities in GUN FOR A COWARD (73 mins., 1957). Like "Pillars," the latter was shot in Cinemascope and is presented in a 2.35 AVC encode here in Kino Lorber's box, which also debuts three fresh commentary tracks from Samm Deighan (Redhead), Toby Roan (Pillars), and Lee Gambin (Coward).
Kino Lorber DVDs and Special Interest Titles: An adaptation of a graphic novel, DAYS OF THE BAGNOLD SUMMER (86 mins., 2020) follows a young, Metallica-loving teen stuck with his mother after his dad cancels his summer trip with his new wife. The duo eventually reach a middle ground of understanding in Simon Bird's adaptation of Joff Witherhart's source material, new on DVD (1.78) from Greenwich Films and Kino Lorber with the DVD also including 5.1/2.0 audio…Fernanda Valadez's IDENTIFYING FEATURES [SIN SENAS PARTICULARES] (99 mins., 2020) chronicles the efforts of a distraught Mexican mother trying to find out what happened to her son after he crossed the border into the U.S. This timely feature is new from Kino Lorber on DVD (2.35, 5.1 Spanish with English subtitles) sporting a featurette, trailer, and Q&A with the director and co-writer/producer Astrid Rondero…Cohen Media Group's JOURNEYS THROUGH FRENCH CINEMA (459 mins., 2017) continues French filmmaker Bertrand Tavernier's love affair with the cinema through some of France's legendary auteurs. This eight-part follow-up to his Cesar-nominated "My Journey through French Cinema" takes viewers through the New Wave and the German cinema's influence, along with Rene Clement, Henri-Georges Clouzot, Julien Duvivier, Henri Decoin, Claude Autant-Lara and a profile of the cinema's classic composers. Cohen's Blu-Ray is now available on two discs with 1080p transfers. DTS MA French audio and English subtitles.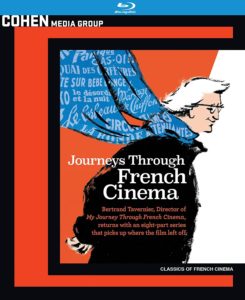 LITTLE FUGITIVE: THE COLLECTED FILMS OF MORRIS ENGEL & RUTH ORKIN is a celebration of the early independent filmmakers, from their 1953 film "Little Fugitive" (1.33 B&W) to their 1956 effort "Lovers and Lollipops" (1.33 B&W), the 1958 entry "Weddings and Babies" (1.55 B&W) and the newly restored (by Museum of Modern Art) "I Need a Ride to California" (1.37). Commentaries, documentaries, and assorted shorts and commercials by Morris Engel make this a fascinating, three-disc Blu-Ray anthology from Kino Lorber…Abel Ferrara's THE PROJECTIONIST (82 mins., 2019) is both a documentary look at the changing world of film and film exhibition in NYC, through the lens of theater operator Nicolas "Nick" Nicolaou. This is a definite recommend for movie buffs and those interested in the business, with Kino Lorber's Blu-Ray including trailers and Matt Barry's 2018 documentary "Cinevangelist: A Life in Revival Film," a 25-minute profile of George Figgs, who spearheaded the concept of revival cinema, starting in Baltimore in the 1960s…Finally, THE KAISER OF CALIFORNIA (99 mins., 1936) debuts on disc: a little-seen German western produced under the Third Reich but packed with expressive cinematography and imagery, at a time before the genre evolved in the U.S. through the early work of John Ford among others. A new 2K German restoration (1.33 B&W) is included in Kino's Blu-Ray along with a commentary from historian Eddy Von Mueller.
---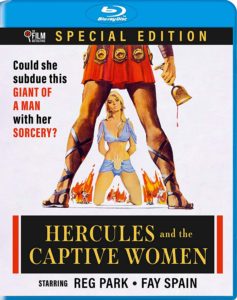 New From The Film Detective
The Film Detective's latest restoration ought to give "peplum" fans a real kick: HERCULES AND THE CAPTIVE WOMEN (95 mins., 1963), which marked star Reg Park's second entry in the long-running Italian series that engaged '60s audiences around the world. This 1961 effort was recut and rescored for a 1963 American release, which is what's on tap in this limited edition Blu-Ray (1500 copies) that The Film Detective is launching this month. Their 1080p Blu-Ray transfer is framed approximately at a 2:1 aspect ratio and features encoding in the old MPEG-2 format, which is a little surprising. Still, this "4K restoration from the original negative" is quite good, and certainly far better than any previous home video/bootleg release fans may have come across by a wide margin.
While the movie is fun for its particular brand of Saturday matinee mid '60s magic, it's the extras here that deliver the most entertainment. The Film Detective recruited Video Watchdog's Tim Lucas to provide another essential audio commentary, which discusses not just this film but the "dubbed sword-and-sandal" genre altogether. Packed with great trivia and anecdotes, it's a thoroughly researched and rewarding track worth the purchase of the disc alone.
Additional extras include the often quite funny Mystery Science Theater 3000 version of the film (from the heyday of the Joel Hodgson run) plus a brief new interview with "TV's Frank", Frank Conniff. Not to be outdone, C. Courtney Joyner provides a 20-minute overview of the genre plus liner notes that relay welcome information on the careers of Steve Reeves and Reg Park. Highly recommended!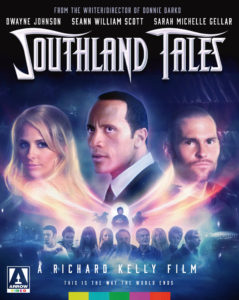 Arrow New Releases
SOUTHLAND TALES Blu-Ray (145/158 mins.,, 2008, R/Not Rated; Arrow): Nutty follow-up to "Donnie Darko" from filmmaker Richard Kelly sat on the shelf for some time after its initial festival screenings proved to be less than receptive.
Eventually re-cut but barely released to theaters, "Southland Tales" is now an Arrow Special Edition Blu-Ray featuring two versions of Kelly's film, solidifying its place as one of the weirdest movies of our generation, boasting a cast filled with past and present action stars (Dwayne "The Rock" Johnson, Christopher Lambert), past and present Saturday Night Live performers (Nora Dunn, Jon Lovitz, Cheri Oteri, Amy Poehler), various music stars (Justin Timberlake, Mandy Moore), assorted comic actors (Kevin Smith, John Larroquette, Wallace Shawn), plus Sarah Michelle Gellar and one of the guys (Seann William Scott) from "American Pie" — in a dual role, no less!
Despite the eclectic cast, none of it makes any sense at all, and good luck to the cult that devoured "Darko" as a post-modern masterpiece in trying to do the same with this oddball effort. Arrow's Blu-Ray not only includes the more straightforward theatrical cut but Kelly's Cannes cut, running 13 minutes longer and also entirely different in terms of its editorial assemblage. Incredibly, though, it makes even less sense than the re-cut, so viewers beware.
Arrow's Blu-Ray is stellar in terms of its presentation, offering a 2K restoration (2.39) and 5.1/2.0 sound options. Extras include a terrific, in-depth look at the production of the movie; an archival featurette; an archival animated short set in the movie's universe; the trailer; limited edition collector's booklet and more in the 2-disc set.
Also new from Arrow is THE BLOODHOUND (72 mins., 2020), a modern take on "The Fall of the House of Usher" from first-time writer-director Patrick Picard. Liam Aiken plays a young man who becomes wrapped up in the ancestral struggle of a childhood friend (Joe Adler) stricken with a strange affliction. A commentary from Picard and editor David Scorca, a 45-minute featurette, four experimental shorts, 1080p (1.66) transfer and 5.1/2.0 audio comprise Arrow's release.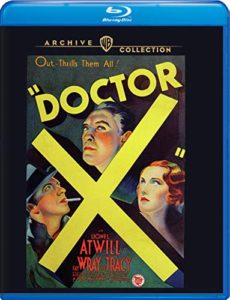 Warner Archive New Releases: Historically relevant but awfully creaky from a dramatic perspective, DOCTOR X (76 mins., 1932) is a wild, early slice of horror-melodrama – a pre-Code affair that stars Lionel Atwill as a brilliant scientist whose gadgets and unorthodox methods are used to find an apparently disfigured killer who strikes upon the full moon. Fay Wray plays his daughter in a Michael Curtiz-directed picture noteworthy for its use of two-strip Technicolor, which gives this plodding, talky effort a high curiosity value for movie buffs. So, too, will Warner Archive's new Blu-Ray edition of the film, which not only includes the UCLA/Film Foundation restored transfer, but the rarely-seen B&W version (1.37, DTS MA mono), which was shot at the same time for "small U.S. Markets" and overseas exhibition. This cut hasn't been shown in some 30+ years, and premieres here alongside a documentary on Curtiz's genre work, commentaries from historians Alan K. Rode and Scott MacQueen, the trailer, and a restoration featurette.
Creaky is a term that can also be applied to the MGM drama GREEN DOLPHIN STREET (141 mins.), a sprawling effort starring Lana Turner and Donna Reed as sisters who get mixed up when a man (Richard Hart), recently emigrated to New Zealand, sends for the wrong sibling. Van Heflin, Frank Morgan, and Edmund Gwenn star in this old-fashioned and often tedious film that's redeemed by a memorable climax of earthquake/tidal wave devastation thanks to Oscar-winning special effects. The Warner Archive Blu-Ray (1.37 B&W. 2.0 DTS MA) offers a Lux Radio Theater adaptation on the supplemental side plus the original trailer.
Song-and-dance fans should enjoy BROADWAY MELODY OF 1940 (102 mins., 1940), the last of the MGM musicals that featured the franchise title and, according to many genre enthusiasts, one of the more underappreciated. This time out, Fred Astaire and Eleanor Powell front a succession of enjoyable production numbers punctuated with a Cole Porter score that fans have long enjoyed. Enhanced with a new 1080p HD transfer (1.37 B&W, 2.0 DTS MA mono), "Broadway Melody"'s Blu-Ray, out April 13th alongside the above titles, includes the archival featurette "Cole Porter in Hollywood," "Begin the Beguine," the Our Gang short "The Big Premiere," MGM cartoon "The Milky Way," and the trailer.
Film Movement New Releases: Stephanie Chuat and Veronique Reymond's MY LITTLE SISTER (100 mins., 2020) is a Swiss import following a German woman (Nina Hoss), a playwright disinterested in her field, whose twin brother (Lars Eidinger) tries to spur her creativity – even while he's fighting leukemia. This acclaimed drama debuts on DVD from Film Movement this month sporting a video introduction from the directors, a 16:9 (1.85) transfer, 5.1 German/French/English audio with English subtitles, and Jay Dockendorf's short "Three Deaths."
MPI New Release: The Japanese drama FUKUSHIMA 50 (121 mins., 2020) looks at the fallout from the 2011 earthquake that, on March 11th of that year, shook the Tohoku Region and generated a tsunami that struck the Fukushima Daiichi nuclear power plant. The valiant efforts of its workers to keep the plant going until the bitter end forms the tension and suspense of this 2020 Japanese film starring Koichi Sato and Ken Watanabe. MPI's Blu-Ray (2.39), out April 13th, includes 5.1 DTS MA audio in Japanese (with English subtitles) and an English dub.
NEXT TIME: Criterion's THE FURIES and more! Until then, don't forget to drop in on the official Aisle Seat Message Boards and direct any emails to our email address. Cheers everyone!