We've had 25th and 30th Anniversary Editions on Blu-Ray of BACK TO THE FUTURE, and now Universal debuts the series on 4K UHD for the first time in their ULTIMATE TRILOGY box-set – as well as on remastered Blu-Ray – to commemorate the hit 1985 movie's 35th Anniversary. This seven-disc box-set boasts brand-new 4K transfers with Dolby Vision enhancement and Dolby Atmos audio mixes, while incorporating all the extras from both previous Blu-Ray releases and even a few new goodies. The package includes, of course, 1985's highest-grossing film, "Back to the Future," along with its two sequels, shot back-to-back and released in Thanksgiving 1989 and May 1990, respectively.
Anyone who grew up in the '80s undoubtedly saw the original more than a few times, and the good news is that the picture remains a joyful blast of entertainment, with wonderful performances, smart writing, and infectious energy. The sequels, while not on the classic level of the original, remain highly worthwhile for separate reasons: 1989's "Back to the Future Part II" offered a delirious, dizzying time-travel adventure with a brilliant and underrated final third that put an interesting spin on the events of its predecessor. However, for those who thought Part II lacked heart and romance, "Back to the Future Part III" reprieved the endearing character interplay of the original and brought the series to a fitting close.
Personally, I have a lot of wonderful memories of seeing the BTTF Trilogy while I was growing up. The original opened in 1985, right before I started 5th grade. Back then, Michael J. Fox was a known commodity due to his work on the hit NBC series "Family Ties," and "Back to the Future" looked like a cute time travel picture geared specifically towards kids, with the "Steven Spielberg Presents" brand attached for good measure.
However, when I saw the movie for the first time that summer, it was clear even to a 10-year-old that the movie's appeal extended far beyond the barriers of youth movie-goers. Adults loved the picture's multi-generational story, which managed to encompass comedy, time travel, '50s nostalgia, and themes of relating to one's parents that are timeless — regardless of how antiquated some of the '80s jokes are (including the hilarious reference to Tab, which was dated even when the movie was first released!).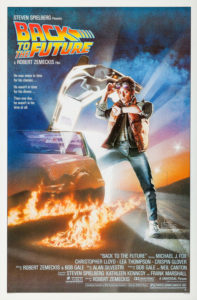 For a lot of reasons, BACK TO THE FUTURE (116 mins., 1985, PG) is one of my favorite films. Fox plays Marty McFly, a typical '80s teen with typical '80s parents whose relationship with crazy inventor Doc Brown (Christopher Lloyd) results in Marty traveling back to 1955. There, he inadvertently alters the course of his own history by disrupting the moment when his father (Crispin Glover) and mother (Lea Thompson) met and fell in love. What's worse, mommy now has a crush on him (!), forcing Marty to find a younger Doc and try to set things right before his existence is wiped away.
There's just an optimistic and charming element inherent in Robert Zemeckis and Bob Gale's BTTF screenplay that few films in the sci-fi/fantasy genre possess. Fox's Marty and Christopher Lloyd's Doc Brown are two highly likeable protagonists, and equally noteworthy is the supporting work of Thompson and Glover as Marty's parents, along with Thomas Wilson's bully Biff Tannen. While the picture's portrayal of both the '50s and the '80s are highly idealized, they still provide an interesting contrast to Fox's quest to reunite his flawed parents and keep his existence together after causing a rift in the space-time continuum.
In nearly every facet, BTTF works splendidly — here we have one of Alan Silvestri's best scores, Dean Cundey's warm cinematography, a couple of bouncy Huey Lewis & The News hits, and a story that continues to entertain even some 35 years after its original release.
Four years later, Zemeckis and Gale, along with most of the original cast and crew, returned to the series for a pair of sequels shot simultaneously.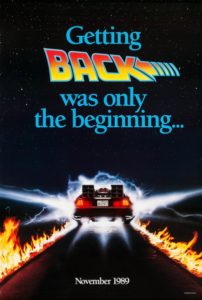 Although a box-office hit, BACK TO THE FUTURE PART II (109 mins., 1989, PG) is a movie that received a negative (and mostly unwarranted) backlash from critics and audiences shortly after its release. Most of the complaints came from viewers who didn't care for the picture's frantic, non-stop action, open-ended finale (pretty absurd considering that the third movie was opening six months later), and claims that it lacked the "heart" of the original. While the latter may be true, I've always found it curious that critics who often carp about sequels being carbon-copy retreads chose to attack a follow-up that remains one of the more innovative sequels of its kind ever produced.
In Part II, Marty and Doc Brown travel into the future where Marty and girlfriend Jennifer's kids are having problems — but their attempts to set things right there cause ramifications in the past once Biff steals the time machine and changes the course of history.
Zemeckis calls Part II the "most interesting film" of his career, and in many ways it is. Although it picks up right from the end of the first movie, Gale and Zemeckis chose not to write a mere "remix" of its predecessor, but rather a fast-paced and frantic time-travel adventure that ultimately goes back into the original film's events from a whole different angle. I always found that portion of the picture to be enormously entertaining, since it reprieved portions of the first film through its own distinct, dramatic story line – clearly the most unique element in Gale's underrated script.
As far as the rest of the movie goes, I've always loved the way that the picture weaves a complicated and yet not-all-that confusing story that spans pasts, presents, and futures with great ILM special effects, particularly innovative for their time. It's a rollercoaster ride that ends leading right into the next installment, very much like an amusement park attraction you can't wait to take another turn on.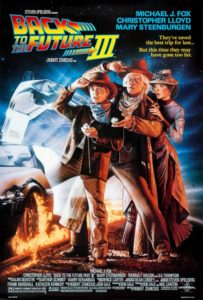 The one universal criticism that was leveled at the movie — that it lacked the warmth and heart of its predecessor– is more than compensated for in BACK TO THE FUTURE PART III (119 mins., 1990, PG), which abandons the technical wizardry and time-traveling element of the second picture and concentrates on telling a central story – marked by a charming romance between Doc Brown and a Hill Valley woman (Mary Steenburgen) – set in the Old West.
Or, to be more precise, in the Old West of Hollywood's Golden Age. A handful of character actor veterans pop up in this fitting end to the trilogy, which focuses on Marty trying to get back to his present while Doc falls in love and has to contend with Biff Tannen's gunslingin' forefather (Tom Wilson again, in another appropriately nasty performance).
Another rousing score by Alan Silvestri (his finest of the series in fact) rounds out a perfect finale to the franchise, which – along with its predecessors – debuts here in a marvelous 4K UHD package. The brand-new Dolby Vision, HDR-compatible transfers look dynamite, saturated with warm colors and HDR usage that brings out the best in Dean Cundey's cinematography. The Dolby Atmos sound doesn't offer a whole lot of "Atmos overhead pop" but more gently lends some activity to the expanded sound field while mostly adhering to the original stereophonic sound design (itself still presented in a 5.1 DTS MA mix on the Blu-Ray discs).
Speaking of the Blu-Rays, these are not recycles of their decent, if unspectacular, original format releases: the new AVC encoded 1080p (1.85) transfers are based on the same restorations as the 4K discs and show a measurable improvement in detail and overall encoding from those older, VC-1 encoded Blu-Rays. Thus, the set is certainly worthwhile whether you have 4K UHD capability or not – though if you want to save a few bucks, the Blu-Rays are available separately in their own 35th Anniversary release.
In terms of extras, the bonus disc includes four newly-released minutes of outtakes featuring a smattering of audition reels – from Billy Zane testing as Biff to Kyra Segdwick as Jennifer and Ben Stiller as Marty – plus two demo songs, and a featurette, on the new "Back to the Future Musical." There's also a new segment on the Hollywood Museum's BBTF exhibit and a 20-minute "Can You Survive The Movies" online episode on how realistic some of the film's science actually is (not much, unsurprisingly).
Also included on the bonus disc are goodies from the 30th Anniversary (2015) Blu-Ray release. These include a brief short with Christopher Lloyd in-character, "Doc Brown Saves the World," plus two episodes from the 1991 animated series, a 2009 retrospective doc, a featurette on the 2012 restoration of the DeLorean, and 2015 "Jaws 19″ and Hoverboard commercials.
More extensive and engaging supplements from the 2010 Blu-Ray are, of course, also reprised here, starting with the 2010 retrospective doc, "Tales From the Future," a documentary presented on each film platter in multiple parts.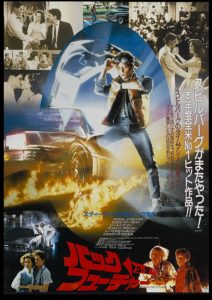 This retrospective offers then-new comments from Zemeckis, Gale, Spielberg, and all the stars; even Claudia Wells, who notably hadn't been interviewed on-camera about her role as Jennifer in the original BTTF, appears (and looks great too) and divulges how she left the business at the time of the sequels' shooting to focus on her family. While some of the anecdotes have been heard before in other featurettes, for the first time viewers are able to see actual footage from Eric Stoltz's five weeks of shooting as Marty McFly. The Stoltz footage is extremely brief and we never so much as hear him utter a word (are they still trying to keep his performance a secret?), but it's still jarring to see him in Fox's shoes. Even in these brief moments something seems just, well, "off" about Stoltz in the part, since other than bearing more of a physical resemblance to Crispin Glover than Fox, one can't imagine he would've been able to fill the needed comedic demands of the role (and apparently, according to Zemeckis, he didn't). There's also a brief look at Silvestri's score on the first "Back to the Future" disc, though the composer himself only appears in archival interview segments.
The other big feature in those extras was the inclusion of footage from "Back to the Future: The Ride," the terrific, but now sadly defunct, Universal Studios amusement park ride which opened in 1993 and closed in the Hollywood and Orlando locales in 2007. The 30 minutes of footage (culled from a videotape master) on-hand here includes all the pre-show material and the ride itself, with Christopher Lloyd and Tom Wilson reprising their roles as Doc and Biff.
Plenty of supplements have also been carried over from the DVD edition that were later enhanced for the prior Blu-Ray. Among the latter are the deleted scenes and outtakes from the trilogy; plus, in addition to the music videos, archival promotional material, DVD documentaries from the prior release, and other assorted, previously-released odds-and-ends, both the Q&A "live commentary" and scene-specific commentaries from the DVDs have been ported over.
The live Q&A session – conducted for the DVD release – with Zemeckis and Gale was recorded at USC under the guidance of home video specialist Laurent Bouzereau. The track runs anywhere between 60-90 minutes each on all three films, with the two filmmakers fielding questions read by Bouzereau from students. The two cover the bases from the (mis)casting of Eric Stoltz in the original version of BTTF, to the infamous "To Be Continued" line that was added to the video release of the first movie. Along the way, the two talk about Fox's crazed schedule, Spielberg's involvement in the films, and – most tellingly – Crispin Glover's insane demands that lead to his ouster from II and III (and how the sequels had to be rewritten to cover for his absence – probably, collectively, their biggest drawback). There are some revealing moments in this track, but getting to the tastier nuggets does, admittedly, take a while.
The secondary commentary track, another holdover from the DVD, with Bob Gale and producer Neil Canton is more interesting but, unfortunately, is also pretty dry. More than a few times Gale brings up topics but refuses to go into them, claiming that they were already covered in other supplements.
A digital copy rounds out the package, making for the finest release of "Back to the Future" on home video ever – a must for 4K UHD enthusiasts, and a worthy upgrade for Blu-Ray owners, whether you purchase the combo pack (with both formats) or the Blu-Ray 35th Anniversary set individually. Highly recommended!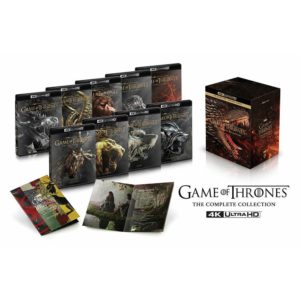 Out this week in a massive, 33-disc 4K UHD box-set is GAME OF THRONES: The Complete Collection (4185 mins., HBO/Warner), a marvelous anthology that should come as a must-own for fans of the series.
As with the previous forays into UHD for the much-celebrated HBO production, this 4K package ups the visual and aural ante with HDR, Dolby Vision and Dolby Atmos enhancements, making for a must for series fans. This sprawling, ambitious adaptation of George R. R. Martin's acclaimed "A Song of Ice and Fire" novels from David Benioff and D.B. Weiss garnered all kinds of attention when it first debuted in 2010, and with good reason. Though leisurely paced, "Game of Thrones" is an enthralling chronicle of the fantastical Seven Kingdoms of Westeros and the various factions and families that populate it, with plenty of intrigue and action interspersed along the way. Martin's dense fantasy tomes could only be adapted in this manner, and HBO brings their usual outstanding production values to the series with strong performances from an ensemble cast, most especially Peter Dinklage, who deservedly copped a number of awards for his portrayal of Tyrion Lannister.
HBO's 4K UHD package (now available) reprises most of the extras from the Blu-Ray box, including a number of fine commentaries involving Benioff, Weiss and Martin among others; cast auditions, featurettes, "Anatomy of an Episode" extras, an animated series history and Digital HD copy. All told, there are 15 hours of bonus features to compliment the gorgeous a/v presentation of the episodes which, freed of starving bit-rates you often find when streaming, look and sound better here than anywhere else. Highly recommended for GOT connoisseurs and 4K enthusiasts alike!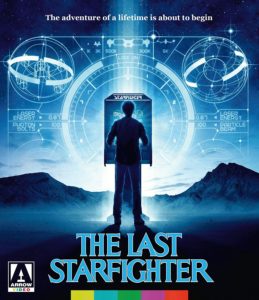 THE LAST STARFIGHTER Blu-Ray (101 mins., 1984, PG; Arrow): Back when sci-fi movies were about more than just special effects, along came "The Last Starfighter," a sleeper hit in the summer of 1984.
Lance Guest plays a high school student and college hopeful who finds out his high score on the video game "Starfighter" is worth more than a few bonus tokens. Guest is soon whisked away to another galaxy by a Harold Hill-like hustler (Robert Preston, utterly charming here) to save the universe with the help of an extraterrestrial co-pilot (Dan O'Herilhy). Will Guest save the day, or will his heart forever belong to his loving girlfriend (Catherine Mary Stewart) back on Earth?
The combination of Jonathan Betuel's script with Nick Castle's on-target direction results in a marvelously entertaining movie that mixes sci-fi with comedy and an appealing romance between Guest and Stewart. The performances are all terrific, from the appealing young leads to old pros Preston and O'Herilhy, while Craig Safan's outstanding score — one of the finest of the 1980s — graces the drama and enhances the movie at every turn.
While the movie's effects were cutting edge for their time (and have, obviously, dated a little bit), "The Last Starfighter" wasn't just another "Tron." The film's enormous amount of heart and warm characterizations continue to sustain the film decades after its original release, making it one of the best of the so-called "'Star Wars' clones" that followed the release of George Lucas' original classic.
Arrow's remastered Blu-Ray edition of "The Last Starfighter" – debuting a new 4K remaster from the original camera negative – is a much-needed enhancement on the soft, mediocre HD releases Universal provided years ago on Blu-Ray and HD-DVD. This fresh AVC encode offers immediate and appreciable gains in detail, skin tones, and overall clarity from that murky looking old HD master while boasting your choice of 2.0, 4.1 and 5.1 audio mixes. The 4.1 track is a specially nice inclusion here, having been mixed to accompany the 70mm theatrical release of the movie, and never having been released before on home video.
Brand new supplements include a commentary with Lance Guest and his son, Jackson; new interviews with Catherine Mary Stewart, Craig Safan, Jonathan Betuel, FX supervisor Kevin Pike, author Greg Bear (discussing the company that produced the CGI FX), and a talk with Estil Vance, an arcade collector who attempted to reconstruct the movie's Starfighter game. Meanwhile, extras carried over from the earlier Special Edition DVD include commentary with Castle and production designer Ron Cobb, plus a 30-minute look at the the production of the movie (and primarily its visual effects). The original trailer and image galleries make for another essential Arrow release.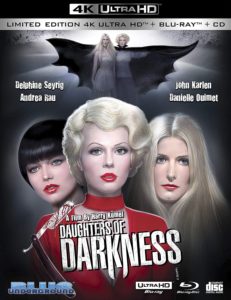 DAUGHTERS OF DARKNESS 4K UHD Limited Edition (100 mins., 1971, Not Rated; Blue Underground): One of the more sensual vampire films of its decade, Harry Kumel's enchanting "Daughters of Darkness" has been fully remastered in a 4K UHD edition from Blue Underground, also sporting a Blu-Ray remaster and a copy of the soundtrack CD.
Kumel's film is light on horror and heavy on sexuality, as it probes the relationship between a pair of newlyweds (John Karlen, Danielle Ouimet) who have the misfortune of running into the legendary undead Countess Elizabeth Bathory (Delphine Seyrig) and her "companion" (Andrea Rau) at a Belgium coastal resort. There's blood and occasional flashes of violence, but "Daughters" is more erotic than horrifying, which makes it a refreshing change of pace from the many other offerings in its genre.
Blue Underground's new 4K remaster is outstandingly rendered and includes Dolby Vision enhancement (my apologies as I erred in my original review -- my player didn't output DV through my receiver when I first screened the disc!). Audio options include a new Dolby Atmos mix created specifically for this presentation (the original mono audio is also present) plus a new commentary by Kat Ellinger. This is in addition to archival commentaries (one with Kumel, another with John Karlen and genre expert David Del Valle), plus interviews with the director and stars, trailers, radio spots, a 20-page booklet, a Blu-Ray culled from the same new restoration (with the same extras as configured on the 4K UHD), and a CD copy of Francois de Roubaix's original score.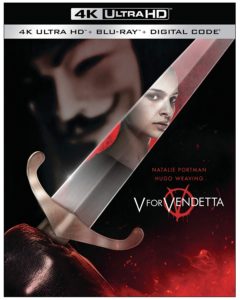 V FOR VENDETTA 4K UHD (132 mins., 2006, R; Warner): After their "Matrix" sequels met with mixed reaction and declining box-office receipts, the Wachowski (then) Brothers returned with 2006's "V For Vendetta," a loose adaptation of the Alan Moore DC graphic novel (which Moore completely dismissed and demanded his name be removed from) that the Wachowskis wrote and produced, with James McTeigue directing.
In a futuristic London presided over by a totalitarian government led by Big Brother-esque John Hurt, Natalie Portman plays a regular, everyday girl named Evey who unwittingly becomes wrapped up in the revolutionary — or, to be more precise, terrorist — tactics being carried out by "V" (Hugo Weaving), a caped freedom fighter wearing a Guy Fawkes mask, trying to bring the power back to the people.
"V For Vendetta" carried a lot of political baggage upon its original release, and with good reason: the Wachowskis' script takes Moore's graphic novel and uses it as a lightning rod to attack conservatives, Christians, and the United States in general, right down to a pedophile priest, a burning cross, an insinuation that a terrorist plot was in fact staged by the government (who then blamed it on innocent Islamists), and a general defense of terrorist tactics. Granted, the movie's commentary is essentially so simplistic that its politics could be applied to any government, but it's hard not to see through the filmmakers' agenda here, which comes at a price to its story, which uses a kitchen-sink approach with poorly defined characters whom you never care about. "V For Vendetta" would like to be a sleek, provocative sci-fi spectacle, but it's ultimately a very-good looking, well-acted (kudos to Portman in a tough role) but simple-minded affair with a pace that's downright ponderous at times and a spiteful agenda that only left-leaning viewers are likely to find palatable.
Warner's 4K UHD edition offers an HDR enhanced HVEC transfer (2.39) that's dynamic and vibrantly conveyed, with Dolby Atmos audio, a Digital HD copy, and some new special features included. These a fresh featurette offering James McTeigue and Lana Wachowski reflecting on the movie, Portman's audition tape, and other extras carried over from the Blu-Ray.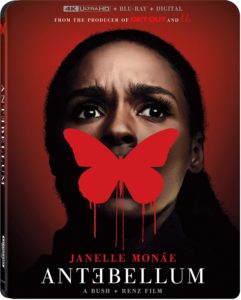 ANTEBELLUM 4K UHD (106 mins., 2020, R; Lionsgate): Janelle Monae's central performance as a modern woman of color who's improbably (or not) whisked away, back to the Antebellum era, is pretty much the sole reason to check out this disappointing horror outing from writer-directors Gerard Bush and Christopher Renz. Though laid out almost like a Shyamalan type of nightmare, "Antebellum" strives to make itself relevant with political and social commentary, only to overshoot its landing with a "twist" ending most will be able to see coming from miles away. Lionsgate's vividly conveyed 4K UHD edition includes Dolby Vision and Dolby Atmos audio, a copy of the Blu-Ray, a Digital HD copy, and extras including a two-part Making Of on the picture's production, deleted scenes, and trailers...Out this week on Blu-Ray from Lionsgate is Andre Øvredal's overlong MORTAL (105 mins., 2020, R), a Saban Films production set in Norway, where a psychologist attempts to understand a scruffy American backpacker who claims he has superpowers of some kind (Nat Wolff). Some interesting concepts — and some overly familiar ones — meld in a watchable yet mostly uninspired, low-key comic booky manner. Lionsgate's Blu-Ray (2.39) includes a Making Of and a Digital HD copy.
Also out from Lionsgate on Blu-Ray is GUEST HOUSE (85 mins., 2020, R), a comedy about a couple (Aimee Teegarden and Mike Castle) who buy a new home with a catch – a drunken, party-hardy guy (Pauly Shore) who refuses to leave, and who complicates the couple's plans for a backdoor wedding in their newly purchased abode. Sam Macaroni's comedy offers veteran SNL and Mad TV stars like Chris Kattan and Bobby Lee in Shore's first top-billed vehicle in some time. Lionsgate's Blu-Ray (1.78, 5.1 DTS MA) combo pack also includes a Digital HD copy, deleted scenes, a featurette and trailers…Also new this week from Lionsgate is the feel-good holiday drama CHARLIE'S CHRISTMAS WISH (98 mins., 2020, PG), Aidan Turner from "Agents of SHIELD" plays a war vet, trying to re-acclimate to life at home along with other struggling veterans, who forms a bond with his son's new, temperamental terrier. Sue Ann Taylor's well-intentioned picture is suitable for family viewing and streets this week on DVD from Lionsgate sporting a 16:9 (1.78) transfer and 5.1 audio.
BILL & TED FACE THE MUSIC Blu-Ray (92 mins, 2020, PG-13; Warner): Wan attempt to rekindle the sparks of Keanu Reeves and Alex Winter's surprising late '80s comedy hits may — if you're just a casual observer — feel like a Geico commercial extended out to feature length. Though filled with good intentions and fan-friendly vibes, "Face the Music" is either going to work for the viewer or not (at all), with the duo's cinematic alter-egos just as improbably party-hardy (and juvenile) as their earlier selves — even as they're whisked off on a new adventure involving their respective daughters. This is basically a fan service affair but it's just not very engaging unless you're a real hardcore fan, and not particularly funny either. Warner's Blu-Ray is out this week sporting several featurettes, a 1080p transfer, 5.1 DTS MA sound and a Digital HD code.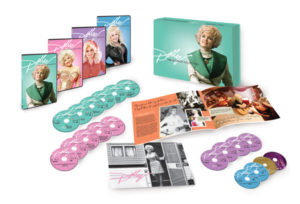 New From Time Life
Undoubtedly one of the most impressive DVD anthologies of the year, Time Life has produced another mammoth box-set, this one commemorating the work of Dolly Parton across multiple fields of entertainment. The 19-disc DOLLY: THE ULTIMATE COLLECTION is a marvelous effort, much like the label's wonderful "Robin Williams: Comic Genius" package from a year ago, since it traverses Parton's career from its origins – in this case, "The Porter Wagoner Show," where Parton got her start – through her superstardom in the '70s and '80s.
Time Life's package starts off with seven episodes from that early series, then moves along to some 22 Dolly Parton specials that were produced in the '70s and '80s. Guest stars in these popular primetime shows ranged from country stars like Emmylou Harris and Glen Campbell to crossover collaborations with The Temptations and Linda Ronstadt, plus guest stars like Miss Piggy and Oprah Winfrey. Frequent guest star appearances Dolly made on The Tonight Show, a Bob Hope Holiday special (presented in its entirety), a "Down Home Country Christmas" (with Burl Ives and Mac Davis, also presented intact), plus appearances on talk shows like Crook & Chase and Oprah are all included too, along with lots of musical material. In fact, her songs are given prominent positioning in the complete "Song By Song: Dolly Parton" series, examining her biggest hits, plus Grand Ole Opry appearances, CMA Award show performances and more.
The set also includes a wealth of interviews produced expressly for this package along with the 2019 BBC documentary "Dolly Parton: Here I Am," putting a cap on an essential package for any Dolly fan.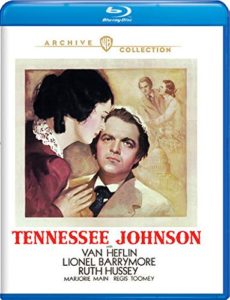 Also New & Noteworthy
Warner Archive New Releases: A pair of early '40s MGM productions debut on Blu-Ray this month from Warner Archive.
THE MORTAL STORM (100 mins., 1940) led to the ban of all MGM films in Germany in the years before America entered WWII and for good reason: this Frank Borzage-directed look at how a German family is broken by Nazism proved to be a rallying cry against the The Third Reich, with Margaret Sullavan and Jimmy Stewart playing a couple impacted by the regime's rise. The classic MGM cartoon "Peace on Earth" and short "Meet the Fleet" are also included here with Warner's 1080p (4:3) B&W transfer looking crisp and healthy.
Also new from Warner Archive is the MGM biopic TENNESSEE JOHNSON (103 mins., 1942), a glossy production presenting Van Heflin as Andrew Johnson and Ruth Hussey as his wife. Lionel Barrymore and Marjorie Main lead the supporting cast in a William Dieterle-helmed picture that takes some liberties with history but still comes off as an engaging view for its genre. Warner Archive's remastered BD also includes a 1943 Screen Guild radio broadcast with Ruth Hussey and Gary Cooper, a classic Tom & Jerry cartoon ("Baby Puss"), the MGM short "Heavenly Music" and the trailer.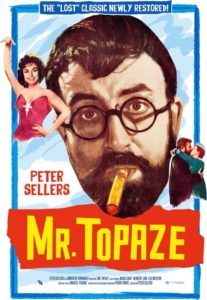 New from Film Movement this month is a Blu-Ray of MR. TOPAZE (97 mins., 1961), a "long lost" Peter Sellers comedy starring Sellers as a French schoolmaster who tries to hold to his laurels after he refuses to change the failing grade of one of his students. Nadia Gray plays an actress who convinces her lover – a city council member played by Herbert Lom – to hire him in an effort to exploit his honesty in this adaptation of a Marcel Pagnol play, written and produced by Pierre Rouve. Sellers directed and stars opposite his future "Pink Panther" cast mate Lom in this film co-starring Leo McKern, Billie Whitelaw and Michael Gough – a great cast that only fares moderately well with this low-simmering material. Film Movement's Blu-Ray brings the BFI 2K digital restoration of the film to the U.S. and adds a 24-page booklet, a 1951 Sellers/Spike Milligan short "Let's Go Crazy," plus a Kat Ellinger video essay on Pagnol and a 2019 interview with McKern's daughter Abigail. Not a classic, but worth seeing for Sellers fans just the same.
THE CROWN Complete Third Season Blu-Ray (547 mins., 2019; Sony): Season three of the acclaimed, award-winning series traces the life of Queen Elizabeth II (Olivia Colman) from her 1947 wedding through 1977, covering a lot of major dramatic ground (Winston Churchill's funeral, Apollo 11 moon landing, Prince Charles' positioning as the Prince of Wales) in the process. Superb performances from Colman and Tobias Menzies help lead the new cast in this latest incarnation of "The Crown," presented here in a terrific Sony box-set. The Blu-Ray includes 1080p (2:1) transfers, 5.1 DTS MA sound, a photo gallery and three featurettes, all of which provide insight into the series' production.
MISBEHAVIOUR Blu-Ray (106 mins., 2019, Not Rated; Shout! Factory): The true story behind the disruption of the 1970 Miss World pageant on behalf of the Women's Liberation Movement – as well as the first crowning of the pageant's first contestant of color – forms of the basis of Philipa Lowthrope's film. This Pathe/BBC production stars Keira Knightley, Gugu Mbatha-Raw and Greg Kinnear and debuts this month on Blu-Ray from Shout (2.39, 5.1 DTS MA/2.0 DTS MA) with cast interviews, featurettes and the trailer on the supplemental side.
BLACKBIRD Blu-Ray (98 mins., 2019, R; Screen Media): "Cruel Intentions" director Roger Michell helmed this character drama about a couple (Susan Sarandon, Sam Neill) who gather their family together after Sarandon's matriarch decides to tell them she's ending her battle against ALS. Sensitive performances inform "Blackbird," which debuts on Blu-Ray from Screen Media featuring a 1080p (2.40) transfer and 5.1/2.0 soundtracks.
HOSTS DVD (89 mins., 2020, Not Rated; Dark Sky/MPI): An older couple invites a young couple over for Christmas Eve dinner – only to find out they're invaders from another galaxy, using them as a springboard for extraterrestrial invasion. This low-key horror outing from directors Adam Leader and Richard Oakes is new on DVD (2.39) with 5.1/2.0 audio, behind-the-scenes material, interviews and the trailer.