Long one of the most reliably poor-looking Abbott & Costello films on home video – the duo's independently-produced 1949 comedy AFRICA SCREAMS (79 mins.) – is now, thanks to the 3-D Film Archive and Classic Flix, one of the best. Lovingly and painstakingly restored by Bob Furmanek and his team from the original 35mm nitrate film elements, this limited-edition Blu-Ray does justice to a picture that the comedy team produced outside their Universal Pictures deal – resulting in a myriad of terrible video releases since the film fell into the public domain once a distributor failed to renew its copyright.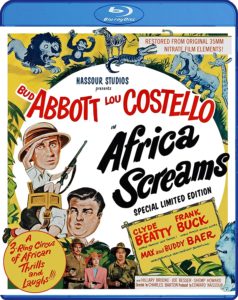 This is a gorgeous transfer of a decent A&C romp – a spoof of all things safari, Tarzan and jungle-related, with the boys heading to Africa on an expedition alongside a treasure hunter (Hillary Brooke) looking for a cache of diamonds and needing Lou's supposedly-memorized map to locate the goods. Clyde Beatty, Shemp Howard, Joe Besser and the Baer brothers – Buddy and Max – pop up too, with some shenanigans provided by a simian who takes a shine to Mr. Costello.
The movie isn't A&C's best but it's still fun, and is immeasurably improved here by a transfer that doesn't just make the picture watchable, but offers perfectly tuned contrasts and crisp detail on top of it. The 3-D Film Archive always does an outstanding job with whatever project they tackle, and this one is no exception, making for one of the year's top catalog releases and a 4K-based restoration nothing short of miraculous when you compare it to the endless array of inferior transfers "Africa Screams" has had to endure over the years.
"Africa Screams" is now available in a Limited Edition Blu-Ray from Classic Flix. The disc is packed with insightful and welcome extras, including a commentary from A&C historian Ron Palumbo; a fully restored 1953 live A&C TV sketch, "The Rubdown"; a quick newsreel of Costello with Joe Lewis and Max Baer, following one of his fights, circa 1940; a 1948 A&C radio show with Bela Lugosi; outtakes and bloopers; restored SuperCinecolor trailers for A&C's "Jack and the Beanstalk" as well as "El Paso"; Beatty's "Animal Thrills"; and extensive photo galleries with original posters, pressbook materials, production stills, and even an A&C 3-D comic book replica from 1953, complete with its own pair of "Super-Sight" 3-D glasses! The disc is limited to 3,000 copies (a DVD is also available) and is now available from Classic Flix's own site; it will also be for sale at Amazon later this fall.
---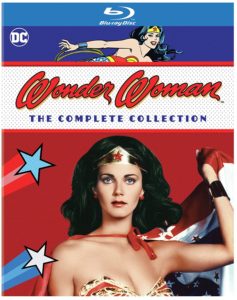 TV on Disc
Audiences looking to binge on sci-fi/fantasy TV series on Blu-Ray have a pair of new options this month, and both come highly recommended. At the top of the list is Warner's beautifully remastered HD presentation of WONDER WOMAN (1975-79; Warner Archive), the viewer-favorite '70s series starring Lynda Carter as DC Comics' super-heroine.
After first being adapted in a busted pilot with Cathy Lee Crosby, the network and producer Douglas S. Cramer hit gold casting the former Miss USA as "Diana Prince" – initially in a new pilot movie, "The New Original Wonder Woman," before moving onto a WWII-era set first season that aired on ABC. The series not only switched networks – to CBS – but also moved the timeframe into the then-present day for Seasons 2 and 3, retaining co-star Lyle Waggoner (now playing Steve Trevor's son) and trying to offer a bit more action and color to keep up with the times. The result wore down rather quickly, with the show eventually canceled to declining ratings, even though Carter's performance is an enduring one in the comic book genre, as is the show, which is extremely formulaic yet still beloved amongst its fan base.
Warner's Blu-Ray box-set is marvelous. The 1080p (1.33) transfers look better than the series ever appeared on broadcast TV, boasting an uptick in detail and bold colors – it's a dynamic presentation that breathes new life into the series and its original confines of '70s network television. All 59 episodes and Carter's pilot have been included across 10 discs here, with archival extras from Warner's previous DVD editions also included – these include a pair of commentaries from Carter (on the pilot, along with Cramer, and a Season 3 episode) and a trio of featurettes that pay proper respect to this slice of '70s nostalgia.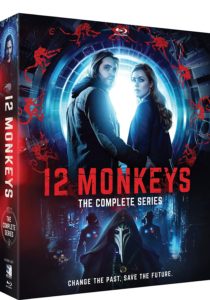 A more recent series, 12 MONKEYS (33 hours, 2015-18; Mill Creek), had the difficult task of trying to overcome both Chris Marker's original short "La Jete" as well as Terry Gilliam's feature-length Americanized expansion, "12 Monkeys." In the end, though, this Syfy Channel series managed to carve out its own niche as an episodic series that, over the course of some 47 episodes, tells a generally "lighter" mix of trippy sci-fi time travel, comedy and some romance, even as it's set against the same apocalyptic stakes as its predecessors. If you're up for the journey, though, this "12 Monkeys" stays the course and pays off big-time with a hugely satisfying finale that's not entirely what you might expect (in a good way).
Mill Creek's box-set brings the entire series to Blu-Ray in a single release for the first time, with deleted scenes, cast auditions, webisodes, podcasts, a gag reel, a 1080p transfer and 5.1 DTS MA sound spread across eight discs. Well worth catching if you've never seen it before, in a superb, affordable Mill Creek package to boot.
Also New From Mill Creek: Mill Creek completes its run of Andy Sidaris efforts with a pair of new Blu-Rays. DAY OF THE WARRIOR (97 mins., 1996) and RETURN TO SAVAGE BEACH (97 mins., 1998) star ex-Penthouse Pet of the Year Julie Strain as Willow Black, who leads the LE.T.H.A.L. Force government agency as they look to stop a series of villains, including the former's big bad, the Warrior (WCW wrestling champ Marcus Bagwell). Both Blu-Rays include 1.78 digital restorations from 4K remasters, digital copies, introductions from Sidaris, archival commentaries and featurettes. Recommended for Sidaris fans.
CBS New Releases
Four new releases are available this week on DVD from CBS.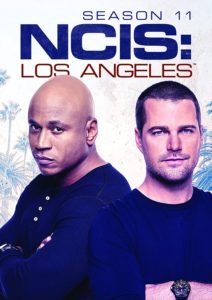 NCIS: THE SEVENTEENTH SEASON (14 hours, 2019-2020) finds the group tracking down the deadly terrorist named Sahar, a core mystery that weaves in and out of the series' latest 20 episodes. While Gibbs (Mark Harmon) and McGee (Sean Murray) focus their efforts on Sahar, the rest of the NCIS team handles cases involving slain Marines and attacks at Arlington National Cemetery (a chilling sign of things to come, sadly). CBS' five-disc set includes 16:9 transfers, 5.1 sound, and several featurettes. Also in the NCIS family is the Sixth Season of NCIS: NEW ORLEANS (14 hours, 2019-20), which contains 20 episodes from the Louisiana incarnation of the long-running franchise starring Special Agent Dwayne Cassius Pride (Scott Bakula) and company. "Six of One" and "The Demise of Christopher LaSalle" comprise the extras in CBS' five-disc DVD set. Finally, NCIS: LOS ANGELES (15 hours, 2019-20) serves up its 11th season in style, as Agents "G" Callen (Chris O'Donnell) and Sam Hanna (LL Cool J) take on cases ranging from a drone prototype theft to trying to intercept a Middle East missile attack. CBS' five-disc set includes 22 episodes with deleted/extended scenes and additional features in their DVD package.
Wrapping up its 10th and final season, HAWAII FIVE-O (15 hours, 2019-20) bids adieu to Steve McGarrett (Alex O'Loughlin) and "Danno" Williams (Scott Caan) as they contend with enemies both new and familiar, including a final confrontation with Hawaii's Yakuza. CBS' five-disc set boasts 16:9 transfers, 5.1 sound, deleted/extended scenes, a gag reel, a crossover episode with "Magnum, P.I." (whose star, Jay Hernandez, also pops up in a "5-O" episode), and a special interview with O'Loughlin reflecting on the long run of this popular CBS revival of the Jack Lord classic.
---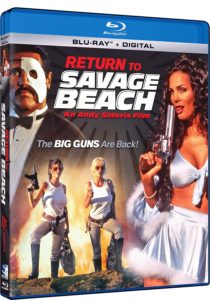 Warner Archive New Releases
PADDINGTON BEAR The Complete Series DVD (277 mins., Warner): Paddington Bear's animated adaptations included this rarely-discussed 1989-90 incarnation, produced by prolific U.S. Producers Hanna-Barbera. Though hampered by the cut-and-paste animation style of its era, at least this "Paddington" was produced in association with the UK's Central Television, and mostly adheres to stories from and/or inspired by Michael Bond's source material, with the addition of a young American cousin for the Brown family added to appeal to domestic viewers. Broadcast as part of Hanna-Barbera's high-rated syndicated "Funtastic World" TV series of the late '80s/early '90s, "Paddington" should be fun for both kids and enthusiasts alike, with the Archive's DVD offering 1.37 transfers and mono sound. Coming August 11th from Warner Archive, meanwhile, is the Complete Seasons 1 & 2 of FINAL SPACE (214/275 mins.), an Adult Swim series presented here with 1080p transfers and 5.1 DTS MA audio.
The Seventh and Final Season of STRIKE BACK (483 mins., 2020) sports the final adventures of Section 20's team of special ops officers, tasked here with retrieving a scientist who's been kidnapped by an Albanian crime family after he develops a top secret bioweapon. Warner's DVD includes 16:9 transfers and 5.1 audio, and streets later this month…Also new on DVD is the Complete Third Season of TAZMANIA (281 mins.), the cult-favorite animated series starring the Tazmanian Devil. Note to fans that Warner is properly listing this as Season 3 after what they billed as "Season 1, Part 2" on DVD was actually Season 2 (so this is the first release since that erroneously-labeled package). Warner's DVD is out August 25th.
THE HIGH NOTE Blu-Ray Combo Pack (113 mins., 2020, PG-13; Universal): Nicely acted "feel-good" drama pairs together Dakota Johnson as a harried personal assistant to a diva, played by Tracee Ellis Ross, who needs a career adjustment. Johnson hopes to up her boss' game by reworking her music, though ultimately finds a willing client in a rough but talented singer (Kelvin Harrison, Jr.) she takes under her wing. Flora Greeson's script is mostly formulaic but there's enough character development here for "The High Note" to register, with both lead performances being expertly guided under Nisha Ganatra's direction. Universal's Blu-Ray (2.39, 7.1 DTS MA) includes deleted/extended scenes, featurettes, a music video, DVD and Digital HD copy.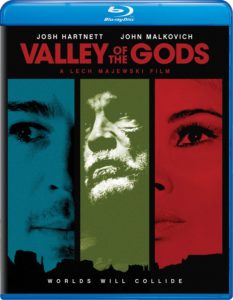 Well Go New Releases: Josh Hartnett, Berenice Marlohe and John Malkovich star in Lech Majewski's VALLEY OF THE GODS (127 mins., 2019) – a tale of the contemporary corporate world taking on the natural world of the Navajo. In Majewski's original script, a nutty billionaire (Malkovich), whose life is being chronicled by a copywriter (Harnett), attempts to mine uranium on – and eventually receives unlikely opposition from – Navajo lands. "2001"'s Keir Dullea and John Rhys-Davies co-star in this drama, new to Blu-Ray on August 11th from Well Go featuring a 1080p transfer, 5.1 DTS MA sound, a Making Of featurette, and the original trailer…Available August 18th is the family-friendly animated feature A DOG'S COURAGE (102 mins., 2019), which follows a feisty dog who adjusts to his newfound pack of stray friends after he's abandoned by his owners. What makes this Korean import unique is its setting, as the canine characters end up finding a home in the demilitarized zone between South and North Korea. Well Go premieres the movie on Blu-Ray August 18th featuring a 1080p transfer and 5.1 DTS MA audio in both English as well as its original Korean audio (with English subtitles).
THE BARGE PEOPLE DVD (83 mins., 2018; RLJE): British chiller finds a group of friends heading off to the countryside, only to run afoul of foul, flesh-eating creatures. This is low-budget stuff that has difficulty making its way to the 80 minute mark, offering some gore for buffs but little (to no) style behind it. RLJE's DVD (2.39, 5.1) is out August 18th.
NEXT TIME: Kino Lorber's August releases! Until then, don't forget to drop in on the official Aisle Seat Message Boards and direct any emails to our email address.