One of John Hughes' best movies – PRETTY IN PINK – makes its long-overdue debut on Blu-Ray this month from Paramount, along with another title long coveted by movie buffs: John Travolta and Debra Winger's 1980 teaming in James Bridges' URBAN COWBOY.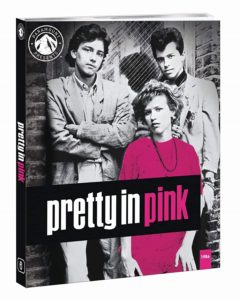 Hughes wrote and produced the 1986 Molly Ringwald hit PRETTY IN PINK (96 mins., PG-13; Paramount), which remains a bona-fide teen classic of its kind. Ringwald is at her finest as an artsy "poor" girl caught in a triangle between her friend (Jon Cryer) and a good, rich kid from another social universe (Andrew McCarthy). James Spader, meanwhile, memorably essays McCarthy's would-be best friend, with "adult" support from Harry Dean Stanton as Ringwald's father and a rockin' soundtrack sprinkled with original score by Michael Gore.
"Pretty In Pink"'s highly-anticipated Blu-Ray (1.85, 5.1 DTS MA) comes via the new "Paramount Presents" line of 4K catalog remasters. An isolated score track of Michael Gore's contributions (which director Howard Deutsch wanted more of; Hughes preferred more songs) debuts here along with a short interview with Deutsch. The trailer is also included, though only a fraction of the 2006 Making Of documentary is included, related to the movie's original ending. Note that this infamous, original ending isn't screened intact, but rather discussed at length and backed with videotaped set footage of its filming — something that may disappoint "Pretty in Pink" fans hoping to finally see Cryer get the girl (he gets Kristy Swanson instead, which as it turns out wasn't a bad consolation prize!).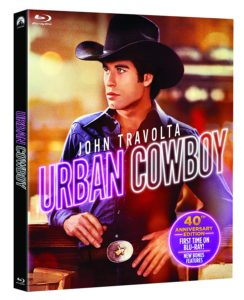 Also New From Paramount: Though not one of the "Paramount Presents" titles, URBAN COWBOY (134 mins., 1980, PG) also makes it debut from the studio on Blu-Ray this month. This is an attractively lensed, star-powered profile of a young Texas man (John Travolta) who moves in with his uncle's family and takes a job alongside him at a Houston oil refinery, all while romancing a gal (Debra Winger) at a local nightclub that quickly leads to marriage. The songs are terrific, Travolta and Winger build up some decent chemistry, and director James Bridges captures it all in elegant widescreen proportions – "Urban Cowboy" is still overlong and doesn't offer a ton of surprises, but it's entertaining, especially if you're a fan of either star. Paramount's Blu-Ray (1080p 2.35, 5.1 DTS MA) includes a featurette looking back on the Gilley's location shoot, deleted scenes, outtakes and rehearsal footage…FRIDAY THE 13TH (95 mins., 1980, R) returns to Blu-Ray this month in a snazzy new Steelbook edition. The Sean S. Cunningham slasher classic has been released in a myriad of BD configurations before, with the main draw here being the original artwork-adorned Steelbook packaging, a 40th Anniversary run that also includes a Digital Copy plus the same transfer (1.85, 5.1 Dolby TrueHD) and extras from previous format releases (interviews, featurettes).
Also debuting in a glossy Steelbook is Paramount's 4K UHD presentation of Ridley Scott's GLADIATOR (155/170 mins., 2001, R), a picture that won numerous Oscars, made a ton of money, and was heavily hyped in the media. However, I always felt that those seeking an action-filled romp or a historical epic along the lines of "Fall of the Roman Empire" (which uses similar characters and dramatic entanglements as this film) may have been let down by the picture…turns out I was wrong, yet even now, I don't feel that this is a "great" film on balance. Nevertheless, the 2001 Oscar winner "Gladiator" is certainly entertaining and worth a look on the big screen — or even better, Paramount's 4K UHD, which once again offers a dynamic upgrade on previous home video releases. This is especially true because the studio's initial Sapphire Series BD was hampered by excessive DNR, forcing a repressing that was much improved – yet still nowhere near the better-balanced, satisfying 4K UHD presentation afforded the film here. Backed by HDR, Dolby Vision and Dolby Atmos, this is a clear and substantial improvement on even that repressed Blu-Ray edition, with appreciable gains in color and clarity. Both the 155-minute theatrical cut and the 170-minute extended version are present and accounted for in 4K, with the included Blu-Ray double-disc edition housing all the extras from prior releases plus Digital HD copies...Finally, Season 23 of SOUTH PARK (220 mins., 2019) is one of Parker and Stone's livelier efforts of late — mostly centering around Stan's efforts to run "Tegridy Farms" while the group tackles Chinese censorship amongst other current "hot button" issues. This 2019 season of the series comes to Blu-Ray featuring 1080p transfers, 5.1 Dolby TrueHD audio, #socialcommentary on all episodes and concept art. While still a bit uneven, this is still often funny and recommended to even casual "South park" viewers.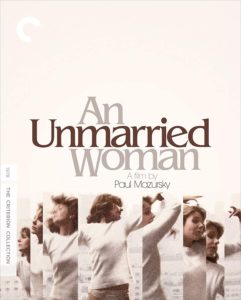 New From Criterion: Jill Clayburgh gives a superb performance in Paul Mazursky's AN UNMARRIED WOMAN (124 mins., 1978, R; Criterion), a tale of a woman, abandoned by her husband (Michael Murphy), who subsequently tries to find personal and sexual liberation in the '70s singles scene. One of Mazursky's best films, "An Unmarried Woman" gets most of its mileage out of Clayburgh's lead performance; she's sensitive, funny, and sympathetic in the picture, which avoids feeling like an R-rated TV movie of its era thanks to the performances of its lead and Alan Bates as the man she eventually falls for. There's certainly a "dated" component to the drama (and Clayburgh's therapy sessions go on forever), but there are also enough interesting, personal Mazursky touches to make it relevant and worthwhile.
Criterion's Blu-Ray offers a 4K restored new transfer (1.85) alongside an uncompressed PCM soundtrack nicely conveying Bill Conti's wonderful score, which gives a more muscular support – especially in the film's second hour – than the film would've received had it been released just a few years later. The original trailer and an enjoyable commentary with Clayburgh and Mazursky have been carried over from Fox's 2006 DVD, while new interviews with Michael Murphy and co-star Lisa Lucas (who plays Clayburgh and Murphy's teen daughter) are included alongside a conversation with author Sam Wasson about Mazursky's filmography and a 1980 recording of the director speaking at the AFI.
---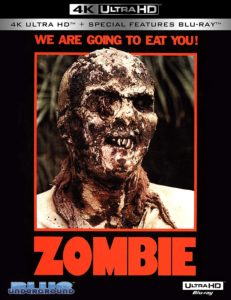 Blue Underground 4K UHD Releases
Blue Underground has climbed aboard the 4K UHD train with a pair of cult-horror favorites making their debut in the format.
I can't say I'm a fan of MANIAC (88 mins., 1980), William Lustig's controversial serial killer tale of a nutjob (Joe Spinell) who preys on young women, murdering them and then scalping them for a place in his collection of mannequins. Tom Savini's make-up effects are grizzly and effective, yet the story is sleazy, the violence disturbing and the performances off the wall, with Spinell being alternately unsettling and just plain nutty in the lead; Caroline Munro (Spinell's "Starcrash" co-star) gets a thankless role playing opposite him in a movie that's been alternately beloved by exploitation fans and chastised for its raw violence and repellent story line.
If you're an admirer, Blue Underground did a superb job with their double-disc Blu-Ray edition of "Maniac" several years back and now brings to UHD a fresh 4K 16-bit transfer from the original camera negative that trumps even that version. HDR and Dolby Vision capability adds to the overall image, while a wealth of audio options include Dolby Atmos and 5.1 DTS MA remixes along with the original 2.0 sound.
Extras have been carried over from the previous Blu-Ray (mostly onto a separate BD Special Features disc), from two different commentaries offering Lustig, Savini and others, to an interview with Lustig, a chat with Munro, talk with Savini, interview with Jay Chattaway (who wrote an effective score for the picture), conversation with songwriters Michael Sembello and Dennis Matkovsky, outtakes, trailers, TV and radio spots, a "Maniac 2″ promo reel, a look at the film's controversy, "The Joe Spinell Story" and other goodies, with most of the segments presented in high-def.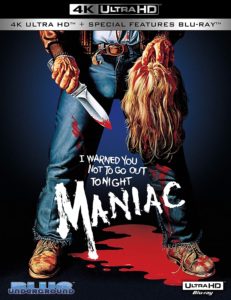 ZOMBIE 4K UHD (92 mins., 1979; Blue Underground): Lucio Fulci's 1979 gore hit also nets a 4K UHD package from Blue Underground. Last seen in a 2018 limited edition BD/CD set from the label, "Zombie" – which tells the story of a reporter (Tisa Farrow) who joins with another journalist (Ian McCulloch) in traveling to the Caribbean in order to find her missing father and runs into voodoo and zombies once there – has long been a favorite of Italian horror fans. Shot as a sequel to "Zombi," a re-edited version of "Dawn of the Dead," Fulci brings the gore and his expected shenanigans to "Zombie," though its weak plot and accent on splatter restrict its appeal mostly to spaghetti-slaughter devotees.
This new Blue Underground release is derived from a 16-bit, 4K restoration of the original 35mm 2-perf camera negative (2.40) and offers abundant clarity via HDR and Dolby Vision. Meanwhile there are ample extras along with audio options (Dolby Atmos, 5.1 and mono English; 7.1 and mono DTS MA Italian) to satisfy every fan. Supplements from the 2018 Blue Underground BD – again mostly included in a Special Features Blu-Ray – include an interview with horror critic Stephen Thrower and a commentary with Fulci author Troy Howarth. Carried over from the 2011 Blue Underground edition are a commentary with star Ian McCulloch and Jason J. Slater; trailers in HD; still galleries; an intro from Guillermo Del Toro; "Zombie Wasteland" and "Deadtime Stories" interviews with writers, actors and other crew members; an interview with co-producer Fabio DeAngelis; a full look at the make-up and special effects; composer Fabio Frizzi discussing his score; and a conversation with Guillermo Del Toro who considers the film to be one of his favorites.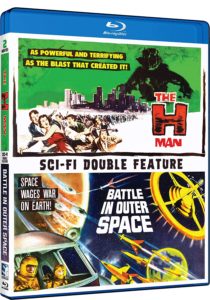 Mill Creek New Releases
Finishing off the contents of the Toho "Icons of Sci-Fi" DVD set that Sony released over a decade ago ("Mothra" was released last summer), Mill Creek's latest round of Blu-Ray releases is highlighted by the Double Feature pairing of THE H-MAN (78/87 mins., 1958) and BATTLE IN OUTER SPACE (91 mins., 1960).
This two-disc set packages a pair of color-coated early Toho sci-fi efforts from director Ishiro Honda, both minus Godzilla and Kaiju trappings: the "Blob"-like thriller "The H-Man" has long been a fan favorite, while "Battle In Outer Space" is a playful variation on '50s extraterrestrial invasion/outer-space fantasies. Each offer plenty of Tohoscope thrills and look terrific in this satisfying Mill Creek package: both Sony-licensed properties contain their original Japanese language versions as well as Columbia's dubbed U.S. theatrical release edits. In the case of "The H-Man," this meant the American release was shorn of some 10 minutes of footage, while "Battle in Outer Space" was mostly left intact, save for some portions of Akira Ifukube's score, which were switched out with library music.
Mill Creek's set also retains the "Battle in Outer Space" commentary with Japanese genre experts Steve Ryfle and Ed Godziszewski, making for a must-have release for vintage sci-fi and Toho fans.
Two more entries in Mill Creek's line of Andy Sidaris titles are also on-tap from the label this month. This time the roster – long-time members of Cinemax's old '90s "After Dark" broadcasts on Friday nights – is comprised of ENEMY GOLD (92 mins., 1993, R) and THE DALLAS CONNECTION (94 mins., 1994, R), each boasting the usual Sidaris mix of gun-toting action, good-looking girls, and R-rated T&A. Mill Creek's Blu-Rays are again sourced from 4K restorations (1.78) with DTS MA 2.0 audio, commentaries, featurettes, and the director's introductions.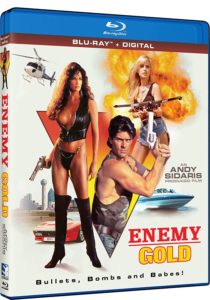 An agreeable pair of '50s westerns have been coupled in Mill Creek's premiere Blu-Ray release of Universal's THE MAN FROM THE ALAMO (80 mins., 1953) starring Glenn Ford and Julia Adams, and the superior Columbia Cinemascope western THEY CAME TO CORDURA (124 mins., 1959) starring Gary Cooper, Rita Hayworth, Van Heflin and Tab Hunter. Mill Creek's package includes 1080p color transfers (1.33 on "Man From The Alamo," 2.35 on "Cordura") licensed from their two respective studios.
Finally, Mill Creek's ULTRAMAN ACE (21 hours, 1972-73) was the 5th series from the Japanese giant-robot franchise. This time around, villainous Yapool has brought his "Terrible-Monsters" to Earth, where the Ultraman Ace stands as Earth's last defense – with the Ultraman being paired with not one but two human hosts here. Colorful small-screen action from the early '70s, "Ultraman Ace" has been brought to Blu-Ray with the same care as Mill Creek's previous series releases, meaning good looking 1080p (1.33) transfers and 2.0 DTS MA Japanese soundtracks are included alongside a digital copy, redeemable on Mill Creek's Moviespree app.