Message Board (open 24 hours!)
Twitter - @andredursin (for everything else!)
Now the biggest global hit of all-time (not counting inflation), AVENGERS: ENDGAME (181 mins., 2019, PG-13; Disney) wraps up Marvel's two-film behemoth and also puts a lid on over a decade of some 21 prior movies featuring the comic book company-turned-Disney brand's super-heroes. It's not particularly witty or artfully executed, but as far as fan-service films go, this overlong but entertaining picture gets the job done, and wisely focuses on the original core of Avengers members for much of its running time instead of the "Marvel All-Star Rally" featured in its exhausting predecessor.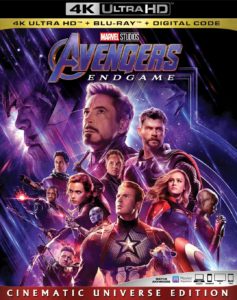 Here determined to find a way (read: time travel) to "fix" Thanos' removal of half of Earth's population, that group — anchored by Robert Downey, Jr.'s Iron Man, Chris Evans' Captain America, Thor (Chris Hemsworth, at his best here), Black Widow (Scarlet Johansson), Hulk (Mark Ruffalo), and Hawkeye (Jeremy Renner) – has always been the heart and soul of Marvel's best features. However, the team concept hasn't always translated to the screen as well as Disney's standalone character pictures – this was especially true of the prior installment, "Infinity War," which was handcuffed by a repetitive amount of fisticuffs and a formula that seemed designed by a bot to delegate lines and scenes to every one of Marvel's big-screen heroes – dozens of them, in fact.
That problem is mitigated by writers Christopher Markus and Stephen McFeely here, since "Endgame" concentrates on just the handful or so surviving heroes and their attempts to break into the Quantum Realm (giving Paul Rudd's Ant-Man something to do) and retrieve the Infinity Stones before Thanos gets his hands on them all. That also enables directors Anthony and Joe Russo to rewind back into the narratives of prior Marvel pictures for the team to stage their own "Mission: Impossible"-esque series of caper sequences, and the picture works best in those moments. Less effective is the drawn-out first hour (it's the 65-minute mark before the film really kicks into gear), and predictable mishmash climax, wherein the revived Marvel characters team up for one last battle – combined with Alan Silvestri's wearisome score, the climax recalls the head-banging first three-hours of this two-film epic, and not in a good way.
Yet fans won't (and didn't) mind, making "Endgame" the kind of critic-proof audience experience that was smartly engineered for the Marvel fanbase, who especially after the tepid "Captain Marvel," seem to be willing to give anything that has the brand name on it a stamp of approval.
"Avengers: Endgame" comes to 4K UHD and Blu-Ray on August 13th. Truthfully this 4K presentation isn't all that eye-popping, but that's likely due to the drab cinematography that only allows for intermittent flashes of noticeable HDR usage. The Dolby Atmos sound is fairly aggressive though I didn't detect a ton of difference between it and the 7.1 DTS MA Blu-Ray mix either. Extras run the gamut from a slew of featurettes to deleted scenes, a gag reel and a tribute to the late, great Stan Lee, along with the Blu-Ray and Digital HD code.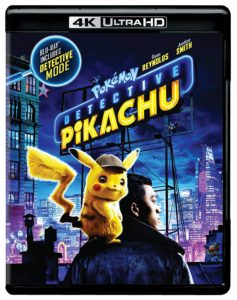 POKEMON DETECTIVE PIKACHU 4K UHD Combo Pack (104 mins., 2019, PG; Warner): The list of quality video game-to-film translations is virtually nil; the roster of simply "watchable" genre exercises is few and far between as well, but at least "Pokemon: Detective Pikachu" can fall within that small list of just-above-average efforts.
This first live-action Pokemon exercise finds the diminutive little yellow hero positioned as a detective (voiced by Ryan Reynolds) whose human partner has been missing for some time. Teaming up with his son (Justice Smith from "Jurassic World") who's arrived in Rhyme City – a Pokemon universe teeming with creatures of all shapes and sizes – Pikachu sets out to unravel the mystery surrounding his disappearance, along with a possible conspiracy that threatens the entire Pokemon world.
Director Rob Letterman, also one of five credited writers, has fashioned an engaging enough "film noir lite" premise to make this rendition of Pokemon more palatable to western audiences, and the movie offers ample humor. Reynolds' presence is most welcome here, allowing non-Nintendo fans the ability to acclimate to the Pokemon universe more easily, with the story apparently adapted from a 3DS game of the same name. Ultimately, the movie doesn't quite connect on a "Roger Rabbit" type of level, but between the laughs and John Mathieson's assured lensing, there's enough here to warrant a return franchise trip for fans down the line.
Warner's attractive 4K UHD combo pack includes Dolby Atmos audio and HDR – occasionally colors do "pop" and the image is quite pleasing on the whole. Extras include an alternate opening, featurettes, music video, BD, Digital HD copy, and optional Detective Mode, wherein viewers are greeted with easter eggs, behind-the-scenes footage, pop-up trivia and other viewing "enhancements."
THE CURSE OF LA LLORONA Blu-Ray Combo Pack (93 mins., 2019, R; Warner): Warner continues to employ the "Conjuring" brand name across more spin-offs and hangers-on than there are actual installments in its central series – sometimes with connections that are tenuous at best. That's the case with "The Case of La Llorona," a competent if unremarkable little chiller based on Mexican folklore about a ghostly woman whose tears are for the children she drowned in the distant past.
The ever-underrated Linda Cardellini plays a social worker who runs afoul of La Llorona after investigating a family tormented by the spirit; her efforts to stop the spectral villainess before it consumes her own kids follows a similar pattern to producer James Wan's previous productions, with faux-scares and legit frights, eschewing heavy R-rated violence and gore (the film could've been PG-13 with minimal editing). It's well-acted by Cardellini but the story line isn't developed enough to make an impact, with just a couple of lines of dialogue intended to connect with Wan's "Conjuring" franchise (there's a priest who popped up in one of the "Annabelle" movies as well).
Ultimately, "La Llorona" isn't any worse than the "Annabelle" pictures and Cardellini's performance elevates it over the silly "Nun" spin-off – making it arguably worthwhile to the "Conjuring" crowd who propped up the film enough to make it a mild box-office success. Warner's Blu-Ray combo pack of the film is out this week sporting a DVD and Digital HD copy, 1080p transfer (2.41) and Dolby Atmos audio, a trio of featurettes, storyboards and deleted scenes.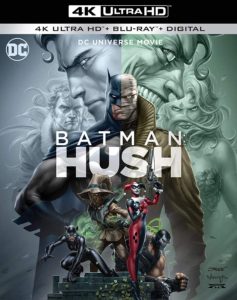 BATMAN: HUSH 4K Ultra HD Combo Pack (82 mins., 2019, PG-13; Warner): Jeph Loeb and Jim Lee's graphic novel boasts one of the more acclaimed story lines in the Batman comic amongst fans, and this serviceable, if flawed, adaptation should mostly satisfy Bat-junkies.
"Hush" finds Batman battered after saving a kidnapped child from the hands of Bane; his subsequent involvement with a mysterious villain named Hush, out to expose Bruce Wayne and harm his closest personal relationships, comprises the rest of this adventure, one which also features The Dark Knight forming a growing alliance with Catwoman.
As has been the case with most of the recent DC animated offerings, "Hush" is something of a mixed bag, choosing to deviate from its source material in critical ways but retaining just enough to make it worthwhile for its intended audience. Warner's 4K UHD release of "Batman: Hush" is out this week sporting a nice HVEC encoded (1.78) transfer and 5.1 DTS MA sound; extras include a featurette, filmmaker commentary, bonus cartoon, sneak peek of the next DC animated outing (featuring Wonder Woman), and a "DC Showcase Short" featuring Sgt. Rock.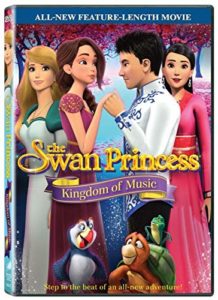 THE SWAN PRINCESS: KINGDOM OF MUSIC DVD (83 mins., 2019, G; Sony): Richard Rich's long-running animated series returns with a new installment, ahead of an Anniversary edition of the original 1993 "Swan Princess" later this fall. Here, Princess Alise – Princess Odette's daughter – is celebrating her birthday with a music competition when the sister, Princess Mei Li, of one of its participants turns out to be a stowaway…hoping to find a cure for a friend who's who's been turned into a dragon! J Bateman again wrote the music for this upbeat feature perfectly suitable for kids, filled with bouncy songs and positive messages, brought to DVD here by Sony featuring a 16:9 (1.78) transfer, 5.1 Dolby Digital sound, a behind-the-scenes featurette, and two sing-along videos.
TOLKIEN Blu-Ray Combo Pack (112 mins., 2019, PG-13; Fox): Behind-the-Fellowship biography of the "Lord of the Rings" author profiles J.R.R. Tolkien's life at school and the toll taken on him and his friends (many of whom perished in combat) during WWI. Those experiences informed Tolkien's writing, but Dome Karukoski's film is only partially successful at capturing the significance of Tolkien's achievements, with Nicholas Hoult's lead performance being the most significant component to the drama. Lily Collins, Colm Meaney and Derek Jacobi co-star in this modest biopic, now available on home video from Fox. The Blu-Ray/DVD combo pack includes deleted scenes, a featurette, gallery, 1080p (2.39) transfer, 5.1 DTS MA sound, and commentary from the director.
---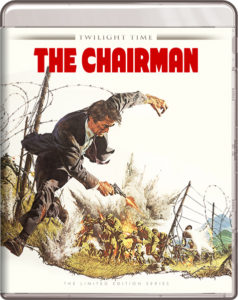 Twilight Time August
As Gregory Peck entered the 1960s, the legendary star found himself struggling at times to maintain box-office appeal while taking on a wide range of increasingly uneven films. Two of these pictures – generally considered failures but not without their merits – debut this month from Twilight Time on Blu-Ray, enabling buffs to reassess their positive attributes.
THE CHAIRMAN (98 mins., 1969, PG) is a silly Arthur P. Jacobs production, directed by J. Lee Thompson, with Peck starring as a Nobel winning scientist who's sent as a spy into China to decode a formula…that could save the world! A terrific Jerry Goldsmith score helps sell this scattershot comic-book adventure that nevertheless offers stylish Panavision trappings and Peck doing a Yeoman's job trying to hold down the fort in this least of his four collaborations with Thompson.
Two "international version" extended scenes offer R-rated nudity and sexual situations, while a 17-minute "mini film" includes additional outtakes and fragments of other discarded scenes – these extras have been ported over from the superb Fox DVD from a decade ago. Commentary from historians Lee Pfeiffer and Eddie Friedfeld and the original trailer are also included plus an isolated score track with some effects. The 1080p (2.35) AVC encoded transfer is detailed and crisp, and both 1.0 DTS MA mono and a gently "rechanneled" faux stereo 2.0 DTS MA track comprise the sound options.
Though also a major commercial disappointment, BEHOLD A PALE HORSE (121 mins. 1964) offers more cinematic rewards. Slow-going at times, this Fred Zinnemann adaptation of Emeric Pressburger's novel stars Peck as a freedom fighter in the Spanish Civil War who, decades later, is lured out of his exile to stop a savage police chief (Anthony Quinn) who becomes determined to capture him. Omar Sharif, meanwhile, lands third billing as a priest who tries to stop their eventual, tragic showdown in a movie that really takes too long to arrive at its destination – spending much of the mid-section on theological and moralistic commentary that bogs the entire enterprise down.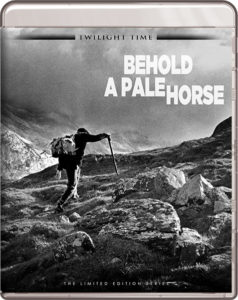 As critic Judith Crist said, "Pale Horse" is a "fine example of a high-class failure," and it's easy to appreciate the Columbia production's artistry and central performances – it just doesn't quite come together as a film. Twilight Time's no-frills Blu-Ray presentation sports a 1080p (1.85) AVC encoded transfer with high detail and deep contrasts for the B&W picture, plus the original trailer and a DTS MA mono soundtrack featuring a Maurice Jarre score.
Third and most satisfying among Twilight Time's August trio is 10 NORTH FREDERICK (102 mins., 1958), a widescreen Fox release starring Gary Cooper – in what was widely derided as a weird casting choice – as an upstanding small-town man prodded into politics by his uncaring, conniving wife (Geraldine Fitzgerald). Things don't go well – naturally – but at least there's a younger woman (Suzy Parker) who helps Cooper's Joe Chapin through his ill-fated final years in this Philip Dunne scripted/directed adaptation of John O'Hara's highly regarded novel. Kind of a glossy soap-opera in B&W Cinemascope trappings, "Frederick" is effectively told with Twilight Time's Blu-Ray sporting a good-looking 1080p (2.35) transfer with 2.0 DTS MA sound and an isolated score track of Leigh Harline's music.
---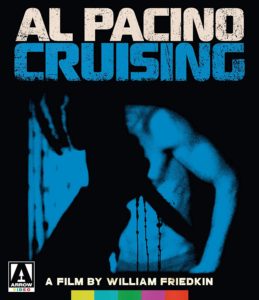 Arrow New Releases
William Friedkin's CRUISING (102 mins., 1980, R) was one of the most controversial films of its era – a thriller starring Al Pacino as an NYC cop who goes undercover, into the S&M clubs of the Big Apple, in order to find a serial killer preying on gay men. Protests greeted the film, with homosexuals feeling as if the film painted themselves in a negative light, while the film's sexual frankness turned off other viewers.
The end result met with mostly poor reviews and tepid box-office, and has only drawn reassessment here and there on home video over the years. Arrow's new Blu-Ray release of the film is a mixed bag as well, though its premiere isn't likely to be a repeat of Friedkin's "Sorcerer" where new viewers by and large seemed to embrace one of the director's larger commercial flops.
"Cruising" is a problematic movie that's far too ambiguous for its own good, relying mostly on the inherent shock value of the S&M setting and assorted murder scenes to grip the audience, and then leading them down possible endings that have no pay off at all. The main issue is that Pacino's character is little more than a cipher – he doesn't appear until 15 minutes have passed, and outside of scenes where he looks perplexed having sex with his girlfriend (Karen Allen), there's little probing of his character in terms of his "immersion" into the culture he's infiltrating. Is he gay? Is he the killer? Is he neither? "Cruising" comes to a grossly unsatisfying conclusion that's entirely meant to leave the viewer wondering those things, but since Friedkin's script – adapted loosely from a Gerald Walker book – spends little time on dramatic development, the result is a detached, chilly work that's more dull than it is disturbing.
Making its Blu-Ray debut on August 20th, "Cruising" has been supervised by Friedkin in a new 4K-based (1.85) scan of the original camera negative. This Warner-licensed transfer offers perfectly saturated colors and occasionally high detail, even if there's a strange tendency for scenes to carry a "filtered", noise reduction-like look in sequences during the final third. Whether these are scenes that Friedkin and credited color timer Bryan McMahan specifically "tweaked" for this new transfer, they are notably inferior to the rest of the otherwise superb AVC-encoded 1080p master. Audio options include stereo PCM and 5.1 DTS MA mixes, though the soundtrack remains a disorienting listening experience, with much of the dialogue looped in post-production.
Extras include a new and very engaging commentary with Friedkin prompted by Mark Kermode, who specifically asks a number of questions about the production and its (maddening) ambiguity. Friedkin's older commentary from the DVD has been carried over along with a pair of retrospective featurettes and the original trailer.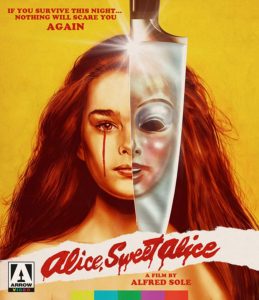 Also New From Arrow: Alfred Sole's weird ALICE, SWEET ALICE (107 mins., 1976) is new on Blu-Ray this month from Arrow as well. A very young Brooke Shields is offed early during her First Communion ("Communion" was one of the movie's alternate titles), with all signs pointing to the girl's older sister being the killer. An interesting, pre-slasher fusion of '70s horror with giallo influences, "Alice, Sweet Alice" is stronger on atmosphere than story, but the film has its fans, and those admirers should be thrilled with Arrow's Blu-Ray. Sporting a new 2K restoration of the theatrical version from the original camera negative (1.85), the Blu-Ray also includes a new commentary with Richard Harland Smith; archival commentary with director Sole and editor M. Edward Salier; and interviews with Sole, composer Stephen Lawrence, actor Niles McMaster, and filmmaker Dante Tosaelli, one of Sole's cousins. There are also deleted scenes, the TV cut that used the title "Holy Terror," alternate credits, trailers, the script via BD-ROM, and a tour of shooting locations from Michael Gingold…Also fresh on Blu-Ray this August is THE CHILL FACTOR (85 mins., 1989), a tepid (probably being charitable there, to be honest) low-budget late '80s production that went straight to the video store. A group of couples find their snowmobiling-weekend ruined by a newly summoned demon in this weak effort, which Arrow has (curiously) released on Blu-Ray with their customary deluxe packaging: a 2K restoration (1.85) from original film elements and uncompressed PCM audio lead the a/v presentation with extras including a new commentary; interviews with makeup and production managers; the VHS workprint from effects technician Hank Carlson's archives; trailers and a still gallery.
Warner Archive New Releases
Certain to be one of the top vintage film releases of the year on Blu-Ray, MGM's genre-defining THE THIN MAN (91 mins, 1934) has premiered in high-definition in a beautiful B&W print from Warner Archive. Featuring pinpoint detail and deep blacks, this is the kind of gorgeous 4K restoration Blu-Ray was meant for, offering abundant enhancements over Warner's earlier DVD with newly scanned elements and clean-up work having been performed over the years inbetween its releases. The film itself – the first of many adventures featuring Nick (William Powell) and Nora Charles (Myrna Loy) – remains a classic, a frothy and delightful adaptation of Dashiell Hammett's novel that W.S. Van Dyke brought to the screen in a film that paved the way for many screen mystery/romantic comedies to follow.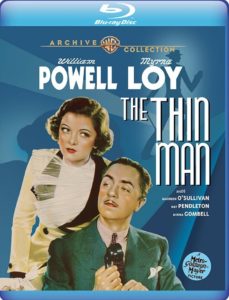 While fans may lament that Warner didn't just release the entire "Thin Man" series in a box-set, this Archive Blu-Ray still comes hugely recommended, with extras including the 1936 Lux Radio Theater broadcast featuring Powell and Loy, the trailer, and a 1957 episode from "The Thin Man" TV series starring Peter Lawford and Phyliss Kirk.
Also on Blu-Ray this month is something of a puzzling title from Warner Archive: MERRILL'S MARAUDERS (98 mins., 1962), an early film from director Samuel Fuller that doesn't exactly carry a large cult following and, as such, wouldn't necessarily suggest a high-definition premiere from the Archive. That said, this is a taut and quite excellent WWII saga that follows Jeff Chandler and Ty Hardin's 5307th Composite Unit from basic training through a fast deployment in Burma. Far grittier and less polished than comparable genre exercises (and shot on a reportedly thrifty budget), "Merrill's Marauders" boasts a strong supporting cast (Peter Brown, Will Hutchins, Claude Akins), Cinemascope lensing and an honest portrayal of combat that was atypical for its era. Warner's 1080p (2.35) transfer is exemplary, even with stock footage having been recycled from other sources (there are also sections of Franz Waxman's "Objective, Burma!" score tracked here)…New on DVD is Warner Bros.' 1938 adventure THE DAREDEVIL DRIVERS (59 mins.), a fast First National programmer starring Dick Purcell as a racecar driver who teams up with his mechanic pal Charley Foy and gets involved with a bus company presided over by a woman (Beverly Roberts) and a rival led by conniving Donald Briggs. It's "Fast and the Furious" '30s style with lots of action and pep for an hour-long feature. Warner Archive's DVD looks good with its 1.37 B&W transfer considering the vintage nature of the source materials.
---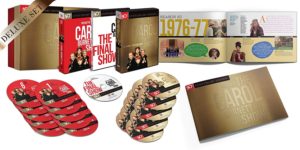 Also New & Noteworthy
Time Life has brought fans of THE CAROL BURNETT SHOW a number of superb releases on home video over the years, but THE BEST OF THE CAROL BURNETT SHOW: 50TH ANNIVERSARY EDITION is arguably the most definitive to date, encompassing a three-volume DVD overview that bring viewers 60 "hand picked" episodes covering every season of the long-running classic comedy series.
This 21-disc DVD retrospective includes the 10-disc "Best of the Carol Burnett Show," which features 32 of the show's best episodes; "11 Years Together Again," a 10-disc anthology that cracks the CBS vaults for more movie parodies and joke commercials; and the single-disc Final Show, which aired on March 29, 1978, and offered Carol, Vicki Lawrence and Tim Conway presenting a two-hour goodbye to a show that made a permanent mark on TV sketch comedy that many feel has been unsurpassed.
Guest stars who pop up along the way comprise a veritable who's-who of celebrities from the era: Lucille Ball, Sammy Davis Jr., Phyllis Diller, Ella Fitzgerald, Rita Hayworth, Rock Hudson, Steve Lawrence, Bob Newhart, Bernadette Peters, Carl Reiner, Burt Reynolds, Don Rickles, Neil Sedaka, Lily Tomlin, Mel Torme, Flip Wilson, Jim Nabors, Cass Elliot, Ray Charles, Andy Griffith and Chita Rivera lead a crop of familiar faces who engaged in the fun.
In the end, "The Carol Burnett Show" ran for 11 years, racking up 25 Emmy Awards and eight Golden Globes, making it one of the most celebrated series of all-time. This collection is the easiest way to collect the best of Time-Life's box-set anthologies, and comes to retail this month from the label for the very first time. Highly recommended!
---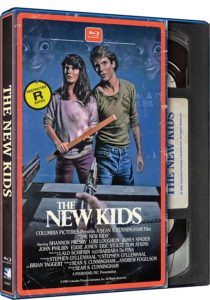 Quick Takes
THE NEW KIDS Blu-Ray (90 mins., 1985, R; Mill Creek): There must be something in the air for James Spader fans. Just a few weeks after the mid 80s fave "Tuff Turf" landed on Blu-Ray, here comes another of Spader's efforts from the same era: "The New Kids." This Sean S. Cunningham-directed teen thriller was an effort by the "Friday the 13th" auteur to branch out and helm something in a (kinda) different genre, with teen siblings Lori Laughlin and Shannon Presby running afoul of villainous "Dutra" (Spader) once they move in with their Aunt and Uncle. Eric Stoltz and Tom Atkins co-star in an above-average "youth thriller" from Columbia that was scored by Lalo Schifrin and written by Steven Gyllenhaal (Jake's dad). Mill Creek's no-frills Blu-Ray is another in their 80s-styled "Retro VHS" releases with a RCA/Columbia Pictures Home Video facsimile for its slipcover. The 1080p (1.85) Sony-licensed transfer and DTS MA sound are both fine.
BRIGHTBURN Blu-Ray Combo Pack (90 mins., 2019, R; Sony): Icky attempt by producer James Gunn to take the Superman mythos and turn Clark Kent into "The Bad Seed" met with little box-office interest this past May. Elizabeth Banks and David Denman star as parents to an extraterrestrial child who begins to manifest superpowers – but ultimately not to save mankind, but to destroy it. David Yarovesky helmed the script by Brian and Mark Gunn (James' brothers), which navigates over familiar terrain with a horrific accent in a superficial manner, barely establishing its "universe" over 90 minutes and then throwing in scraps of franchise hopes in its concluding minutes. Hopefully we'll all be spared any more of "Brightburn," which makes a fast-track to home video August 20th. Sony's Blu-Ray includes commentary, "social series" vignettes, two featurettes, 5.1 DTS MA sound and a Digital HD copy.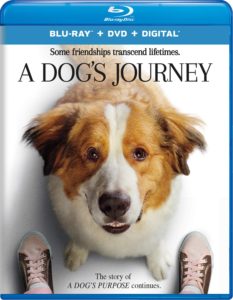 A DOG'S JOURNEY Blu-Ray Combo Pack (109 mins., 2019, PG; Universal): Sequel to "A Dog's Purpose" brings back Dennis Quaid as Ethan, whose dog Bailey (a returning Josh Gad vocal performance) continues to live through one lifespan after another. This time Bailey's focus is on Ethan's granddaughter, CJ (Kathryn Prescott), whose trials and tribulations comprise the heart of this follow-up based on a book by W. Bruce Cameron, who also co-scripted (with three other writers). If you enjoyed "A Dog's Purpose" it's likely you'll find this sequel to be likewise heart-tugging, though director Gail Mancuso doesn't quite finesse the material as well as her predecessor, Lasse Hallstrom. Universal's Blu-Ray boasts a nice 1080p (2.39) transfer, 7.1 Dolby TrueHD sound, deleted/extended scenes, commentary, featurettes (including a segment with composer Mark Isham), plus the DVD and a Digital HD copy.
THE REFLECTING SKIN Blu-Ray (96 mins., 1990, R; Film Movement): One of the weirdest, more disturbing films of the early '90s, Philip Ridley's film is set in Idaho circa the 1950s, where a young boy, fearful of the English widow living next door, sees his just-returned soldier brother (Viggo Mortensen) fall in love with her. Dick Pope's striking cinematography highlights this bizarre tale of a boy's passage into adulthood, shaped through the prism of a disturbing character study. No doubt "The Reflecting Skin" is an acquired taste to be sure, but its admirers should be content with Film Movement's Blu-Ray debut of the film, sporting a 2K (1.85) restoration with Ridley's commentary, a Making Of, 2.0 stereo audio (Nick Bicat scored the film), and notes from Travis Crawford and Heather Hyche…Coming this month on DVD from Film Movement, RAFIKI (83 mins., 2019) is set on the streets of Nairobi, where two young women try to have a relationship with one another – despite the fact that Kenya still criminalizes homosexuality. This well-reviewed import features a 16:9 transfer (2.40) plus 5.1 and 2.0 stereo sound and Shae Xu's short film "Hudson" as a bonus feature...Due August 20th is THE BEATLES: MADE ON MERSEYSIDE DVD (87 mins., 2018), a new British documentary that focuses on the earliest days of the Fab Four (with new interviews with "fifth Beatle" Pete Best among others), from their days as Merseyside teenagers to international celebrities, traversing Hamburg and points inbetween. There have been a number of Beatles docs over the years — perhaps too many to count — but this is nevertheless an engaging and charming portrait of one of rock's legendary bands in their formative stages. Film Movement's DVD includes a 16:9 transfer and 2.0 stereo sound.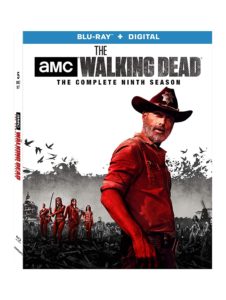 Lionsgate New Releases: Coming August 20th, Season 9 of THE WALKING DEAD (12 hours, 2018-19) was shown in two separate parts on AMC this past season. With Season 8 bringing to a close the end of the "All Out War," the survivors find themselves with Rick Grimes and his team having spared the life of Neegan – and living through the consequences of the decision. Set over a year after those events, the Ninth Season sees the survivors and their various communities living mostly peacefully until new challenges and the arrival of the horrifying "Whisperers" loom on the horizon. Fans were divided on the events of "The Walking Dead"'s ninth season, which reportedly adapts issues #127-#144 of the original Walking Dead comic book and tries to break up the formula of the long-running, high-rated series to some degree. Lionsgate brings the ninth season to Blu-Ray on August 20th in a terrific release: 1080p transfers (1.78) and 7.1 Dolby TrueHD soundtracks are included along with deleted scenes, featurettes, Inside Episode segments, and a Digital HD copy...Brian DePalma is back with another direct-to-video outing, DOMINO (89 mins., 2019, R), a mostly rote thriller starring Nikolaj Coster-Waldau as a Coppenhagen cop who wants revenge for his partner's murder by a member of ISIS. Teaming up with that late partner's mistress (the alluring Carice van Houten), the duo find themselves in a race against time, as well as trying to leverage a CIA agent (Guy Pearce) with his own motivations. Pino Donaggio scored "Domino," but this abbreviated exercise in modern terrorism offers scant evidence of "the old DePalma," save for a fairly well-executed climax. Lionsgate's Blu-Ray (1.85, 5.1 DTS MA) is now available featuring a Digital HD copy and no supplements.
The Rhode Island-set VAULT (99 mins., 2019, R) relays the true, '70s-set story of how a group of small-time Providence hoods opted to knock over a vault housing some $30 million in mob money. Chazz Palmintieri and Don Johnson lead the veteran support in Tom DiNucci's film (they also executive-produced) with Lionsgate's DVD housing deleted scenes, a behind-the-scenes segment, commentary with DeNucci and cinematographer Sam Ellertsen, the trailer, a 16:9 (2.35) transfer and 5.1 sound…Tom Sizemore is looking healthier these days, as evidenced by his latest appearance in the direct-to-video THE ASSAULT (72 mins., 2019, R), a meager (and very short) tale of a woman and her stripper pal who decide to get revenge on the former's abusive husband. Jacob Cooney's film is new to DVD on August 20th from Lionsgate (2.35, 5.1), running just over an hour!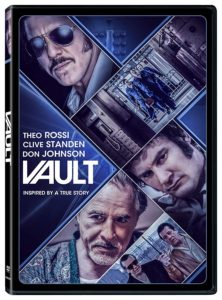 Edward Zwick's newest film, TRIAL BY FIRE (127 mins., 2019, R), stars Jack O'Connell as a heavy metal devotee who was sentenced to death for his triple-homicide conviction in the early 90s. The relationship that evolves between O'Connell's Cameron Todd Willingham and Elizabeth Gilbert (Laura Dern), a Houston mother, who battled against the state to save his unjust conviction, is at the heart of Zwick's film, scripted by Geoffrey Fletcher and based on true events. Lionsgate's DVD (1.85, 5.1) is out August 13th featuring the trailer and a photo gallery…Coming August 20th from Lionsgate is Season 2 of the raunchy Starz series AMERICAN GODS (7 hours, 2019). Based on Neil Gaiman's book, this second season springboards off into a number of additional subplots that involve a whole lot of social-justice sermonizing that also impacted its first season. Here, though, with Giaman's source material being expanded upon, the reigns are looser and the writers are unable to come up with a satisfying assortment of storylines to keep the first season's dramatic momentum going. Lionsgate's Blu-Ray (1.78, 5.1 Dolby Digital) streets next week including a digital copy, Gaiman interview on Season 2 and two additional, behind-the-scenes featurettes.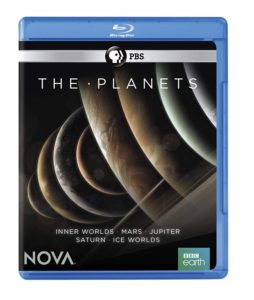 THE PLANETS Blu-Ray (300 mins., 2019; PBS): Special effects mingle with actual footage from space probe explorations in this brand-new BBC Earth series, a co-production with PBS' Nova. As narrated by Zachary Quinto, "The Planets" offers some gorgeous HD imagery of our galaxy, from Saturn's 45,000 mile-wide rings, to Mars' waterfalls and Neptune's supersonic winds. How each of the planets impacts Earth is also probed in this five-episode series, new to Blu-Ray from PBS featuring 1080p video and 5.1 surround. (Available August 27th)
Well Go New Releases: Recently released by Well Go, HOW LONG WILL I LOVE U (101 mins., 2018, Not Rated) is a cute Hong Kong romantic comedy/drama with an interesting premise: what if the guy and the girl who become apartment "spacemates" actually hail from different time frames, separated by two decades. A time-traveling homage with laughs, this Chinese import is new to Blu-Ray from Well Go featuring a 1080p transfer and Mandarin audio and English subtitles…Coming August 20th from Well Go is THE BRINK (100 mins., 2017, Not Rated), an action-packed Hong Kong import starring "Master Z"'s Max Zhang and Yue Wu in the tale of a renegade cop, trying to bring a smuggler to justice, whose investigation widens to involve a Triad mob boss and global smuggling ring. Zippier than many HK productions, "The Brink" debuts on Blu-Ray next week from Well Go featuring a Making Of, 1080p transfer, and 5.1 DTS MA Cantonese audio with English subtitles.
---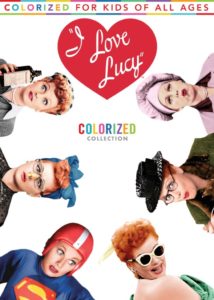 DVD Capsules
I LOVE LUCY Colorized Collection DVD (7 hours, CBS): Over the years CBS has gotten decent mileage out of assorted broadcasts of "I Love Lucy" – in particular a number of episodes that colorized the original black-and-white shows. This two-disc DVD collection sports all 16 of the colorized classic "Lucy" episodes, which to be fair, won't please purists – but when compared to the tepid colorization efforts of the 1980s, look much more natural to the period by comparison. A featurette on the colorization team is included in CBS' DVD edition.
DEEP MURDER DVD (88 mins., 2019, Screen Media): Genre-mashup horror comedy starts with a group of soft-core porn stars in a cheapo haunted house, then proceeds to up the ante once they start being murdered one by one – leading to a more horrific second portion. Christopher McDonald and Jerry O'Connell make appearances in Nick Corrossi's film, new to DVD from Screen Media featuring a 16:9 transfer, 5.1 sound, and an alternate ending.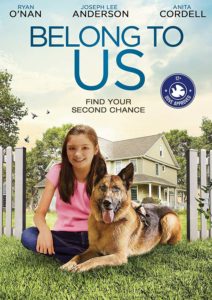 BELONG TO US DVD (84 mins., 2019, PG-13; Archstone): Heartwarming family film about a dog, freed from an underground, illegal canine fighting ring, who attaches itself to a Midwestern family recovering from its own tragedy. Patrick Rea's film, starring Ryan O'Nan and Kathleen Warfel, is new on DVD featuring a 16:9 (2.35) transfer and 5.1/2.0 Dolby Digital sound.
THE TEACHER DVD (100 mins., 2019, Not Rated; Cinedigm): Adam Dick's 2019 film follows a high school teacher (David Dastmalchian) who decides to nix playing by the rules. Undaunted by regulations and red tape, he decides to protect his students from bullies and take on a wealthy local benefactor (Kevin Pollak) whose son is the main problem. Cinedigm's DVD is out this week sporting a 16:9 transfer and 5.1 Dolby Digital sound.
NEXT TIME: The newest releases from Kino Lorber! Until then, don't forget to drop in on the official Aisle Seat Message Boards and direct any emails to our email address. Cheers everyone!