Message Board (open 24 hours!)
Twitter - @andredursin (for everything else!)
Unquestionably one of 2018's top home video releases, Time Life's ROBIN WILLIAMS: COMIC GENIUS serves up a treasure trove of material for fans of the late, great comic, encompassing his stand-up work, TV talk-show appearances and other forums where Williams' improvisations were ideally suited. Housed in an oversized cardboard case, this massive, 22-disc DVD anthology is both lovingly presented and superbly compiled, graced with new interviews and priceless clips – the kinds fans have likely compiled in their own libraries or tracked down on Youtube. Thanks to Time Life, though, viewers won't have to reach for a multitude of sources to watch some of the comedian's choice bits, as "Robin Williams: Comic Genius" has almost everything a Williams fan could want.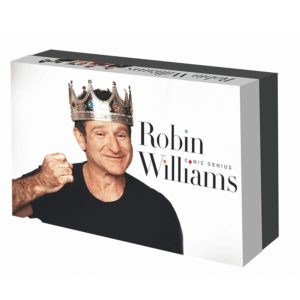 The 22 discs are broken into four separate volumes: the first compiling all five of Williams' classic HBO specials along with never-before-released footage from his many USO tours; the second a cavalcade of his television performances, including six "Mork & Mindy" episodes, assorted Jay Leno and SNL appearances, plus the terrific HBO documentary "Come Inside My Mind"; the third features a never-before-released stand-up concert from Vegas' MGM Grand Garden Arena, rare footage from his final tour, five more "Mork & Mindy" episodes and segments from Johnny Carson, Jimmy Kimmel and SCTV; while Volume 4 caps the package with assorted talk show segments and award show moments, plus Walk of Fame and Chinese Theatre ceremonies.
Along the way there are new interviews with the likes of David Steinberg, Pam Dawber, Lewis Black, Jay Leno, and Martin Short among others, along with a color photo booklet, raw footage from HBO promo shoots and press interviews, and additional featurettes. The contents of the set are so vast that it's difficult to envision this not entertaining hardcore and casual Williams fans alike – a perfect (if pricey) Christmas present for folks missing his unique and brilliant comedy mind.
---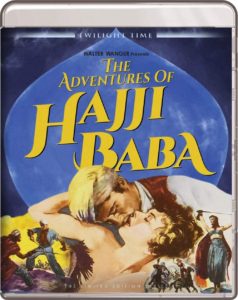 Twilight Time New Releases
Two early Cinemascope efforts from the Fox vaults join a Hammer feature and Italian giallo this month as part of Twilight Time's latest Blu-Ray releases.
THE ADVENTURES OF HAJJI BABA Blu-Ray (93 mins., 1954). WHAT IT IS: Strapping, entertaining 1954 adventure from producer Walter Wagner and director Don Weis was one of several early Allied Artists features that Fox distributed – and has received precious little play on home video or television over the decades. John Derek stars in the title role: a Persian barber who gets wrapped up with a princess (future game show hostess Elaine Stewart) en route to her wedding. Sex, violence, harem girls and a robust Dimitri Tiomkin score comprise an appropriately colorful affair that plays like a '50s updating of an "Arabian Nights" tale. As adapted from James Morier's popular 1842 novel, "Hajji Baba" looks great in Cinemascope and offers a Tiomkin-Ned Washington title song performed by Nat King Cole that weaves in and out of the film like a passing daydream. TWILIGHT TIME TECH SPECS: For a movie that's been notoriously hard to find outside the occasional TCM airing, "Hajji Baba" looks spectacular in Twilight Time's Blu-Ray, which appears pristine with strong colors and high detail. Two different soundtracks (5.1/2.0 DTS MA) present the movie's pleasingly directional sound design while the trailer and an isolated music/effects track round out the release. AISLE SEAT BOTTOM LINE: A picture that here marks its first-ever official home video release, "The Adventures of Hajji Baba" is good fun for the Saturday Matinee circuit – amusingly played but not overtly campy, and yet more freewheeling and fun (and sexier!) than your typical Golden Age Biblical epic. Recommended!
BLACK WIDOW Blu-Ray (95 mins., 1954). WHAT IT IS: Another early Cinemascope feature, "Black Widow" finds Broadway producer Van Heflin accused of murder after an aspiring writer (Peggy Ann Garner) ends up dead in his and his wife's (Gene Tierney) apartment. Nunnally Johnson's mystery, adapted from a Patrick Quentin novel, plays out with Heflin trying to clear his name while being targeted by a detective (George Raft). Ginger Rogers, meanwhile, nabs top billing in this 1954 Fox release, boasting a fine Leigh Harline score and luscious, early anamorphic widescreen photography. TWILIGHT TIME TECH SPECS: TT's exceptional 1080p (2.55) AVC encoded transfer is matched with a bevy of audio mixes (5.1, 4.0, 2.0) and an isolated score track. Commentary from Alan K. Rode, segments on Rogers and Tierney, and the trailer are all carried over from Fox's earlier DVD release. AISLE SEAT BOTTOM LINE: Though sometimes cited as a film noir, "Black Widow" is more a widescreen murder-mystery with a great cast and a fine score. Not a classic but an interesting product of its time, perfectly preserved here on Blu-Ray by Twilight Time.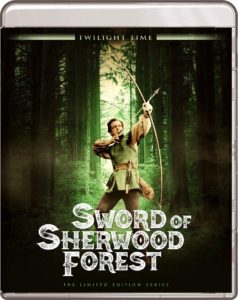 SWORD OF SHERWOOD FOREST Blu-Ray (80 mins., 1960). WHAT IT IS: One of several Robin Hood films produced by Hammer, this 1960 effort from director Terence Fisher pits Richard Greene's Robin against Peter Cushing's Sheriff of Nottingham in a colorful, briskly paced widescreen adventure. Greene had starred in a CBS series shot in England – one which Fisher helmed numerous episodes of – and "Sword of Sherwood Forest" sought to bring some of those same thrills onto the big scope screen. The result is a little bit talky but still fun, with Irish locales and a terrific cast – a young Oliver Reed among them. TWILIGHT TIME TECH SPECS: Columbia released "Sword of Sherwood Forest" and TT's Blu-Ray offers an excellent, Sony-licensed 1080p (2.35) transfer with DTS MA mono sound. A music/effects track and the trailer are also included. AISLE SEAT BOTTOM LINE: For those old enough to recall the "Adventures of Robin Hood" series this film was basically based upon, "Sword of Sherwood Forest" should bring back fond memories in a delightfully "bigger and better" cinematic presentation.
SHORT NIGHT OF GLASS DOLLS Blu-Ray (97 mins., 1971). WHAT IT IS: Italian cinephiles should be delighted by this directorial feature debut from Aldo Lado. Jean Sorel plays an American reporter trying to uncover the whereabouts of his missing girlfriend (Barbara Bach) while believing that his body is dead! Ingrid Thulin also stars in this attractively lensed (scope) giallo thriller. TWILIGHT TIME TECH SPECS: TT regular David Del Valle is joined by fellow historian Matteo Molinari for a commentary on the film, while an isolated music track of Ennio Morricone's effort and both U.S./Italian trailers round out the disc. The 1080p (2.35) transfer is superb. AISLE SEAT BOTTOM LINE: Giallo films have a specific audience who should be rightly pleased with Twilight Time's welcome Blu-Ray of this 1971 import.
---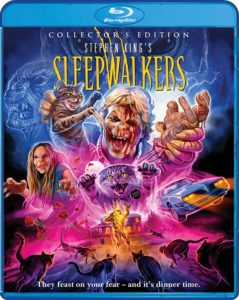 Shout Factory New Releases
Being in high school during the early '90s, my friends and I basically gobbled up every Stephen King movie that came our way – and most of them were awful. This wasn't the heyday of King flicks, coming after the glut of assorted '80s adaptations that climaxed with "Misery" and during a period in which the TV mini-series became a preferred forum for more faithful renderings of the author's novels.
On the big-screen, though, audiences were subjected to everything from Tobe Hooper's terrible "The Mangler" to the wretched "Lawnmower Man," "Pet Sematary 2" and George Romero's disappointing "The Dark Half." At the bottom of the barrel, though, is SLEEPWALKERS (89 mins., 1992, R), surprising since this one originated from a major studio (Columbia) and King himself, who wrote an original screenplay for the picture.
A howlingly lousy film that misfires on nearly every level, "Sleepwalkers" makes the strange choice off the bat to have its villains – a pair of ancient, incestuous shapeshifters (Alice Krige and son Brian Krause) – also its lead characters. This bizarre concept robs the film of basically any suspense and horror altogether, with King and director Mick Garris telling the audience all they need to know about this vagabond pair – looking for young virgin blood in the form of high schooler Madchen Amick – in the first 10 minutes! From there, "Sleepwalkers" plays out in a completely uninspired manner as Amick finds out about her would-be boyfriend's vampiric tendencies (he can also make his car change color!) while killing time for a totally underwhelming climax involving a number of ally cats – and a tepid song by Enya.
Shot mostly in broad daylight, "Sleepwalkers" is ridiculous but sadly stuck in a neutral ground that's just not campy enough to work as comedy, nor is it anywhere close to being horrific. Garris throws in a few makeup jolts by Tony Gardner but it's utterly amazing how pedestrian the film is in terms of its story and visuals – it's nearly as frightening as a marathon of "Punky Brewster" episodes. While Garris and King would later collaborate, far more successfully, on several mini-series (like "The Stand" and "The Shining"), "Sleepwalkers" unquestionably stands as one of the all-time worst King cinematic endeavors.
Shout Factory's Blu-Ray of "Sleepwalkers" includes a new commentary with Garris, Krause and Amick, plus a bevy of recent interviews, behind the scenes footage, and the trailer. The Sony-licensed 1080p (1.85) transfer is strong, both 5.1 and 2.0 DTS MA sound offerings are decent (though there's not much stereo activity within), but this one is strictly cinematic kitty litter.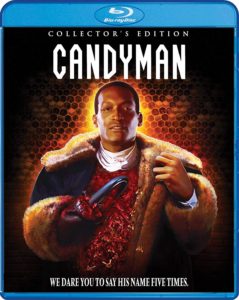 CANDYMAN: Collector's Edition Blu-Ray (99 mins., 1992, Shout! Factory): Long-awaited Scream Factory edition of the creepy 1992 Bernard Rose thriller offers new commentary from director Rose and star Tony Todd; another commentary with critics Stephen Jones and Kim Newman; brand-interviews with stars Todd, Virginia Madsen, production designer Jane Ann Stewart, Douglas E. Winter, makeup effects artists and more; and a brand-new 2K restoration (1.85) from a 4K scan of the original negative, in both the film's theatrical and unrated cuts (the differences of which total just a few seconds of running time). Older extras include an informative commentary track with cast members Madsen, Todd, and Kasi Lemmons, plus the 20-minute "Making Of" entitled "Sweets to the Sweet: The Candyman Mythos," which examines director Rose's attempts to bring Clive Barker's "The Forbidden" to the screen, along with other archival extras.
"Candyman" remains one of the top horror films of the 1990s, due to its intriguing story and setting, highlighted by Rose's distinct filmmaking style, which is not only tense and foreboding, but downright eloquent for a genre film. Madsen stars as a graduate student whose research into the urban legend of "Candyman" (the ever-menacing Todd) ends up unearthing the title character, instigating a series of grizzly murders that authorities ultimately believe are the work of Madsen herself in the process. The setting of Chicago's now-defunct Cabrini Green — menacing in its urban decay — lends ample atmosphere to a film that's capped off by Glass's effective, haunting score, which adds layers of moody, Gothic-tinged beauty to Rose's film.
While it's unfortunate that nobody could uncover footage of the movie's original ending (the film's tacked-on conclusion is its weakest moment), this is an otherwise recommended Special Edition for all "Candyman" addicts.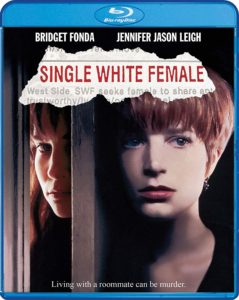 The performances of stars Bridget Fonda and Jennifer Jason Leigh are a reason to revisit the 1992 thriller SINGLE WHITE FEMALE (107 mins., R), an adaptation of a John Lutz novel by screenwriter Don Roos that delivers an uninspired second half. The opening section of the film, at least, is effective, as young, upwardly mobile Fonda gets more than she bargained for when the seemingly mousy Leigh moves in to her NYC apartment, hiding the psycho underneath. Director Barbet Schroeder works well setting up the premise and turning screws on the audience as he ratchets up the tension – unfortunately, there's little he can do to offset the banality of the story's concluding section, which goes straight into slasher territory and never recovers. Shout's Blu-Ray is out this week, featuring interviews with Schroeder, Roos, actors Steven Weber and Peter Friedman; a commentary with Schroeder and other members of the production team; a 1080p (1.85) transfer and 5.1 DTS MA audio.
URBAN LEGEND Collector's Edition Blu-Ray (99 mins., 1998, R; Shout! Factory)/URBAN LEGENDS: FINAL CUT Blu-Ray (99 mins., 2001, R; Shout! Factory): Completely unoriginal teen-horror cash-ins on the "Scream" phenomenon join Scream's roster this month, though at least the original's lack of pretentiousness and sense of humor continue to serve it well some 20 years later.
In the original "Urban Legend," the usual grab-bag of college students find themselves being bumped off by a killer imitating well-known "urban legends," which leads Alicia Witt to pin down the culprit from a host of possibilities–is it cub reporter Jared Leto, a shady janitor, or perhaps gas station attendant Brad Dourif (obviously the early favorite in Vegas)? Plenty of chases, ersatz scares, and red herrings later, the killer is revealed to be…nah, I won't spoil the (non)-surprise.
Any movie of this kind relies heavily on its humor quotient and directorial style to carry the proceeding, and fortunately "Urban Legend" has enough in both categories to satisfy most viewers. Witt and Rebecca Gayhart make for a pair of appealing protagonists, while Natasha Gregson Wagner and Danielle Harris play victims and it's always good to see genre vets like Robert Englund and Dourif pop up in supporting parts.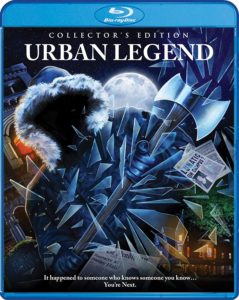 Director Jamie Blanks paces the movie swiftly and adeptly alternates between slasher thrills and a standard mystery "whodunit?" framework, which makes it easy to overlook the standard cliches inherent with this material. The ending is a bit much, and it's as instantly forgettable as a 1998 Must-See TV comedy line-up, but when compared to that era's deluge of teen horror movies, it's superior to both "Halloween H20" and "I Know What You Did Last Summer," and manages to be campier than the "Scream" films without being quite as sophomoric.
A sequel followed several years later: the bizarrely-titled URBAN LEGENDS: FINAL CUT, which actually opens on-screen as URBAN LEGEND 2 and boasts only one murder even remotely related to urban legends (so what gives with the plural?).
This is a run-of-the-mill horror outing barely related to its wilder and woollier 1998 predecessor, distinguished only in that John Ottman — film composer and editor — makes his feature debut as a director here (he also handled the composing chores). The movie is almost totally devoid of scares and boasts an insipid script even dumber than expected, but at least the picture is stylishly handled by Ottman under the circumstances, and heroine Jennifer Morrison (pre-"Once Upon a Time") is pretty cute (you also get a young Eva Mendes too). Despite its formulaic set-up, this inoffensive, Canadian-lensed sequel is no worse than you might expect, and with some more likeable characters and a healthier dose of humor, might have topped its guilty-pleasure predecessor. As it stands, it's built perfectly for video consumption.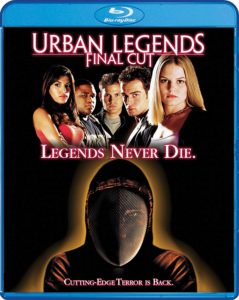 Both films debut in their own separate Scream Factory releases. "Urban Legend" is a two-disc Collector's Edition sporting new commentary with director Jamie Blanks, a full documentary on the film featuring a wide range of interviews (Gayhart, Tara Reid, Michael Rosenbaum, Robert Englund, Danielle Haris), never-before-seen behind-the-scenes footage, an archival Making Of, the trailer, the DVD commentary, a 1080p (2.40) Sony-licensed transfer and 5.1 DTS MA sound. "Urban Legends," meanwhile, isn't quite as robust in its supplements, but does boast fresh interviews with cast members Loretta Devine and an unbilled Rebecca Geyhart (briefly reprising her role from the original), plus archival supplements (John Ottman's commentary, deleted scenes, Making Of, gag reel, trailer), a 1080p (2.40) Sony-vault transfer and 5.1/2.0 DTS MA stereo sound.
DANCES WITH WOLVES Steelbook Blu-Ray (181/234 mins., 1990, PG-13; Shout! Factory): Kevin Costner's multiple Oscar-winner felt just a little bit overrated to me upon its original release, and these days, it's even harder to grasp how Martin Scorsese's classic "Goodfellas" wasn't honored more than Costner's lovingly-crafted yet sentimental 1990 adaptation of Michael Blake's novel. Still, there's plenty in "Dances With Wolves" to admire, from Dean Semler's gorgeous lensing to John Barry's glorious score, one of the finest of his career and the sort we truly don't hear anymore.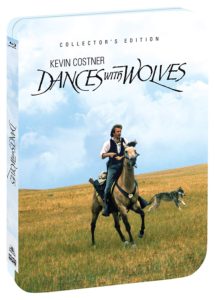 Shout! Factory's new, three-disc Blu-Ray Steelbook edition of "Dances With Wolves" is noteworthy as it premieres Costner's Oscar-winning theatrical cut of the film on Blu-Ray in the U.S. for the first time (previously, you'd have to check out Warner's international release in order to see it in high-def). The transfer is similar to MGM's earlier effort — a sturdy AVC-encoded 1080p presentation that generally excellent, freed from excessive DNR – while 5.1 and 2.0 DTS MA stereo offerings comprise the audio options.
The set also includes the Extended Version of the film on a separate platter, adding an hour of material to Costner's three-hour western, as screened during ABC's initial network TV showings in the '90s. Some of it is interesting, but a lot of it is extraneous, making the theatrical version's release here a most welcome development.
Extras include multiple commentary tracks, an 80-minute documentary with interviews of all the principal players in front of and behind the camera, including Costner and composer John Barry (not to mention a hilariously bad, Lite FM music video of Barry's "John Dunbar Theme"), a vintage Making Of, photo montage and other goodies housed in the set's third platter. Highly recommended for fans!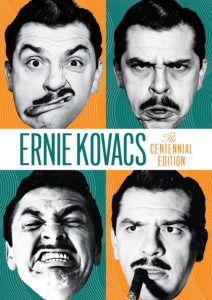 Also this month, Shout brings something altogether different to Blu-Ray – the 2015 British staging of THE SOUND OF MUSIC: LIVE (119 mins.) in a live performance (encompassing 17 cameras on three soundstages) overseen by BAFTA-nominated director Coky Giedroyc. Much more satisfying than NBC's heavily-viewed live broadcast with Carrie Underwood, this faithful rendition stars Kara Tointon, Julian Ovenden, Maria Friedman and Katherine Kelly, all of whom do justice to Rodgers and Hammerstein's classic score. Commentary with Tointon and Ovenden, a featurette, 1080p (1.78) transfer and 2.0 DTS MA stereo sound grace Shout's now-available release…ERNIE KOVACS: THE CETENNIAL COLLECTION (2018) is a brand-new, nine-disc DVD retrospective that pays tribute to the groundbreaking TV comic on his 100th birthday. Included here are episodes from Kovacs' local/national morning shows and primetime NBC series "Kovacs on Music"; five ABC TV specials; the color version of his silent show "Eugene"; his award-winning Dutch Masters Cigar commercials; shorts, rarities, 18 bonus sketches, three complete episodes from his game show "Take a Good Look"; the rare TV pilot "A Pony For Chris" with Buster Keaton; 2011 American Cinematheque Panel on Kovacs' legacy and plenty more…Available November 20th in a Blu-Ray/DVD combo pack is FIREWORKS (91 mins., 2017), the animated teen drama from Japan about the relationship between two teenage boys and their female classmate. Time travel and emotional fireworks are at the heart of "Fireworks", but the film is also convoluted and distant, making it best left for anime fans. Shout's Blu-Ray contains a 1080p transfer and both 5.1 English and Japanese mixes; trailers; and a behind-the-scenes segment with the English voice cast…Finally, Angie Wang's MDMA (98 mins.,2018) tells the story of an Asian-American girl who gets into a top-flight university – only to struggle when her financial aid is cut. Her solution to her plight is to become a leading dealer of Ecstasy in this '80s-set drama based in part on Wang's own experiences. Shout's Blu-Ray of "MDMA" is now available featuring Wang's commentary, behind-the-scenes featurettes, the trailer, a 1080p (2.35) transfer and 5.1/2.0 DTS MA sound.
---
Kino Lorber November Releases
THE ICE HARVEST (88 mins., 2005, R): Harold Ramis directed this adaptation (by Robert Benton and Richard Russo) of Scott Phillips' novel, which met with icy box-office receipts in November of 2005.
John Cusack plays a Kansas mob lawyer who, along with associate Billy Bob Thornton, robs local mafioso Randy Quaid of some $2 million in change. Getting away with the crime proves to be a major problem, as Cusack's Christmas Eve includes a run-in with his ex-wife's husband (Oliver Platt), a tango with mysterious Connie Nielsen, and a henchman (Mike Starr) hot on the loot's trail.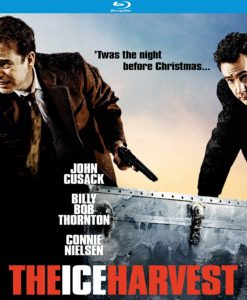 "The Ice Harvest" boasts a fine, low-key performance from Cusack as the anti-hero surrounded by characters more despicable than he is; Thornton is ok in what's more of a supporting turn and it's always nice to see the under-rated, sexy Nielsen back on-screen as the femme fatale. Ultimately, though, "The Ice Harvest" almost plays like the kind of movie "Fargo" might have been without the Coen brothers' edge and eye for comedic detail. In one of the disc's featurettes, Benton and Russo discuss how easy Phillips' book was to adapt, despite the author's initial thoughts that his writing was too internalized to work on-screen. Although I have not read the book, there may be some validity to his claim, since "The Ice Harvest" feels abrupt and lacking in background detail: minor supporting characters and subplots don't amount to much, and there isn't anything especially funny or suspenseful about how the movie plays out. On the printed page, perhaps these characters and situations carried a lot more weight than they do on-screen, but outside of Platt's amusing turn as Cusack's drunken buddy, "The Ice Harvest" serves up "comedic noir" that's lukewarm at best.
Kino Lorber's Blu-Ray is a satisfying 1080p (2.35) upgrade on Universal's 2005 DVD. The transfer and 5.1 audio are both fine, and extras have been retained from that release. That includes commentary from Ramis, discussing the Illinois location shooting, as well as two downbeat alternate endings and one brief outtake. Several Making Of featurettes do a nice job examining the production, with the conversation between Benton, Russo and Phillips providing the most interest. It's unfortunate the movie wasn't able to be made earlier, since Benton in his prime might have brought more of an edge to the material than Ramis, a veteran comedy filmmaker who seems as if he was at least partially out of his element here.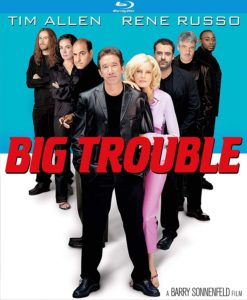 BIG TROUBLE Blu-Ray (85 mins., 2002, PG-13; Kino Lorber): Delayed by the 9/11 attacks, Barry Sonnenfeld's caper comedy about a suitcase-bomb that's transported around to a myriad of different characters ended up a box-office bust. This despite a fine ensemble cast (Tim Allen, Rene Russo, Tom Sizemore, Omar Epps, Dennis Farina, Jason Lee, Ben Foster, Stanley Tucci, Sofia Vergara, Janeane Garofalo and Patrick Warburton) acting out a series of mishaps and mistaken identities in an energetic little movie – based on a Dave Barry book — that, if nothing else, deserved a better commercial fate. Sonnenfeld's commentary is on-hand in Kino Lorber's Blu-Ray debut of the picture along with a better-than-average Touchstone/Disney catalog transfer (1.85) and 5.1/2.0 sound, sporting a James Newton Howard score.
LISBON Blu-Ray (90 mins., 1956; Kino Lorber): Actor Ray Milland also directed this location-based drama about a black market smuggler (Milland) who gets more than he bargained for when he's hired by a wealthy criminal (Claude Rains) to smuggle an American prisoner (Percy Marmont) out of Soviet territory. The man's wife (Maureen O'Hara) also gets involved – with an agenda of her own – in this rarely-screened Republic Pictures production here presented in a full-color 1080p (2.35) Paramount-licensed transfer with mono sound (featuring a Nelson Riddle score) and commentary from historian Toby Roan. Viewers should note that Milland's first directorial feature, the western "A Man Alone," is also new from Kino Lorber this month.
Touchstone/Disney catalog transfer (1.85) and 5.1/2.0 sound, sporting a James Newton Howard score.
LISBON Blu-Ray (90 mins., 1956; Kino Lorber): Actor Ray Milland also directed this location-based drama about a black market smuggler (Milland) who gets more than he bargained for when he's hired by a wealthy criminal (Claude Rains) to smuggle an American prisoner (Percy Marmont) out of Soviet territory. The man's wife (Maureen O'Hara) also gets involved – with an agenda of her own – in this rarely-screened Republic Pictures production here presented in a full-color 1080p (2.35) Paramount-licensed transfer with mono sound (featuring a Nelson Riddle score) and commentary from historian Toby Roan. Viewers should note that Milland's first directorial feature, the western "A Man Alone," is also new from Kino Lorber this month.
THE CHAMBER Blu-Ray (113 mins., 1996, R; Kino Lorber): John Grisham's bestsellers were successfully adapted into a myriad of box-office hits back in the '90s — "The Firm," "A Time to Kill," "The Client," and "The Pelican Brief" to name just a few. One of the few misfires among the group was "The Chamber," a Ron Howard-produced Imagine adaptation of Grisham's novel that screenwriters William Goldman and Chris Reese had difficulty turning into a satisfying dramatic piece. That's no fault of stars Chris O'Donnell and Gene Hackman, who do their best with this flaccid study of a young lawyer (O'Donnell) who travels to Georgia in order to take on the case of a Klansman (Hackman) sentenced to death for his role in the killing of a Mississippi civil rights lawyer decades before. The pretentious, improbable script (O'Donnell is Hackman's grandson) is compounded by a sluggish pace and some curious casting choices, including Faye Dunaway — as Hackman's daughter! Goldman, meanwhile, was reportedly paid $1 million to write the script, but later called the film a terrible experience and claimed he never saw the finished picture, one which Howard also (wisely) dropped out of directing. Kino Lorber's Blu-Ray of "The Chamber" marks its format debut, and it's a perfectly respectable 1080p (2.35) presentation with 2.0 DTS MA stereo sound.
---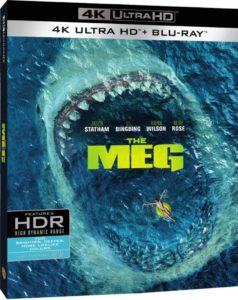 Also New & Noteworthy
THE MEG 4K UHD Combo Pack (113 mins., 2018, PG-13; Warner): The prospects of Jason Statham punching a giant, prehistoric shark got many a movie-goer excited last summer, and much to the surprise of box-office "experts," "The Meg" became a box-office monster, playing to $140 million domestic and over $500 mil worldwide.
This long-gestating film adaptation of Steve Alten's bestselling novels bears scant resemblance to its source material, but in the hands of director Jon Turteltaub, "The Meg" still offers agreeable monster fun. Statham plays a rescue diver hired by a billionaire (Rainn Wilson, likely more likeable than his role is supposed to be) to track down a missing submersible that Statham's ex-wife was piloting. In the process he runs into a massive beast of a shark working its way up from the warm depths of the ocean floor.
"The Meg" isn't high art – it essentially offers up the same kind of thrills as Renny Harlin's "Deep Blue Sea" – but the characters are appealing and the story surprisingly competent. This may have disappointed some viewers looking for "Sharknado"-styled campiness, yet taken on is own terms, it's easy to see why "The Meg" – and its deftly engineered set-pieces – was embraced by audiences worldwide.
A U.S./Chinese co-production, "The Meg" makes its 4K UHD debut this week from Warner Home Video. HDR, Dolby Atmos and Dolby Vision combine for a pleasingly bright, clean transfer though the Atmos audio is often surprisingly subdued (as is Harry Gregson-Williams' score) in terms of the overall mix. Extras include two featurettes, the Blu-Ray and a Digital HD copy.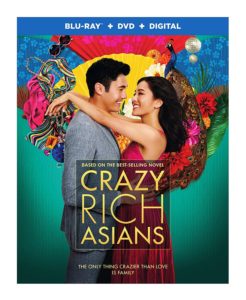 CRAZY RICH ASIANS Blu-Ray (120 mins., 2018, PG-13; Warner): Rom-com with an Asian cast made an awful lot of noise due to "diversity," though stripped of that, "Crazy Rich Asians" is still an entertaining concoction. John Chu's film adapts Kevin Kwan's bestselling novel and stars Constance Wu as a New Yorker who accompanies her boyfriend to a wedding in Singapore and encounters various cultural clashes in the process. Likeable and fun this box-office hit is out on video this week from Warner featuring deleted scenes, a gag reel, commentary from Kwan and Chu, a 1080p transfer, 5.1 DTS MA sound and a Digital HD copy.
ALPHA Blu-Ray (96 mins. [theatrical], 95 mins. [Director's Cut], 2018, PG-13; Sony): Prehistoric box-office dud is a watchable enough concoction from director Albert Hughes. Kodi Smit-McPhee plays a young man out hunting with his tribe's chief – also his father – when he nearly dies during a skirmish with buffaloes. Separated and left for dead, he manages to survive thanks to a wolf that's been likewise alienated from its own pack. Though not entirely convincing with its glossy, digital cinematography (it's not going to evoke memories of "Quest For Fire"), "Alpha" is compelling and entertaining for what is and should find more of a receptive audience on video than it did in theaters. Sony's Blu-Ray offers the theatrical cut of the film as well as a shorter Director's Cut with a superior opening but an inferior ending. Deleted scenes, featurettes, a 1080p (2.39) transfer, 5.1 DTS MA sound and a Digital copy are also included in Sony's Blu-Ray.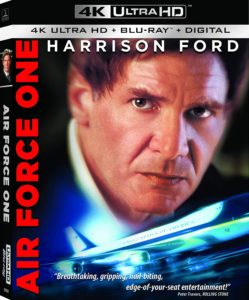 AIR FORCE ONE 4K UHD (124 mins., 1997, R; Sony): Harrison Ford doesn't exactly do anything in this 1997 box-office hit that we haven't seen before, but as an entry into the '90s "Die Hard"/"Cliffhanger" action genre, this piece of entertaining fluff works well enough.
Director Wolfgang Petersen also does a commendable job not getting involved with traditional Hollywood political sentiment in this comic-book action thriller, as terrorist Gary Oldman (an often sympathetic bad guy) takes over A.F.O. in order to get an imprisoned Russian military general ("Das Boot"'s Jurgen Prochnow in an unbilled role) out from behind bars. The set-pieces aren't overly spectacular or original (the film's concluding piece is right out of "Cliffhanger" in fact), but as a formulaic programmer, you could do a lot worse. With Wendy Crewson as the first lady, William H.Macy as a military officer, Dean Stockwell as the Chief of Staff, Glenn Close (unbilled) as the Vice President, and a bevy of computer-generated effects (some quite dated in 4K) adding to the formula. Jerry Goldsmith also chips in a solid enough score that's far from his best, but is at least superior to the mostly formulaic action scores he was writing around the same period ("Executive Decision," "US Marshals," "Chain Reaction," etc).
4K Rundown: Sony's UHD marks the premiere of "Air Force One" in 4K and the transfer is right in line with the label's typical catalog presentations. HDR usage ups the ante in terms of colors and brightness over the earlier Blu-Ray, and Petersen's widescreen framing looks better than ever here. The Dolby Atmos audio boasts more pop than the traditional 5.1 DTS MA track (also on-hand), though extras are again limited to a commentary.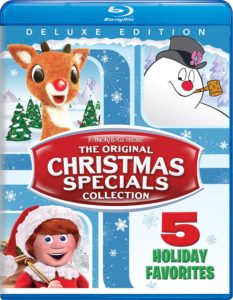 THE ORIGINAL CHRISTMAS SPECIALS COLLECTION Blu-Ray (Universal): Rankin-Bass' Christmas Classics have has been released on Blu-Ray before, but return this year in a remastered set from Universal. The four-disc set includes the holiday perennials Rudolph the Red-Nosed Reindeer, Santa Claus is Coming to Town, and Frosty the Snowman, all in AVC encoded 1080p (4:3) transfers and DTS MA audio (either 5.1 or the original mono mixes). Also on-hand are The Little Drummer Boy and the Danny Thomas/Rankin-Bass co-production "Cricket on the Hearth," the latter presented in HD for the very first time.
Prior releases of these have included more specials ("Mr. Magoo's Christmas Carol" and the lame "Frosty Returns"), but not the remastered 1080p transfers which have less noise reduction than the earlier Classic Media releases. Even better are an abundance of new extras, including the 47-minute historian-interview based "The Animagic World of Rankin/Bass," along with two commentaries on "Frosty" and "Santa Claus," the newly filmed segments for the 4D Rudolph theme park movie, a video storybook and other goodies. In all, this is a worthy purchase for Rankin/Bass fans, with superior a/v presentations than the prior Blu-Rays and more extras to boot.
SCROOGED Blu-Ray (100 mins., 1988, PG-13; Paramount): Richard Donner's 1988 modern riff on "A Christmas Carol" is completely driven by Bill Murray's turn as Frank Cross, a TV executive who's also a contemporary "Scrooge" at the heart of this oft-discussed holiday perennial.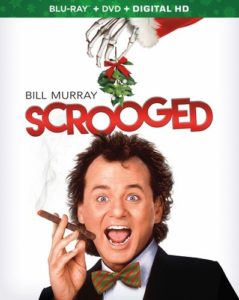 On the one hand, this expensive Paramount production, scripted by former SNL writers Mitch Glazer and Michael O'Donoghue, was something of a disappointment upon its initial release. Some critics thought that Murray's character hadn't truly earned his change of heart and that the film's ending came off as cynical and hollow; viewers, meanwhile, perhaps expecting a laugh riot along the lines of "Ghostbusters," only showed up in modest numbers, with the movie failing to become the box-office blockbuster the studio hoped. Making matters worse were various reports of friction on the set between Donner and Murray, with cinematographer Conrad Hall fired several days into filming and most of Danny Elfman's score discarded in post-production (the composer himself lamented that the original concept of the film had changed in his booklet notes for "Music From a Darkened Theatre Vol. 1″).
Even if "Scrooged" was a troubled production, and understandably feels like an uneven film as a result, it's a picture that its admirers defend to this day. If nothing else, the movie does include a number of amusing touches – most involving TV executive Cross' attempts at cynically milking Christmas in his holiday programming (Cross' big prime-time special boasts Lee Majors basically playing "Rambo" in order to save Santa). The movie's cast is strong, thanks mainly to Karen Allen and Alfre Woodard's sincere performances, though some of the gags aren't remotely funny (Carol Kane's physically abusive Ghost of Christmas Past has long been a head-scratcher). For me "Scrooged" has always been something of a mixed bag, like a picture at war with itself (is it a spoofy, comedic take on Dickens or an honest, modern attempt at updating the story?), yet I can understand the nature of the film's perennial appeal given how many "Christmas Carol" movies that run each and every holiday season. "Scrooged" may not entirely work, yet it's irreverent and interesting enough to fit alongside the more standard adaptations of the material.
Paramount's Blu-Ray edition of "Scrooged" is yet another reissue of the same disc they've brought us before. Granted this is a strong catalog transfer — preserving the movie's filmic appearance without heaping any noise reduction on top of it – so it's not as if the disc is dated in its appearance. The DTS MA soundtrack, featuring some of Elfman's score and an up-tempo collection of pop tunes (including the memorable Al Green-Annie Lennox version of "Put a Little Love In Your Heart"), also fares well, and the trailer is included in HD. Well worth a purchase for fans of the film – if you haven't bought it before, of course!
---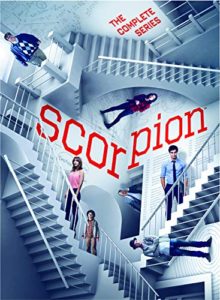 TV on DVD Wrap
SCORPION: THE COMPLETE SERIES DVD (64 hours, 2014-18; CBS). WHAT IT IS: Elyes Gabel stars as Walter O'Brien, leading a crack team of hackers and assorted misfits who are employed to save the world in a typical CBS procedural that tried to nab a younger demographic via its cast. Also included among them are Katherine McPhee's Paige Dineen, Eddie Kaye Thomas as Toby Curtis and veteran Robert Patrick, essaying Homeland Security agent Cabe Gallo. DVD BREAKDOWN: Gag reels, featurettes (Unlikely Heroes, You're Invited, Scorp Beats, Mock Me Up), commentaries, visual FX footage, 16:9 transfers and 5.1 Dolby Digital sound comprise CBS' Complete Series DVD edition. AISLE SEAT BOTTOM LINE: Somewhat younger-skewing in its audience demographic, "Scorpion" is a typical CBS crime procedural but the appealing cast made it a favorite amongst its fan-base…Also new on DVD from CBS is STAR TREK DISCOVERY (11 hours, 2017-18), the first TV series in the post-JJ Abrams Trek era starring Sonequa Martin-Green as a human raised as a Vulcan who's recruited by the crew of the U.S.S. Discovery on their latest mission. Well produced but dark and dreary, "Discovery" remains an exclusive to CBS' streaming platform and for those without a subscription, the DVD is out this week featuring 10 featurettes, deleted scenes, promos, 16:9 transfers and 5.1 audio.
HEY ARNOLD! THE ULTIMATE COLLECTION DVD (2526 mins., 1996-2004, 2017; Nickelodeon/Paramount)/ROCKO'S MODERN LIFE: THE COMPLETE SERIES DVD (1318 mins., 1993-96; Nickelodeon/Paramount): Nostalgic fun for Nickelodeon fans as Paramount brings out two collectible, nicely packaged DVD anthologies perfect for holiday gift giving. Both "Hey Arnold!" and "Rocko's Modern Life" hail from Nickelodeon's '90s animation heyday, boasting zany antics for kids and a few life lessons (especially with "Hey Arnold!) along the way.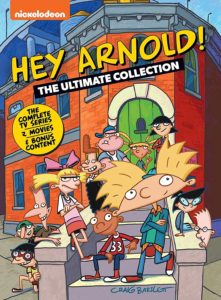 Paramount's "Hey Arnold!" box is especially comprehensive, providing the entire Nickelodeon series proper plus the two theatrical movies ("Hey Arnold! The Movie" and "Hey Arnold!: The Jungle Movie"), its recent revival, and extras including the pilot, the original Claymation short and "more." "Rocko's Modern Life," meanwhile, includes over 21 hours of the series spread across eight DVDs, with Dolby Digital stereo sound and full-screen transfers pretty much across all content.
RESCUE ME: THE COMPLETE SERIES Blu-Ray (67 hours, 2004-11; Mill Creek): Denis Leary and Peter Tolan's FX series ran for some six up-and-down seasons, following troubled NYPD fireman Tommy Gavin as fended off fires on his personal and professional fronts with the crew of 62 Truck in tow. Though I was never a big fan of "Rescue Me," its loyal fanbase should be pleased that Mill Creek has brought the full series to Blu-Ray for the first time – all 93 episodes, in fact. This multi-disc set is one of Mill Creek's strongest releases of the year as the 1080p (1.78) transfers and 5.1 DTS MA soundtracks are all excellent. Meanwhile, assorted extras have been ported over from Sony's individual DVD season releases (featurettes, blooper reels, deleted scenes, commentaries, etc.), making for a strongly-recommended package for "Rescue Me" fans.
---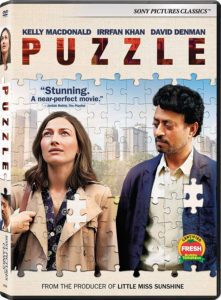 Quick Takes
PUZZLE DVD (103 mins., 2018, R; Sony): Interesting drama focuses on a woman (Kelly Macdonald) who decides to follow her passion for puzzling after an inventor (Irfan Khan) recruits her as his partner for a jigsaw tournament. Her domestic complications with her husband (David Denman) and son inform Marc Turtletaub's well-acted film, adapted from Natalia Smirnoff's Argentinian feature "Rompecabeza." Sony's DVD is out this month featuring an alternate ending, featurette, commentary with Turtletaub, 16:9 transfer and 5.1 Dolby Digital sound.
MILE 22 Blu-Ray (95 mins., 2018, R; Universal): Box-office bust reunites "Lone Survivor"'s star Mark Wahlberg with director Peter Berg in a tepid, incoherent story of a highly classified CIA unit that's sent to transport an asset with vital information. Lauren Cohan, Ronda Rousey and John Malkovich do their thing in support, but "Mile 22" wastes little time in getting to a bevy of violent confrontations and explosions, with little supporting its bombast. Universal's Blu-Ray of the STX release includes a handful of featurettes, trailers, a Digital HD copy, 1080p (2.40) AVC encoded transfer and 7.1 DTS MA sound.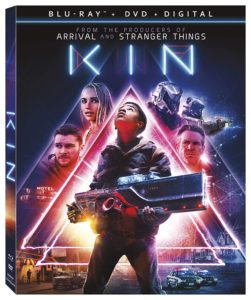 KIN Blu-Ray (102 mins., 2018, PG-13; Lionsgate): Weak feature adaptation of a short film from its same directors — Jonathan and Josh Baker — follows a young African-American boy living in Detroit whose white adopted brother gets wrapped up with a local criminal (James Franco). Along the way he finds scrapped alien technology that points him towards a destiny – one which likely could've fueled a far more interesting film than this rote affair which opened and quickly closed at the box-office last August. Lionsgate's Blu-Ray includes format-exclusive deleted scenes, the original "Bag Man" short, featurettes and a lengthy 8-part documentary. The 1080p (2.39) transfer and DTS X audio are both top flight while a DVD and Digital HD copy round out the release…Also new from Lionsgate this week is the interesting character study BLINDSPOTTING (95 mins., 2018, R), the story of an African-American man (Daveed Diggs) living in Oakland and on his final days of probation – a tenuous situation that becomes even more so when he hangs out with a best friend (Rafael Casal) with a penchant for getting into trouble. Finely observed and funny, Casal and Diggs – who also wrote the film – prove to be a potent team on-screen in a picture well worth checking out. Lionsgate's Blu-Ray boasts a number of extras (deleted scenes, commentaries), a Digital HD copy, DVD, 1080p (1.85) transfer and Dolby Atmos audio.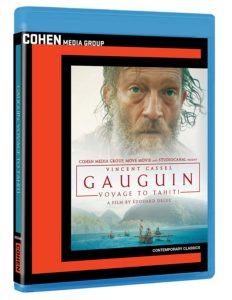 GAUGUIN: VOYAGE TO TAHITI Blu-Ray (102 mins., 2017; Cohen Film Collection): In the late 19th century, renowned French painter Paul Gauguin left his wife and children for a trip to Tahiti as he sought "original purity" – a story that informs this character-driven study from director Edouard Deluc, powered completely by Vincent Cassel's performance. Cohen's Blu-Ray includes four featurettes, a robust 1080p transfer and 5.1 DTS MA French audio with English subtitles.
Film Movement New Releases: Kore-eda's THE THIRD MURDER (124 mins., 2018) chronicles the relationship between an attorney and his client: a murder-robbery suspect who has already provided a confession and was previously convicted of murder three decades before. As the attorney dives into the case, however, he finds that the man may not be the murderer after all in this interesting thriller Film Movement brings to Blu-Ray this month. In addition to a fine 1080p (2.35) transfer and 5.1/2.0 stereo sound (in Japanese with English subtitles), the disc includes a Making Of, "Messages From the Cast" segment and Qiu Yang's short "A Gentle Night."
LUCIFERINA Blu-Ray (114 mins., 2018; Artsploitation): Disturbing and at times surprisingly sexual religious-horror thriller from Argentina relays the efforts of a young woman who, in order to save her ailing father, ventures into a remote jungle and gets wrapped up in weird rituals with her own sexual repression a key component of the journey. Gonzalo Calzada's film is leisurely paced but interesting enough – and thoughtful as well – especially given its genre's typical conventions. Artsploitation's Blu-Ray is now available with a 1080p (2.35) transfer and 5.1 Dolby Digital audio.
NEXT TIME: A CRITTERS Christmas! Until then, don't forget to drop in on the official Aisle Seat Message Boards and direct any emails to our email address. Cheers everyone!