After too many sequels and imitators to count, the smartest thing the filmmakers behind the much-anticipated HALLOWEEN revival did is forget everything that came after John Carpenter's 1978 horror classic. So sayonara to "Halloween II," throw out vague memories of the late '80s sequels, toss out the "Miramax years" and happily discard Rob Zombie's putrid reboots – this straight-ahead follow-through to Carpenter's original is a smart, savvy and suspenseful continuation that's appealing and fun. It doesn't reinvent the wheel – but what film in the hack 'n slash genre possibly could at this point?
Utilizing humor in mostly natural ways as opposed to snarky in-jokes, keeping the gore mostly confined to "reaction shots" of murders that take place primarily off-camera, and offering a truly nail-biting climax, the 2018 "Halloween" is as assured and satisfying as any in today's run of recycled franchises and prefab brands. Refreshingly, it's not a remake in the guise of a sequel – this truly does feel, look and behave like a believable extension of Carpenter's sole entry in the series, from elegantly composed long takes to an effective (and more textured) score from Carpenter, his son Cody and Daniel Davies that reworks familiar themes in a likewise fresh manner.
The script from director David Gordon Green, Danny McBride and Jeff Fradley wastes little time in establishing its premise: it's 40 years later, and Michael Myers is being transported to a new prison. Cue Laurie Strode (Jamie Lee Curtis), still haunted by Myers' murders and trying to impress her hardened worldview upon her estranged daughter (Judy Greer) and high school-aged granddaughter (Andi Matichak) who, you just know, will soon be in Myers' deadly path. Of course, Myers breaks free and causes havoc, forcing Laurie to confront her past and her fragmented family, all the while the local sheriff (Will Patton) and Myers' doctor (Haluk Bilginer) likewise follow in pursuit of the masked killer.
There's a bit of character development here but it would've been nice to have even more scenes between Curtis, Greer and young heroine Matichak, whose relationship with her not-so-crazy grandma seems to be, intriguingly, warmer than her relationship with her suburbanite mom. It's an interesting component that should've been given more time to develop, but given the parameters of the genre, it's gratifying that there were any attempts at all here to craft believable protagonists. In that regard Green – working along with exec producers Carpenter and Curtis herself – should be commended for making a film that's filled with surprisingly likeable characters. The teens that populate this Haddonfield are more relatable and less obnoxious than most genre sacrificial lambs (that includes its 1978 namesake), while the visual style is clean and natural – again creating a convincing continuation of the original "Halloween."
Unlike the first appearance of Myers opposite Curtis and Donald Pleasence, the new "Halloween" isn't a classic but by this point in the annals of masked killers and crazed horror bad guys, it would be nearly impossible to create one. There's a weak attempt to throw a twist into the mix near the climax that doesn't quite work (and one major character's entire presence, regrettably, is essentially a red herring), but Green gets it together for an ending that's less horrifying than it is truly suspenseful. There's also a brilliant flip on one of Carpenter's classic shots from the first film, but it's done in such a way that it doesn't call too much attention to itself, making for a most entertaining film of its kind – and a veritable treat in this day and age for horror fans.
---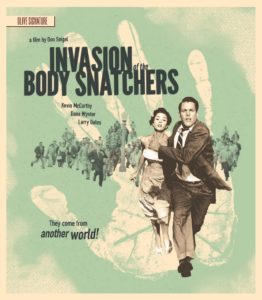 The jockeying for Halloween home video supremacy continues this week, forcing the viewer to choose between a variety of treats – Kino Lorber's frightful slate, Warner Archive's tandem of Irwin Allen and Michael Crichton (with Hammer horrors to follow), and Olive's new INVASION OF THE BODY SNATCHERS (80 mins., 1956).
This second Blu-Ray presentation of director Don Siegel's mid '50s sci-fi classic brings to the table an impressive array of special features, many brand new, along with a remastered transfer. One should note, however, that this isn't a 4K restoration – just a new transfer from the same source as Olive's prior Blu-Ray, preserving the film's Superscope aspect ratio (2:1) in a satisfying if not definitive 1080p encode.
The new image allows viewers to better savor the gritty texture and grain inherent in the source material, while the supporting materials are well worth a look. These include two commentaries – an archival chat with stars Kevin McCarthy and Dana Wynter alongside Joe Dante, another from historian Richard Harland Smith – along with a handful of featurettes. Included here are "The Fear and the Fiction: The Body Snatchers Phenomenon" and "Sleep No More: Body Snatchers Revisited," sporting conversations with McCarthy, Wynter, Mick Garris, John Landis, Stuart Gordon and W.D. Richter (who scripted the 1978 Philip Kaufman version). There's also a talk with Dante and Larry Cohen ("The Fear Is Real"), alongside an interview with Kristoffer Tabori, Siegel's actor/son; a retrospective of producer Walter Wanger with writer Matthew Bernstein; a profile of the film's locations, a 1995 archival McCarthy interview, the trailer, and Criterion-esque liner notes.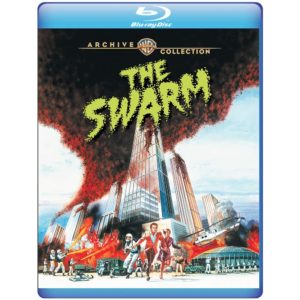 While Siegel's masterful piece of paranoia served as a flexible allegory for whatever messaging the viewer brings to it (the loss of self; a commentary on communism, or McCarthyism), Irwin Allen's 1978 blockbuster THE SWARM (156 mins., 1978, PG; Warner Archive) offers no such subtext. This Warner Bros. riot is equal parts sci-fi disaster with a lazy mid-section that recalls a made-for-TV movie of its period in its portrait of a quaint small town (backlot) America. It's a striking mix that reportedly cost a fortune — but doesn't look like it — and lost ample money at the box-office. Undoubtedly most of the film's funds were portioned out to the all-star cast, who try to make their way through this mess with their dignity intact.
In the first of his two Allen collaborations, Michael Caine is firmly entrenched in "Shouting!" mode as a scientist who grudgingly works with an irascible military man (Richard Widmark) in combating the spread of African killer bees that have buzzed their way into the U.S. The victims list includes Richard Chamberlain, Henry Fonda (as usual), Olivia de Havilland, Ben Johnson, Lee Grant, Jose Ferrer, Slim Pickens, Fred MacMurray and Patty Duke Astin; Katharine Ross, meanwhile, serves as Caine's love interest in a picture with some epic moments, mostly generated by a series of unintentional laughs. Jerry Goldsmith's energetic score is also a big plus, even if it underscores how outrageously stilted the film's delivery is.
Warner Home Video brought "The Swarm" to laserdisc in its original, 156-minute pre-release version back in the early '90s. Lukas and I laughed ourselves silly at the film back in high school, and it's a sentiment first-time viewers are likely to share, especially when a young victim blames himself for unleashing the insects' mad rampage ("it's my fault, I threw firebombs at the swarm!"). This longer cut of the movie was Allen's original version, but sensing a dud, the studio cut the picture down to 115 minutes for its wide theatrical release (didn't help it any – the movie still was a flop at the time).
Warner Archive's eagerly anticipated Blu-Ray of "The Swarm" preserves this original longer cut of the film in a beautiful 1080p (2.41) AVC encode with a punchy 2.0 DTS MA stereo track, which plays with effective directional activity when matrixed into surround. The trailer and a fun, 22-minute promo documentary are also on tap. Recommend, especially with the hope that an extended cut of "When Time Ran Out" surfaces from Warner Archive soon!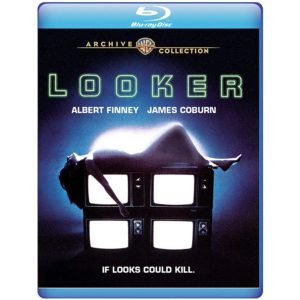 Of Michael Crichton's six directorial outings, LOOKER (93 mins., 1981, PG) is easily the most incoherent – a glitzy tale of supermodels dying in all kinds of mysterious ways, their plastic surgeon (Albert Finney) investigating their deaths and ultimately uncovering a plot by a corporation (run by James Coburn) to exploit the public by using new, cutting-edge methods of marketing products.
Crichton's original script attempts to juggle themes of image vs. reality, the pursuit of "flawless beauty," the devious nature of advertising, and our ever-evolving technology to exploit all of those things – but "Looker" never gets its concepts together to form a satisfying narrative. The plot doesn't hold up to close scrutiny, with a large section that explained the models' deaths left on the cutting room floor (more on that in a second). Nevertheless, the movie looks good – Paul Lohmann (who shot "Nashville" and "California Split" for Robert Altman) and Crichton make nice use of the wide Panavision frame, while Finney is matched with the lovely guises of Susan Dey and Leigh Taylor-Young in support.
A movie that doesn't work yet still functions as an attractively shot genre exercise with some interesting concepts (and a fine cast), "Looker" makes for a splendid Blu-Ray thanks to Warner Archive's 1080p (2.41) AVC encode and full-bodied 2.0 DTS MA stereo soundtrack, which delivers Barry DeVorzon's electronic scoring.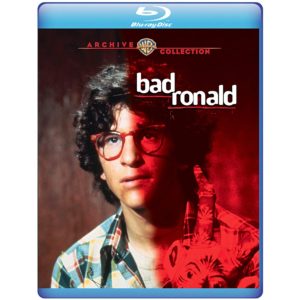 In terms of extras, the Archive has gone above and beyond by securing the deleted sequence – that explains the rationale for the murders – from "Looker"'s network TV broadcast. In his DVD commentary (reprised here), Crichton unsurprisingly divulges that he had difficulty editing the film, ultimately deleting this critical sequence even though it's the only one that tried to make sense of the central plot! The scene is presented in cropped 4:3 from the TV master, while Crichton's introduction and the trailer are also on-hand.
Finally, Warner Archive brings two more guilty pleasures to Blu-Ray for the first time, including the silly, infamous '50s Allied Artists release QUEEN FROM OUTER SPACE (80 mins., 1958). Zsa Zsa Gabor gives one of her most memorable cinematic performances as a scientist on a planet where men are outlawed, and ruled by a particularly anti-male Queen (Laurie Mitchell) who wants to take down a ship from Earth, captained by men, who have the audacity to land on their planet! This silly slice of sci-fi was shot in Cinemascope by director Charles Beaumont and offers ridiculous Halloween fun, though even at 80 minutes the picture feels overly extended. Warner's 1080p (2.35) AVC encoded transfer is a beaut with DTS MA 2.0 mono sound and a commentary with Mitchell and vintage horror film authority Tom Weaver…A cult item amongst TV-movie fans of the early '70s, BAD RONALD (80 mins., 1974) is the tale of an off-kilter young man (Scott Jacoby) who hides in the halls of his home – even after his mother dies and a new family moves in! Kim Darby (as Ronald's mom) and Dabney Coleman co-star in "Bad Ronald," which takes too long to establish its set-up (especially considering the limitations of its 90-minute TV slot) and only offers fleeting amusement once it does. If you're a fan, Warner Archive's Blu-Ray is a nice upgrade on their early DVD-R release at least, featuring a 1080p (1.33) transfer and mono sound.
---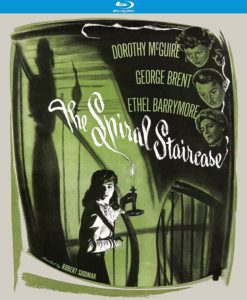 Kino Lorber Halloween Frights!
THE SPIRAL STAIRCASE Blu-Ray (83 mins., 1946; Kino Lorber): Classic RKO chiller was notoriously hard to find back in the '80s. In fact, I recall scouring the local TV Guide for "The Spiral Staircase" for many years – my Mom telling me how scary it was when she watched it as a kid. Finally, WSBK TV38 out of Boston aired it overnight when I was in high school, and after setting a VCR timer for 2am, I was at last able to see an "old fashioned thriller" done in an expertly executed manner by director Robert Siodmak. Even today, the film's period thrills – following a mute servant (Dorothy McGuire) living in a gothic New England mansion with a killer running amok – are effective with the picture relying on the power of suggestion to generate fright. Mel Dinelli's script, an adaptation of a novel by Ethel Lina White, was economically brought to the screen by Siodmak, who receives strong performances from the likes of McGuire, George Brent, Ethel Barrymore, and Elsa Lanchester. Roy Webb's moody scoring and the superb cinematography of Nicholas Musuraca in "glorious B&W" complete a great '40s thriller.
Kino Lorber's much anticipated Blu-Ray is sourced from a 4K scan of a "restored fine-grain master." The 1080p (1.33) transfer is just as detailed as promised, with extras provided by an Imogen Sara Smith commentary, a 1945 Screen Director's Playhouse radio version (with McGuire and Siodmak) and the original trailer. Highly recommended!
THE NIGHT STALKER Blu-Ray (74 mins., 1972; Kino Lorber)/THE NIGHT STRANGLER Blu-Ray (90 mins., 1973; Kino Lorber): Crossing genres in a way that was positively fresh for its time, Dan Curtis' 1972 TV-movie "The Night Strangler" remains a taut, well-written (by Richard Matheson) and acted picture that laid the foundation for a subsequent, albeit short-lived, series.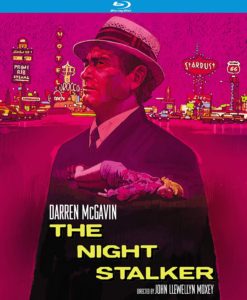 Darren McGavin stars here as Carl Kolchak, a grizzled reporter who stumbles upon an actual vampire while investigating a serial killer in the original "Night Stalker." Curtis followed the film with "The Night Strangler," both pictures propelling the property into series form with Universal's "Kolchak: The Night Stalker" program that followed in 1974.
Short and crisply delivered, Matheson's script for "Night Stalker" is a gem, and McGavin's perfect delivery made for a pungent "reality horror," with an identifiable, appealing everyman serving as an audience surrogate throughout. While "Night Strangler" isn't as good, both TV movies make for splendid Halloween viewing, and Kino Lorber's Blu-Rays include brand-new 4K restorations (1.33) with copious extras. These include new commentaries by Video Watchdog's Tim Lucas on each feature, plus new interviews with composer Bob Cobert and "Night Stalker" director John Llewellyn Moxey. Additional featurettes are carried over from MGM's earlier, out of print releases, with limited-edition booklet notes from critic Simon Abrams on-tap for each.
Yet another vintage Curtis '70s made-for-TV chiller is also newly available from Kino Lorber: 1975's acclaimed TRILOGY OF TERROR (72 mins.),starring Karen Black in a trio of Richard Matheson-penned stories, adapted for the small screen by producer-director Curtis, writer William F.Nolan ("Logan's Run"), and Matheson himself.
The first two tales are well-done examples of psychological horror, if not fairly obvious with their requisite "twists," with the supernatural playing a large part in the third and best-known story, "Amelia," with Black being chased around the house by that little Zuni hunter doll. Capped by a neat (and predictable) coda, it's the real reason why "Trilogy" has a cult following among terror fans, who will undoubtedly find this Kino Lorber disc to be hugely satisfying.
Graced with a new 4K restoration (1.33) from the ABC Circle Films vaults, the Blu-Ray includes a brand-new interview with composer Bob Cobert and a commentary from historian Richard Harland Smith. Carried over from prior releases are a Karen Black/William F. Nolan commentary, the "Richard Matheson: Terror Scribe" and "Three Colors Black" featurettes, and a new printed essay from Simon Abrams.
---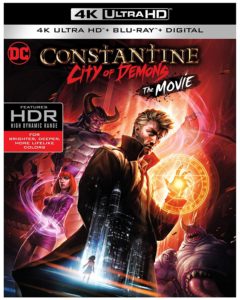 More Halloween Chillers
CONSTANTINE: CITY OF DEMONS 4K Ultra HD Combo Pack (90 mins., 2018, R; Warner): DC Comics Animated production finds grizzled occult investigator John Constantine trying to help Chas Chandler, whose daughter has been placed in a demonically induced coma. In order to save her soul, the duo head to Los Angeles and do battle with a series of demons – an adaptation of the comic book from writer J.M DeMatteis that's apparently a spinoff from a serialized group of Constantine shorts that ran online. Matt Ryan's delivery as Constantine is pitch-perfect and there's more action — and a cohesive story line — on-hand in this Warner Animation product than many of their DC counterparts. Warner's attractive 4K Ultra HD combo pack includes a HDR enhanced HVEC transfer and 5.1 DTS MA sound, Blu-Ray and Digital copies, two featurettes and a 2018 Wondercon panel segment. Recommended for fans.
MANDY Blu-Ray (121 mins., 2018, R; RLJ Entertainment): Pretentious oddball fare from Panos Cosmatos (son of George P.) stars Nicolas Cage (of course) as a guy whose girlfriend (Andrea Riseborough) is abducted by a local cult for nefarious purposes. After an interminable set-up (taking nearly 50 minutes), "Mandy" settles in for "the good stuff," with a revenge-seeking Cage dousing himself with alcohol, screaming and using a chainsaw to do battle with the cult leader (Linus Roache).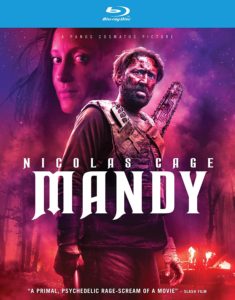 Saying "Mandy" is for an acquired taste is probably the understatement of the year. Cosmatos has an eye for colorful widescreen composition, and between Benjamin Loeb's cinematography and moody scoring of the late Johann Johannson, it's easy to fall under the spell of "Mandy" for a few minutes. The problem are the remaining, oh, 115 or so minutes, which move at a snail's pace, offer precious little story or dramatic engagement, and come complete with full frontal nudity, violence, gore and imagery that looks to have been inspired from a Meatloaf album cover. Cosmatos might have a future working with better material than this, as well as an editor who could've cut this overlong, self-indulgent headtrip down to 90 minutes or less – but in this form it's next to impossible to sit through.
RLJE's Blu-Ray includes a superb 1080p (2.40) transfer and 5.1 DTS MA sound, one Making Of featurette and 13 minutes of added deleted scenes.
TRAUMA Blu-Ray (110 mins., 2017, Unrated; Artsploitation): Disturbing Spanish import about a group of women attacked by a crazed man and his psychotic son crosses the line in a number of ways – probably the very intent of director Lucio A. Rojas, who also attempts to mix political commentary in with its gore and violence. Not my cup of tea but your mileage might vary, as they say, "Trauma" is new to Blu-Ray this week featuring a 1080p (2.35) transfer and 5.1 sound, in Spanish with English subtitles.
---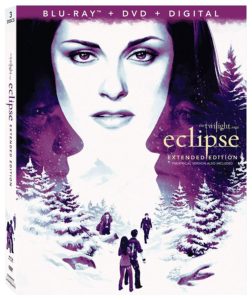 Lionsgate New Releases
TWILIGHT 4K UHD Combo Pack (122 mins., 2008, PG-13; Lionsgate): Has it really been a decade since the release of the original "Twilight"? Stephenie Meyer's massively popular young adult novels became massively popular films for Summit Entertainment (since gobbled up by Lionsgate), even though original director Catherine Hardwicke was replaced on the subsequent adaptations of Meyer's follow-ups. There is something to be said for the straightforward original story that lays out the romance between small-town girl Bella Swan (Kristen Stewart) and dashing vamp Edward (Robert Pattinson), as the first "Twilight" focuses more on that and less on peripheral characters who would become more vital in the sequels. Lionsgate's good-looking 4K UHD release is now available featuring HDR/Dolby Vision support, Dolby Atmos sound, a "10 Years Later" featurette, talk with Stephenie Meyer, ample interviews and featurettes, the Blu-Ray and a Digital HD version of the movie's extended unrated cut.
Lionsgate has also produced brand-new Blu-Ray editions of "Twilight"'s sequels, all with loads of extras. These multi-disc sets, which come with DVDs and Digital HD copies, include Extended Editions of TWILIGHT – NEW MOON (137 mins., 2009, PG-13/Unrated), TWILIGHT – ECLIPSE (129 mins., 2010, PG-13/Unrated), and TWILIGHT – BREAKING DAWN PART 1 (124 mins., 2011, PG-13/Unrated), plus the sole theatrical edit of TWILIGHT – BREAKING DAWN PART 2 (115 mins., 2012, PG-13). Extras include commentaries, deleted and extended scenes on "New Moon," interviews, behind-the-scenes materials and plenty more, all dressed up in new packaging with attractive slipcovers.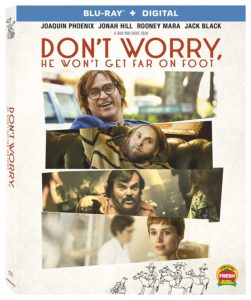 DON'T WORRY, HE WON'T GET FAR ON FOOT Blu-Ray (114 mins., 2018, R; Lionsgate): John Callahan's memoir about his life after a car accident renders him paralyzed makes for a well-performed if familiar tale of overcoming the odds. Joaquin Phoenix is certainly believable here as the irascible Callahan, whose drinking problem also sends him off to detox, where he develops a passion for drawing newspaper cartoons. Rooney Mara and Jack Black co-star in this latest collaboration between Phoenix and director Gus Van Sant, who adapted Callahan's book for this Amazon production. Lionsgate's Blu-Ray is now available, featuring a 1080p (1.78) transfer, two featurettes, a Digital HD copy and 5.1 DTS MA sound, the movie sporting a Danny Elfman score.
BLACK SAILS – The Complete Collection Blu-Ray (36 hours, 2014-17; Lionsgate): Complete series box-set of the "Treasure Island" prequel finds Captain Flint (Toby Stephens) and Long John Silver (Luke Arnold) taking on the British for control of New Providence Island, while Eleanor Guthrie and Woodes Rogers preside over Nassau. Over the course of its four seasons, "Black Sails" tempered some of its more grizzly components (seen in the early episodes) and managed to carve out an attractive pirate drama with strong production values and colorful performances. For those who haven't indulged in "Black Sails," this complete series set from Lionsgate includes 1080p (1.78) transfers and 7.1 Dolby TrueHD soundtracks. All the extras from the individual season Blus are included – the "Inside the World of Black Sails," "Creating the World," "Roundtable: Women in Piracy," "Roundtable: The Legends of Treasure Island" and "Roundtable: Fearless Fans" featurettes among them. Welcome digital HD copies are also on-hand as "Black Sails" buffs will want to drop an anchor and savor this superb package.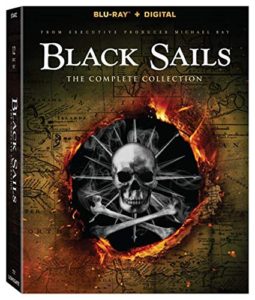 On DVD: Gearing up for the holiday season, the Lifetime Double Feature of A VERY MERRY TOY STORE and FOUR CHRISTMASES AND A WEDDING (98 mins. Each, 2017) offers glossy romantic fun for cable TV addicts. In "Toy Store," Melissa Joan Hart and Mario Lopez find love in a Hart family production directed by matriarch Paula Hart. "Four Christmases" pairs Arielle Kebbel (frequent Hallmark movie star) with Corey Sevier in the tale of a star-crossed couple whose romance is continually thwarted by assorted obstacles. Lifetime's DVD couples both 2017 tele-films on one disc with 16:9 (1.78) transfers and 5.1 Dolby Digital sound. More yuletide merriment can be found in another Lionsgate double-bill that couples Lifetime's WRAPPED UP IN CHRISTMAS (93 mins., 2017) starring Tatyana Ali and Brendan Fehr with SNOWED-INN CHRISTMAS (86 mins., 2017) pairing Bethany Joe Lenz with Andrew Walker. Both double-features street on October 23rd…Elizabeth Hurley stars in AN ELEPHANT'S JOURNEY (90 mins., 2018, PG), an independent production from director Richard Boddington that follows a teen (Sam Ashe Arnold) who befriends a trapped elephant after he moves to Africa to live with his aunt (Hurley). Important themes of conservation and poaching are raised in a still family-friendly manner, with nice location shooting to boot. Lionsgate's DVD includes a number of extras (commentary by Boddington, interviews with Hurley and elephant expert Dr. Richard Leakey, a featurette on elephants) plus a 16:9 (1.78) transfer and 5.1 sound.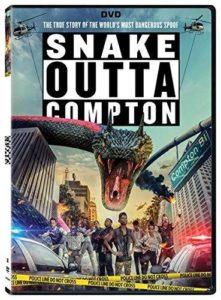 The humorously titled SNAKE OUTTA COMPTON (83 mins., 2018, R) delivers pretty much what you'd expect from a low-budget parody – the story of a group of South Central friends whose attempts at landing a big recording contract are sabotaged after their jealous pal creates a large mutant snake. Low-brow laughs and broad characterizations mark Hank Braxtan's film, on DVD this week from Lionsgate boasting commentary from Braxtan and the cast, a 16:9 (2.35) transfer and 5.1 sound… Actress Judy Greer helmed the comedy A HAPPENING OF MONUMENTAL PROPORTIONS (82 mins., 2018, R), a slight indie with an original script by Gary Lundy. After two L.A. public school administrators find the dead body of their groundskeeper, they conspire to hide the body in a tale of comic misunderstandings. Common, Bradley Whitford, Rob Riggle, Katie Holmes, John Cho and Allison Janney comprise the ensemble cast in Greer's effort, on DVD October 23rd from Lionsgate sporting a featurette, a 16:9 (2.39) transfer and 5.1 Dolby Digital sound…Finally, Augustine Frizzell's NEVER GOIN' BACK (85 mins., 2018, R) is a freewheeling comedy about a pair of Texas teens-bordering-on-young adults (Maia Mitchell, Camila Morrone) working as waitresses, struggling to make ends meet (no, this isn't "Two Broke Girls") and hoping to celebrate one's 17th birthday at the beach. Lionsgate's DVD of this A24 release comes to home video October 30th featuring commentary with Frizzell, the cast and producers; a featurette; deleted scene; blooper reel; 16:9 (2.40) transfer and 5.1 Dolby Digital audio.
---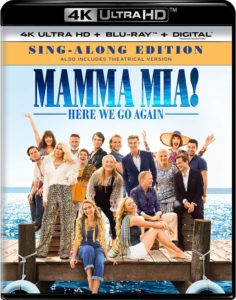 Also New & Noteworthy
MAMMA MIA! HERE WE GO AGAIN 4K Ultra HD Combo Pack (114 mins., 2018, PG-13; Universal): Even fans were divided by this sequel – mostly a prequel – to the worldwide box-office hit, mostly centered around the younger years of Meryl Streep's character – who, herself, barely appears in this follow-up. As with before, though, Abba's music carries the paperthin storyline, with a cast of numerous non-singers having fun trying to keep the project afloat. One of those follow-ups that clearly didn't need to be made (as evidenced by a substantial drop in box-office in-take both domestically and abroad), "Here We Go Again" is still likeable enough, with Universal's 4K UHD offering Dolby Atmos audio and an attractive HDR enhanced HVEC-encoded transfer. Extras include deleted/extended scenes, sing-alongs, featurettes, a Digital HD copy and the Blu-Ray.
KING COHEN Blu-Ray/CD Combo (107 mins., 2017; La-La Land): Steve Mitchell's documentary "King Cohen" is a terrific watch for cult film buffs, a celebration of Larry Cohen's offbeat filmography with both admirers (Martin Scorsese, J.J. Abrams, and John Landis among those) and collaborators (Michael Moriarty, Fred Williamson) paying tribute to the director of "It's Alive." Whether or not you're a fan of Cohen's works, this is the kind of in-depth, fascinating filmmaking documentary we don't see enough of these days, and La-La Land – which produced the film – should be proud of their efforts.
La-La Land's Blu-Ray includes a copy of Joe Kraemer's soundtrack CD along with bonus interviews with Cohen (relaying more classic anecdotes) and bonus raw interview segments, bonus featurettes, a 1080p (1.78) transfer and LPCM 2.0 audio. Recommended!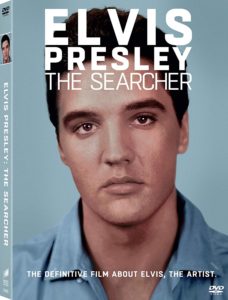 ELVIS PRESLEY: THE SEARCHER DVD (205 mins., 2018; Sony): Sony-produced documentary from Thom Zimny leans on less on celebrity than Elvis Presley's creativity and musical knowledge in compiling a look at The King's artistic side. Filled with archival footage and never-before-seen photos from private collections as well as dozens of new interviews with Presley's session players, producers, engineers and Priscilla Presley as well, "The Seacher" is a worthwhile addition to numerous Elvis docs. Sony's DVD of the production – seen on HBO – is now available featuring interviews with Presley and Zimny among others, a 16:9 transfer, 5.1 sound and a Digital copy.
THE AFFAIR – Season 4 DVD (10 hours, 2018; CBS): Showtime series started off phenomenally well, only to lose its way through two increasingly odd seasons with less consistent writing and truly questionable narrative detours. Season 4 of "The Affair" does little to reverse an increasingly disappointing course, with Noah, Alison, Helen and Cole having moved on – only to drift back, of course, towards one another because the material dictates they do so. While the cast still makes it watchable, "The Affair" feels played out by this point, with the much-discussed fate of one major character a total turnoff. CBS' DVD, available this week, includes a featurette, character profiles, 16:9 transfers and 5.1 soundtracks.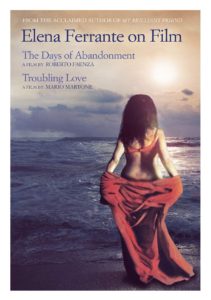 LES PARENTS TERRIBLES ("The Storm Within") Blu-Ray (100 mins., 1948; Cohen Film Collection):Rediscovered French masterwork from director Jean Cocteau steps away from the fantastic for an adaptation of Cocteau's own play. Here, a young man, smothered by his mother, believes he's found the girl of his dreams – only to find out she's been carrying on an affair with his father. Cohens's restoration of this acclaimed, though seldom-discussed, Cocteau work hits Blu-Ray on October 30th. Special features include an interview with AD Claude Pinoteau, camera tests, an introduction from Richard Pena, a 1080p (4:3) B&W transfer and mono sound in French with English subtitles.
ELENA FERRANTE ON FILM Blu-Ray (Film Movement): The works of bestselling author Elena Ferrante – a pen name for an as-of-yet unrevealed, pseudonymous author – have already been brought to the screen in a pair of Italian releases, with a third due out on HBO next month. This Film Movement Blu-Ray anthology includes Roberto Faenza's "The Days of Abandonment" as well as Mario Martone's "Troubling Love," both movies featuring melodramatic storylines with female protagonists suffering assorted psychological traumas. Film Movement's two-disc Blu-Ray is a lovely package, including cast/crew interviews, the "Elena and the Books" featurette, a 32-page booklet, 1080p transfers (2.35/1.85) and 5.1 DTS MA Italian audio with English subtitles.
NO POSTAGE NECESSARY Blu-Ray (104 mins., 2018, PG-13; Two Roads): Independently produced romantic comedy plays out like a PG-13 Hallmark movie. George Blagden stars as a convicted computer hacker who, while on probation and disguised as a postal worker, connects with a young widow (Charleene Closshey) whose husband died while serving overseas. Nice messages and sincere performances inform Jeremy Culver's film, co-produced and scored by Closshey. Two Roads' now-available Blu-Ray includes a 1080p (2.39) transfer and 5.1 Dolby Digital sound.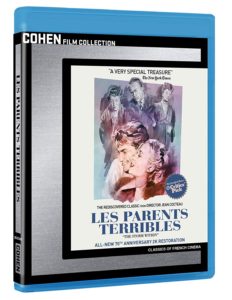 800 WORDS – Season 3 Part 1 DVD (362 mins., 2017; Acorn/RLJ): Acclaimed Australian series stars Erik Thomson as a newspaper man who transports his family to New Zealand, where they face various challenges, trials and tribulations. Truthfully I had never heard of this family-friendly – but not overly saccharine – show, which airs on Acorn TV domestically and which comes to DVD this week in a Season 3, Part 1 two-disc set. A brief behind-the-scenes featurette and cast interviews grace Acorn's presentation along with attractive 16:9 transfers and 5.1 soundtracks.
GIRLS VS. GANGSTERS DVD (114 mins., 2017; Well Go): Wild and woolly Hong Kong variation on "The Hangover" sends three bachelorettes out for a night on the town, only to wake up in the same predicament as their Hollywood counterparts. Even Mike Tyson appears in "Girls Vs. Gangsters," a local HK comedy given a US release on November 6th from Well Go on DVD. The disc includes an interview with director Barbara Wong, the trailer, a 16:9 transfer and 5.1 Mandarin audio with English subtitles…Coming October 30th on Blu-Ray is the Korean import BELIEVER (124 mins., 2018), a remake of Johnnie To's "Drug War." Lee Hae-Young's action-driven rendition follows the same premise of a low-level drug dealer working with a reckless cop to take down a cartel's kingpin, but infuses it with stylish and effective action set pieces. Well Go's Blu-Ray includes a DVD, 5.1 Korean audio with English subs (DTS MA) and a flawless 1080p transfer.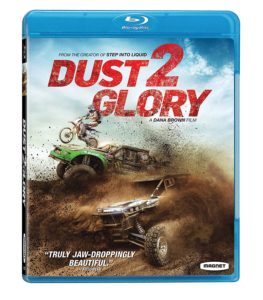 DUST 2 GLORY Blu-Ray (98 mins., 2018; Magnolia): Dana Brown, who helmed "Step Into Liquid" and "Dust to Glory," returns with this visually potent documentary about the SCORE Baja 100 desert race. Capturing the essence of the event and its surroundings as much as the race and the participants, "Dust 2 Glory" should score with aficionados of Brown's prior works. Magnolia's Blu-Ray, available this week, includes a final interview with Brown's father – "Endless Summer" documentarian Bruce Brown – along with a conversation with Brown, a 1080p (1.78) transfer and Dolby Atmos audio.
PBS New Releases: Coming November 6th from PBS, Season 4 of the period drama POLDARK (8 hours, 2018) returns Aidan Turner as Ross Poldark, seeking to challenge George Warleggan's handle over Cornwall while trying to repair a fractured marriage with Demelza (Eleanor Tomlinson) – even though Hugh Armitage remains in love with her. PBS' Blu-Ray includes 1080p transfers and stereo sound, a handful of featurettes and elegant drama for all.
New on DVD this month from PBS, NO PASSPORT REQUIRED (6 hours, 2018) takes viewers on a trip around the U.S. to look at not only culinary cuisine but how different ethnic communities have impacted the food we eat. Chef Marcus Samuelsson is the host for the series, which includes locations as varied as Detroit, Chicago, South Beach, NYC and Washington D.C. PBS' two-disc DVD includes 16:9 transfers and stereo soundtracks…the new PBS Kids series PINKALICIOUS & PETERRIFIC adds the DVD compilation BEST PINK PRESENT (50 mins., 2018) to home video this month. Four stories from the series (Best Pink Present, The Celebrator, Plantastically Pink and Glitterizer) are included on the disc with widescreen transfers and stereo sound.
NEXT TIME: More Halloween thrills, including Shout's TRICK 'R TREAT Special Edition and new Arrow releases. Until then, don't forget to drop in on the official Aisle Seat Message Boards and direct any emails to our email address. Cheers everyone!