Message Board (open 24 hours!)
Twitter - @andredursin (for everything else!)
The wonder of Cinemascope and the majesty of Bernard Herrmann's score are the two main reasons to take a trip BENEATH THE 12-MILE REEF (102 mins., 1953), a musty old 20th Century-Fox melodrama that's been supremely rendered in high-definition this month by Twilight Time. Given the movie's checkered past of tepid home video releases, the glossy high-def Blu-Ray image may come as a revelation for many viewers, presenting a vibrant color presentation that enhances this early Fox anamorphic adventure.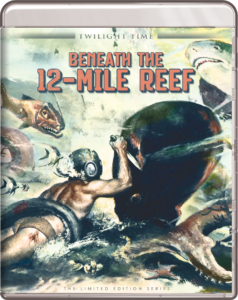 No amount of remastering, though, can help the film's silly plot and mostly one-note performances. Robert Wagner stars as the youngest member of a Greek family of sponge-divers in Florida – he also falls in love with the daughter (Terry Moore) of a rival Floridian clan vying for the same undersea treasures. The lightweight "Romeo & Juliet" comparisons are obvious and A.I. Bezzerides' "socially conscious" elements are likewise soggy – as are the tepid accents and boisterous performances of Wagner's fellow on-screen family members.
Fortunately, the film is still watchable because of Herrmann's music, which gives the picture some dramatic heft and majestic "underwater music" that seriously sells the drama, and the widescreen lensing of Edward Cronjager. One of the earliest (second or third) Cinemascope productions, "12-Mile Reef" is enhanced immeasurably here by Twilight Time's pungent 1080p (2.55) AVC encoded presentation, and matched by equally strong 5.1 and 2.0 DTS MA stereo soundtracks. In both, dialogue comes flowing out of the left and right channels to match the action on-screen, as well as provides Herrmann's music with the broad stage it deserves. An isolated score track and 45-minute '90s Wagner Biography/AMC documentary round out the disc.
Westerns are also a major component to Twilight Time's September releases.
LAWMAN (99 mins., 1971, R) is an interesting, if not altogether successful, "revisionist western" from producer-director Michael Winner. A director whose work ran hot and cold – and more often than not the latter – Winner's sensibilities were a good match for this western affair that's most interested in examining the wavering morality of its lead character – a veteran sheriff (Burt Lancaster) out to bring a rancher (Lee J. Cobb) and his clan to justice. The only problem? Cobb's sometimes sympathetic baron essentially owns the local town, its resident peace officer (Robert Ryan) and its residents, who understand they'd be nowhere without him.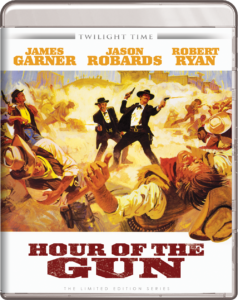 "Lawman" is entirely watchable because of its cast – Winner recruited a wide swath of talent, from an array of character actors (Joseph Wiseman, Albert Salmi, John Hillerman) to young, up-and-coming talent like Robert Duvall, Richard Jordan, and John Beck. The film was shot in Mexico with a mostly British crew – buffs will note cinematographer Robert Paynter and "dubbing editor" Terence (Terry) Rawlings among the credits – and Jerry Fielding provides a bold score. It doesn't entirely work, and the conclusion provides a typically flat "'70s ending," but the performances make it worthwhile. TT's Blu-Ray includes a passable MGM catalog transfer (1.85 AVC encode, 1.0 DTS MA mono) considering the source elements aren't entirely pristine, with coarse dialogue and a limited dynamic range for the music. A far healthier isolated stereo score track and trailer are both on-hand.
Director John Sturges followed his '50s favorite "Gunfight At The O.K. Corral" with HOUR OF THE GUN (101 mins., 1967), a western that was deemed something of a letdown at the time of its original release. James Garner plays Wyatt Earp with Jason Robards as Doc Holliday in writer Edward Anhalt's follow-up to that earlier Sturges classic, once again featuring Robert Ryan (as Ike Clanton) and Albert Salmi in a picture that focuses on Tombstone following the legendary events depicted at the O.K. Corral. Despite the premise, the dramatics are a bit stilted here, with slack pacing making for a movie that never seems to get into first gear; luckily, Jerry Goldsmith's flavorful score and Lucien Ballard's widescreen lensing compensate to a degree, with TT's 1080p (2.35) AVC encoded transfer aiding the visuals. The DTS MA mono sound is more robust than "Lawman," and extras include the trailer and a music/effects track.
The prolific Raoul Walsh produced only one 3D film in his career — the 1953 Columbia programmer GUN FURY (82 mins.), which makes its home video debut in the third dimension this month thanks to Twilight Time. Rock Hudson stars as a Civil War-veteran rancher bound for California when he and his bride-to-be (Donna Reed) are involved in an attack on their stagecoach by the vile Philip Carey and his gang (including Neville Brand and Lee Marvin). Able to recover after being left for dead, Hudson rounds up an ostracized member of the gang (Leo Gordon) and a local Indian (Pat Hogan) to save the day.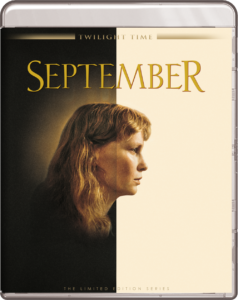 The Sedona, Arizona cinematography and the novelty of 3D make for a tidy albeit fairly forgettable genre exercise Twilight Time has brought to Blu-Ray. The Sony-licensed 1080p (1.85) AVC encode is fine, the 3D capability will be most welcome for format enthusiasts (alas my 3D plasma is on the fritz, so I was unable to screen the 3D portion), and DTS MA mono sound round out the disc. Extras include the trailer and a partial isolated score track.
Finally, Twilight Time has dipped back into Woody Allen waters with a Blu-Ray of SEPTEMBER (83 mins., 1987, PG). One of Woody's "domestic dramas" shot on a soundstage from the late '80s, "September" is a claustrophobic outing featuring a group of characters gathering at a summer house in Vermont, most significantly a matriarch (Elaine Stritch) and her daughter (Mia Farrow), who's recovering from a traumatic event. Jack Warden, Sam Waterston, Dianne Weist, and Denholm Elliott are the other members of the sextet who appear in Allen's chamber piece – a Chekovian drama that had been filmed by Allen with a different cast, including Sam Shepard (who himself replaced Christopher Walken in what eventually became Waterston's part), Charles Durning (in Jack Warden's role), and Maureen O'Sullivan (Stricth's role).
Allen didn't care for his initial version, leading to extensive reshoots and alterations in a film that followed his triumph of "Hannah and Her Sisters" and the wonderful "Radio Days." One of those "serious" Allen films that appeals strictly to his fans, "September" was not a commercial success – and likely cost a fair amount of Orion's money — but is nevertheless a well-acted piece. TT's Blu-Ray includes a 1080p (1.85) AVC encoded transfer similar to MGM's other Allen HD masters with mono DTS MA sound, the trailer, and a music/effects track.
---