Message Board (open 24 hours!)
Twitter - @andredursin (for everything else!)
The year's not over yet but we already have a candidate for one of 2017's most impressive catalog releases on home video, as Warner's 4K UHD release of BLADE RUNNER: The Final Cut (****, 117 mins., 1982, R) sports the most satisfying technical presentation yet of Ridley Scott's sci-fi classic on home video.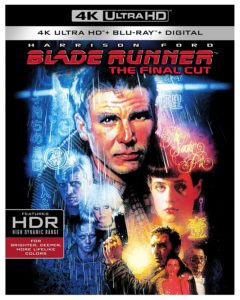 Fans by now know all about Scott's groundbreaking 1982 film — a movie initially shunned by audiences during its theatrical release in the crowded summer of '82, but one that has obviously endured and become of the most influential films ever produced…a symphony of sight and sound with a narrative that doesn't — in any version, really — entirely connect, but for its purposes doesn't have to. Scott, special effects supervisor Douglas Trumbull, cinematographer Jordan Cronenweth, the sets of Lawrence G. Paull and art director David Snyder (conceptually designed by Syd Mead among others), and the music of Vangelis transport you into a future world that's foreign yet familiar, decrepit in parts but majestic in others: a Los Angeles of 2019 where a group of android "replicants" seek answers to their built-in manufactured "expiration" dates, sending burned-out "Blade Runner" cop Rick Deckard (Harrison Ford) to hunt them down and terminate them.
Ever since the film's 1982 release, fans have debated — and argued — over the merits of each version of "Blade Runner." The film's theatrical and "International Cut" variants included a voice-over by Ford that had been incorporated, to varying degrees, in the script since its conception, along with a "happy ending" (more of an "optimistic epilogue" in my mind than a radically different conclusion than its counterparts) comprised mostly of outtake aerial footage from "The Shining." The 1992 "Director's Cut" – and Scott's own 2007 "Final Cut" — eliminated the voice-over and cut the ending down to its original form, while simultaneously suggesting more heavily that Rick Deckard wasn't just human — he was a replicant as well! This controversial theory has been a source of debate for decades, even amongst the film's writers and Harrison Ford himself, who resisted Scott's implication that its protagonist may not be human (in fact, co-writer Hampton Fancher still doesn't take the idea seriously, finding it completely absurd and against the intentions of Philip K. Dick's original novel).
I've always felt that, while the suggestion that Deckard is a replicant is intriguing, the film's story doesn't work nearly as well when viewed from that angle: it opens up a can of worms that logistically makes less sense than its other interpretation, along with robbing the film of its central emotional arc — that a tired, dispirited human who's lost his soul regains it, ultimately, through his interaction with artificial life-forms who are, in some ways, more "human" than he is.
That's the one drawback of Scott's official, 2007 "Final Cut" of the film, a remastered presentation that essentially presents the "Director's Cut" version with some very, very minor tweaking — a couple of digitally enhanced alterations (including a reworked shot of the dove flying off, out of Roy Batty's arms at the end), a couple of alternate lines, and a superior "Unicorn" sequence more in line with Scott's original vision than the would-be 1992 "Director's Cut." Only die-hard "Blade Runner" fans will notice these differences, however, as this cut essentially plays out as being mostly identical to the 1992 release, keeping Deckard's possible replicant identity a key ingredient.
Where "The Final Cut" has always had a big advantage on every disc release (whether it's DVD or the HD-DVD/Blu Ray versions) is in its transfer and sound: the remastered 4K, HDR-infused image is utterly spectacular, while the remixed sound (here in Dolby Atmos) is fully enveloping, opening up Vangelis' marvelous score in a way no prior audio mix ever has. In fact, the transfer in Warner's 4K release presents the movie's color spectrum in a remarkable visual feast that's like watching the picture, in a way, for the first time – contrasts and blacks are deeper, reds are more vibrant, and various nuances in the cinematography really come out here in a way that no prior transfer has been able to show. As fans know, "Blade Runner" is such a visually detailed movie that simply being able to see more accurate colors, and a wider spectrum of them, alone makes this "Blade Runner" transfer the definitive one on home video – and it's jarring to go back afterwards to even "The Final Cut"'s Blu-Ray presentation and see how comparatively blander it appears. The colors on Deckard's "spinner" car, Rachel's lipstick, the neon signs blasting brands both contemporary to the '80s (Atari!) and timeless – all of it comes across in a UHD presentation that's one of the best the format has had to offer thus far.
Warner's package has been focused around the 4K presentation, which is stellar, and includes most, though not all, of the special features from prior releases. Present here in DVD form are Charlie deLauzirika's comprehensive "Dangerous Days" documentary and a supporting disc of deleted scenes and other featurettes. In keeping with "The Final Cut" being at the forefront of this release, no other version of the movie is included — not the Workprint, or the Theatrical Cut or other variants — so fans desiring those versions will want to hold on to those earlier packages (which I covered in-depth in both 2007 and 2012).
In terms of the 4K transfer itself – and even if it isn't my favorite cut of the film – there's no doubt this is the "Blade Runner" to beat, and a flagship transfer for the 4K UHD format.
---
TV on DVD
FLIPPER – Season 1 Blu-Ray/FLIPPER – Season 2 Blu-Ray (both 780 mins. Each; Olive Films): I spent many a weekday afternoon in kindergarten and elementary grades rushing home to watch TV, where local UHF channels out of Providence and Boston aired a variety of syndicated re-runs geared specifically at kids just getting home from school.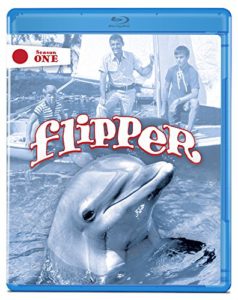 "Flipper" was one of those shows – a very engaging and delightful series that was spun off from producer Ivan Tors' two MGM movies from the early '60s starring the title – and quite resourceful — dolphin. In fact, as I sat down to watch the series in Olive's Blu-Ray for the first time since I was a kid, I showed the first episode to our three-year old who starts Pre-K next week – and he seemed to enjoy it every bit as much as I did when I was his age!
Part of the reason why the series works – and endures — is its colorful mix of underwater action and easily accessible family drama. "Flipper" never veers outside its lane and concentrates on telling straightforward, and still-relatable, dramatic stories revolving around Porter Ricks (Brian Kelly, later a producer on "Blade Runner"!), a Florida park ranger who helps out those in need on the water with the help of his precocious kids (Luke Halpin and Tommy Norden). Most of those adventures require the assistance of Flipper as well, the intelligent dolphin who avoids sharks and manages to save the day, often in the nick of time.
I don't recall the "Flipper" movies outside the fact that Brian Keith starred in Kelly's role in the first film. Its sequel (which co-starred a young Pamela Franklin and Francesca Annis) served as a rough pilot for the prospective TV series – turning the father into a widower and adding Kelly in the title role. By the time the series began, Porter Ricks had a second, younger son (Norden) also, and the formula was set for a long-running series that's fondly remembered by those who grew up in the '60s and lived through re-runs in the '70s and '80s.
Olive has released the first two seasons of "Flipper" and its half-hour episodes in separate Season 1 and 2 Blu-Ray releases. The MGM-licensed 1080p (1.33) transfers look terrific with a nice amount of detail, allowing you to enjoy a wide-range of guest stars in summer-appropriate attire (including Jessica Walter, Julie Sommars and Barbara Feldon among others). Burt Reynolds makes an early appearance as well! DTS MA mono sound is occasionally muffled or a tad distorted but for the most part is just fine – and hopefully Season 3 will surface in the near future.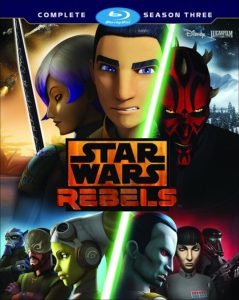 STAR WARS: REBELS Season Three Blu-Ray (485 mins., 2016; Disney). WHAT IT IS: "The Clone Wars" may be over, but young viewers and Star Wars fans continue to enjoy this Disney Channel/Lucasfilm series that's now entering its third season. This time around, the "Ghost" crew encounters more individual challenges, including Sabine running into resistance in her Mandalorean home and Ezra continuing to improve his standing as both a Jedi and rebel leader. Of course, Darth Vader and Darth Maul are around as the Imperials seek to vanquish their foes, led by Grand Admiral Thrawn. BLU-RAY TECH SPECS: Disney's two-disc package includes its complete Season 3 episodes in 1080p (1.78) transfers with 5.1 Dolby Digital sound and extras that feature a number of BD format exclusives. These include "Return to Mandalore," "Thrawn: A Legend Reborn," "Apprentices To Outcasts: Kenobi and Maul," "The Original Rebel: Saw Gerrera Returns" (extended Forest Whitaker version), and five episode commentaries. The featurettes "A Rebel Alliance" and "Rebels Recon," meanwhile, detail the connection between this season and "Star Wars: Rogue One." AISLE SEAT BOTTOM LINE: A bit more "cartoony" than its predecessor, "Rebels" is still solid entertainment for buffs and kids alike, offering colorful and vibrant animation that looks outstanding in Disney's Blu-Ray set.
DAREDEVIL Season Two Blu-Ray (701 mins., 2016; Marvel)/JESSICA JONES Season One Blu-Ray (667 mins., 2016; Marvel). WHAT IT IS: Marvel characters deemed not important or marketable enough for big-screen fare have migrated, over the last few years, to Netflix instead. There, these brooding, more "adult" heroes can market their R-rated brand of justice without damaging the more family-friendly, PG-13 brand of Marvel's theatrical output. So far, the results have been mixed – while all well-made and competently shot, there's also something rather dull about these respective Marvel dramatic series, as if the stakes just aren't that high. What's worse, extraneous subplots and overlength seems to plague each of them – something that the discipline of a theatrical feature or, in the case of "Agents of SHIELD," a network-TV mandated episode length clamps down upon. Nevertheless, the shows continue to be popular amongst fans, and Disney brings out two more Blu-Ray box-sets this month. DAREDEVIL has been, routinely, the best of the batch, despite some problematic elements cropping up in Season 2. This go-around introduces Frank Castle, aka The Punisher, into Hell's Kitchen, as well as Elektra Natchios (Elodie Yung), all the while an ancient source of evil threatens all of mankind. Krysten Ritter, meanwhile, plays JESSICA JONES in the first season of this occasionally gory noir-mystery, centering on the private detective trying to help others in Daredevil's hometown while dealing with her own demons. "Jessica Jones" is definitely offbeat but its mystery unfolds very, very slowly at times, making for a show whose fans will love it but may be difficult to embrace for anyone else. BLU-RAY TECH SPECS: Debuting on domestic Blu-Ray for the first time, the Marvel Blu-Ray packages of "Daredevil"'s Season 2 and "Jessica Jones"'s Season 1 both offer high-quality 1080p (1.78) transfers and 5.1 DTS MA soundtracks. For those without the benefit of Netflix, both of these presentations are terrific, with high bit-rates and excellent audio. AISLE SEAT BOTTOM LINE: I'm not the biggest fan of these Marvel/Netflix series, but the devoted should be satisfied with both in superb a/v presentations.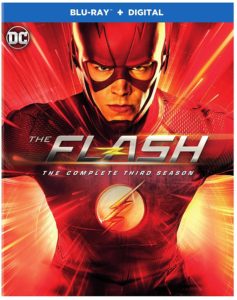 THE FLASH Complete Third Season Blu-Ray (975 mins., 2016-17; Warner). WHAT IT IS: While the storyline is becoming more convoluted, The CW's "Flash" continues to be the most satisfying super-hero series on broadcast TV right now. In the third season, Reverse Flash (there are a number of Flash "variants" around Central City, including Kid Flash) pops in from the future, warning Barry Allen of problems if he continues to live in an alternate "Flashpoint" future where his parents are both still alive. And that's not all: Savitar, God of Speed, and other DC cameos are sprinkled throughout the 22-episode third season of the series, with Caitlyn's Killer Frost alter-ego causing plenty of problems as well. BLU-RAY TECH SPECS: Warner's Season 3 package of "The Flash" offers the expectedly strong 1080p (1.78) AVC encodes and 5.1 DTS MA soundtracks fans have come to expect. Ample supplements include the crossover event with Arrow, DC's Legends of Tomorrow and Supergirl; no less than 10 featurettes, including a talk with Andrew Kreisberg and Kevin Smith, the 2016 Comic Con panel, and other behind-the-scenes content; deleted scenes and a gag reel, plus a Digital HD copy.
SUPERNATURAL: The Complete 12th Season Blu-Ray (969 mins. 2016-17; Warner). WHAT IT IS: Those trouble-making Winchester brothers, Sam and Dean, are back in this 12th season of the CW series, one that's been on the air so long it's already spanned multiple network names and plenty of imitators. The main "big bad" this year is none other than Lucifer himself, whom the boys have to battle in addition to the British Men of Letters and Crowley; meanwhile, their dear old mom (Samantha Smith) is resurrected and here to help in 23 new episodes from "Supernatural." BLU-RAY TECH SPECS: Warner brings their customary top-notch 1080p (1.78) AVC encoded transfers and 5.1 DTS MA soundtracks to "Supernatural"'s Season 12 Blu-Ray box-set. In addition to a Digital HD copy, the set also counts a 2016 Comic Con panel and three other featurettes, a trio of audio commentaries, unaired scenes and a gag reel among its extra features. AISLE SEAT BOTTOM LINE: Is there any end in sight to "Supernatural"? Probably not as the series continues to draw fans on a weekly basis, and those aficionados should be suitably pleased with Warner's now-available BD package.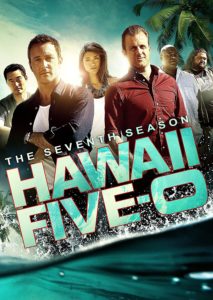 HAWAII FIVE-O: The Complete Seventh Season DVD (18 hours, 2016-17; CBS). WHAT IT IS: Alex O'Loughlin's Steve McGarrett teams up with an FBI agent to find the "Chess-piece killer" while Danny (Scott Caan) is assigned to a coma-bound witness whom hitmen want dead. Meanwhile, Chin (Daniel Dae Kim) heads south of the border to save his niece and Kono (Grace Park) finds a sex trafficking ring on the island. High flying action and colorful locales mix for another year of formulaic CBS prime-time programming. DVD BREAKDOWN: Attractive 16:9 transfers and 5.1 soundtracks enhance the show's strongest attributes while numerous extras boast a handful of newly produced featurettes, including a "Watch!" magazine photo shoot with O'Loughlin, deleted/extended scenes, "Shorelines: Season 7," A Teilor Grubbs Video Diary and other goodies. AISLE SEAT BOTTOM LINE: I've always been disappointed with the "CSI Hawaii" type nature of the series, yet the resurrected "Hawaii Five-O" has been a hit with CBS' main demographic, who will undoubtedly enjoy this Season 7 DVD release.
ELEMENTARY: The Complete Fifth Season DVD (17 hours, 2016-17; CBS). WHAT IT IS: Sherlock Holmes (Jonny Lee Miller) and Dr. Joan Watson (Lucy Liu) are back, rekindling their unusual chemistry in another season of whoduneits and how-doneits. CBS' six-disc DVD box set contains the complete Season 5 of the popular network crime procedural, here finding Holmes and Watson taking on a drug gang to a rogue intelligence agency and a superbug threatening The Big Apple's water supply. DVD BREAKDOWN: Extras in CBS' now-available DVD box include deleted scenes, a gag reel, 16:9 transfers, 5.1 soundtracks and a handful of featurettes taking viewers behind the scenes. AISLE SEAT BOTTOM LINE: Miller is fine, as always, but Lucy Liu remains the show's anchor, as "Elementary"'s fans are sure to warm to this latest go-round for the series.
SCORPION: The Complete Third Season DVD (17 hours, 2016-17; CBS). WHAT IT IS: Elyes Gabel is back as Walter O'Brien, leading a crack team of hackers and assorted misfits who are employed to save the world in 24 more episodes from the CBS prime-time thriller. Also returning are Katherine McPhee's Paige Dineen, Eddie Kaye Thomas as Toby Curtis and veteran Robert Patrick, essaying Homeland Security agent Cabe Gallo. DVD BREAKDOWN: A gag reel, four featurettes (Unlikely Heroes, You're Invited, Scorp Beats, Mock Me Up), a 16:9 transfer and 5.1 Dolby Digital sound comprise CBS' Season 3 DVD edition. AISLE SEAT BOTTOM LINE: Somewhat younger-skewing in its audience demographic, "Scorpion" is a typical CBS crime procedural but the appealing cast has made it a favorite amongst its fan-base.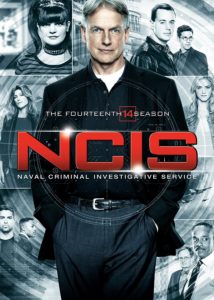 NCIS: The Complete 14th Season DVD (17 hours, 2016-17; CBS). WHAT IT IS: Still going strong after 14 seasons, "NCIS" welcomes a trio of new personnel to its crew, including Nicholas Torres (Wilmer Valderrama), Alexandra Quinn (Jennifer Esposito) and MI6 officer Clayton Reeves (Duane Henry). The group is there to assist Leroy Jethro Gibbs (Mark Harmon) and company take on terrorists, militias, hackers and other threats to national security in this latest anthology of 24 episodes from the long-running CBS series. DVD BREAKDOWN: Commentaries on selected episodes, the NCIS: New Orleans crossover episode "Pandora's Box," numerous featurettes, 16:9 transfers and 5.1 soundtracks grace CBS' six-disc DVD release. AISLE SEAT BOTTOM LINE: An ample 80 minutes+ of extras should put this "NCIS" release over the top for fans.
CRIMINAL MINDS: The Complete Season 12 DVD (16 hours, 2016-17; CBS). WHAT IT IS: Adam Rodriguez's Luke Alvez joins the team in this 12th season of "Criminal Minds," helping the squad with his fugitive-tracking skills. Meanwhile, Paget Brewster's Emily Prentiss takes over as the new Unit Chief along with Stephen Walker (Damon Gupton), another seasoned profiler. The cast additions help give some energy to the newest 22 episodes from another of CBS' long-running prime-time crime procedurals. DVD BREAKDOWN: CBS' six-disc DVD set includes deleted/extended scenes and commentaries on selected episodes, a gag reel and a handful of featurettes. AISLE SEAT BOTTOM LINE: Another recommended release for the series' fans from CBS, just in time for the debut of the new Fall TV season.
---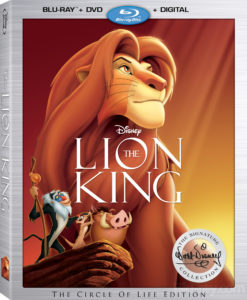 Also New & Noteworthy
THE LION KING: Signature Collection Blu-Ray/DVD (***½, 88 mins., 1994, G; Disney): With its lush animation, memorable Elton John-Bernie Taupin songs and an accessible, rousing story, Disney fashioned one of their biggest all-time hits with the original "Lion King," a box-office smash that's due for a live-action theatrical reworking in 2019.
For those who can't stand the wait – and don't already own Disney's Diamond edition Blu-Ray – Disney's "Circle of Life Edition" looks and sounds every bit as glorious as its predecessor, boasting a 1080p (1.78) transfer and DTS MA 7.1 soundtrack, and a wealth of goodies, mostly carried over from the prior Blu-Ray/DVD releases. The main new special feature is a Sing-Along version of the movie, presented along with "The Recording Sessions," "Inside the Story Room" and "Visualizing A Villain" extras. Carried over from the Diamond edition are deleted scenes and bloopers, featurettes with the filmmakers including producer Don Hahn (in HD), plus supplements carried over from prior releases (extended and deleted material including "The Morning Report"), mostly through Disney's online "Virtual Vault."
The introduction of a Digital HD copy may entice some, and although I'm not crazy about having extras offered only via online streaming, there's still ample supplemental content on-hand here – in addition to the brilliant a/v presentation – to give this release an instant recommendation for fans and family audiences…albeit only those who've never owned it before.
MEGAN LEAVEY Blu-Ray Combo Pack (116 mins., 2017, PG-13; Universal): Undeniably emotional true story recounts the journey of a New York Gen-X'er who joins the military where she becomes part of a K-9 training unit. Eventually deployed to Iraq, Megan Leavey and her canine soldier companion completed over 100 missions before being injured by an IED explosion.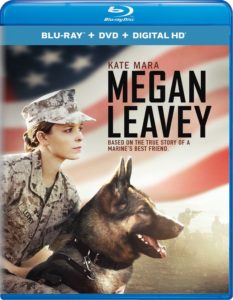 Gabriela Cowperthwaite's film shows both the training of Leavey and her dog, Rex, as well as the arduous efforts she went through to adopt Rex following their injuries. Kate Mara gives a fine performance as Leavey in a movie that's competently filmed all the way through, even if it gives off a slight "family friendly" vibe that may not be entirely authentic (on the flip side, at least the film is suitable for older kids). Well-reviewed by critics though only a modest performer at the box-office, the Bleecker Street release comes to Blu-Ray through Universal on September 5th. The 1080p (2.40) transfer and 5.1 DTS MA sound are both fine; extras include a single featurette, "Never Give Up," plus a DVD and Digital HD copy.
Shout Factory New Releases: The creepy Irish import A DARK SONG (100 mins., 2016, Not Rated) bows this week from Scream Factory and IFC Midnight. Liam Gavin wrote and directed this offbeat tale of a grieving mother (Catherine Walker) trying to contact her slain son and find those responsible for his death, with the help of an occultist (Steve Oram) who dabbles in black magic. The duo drift too deep for their own good but the resolution is suitably atypical in this recommended view for horror buffs. Shout's Blu-Ray, out this week, includes interviews, deleted scenes, storyboards, the trailer, a 1080p (2.40) transfer and 5.1/2.0 DTS MA options…Coming September 29th from Shout's "Select" line is HYPE! (83 mins., 1996), a documentary by Doug Pray that captured the "grunge" scene in and around Seattle circa 1996. Nirvana, Soundgarden, Pearl Jam and others are shown in live performances that transport the viewer back in time to an era they may – or may not be – fond of, but there's no question Pray's work nicely preserves a specific time and place. Shout's Blu-Ray is available late in September, offering a "20 Years After" featurette sporting new interviews with members of groups like Soundgarden, Mudhoney and others. Vintage interviews, performances, Peter Bagge's short "Hate" and a brand new commentary from the director are included as well along with a 1080p transfer and 5.1/2.0 DTS MA soundtracks.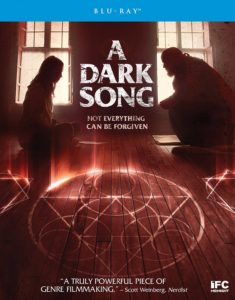 Film Movement New Releases: Film Movement's August slate of releases is highlighted by AFTER THE STORM (117 mins., 2016), acclaimed director Hirokazu Kore-eda's film about an estranged family – a failed writer (Hiroshi Abe), his ex-wife (Yoko Maki), son and mother (Kirin Kiki) – who reconnect in surprising ways after a typhoon hits. Funny and warmly performed, "After the Storm"'s Blu-Ray also includes the 12-minute Japanese short "The Last Dream" along with an extensive, hour-plus documentary on the making of Kore-eda's film. A 1080p (1.85) transfer is included with 5.1 sound and optional English subtitles…Exclusively on DVD from Film Movement is AMNESIA (96 mins., 2015), Barbet Schroeder's film about a 25-year-old aspiring composer in Berlin who wants to become part of the German techno scene in the early '90s, and his relationship with an secluded, older woman with a cello she doesn't play. This character drama is now available on DVD sporting Anna Maguire's British short "Your Mother and I," a 16:9 (1.78) transfer and 5.1 and 2.0 soundtracks.
Well Go New Releases: On September 12th, Well Go rolls out a PHANTASM – 5 FILM DVD COLLECTIONbox-set that includes "Phantasm," "Phantasm II," "Phantasm III," "Phantasm IV: Oblivion" and "Phantasm V: Ravager," all with 16:9 transfers, 5.1 soundtracks, commentaries and assorted extras. Well Go also released a Blu-Ray box of the series months back, and given how many times these films have been issued on DVD before, I'm not sure how many takers there will be for this standard-definition package, despite its attractive pricing (check the Aisle Seat Archives for individual reviews of most of those pictures)…Available this week on Blu-Ray comes the Hong Kong actioner IRON PROTECTOR (90 mins. 2015), Song Yoe's contemporary kung-fu thriller with ample bonuses (featurettes, trailer), a 1080p transfer and DTS MA Mandarin audio with English subtitles.
---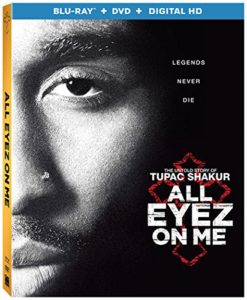 Lionsgate New Releases
Blu-Ray Releases From Lionsgate: Available September 5th is Morgan Creek's Tupac Shakur biopic, ALL EYEZ ON ME (140 mins., 2016, R). Demetrius Shipp, Jr. plays Shakur in a movie that touches upon his ascendancy through New York City's rap scene in a lengthy film from director Benny Boom that made a decent showing at the box-office this summer. Lionsgate's Blu-Ray includes a Making Of, Shipp's audition, additional interviews, deleted scenes, a 1080p (2.39) transfer and 5.1 DTS MA sound, plus a DVD and Digital HD copy…Bruce Willis is at it again with another direct-to-video affair, FIRST KILL (102 mins., 2017, R), a weak programmer with Willis playing a police chief in a small town where a Wall Street banker (Hayden Christensen) and his son (Ty Shelton) witness a crooked cop's murder. By-the-numbers stuff that's depressing to watch from a Willis standpoint, "First Kill" debuts on Blu-Ray this week from Lionsgate sporting a commentary from director Steven C. Miller, deleted scenes, cast interviews, a featurette, 1080p (2.40) transfer, 5.1 DTS MA sound and a Digital HD copy.
The terrific Netflix series NARCOS (9 hours, 2016) continues to weave an intoxicating spell with its vivid, gritty depiction of Pablo Escobar's (Wagner Moura) Columbian drug cartel, and the DEA agents (Boyd Holbrook, Pedro Pascal) fighting it. Shot on-location, "Narcos"'s second season arrives on Blu-Ray this week from Lionsgate in high quality 1080p (1.78) transfers with 5.1 DTS MA soundtracks. Extras include the featurette "Unredacted: Declassfying Narcos' Season 2," deleted scenes, and commentary with director Andres Baiz, producer Eric Newman and Wagner Moura. Digital HD copies round out the set, released just in time for the debut of Season 3…Debuting on DVD this week is THE WEDDING PLAN (110 mins., 2017, PG), the Israeli-shot story of an older, unmarried woman (Noa Koler) who's spurned by her fiancée. Undeterred by their break-up, she keeps her planned wedding date in the hopes of finding the right man in time to marry. Rama Burshtein's tale transcends cultural barriers and presents an appealing story now on DVD with 5.1 Hebrew audio, English subs, a 16:9 transfer and photo gallery.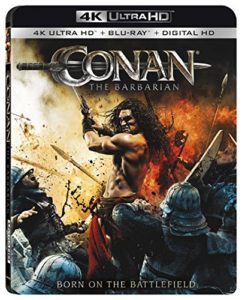 4K Rundown: Two more Lionsgate titles join the UHD fray this September in agreeably-priced (under $20 at Amazon currently) combo packs.
"Twilight" star Kellan Lutz served up a 2014 winter box-office flop in THE LEGEND OF HERCULES (98 mins., 2014, PG-13), a watchable though overly familiar pastiche of genre cliches from action vet Renny Harlin. Lionsgate's 4K UHD disc is out on Blu-Ray September 19th, offering an attractive UHD package with HDR that looks good with some splotches of vibrant color peppering an otherwise blah visual scheme. Extras on the standard Blu-Ray include commentary from the director and star, a Making Of featurette, plus a Digital copy. Dolby Atmos audio completes the package.
Also on September 19th comes CONAN THE BARBARIAN (113 mins., 2011, R), but it's obviously not the "Conan" you want. Instead, this tedious Marcus Nispel-directed affair places Jason Mamoa through the paces as Robert E. Howard's pulp hero with a few effectively handled set-pieces interspersed between long, boring stretches of unappealing characters and story. As with "Hercules," Lionsgate's UHD platter does boast some advantages via HDR over the standard Blu-Ray, though the movie's color scheme is mostly uninvolving visually so the upgrade will be worth it only for the movie's fans. Additional extras on Blu-Ray include commentaries and short featurettes, Dolby Atmos audio and a Digital HD copy.
---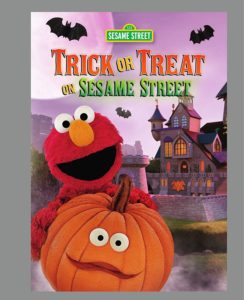 Quick Takes
SESAME STREET: TRICK OR TREAT ON SESAME STREET DVD (75 mins., 2017; Warner): Kids will enjoy being lightly spooked by this new DVD compilation from "Sesame Street," presenting the first Halloween-themed episode from the series in nearly a decade. Here, Elmo learns the value of his imagination when he's envious of another boy's Halloween costume, while an additional full episode, "The Sesame Street Dress Up Club," and a downloadable PDF book, "Which Witch Is Which," are included in the 75-minute disc. Warner's release is now available in stores and comes with an additional 13 minutes of all-new animated content.
TALES OF THE TEENAGE MUTANT NINJA TURTLES – WANTED: BEBOP & ROCKSTEADY DVD (89 mins., 2017; Nickelodeon/Paramount): Enjoyable time-traveling feature length episode from the current TMNT animated series debuts on DVD before broadcast. Here, '80s version Shredder and Kang head to present-day NYC and join up with villainous cohorts Bebop and Rocksteady for a skirmish with the Turtles; meanwhile, the origin of the group is retold in flashback form. An exclusive music video is an extra in Paramount's DVD, out on September 12th with a 16:9 transfer and 5.1 Dolby Digital sound.
DRONE WARS DVD (83 mins., 2016; Anchor Bay): Those crazy Canucks at CineTel Films are back with another watchable, low-budget sci-fi effort. Corin Nemec stars in this "Terminator"-esque tale of drones that descend upon the Earth and begin to strip the planet of its natural resources, leading a team of scientists to stop the threat from happening. Anchor Bay's DVD includes a 16:9 transfer and 5.1 Dolby Digital sound.
NEXT TIME: New Warner Archive reviews and more! Until then, don't forget to drop in on the official Aisle Seat Message Boards and direct any emails to our email address. Cheers everyone!