Message Board (open 24 hours!)
Twitter - @andredursin (for everything else!)
William Wyler's wide-ranging filmography encompasses everything from "Ben-Hur" to "Funny Girl" and "The Big Country." During the '60s he branched out with the downbeat psychological drama "The Collector" before switching gears, again, for the candy-coated romantic comedy caper HOW TO STEAL A MILLION (***, 1966, 123 mins.), which kicks off Twilight Time's limited-edition Blu-Ray releases for the month of April.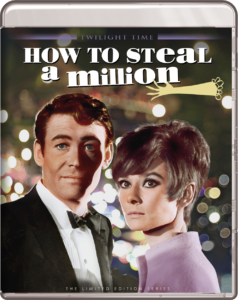 This is, as Julie Kirgo succinctly points out in her booklet notes, a lightweight and star-driven caper comedy combining the formidable talents of Audrey Hepburn and Peter O'Toole. The duo work so well together – she as the daughter of an art forger (Hugh Griffith), he as a suave thief employed to steal one of the family's forged masterworks before it's exposed as a fraud – that one can overlook the sometimes clunky pacing and obvious influences from, say, "The Pink Panther" (it's no surprise that Harry Kurnitz wrote the script, having penned the original stage play that later became "A Shot in the Dark"). It's not a classic, but the Parisian locales and breezy John(ny) Williams score heighten a fluffy farce that's a product typical of its time, ultimately functioning as well as it does through the combined charisma of its stars.
Twilight Time's 1080p (2.35) AVC encoded transfer looks healthy and vibrant; the audio source elements seem to be fine after a few dodgy opening notes in Williams' score, and are presented in either mono or 2-channel DTS MA stereo options. An isolated score, the trailer, a featurette and commentary with co-star Eli Wallach and Catherine Wyler are reprieved from the DVD edition.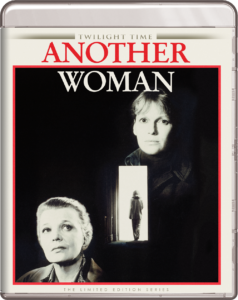 Billy Wilder's THE FORTUNE COOKIE (126 mins., 1966) is a biting comedy that marked the first collaboration between stars Jack Lemmon and Walter Matthau. Even in their inaugural outing – which ranks with their best – the duo's chemistry is undeniable, with Lemmon playing a CBS cameraman hobbled while working a football game, and Matthau his scheming brother-in-law, who sees the potential in Lemmon's situation to perpetuate insurance fraud. He does try, hilariously, via a clever Wilder-I.A.L. Diamond script that only seems to linger on a little longer than it should have.
Featuring one of Wilder's most effective uses of the wide Panavision frame, "The Fortune Cookie" is a must-view in 2.35, which Twilight Time's Blu-Ray here preserves in a crisp, detailed 1080p AVC encode. The DTS MA mono soundtrack and isolated score track of Andre Previn's efforts are both perfectly acceptable, and the trailer is the disc's sole extra.
Rounding out Twilight Time's releases this month are another sojourn into the filmography of Woody Allen, ANOTHER WOMAN (81 mins., 1988, PG), and the zesty 1941 Columbia musical YOU'LL NEVER GET RICH (89 mins.).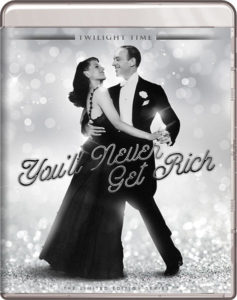 Allen had gravitated towards more serious drama after hitting one of his career high notes in "Hannah and Her Sisters" (1986), drawing mixed results for the chamber drama "September" (1987) and following that effort with the slightly less uptight "Another Woman." Gena Rowlands is terrific here as a New York college professor who begins to introspectively examine herself, and how she's treated those in her circle of friends and family, after hearing a woman (Mia Farrow) in an adjacent office talk about her own shortcomings to her therapist. Ian Holm essays Rowland's husband with Gene Hackman as his friend (and Rowland's true love) in a supporting cast that also includes John Houseman, Martha Plimpton, Betty Buckley, Sandy Dennis and David Ogden Stiers. Admirers of Allen's "Bergman-esque period" will most savor this finely-acted if occasionally stilted drama, presented here on Blu-Ray in a strong 1080p (1.85) MGM-licensed transfer with isolated music and the original trailer.
Finally, YOU'LL NEVER GET RICH (89 mins., 1941) finds Fred Astaire and Rita Hayworth singing and dancing to a bubbly Cole Porter score. The flimsy plot has Fred's Broadway manager falling for Hayworth's dancer at the behest of his womanizing boss (Robert Benchley), while Porter's score offers some pleasant, if not entirely memorable, original songs ("Since I Kissed My Baby Goodbye" being one of them). When Astaire's drafted into WWII, dramatic predicaments ensue in a short but sweet outing that should attract the interest of Golden Age genre buffs. Twilight Time's Blu-Ray offers another healthy 1.33 B&W transfer with plenty of fine grain, an isolated music/effects track and the trailer also included.
---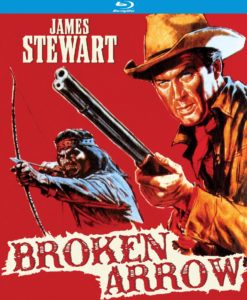 Kino Lorber April Releases
A quartet of diverse catalog titles make their respective Blu-Ray debuts this week from Kino Lorber.
Jimmy Stewart's performance as a Union soldier who opts to negotiate a peace treaty with an Apache chief (Jeff Chandler) is one of the highlights of the 1950 Fox western BROKEN ARROW (***, 93 mins.).This short but effective genre outing offers generous amounts of action plus a satisfying romance between Stewart and Debra Paget, not to mention colorful cinematography. Kino Lorber's Blu-Ray boasts a new 2K restoration that enhances the work of D.P. Ernest Palmer in a superb high-def (1.33) AVC encode. Extras include Kent Jones' commentary and a vintage Fox Movietone Newsreel.
THE OPTIMISTS (***, 111 mins., 1973, PG): Little-seen early '70s movie affords Peter Sellers one of his strongest '70s dramatic roles as a street performer who befriends a pair of kids from the wrong side of the tracks and tries to set them on the right path. A bit slow-going at times but sincerely acted, with songs provided by Lionel Bart; Anthony Simmons directed and co-wrote the picture from his own novel. Last seen on DVD in an out-of-print Legend Films edition, Kino Lorber's Blu-Ray looks suitably enhanced over that package although it seems to have been struck from the same source elements. The 1080p (1.78) transfer is quite good in spite of the print's age, though the uneven DTS MA mono sound is no better than mediocre.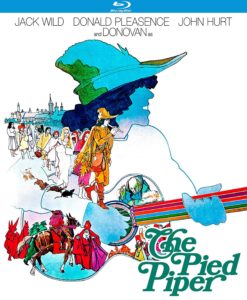 THE PIED PIPER (**, 86 mins., 1972, G): Jacques Demy's grimy take on the children's tale makes for a bizarre – and bizarrely cast – rendition of "The Pied Piper." Here, crooner Donovan plays the title role, who's coerced into saving the Hamelin locals from vermin running rampant but, ultimately, can't save the townspeople from their own vices. Donald Pleasence, "Oliver"'s Jack Wild, John Hurt, Roy Kinnear and Michael Hodern topline this strange and downbeat affair that ranked as a major disappointment for Demy and producer David Puttnam, with Paramount barely distributing the film in the U.S. (marketing it, where it did play, as a G-rated kids movie!). Most of it has to do with the movie's "realistic" tone inherent in the script co-authored by Demy with Andrew Birkin and Mark Peploe, which aims for pretentious drama and comes up short as a satisfying piece of entertainment. Perhaps worth a viewing for the curious nevertheless, Kino Lorber's Blu-Ray is, like "The Optimists," an enhancement over the film's prior Legend DVD edition, though the materials (1080p 1.66 AVC encode, DTS MA mono sound) of this obscure picture aren't entirely pristine.
Last but not least is one of Jackie Gleason's most satisfying cinematic excursions, PAPA'S DELICATE CONDITION (***, 98 mins., 1963). This Paramount period comedy drama affords Gleason a perfect vehicle as a family man who can't entirely give up the drink, much to the consternation of his wife (Glynis Johns) and family. The wonderful "Call Me Irresponsible" and "Bill Bailey" were among Jimmy Van Heusen and Sammy Cahn's songs for "Papa's Delicate Condition," which is sappy and saccharine at times, but ultimately satisfying as a family comedy-drama typical of its era. Kino Lorber's Blu-Ray boasts a perfectly acceptable 1080p (1.85) AVC encoded transfer and DTS MA mono sound.
New on DVD from Kino Lorber: Recommended and new on disc is THE MIGRANTS (90 mins., 1974), an acclaimed CBS TV movie that nevertheless was scarcely distributed since its original airing. One of those tautly written, superbly acted tele-films you once routinely found on network TV back in the '70s, "The Migrants" looks at a farming family struggling as they scrape together funds, moving town to town in the hopes of forming a better life. Cloris Leachman is tremendous as the family matriarch in this adaptation of Tennessee Williams' story, directed by Tom Gries and graced with an outstanding supporting cast (Sissy Spacek, Ron Howard, Ed Lauter, Cindy Williams). Kino Lorber's DVD is licensed through CBS and looks finely composed in its original 1.33 aspect ratio.
Finally, 8-BIT GENERATION: THE COMMODORE WARS (104 mins., 2016) is a compelling new documentary, funded partially on Kickstarter, from directors David E. Agosta and Tomaso Walliser. This first of apparently several docs the duo have lined up took several years to produce, chronicling the tempestuous Jack Tramiel's founding of Commodore computers as a gateway to get the Personal Computer out of businesses and into the homes of consumers – and not just those wealthy enough to afford one. Tramiel, Steve Wozniak, Chuck Peddle and others are on-hand to discuss the rise and eventual fall of Commodore, which played a crucial role in the rise of the PC during the 1980s. Leonard Tramiel's TedX talk and the trailer are present in Kino's just-released DVD along with a 16:9 transfer and 2.0 stereo sound. Recommended!
---
Also New on Blu-Ray
Tony Manero is still the man! Just watching John Travolta strut his stuff again as the Brooklyn dance king in John Badham's seminal '70s classic SATURDAY NIGHT FEVER (***, 1977, 118/122 mins., R; Paramount) is enough to make you get off your couch and groove to the film's classic Bee Gees soundtrack one more time. This slick, stylish, and memorable Robert Stigwood production was scripted by Norman Wexler from a New Yorker story about blue-collar Brooklyn residents who would take to the dance floors at their neighborhood discos each weekend.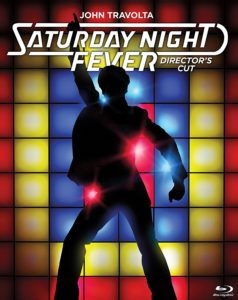 Travolta's superstar-making performance as Tony — an ordinary young guy trying to break out of his drab, daytime existence and make something of himself after dark — formed the heart of the 1977 film, a slice-of-life drama with melodramatic and tragic passages, highly memorable lines, a few laughs, and a dash of romance sprinkled into the mix. Add in the chart-topping soundtrack, featuring "Stayin' Alive," "More Than A Woman," and "How Deep Is Your Love," and you had a smash hit that seemingly defined the fashion, dance, and mood of the moment.
Some 40 years later, disco may still be dead but "Saturday Night Fever" is very much alive. Even if the film's then-contemporary look is dated, its story of small-time dreamers trying to make something of themselves — and break beyond their barriers — is just as timely now as it was then. Travolta's sensational, oft-quotable performance anchors the movie brilliantly — as director John Badham mentions in his commentary track, Tony is in virtually every scene and it's a testament to Travolta's charisma that "Saturday Night Fever" holds itself together despite a wide-ranging and at times inconsistent tone.
Paramount's first catalog Blu-Ray release in what seems like eons (Warner had distributed titles for the studio in recent years), "Saturday Night Fever" is back in a new Director's Cut edition with a 122-minute version that restores four minutes of previously excised material. The R-rated theatrical cut is also on-hand, complete with Badham's prior DVD commentary. One additional deleted scene is also included along with the 30th Anniversary documentary ("Catching the Fever"), plus "Dance Like Travolta With John Cassese," "Back to Bay Ridge" and "Fever Challenge!" featurettes. The Dolby TrueHD audio and 1080p (1.85) transfer are both quite good and comparable to the earlier Blu-Ray.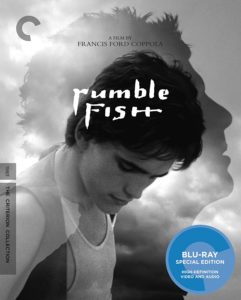 RUMBLE FISH Blu-Ray (**½, 94 mins., 1983, R; Criterion): Francis Ford Coppola tapped into the works of S.E. Hinton twice in the early '80s to mixed results. While the moderately successful "The Outsiders" envisioned its '50s teen drama as a melodramatic, "Gone With the Wind"-inspired epic, Coppola turned to German expressionism for its contemporary, black-and-white companion piece "Rumble Fish."
This follow-up work, shot immediately following "The Outsiders," offers several of that film's stars, including Matt Dillon, here essaying Rusty James, an Oklahoma teen who looks up to his rebellious, troubled older brother (Mickey Rourke), dubbed "The Motorcycle Boy" – and offers a stark reality to the idealized figure Rusty James believes him to be.
Diane Lane (who also starred in "The Outsiders"), Vincent Spano, Diana Scarwid, Nicolas Cage, Dennis Hooper, Larry Fishburne and Tom Waits co-star in "Rumble Fish," which is self-consciously "arty" in a way that's sometimes off-putting. The muddled dialogue and thinly-drawn characters can be hard to embrace, especially on first viewing, though the film's visuals and Stewart Copeland's percussive, time-driven score give it enough of a lasting appeal to partially compensate for its shortcomings.
"Rumble Fish" makes its U.S. Blu-Ray debut courtesy of the Criterion Collection. A pinpoint-detailed 1080p (1.85) 4K-mastered AVC encode offers enhanced detail over a comparable British Blu-Ray, while both 2.0 and remixed 5.1 DTS MA stereo offerings cover the film's compelling audio design. New supplements include interviews with Coppola, Dillon, Lane, associate producer Roman Coppola, cinematographer Stephen J. Burum (who also supervised the transfer), and S.E. Hinton, who saw an explosion in film adaptations of her books during the early '80s, between Coppola's works, the underrated Disney film "Tex" (also with Dillon) and Emilio Estevez's "That Was Then, This Is Now." There's also a 1984 French TV interview with Mickey Rourke and a 2013 documentary from Alberto Fuguet about the film's impact. Assorted Zoetrope-produced DVD featurettes, filmed over a decade ago, include then-recent interviews with the likes of Stewart Copeland and various cast members, including Vincent Spano and producer Doug Claybourne. Coppola's audio commentary has also been retained, as have deleted scenes culled from a workprint, the trailer, and an archival music video.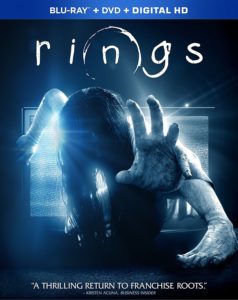 RINGS Blu-Ray Combo Pack (*½, 102 mins., 2017, PG-13; Paramount): Another attempt at "rebooting" a long-dormant horror franchise, "Rings" pretty much forgets that Samara was laid to rest in its prior installments and regurgitates (at times literally) its formula to negligible effect. This belated series entry, which bounced around the release schedule for months, stars Johnny Galecki as a college professor who stumbles upon the ancient, cursed VHS tape and promptly restarts its horrors for the social media age. A couple of shocks are present in Javier Gutierrez's film but this is otherwise feeble stuff, similar to the relaunch of the "Blair Witch" in that its diminishing returns on-screen failed to result in box-office interest from fans who've since moved onto other things. Paramount's Blu-Ray offers a good amount of extras including 14 deleted scenes and an alternate ending (the film's conclusion is an absolute groaner), three featurettes, a 1080p transfer and 7.1 DTS MA audio. A DVD and Digital HD copy are also on-hand.
THE FOUNDER Blu-Ray/DVD (**½, 115 mins., 2016, PG-13; Anchor Bay): Completely competent, yet ultimately rather blah, would-be Oscar contender from writer Robert Siegel ("The Wrestler") and director John Lee Hancock ("Saving Mr. Banks") looks at how an Illinois salesman named Ray Kroc (Michael Keaton) would spearhead the evolution of McDonald's, franchising a California burger operation and turning it into a global franchise. "The Founder" is certainly well-acted but rather by-the-book in its sometimes unflattering portrayal of Kroc, who wedged himself between the two brothers (Nick Offerman, John Carroll Lynch) who started the franchise – yet it's Keaton's charisma that carries this sometimes vanilla offering. Anchor Bay's Blu-Ray boasts a 1080p (2.40) transfer, 5.1 DTS MA sound, a DVD and Digital copy, plus featurettes and press conference footage.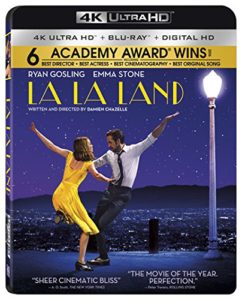 LA LA LAND 4K UHD/Blu-Ray (**, 128 mins., 2016, PG-13; Lionsgate): For me the bedrock of any musical is its score – and this multiple Oscar winner, a memorable non-winner for Best Picture during the Warren Beatty/Faye Dunaway fiasco, is in severe need of what we used to call "tunes." In fact, there wasn't one melody I could remember after Damien Chazelle's overpraised "La La Land" concluded, despite all of its copious musical numbers – which is somewhat fitting, since this is a musical that's all artifice, from its in-your-face colors, stylized "world" and one-note characters.
Judging from the reaction people had to the film, which did break through the art-house circuit to become a box-office hit, you either love it or hate it, and I didn't buy any of it — not the performances, the music, or its stilted story. And hearing Ryan Gosling's struggling jazz pianist warble through his vocals was painful – right along with the bloated two-plus hour running time. Emma Stone, essaying an aspiring actress and Gosling's star-crossed love, is scarcely better, but at least she sounded in-tune – for the most part. For those who hate musicals — you would be better off watching a real one, with a legitimate score, like Jacques Demy and Michel Legrand's "Umbrellas of Cherborg" (which this film plainly resembles in several facets)…or preferably anything else where people can sing and dance.
"La La Land" is still a visually striking work, regardless of how one feels about it, and Lionsgate's 4K UHD combo pack does convey Chazelle and cinematographer Linus Sandgren's vivid colors, making L.A. sing as it scarcely has before. The Dolby Atmos audio is expectedly strong, though all the high-def technical components can do little to make Chazelle and Justin Hurwitz's score appealing. Extensive extras are comprised of a series of featurettes and commentary with Chazelle and Hurwitz, plus a Digital HD copy.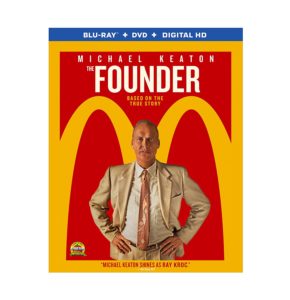 THE AGE OF SHADOWS Blu-Ray/DVD (140 mins., 2016, Not Rated; CJ Entertainment):Exceedingly well-made import, produced by Warner Bros., is set in Japanese-occupied Korea during the 1920s, where a group of resistance fighters attempt to smuggle explosives from Shanghai into Seoul. All the while, a Korean-born Japanese cop attempts to infiltrate the group by way of an antiques dealer in a tense, compelling film that netted solid reviews during its limited U.S. screenings last year. CJ's Blu-Ray/DVD combo pack includes an interview with director Kim Jee-Woon, cast interviews, trailers, a 1080p transfer and 5.1 Dolby Digital sound in either its native Korean (with English subtitles) or an English dub track.
THE SALESMAN Blu-Ray (124 mins., 2016, PG-13; Sony): This year's reigning Best Foreign Language Oscar winner, "The Salesman" drops on home video next week from Sony. Director Asghar Farhadi's film stars Taraneh Alidoosti and Shahab Hosseini as a married couple living in Tehran who move into a new apartment formerly owned by a prostitute. When Hosseini, a struggling actor like her husband, is assaulted, a rift develops between the two in this riveting import picked up by Amazon for U.S. distribution. Sony's Blu-Ray includes a talk with Farhadi, a 1080p (1.85) AVC encoded transfer and 5.1 DTS MA sound, in Farsi with English subtitles.
WE ARE X Blu-Ray (95 mins., 2016, R; Magnolia): Music documentary from the producers of "Searching For Sugar Man" chronicles the life, times and music of Yoshiki, whose group "X Japan" has sold over 30 million singles worldwide. The history of X Japan and Yoshiki's music are extensively profiled in Stephen Kijak's production, now on Blu-Ray from Magnolia. Deleted scenes, excised interviews, two bonus music performances, a fan video, and conversation with Yoshiki are included plus 5.1 DTS MA audio and a 1080p (1.78) transfer in Magnolia's recently released disc…Also new from Magnolia is I AM NOT YOUR NEGRO (94 mins., 2016, PG-13), director Raoul Peck's documentary on black history that traces race relations from the pre-Civil Rights era through the Black Lives Matter movement. Peck utilizes James Baldwin's prose from his unfinished book "Remember This House" for this historical account through the filmmaker's perspective, out on Blu-Ray next week from Magnolia. The disc includes a Q&A session with Samuel L. Jackson (who narrates the picture) and Peck, plus a separate interview with the director, 1080p (1.85) transfer and 5.1 DTS MA sound.
NEXT TIME: The latest from the Warner Archive and Shout Spring Rundown! Until then, don't forget to drop in on the official Aisle Seat Message Boards and direct any emails to our email address. Cheers everyone!