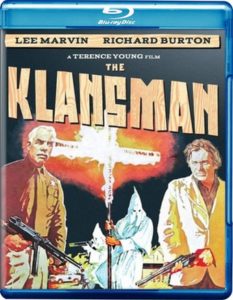 Add in Civil Rights racial tensions, Klan rallies, the bizarre appearance of "Thunderball''s Luciana Paluzzi as a secretary, a bus-station brawl with Burton displaying mad karate skills, and a Stax Records soundtrack featuring an original wocka-wocka score co-composed by Stu Gardner (later the composer of "The Cosby Show" theme), and the elements are entirely in place for an unforgettable two hours of head-scratching, "am I really seeing this?" Hollywood entertainment, directed by James Bond veteran Terence Young!
I'm not sure the last time "The Klansman" was properly released in an authorized, studio-sanctioned edition – a slew of cheap releases populated the DVD market as if the film was in the public domain, a few retitled "The Burning Cross" and apparently cut to conform to a PG rating. Either way, it appears Olive's Blu-Ray may be the first time the fully uncut R-rated version of the movie has dropped on home video since the VHS era. Though this isn't a 4K restoration, and the aged elements display their limitations at times, the 1080p (1.78) transfer is just fine with clear DTS MA mono audio backing up the film's memorable soundtrack.
Though set in Alabama, the film was apparently shot in and around the Sacramento, California area, all the better to play host to a number of off-camera incidents revolving around the cast and crew (Burton and then-wife Elizabeth Taylor having a major meltdown allegedly being one of them). With unintentional humor galore and overwrought dramatics – not to mention a serious subject applied to a superficial, soapy potboiler – "The Klansman" is certainly a unique experience that's an essential Blu-Ray view for the Bad Movie buff.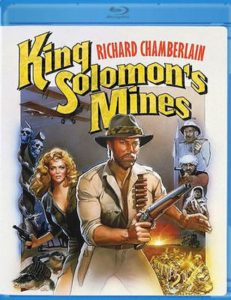 So, too, is KING SOLOMON'S MINES (100 mins., 1985, PG-13), one of The Cannon Group's more expensive movies, produced at a time when the company's resources were being stretched worldwide into literally dozens upon dozens of feature productions.
Golan-Globus' effort to cash in on "Raiders of the Lost Ark" is a comic book adventure through and through, breathlessly trampling upon H. Riger Haggard's original novel as Cannon scribes Gene Quintano and James R. Silke send Indiana…err, Allan Quatermain (Richard Chamberlain)…into the deep jungle in the hopes of finding the mythical diamond mines of King Solomon. He's joined in his quest by the daughter (Sharon Stone) of a missing professor, while being pursued by a German colonel (Herbert Lom) and Turkish slave trader (John Rhys-Davies, about as far afield from "Sallah" as expected).
Prolific director J. Lee Thompson doesn't have the supporting material here to work with, so in an effort to pay as little attention as possible to the threadbare characters, ethnic and cultural stereotypes, and general lack of story, the director moves "King Solomon's Mines" at a breakneck pace. If there's any positive to be found in the film, it's that the lighthearted, comic-strip nature of the film serves it well with Thompson's frenetic pace moving from one set-piece to the next, the movie pausing ever-so-briefly for the two leads to develop chemistry together. It's not a winning battle, with Stone's overly broad performance clashing with Chamberlain's attempts to maintain as much dignity as possible, but in an odd way, Cannon's "King Solomon's Mines" resembles one of today's frenetic, typical "tentpole" blockbusters more than the Lucas/Spielberg classic that inspired it.
Shot in the wide JDC Scope process, "King Solomon's Mines" has never looked all that healthy on home video, with MGM's US DVD – its only prior widescreen presentation – failing to even boast 16:9 enhancement. This Olive Blu-Ray in full 1080p (2.35) is a massive improvement, though truth be told, the elements are not as eye-popping as they appear in Koch's German Blu-Ray that was released just a few months ago. Colors and details are solid, though not as crisp and vibrant as the German release; that said, domestic fans should still be highly satisfied given how poor prior domestic releases have fared. The DTS MA stereo sound houses a jaunty Jerry Goldsmith score that does as much as it can to dignify the insanity.
---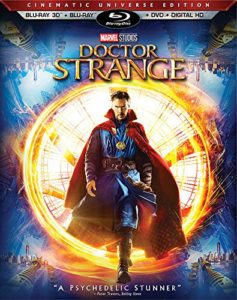 New & Noteworthy
I've decided I like my comic book movies more when they're about one super-hero instead of an overcrowded "team up" flick that delegates screen time to an ensemble. Though shackled somewhat by its "origin movie" formula, DOCTOR STRANGE (***, 115 mins., 2016, PG-13; Disney) – depicting Marvel's adventures of a vain NYC surgeon who eventually becomes the "Sorcerer Supreme" practitioner of the mystic arts — is unquestionably one of the most entertaining movies to roll off the Marvel assembly line.
Much of the film's effectiveness can be found in one of the genre's finest casts to date: Benedict Cumberbatch is charismatic and fun in the title role; Tilda Swinton just perfect as "The Ancient One" in an inspired bit of casting; Chiwetel Ejiofor strong as one of Strange's fellow sorcerers; and Rachel McAdams pitch perfect in a limited role that functions both as an audience surrogate and Strange's love interest.
The script by Jon Spaihts (Prometheus), C. Robert Cargill and director Scott Derrickson could have — in the wrong hands — become the densest, most convoluted concoction the genre has unspooled yet, as "Doctor Strange" is packed to the brim with exposition and an increasingly fantastic, outlandish story. Yet the movie has a playful energy, the actors embracing the material's inherent weirdness and Derrickson mixing great special effects with surprising bursts of humor.
The end result isn't "Superman," "Spider-Man" or the best of the Nolan "Bat"-flicks — and it all rolls into an okay, standard Marvel climax with a time-shifting twist — but it's a cut above most of the Marvel-produced fantasies we've yet seen, concentrating on telling one story and introducing one character instead of planting seeds for future franchises and spin-offs (like the last Captain America film). "Doctor Strange" isn't groundbreaking but as these increasingly vanilla films go, it's one of the best of its type.
Disney's 3D Blu-Ray presentation of the film is gorgeous, from its abundant colors and pinpoint clarity to its depth-of-field work. Though not an "essential" 3D view, fans of the flagging format would do well to add the disc to their collections. The regular 2D Blu is also marvelous and a full range of extras include commentary with director Scott Derrickson; deleted scenes; the requisite gag reel; featurettes on Michael Giacchino, the fight choreography, the film's production and a look at Marvel's "Phase 3″ movies; and a fine 7.1 DTS MA soundtrack.
HACKSAW RIDGE 4K UHD/Blu-Ray Combo Pack (***, 139 mins., 2016, R; Lionsgate): Mel Gibson's personal demons be damned; the man can clearly direct, and that "Hacksaw Ridge" has re-established Gibson's directorial career – after helming unforgettable pictures like "Passion of the Christ," "Braveheart" and "Apocalypto" – is clearly one of the happiest developments in cinema over the last year.
An absorbing profile of Desmond Doss – the first "conscientious objector" to win the Congressional Medal of Honor – "Hacksaw Ridge" is also one of the strongest war films to come our way in some time. Gibson's film takes its time setting up Doss' home life in a bucolic Virginia town with a troubled father (Hugo Weaving) haunted by WWI and a devout mother (Rachel Griffiths) who raises Doss to shun violence. By the time Doss (Andrew Garfield) applies to join his fellow Americans in WWII, he's convinced he can help the military as a medic while staying true to his Seventh Day Adventist beliefs and never touching a gun. This, naturally, causes major friction with his commanding officers (Vince Vaughn and a particularly good Sam Worthington) and fellow soldiers, but when Doss is finally brought to the test on the bloody battlefield in Okinawa, his bravery outshines any questions they may have.
"Hacksaw Ridge" works in pretty much every facet: as a story of a young man living up to his convictions, it's earnest and believable. As a war picture, it's also potent and stirring, horrifying and moving at once. This isn't so much an "anti-war" film as it is the story of one individual who still desired to join his country's fight while holding true to his own, non-violent personal beliefs. Gibson handles all the battle sequences with the appropriate visceral intensity you'd anticipate, yet it's the central performance of Andrew Garfield that seals the deal. Bogged down in – if not buried by – the bombast of two "Spider-Man" misfires, "Hacksaw Ridge" provides the perfect vehicle for Garfield's heartfelt charisma, enabling one to gain an emotional connection with Doss' plight as the thunder and fury of WWII are ramped up in the film's second half. While "Hacksaw Ridge" may not be up to the high standards of his prior directorial sojourns, this is nevertheless a strong picture that serves as a reminder of Gibson's formidable talents as a filmmaker.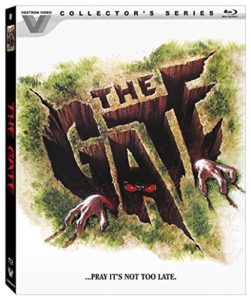 Lionsgate's 4K UHD presentation of "Hacksaw Ridge," with its HDR enhancements, outshines its perfectly good Blu-Ray counterpart, though both presentations are occasionally marred by some inconsistent cinematography and mediocre CGI work (this was not a huge budget production, and its modest origins occasionally show). The Dolby Atmos audio offers a supportive – if standard-issue – score by Rupert Gregson-Williams that replaced a John Debney score late in the game, while extras include four scant minutes of deleted scenes, a featurette, the trailer, a Digital HD copy, and Gibson's introduction to Veterans Day theatrical screenings of the film. Highly recommended.
THE GATE Vestron Video Collector's Series Blu-Ray (**½, 85 mins., 1987, PG-13; Lionsgate): Tibor Takacs' 1987 horror fantasy is best remembered for its playful special effects and the fact that it came within $10,000 of beating Warren Beatty and Dustin Hoffman's massively expensive "Ishtar" at the box office! A young Stephen Dorff and Louis Tripp play a pair of kids who stumble upon a group of tiny demons from a hole in their backyard, resulting in a PG-13 genre outing with the duo trying to stop hell from spilling over into their suburban neighborhood.
Lionsgate previously brought "The Gate" to DVD in a 2009 Special Edition DVD that's been surpassed by a "Vestron Video Collector's Series" release. The disc boasts commentaries with Takacs, writer Michael Nankin and FX designer Randall William Cook (the same one from its prior DVD) as well as a new track with Cook, veteran makeup artist Craig Reardon, FX artist Frank Carere and matte photographer Bill Taylor. Isolated score selections and an audio interview with Michael Hoenig and J. Peter Robinson are on-hand plus a slew of featurettes (The Gate Unlocked, Minion Maker, From Hell It Came, The Workman Speaks, Made in Canada, From Hell: The Creatures & Demons of The Gate, The Gatekeepers) plus the vintage "Making Of" featurette. Trailers, TV spots, galleries, a good looking 1080p (1.85) transfer and 2.0 DTS MA sound make this a must for horror fans.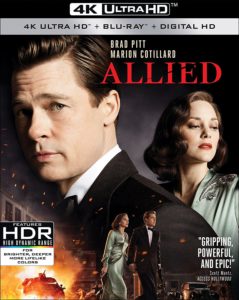 ALLIED 4K UHD/Blu-Ray Combo Pack (**, 124 mins., 2016, R; Paramount): Apparently working with live actors hasn't entirely been the solution for director Robert Zemeckis, whose output since his burst of disappointing CGI-animated fare ("Polar Express," "Beowulf") has yielded highly mixed results. Case in point is "Allied," a lifeless WWII espionage thriller/romance about a Canadian Air Force pilot (Brad Pitt) who falls for a French Resistance agent (Marion Cotillard) in Casablanca during the war. Years later they are married, living in London with their daughter when Pitt's supervisors determine that his wife may be a German spy, living the life of a woman killed for the Nazi cause.
With a bleak ending and constant lack of passion, "Allied" is a moribund disappointment from start to finish. Steven Knight's script may have read better than it does on-screen, but whether it's the overly restrained tone or lack of chemistry between the leads, "Allied" plods along, straining credibility as it falls apart in a dire second half that doesn't work at all. Paramount's 4K UHD combo pack looks the part with its HDR enhanced brightness and contrast elements. The movie looks fine, with Zemeckis' frequent DP Don Burgess shooting in widescreen, but this is not a film that's likely to generate repeat viewing. 5.1 DTS MA audio and a slew of behind-the-scenes featurettes are also on tap along with a Digital HD copy.
---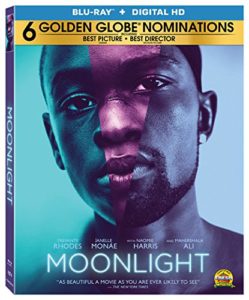 Lionsgate New Releases
MOONLIGHT Blu-Ray (111 mins., 2016, R; Lionsgate): Harrowing and exceedingly well-acted story of a young African-American boy, being raised by his single mother (Naomie Harris), as glimpsed through three distinct periods of his life: as a 9-year-old, teenager and adult. Throughout, he's befriended by a crack dealer (a superb performance from Mahershala Ali) and his girlfriend (Janelle Monae), who treat him better than his own family, though difficulties in both his community and his own realization about his evolving sexual identity contribute to a heartbreaking adolescence. Barry Jenkins wrote and directed this compelling independent offering executive produced by Brad Pitt and populated with uniformly strong performances. "Moonlight" isn't an easy watch by any means and demands an emotional commitment from the viewer, but easily ranks as one of 2016's more memorable cinematic experiences. Lionsgate's Blu-Ray, out this week, includes a Digital HD copy, commentary with Jenkins, three featurettes, a 1080p (2.39) transfer and 5.1 DTS MA sound. MPRM
CONTRACT TO KILL Blu-Ray (90 mins., 2017, R; Lionsgate): Steven Seagal reunites with director Keoni Waxman for this tale of a CIA/DEA enforcer who uncovers a brutal plot to use traditional drug-smuggling routes as a cover for moving weapons – and the terrorists themselves – into the United States. Thus, there's a little more news-worthy relevance to the premise of "Contract To Kill" than most Seagal endeavors, though the execution is still by-the-book through and through. Lionsgate's Blu-Ray boasts a featurette, Digital HD copy, 1080p (2.40) transfer and 5.1 DTS MA sound.
TRESPASS AGAINST US Blu-Ray (100 mins., 2015, R; Lionsgate): Michael Fassbender seems to be all over the place these days, popping up in both major star vehicles and smaller-scale independent efforts like this minor British production. Adam Smith's film stars Fassbender as a reluctant, introspective criminal involved in a heist that goes wrong. The ensuing fallout finds him fleeing from the police, as well as his crazed father (Brendan Gleeson), in a well-acted but not very surprising drama that was picked up for distribution in the US by A24. Lionsgate's Blu-ray offers two featurettes, 5.1 DTS MA sound, a 1080p (2.39) transfer and a Digital HD copy. (Coming March 7th)
---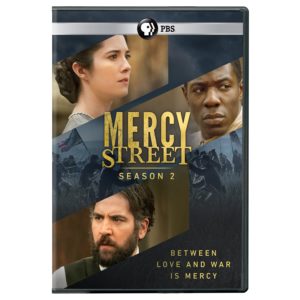 TV on DVD New Releases
VICTORIA Season 1 Blu-Ray (415 mins., 2016; PBS): Daisy Goodwin wrote and created this dramatization of the early years of Queen Victoria, from her teenage years to her relationship with Lord Melbourne (Rufus Sewell), marriage with Prince Albert (Tom Hughes), and eventual reign in the United Kingdom. Though saddled with a soapy set of subplots that were apparently intended to evoke the feel of "Downton Abbey," "Doctor Who"'s Jenna Coleman is terrific as Victoria in this first season of the ITV series, which was recently brought to the US by PBS and run under the Masterpiece banner. PBS' uncut Season 1 Blu-Ray set includes complete, unedited episodes in 1080p transfers and 5.1 Dolby Digital soundtracks; extras include interviews with Coleman, Hughes and Sewell; a "Tour of the Buckingham Palace Set" with co-stars Nell Hudson and Tommy Knight; and "Creating the CGI Magic" featurette.
MERCY STREET Season 2 DVD (360 mins., 2017; PBS): Ridley Scott is one of the producers of this PBS series starring Josh Radnor and the incomparable Mary Elizabeth Winstead in the chronicle of a Union hospital in Alexandria, Virginia circa 1862. In this second season of "Mercy Street," the Green family continues to find themselves in a precarious situation at the Mansion House, with Alexandria's growing African-American population finding themselves, also, in a shifting place in time. Over 20 minutes of deleted scenes have been collected in PBS' Season 2 DVD of "Mercy Street" along with 16:9 transfers and 5.1 Dolby Digital soundtracks.
QUARRY Season 1 Blu-Ray (478 mins., 2017; HBO): Flavorful, well-written series based on Max Allan Collins' book series stars Logan Marshall Green as the title character: a Vietnam vet who gets mixed up with a shady mobster in an entertaining, surprising eight-episode Cinemax series. Though fairly well-received, there's been scant talk of another season of "Quarry," which is dominated by a period vibe and offers ample excitement along with strong ensemble performances. HBO's Season 1 Blu-Ray of "Quarry" is now available, boasting three hours of extras, including interviews, commentaries, deleted scenes, featurettes, 1080p transfers, 5.1 DTS MA soundtracks and Digital HD copies.
KENDRA ON TOP – The Complete Fourth and Fifth Seasons DVD (743 mins, 2015-16; MPI): Reality queen Kendra Wilkinson is back in the fourth and fifth seasons of her latest series, which take off following the scandal that nearly ended her marriage to Hank Baskett, while new opportunities in London and Australia bring Kendra around the globe to new adventures. Fans of "Kendra On Top" will want to check out MPI's DVD of Seasons 4 and 5, collected in one tidy package with deleted scenes, photo galleries, a bonus episode, webisodes, and the "Lost in Space" music video on tap for extra features.
NEXT TIME: THE YAKUZA and more! Until then, don't forget to drop in on the official Aisle Seat Message Boards and direct any emails to our email address. Cheers everyone!