www.andyfilm.com (new columns debut here first!)
email: mailbag @ andyfilm.com (remove spaces!)
Message Board (open 24 hours!)
Twitter - @andredursin (for everything else!)
The best way for me to explain my fondness for THE LOVE BOAT is to flashback to my review of Season 1 of the series on DVD. My freshman – and, as it turns out, only – year at Ithaca College in central New York was packed with memories. Road trips to Syracuse to meet "Recordman" (FSM's resident LP expert Mike Murray), snow-filled weekends watching laserdiscs in the dorm, and many weekends hanging out with friends – including Paul MacLean, who basically saved me from a life of boredom single-handedly – were the good times.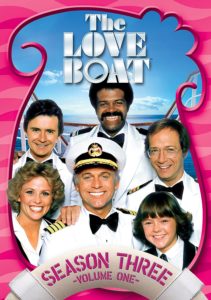 Disappointing classes (nearly two-dozen of which didn't meet in the second semester alone due to professors, traveling from Syracuse and points elsewhere, being stranded by weather), a sparsely populated campus on weekends, and a generally disinterested student body were the flip side of the coin.
Suffice to say I became so irritated with Ithaca that one of my daily outlets for an escape was the 4pm weekday airing of "The Love Boat" on WOR-TV New York. Each afternoon in these pre-internet boom days (like many, I didn't really understand the web until a friend introduced me to "Netscape Navigator" a year or so later in 1995), I'd generally rush home from class and turn on the "'Boat," along with several others on my floor.
It didn't matter that WOR generally showed only the same two-dozen episodes in their possession, or the quality of these syndicated re-runs was so poor it looked like second-generation video tape…the adventures of Captain Stubing and his Pacific Princess cruise staff made for an escape that managed to entertain a group of college students years after its cancellation in the exact same way the Aaron Spelling-produced series had for nearly a decade on the ABC airwaves from the late '70s through the mid '80s.
And it's no surprise why THE LOVE BOAT was such a success: mixing sitcom-styled laughs with dramatic storylines, the series was like watching several different kinds of shows at once. Add in a weekly dose of Guest Star power – be it from John Ritter or Sherman Helmsley or Don Ameche or Charo herself – and you had the recipe for irresistibly appealing, glossy all-star network TV at its finest.
CBS has brought Season 3 of the "Boat" to DVD at long last – in fact, Seasons 1 and 2 were released way back in 2008-09, and fans have had to wait, patiently, for anything else from the series to trickle out. The good news is that the ship has finally set sail with Season 3 now available from CBS, offering – on two separate volumes each housing four DVDs – its 1978-79 campaign. In addition to crisp uncut episodes from the show in its prime, CBS has included a pair of recent interview segments from the "Home & Family" Hallmark channel talk show with cast members on the second volume. Here's hoping we don't have to wait years for Seasons 4 onward!
Post-Script: before I left Ithaca for Boston College, I found out from one of my professors that Gavin MacLeod had graduated from the institution many years before. One particularly drab September afternoon, I ventured into the Alumni Office (it was on the way to my Spanish class, in a building owned by a corporation that produced cash registers), and asked if I could send a letter to Mr. MacLeod, thanking him for saving my afternoons – and my sanity. A few days later after filing a request (they thought I was crazy, and I couldn't blame them), I got the go-ahead from someone in the office who called me back, saying they'd be happy to forward a letter to Captain Stubing on my behalf.
Months passed. Light at the end of the tunnel emerged – that being Christmas vacation. The day my last class ended before vacation, I ran to grab my mail (I should add the girl who handled the packages for our building hated me, as Lukas often sent CD's and I also reviewed laserdiscs for a Canadian magazine back in the day…necessitating her to drop her biology homework, get up and grab my stash during the 2-hour window in which they handed out package mail).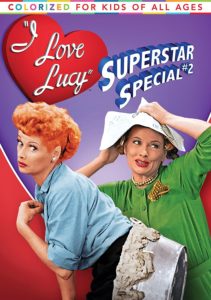 I hopped in the elevator with a couple of idiots I knew, thumbed through my mail and found a large envelope: "fragile! Do not bend!" it read. Thinking it might have been just a lousy press release, I nevertheless opened it up…there to find a three-page handwritten letter from Gavin MacLeod, along with a signed glossy photo that read "Andy: God Bless Your Wonderful Life!". If you could imagine a pair of grungy stoners (remember this was '93) watching a freshman open up a package from Gavin MacLeod, it might have seemed like something out of a bad sitcom…but I can assure you it all happened, and Gavin's note remains one of the few "celebrity run-ins" I have in my possession. Obviously it's the most treasured one as well.
Watching these DVDs took me back, in a good way, to those freshman days — the good, the bad, and the memorable, of which "The Love Boat" played a rather large, and fondly remembered, role.
Also new this week from CBS is the I LOVE LUCY SUPERSTAR SPECIAL #2 (45 mins., 2016), a 2016 prime-time special featuring the classic episodes "Lucy Visits Grauman's" and "Lucy and John Wayne" from 1955 – both in newly colorized and original black-and-white form. Fans may want to add this single-disc DVD to their collections for the former, but may already have the episodes in their libraries otherwise.
---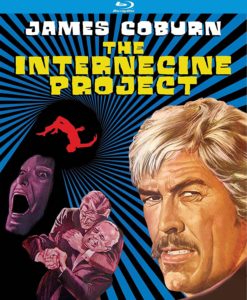 Kino Lorber Studio Classics – January Releases
One of the great things about Kino Lorber's Studio Classics line is that, in addition to releasing viewer-favorite catalog titles hitting Blu-Ray for the first time, buffs have been able to discover a series of films that have been rarely circulated on home video. A trio of problematic, yet intriguing, British-made productions – each with American stars – are among Kino's January offerings, each making their high-definition debuts and opening the door to a new, larger audience for all.
Two of the films hail from the mid '70s, when American producer Barry Levinson (not the director of "The Natural") shot a pair of pictures starring big stars in foreign-set locales.
The uneven THE INTERNECINE PROJECT (89 mins., 1974, PG) is still the superior of this duo, starring James Coburn as Robert Elliot, an ex-secret agent whose upcoming promotion as adviser to the President dictates that he commit a series of killings involving individuals with knowledge of his past. This means rubbing out a quartet of characters – including a gay physical therapist (Harry Andrews) – who functioned as prior associates, all the while keeping a reporter and former flame (Lee Grant) at bay.
Jonathan Lynn, who later rose to fame as the director of "Clue" and "My Cousin Vinny," earned one of his first credits with the script for "The Internecine Project," authoring the script for producer Levinson and then waiting years for the independent project to get made. When the film did eventually shoot, director Ken Hughes and Levinson himself had made extensive alterations to the story, much to the film's detriment (Hughes changed the character's background, Levinson added dialogue where it wasn't necessary, etc.). Nevertheless, enough of Lynn's original conception remains and the film functions as an interesting if ultimately unsatisfying '70s thriller – complete with a downbeat twist ending – that was typical of its time.
Kino Lorber's Blu-Ray includes a superb interview with Lynn that's more interesting than the film itself (as is often the case). The writer discusses the production's long genesis and the shortcomings involved with the final version, though he seems to bite his tongue talking about difficulties revolving around Hughes and Coburn. It's a revealing talk that compliments a disc with a fine grain 1080p (1.78) transfer with solid detail, a DTS MA mono soundtrack – featuring a "Get Carter"-esque main theme by Roy Budd – and the trailer.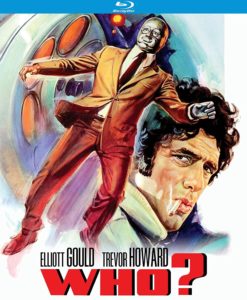 Levinson subsequently landed "M*A*S*H" star Elliott Gould to topline WHO? (93 mins., 1973, PG), the strange tale of an American scientist who disappears in the USSR and eventually resurfaces as a literal metallic man complete with a helmet and robotic arm. The scientist, played by stage/TV actor Joseph Bova, claims he was in a car accident and was nursed back to health by a Soviet agent (Trevor Howard), but Gould's FBI Agent Sean Rogers isn't sure, and spends the film trying to ascertain whether "Dr. Martino" is who he says he is, or a Russian spy programmed for espionage.
Jack Gold directed this adaptation of Algis Budrys' novel, one which questioned identity and the rise of technology in the Cold War era (the book was written in the late '50s). The film version, while reportedly faithful to its source, is doomed by filmmaking that can best be described as awkward, with a low budget and a disinterested Gould making for a movie that's stilted and mostly weird instead of compelling.
"Who?", which was shot in 1973 but apparently went unreleased in the U.S. until 1975, generally looks satisfying in its natural-looking 1080p (1.78) transfer but does show print damage in certain places, most notably its climactic scene between Rogers and Martino. The DTS MA mono sound is passable and extras include a trailer gallery and an enlightening commentary with director Gold, moderated by writer Antony Sloman.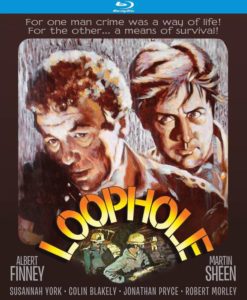 The third British curio being resurrected this month by Kino Lorber is LOOPHOLE (105 mins., 1981, PG), a static "caper" with Martin Sheen essaying a struggling American architect, living in England with his wife (Susannah York) and kids. Needing to keep up his lifestyle, Sheen's Stephen Booker reaches the end of the line trying to find work – until he meets a businessman who's really an expert thief (Albert Finney) looking to make a "weekend score" by drilling into a bank.
"Loophole" is packed with talent: Colin Blakely, Jonathan Pryce and Robert Morley co-star with cinematography by Michael Reed ("On Her Majesty's Secret Service"), production design from another Bond series vet – Syd Cain – and a score from Lalo Schifrin. All of that being considered, there's a clear reason why this film never saw a wide theatrical release in the U.S., with its scant showings coming, reportedly, five years after its completion, at least according to a 1986 Vincent Canby review in the NY Times.
That lies at the hands of director John Quested – a long-time British film industry vet who was mostly a producer during his lengthy career. In fact, "Loophole" seems to have been his one and only feature directorial outing, which is sadly obvious: this is a meat-and-potatoes film that needed a rewrite and punchier direction to work. All the ingredients were there, but the filming isn't just leisurely, it's downright catatonic at times, with the predictable and plodding story punctuated by static direction that makes you long for the zest of any typical "Mission: Impossible" episode. Even Schifrin's score is downbeat for the most part and only livens up during the lengthy heist sequence, though even there, thrills are almost impossible to find.
This isn't to say that "Loophole" isn't watchable – with that cast, it's impossible not to be – yet it never comes to life, despite boasting material that might have crackled in the hands of the right director.
Kino Lorber's Euro London Films-licensed 1080p (1.85) transfer is generally fine and the DTS MA mono sound is perfectly acceptable. In addition to another trailer gallery, the disc sports a commentary from Quested and moderator Adam Schartoff, though it's a rough go for the most part with Quested struggling to recall certain elements of the production.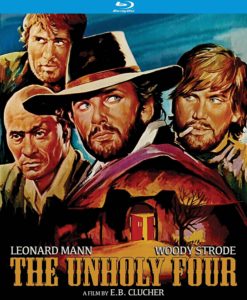 Two other Blu-Rays this month from Kino Lorber each offer something very different for buffs.
Spaghetti western fans may want to saddle up with THE UNHOLY FOUR (95 mins., 1970, Not Rated), an Italian import also known as "Chuck Mool." Chuck, as embodied by Leonard Mann, is an amnesiac gunslinger (isn't that always the best kind?) who gets out of prison and returns to his home town where warring families each try to convince Mool that he's a part of their clan.
With Woody Strode along for the ride, "The Unholy Four" (foreign title "Ciakmull: L'Umomo Della Vendetta") sports a memorable Riz Ortolani score as it unspools action in fits and starts: the opening in director Enzo Barboni (aka E.B. Clucher)'s film is punchy and exciting, the middle tends to sag, but then the story picks up for a reasonably exciting conclusion. Kino Lorber's Blu-Ray includes a 1080p (1.85) AVC encoded transfer and a DTS MA mono soundtrack in English and Italian with optional English subtitles.
Finally, SCAVENGER HUNT (116 mins., 1979, PG) finds a disparate group of wackos trying to complete a mad dash hunt for assorted objects as dictated in the final will and testament of an eccentric millionaire (Vincent Price).
This Melvin Simon production, dire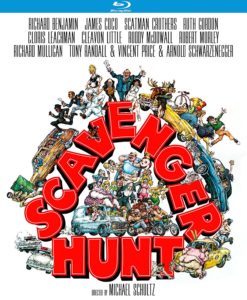 cted by Michael Schultz ("Car Wash"), boasts an idiotic script with either mild or cringe-inducing laughs – but it's the cast that, today, makes it worthwhile for buffs. From the comic stylings of Richard Benjamin, James Coco, Ruth Gordon, Scatman Crothers and Cloris Leachman, to the energy of Tony Randall, Richard Mulligan, Roddy McDowall and Cleavon Little, "Scavenger Hunt" offers so many familiar faces that you're never compelled to turn it off – even if the Steven Vail-Henry Harper script makes you want to. Oh, and there's also Dirk Benedict, Willie Aames, Arnold Schwarzenegger, Richard Masur and Stephen Furst on-hand as well, though Furst's appearance may make viewers recall his subsequent role in the similarly-themed – and far superior – PG-rated Disney comedy "Midnight Madness."
Kino licensed "Scavenger Hunt" through an independent company that distributes Simon's library, with a passable, if occasionally soft, looking 1080p (1.85) AVC encoded transfer and DTS MA mono sound. Extras, shot exclusively for this package, include commentary with Schultz, trailers, and two 10-minute interviews with Benjamin and Masur, making this a treat for fans.
---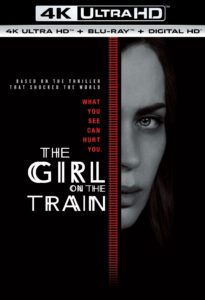 Also New & Noteworthy
THE GIRL ON THE TRAIN 4K UHD/Blu-Ray Combo Pack (112 mins., 2016, R; Universal): Paula Hawkins' bestseller makes for a drab, unsatisfying tale of a troubled, alcoholic divorcee (Emily Blunt) who becomes involved in a mystery – specifically, the disappearance of a woman she sees on her train trips while essentially stalking her ex-husband (Justin theroux), his new love (Rebecca Ferguson) and their young daughter.
Though the troubled history of Blunt's heroine ultimately springboards her into the mystery as a suspect, the movie's tale of dysfunctional relationships – both among Blunt and her ex, as well as the missing girl (Hayley Bennett) and her seemingly perfect spouse (Luke Evans) – makes "The Girl on the Train" feel like a glorified, R-rated Lifetime movie. Director Tate Taylor shuffles the narrative around so that you're never sure who the culprit is until its waning minutes, but neither he nor writer Erin Cressida Wilson are able to make you care about the mystery because its characters are so thoroughly unappealing, if not downright repellent.
Universal's attractive 4K UHD disc of "The Girl on the Train" includes a HDR-enhanced presentation that is appreciably clearer, if not more eye-popping, than the standard Blu-Ray (1080p, 1.85). DTS X audio is included on both discs, with the Blu-Ray offering deleted/extended scenes, a commentary with Taylor, two featurettes, a DVD (in the Blu-Ray combo pack), and a Digital HD copy.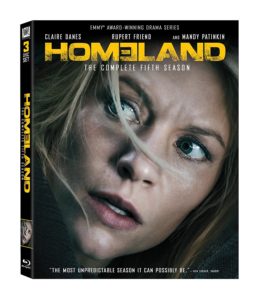 HOMELAND – Season 5 Blu-Ray (630 mins., 2015; Fox): Another superlative season of the acclaimed Showtime drama displaces Claire Danes' Carrie Mathison out of the FBI and supervising security for a German philanthropist (Sebastian Koch) when classified CIA documents are stolen and a crusading journalist, also working for Carrie's new boss, seeks to publish them. Meanwhile, Peter Quinn (Rupert Friend) is on the trail of suspected terrorists in the region and Carrie's old boss, Saul Berenson (Mandy Patinkin) is up to his old tricks, in this stellar fifth year of "Homeland." With Season 6 set to debut this week, Fox's Blu-Ray brings viewers up to speed with crisp 1080p (1.78) transfers, 5.1 DTS MA sound and two featurettes.
THE BIRTH OF A NATION Blu-Ray Combo Pack (120 mins., 2016, R; Fox): Until the revelations about star/director Nat Parker's controversial past – including his involvement in an alleged sexual assault case on the Penn State campus when he was a student there – came to light, "The Birth of a Nation" seemed poised to function as this year's "12 Years a Slave," and looked like it would ride its buzz all the way to the Oscars. Unfortunately for Parker, the news cycle wasn't kind to either him or his cinematic rendering of slave Nat Turner's rebellion, which although made with passion, offers creaky stereotypes of a different kind (villainous white characters that almost seem ripped out of a comic book), detracting from the movie's stronger visceral sequences. Still worth a look for those interested in the subject, Fox's Blu-Ray includes a number of special features, including Parker's commentary, deleted scenes, a documentary, a 1080p (2.40) transfer, 5.1 DTS MA sound, a DVD and Digital HD copy as well.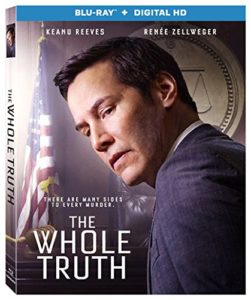 New From Lionsgate: Keanu Reeves plays a defense attorney who takes a case involving his widowed friend's (Renee Zellweger) son (Gabriel Basso), even when he's charged with the murder of his father. That's the premise of THE WHOLE TRUTH (93 mins., 2016, R), a thriller from director Courtney Hunt that received scant theatrical play and nearly feels like an R-rated cable movie – complete with former A-listers Reeves and Zellweger attached. Jim Belushi co-stars with Lionsgate's Blu-Ray, out this week, featuring a 1080p (2.40) transfer, 5.1 DTS MA sound and a Digital HD copy…Bryan Bertino wrote and directed THE MONSTER (91 mins., 2016, R), an admirable attempt at meshing a monster-in-the-woods thriller with a character study of a girl (Ella Ballentine) traveling with her troubled, alcoholic mother (Zoe Kazan). "The Monster" doesn't entirely work but its ambitions are on a higher level than most Lionsgate genre exercises, and may be worth a look for buffs. Lionsgate's combo pack includes a featurette, 1080p (2.40) AVC encoded transfer, 5.1 DTS MA sound and a Digital HD copy. Out next week.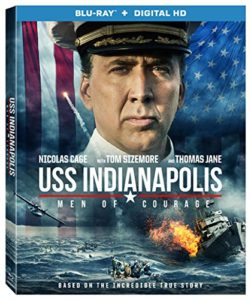 Nicolas Cage's prolific direct-to-video offerings continue to roll out at a fever pitch. How disappointing, then, that the bloated USS INDIANAPOLIS: MEN OF COURAGE (131 mins., 2016, R) is such a letdown, as this supposed retelling of the Indianapolis' sinking and its survivors' attempts to stave off death at the jaws of great white sharks – as chronicled by Quint in "Jaws" – is awkwardly acted and indifferently directed by Mario Van Peebles (not to mention largely fictionalized). Cage leads a massive cast with an even larger assortment of producers on-hand, but the picture's ersatz Michael Bay-styled execution – on a sliver of Bruckheimer budgets – is lacking, to say the least. Lionsgate's Blu-Ray boasts a single featurette, 1080p (2.40) transfer, 5.1 DTS MA sound and a Digital HD copy…Kids might enjoy GUARDIANS OF OZ (88 mins., 2016, PG), a kid-centric animated affair from Mexico and "Book of Life" animator Jorge Gutierrez, who served as an executive producer here. This take on well-worn material at least offers the novelty of having a flying monkey serve as the lead character, as he and his friends take on the wicked witch minus Dorothy and Toto. Lionsgate's DVD boasts a behind-the-scenes segment, 5.1 audio and a 16:9 (1.78) transfer.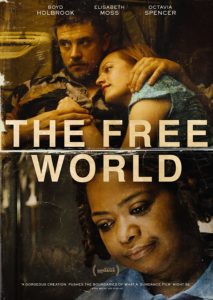 IFC/MPI New Releases: Available this week on DVD, DANCER (85 mins., 2016) is an absorbing documentary of the Ukranian-born "bad boy of ballet" Sergei Polunin, who at age 19, became the youngest principal dancer in the history of the Royal Ballet. A couple of years later, Polunin had walked away from the artform in Steve Cantor's look at Polunin's life and times, from his initial debut in Europe and the U.S., to what informed his decision to leave. Deleted scenes and the trailer are included in MPI's Sundance Selects release, plus a 16:9 transfer and 5.1 Dolby Digital sound…In THE FREE WORLD (102 mins., 2015, R), Boyd Holbrook stars as a man who spent two decades in prison for a crime he didn't commit. Working in an animal shelter upon his release, he comes across as an abused woman (Elisabeth Moss) trapped in a prison of her own with a combative spouse. Jason Lew's drama is well-acted by both leads and co-stars Octavia Spencer. IFC's DVD boasts a 16:9 (1.85) transfer and 5.1 Dolby Digital sound.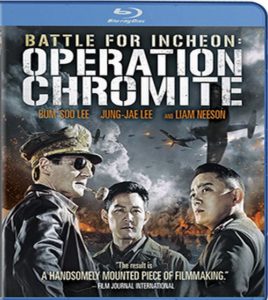 BATTLE FOR INCHEON: OPERATION CHROMITE Blu-Ray (140 mins.,2016, Not Rated; CJ Entertainment): Korean WWII blockbuster has General Douglas MacArthur (Liam Neeson) sending eight South Korean soldiers on a suicide mission to infiltrate North Korean headquarters. Their trip behind enemy lines makes for a tense, if overlong, picture coming to Blu-Ray from CJ Entertainment next week. The disc includes a vivid 1080p transfer and 5.1 audio in Korean/English with English subs, or an English dubbed track, along with a Making Of segment and trailers.
Also New on DVD: Fox brings the first season of THE STORY OF GOD (271 mins., 2016) to DVD this month. This National Geographic Channel series follows Morgan Freeman on a fascinating trip around the world to look at various faiths, their origins and how connected – or not – they are. Fox's DVD includes 16:9 transfers and 5.1 soundtracks on two discs…On January 31st, Magnolia brings DANNY SAYS (103 mins., 2016, Not Rated) to DVD. This superb documentary from Brendan Toller chronicles the life and times of Danny Fields, a Harvard Law School dropout who became one of modern music's leading pioneers, having worked for artists like the Doors, Lou Reed, Nico and others. Music fans will love this tribute to the man who spearheaded the "punk" movement, with Magnolia's DVD including extensive extras, archival interviews, outtakes, an interview with Toller, a 16:9 transfer and 5.1 sound. Highly recommended for music fans.
NEXT TIME: Shout unspools POLTERGEIST II & III in new Collector's Editions! Until then, don't forget to drop in on the official Aisle Seat Message Boards and direct any emails to our email address. Cheers everyone!