Message Board (open 24 hours!)
Twitter - @andredursin (for everything else!)
One of the great sports movies ever made, RUDY (114/127 mins., 1993, PG; Sony) reunited the production team from another genre classic – "Hoosiers" – in telling the real-life story of a young man who wants desperately to play football for Notre Dame, and makes up in heart and determination what he lacks in talent and academic prowess. Debuting this month on 4K, Sony's "Rudy" not only looks spectacular, easily surpassing its previous Blu-Ray, but premieres on UHD a never-before-seen Director's Cut restoring some 13 minutes of excised scenes the filmmakers had to remove in order to fulfill Tri-Star's two-hour running time mandate.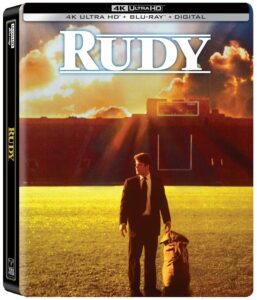 Sean Astin is marvelous as Rudy Ruettiger in director David Anspaugh's 1993 film, which never hits a wrong note and feels authentic at every turn. Shot on location at Notre Dame and other Indiana locales, "Rudy" is as much about hard work and perseverance off the field as it is success on it. Therein, of course, lies the great tale of Rudy's story: after working his tail off to even get into N.D., he never played at all until the waning seconds of his final game, when he improbably sacked the opposing quarterback and was carried off the field by his teammates — a feat that never happened before or since at the school.
The sensitive and moving script by Angelo Pizzo is marvelously acted by Astin, Ned Beatty as Rudy's father, Robert Prosky as a sympathetic priest, Jon Favreau as his college tutor, and especially Charles S. Dutton as a field manager at Notre Dame Stadium. Technically, the movie just feels right, complimented by Oliver Wood's cinematography and Jerry Goldsmith's perfectly nuanced score, ranging from quiet, introspective moments to rousing dramatic flourishes. Even if you're a humbug on the Fighting Irish itself, "Rudy" is an undeniably satisfying and inspirational film that has weathered the years splendidly.
Sony's 2008 Blu-Ray was fine for its time but has not aged well. The immediate gains in Sony's 4K UHD restoration (1.85, Dolby Atmos) with Dolby Vision HDR is a grain field so tight you can now tell the opening credits are "knitted" like numbers on an old football jersey. Colors and details are in similar abundance, making it easier to appreciate what an accomplishment the movie's climax was – filmed during halftime of a real Notre Dame game with everyone but the student body unaware of what was happening! Wide shots of stunned on-lookers (no CGI here) are mixed with tighter game footage shot by NFL Films photographers, and all of it delivers a sense of reality matched by few other sports movies. On the audio end, a new Atmos (7.1 compatible) mix delivers a wider sound stage than the original 5.1 DTS MA track, which is also included here but seems a bit constrained by comparison.
Anspaugh and Pizzo were contractually bound to keep "Rudy" under two hours so several scenes had to go in order to reach its theatrical release version. Exclusive to the UHD is a new 127-minute Director's Cut which restores several good character beats, most especially a scene in which Rudy's Dad talks about Notre Dame football and what it meant to Irish-Catholic immigrants, especially those who were still widely discriminated against in the early 20th century. This brief sequence establishes the cultural significance of the school and its football program beyond simply winning and losing, something absent from the theatrical cut. Other "new" scenes involve additional moments for Robert Prosky but most revolve around Greta Lind's Mary, the girl Rudy meets at Notre Dame – she's reduced to just a couple of scenes in the theatrical version but is restored here to a major supporting role in the film's second half.
Many of the latter scenes may not be integral to the picture but they all tend to enrich what's there without throwing off the movie's pacing. Either way, fans should check out this version – the rare time a new cut has been available solely on UHD – before deciding if they want to move back to the theatrical cut, which is also included.
The UHD also premieres the movie's first commentary track, a solid and highly informative discussion between David Anspaugh and Angelo Pizzo. The duo discuss the added scenes but mostly talk about the physical production of the film, working with Notre Dame, and most fascinatingly, the practical staging of the picture's climax. Sony has also thrown in the Blu-Ray presumably for its other, archival special features (a brief featurette on the actual Rudy, a vintage Making Of, and interview with Sean Astin) while a Digital HD copy rounds out a marvelous Steelbook package that utilizes the original theatrical poster art.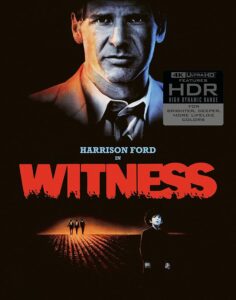 Also New on 4K UHD
Unquestionably one of director Peter Weir's finest films – and a picture that deserves to be ranked among the greatest films of the 1980s – WITNESS (112 mins., 1985, R) last receives the 4K UHD treatment from Arrow in a restoration that easily usurps Paramount's previous, inexplicable Blu-Ray release, which in addition to a mediocre transfer, lacked all of the special features from the studio's 20th Anniversary DVD.
Moving, exciting, beautifully performed and written, "Witness" needs little introduction for most viewers. Its relatively simple tale of a Philadelphia cop (Harrison Ford) who has to go undercover into Amish country to protect a young boy (Lukas Haas) and his mother (Kelly McGillis) who witnessed a brutal murder was a box-office hit and multiple Oscar winner (earning nods for script and editing, plus nominations for Best Picture and several other categories).
Like all "classic" films, "Witness" has a timeless quality about it: as Weir points out in the retrospective documentary carried over from its DVD, he thought he was making a "light" film but, decades later, the picture holds up remarkably well on every level. The romance between Ford and McGillis, the relationship McGillis has with Amish suitor Alexander Godunov, the superior performance by young Haas, and even the "thriller" angle that results in a well-executed though standard shoot-out finale makes for a dynamic piece of entertainment – one that's elevated by the cast, Weir's direction, John Seale's cinematography, and Maurice Jarre's music into a remarkable film that's just as fresh as it was two decades ago (be on the lookout for Viggo Mortensen as one of the Amish).
It's also easier to appreciate in Arrow's marvelous 4K UHD limited edition, presenting Paramount's finely detailed Dolby Vision HDR (1.85) remaster with the movie's original Dolby Stereo audio in a 2.0 DTS MA track (a 5.1 mix is also included).
Extra features include a new interview with cinematographer John Seale, a video essay by film journalist Staci Layne Wilson, a new commentary by historian Jarret Gahan, and Bobbie Wygant's 1985 press tour interview with Harrison Ford.
Carried over from the 2005 DVD (and, again, somehow left off Paramount's Blu-Ray) is "Between Two Worlds: The Making of 'Witness,'" an excellent 20th Anniversary retrospective on the creation of Weir's film. Harrison Ford, Kelly McGillis, Edward Feldman, Lukas Haas and others joined Weir to recall their fond memories of producing the picture. Chief among the highlights is a teary-eyed McGillis, talking emotionally about her attempts to recapture the success of her role (mostly to no avail) in the years following the film's release.
It's a wonderful piece, augmented here by a rather lengthy deleted scene (from the network TV broadcast) involving Haas, McGillis and co-star Patti LuPone, plus trailers, a 60-page book, double-sided poster, six collector postcards, and all of it housed inside Arrow's traditional hardback, limited-edition boxing. Highly recommended!
Dino DeLaurentiis produced a pair of psychedelic comic adaptations in 1968: Mario Bava's "Danger: Diabolik" and the high-flying which debuts on 4K UHD in yet another smashing Arrow limited-edition release.
Writer Terry Southern and director Roger Vadim were placed in charge of bringing Jean Claude Forest's French sci-fi strip to the big-screen, and did so by tailoring the project around star Jane Fonda, then Vadim's wife and who fits quite snugly into a bevy of tight-fighting costumes as the title character. Here, Fonda's Barbarella is an Earth astronaut sent to the far reaches of the galaxy in order to track down missing scientist Durand Durand (Milo O'Shea), whose Positronic Ray threatens the welfare of the universe by virtue of its sheer power. En route, Barbarella encounters a blind angel who has lost the ability to fly (John Phillip Law); engages in futuristic intercourse with David Hemmings' revolutionary Dildano; butts heads with the "Great Tyrant of Sogo" (Anita Pallenberg); and becomes the subject of the "Excessive Machine," an organ that generates feelings of arousal instead of music.
"Barbarella" is very much of the era, no question, with its individual highlights being more satisfying than the sum of those parts. Barbarella's memorable opening striptease sets the tone for an intentionally silly, campy romp that features one of Fonda's more disarming performances and appropriately "out there" visuals and sets, credited to Mario Garbuglia but reportedly supervised by comic-strip creator Forest himself. Shot on Italian soundstages, the film has a unique artistic design, punctuated by stylish production design and outlandish costumes, and Claude Renoir's attractive widescreen lensing gives you plenty to look at throughout.
The music is also a huge plus: Charles Fox and Bob Crewe's infectious '60s pop scoring functions in much the same way that Burt Bacharach's classic "Casino Royale" did a year prior, with laid-back, groovy melodies and colorful orchestral underscore working in concert with each other. The end title track, "An Angel is Love," is one of my personal favorites, a vocal performed by Crewe and "The Glitterhouse" that splendidly caps the entire picture – not a classic, but still an entertaining romp for sci-fi/fantasy and comic-book aficionados, similar to how DeLaurentiis' big-budget "Flash Gordon" entertained audiences over a decade later.
Paramount's older Blu-Ray of "Barbarella" looked just about perfect for a late '60s catalog release, and Arrow's UHD – coming November 28th – fares even better with a striking Dolby Vision HDR transfer that accentuates the movie's color scheme (2.35) with high clarity and just a little wear and tear evident. Most of the film was mastered from the OCN with a few sections culled from a 35mm interpositive due to damage to the original negative. Either way it's a splendid presentation that enhances one's enjoyment of the film with the original mono, an isolated score track, and a Dolby Atmos mix on-hand, the latter nicely opening up the sound with quite a few directional effects present (note the packaging indicates there's a 5.1 track included but that's not the case. In fact, I was told by Arrow's James Flower the track was removed due to concerns it would detract from the disc's overall bit-rate).
For supplements, the UHD offers a Tim Lucas commentary plus alternate credits (that apparently were seen in the Amazon streaming version) that associate Maurice Binder with the main titles ("Arcany" is listed in the final version) and Michel Magne with the score (Magne's effort was tossed). A second Blu-Ray houses more goodies, most notably an archival 14-minute featurette with great behind-the-scenes footage, "Barbarella Forever!," by Paul Joyce. There's also an enjoyable, lengthy conversation between Tim Lucas and fellow historian Steve Bissette; an appreciation by critic Glenn Kenny covering similar terrain; interviews with Elizaberth Castaldo Lunden on Jacques Fonterey's costume design, plus camera operator Roberto Girometti, Ricky Tognazzi talking about his father, actor Ugo Tognazzi; actor Fabio Testi discussing being a double for John Philip Law; and a video essay by Eugenio Ercolani on Dino DeLaurentiis. The trailer, radio/TV spots, and an image gallery round out the remaining goodies with a hardback case, lavish booklet, double-sided postcards and a fold-out poster included in Arrow's deluxe box-set.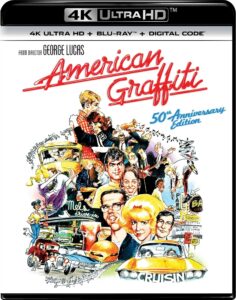 Sadly, another classic film doesn't fare nearly as well in its move to 4K UHD.
It's easy for some to overlook how great a film George Lucas' AMERICAN GRAFFITI (113 mins., 1973, PG; Universal) is, especially when you consider that when Lucas' name pops up these days, it's inevitably connected with "Star Wars."
A little movie that Lucas made after the commercial failure of "THX-1138," "American Graffiti" became one of the biggest box-office hits of all-time upon its initial release, single-handedly launching the careers of many of its stars and igniting an entire genre of '50s/early '60s films and TV series in the process.
Lucas' script, co-authored with film school pals Gloria Katz and Willard Huyuck, profiles a group of high schoolers in early '60s northern California and their last night together before one of them – pensive writer Richard Dreyfuss – leaves for college. The group (which also includes Ron Howard, Paul LeMat, and Charles Martin Smith) encounters all kinds of colorful characters as they cruise the streets, whether it's hot-rodder Harrison Ford or a mysterious blonde (Suzanne Somers) Dreyfuss spends some time trying to find. All the while, Lucas' heavily autobiographical script functions as one of the movies' most durable coming-of-age stories, both for its characters and American culture at that time, prior to JFK's assassination, the Vietnam war and the turbulent '60s that lay ahead.
"American Graffiti" has been often imitated but never duplicated in terms of its vivid atmosphere and sense of time and place. Lucas mostly shot the picture in Petaluma, California, with only a couple of days filming in San Rafael utilized to showcased assorted cars of the era cruising down its principal streets; Haskell Wexler contributed a few days as a "visual consultant" and it's clear which sequences are his (as Lucas mentions in the Blu-Ray's commentary, Wexler's scenes are brighter and have deeper focus). The brilliantly designed soundtrack, comprised entirely of the era's songs and Wolfman Jack's DJ voice-overs, is a dreamy soundscape that weaves in and out of each scene, intentionally designed so that it sounds as if the same songs are emanating from each car's speakers. It's as integral to the picture's allure as the characters themselves.
Every performance feels right, whether it's Dreyfuss' superb turn as the film's central voice, Curt Henderson, or the numerous familiar faces that populate the female ensemble (Cindy Williams, Mackenzie Phillips, Candy Clark and Kathleen Quinlan, then a local high school student, among them). Filled with humor and poignancy, "American Graffiti" is a classic movie that's just as impressive a work today as it was back in 1973, when Universal wisely opted to jettison their plans to air it on TV and release the picture theatrically – resulting in the movie becoming one of the most profitable films ever in the process.
Regrettably, "American Graffiti" has received shoddy 4K UHD treatment in one of the few outright misfires a catalog release has suffered so far in the format. This HDR10 (2.35) presentation has been doused with significant amounts of noise reduction, eliminating detail from the image throughout and making it look artificially digital at every turn. I could scarcely think of another classic film on UHD that's been filtered with so much DNR that it no longer looks like a movie, but sadly, that's the case here. The only consolation is the older Blu-Ray is packaged in this combo pack and this decade-plus older presentation is the far more satisfying one, featuring an aged VC-1 encode that at least displays more detail by comparison.
On the audio side, the UHD does include a 5.1 mix in addition to the previous 2.0 stereo track (dating from the 1979 theatrical re-issue), plus the same extras: commentary from George Lucas that spans most of the disc with only a few gaps here and there, plus several minutes worth of full screen tests for the cast, presented from their 16mm source origins; the original DVD's solid Making Of doc; and the trailer.
While maybe still worth a purchase for die-hards (and since the Blu-Ray is included, you can easily shift back to it), one of the finest films about its era – and about growing up regardless of its setting – certainly deserves better.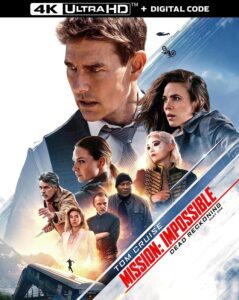 MISSION IMPOSSIBLE: DEAD RECKONING 4K UHD (163 mins., 2023, PG-13; Paramount): Tom Cruise nails it again with this surprising box-office underachiever, getting a good amount of mileage out of new cast members like Hayley Atwell and a returning Henry Czerny for a lengthy but never dull blast of summer espionage escapism.
"Dead Reckoning"'s plot, as penned by director Christopher McQuarrie and Erik Jendresen, is actually pretty straightforward for a change — a wayward AI is threatening mankind with a series of players, including IMF head Kitteridge (Czerny), all trying to obtain a "key" that could either stop the machine or enable whoever controls it to have unchecked global power. Ethan Hunt, of course, wants no part of the latter, so he heads out with his team (the returning Simon Pegg, Ving Rhames and Rebecca Ferguson) to help a thief (Atwell) who's corralled part of the key before she ends up dead at the hands of a villain (Esai Morales) from Hunt's past.
Billed as "Part 1" (though the announced sequel, moved to 2025, will apparently have a different title in lieu of the movie's disappointing box-office), "Dead Reckoning" offers another series of finely orchestrated set-pieces and a slightly wayward running time that only feels bloated in its Venice section. Outside of maybe too many early scenes of Cruise sprinting from point to point, "Dead Reckoning" is enthralling and one of the series' best, accentuating its star/producer's interest in real locations and action that, even if it's CGI'd, looks and feels more "real" than anything the competition currently offers.
Atwell's performance seems a little uncertain, a little too hysterical early on, but she improves somewhat as the picture progresses, while Czerny adds some grit and enjoyable tension to a role that nobody in the series has ever inhabited better. While Lorne Balfe's exhausting score is too much (and features so much drumline percussion you'd think the UCLA Marching Band was rehearsing for halftime), the movie is a finely tuned Hollywood product — not as loveable as "Top Gun Maverick" but nearly as well produced in its own way. The climax, featuring Cruise and friends on the Orient Express, is just tremendous as well.
Debuting in a stellar 4K UHD (2.39) from Paramount with Dolby Vision HDR and Dolby Atmos sound, "Dead Reckoning" is poised to hopefully pick up more fans now that it's available at home. The technical presentation is stellar, with a Blu-Ray bonus disc offering over a half-hour of extras and a commentary from McQuarrie and editor Eddie Hamilton on tap plus a Digital copy.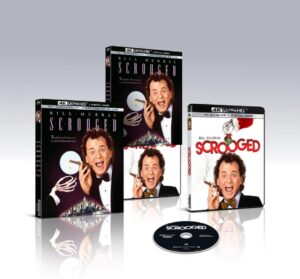 SCROOGED 4K UHD (100 mins., 1988, PG-13; Paramount): Richard Donner's 1988 modern riff on "A Christmas Carol" is completely driven by Bill Murray's turn as Frank Cross, a TV executive who's also a contemporary "Scrooge" at the heart of this oft-discussed holiday perennial.
On the one hand, this expensive Paramount production, scripted by former SNL writers Mitch Glazer and Michael O'Donoghue, was something of a disappointment upon its initial release. Some critics thought that Murray's character hadn't truly earned his change of heart and that the film's ending came off as cynical and hollow; viewers, meanwhile, perhaps expecting a laugh riot along the lines of "Ghostbusters," only showed up in modest numbers, with the movie failing to become the box-office blockbuster the studio hoped. Making matters worse were various reports of friction on the set between Donner and Murray, with cinematographer Conrad Hall fired several days into filming and most of Danny Elfman's score discarded in post-production (the composer himself lamented that the original concept of the film had changed in his booklet notes for "Music From a Darkened Theatre Vol. 1″).
Even if "Scrooged" was a troubled production, and understandably feels like an uneven film as a result, it's a picture that its admirers defend to this day. If nothing else, the movie does include a number of amusing touches – most involving TV executive Cross' attempts at cynically milking Christmas in his holiday programming (Cross' big prime-time special boasts Lee Majors basically playing "Rambo" in order to save Santa). The movie's cast is strong, thanks mainly to Karen Allen and Alfre Woodard's sincere performances, though some of the gags aren't remotely funny (Carol Kane's physically abusive Ghost of Christmas Past has long been a head-scratcher).
For me "Scrooged" has always been something of a mixed bag, like a picture at war with itself (is it a spoofy, comedic take on Dickens or an honest, modern attempt at updating the story?), yet I can understand the nature of the film's perennial appeal given how many traditional "Christmas Carol" movies run each and every holiday season. "Scrooged" may not entirely work, yet it's irreverent and interesting enough to fit alongside the more standard adaptations of the material.
Paramount has been sitting on a "Special Edition" of "Scrooged" for some years apparently because their new 4K UHD offers nearly a handful of retrospective featurettes – carrying a 2006 copyright! These segments feature then-new interviews with Richard Donner, Alfre Woodard, Mitch Glazer, and Carol Kane among others, along with EPK interviews of Murray, who did not participate. Donner, who passed away in 2021, also recorded a commentary track seemingly around the same time, and these supplements debut here in Paramount's sparkling 4K UHD edition (1.85) with a dynamic Dolby Vision HDR transfer. This is a terrific transfer with lots of detail and color, while the 5.1 DTS MA soundtrack, featuring some of Elfman's score and an up-tempo collection of pop tunes (including the memorable Al Green-Annie Lennox version of "Put a Little Love In Your Heart"), also fares well. Recommended for fans!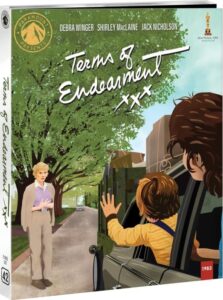 TERMS OF ENDEARMENT 4K UHD/Blu-Ray (131 mins., 1983, PG; Paramount): The widely acclaimed 1983 box-office smash, which swept through much of the Oscars at the expense of "The Right Stuff," receives a 4K Paramount Presents package this month.
This is certainly the embodiment of an emotional movie experience, built for adults when movie theaters once routinely showed movies (and more than one!) for audiences over the age of 12, especially at this time of the year. Director James L. Brooks adapted Larry McMurtry's book and positioned it as a serio-comic study of the life of Texas widower Shirley MacLaine and her relationship with daughter Debra Winger. Taking place over several decades in an episodic form, "Terms of Endearment"'s mix of laughs and sentiment is striking at a time when movies don't tend to wear emotion on their sleeves, following the rocky yet loving relationship between the duo, who stay the course even through Winger's turbulent marriage to college professor Jeff Daniels.
There's a lot of dramatics in the film: Winger's realization that Daniels is cheating on her, her struggles taking care of their kids, MacLaine's bevy of suitors including a playboy astronaut (Jack Nicholson, a character added for the film), and eventually a tragic diagnosis that turns the last half-hour into a depressing and at times difficult to watch experience all make for an episodically structured picture. As such, Brooks constantly walks the tight rope here but infuses enough humor that the movie comes out on the right side, keeping "Terms of Endearment" grounded even when you feel like you're being manipulated by its rollercoaster of emotions.
Mostly though it's a balancing act that works thanks to its cast: Winger is terrific and MacLaine, who netted an Oscar, gives a wonderfully nuanced performance. So too does Jeff Daniels, who fills his difficult role with sympathy and dimension, while Nicholson's inclusion was a necessity to offset the picture's later passages. Additional turns from John Lithgow and Danny DeVito are likewise welcome in the uniformly superb ensemble.
One could see "Terms of Endearment" going haywire had the performances and writing not been sensitive and effective – in fact, one only has to look at the movie's disastrous 1996 sequel, "The Evening Star," to see how a busted adaptation could easily go the other way. I'm still quite sure the wrong 1983 movie won Best Picture, but this is, giving credit where it's due, at least an effective, crowd-pleasing soap opera from an era in which stories grounded in the human dimension still existed in the box-office marketplace.
Paramount's 4K UHD of "Terms" offers a superb Dolby Vision HDR (1.85) transfer with 5.1 DTS MA sound, the movie having been released in mono but with only its music here remixed for true stereo sound. Speaking of that, Michael Gore's lovely score (orchestrated and conducted by Richard Hazard) is a major plus thanks to its memorable main theme, which supports the movie's flowing dramatic structure. Extra features include a new Filmmaker Focus interview with Brooks and an older commentary with him, co-producer Penney Finkelman Cox and production designer Polly Platt, plus the Blu-Ray and a Digital HD copy.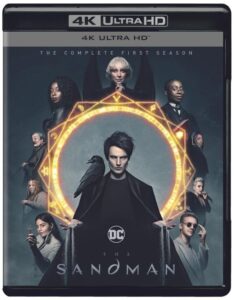 THE SANDMAN – The Complete First Season 4K UHD (526 mins., 2022; Warner): For years different directors have attempted to bring Neil Gaiman's celebrated DC Comic series to the screen – either big or small. All failed in their collective efforts until this recent Warner production which was launched on Netflix a year ago, bringing the adventures of the Master of Dreams (Tom Sturridge) to life, one where the mystical being who controls our unconscious realm has to fix the world after he's captured in the early 20th century and held prisoner for decades.
Gaiman's stylized art and storytelling come are vividly relayed in this impressively mounted, and unsurprisingly expensive, series from David S. Goyer and Allan Heinberg, scripted by Gaiman himself from two of his "Sandman" tomes. As you might expect, fans familiar with the source material will be most satisfied by the wild swings of violence and fantasy inherent in the story, which is perhaps a little too faithful to Gaiman's works for newcomers to penetrate.
There's no quibble with the superb Dolby Vision HDR transfers of Warner's 4K UHD, which is available November 28th. The images are spectacular with Dolby Atmos sound and extras including featurettes "The Sandman: Behind-the-Scenes Sneak Peek" and "The World of the Endless."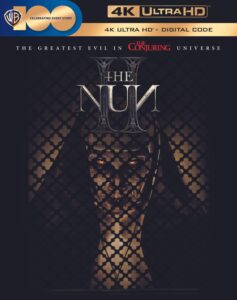 Jean-Luc Godard's 1963 drama CONTEMPT [LE MEPRIS] (103 mins., 1963) also hits 4K UHD from Lionsgate in a superb Studio Canal restoration. This commentary on the state of commercially-driven filmmaking from Godard remains one of his most respected amongst devotees, featuring Michel Piccoli as a writer who faces challenges rewriting Fritz Lang's remake of "The Odyssey," saddled with an American producer (Jack Palance) less interested in art than commerce and a leading lady (Brigitte Bardot) – also his wife – who's no longer interested in him at all. Studio Canal's 4K restoration (2.35) features clear French and English audio and a strong Dolby Vision HDR transfer, though the lone extra is Colin McCabe's introduction.
THE NUN II 4K UHD (110 mins., 2023, R; Warner): "The Conjuring" universe keeps on chugging along with this second entry in its "Nun" spin-off series, which brings back Sister Irene (the always appealing Taissa Farmiga) and friends as "Valek" is back causing trouble, claiming victims throughout assorted rural churches in Europe. Michael Chaves replaced series creator James Wan for the third "Conjuring" movie and brings the same artificial flavoring to this functional but uninspired sequel, with all the requisite jump-scares viewers will expect from the material. Warner's 4K Ultra HD (HDR10) features a finely mixed Atmos soundtrack, layered with directional effects, plus two featurettes and a Digital HD copy.
---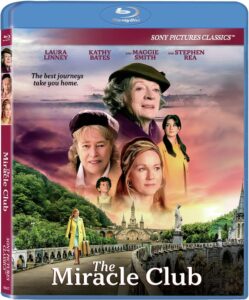 Sony New Releases
THE MIRACLE CLUB Blu-Ray (91 mins., 2023, PG-13; Sony): Sincerely acted, late '60s-set ensemble drama stars Laura Linney as a woman who arrives in Ireland after her mother's passing, where she meets with three friends (Maggie Smith, Kathy Bates, Agnes O'Casey) who are about to head to the French town of Lourdes. Hoping to find their own miracles, the group encounters emotional wounds from their past along the way in this slight picture from director Thaddeus O'Sullivan that was adapted from co-writer Jimmy Smallhorne's novel. Sony's Blu-Ray (2.39, 5.1) is out this week and features a fine transfer with no extras.
SHORT CIRCUIT 2 Blu-Ray (111 mins., 1988, PG; Sony): Good natured sequel to the 1986 box-office hit brings back lovable robot "Johnny" (Number) 5, who leaves the ranch of pals Ally Sheedy and Steve Guttenberg (who didn't return) for the Big Apple in order to help creator-pal Fisher Stevens (who did) in Kenneth Johnson's 1988 sequel. Original writers S.S. Wilson and Brent Maddock came back to pen this funny family comedy, and Number 5 (again voiced by Tim Blaney) is still appealing in a movie that in some ways improves upon its predecessor. Sony's Blu-Ray (1.85, 2.0 DTS MA) features a perfectly acceptable catalog master with stereo sound and numerous extras culled mostly, it appears, from a UK Special Edition. These include commentary with Kenneth Johnson, several featurettes, storyboard sequences with commentary, and rehearsal videos among other goodies.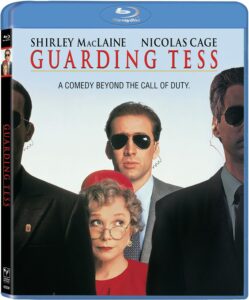 GUARDING TESS Blu-Ray (95 mins., 1994, PG-13; Sony): Appealing if slight star vehicle for Shirley MacLaine and Nicolas Cage, paired here as, respectively, a cantankerous former First Lady and the stalwart Secret Service detail assigned to her. Hugh Wilson's film offers engaging interplay between the duo with Cage in particular doing a fine job, especially late when the film takes a tour away from Wilson's comedic expertise and towards a dramatic climax. This section actually works in creating tension seemingly out of nowhere, but the movie's abbreviated running time hampers any legitimate development of the movie's premise, making it a superficial, if well-made, picture with a superb Michael Convertino score. Sony's debut Blu-Ray (1.85, 5.1 DTS MA) of the movie features a rock solid a/v presentation along with the trailer.
THE FOG OF WAR Blu-Ray (107 mins., 2003, PG-13; Sony): Errol Morris follows his many documentary triumphs ("The Thin Blue Line") with a biographical portrait of Secretary of Defense Robert McNamara, who recounts his time in the Kennedy and Johnson administrations, providing fascinating, disturbing accounts of the Cuban Missile Crisis, post-WWII Japan and the ramifications of America's Vietnam policy. 24 additional scenes are included in Sony's new Blu-Ray along with McNamara's "10 Lessons From His Life in Politics," a 1080p (1.85) transfer and 5.1 DTS MA audio.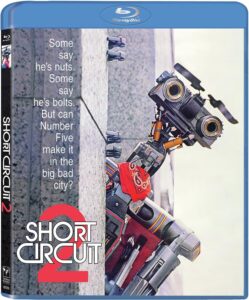 GRAN TURISMO Blu-Ray (134 mins., 2023, PG-13; Sony): Sony's video game franchise serves as a backdrop for another "underdog" story of a British video gamer (Archie Madekwe) who becomes a driver – for real – under the tutorship of a washed-up former racer (David Harbour) and an aspiring sport executive (Orlando Bloom). The plot is traditional but director Neill Blomkamp is adept at staging exciting set-pieces while anchoring the film with sufficient human interest, making "Gran Turismo" a film that should've been a larger sleeper hit. Sony's Blu-Ray (1.90, 5.1 DTS MA) includes deleted/extended scenes and format exclusive featurettes plus a Digital HD code.
FOR ALL MANKIND Season One Blu-Ray (612 mins., 2019; Sony): Apple streaming series produced by Sony Television starts off with an intriguing concept: what if the space race actually began with Russia arriving on the Moon first. From there, Ronald D. Moore's series offers up similarly provocative "what if" questions with real historical figures mixed with fictional ones and lots – lots – of present-day politics and social issues thrust into it. The first season of the show fell less victim to the latter than its subsequent years, and debuts on Blu-Ray in a technically robust (2:1, 5.1 DTS MA) package this month from Sony.
---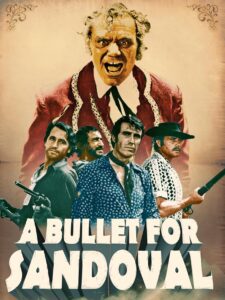 New Vintage & Restorations
A BULLET FOR SANDOVAL Blu-Ray (101 mins., 1970, PG; VCI): Better-than-average Italian/Spanish western stars George Hilton as a Confederate soldier who heads over the border into Mexico upon learning of his beloved's ailing condition. After she dies and he's tagged as a deserter, he later recruits a small gang of banditos in order to exact revenge on the girl's father (Ernest Borgnine) who wants only to kill him.
Fairly well-reviewed amongst western aficionados, "A Bullet For Sandoval" features a reasonably compelling story line in addition to the usual genre elements, all captured here in a restoration from VCI. This features the longer version of the movie with some new English dialogue having to be added since the pic was cut so heavily for the U.S. market that no dubbing was performed on some segments. The transfer is faded and the source elements (2.35, mono) haven't stood the test of time, but fans should appreciate this release just the same, with the trailer, the original Spanish language version, and a new commentary from Alex Cox offering insight into the picture and its place in the genre.
Also new from VCI is THE GAMBLERS (93 mins., 1970), another picture released through Universal Marion Film Distributors. Ron Winston's character-driven film follows a group of card sharks hoping to steal a bundle from an aristocrat. "Inspired" by Dostoyevsky, this low-budget picture shot in Yugoslavia features Suzy Kendall, Stuart Margolin and Don Gordon in a picture that's rough around the edges in terms of its physical production and appearance in VCI's Blu-Ray. The disc offers a commentary by historian Robert Kelly.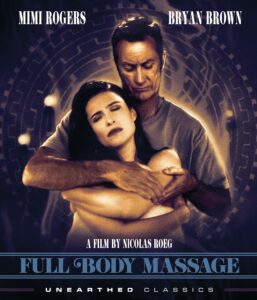 FULL BODY MASSAGE (93 mins., 1995, R; Unearthed): Talky cable TV movie isn't nearly on the level of director Nicolas Roeg's best movies but still offers fine performances from stars Mimi Rogers and Bryan Brown, with Rogers playing an art dealer who finds herself interacting with masseur Brown on a host of issues, leading to erotic encounters – but mostly just conversation. Roeg's original version (1.66, PCM stereo) is included in Unearthed's Blu-Ray along with the "TV Cut," a still gallery and trailers...LION-GIRL (121 mins., 2023) is Go Nagai's story of a female warrior who takes on a succession of beasts known as the "ANOROC" in a bombed-out world ravaged by meteorite strikes. Lots of action for those seeking a thrifty low-budget action affair, though it goes on quite a bit at two hours. Cleopatra's Blu-Ray offers commentary from director Kurando Mitsutake, plus featurettes, a 1080p transfer and 5.1 sound.
LE COMBAT DANS L'ILE Blu-Ray (104 mins., 1962; Radiance): French director Alain Cavalier's 1962 romantic, noirish thriller stars Jean-Louis Trintignant as a terrorist who has to hit the road with his wife (Romy Schneider) after he's double-crossed in an assassination attempt. The duo end up on a remote island in this moody B&W film Radiance has given a 2K restoration (1.66, French mono with English subtitles) in their upcoming Blu-Ray. The Limited Edition features a commentary featurette and interview with Cavalier; a talk with critic Philippe Roger; Cavalier's first short movie "Un Americain" plus another short, "France 1961"; and booklet notes and essays.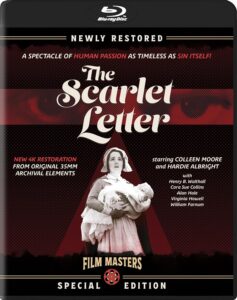 THE SCARLET LETTER Blu-Ray (71 mins., 1934; Film Masters): The UCLA Film & Television Archive's restoration of the 1934 "Scarlet Letter" comes to Blu-Ray this month from Film Masters. Now, this independent production is not a great film by any means, but it is an important historical work as it includes some of the cast from the 1926 silent version with the addition of Colleen Moore. Moore, a silent star and "flapper" extraordinaire, attempted to acclimate to the sound era with her performance as Hester Prynne, but financial success was not to be and she retired from acting a short time later (becoming a Merrill Lynch partner and a hugely successful investor throughout the rest of her life).
This picture offers a fascinating adaptation of the Hawthorne book, and this restoration certainly usurps other, inferior transfers viewers have had to choose from over the years. The 1080p (1.33 B&W, mono) image is perfectly acceptable given the age of the elements, with extras including a commentary by Jason A. Ney; a documentary on Hawthorne's movie adaptations featuring Justin Humphreys; "Salem and the Scarlet Letter," narrated by John Carradine; a 1965 re-issue trailer; and "Revealing the Scarlet Letter" featuring producer Sam Sherman.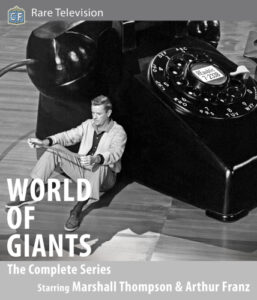 WORLD OF GIANTS Blu-Ray (338 mins., 1959; ClassicFlix): Not to be confused with the later, full-color Irwin Allen series "Land of the Giants," "World of Giants" is a tremendously entertaining show worthy of discovery especially for those of us genre fans who have never seen it before. A CBS-produced program with a budget of nearly $4 million, this black-and-white series starred Marshall Thompson as an American agent who shrinks to six inches – an accident that proves fortuitous as it helps him on his subsequent assignments.
Arthur Franz, Marcia Henderson and John Gallaudet co-star in a series that had a rocky and fascinating production history: shot in 1958, the series was unable to find a sponsor and ended up going into first-run syndication years later in 1961. The show's production values are right in line with genre movies of the era, and indeed, the show tapped veterans like George Pal associate Byron Haskin, Universal vet Jack Arnold, and others like Nathan Juran to direct episodes. Meanwhile, "Robby the Robot" creator Robert Kinoshita was involved in the production design, something he would do do again, to much wider viewership, with "Lost in Space" just a few years later.
ClassicFlix has resurrected "World of Giants" in a single-disc Blu-Ray housing all 13 episodes in 1.33 B&W transfers. Billed under the label's "Rare Television" moniker, this early syndication hit is entertaining for sci-fi/fantasy fans with guest stars ranging from Peggie Castle to Gavin MacLeod. Highly recommended for genre buffs!
New From Film Movement
Debuting on DVD from Film Movement this month, RETURN TO DUST (134 mins., 2022) is Li Ruijun's Chinese drama about a pair of middle-aged outcasts (Wu Renlin, Hai Qing) who end up being pushed into an arranged marriage. After successfully turning to farming, they find their newfound bond tested after adversity hits them hard. This acclaimed Chinese import features a 16:9 (1.55) transfer with 5.1/2.0 Chinese audio and English subtitles; included as an extra feature is Luo Runziao's short film "Hairtie, Egg, Homework Books."
NEXT TIME: Arrow's 4K UHD edition of WITNESS and more! Until then, don't forget to drop in on the official Aisle Seat Message Boards and direct any emails to our email address. Cheers everyone!