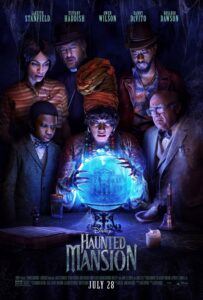 THE HAUNTED MANSION (123 mins., 2023, Disney): One of those films where you just know a film's original script had to have been far different than what ended up on-screen, this worked-over, completely unappealing second attempt by Disney to adapt the beloved Magic Kingdom ride to the big-screen ends up an even bigger bust than their first stab: a similarly charmless, but at least more coherent, Eddie Murphy vehicle from 20 years ago.
This "Mansion" is so fragmented there are numerous times in the film where scenes that had to have been shot establishing characters and their placement in the story were clearly excised, as several times my wife and I asked one another "how does this character even know this person". Also excised must've been the laughs from Katie Dippold's script, which thinks it's being "cute" (references to Costco and Amazon!) and is overstuffed with so many lead characters that you're never able to latch onto any of them. We get LaKeith Stanfield as a brooding former astrophysicist who misses his late wife; Rosario Dawson, for some reason dressed like it's the 1960s (and has no chemistry with anyone), and her scared little boy (who disappears for so long you forget he's in the film); Danny DeVito as a completely unfunny college professor; Tiffany Haddish as a completely unfunny incompetent/competent physic (the movie never seems sure which way to go); Owen Wilson as a shady priest; and Jamie Lee Curtis as the fan-favorite "Madame Leota" (Jennifer Tilly did it better back in the 2003 movie).
The movie's pacing is completely off, with scenes being condensed at times into obvious (and multiple!) montages to explain story elements that want to make this a comical variation on THE HAUNTING — but it all ends up a mess with an ensemble so unmanageable that you can only surmise studio executives and focus groups presided over test screenings and reshoots (I neglected to mention Jared Leto's "contribution" as the big bad ghost at the center of the haunting, plus laugh-free cameos by Winona Ryder and Dan Levy).
Meanwhile, director Justin Simien's film even fumbles what should've been fun references to the ride itself, which in its 10 or so minutes of attraction time is infinitely more fun and memorable than this disaster.
NEXT TIME: Arrow's 4K UHD edition of WITNESS and more! Until then, don't forget to drop in on the official Aisle Seat Message Boards and direct any emails to our email address. Cheers everyone!