Message Board (open 24 hours!)
Twitter - @andredursin (for everything else!)
For barely over a year, Oscar-winning British producer David Puttnam became the head studio chief at Columbia Pictures, promising to open the door to creative voices and bring his own sense of filmmaking individuality to Hollywood. The net result was a disaster across every spectrum, resulting in one of the more dizzying arrays of box-office flops imaginable. Among them was THE BEAST (110 mins., 1988, R; Kino Lorber), a drama about a Russian tank playing a game of survival in Afghanistan with Mujahideen fighters after they bombard a local village, killing many of its inhabitants.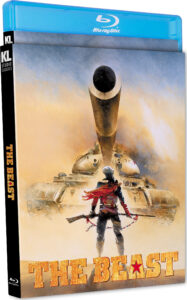 The subject matter wouldn't have seemed well positioned for the box-office back in 1988 – and especially not after Puttnam and director Kevin Reynolds decided to say "no" to the likes of Kevin Costner and Christopher Plummer, both of whom wanted to make the film. Instead, Puttnam and Reynolds gave character actor (but not exactly a "star") George Dzundza top billing, sharing it alongside younger leads Jason Patric and Steven Bauer – thereby sealing the commercial fate of this not inexpensive picture, which played only in New York and Los Angeles before being sent to home video (like many films in Puttnam's Columbia slate).
Looked at today, "The Beast" is still one of the most interesting, and easily satisfying, of all of Putnam's films produced at Columbia. William Mastrosimone adapted his play "Nanawatai" for this tale of how war can bring both certain forces and their enemies together, with Dzundza playing the psychotic driver of a Russian tank, Don Harvey and Stephen Baldwin as two of his crewmen, and Patric the more conscientious fourth member of the crew who looks away when Dzundza drives over Afghans and obstinately pilots his tank through a ravine with no other way out. Meanwhile, after seeing their village destroyed, the Afghans look for revenge, with Bauer the younger fighter pressed into leadership after his father and brother are slain in the early skirmish.
Unflinchingly violent, "The Beast" is a gripping if not emotionally involving picture that offers an awful lot of scope for its $7 million budget. Cinematographer Douglas Milsome and Reynolds do an excellent job capturing the Israeli shooting locations while the story is opened up in such a way that you'd never have imagined this material was ever based on a stage play. The performances are credible, though there's a serious disconnect in the Russian characters all speaking unaffected English (and played by the likes of Patric and Baldwin, who look more suited to hanging out in southern California), while the Afghan characters are subtitled. While the need to separate the languages is obviously a key part of the story, the Russians come off as so "Americanized" it's not surprising new Columbia head Dawn Steel (who replaced Puttnam) reportedly walked out of the movie's screening just 20 minutes in after having seen how the movie handled the use of language (and subtitles).
Nevertheless, "The Beast" is a commendable film with a subject matter that's obviously still relevant today – and with key themes about freedom and ethics, even on the battlefield, that apply no matter what the conflict may be. Special recognition should also extend to Mark Isham's score – this early effort by Isham is one of his best scores, lending the film a moody, dreamy soundscape that's alternately harsh and lyrical, somber and spiritual. Many other composers back in the '80s tried to utilize a "wall of sound" approach, with an emphasis on electronics, but most of them come off today as strident and dated – not so this score, which Isham used as a grounding for a "middle eastern sound" countless other films have employed in its wake. It's a superb effort that's worth tracking down.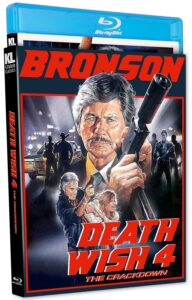 "The Beast" makes its U.S. Blu-Ray debut (1.78, 2.0 stereo) from Kino Lorber. The transfer looks pretty much on par with Imprint's Blu-Ray from just over a year ago, with a nicely engineered Dolby Stereo soundtrack.
DEATH WISH 4: THE CRACKDOWN Blu-Ray (99 mins., 1987, R)/DEATH WISH V: THE FACE OF DEATH Blu-Ray (95 mins., 1994, R): Collectible slipcovers and commentaries by Charles Bronson expert Paul Talbot enhance Kino Lorber's release of the final two "Death Wish" films on Blu-Ray this month.
These concluding adventures of former NYC architect-turned-vigilante Paul Talbot are reasonably entertaining if expectations are kept in check. Certainly that's more the case with DEATH WISH 4: THE CRACKDOWN, which had a tough act following up the deliriously entertaining, Rambo-esque insanity of "Death Wish 3" (for my money, the highlight of the entire series). Director Michael Winner had filmed the first three "Death Wish" outings but dropped out of this fourth entry, being replaced by Bronson cohort J. Lee Thompson. The result finds Bronson's Paul Kersey being employed by a mysterious benefactor (John P. Ryan) to rid L.A. of drug traffickers – this after the daughter (Dana Barron) of his new girlfriend (Kay Lenz) fatally overdoses on crack.
There's more topicality in Gail Morgan Hickman's script than you might expect, and the film benefits from a slight adjustment in formula – even if it opens with a tasteless (fantasy) rape sequence seemingly thrown in "just because." There are also some seriously rough supporting performances in Soon-Teck Oh and George Dickerson's respective portrayals of L.A. detectives, not to mention at least one hilarious puppet death shot. On the downside, Thompson's pacing is slack and the continuously brutal assault on female characters may prove grating, with a particularly harsh and unnecessary fate for Lenz's character leaving one with a sour taste.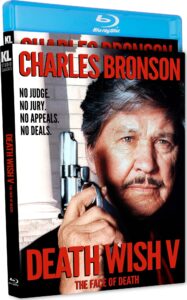 The Cannon Group dissolved as we knew it by the early '90s, with producer Menahem Golan heading off to found his own "21st Century Film Corporation." One of the few theatrical releases Golan's post-Cannon studio turned out was DEATH WISH V: THE FACE OF DEATH, which went out nationally through Trimark Pictures in the January '94 box-office dumping grounds minus its numerical designation.
This finale to the series was filmed in Toronto by a mostly Canadian crew and looks more like a TV movie than Cannon's previous sequels. Indeed, this low-budget affair was shot so quickly it was in theaters within a couple of months of principal photography concluding – and it looks it. With Gail Morgan Hickman's proposed premise of Kersey taking on terrorists in Alcatraz being tossed due to budgetary concerns, director Allan A. Goldstein (who replaced Steve Carver after the production relocated to Canada) instead serves up a recycled storyline wherein NYC goons claim the life of Bronson's newest sacrificial lamb (Lesley-Anne Down).
That said, the story is reasonably competent even with the limited visual trappings and Saul Rubinek does his usual thing as Kersey's sympathetic D.A. friend. Bronson seems a little less engaged by the limited action, as if he was just wandering in from his trailer and delivered his lines as efficiently as possible, but if you've made it through four of these films you might as well complete the experience.
"Death Wish V" makes its U.S. Blu-Ray debut in a serviceable Lionsgate master (1.85, 2.0 stereo) while "Death Wish 4" appears to be the same MGM master (1.85, mono) which was previously released on retail. Both discs include trailers and informative commentaries by Paul Talbot, the "go to" guy for anything Bronson related.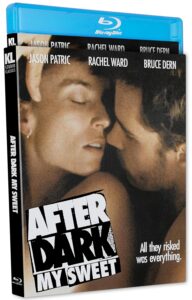 AFTER DARK MY SWEET (111 mins., 1990, R) may be a film that devotees of noir specialist Jim Thompson admired at the time of its 1990 release – Roger Ebert among others lavished it with 4-star praise – but truthfully I found it to be a rather unappealing updating of one of Thompson's '50s noir pieces.
Jason Patric plays an (apparently) mentally troubled ex-boxer who crosses paths with a widow (Rachel Ward) about to pull off a kidnapping with the help of a former cop (Bruce Dern) near Palm Springs. Things, naturally, don't go as planned in a movie that doesn't really evoke the kind of claustrophobic tension and mood one associates with these types of films – its aesthetic seems firmly anchored to the early '90s in terms of its look and feel – while the universally off-putting characters make it hard to care about what happens to any of them. The casting likewise doesn't help – Patric's overly articulated performance doesn't come off as convincing, while Ward is little more than serviceable in a plum role you could envision any number of other actresses of the era better fitting into.
Maurice Jarre's effective electronic score ends up being less aggressive than one might expect and one of the film's most positive assets, but ultimately, it took me numerous viewings to get into "After Dark, My Sweet," which James Foley – whose odd career took him from the heights of David Mamet ("Glengarry Glen Ross") to the depths of the "50 Shades" sequels – helmed to mostly positive critical notices.
A small release from Avenue Pictures, which produced the acclaimed "Drugstore Cowboy," Kino Lorber's Blu-Ray boasts a competent Lionsgate-licensed 1080p (2.35) transfer with a nicely mixed 2.0 DTS MA soundtrack. Extras include a commentary by Foley, interviews with Patric and Dern, and the trailer.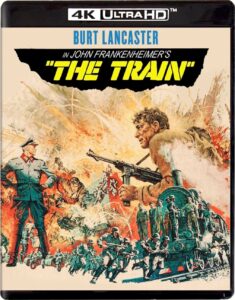 New on 4K UHD from Kino Lorber
Debuting in 4K UHD after several Blu-Ray releases is John Frankenheimer's terrific THE TRAIN (133 mins., 1964; Kino Lorber). The director – coming off two of his most memorable '60s outings ("The Manchurian Candidate" and "Seven Days in May") – here works from an original Franklin Coen-Frank Davis screenplay that finds Burt Lancaster as Labiche, a French rail worker who becomes involved in a scheme to save priceless artwork from a Nazi train headed for Germany in the final days before the Allies liberated Paris.
Opposition comes in the form of Paul Scofield, essaying the Nazi commandant determined to see this last gasp of his failing movement's glory through, only to run into resistance from the initially ambivalent Labiche. Only eventually does Lancaster's hero decide to prevent the works from the great masters from falling into German hands – using it as a last opportunity to fight back against the Nazi oppressors who invaded their country.
With its stark B&W cinematography by Jean Tournier and Walter Wottitz, "The Train" is often heralded as one of Frankenheimer's finest films, even if it flew under the radar for many years until Twilight Time resurrected it on Blu-Ray in both 2014 and again two years later, not to mention a Kino Lorber disc in 2021.
This debut 4K UHD presentation, a fresh scan of the original 35mm OCN, is a superb enhancement over the previously released MGM catalog master. Even in B&W the use of Dolby Vision HDR results in a more vivid image with additional texture over the older 1080p presentation. As with before, the mono audio is as effective as the original mix allows while a new 5.1 track joins Kino's 2021 commentary by action movie historians Steve Mitchell and Steven Jay Rubin. One can find it alongside the archival Frankenheimer commentary here, while the isolated Jarre score, 1964 Making of featurette, and a wealth of trailers round out a must-have for Golden Age fans with UHD players.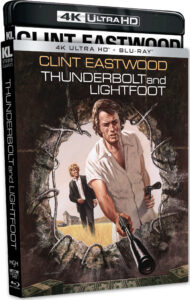 Joining "The Train" in 4K UHD for the first time, also from Kino Lorber, is THUNDERBOLT AND LIGHTFOOT (114 mins., 1974, R), which offers a decidedly "'70s" crime thriller that ought to appeal to aficionados of stars Clint Eastwood (as a veteran bank robber on the run) and Jeff Bridges (the young hotshot likewise running from stealing a car, whose path intersects with Eastwood).
Michael Cimino, who had co-written Eastwood's Dirty Harry sequel "Magnum Force," took the reigns behind the scenes for his first feature, showing an affinity for widescreen scope composition (shot in gorgeous Montana locales by Frank Stanley) and colorful characterizations. "Thunderbolt and Lightfoot" is as much about the friendship between the two men as it is the robbery the duo – along with Eastwood's former partners (George Kennedy, Geoffrey Lewis) – are planning with the help of "Thunderbolt"'s 20-millimeter cannon.
"Thunderbolt and Lightfoot" is an early prototype, of sorts, for what would eventually become the "buddy movie"– Eastwood and Bridges generate an amiable chemistry here that makes the movie's almost requisite detour into downbeat tragedy even more striking (if not somewhat disappointing) at the end. As much as folks complain about the "happy endings" of most modern films, the ending of this picture is as predictable given its era, even concluding with a similar shot to the finale of "Midnight Cowboy."
Still well worth seeing for its sense of time and place and its lead performances, "Thunderbolt and Lightfoot" remains a popular catalog title and it joins the growing roster of Eastwood 4K UHD titles from Kino Lorber. Once again the new Dolby Vision 4K scan (2.35) of the 35mm original camera negative raises the bar from the previous MGM catalog master, while the mono sound remains the same — acceptable given its vintage, sporting a score by Dee Barton with a Paul Williams original song popping up here and there. Extras include a Nick Pinkerton commentary; Michael Cimino archival featurette; radio spots and trailers; and a Blu-Ray disc.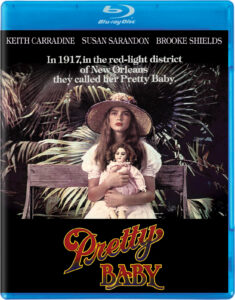 Also New on Blu-Ray
PRETTY BABY Blu-Ray (108 mins., 1978, R): The life and times of prostitutes living in New Orleans' Red Light district circa 1917 was given a beautifully rendered – if highly romanticized – cinematic rendering by the great French filmmaker Louis Malle, here making his American film debut. Malle and Polly Platt's script frames the romantic and dramatic entanglements of the assorted figures who work in a brothel principally through the eyes of a 12-year-old (Brooke Shields) and her mother (Susan Sarandon), whose already complex relationship is complicated by the arrival of a photographer (Keith Carradine). Obviously a film that would never get made these days – in spite of its overall level of restraint given the subject matter – "Pretty Baby" offers attractive cinematography by Sven Nykvist and excellent performances, most especially Shields who delivers a natural turn in a difficult role.
"Pretty Baby" offers a terrific 4K scan (1.85, mono) of the original 35mm camera negative that captures the natural lighting of Nykvist and Malle. Extra features include what appears to be a new Leonard Maltin introduction (possibly for an aborted "Paramount Presents" release), along with a superb interview with Brooke Shields, commentary from Kat Ellinger, and a video essay from Daniel Kremer on Malle's American output.
"Greg Brady Gets Laid" could also be a subtitle for THE FIRST TIME (90 mins., 1969, PG-13), a goofy Mirisch Company production from that late '60s era when Hollywood was dealing with the end of the Production Code.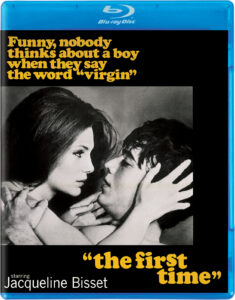 This offering about a hapless teen named Kenny (Wes Stern) who heads up hanging out with his grandparents in the Buffalo area, only to lie to his even more immature younger friends (Rick Kelman, Wink Roberts) about the girls he's hung out with, has about as much "sensuality" as your average network sitcom from the time. Indeed, "Brady Bunch" vet Kenyon Hopkins even scored this movie too, giving it the kind of bright, brassy sound he provided for that classic TV comedy. Yet there are occasionally higher aspirations on-hand in the Jo Heims-Roger Smith script that break from its mostly conventional feel – at least those concerned with the mysterious woman (Jacqueline Bisset) they eventually meet (albeit nearly halfway through the film) that provides the movie with a climactic love scene still tasteful enough to merit a PG-13 by today's standards.
Not especially funny but still useful as a travelogue of the Niagara Falls area – plus worthwhile for Bisset fans – "The First Time" makes its way to Blu-Ray in a no-frills Kino Lorber Blu-Ray (1.85, mono) with the trailer on the supplemental side.
DOUBLE TROUBLE Blu-Ray (86 mins., 1992, R): "The Barbarian Brothers," Peter and David Paul, headline this slice of early '90s direct-to-video cheese as mismatched brothers – one's a detective, the other's a cat burglar – paired together to take down a criminal mastermind (Roddy McDowall, netting above-the-title billing for likely the final time) after the latter sibling is granted criminal immunity. This Motion Picture Corp. of America product boasts a genre-friendly supporting cast including James Doohan, Bill Mumy, David Carradine and Troy Donahue and at least moves fairly quickly through its routine plot. Another MGM-licensed transfer (1.85, 2.0 stereo) awaits viewers here with the trailer included.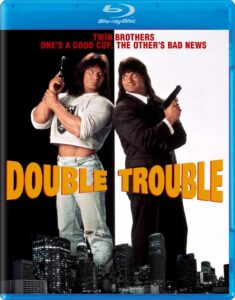 AUDIE MURPHY COLLECTION III Blu-Ray: Kino Lorber's superlative survey of vintage Audie Murphy westerns gallops into the later stages of the star's output. HELL BENT FOR LEATHER (82 mins.) is a Cinemascope vehicle with Murphy the victim of mistaken identity, forcing him to escape a posse on the hunt for him. Felicia Farr is the hostage he reluctantly takes before he can prove his innocence in a short but entertaining George Sherman directed affair. Murphy is then part of a group on the hunt for the POSSE FROM HELL (89 mins., 1961) in another effective western, this one co-starring John Saxon, Zora Lamphert, and Vic Morrow. Finally, SHOWDOWN (79 mins. 1963) pairs Murphy and Charles Drake as cowboys who end up being captured and forced to work with the bad guys, alongside slightly less bad guys, in a '63 Universal-International sagebrush saga. All three films include 2K Universal masters with a Toby Roan commentary on "Hell Bent For Leather" and C. Courtney Joyner and Henry Parke on "Posse From Hell."
FINAL CUT Blu-Ray (111 mins., 2022): "The Artist" Oscar winning director Michel Hazanavicius switches gears in his new feature about a director (Romain Duris) whose low-budget zombie movie finds its cast actually turning into the undead. Silly and expectedly gory, with Hazanavicius' "Artist" leading lady, Berenice Bejo, co-starring in a movie that does overstay its welcome as it pounds the same joke into the ground – but at least it's amusing for a while. Making its U.S. Blu-Ray debut from Kino Lorber, "Final Cut" – a remake of the Ueda-helmed cult hit "One Cut of the Dead" – includes a 20-minute documentary, 1080p (2.39) transfer, and 5.1/2.0 French audio with English subtitles.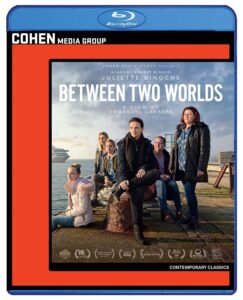 Specialty Fare
Juliette Binoche stars in Emmanuel Carrere's BETWEEN TWO WORLDS (107 mins., 2023), which premieres on Blu-Ray this month from Cohen Film Group. Carrere's film adapts a non-fiction book by Florence Aubenas as Binoche essays an author who goes undercover as a cleaning woman on a ferry in northern France; there, she befriends other female workers and comes to understand their plight with finances and family struggles, all the while lying about her true identity. Cohen's Blu-Ray (2.39, 5.1/2.0, French with English subtitles) is now available.
Anna May Wong's vehicle PICCADILLY (109 mins.) was one of the star's European sojourns, a picture from E.A. Dupont that provided the actress with a plum role of a Chinese dishwasher who catapults to fame and fortune. Remastered by the BFI, this Special Edition Blu-Ray offers a commentary by Farran Smith Nehme, an intro to the 1929 sound version, Neil Brand on the score for the film, a SF International Asian American Film Festival panel, and the movie in B&W (1.37) with color tinting…SEX, POWER AND MONEY: FILMS BY BETH B (1983-2017) is a two-disc Kino Classics release sporting many short, experimental works by the multi-media artist "Beth B." These pieces run the gamut from 2 to 71 minutes, presented from SD analog and video sources (all 1.33) with an interview with Beth B from IndieCollect President Sandra Schulberg.
New on DVD from Kino Lorber and Zeitgeist, DESPERATE SOULS, DARK CITY AND THE LEGEND OF MIDNIGHT COWBOY (101 mins., 2022) finds director Nancy Buirski examining not just the legacy of "Midnight Cowboy" (via Glenn Frankel's Making Of book) but how the city of New York informed its mood and atmosphere at the time of production. An extended interview with "Midnight Cowboy" cinematographer Adam Holender is an extra on the now available DVD (16:9, 5.1/2.0)…The '90s "rock collective" that inspired the birth of bands like The Olivia Tremor Control and The Apples in Stereo is the subject of THE ELEPHANT 6 RECORDING CO. (93 mins., 2022), a behind-the-scenes look at how a group of Louisiana high school students inadvertently started a musical revolution. C.B. Stockfleth's doc (16:9, 5.1/2.0) is now available on DVD…Electronic music aficionados should check out Lisa Rovner's SISTERS WITH TRANSISTORS (92 mins., 2020), a profile of female pioneers in the field, from Bebe Barron to Wendy Carlos, Clara Rockmore and others. Laurie Anderson narrates with bonus featurettes, a 16:9 transfer, and 5.1/2.0 sound included in Metrograph's DVD.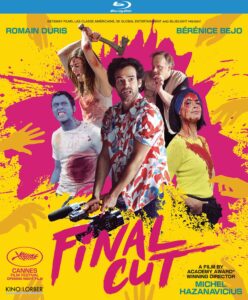 Greenwich Films has released the documentary JOYCE CAROL OATES: A BODY IN THE SERVICE OF MIND (89 mins., 2022), a European-produced look at the prolific author who reflects on her writing as well as thoughts on the 1967 Detroit Riot, Chappaquiddick incident, and more. Laura Dern reads some of Oates' words in the DVD (16:9, 5.1/2.0)…Also new from Greenwich, THE BEASTS (138 mins., 2022) finds a French couple working an organic farm in the Spanish countryside where tensions between local residents and foreigners run high. Marina Fois and Denis Menochet star with Rodrigo Sorogoyen's film on DVD (2.39, 5.1/2.0 French and Spanish with English subtitles)…Season 1 of SINGLE, OUT (121 mins., 2023) is new from Cinephobia Releasing, following a young gay guy (Will Hutchins) trying to navigate the singles scene Down Under. Bloopers are on-hand in the now-available DVD (1.78, 2.0).
---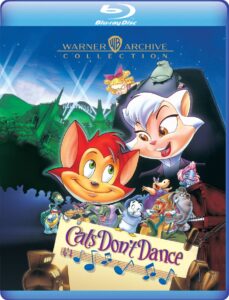 Warner Archive New Releases
Before being absorbed into the Warner empire, Turner Entertainment's feature animation unit didn't produce a whole lot of productions – in fact, CATS DON'T DANCE (75 mins., 1997, G) would be the sole film released from Turner in the wake of their Hanna-Barbera purchase. Initially conceived in the early '90s as a live-action/animated hybrid film with Michael Jackson as its star, this enjoyable hand-drawn effort bombed at the box-office but still offers a fun spin on old Hollywood and, in particular, its story of an aspiring feline performer who seeks out to prove that cats do, in fact, dance on-screen circa 1939. Good fun foranimation fans, old-time movie buffs (with its various in-jokes and references to classic films) and kids, with fast-paced action and breezy songs from Randy Newman.
In fact I enjoyed "Cats Don't Dance" even more this time around in Warner Archive's inaugural Blu-Ray release than its 2016 DVD edition. The animation may not be "Disney quality" but the design is appealing and the film is a lot more entertaining than most of today's bland family fare. Warner Archive's zesty 1080p (1.85) transfer offers a high bit-rate presentation with a potent 5.1 DTS MA soundtrack likewise encoded over 4 mbps, giving it top encoding across the a/v spectrum. Extras include four vintage WB cartoons and the trailer, though curiously not the Foghorn Leghorn Looney Tunes short that was newly produced and ran in front of the movie's original 1997 theatrical release.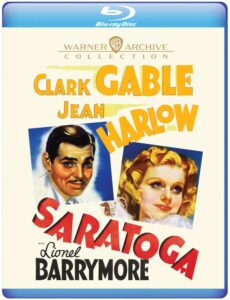 The sixth pairing of stars Jean Harlow and Clark Gable, SARATOGA (94 mins., 1937), would be not only their final teaming but also the last picture for Harlow, who died of kidney disease at age 26 during production. The film was completed with Mary Dees as a stand-in (the seams are obvious at times) but still functions as a breezy, enjoyable rom-com with Harlow a horse breeder about to be married to stuffy millionaire Walter Pidgeon – at least until she falls for bookie, essayed by Gable. The supporting cast, from Lionel Barrymore (as Harlow's father) and Frank Morgan on down (Una Merkel, George Zucco and Cliff Edwards also appear), is terrific and the chemistry between Gable and Harlow is still palpable, even with the actress working in, sadly, her final days. This Warner Archive Blu-Ray offers a detailed, crisp 1080p (1.37 B&W, mono) transfer with the trailer and MGM short "The Romance of Celluloid" as a supplemental feature.
Frank Capra wrote the original story for what became the 1951 MGM western WESTWARD THE WOMEN (116 mins.), based on the true story of over 100 Chicago women who saddle up for a wagon train to California, looking for husbands back in the Gold Rush era. Robert Taylor is the Indian scout in charge of the operation, which heads through expected trials and tribulations in William Wellman's episodic and entertaining film, co-starring Danise Darcel, Hope Emerson and Julie Bishop. Jeff Alexander scored with Charles Schnee ("Red River") working Capra's script into a formulaic but functional form. Warner Archive's fine B&W (1.37) transfer is perfectly serviceable with extras including a commentary by Scott Eyman; vintage MGM cartoon and featurette; the 1952 Lux Radio Theater broadcast; and the trailer.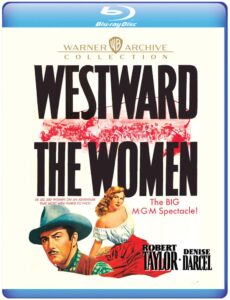 Quick Takes
L'IMMENSITA Blu-Ray (98 mins., 2023; Music Box Films): Penelope Cruz stars as a mother trying to be protective and understanding of her kids, most especially the daughter who identifies as a boy, in the acclaimed art house hit "L'Immensita." Set in Rome in the 1970s, Emanuele Crialese's film offers empathetic performances from Cruz plus Luana Giuliani as "Andrew" and Vincenzo Amato. Music Box's Blu-Ray is now available sporting a 1080p (2.35) transfer, 5.1 Italian DTS MA sound with English subtitles, a photo gallery and the trailer.
SCOOBY-DOO! AND KRYPTO, TOO DVD (78 mins., 2023; Warner): Scooby teams up with the Man of Steel's faithful canine companion as they hit Metropolis looking for missing Justice League heroes (as usual). Meanwhile, Lex Luthor is about, possibly in his own league with The Joker and Harley Quinn, in a mix of mystery and mayhem kids should enjoy. This original DC movie streets October 24th on DVD with three bonus Scooby episodes guest-starring Wonder Woman, The Flash and Batman (16.9, 5.1).
RWBY Volume 9 Blu-Ray (188 mins., 2023; Warner): After Team RWBY is thrust off into the "Ever After," the group encounters a bizarre assortment of creatures and situations in an odd realm — one that they will have to solve in order to return home and stop Salem. Volume 9 from the popular Rooster Teeth series is new on Blu-Ray this week featuring 1080p transfers, 5.1 DTS MA sound, commentary, featurettes and an art gallery.
NEXT TIME: Imprint's FILM FOCUS – JESSICA LANGE box set and more! Until then, don't forget to drop in on the official Aisle Seat Message Boards and direct any emails to our email address. Cheers everyone!