Message Board (open 24 hours!)
Twitter - @andredursin (for everything else!)
The new documentary AT THE VIDEO STORE (72 mins., 2019; ETR) is a love letter to the human workers who were mostly supplanted by Netflix mail subscriptions and Redbox kiosks shortly after we entered into the DVD era. By the early 2000's, no longer was it necessary to make an effort to rent and watch a movie – or receive suggestions, however informed they may have been (or not), from people you may have hardly known in response to "what should I watch tonight?" Ease of convenience trumped the human connection – a topic James Westby's doc ponders as it remembers the past and salutes the small stores still making a go of it around the country.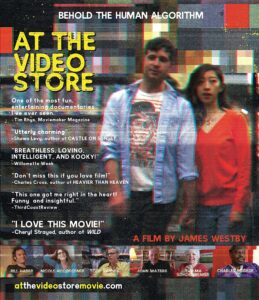 Most of the latter establishments seem confined to urban areas where a living home video section can be tied to a business still making money – like gyms or coffee shops. "At The Video Store" visits a number of these places (at least still alive pre-COVID) in this compelling and entertaining essay, giving a special focus to venues where an owner or employee's specific tastes would be displayed for customers to not only come to understand but appreciate. Several of these independent store veterans are on-hand here plus admirers like Bill Hader, Thelma Schoonmaker, and directors like John Waters and Gus Van Sant, whose works would often be championed in said establishments.
Interviews, anecdotes and some amusing commercial re-creations make this a fast-moving, fun piece that kicks off Vinegar Syndrome's May releases. The now-available Blu-Ray offers a 1.78 transfer and 2.0 stereo sound, while ETR also has due out VINYL NATION (92 mins., 2020) later this month – Kevin Smokler and Christopher Boone's profile of the current resurgence in vinyl LP sales (1080p, 2.0) with extensive booklet interviews.
Since there are a sprawling number of other new titles I've received from Vinegar Syndrome for both VS releases as well as their terrific partner labels, here's a rundown. Please remember the discs can all be purchased directly from Vinegar Syndrome's own site at www.vinegarsyndrome.com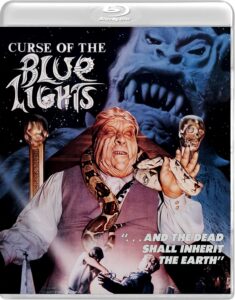 Vinegar Syndrome New Releases: I wasn't aware of CURSE OF THE BLUE LIGHTS (93 mins., 1988) previously, but Vinegar Syndrome's resurrection of this Colorado-shot regional production from director John Henry Johnson should give horror fans a nice dose of "home grown" independent cinema. It's a genre affair with solid make-up effects, loads of creatures, poor acting and a story that doesn't really work – but you have to applaud the effort and Vinegar Syndrome's Blu-Ray offers a 2K restoration (1.85, mono) from its 16mm answer print. Johnson provides two commentaries (one of them new) with a full 97-minute documentary, scenes from an alternate VHS version and a still gallery on-hand for extras.
Mexican terror is on-tap with VACATION OF TERROR I & II (167 mins., 1988-90), a pair of supernatural terrors featuring Pedro Fernandez as an occult expert who runs afoul of an evil, possessed doll not once but twice: first in the original "Vacation of Terror" (81 mins., 1989) and then in the follow-up, "Vacation of Terror II: Diabolical Birthday" (86 mins., 1991). New transfers (1.85 for both via a 4K scan from the OCN on the original and a 35mm archival positive for the sequel) are included here along with cast and composer interviews, Spanish soundtracks and English subtitles.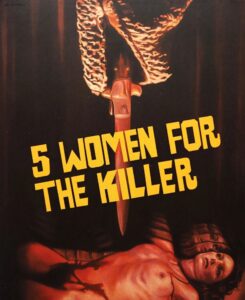 Giallo fans will want to check out 5 WOMEN FOR THE KILLER (100 mins., 1974), a wildly violent thriller that fans rank as one of the most graphic of its genre. A 4K restoration from a 35mm archival positive (2.35, mono) is on tap for Stelvio Massi's film with a new commentary from genre authorities Eugenio Ercolani and Troy Howarth plus interviews featuring Renato Rissini, Danilo Massi, Luc Merenda, and Luigi Cozzi, who reflect on the genre and the film, plus bonus gore inserts from a re-edited version and new English subtitles.
From Deaf Crocodile Films: Two eclectic world cinema offerings from the cinematically fertile 1960s debut on Blu-Ray this month from Deaf Crocodile: Aleksandr Ptushko's fantasy THE TALE OF TSAR SALTAN (85 mins., 1967), sporting a new 2K widescreen restoration (2:20, 5.1 Russian with English subs) and a commentary from Stephen R. Bissette, an hour-long video interview with effects artist Robert Skotak on Ptushko's work, and an essay from Peter Rollberg; and TIME OF ROSES (105 mins., 1969), which is Risto Jarva's wild, prescient sci-fi fantasy from Finland's surrealist filmmaker/documentarian. A Finnish TV doc on Jarva from 1984 is included plus two of his earlier '60s shorts, a deleted scene, commentary and essays, and more in this new restoration from the original 35mm camera negative (1.75 B&W, 2.0).
Yellow Veil Pictures New Releases: Two films from independent director Wojciech J. Has have been remastered and are newly available from Yellow Veil this month. THE HOURGLASS SANATORIUM (124 mins., 1973) is one of Has' patented forays into surreal Polish cinema, detailing the Holocaust through a specific cinematic lens, while THE SARAGOSSA MANUSCRIPT (184 mins., 1965) frames the Napoleonic wars also through Has' unique POV. Both pictures include 1080p (1.85 on "Hourglass," 2.35 on "Saragossa") transfers, English subtitles, introductions and other academic musings from professor Annette Insdorf, plus interviews with critic Sebastian Smolinski and writing from Samm Deighan.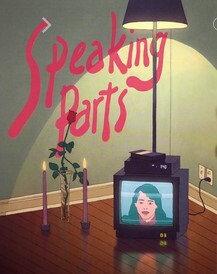 From Canadian International Pictures: Iconoclast filmmaker Atom Egoyan's SPEAKING PARTS (92 mins., 1989) looks at a trio of characters and their respective interactions before emotions begin to unravel with (typical for the director) dangerous consequences. Newly restored in 2K (1.85, 2.0), "Speaking Parts" has been treated to one of CIP's typical superlative Blu-Ray packages, the disc sporting both new and archival Egoyan commentaries; an interview with Egoyan's frequent collaborator, composer Mychael Danna; deleted scenes; shorts with corresponding commentaries/intros; and much more.
From Kani: HK fans can get their action fix with Wilson Yip's 1999 favorite BULLETS OVER SUMMER (92 mins.) which mixes thrills and violence with comedic elements involving undercover cops who end up in an apartment where its elderly tenant mistakes them for her grandsons. Kani's Blu-Ray (1,78, 5.1, subtitled) boasts a 2005 Yip interview, new conversations with star Francis Ng plus Matt Chow; booklet notes; and more…Due out later this month from Kani is the recent Hong Kong epic A NEW OLD PLAY (180 mins., 2021), director Qiu Jiongjiong's profile of a Sichuan opera clown's life and times starting in the 1920s and taking viewers through China's many cultural changes. A half-hour short and Making Of are included in the HK/French co-production (1.77:1, 5.1).
Factory 25 New Releases: New releases from Factory 25 this month include Andrew T. Betzer's oddball debut YOUNG BODIES HEAL QUICKLY (102 mins., 2014), with commentary, deleted scenes, a 32 page booklet, and five shorts (1.78); and Joe Swanberg's FULL MOON TRILOGY (214 mins., 2011), which includes three separate works from the independent filmmaker: "Silver Bullets," "Art History," and "The Zone," all in a two-disc set (1.78) with a short, "Stray Bullets," showing audiences Swanberg's creative process at work.
Also New & Noteworthy: Also part of the Vinegar Syndrome partner library this month – and all available at Vinegar Syndrome's website with collectible, limited slipcovers – are Justin Benson and Aaron Moorhead's chiller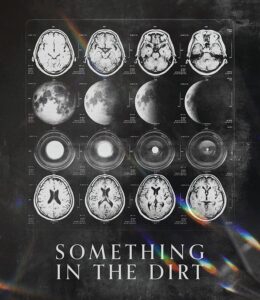 SOMETHING IN THE DIRT (115 mins., 2022; XYZ Films), which includes a Q&A with genre vet Mike Flanagan, commentaries, deleted scenes, and featurettes (2.39, 5.1); Rasmus Muro's strange import KRATT (114 mins., 2010; Darkstar Pictures), which includes a behind-the-scenes segment and the trailer; plus the 2019 animated indie outing ATTACK OF THE DEMONS (75 mins.; Darkstar Pictures) from director Eric Power, featuring a smattering of commentaries and more (2.40, 2.0).
Andrea Riseborough and Harry Melling star in Amanda Kramer's well-received indie PLEASE BABY PLEASE (96 mins., 2023; Music Box Selects), which sports commentary from Kramer, deleted scenes, a cast/crew Q&A, isolated score/sound design track, and Kramer's shorts (2.35, 5.1 DTS MA); while the documentary THE GREAT BASIN (92 mins., 2021; The Collective) travels the "Loneliest Road in America" as seen by director Chivas Devinck, with supplements including commentary with DeVinck and crew and a Q&A with the director (1.85, 5.1)…Clay Tatum's offbeat THE CIVIL DEAD (103 mins., 2021; Utopia) finds a photographer's weekend, freed from his wife, thwarted by an old friend with supernatural components (2.35, 5.1), with deleted scenes and commentary that can be found in Utopia's Blu-Ray.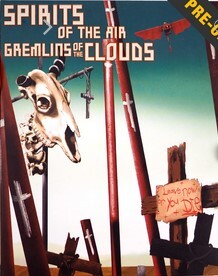 Umbrella's SPIRITS OF THE AIR, GREMLINS OF THE CLOUDS (96 mins., 1988) offers a very eccentric Aussie import from the late '80s about scattered survivors living in a post-apocalyptic wasteland, which helped launch the career of Alex Proyas ("The Crow," "Dark City"). Umbrella's Blu-Ray (1.33, 5.1) boasts two commentaries (one featuring Proyas), cast/crew interviews and more…Claire Denis' TROUBLE EVERY DAY (101 mins., 2001; The Film Desk) is a very unusual thriller with Vincent Gallo and Tricia Vessey getting involved with Gallo's former colleague and his wife, who's become an unhinged femme fatale after being infected with a tropical virus. Alexandra Heller-Nicholas provides the commentary with a video essay by Zack Clark also on the supplemental side (1.85, 5.1)…Finally, DEBBIE DOES DEMONS (74 mins., 2022) is the latest release from Culture Shock,a new offering from director Donald Farmer that's shot in a pseudo-VHS type of visual manner. Jessa Flux stars with Culture Shock's Blu-Ray (1.78, stereo) including interviews, trailers, and Farmer's introduction.
---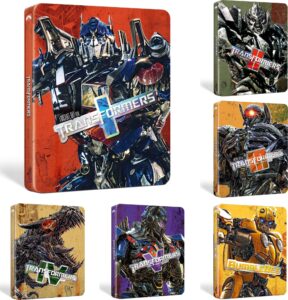 New on 4K UHD
TRANSFORMERS Limited Edition Steelbooks 6-Movie Collection 4K UHD/Blu-Ray (2007-18; Paramount): Deluxe-packaged, limited-edition Steelbook anthology houses all five of the Michael Bay-helmed "Transformers" movies plus the agreeable 2018 spinoff, "Bumblebee," in nifty collectible artwork. The 4K UHD's are identical to their previous UHD editions with accompanying Blu-Ray special feature platters – here's a breakdown:
The first and best of director Michael Bay's run of gargantuan, live-action adaptations of Hasbro's '80s toy-line was the original TRANSFORMERS (142 mins., 2007, PG-13).
Produced by Steven Spielberg and directed (in a somewhat less chaotic fashion than usual) by Bay, the original "Transformers" is a whizz-bang sci-fi epic that brings the Hasbro characters into present-day "real life." The Roberto Orci-Alex Kurtman script follows the struggle between "good" extraterrestrial robot beings the Autobots and their evil counterparts, the Decepticons, as they bring their galactic battle to Earth. To be precise, both factions are seeking the whereabouts of the vile Deception leader Megatron, who was discovered in ice nearly a century ago by the great-grandfather of American teenager Sam Witwicky (Shia LaBeouf).
Sam proves to be our Everyman as he meets all the Transformers, including their leader Optimus Prime (voiced by Peter Cullen, reprising his work from the beloved '80s cartoon version), and tries to help the Autobots' cause while matching wits with federal agents (including a cartoony John Turturro) and a tough army captain (Josh Duhamel) following the action from the Middle East.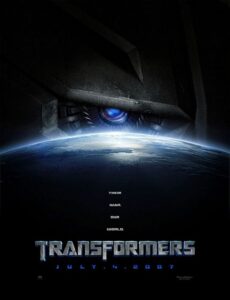 Impressive special effects from ILM are the main reason to watch "Transformers," with the robot design and animation being positively jaw-dropping – now more so than ever in Paramount's 4K UHD platter. In addition to the overall "believability" factor (as convincing as giant robots could ever be), the animators managed to maintain the original Transformers look from the toys and '80s TV series in a way that didn't disappoint long-time fans.
Bay, predictably, keeps the action moving along, but unlike some of his past works, also does a decent job establishing the characters and keeping the humor at a "family friendly" level. This isn't a movie to be taken seriously, but it's good fun for no-brain summer thrills, stylishly made and, appropriately, "assembled."
As you might expect, Paramount's HVEC encoded 4K UHD transfer is as outstanding, as "Transformers" is exactly the kind of film you'd anticipate would reap the benefits of Ultra High Definition: marvelously detailed and almost flawless, it ranks with the best transfers in its class, just as its Blu-Ray did. The Dolby Atmos audio packs a mighty wallop, with detailed sound effects, healthy bass and plenty of explosions, and Dolby Vision HDR capability is also on-tap. For extras, check the Archives for my review of the original Blu-Ray's special features.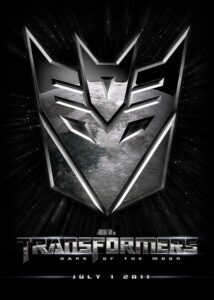 The especially overstuffed, excessive, less-said-the-better TRANSFORMERS: REVENGE OF THE FALLEN (149 mins., 2009, PG-13) was followed by the superior TRANSFORMERS: DARK SIDE OF THE MOON (154 mins., 2011, PG-13), the third TF installment which benefits from an interesting set-up, some spectacular special effects and a script that cleans up some – though not all – of its predecessor's excess.
Here the Autobots find themselves heading to the moon where, decades earlier, a ship fleeing Cybertron and carrying a mysterious cargo crashed on the moon's dark side (a fun opening includes a cameo for none other than Buzz Aldrin). Without divulging all the secrets in Ehren Kruger's script, it turns out that a conspiracy involving the Decepticons is afoot, with the end game being the resurrection of Cybertron itself on Earth. To nobody's surprise, Sam Witwicky soon finds himself back trying to save the world along with new girlfriend Rosie Huntington-Whiteley and familiar faces from past films in the series (Josh Duhamel, Tyrese Gibson, and John Turturro among them).
If you're a "Transformers" fan, there's much to like in this installment, which is a definite step-up from "Revenge of the Fallen," marked by pulse-pounding action set-pieces and some gorgeously rendered special effects courtesy of ILM. The human component remains something of a misfire – I've never found Shia LaBeouf that interesting in this series nor his obnoxious parents (Kevin Dunn and Julie White), who also reappear here. At least Huntington-Whiteley is pretty enough to be a serviceable fill-in for Megan Fox and it's fun to see Coen Brothers alumni like Turturro, Frances McDormand and John Malkovich cashing the check in loud, dumb escapist fare like this.
With a worldwide gross of over $1.1 billion, "Dark of the Moon" pleased its core audience, even if I've never understood the thinking behind some of the profanity in the franchise (was Malkvovich's f-bomb and several references to "a-holes" really necessary in a film essentially made with kids in mind?).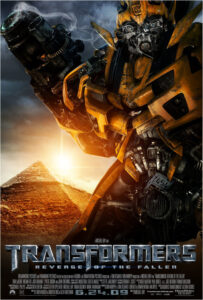 Despite "Moon"'s success, Bay and Dreamworks opted to switch out LaBeouf for Mark Wahlberg in TRANSFORMERS: AGE OF EXTINCTION (164 mins., 2014, PG-13; Paramount). After the Transformers are banished from our world after causing major damage to Chicago (among other venues), inventor Wahlberg (really?) comes across an exiled Optimus Prime, who's called back into action to save the world again. This time the threat comes from our government, led by a shady business tycoon (a mugging Stanley Tucci) who's created his own brand of Transformers – one of which bears a passing resemblance to Megatron…
There's not a whole lot to write about with "Age of Extinction." It's loud, impossibly overlong, and technically dazzling – much like the prior films in the series. Though Wahlberg is perfectly acceptable as a fill-in for LaBeouf, who's nowhere to be found here, the remaining cast is mostly as bland as its predecessors (of course, nobody is going to see a "Transformers" film caring about the human cast to begin with). The plot isn't engaging, and it's all too much (as is, of course, the case with most of Michael Bay's films), but I assume kids and fans of the franchise will be captivated with the bombastic battle scenes and ILM's FX– beautifully rendered here in another reference-quality 4K UHD transfer from Paramount – just the same.
The Bay-helmed Transformers films came to an end with TRANSFORMERS: THE LAST KNIGHT (154 mins., 2017, PG-13), the fifth entry that generated far less enthusiasm with audiences than its previous franchise installments.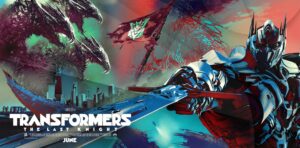 It's no better or worse, really, than any of its predecessors, with Michael Bay's film set in a post-TF world where Optimus Prime has taken a vacation to the far reaches of the galaxy in search of his origins. Back on Earth, his absence is felt as Mark Wahlberg's returning Cade Yeager is recruited by a mysterious British benefactor (Anthony Hopkins) into finding an ancient alien staff which helped King Arthur centuries before. Throw in a goofy Stanley Tucci cameo as Merlin (!) and you can pretty much guess what kind of entertainment "The Last Knight" has to offer.
Four different writers collaborated on the fifth "Transformers" movie, which still managed to gross over $600 million worldwide – a hefty sum that's nevertheless a sizable drop from even its immediate predecessor. Despite that, and taken on its own merits, "The Last Knight" offers the same form of entertainment as Bay's first four TF movies: it's big, loud, brainless, packed with dopey humor, painfully overlong and gorgeously designed.
Especially in Paramount's new 4K UHD combo package, "The Last Knight" boasts a spectacular image with great use of Dolby Vision High Dynamic Range, with HDR highlights accentuating scene after scene – big alien ships, shapeshifting robots, and vivid locales are presented with eye-popping clarity and color….and yet a few minutes of this is likely to suffice for all but the most hardcore "Transformers" fans.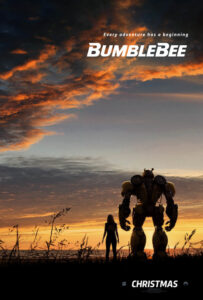 Thankfully, a kinder, less bombastic, more heartfelt "Transformers" experience awaited viewers in BUMBLEBEE (113 mins., 2018, PG-13), the scaled-down film adaptation of the Hasbro action figures – a cinematic mea culpa of sorts from Paramount and producers Steven Spielberg and Michael Bay.
Eschewing the phony machismo and brainless characters from Bay's five previous blockbusters (which played to diminishing returns at the box-office), "Bumblebee" presses the reset button as the diminutive (compared to his Autobot pals) scout heads to Earth to lay the foundation for Optimus Prime and company's escape from the Decepticons. While a couple of them (Shatter and Dropkick) are hot on his heels, Bumblebee is able to team up with a resourceful teenager (Hailee Steinfeld) to elude both them and the military – embodied by a really, really over-the-top John Cena – at least for a time.
While still familiar and broadly played, "Bumblebee" is good fun, offering an uncluttered story with appealing characters. Writer Christina Hodson and director Travis Knight have clearly channeled into the Spielberg mindset, with Bumblebee's journey echoing "E.T." and the movie using an '80s setting mostly as an excuse to trot out lots of great (and predictably used) songs. Still, after the overlong bloat of Bay's prior Transformers films, "Bumblebee" is a definite step in the right direction in terms of its content and overall effectiveness – crafted more sensibility for family audiences, as it should be, and much more enjoyable for dialing it back across nearly every element of its production.
Paramount's 4K UHD of "Bumblebee" looks spectacular. The 1.85 transfer utilizes HDR and Dolby Vision to great effect, and Dario Marianelli's score gets a nice boost from the Dolby Atmos audio mix. Over an hour of featurettes include an animated motion comic, "Bumblebee's Next Adventure," plus 14 deleted/extended scenes, outtakes, the Blu-Ray and a Digital HD copy.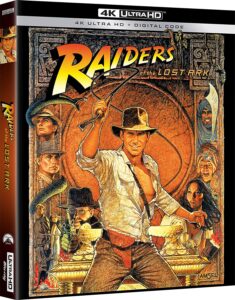 Also newly available from Paramount are individual releases of the first four INDIANA JONES films, each in 4K UHDs sporting marvelous Dolby Vision transfers. These offer the same crispness of Paramount's Blu-Ray releases – with the addition of finely-tuned HDR and a slightly cooler color tone – while the Dolby Atmos audio mixes are even more immersive than the Ben Burtt-mastered tracks from prior editions.
RAIDERS OF THE LOST ARK (115 mins., 1981, PG) again retains its original on-screen title and remains a classic of the action-adventure genre. With a smart Lawrence Kasdan script (from a George Lucas-Philip Kaufman story), classic stunts and Spielberg working at the peak of his talent, "Raiders" is pure and unadulterated fun, with Ford introducing us to the centerpiece role of his career and Karen Allen easily providing the best love interest of the series.
Paramount's UHD offers a refinement on the studio's previous Blu-Ray, which I revisited just a few months ago. The stellar Blu-Ray transfer was not nearly as green and "lush", especially in the early jungle sequences, as previous home video releases, and offered loads of detail but also a color tone that leaned towards the reddish side. While being light years ahead of any prior video release in terms of detail, the UHD offers a more pleasing, slightly more balanced color tone than the Blu-Ray, backing off the heavy warmth of the latter and presenting a wonderful replication of cinematographer Douglas Slocombe's original work. The Dolby Vision HDR brings background details to the forefront and has been appreciably yet not excessively applied, while the Dolby Atmos soundtrack engages overhead surround activity in a spirited, active enhancement on the already fantastic 7.1 DTS MA mix from the Blu-Ray — once again offering a broad stage for John Williams' legendary score and crisp sound effects. Three original trailers are the disc's sole extras – a short teaser (selling the film on the merits of Spielberg's past blockbusters), full theatrical trailer, and a 1983 re-release trailer (from the "Superman" trailer voice-over guy).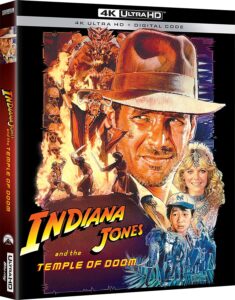 The first sequel (technically a prequel, even though it's a standalone adventure), INDIANA JONES AND THE TEMPLE OF DOOM (118 mins., 1984, PG) was controversial in its day (along with another Spielberg production, "Gremlins," it helped create the PG-13 rating, which was initiated before the summer of '84 was out), and even now it's a nasty, violent ride compared to the other Indy adventures.
The script by Lucas pals Willard Huyck and Gloria Katz ("American Graffiti") is silly and more excessive than either "Raiders" or "The Last Crusade," and Kate Capshaw's whiny Willie Scott is a vastly inferior replacement for Karen Allen's Marion — so much so that it's tough for "Temple of Doom" not to be compared unfavorably with its predecessor. It's also ironic that Spielberg and Lucas produced a movie that was more "for kids," yet also more unsuited to them at the same time, with a mid-section that becomes too dark and gory even for the "House of Horrors"-styled amusement park thrills the film evokes. Still, the ending is a blast, Douglas Slocombe's cinematography is magnificent, and John Williams' majestic, triumphant score may be his most inspired of the series: his themes for the Indy-Willie romance, Short Round's Theme, the mine cart ride, and the regal music that accompanies our heroes through the jungles of India are simply spectacular, and when combined with the original "Raiders March," create a phenomenal underscore that effortlessly carries the audience past the sequel's lesser aspects.
Opening with the glorious musical staging of Cole Porter's "Anything Goes" (a lavish set-piece many critics rightfully noted was one of the highlights of the entire picture), "Temple of Doom" is the most colorful of the series in terms of its appearance, and Dolby Vision enhancement enables the whole movie – one that was so impressively presented on Blu-Ray – to sing even more here. Colors that were already pleasingly saturated on Blu-Ray possess more layers via HDR so objects stand out all the more as a result. The Atmos soundtrack is again impressive, and both the original teaser and what appears to be an early (and underwhelming) theatrical trailer (running just a minute and with a 1983 copyright) included for extras.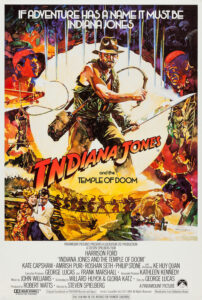 The shortcomings of the second film were rectified with the 1989 blockbuster INDIANA JONES AND THE LAST CRUSADE (126 mins., PG-13), which on a surface level sounds like a "Raiders" rehash but adds a warm, richer emotional component through Sean Connery's magnetic performance as Indy's father, Dr. Henry Jones. Connery is magnificent and his interplay with Harrison Ford is amusing and poignant, giving the movie an added human dimension absent from the amusement-park action of "Temple of Doom" and matching the level of character development found in "Raiders." John Rhys-Davies and Denholm Elliott return from the original, and the movie entertainingly reprises the quest-styled plot of "Raiders" as Indy tries to track down his father, who was lost while searching for the Holy Grail. While "The Last Crusade" may lack the freshness of the original, it's right up there in terms of my personal fondness for the whole series – Connery and Ford are so good together that the film's strengths are only magnified on repeat viewing, and the lengthy opening sequence with River Phoenix as a younger Indy is a sheer delight, with a buoyant John Williams score to match.
Yet again, the crisp detail and warmly rendered colors of Douglas Slocombe's cinematography are given a magnificent Dolby Vision treatment on UHD, making this the finest transfer yet of "The Last Crusade" on home video by far. The Atmos soundtrack is likewise satisfying and both the film's original 1988 teaser (showing the crew at work on the sequel) and full theatrical trailer are included as well.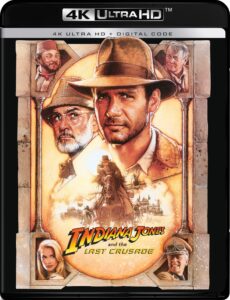 Shortly after INDIANA JONES AND THE KINGDOM OF THE CRYSTAL SKULL (122 mins., 2008, PG-13) was released, I received an email from a reader saying that I was unfairly harsh on the belated – and thoroughly unnecessary – fourth installment in the series. Frankly, after reading my original review over again, I actually don't think I was hard enough on it!
Ranking as one of the most disposable genre works in director Spielberg's filmography, this lightly entertaining but forgettable fantasy is compromised by a leaden David Koepp script nearly completely devoid of interesting characters, wit or innovation. While Harrison Ford still fits comfortably into his iconic role – with Indy coerced into helping a group of nefarious Russians search for an ancient relic that possesses a supernatural power – the film rolls snake eyes in terms of Cate Blanchett's villainess (one of many thankless elements in the picture), Indy's relationship with a young greaser (the continually charisma-challenged Shia LaBeouf) who needs his help finding a lost archaeologist (John Hurt, playing what was likely Sean Connery's intended role) and his kidnapped mom — who turns out to be none other than Marion Ravenwood (Karen Allen, wasted in a few minutes of screen time) herself.
The film overdoses on plot exposition (the mid-section of the picture is crushingly dull, bogged down in endless babble about the skull and its power) and fails to give its terrific cast much to do. Ford is as amiable as ever but even he seems a little ill at ease with some of the leaden dialogue, which doesn't exactly crackle the way Lawrence Kasdan, Jeffrey Boam or even Willard Huyck and Gloria Katz's work did in this film's far superior predecessors. The infusion of CGI – heavily used in the movie, as it turns out — is also in stark contrast to the prior films in the series, as is Janusz Kaminski's overly stylized cinematography, which does no favors for the picture either. It's amazing how claustrophobic and unappealing this movie looks, the bulk of it all too obviously having been shot on soundstages.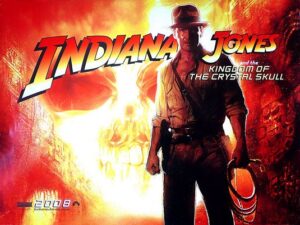 Finally, the picture also greatly misses Sean Connery's warmth and humor as Indy's dad — so much that it's unsurprising the few times Indy IV manages to strike an emotional chord is in its pair of direct references to Indy's late father (Connery was contacted to appear in the film but ultimately passed on it — a wise maneuver in hindsight, particularly considering how well the third movie turned out). In the end, "Crystal Skull" commits the worst sin of all: it's completely forgettable. Five minutes after the film was over I struggled to recall the specifics of the plot or individual sequences in it, feeling as if the series truly finished with the ride off into the sunset at the end of "The Last Crusade." Everything about this entry, ultimately, screams too little, too late.
Paramount's UHD looks nice and, even if John Williams' score is the least accomplished of his work on the series, sounds fine in its Atmos rendering too – and I grant you, this film seems a little bit more watchable today, separated from its initial disappointment and in lieu of Disney's Lucasfilm purchase and the promise of an all-out dud in "Dial of Destiny" looming in just a few weeks. Three trailers (marked trailers 2-4) round out the disc.
Each of the films is included in its own UHD release here with a slipcover, each featuring the original theatrical artwork, plus a Digital HD copy. What's missing are extras as contained in a special features disc exclusive to the 2021 4K UHD box-set, as reviewed here.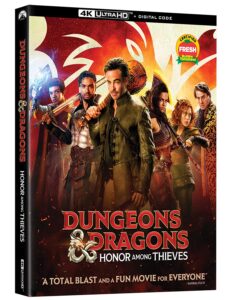 DUNGEONS & DRAGONS: HONOR AMONG THIEVES 4K UHD (134 mins., 2023, PG-13; Paramount): Highly entertaining big-screen rendition of the popular TSR (now Hasbro) role playing game from writer-directors Jonathan Goldstein and John Francis Daley manages to provide humor and breezy fantasy-action for fans and casual viewers alike. Credit the duo's script with peppering its tale of rogue thieves (led by Chris Pine and Michelle Rodriguez) with shout-outs to gaming lore (even I know what "Baldur's Gate" is) but keeping its central premise focused on its roster of wacky characters and their quest to retrieve a lost relic that falls into the hands of an evil wizard. Plenty of creatures and fun set-pieces make this "Dungeons & Dragons" anything but the grind its previous movie rendition was – its sole problem is an overlong running time that overstays its welcome by a good 15 minutes.
Though well-reviewed, "Honor Among Thieves" stalled out at the box-office after a strong opening this spring. Hopefully it finds a larger pool of viewers at home, and Paramount's 4K UHD (2.39), out this week, certainly serves up a gorgeous presentation with Dolby Vision HDR and thunderous Dolby Atmos audio. Over an hour of special features run the gamut from deleted scenes to the usual featurettes, and a Digital HD copy rounds out Paramount's release.
---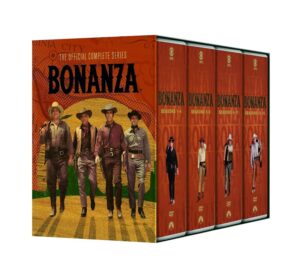 TV on Disc
BONANZA: The Official Complete Series DVD (aprx. 370 hours, 1959-73; Paramount): TV western fans have reason to saddle up and return to the Ponderosa thanks to CBS' brand-new, Complete Series DVD box of the legendary network western which ran from 1959-73.
Focusing on the adventures of the Cartwright family – including patriarch Ben (Lorne Green) and his three sons (Pernell Roberts, Dan Blocker and "Little Joe" Michael Landon") – "Bonanza" was one of the mainstays on the NBC network for over a decade. Colorful action, ample family drama, and a litany of future stars appeared throughout the show's run, which was set in Nevada during the 1860s.
CBS' complete box is loaded with the same remastered, full-length episodes with original music and vibrant color transfers from original 35mm film elements that graced the earlier, individual season releases. They've all been corralled into a mammoth package with four individual clamshell-sized plastic cases housing 3-4 seasons apiece, plus all the corresponding bonus features on-hand in those season sets. These include original NBC and sponsor promos, photo galleries with rare pictures, an excerpt from a Danny Thomas special, select episode commentaries, reminiscences by "Bonanza" veterans in front of and behind the camera, and an all-new Special Features bonus disc. This exclusive supplemental platter is chock full of vintage interviews featuring Greene, Roberts, Blocker and Landon on a variety of shows, from "Sesame Street" to Ed Sullivan plus assorted international appearances, while rare bloopers, trailers and even more promos round out a must-have DVD set encompassing all 431 episodes of "Bonanza"'s staggering 14-season run. Highly recommended!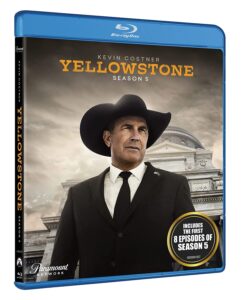 YELLOWSTONE Season 5 (Part 1) Blu-Ray (459 mins., 2022; Paramount): Things suddenly aren't all that pleasant on the range for Taylor Sheridan's smash hit series, with loads of reports surfacing over the last few months regarding friction between creator/producer Sheridan and "Yellowstone" series star Kevin Costner. Whether it's contractual issues, scheduling conflicts, Costner off shooting his new big-screen western (and allegedly being irritated Paramount didn't pick up its distribution), or the demands of Sheridan's other shows, it seems that "Yellowstone" itself is headed for a fast end with the "back end" of its fifth season episodes – whenever they're even produced.
In the meantime, fans can make due with this Season 5 Blu-Ray that has a sticker saying it's "the first 8 episodes of Season 5" though the disc packaging itself simply labels it as the fifth season. The irony is these eight episodes represent "Yellowstone" at its best – more focused and less cluttered than the fourth season that preceded it, and filled with the trademark mix of glossy soap opera, gritty action, romance and occasional bursts of violence fans have come to expect from the series.
Paramount's Blu-Ray looks great with 1080p transfers and 5.1 Dolby TrueHD soundtracks along with over three hours of special features: a look at the show's popular couples Beth & Rip and Monica & Kayce; a segment on the music composed by Brian Tyler and Breton Vivian; Inside Yellowstone Season 5 episode featurettes; and more.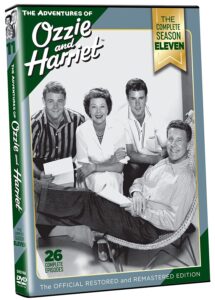 THE ADVENTURES OF OZZIE AND HARRIET – Eleventh and Twelfth Seasons DVD (1962-64, MPI): One of the seminal TV sitcoms ran for some 14 seasons on ABC, broadcast from the early '50s through the birth of the "mod" era of the mid-late '60s. With husband and wife Ozzie and Harriet Nelson playing themselves along with sons David and Rick, this situation comedy managed to showcase the clan – and the on-screen adolescence of the Nelson kids – in gently amusing, conventional story lines that laid the groundwork for many, many family shows to follow.
Even though the series ran for some 435 (!) episodes, it was never as visible in syndicated reruns as the likes of "Leave It to Beaver." MPI has completely remastered the series from the original film negatives here and given those of us who never really latched onto the show a new chance to enjoy its amusing comedic antics. Continuing MPI's run this month are the complete 11th and 12th seasons of the series in separate multi-disc DVD anthologies, offering respective 26 episode (Season 11) and 25 episode (Season 12) packages in full restorations (1.33 B&W) authorized by the Nelson estate. Guest stars include Kent McCord, Barry Livingston, and Joe Flynn among other recognizable faces.
A GOOD PERSON Blu-Ray (128 mins., 2023, R; MGM/Warner): Strong performances can only compensate so much for writer-director Zach Braff's overwritten tale of a young woman (Florence Pugh) whose life spirals out of control after an accident claims the life of her sister-in-law to-be. Trying to reconcile with the girl's father (Morgan Freeman), Pugh's Allison ends up creating even more heartache in a film that lacks the levity of Braff's superior "Garden State," a movie which "A Good Person" seems to be aspiring to throughout. Warner's Blu-Ray includes a solid 1080p transfer and 5.1 DTS MA sound along with a Digital HD copy.
SEAL TEAM Season 6 DVD (424 mins., CBS): Jason Hayes (David Boreanaz) is back leading the Seal Team after a battlefield ambush leaves them in disarray in this sixth season (2022) of the still-popular and long running CBS series. Now on DVD (16:9, 5.1), "Seal Team" Season six includes over an hour of special features including a gag reel, deleted scenes, a featurette on shooting in Jordan and more.
NEXT TIME: Kino Lorber reviews and plenty more! Until then, don't forget to drop in on the official Aisle Seat Message Boards and direct any emails to our email address. Cheers everyone!