After the success of "The Thief of Bagdad," producer Walter Wanger and Universal looked to emulate the Technicolor fantasy of Alexander Korda's classic. What they came up with didn't quite possess the same enduring artistic attributes as its predecessor, but still managed to become popular box-office hits – especially thanks to the teaming of Jon Hall and Maria Montez. Appearing in no less than six films together, the pair became synonymous with '40s/'50s adventure cinema – the kind celebrated in Imprint's fantastic new TALES OF ADVENTURE COLLECTION Blu-Ray box-set.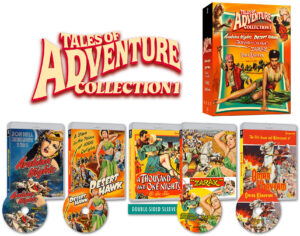 This four-disc, five-film package offers titles culled from the Universal, Paramount and Columbia libraries – four of them premiering on Blu-Ray – with the one previously-released picture being ARABIAN NIGHTS (86 mins., 1942). This Wanger/Universal production not only features the first collaboration between Montez and Hall but also features the star of "The Thief of Bagdad," Sabu, not to mention Rex Ingram, that movie's genie, in a cameo.
Admittedly, while there's moderate fun to be found here, this first Hall/Montez effort has a lot less to do with its source material than it is a Universal studio product of its era, dressed up with color spectacle and a lot of Saturday matinee-styled action (it also includes Shemp Howard as a "retired" Sinbad!). The film's pacing is a little languid, even for its sub-90 minute run time, and for those with a fondness for Korda's classic – or even '50s Harryhausen fantasies – the fact that the genre elements are toned down might come as a disappointment.
Still, this is a fun way to kick off Imprint's box-set, and the 2K scan from the original negative (1.33, 2.0 PCM mono) looked more striking to me than Kino Lorber's comparative Blu-Ray from 2020. I'm not sure if this is a new scan – or I now use an OLED set and can better judge the visuals – but I was more impressed with the lovely, colorful transfer provided here. In terms of extras, "Arabian Nights" receives the lion's share of supplements produced for this anthology, including a new Kim Newman interview on the genre and the Maria Montez era; an exclusive commentary with Michael Schlesinger and C. Courtney Joyner; an interview on composer Frank Skinner featuring the great Preston Neal Jones; a video essay on Montez by historian Phillipa Berry; the trailer; and an archival TCM intro with Robert Osborne.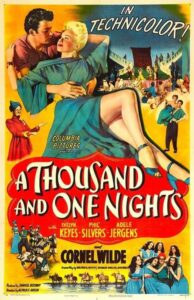 The success of the Montez/Hall films lead Hollywood to produce similarly "exotic" adventure pictures like Columbia's 1945 entry A THOUSAND AND ONE NIGHTS (93 mins.). I have to confess this ribald production took me by surprise: no, there's no more of a fantasy component at-play here, but there is a much higher reliance on comedy and irreverence which serves this movie well. In fact, it's easy to see where "Aladdin" – the animated 1991 Disney classic – took its cues more from this picture than any other genre film.
Cornel Wilde plays an athletic Aladdin who's trying to woo princess Adele Jergens while working with a lovelorn genie (Evelyn Keyes) and a sidekick (Phil Silvers) whose anachronistic humor and commentary gives this picture a major dose of fun compared to the comparatively staid "Arabian Nights." Watching this for the first time, it's not hyperbole to say that Disney's later reliance on Robin Williams' zany humor was preceded here – and at the least inspired by – Silvers, who fulfills a similar function and provides comedic energy to director Alfred E. Green's plain-looking Hollywood product.
To its credit, "A Thousand and One Nights" has a lot of fun with all of its performances. Jergens is a little stiff but she's a purposeful contrast to Wilde's zesty hero (he even croons a few songs, treated mostly as throwaways), Silvers' comedy, and a terrific performance by Keyes, who's delightful as the genie. It all ends happily – and with Phil doing a Sinatra imitation, lip-syncing one of o'l blue eyes' big hits, "All Or Nothing At All."
"A Thousand and One Nights" debuts here in HD courtesy of a reasonably solid Sony 2K master (1.33, PCM mono) with no extras. It's paired on a Blu-Ray with the third effort in the "Tales of Adventure" anthology, ZARAK (96 mins., 1956), a British-produced widescreen outing from Hollywood's Cinemascope era.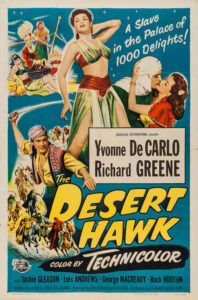 Long unavailable on home video, "Zarak" hailed from Warwick Film Productions – the early production home of Albert R. Broccoli, who would shortly, alongside producing partner Harry Saltzman, start the James Bond franchise.
Tellingly, "Zarak"'s credits are populated with names that would become frequent participants in the Bond movies: director Terence Young, writer Richard Maibaum, cinematographer Ted Moore, cast members like Eunice Gayson, stunt coordinator Bob Simmons and conceptual designer Syd Cain are among the many familiar names you'll see listed in this picture's credits, honing their craft just a few years prior to launching Sean Connery and 007 into cinema legend. Yet the movie's stunning amount of artisans doesn't end there: production designer John Box, for example, would soon become a four-time Oscar winner, working with David Lean among others on the likes of "Lawrence of Arabia" and "Dr. Zhivago."
While there was obviously a high pedigree involved in this production team, "Zarak" is merely a mildly enjoyable slice of what critics in the day used to call "hokum." Though initially based in fact (and a book by A.J. Bevan), the heavily fictionalized story involves Victor Mature in the title role: the son of an Afghan chief banished for clutching one of his father's (Frederick Valk) wives (Anita Ekberg). He soon becomes an outlaw who forms a bandit gang that attacks the British along the border of Afghanistan and India.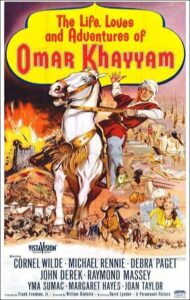 "Zarak"'s drawing room, studio-bound bits are dull but the outdoor scenes, shot in Morocco, are exciting – especially a pursuit along a rope bridge that would make Indiana Jones proud. The Sony licensed 1080p (2.35, 2.0 mono) presentation looks excellent with only the print showing infrequent, occasional signs of its vintage.
The weakest draw in the "Tales of Adventure" lot has to be THE DESERT HAWK (77 mins., 1950), a short Universal-International programmer from director Frederick De Cordova – later (better) known by Johnny Carson fans as the long-time producer of "The Tonight Show." DeCodova got his start making innocuous features like this, which stars Richard Greene as a freedom fighter who marries the gorgeous daughter (Yvonne DeCarlo) of the Caliph, then gets into trouble once a vile prince decides to have them killed.
DeCarlo is highly fetching and the presence of – get ready – Jackie Gleason and Rock Hudson in secondary roles will provide buffs with some viewing interest. Otherwise, "The Desert Hawk" is awfully slender, set-bound Arabian theatrics with few surprises – a decent time killer on a rainy day but not a whole lot else.
Universal's 2K scan (1.33, 2.0 mono) of the original negative is strong though the source seems a little faded and worn compared to the other pictures in this set. Extras include two commentaries, one by Phoef Sutton and Mark Jordan Legan, and another from British historians Jonathan Rigby and Kevin Lyons. There's also a featurette. "Man in the Shadows: Jeff Chandler at Universal," profiling Chandler, who narrated this film (among other roles he performed at the studio during the '50s).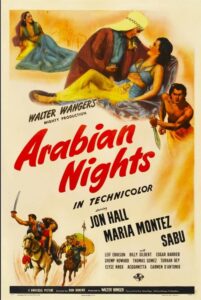 The box is capped by OMAR KHAYYAM (101 mins., 1957), a Paramount adventure that gives Cornel Wilde another Saturday Matinee-styled leading role. Alas, Wilde – who was an Olympic fencer and displayed those talents in "A Thousand And One Nights" – never gets to wield a sword in this watchable yet talky costume affair as the "Poet of Persia," whose beloved (Debra Paget) ends up in the arms of the Shah. More over, Omar soon finds himself wedged between political – and military – skirmishes between the Shah and conspirators directed by one of his childhood friends (Michael Rennie).
John Derek, Raymond Massey, Sebastian Cabot and Edward Platt co-star in director William Dieterle's set-bound production, which was one of Paramount's original "VistaVision" projects, even though it carried a nearly B-grade budget. This results in a movie with a very confined visual pallet, a disappointment since the performances are reasonably engaging and the film is graced by a lovely Victor Young score – the legendary composer's last.
"Omar Khayyam" debuts on Blu-Ray (1.85, 2.0 PCM mono) in a "6K scan" newly produced by Paramount. The image is detailed and natural, though the source has been battered around and displays frequent scratches and vertical lines. Extras include Sheldon Hall's informative interview on the picture and a commentary by Phillipa Berry that closes the door on this first – but hopefully not last – Imprint "Tales of Adventure Collection."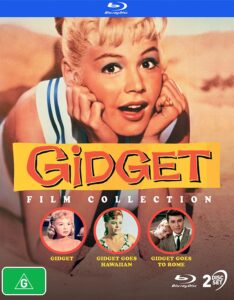 Glossy beach fun, the first – and best – "Gidget" surfs its way back to Blu-Ray in Via Vision's GIDGET FILM COLLECTION box-set, which premieres the "Gidget" sequels in the format for the first time.
The original GIDGET (95 mins., 1959) looks terrific in this 4K remaster (2.35, 5.1 DTS MA), arguably more so than Twilight Time's previous BD release. The Cinemascope trappings of this Columbia box-office hit are supremely well preserved here, making it easier than ever to enjoy the shenanigans of Sandra Dee's Southern California surfing princess, with Arthur O'Connell as her father and James Darren (the one and only Moondoggie) and Cliff Robertson as the competing objects of her affection. Paul Wendkos' film is a lot more heartfelt and genuine than the sequels and ripoffs that followed, including American-International's glut of "Beach Party" films, and Dee's star-making performance remains charming.
That's not to say there isn't value to the follow-ups: GIDGET GOES HAWAIIAN (101 mins., 1961) replaces Dee with the cute Deborah Walley, with James Darren reprising Moondoggie and the added comedic benefit of Carl Reiner as Gidget's dad. The film is light and fun, as is GIDGET GOES TO ROME (103 mins., 1963), which sends Cindy Carol's Gidget off on a globe-trotting expedition with James Darren again not far behind – all of it backed by a posh John(ny) Williams score that marked one of maestro Williams' earlier feature credits.
The sequels include 1080p (1.85) transfers from the Sony vaults; these are both solid HD masters even though both pictures weren't treated to the same level of restoration as the original "Gidget." Via Vision's box-set rounds out the disc with a "special feature": the 1972 TV-movie GIDGET GETS MARRIED (73 mins.), which of course followed the mid '60s Sally Field series and a 1969 TV-movie, "Gidget Grows Up." While Karen Valentine starred as Gidget in the latter, it's Monie Ellis who here essays Francine – now a 1st grade teacher – who marries Moondoggie (Michael Burns), fresh from his time in Saigon (a few years later this may have been a very different type of film!).
I'm not sure if "Gidget Gets Married" was supposed to be a backdoor pilot for a new "Gidget" TV series, but if so, it's no surprise it didn't lead anywhere as this formulaic, overly "dramatic" affair reconfigures its lead as a women's lib crusader. It still goes down nice and easy with Mike Post and Pete Carpenter's Bacharach-ian score, and "guest stars" like Don Ameche and Paul Lynde appearing. Sony's HD master is quite good, framed in the standard 1.33 TV aspect ratio, but displaying a high amount of detail audiences at the time of its original broadcast never saw.
---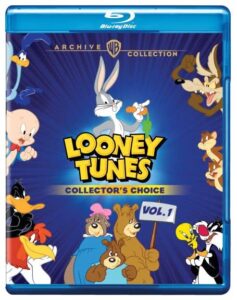 Warner Archive New Releases
Looney Tunes fans can rejoice with the Warner Archive release of LOONEY TUNES: COLLECTOR'S CHOICE VOLUME 1 (142 mins.), which marks the first appearance of vintage Warner Bros. animation in several years, offering nearly 2½ hours of shorts – many of which are either debuting on Blu-Ray or home video altogether.
The terrific Chuck Jones short "Beanstalk Bunny," which boasts Bugs and Daffy in an irreverant retelling of "Jack & The Beanstalk," kicks things off for a run of vintage '40s and '50s shorts that also include "Catch As Cats Can," "The Unruly Hare," "His Bitter Half," "Daffy Doodles," "Cracked Quack," "Little Orphan Airedale," "Hip Hip-Hurry!", "Hot-Rod and Reel," "Greedy For Tweety," "Stooge for a Mouse," "A Mouse Divided," "A Fractured Leghorn," "Plop Goes the Weasel!", "Tale of Two Mice," "The Foxy Duckling," "Two Gophers From Texas," "Doggone Cats," "What's Brewin, Bruin?", and "The Bee-Deviled Bruin." The titles run the gamut from respective Bob Clampett, Frank Tashlin and Jones efforts involving classic Looney Tunes characters to later Road Runner shorts from the late '50s which are great to have even if they're notably less inspired than their predecessors.
Still, there's a high degree of quality running throughout this single disc compilation. On the technical end, the 1080p (1.37) transfers were apparently struck (mostly?) from HBO Max broadcasts which had some digital modifications applied – minor alterations that have reportedly mostly been remedied for this Blu-Ray. The result are high bit-rate transfers that are good looking in terms of encoding/compression – and also color – though they still seem a little "digital" in terms of grain management. Regardless, fans are likely to be excited by the roster of cartoons involved here with the prospects of more volumes to come.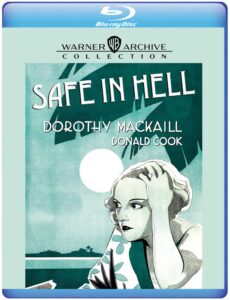 SAFE IN HELL Blu-Ray (74 mins., 1931): Murder, mayhem, and pre-Code insanity permeate William Wellman's 1931 morality play about a prostitute (Dorothy Mackaill), convinced she's murdered one of her clients, who entrusts her boyfriend (Donald Cook) to give her safe passage away from the apparent scene of the crime. Alas, poor "Gilda" ends up in Tortuga – and things only get worse from there. If there's a movie that sums up how frank a pre-Code picture can be, this First National release comes pretty close – backed with melodramatic moments and a horrifying finale! Genre fans will love it. Warner Archive used the only remaining 35mm nitrate print for a 4K restoration on their Blu-Ray (1.20:1, mono), which also boasts two classic Pat O'Brien WB shorts ("Crime Square," "George Jessel and His Art Choir"), the cartoon "Dumb Patrol" and the trailer.
More pre-Code melodrama – albeit of a far more benign variety – can be enjoyed in the 1932 WB/Vitaphone release ONE WAY PASSAGE (67 mins.). William Powell and Kay Francis are teamed as the unlikely couple who fall for one another while on a voyage to Honolulu. Complications are vast: he's a convicted murderer, she's dying of an incurable Hollywood disease! That said, the sincerity of both lead performances turned this into a box-office smash, and certainly make this a much more emotionally resonant piece today than, say, "Safe in Hell." Warner Archive's Blu-Ray hails from another 4K restoration of the original nitrate negative (1.37 B&W, mono); extras include the WB short "Buzzin' Around," cartoon "A Great Big Bunch of You," the trailer, and two radio productions from '39 (with the stars) and 1949.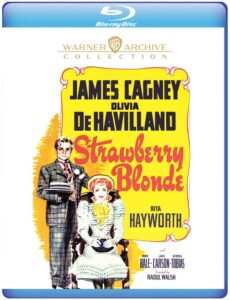 Jimmy Cagney and Olivia de Havilland were paired in Raoul Walsh's 1941 WB production THE STRAWBERRY BLONDE (99 mins). This remake of "One Sunday Afternoon" offers a terrific turn from Cagney (who also produced) as a dentist spurned by the lovely Rita Hayworth, who marries good girl De Havilland instead – only to wonder if pal Jack Carson received the better end of the deal after he eloped with Hayworth. Things work out just splendidly in this fun comedy-drama with appealing performances from the cast all around; the movie soon launched Hayworth's career into another stratosphere. Warner Archive's 4K-mastered Blu-Ray (1.37 B&W, mono) from the original nitrate negative is crisp and detailed; two vintage radio broadcasts (from '41-'42), the trailer, a WB cartoon ("Tortoise Beats Hare"), and studio short "Polo with the Stars" make for an irresistible disc for Golden Age buffs.
Cagney also stars in another Warner Archive release this month, A LION IS IN THE STREETS (88 mins., 1953). This Technicolor Cagney production offers a typical role for the star: a tough-talking rural grassroots leader who ascends to a gubernatorial candidacy…one that goes all wrong after he engages in backroom corruption and cheats on his wife (Barbara Hale) with the alluring Anne Francis. A lot of ground is covered in this sub-90 minute running time, which is carried by the cast and buoyed by Franz Waxman's score. A remastering from the original negative greatly benefits Warner Archive's Blu-Ray (1.37, mono), which also features the classic cartoon "Duck! Rabbit, Duck!" and the trailer.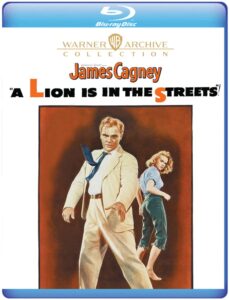 Provocative is one word to describe STORM WARNING (93 mins., 1951), a fascinating curio for its time. Ginger Rogers leads a compelling cast as a NYC model who goes to visit her sister (Doris Day) in the South, where she finds out her husband (Steve Cochran) is a KKK member who Rogers witnessed committing a murder en route. Adding to the fire is Ronald Reagan, giving a suitably no-nonsense performance as a tough D.A. in a Jerry Wald production, helmed by Stuart Heisler, that effectively mixes social commentary with entertaining noir/melodramatic flourishes. This Warner Archive Blu-Ray (1.37 B&W, mono) is derived from a new 4K remaster of the original nitrate negative with a WB short ("One Who Came Back"), cartoon ("Bunny Hugged"), and trailer all accounted for.
Finally, the RKO drama CLASH BY NIGHT (105 mins., 1952) is another Jerry Wald production, this one helmed by Fritz Lang. It provides a showcase for lead Barbara Stanwyck, playing a "good time girl" who's burned through the big city and heads back to the quaint California fishing village she grew up in – only to mix things up with both the local fisherman (Peter Douglas) she weds and the married friend (Robert Ryan) who draws her eye. A young Marilyn Monroe further seasons this adaptation of Clifford Odets' play, atmospherically helmed by Lang in B&W (1.37, mono). Another fine Warner Archive remaster is present here with an archival commentary by Peter Bogdanovich, who shares excerpts of his interviews with Lang, along with the trailer.