Message Board (open 24 hours!)
Twitter - @andredursin (for everything else!)
Growing up in the '80s – in the days before the internet – pure word-of-mouth would make you aware of, say, a cult action movie that some fellow 5th grader found "cool" on HBO or whose Dad would rent on VHS. That's how a lot of us initially heard about martial arts superstar Jackie Chan, who in the early to mid '80s, tried to push into the American market after achieving success in Hong Kong with numerous films from the "wuxia" genre – movies included in Shout's terrific new Blu-Ray retrospective THE JACKIE CHAN COLLECTION Vol. 1 (1976-82; Shout! Factory).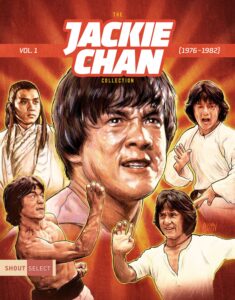 Aside from a supporting turn in "The Cannonball Run," Chan made two movies for Golden Harvest that Warner Bros. hoped would launch him – a la Bruce Lee – as an American box-office force. They even recruited "Enter the Dragon"'s Robert Clouse, a martial arts movie expert, to helm the first of these, BATTLE CREEK BRAWL (96 mins., 1980, R), a film set in 1930s Chicago where Chan, the son of a hard-working restaurant owner, battles local thugs trying to push his old man around. He eventually draws the interest of a local mobster (Jose Ferrer) who kidnaps his brother's fiancee and forces Jackie to enter in a knockdown, town-sized brawl in Battle Creek, Texas.
I remember hearing about "The Big Brawl," as it was known back then to U.S. audiences, from a classmate in elementary school ("you gotta see Jackie Chan, this movie is awesome!") though the movie's R-rating kept it away from most kids back at the time. Still, despite the occasional (and now-PG-13 level) bit where Chan and co-star Kristine DeBell partially disrobe – and a few bursts of violence that would've drawn an R rating – the movie is mostly Chan displaying what would become his patented on-screen persona, mixing high-flying acrobatics and dizzying fight scenes with humorous aplomb.
The picture is, overall, fun yet somewhat uneasily settled between a formulaic martial arts movie with American sensibilities and a pure Chan outing, lifted by an energetic Lalo Schifrin score that's jazzy and infectious. In fact, had the movie been a little lighter and carried a PG rating, it's possible "The Big Brawl" would've played to a wider, and younger, audience. Despite the movie's original intentions, Chan wasn't Bruce Lee, nor would his films end up playing along those lines (it would take some time before Hollywood learned this lesson, as Chan's real U.S. stardom didn't occur until 1996's breakout hit "Rumble in the Bronx").
"Battle Creek Brawl" is part of no less than seven films out this month as part of Shout Factory's THE JACKIE CHAN COLLECTION Volume 1 (1976-82), which features some of the best of Chan's early wuxia lead roles in Hong Kong as well as his initial American feature. It's a tremendous set, especially for those of us in the U.S. who've had to import a myriad of home video releases – some good, more bad – of these pictures over the years across multiple formats. Shout's set features the best available transfers licensed by Fortune Star with superb AVC encoding and, best of all, a flurry of language options and a cavalcade of special features, some of which have been newly produced for this set.
Also included in the Blu-Ray box are:
THE KILLER METEORS (104 mins., 1976), featuring a 2K transfer from original film elements (2.35) and a new commentary by critic David West; SHAOLIN WOODEN MEN (108 mins., 1976) with a 2K transfer (2.35) of the HK version from original film elements and a new commentary by critic James Mudge; TO KILL WITH INTRIGUE (107 mins., 1977), sporting a 2K restoration (2.35) from original film elements and a commentary with David West; SNAKE & CRANE ARTS OF SHAOLIN (101 mins., 1978) features a 2K restoration (2.35) from original film elements with a new commentary by David West; DRAGON FIST (97 mins., 1979) also contains a 2K restoration (2.3t5) from original film elements plus a new commentary by James Mudge; and DRAGON LORD (96/103 mins., 1982), which returned Chan to Hong Kong, sports a pair of 2K restorations (2.39) of both the original HK cut and a reworked version running seven minutes longer, but with 15 minutes all told of alternate/extended footage. David West provides a new commentary on the movie, detailing the differences.
BATTLE CREEK BRAWL itself is the sole title not derived from a new scan, but the older Fortune Star HD master (2.39) is decent if a little hazy, while the disc houses a new commentary by James Mudge, an interview with actress Kristine DeBell ("Meatballs"), and "The Golden Boy: Harvesting a Major New Martial Arts Maverick," an 85-minute long look at Chan's ascension in HK cinema and early work in the U.S. Packed with interviews featuring Chen Chi-Hwa (director of "Shaolin Wooden Men"), Andre Morgan (representing "Battle Creek Brawl") and critic Ricky Baker (whose interview segments from other Chan Blu-Ray releases have been carried over here to their respective discs), this is a great new feature that's enhanced with the presence of additional archival interviews featuring David West, Jackie Chan, producer Fred Weintraub and others.
The entire set houses Cantonese, Mandarin and English soundtracks – the English dubs in their original mono and not just the bastardized 5.1 remixes Fortune Star produced for many of these movies years back (though a few of those 5.1 tracks are included here). A new English subtitle translation is included, one for each film (either on the Cantonese or Mandarin audio, depending on the picture), as well, making this a spectacular package for Chan fanatics and casual viewers alike. Here's hoping Volume 2 follows soon enough!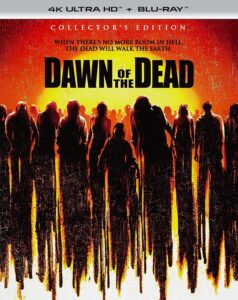 DAWN OF THE DEAD 4K UHD/Blu-Ray (101/110 mins., 2004, R/Unrated; Shout! Factory): I have to be honest — I was originally a little too harsh on Zack Snyder's 2004 remake of the George A. Romero zombie classic. My original review netted only a star and a half, and truth be told, a fresh viewing of the 2004 "Dawn of the Dead" cleared my mind and at least made me realize this remake is an energetic piece of filmmaking with several effective set-pieces, plus a solid, understated performance from Sarah Polley at the film's center. While some of my initial reservations hold firm (like Mekhi Phifer's "zombie baby" and the unneeded, should've-quit-while-you-were-ahead end credit "shock sequences"), there's enough juice in Snyder's film to satisfy zombie fans and horror buffs, especially given the amount of genre junk we've seen in recent years – and it's also infinitely preferable to most of Snyder's output since.
Debuting on 4K UHD from Shout!, "Dawn of the Dead" offers a fresh 4K scan (2.35) from the original negative with unrated inserts from the 2K Digital Intermediate (the latter being the source of the disc's Blu-Ray theatrical cut), producing a Dolby Vision HDR presentation of the Unrated version in 4K. This provides a strong push to the movie's aesthetic, capturing the flavor of Matthew F. Leonetti's cinematography and Snyder's sometimes intentionally-grainy visuals with HDR that makes the movie's mall-set sequences effectively clash with its grizzy gore. The DTS MA 5.1 audio is once again finely engineered, with extras including 2017 interviews with writer James Gunn, stars Jake Weber and Ty Burrell, and VFX artists, plus behind-the-scenes footage. Carried over from prior Universal releases are commentary from Snyder, deleted scenes, numerous mini-film featurettes and more, with the set also offering both the Unrated and Theatrical Cuts on their respective Blu-Ray discs.
---
J.J. Abrams said that when he went to Japan back in the 2000's, he saw Godzilla merchandise all over the place. Abrams was struck by the Big G's presence throughout his native land, and wondered where "our" Godzilla was in the good o'l U.S.A.
That notion formed the concept of CLOVERFIELD (84 mins., 2008, PG-13; Paramount), Bad Robot's 2008 box-office hit – back on 4K UHD in a 15th Anniversary Limited Edition Steelbook – that finds New York City under attack from a giant behemoth, as seen through the lens of a hand-held camcorder being operated by one of the Big Apple's residents trying — along with his buddies — to get away from the beast.
No matter that Roland Emmerich and Dean Devlin captured a bit of this same feeling in their 1998 "Godzilla" (indeed, some of this movie's more evocative shots of the creature running amok bear more than a passing resemblance to that much-ballyhooed 1998 box-office disappointment) — Abrams, writer Drew Goddard and director Matt Reeves fashioned a film that lives up to its billing as "Godzilla meets the 'Blair Witch Project'", at least to some degree.
"Cloverfield" opens with a group of nameless faces congregating at an apartment party. In what is easily the film's weakest stretch, Reeves and Goddard try to establish their limp set of lead characters in nearly interminable sequences that feel like a poorly-shot WB/UPN/CW soap opera. You never care about any of these twentysomething protagonists, their relationships and current dating status (who dumped and slept with who, etc.). It's all routine and less than interesting, with all of these early bits feeling like the filmmakers were just killing time getting to "the good stuff."
When it does, "Cloverfield" functions much like any other giant monster movie: the big lug cuts a path of destruction throughout the Big Apple, before shaking loose a group of tiny offspring that look like a cross between "Alien" face-huggers and a smaller version of the central creature. Buildings are leveled, bodies are stockpiled, and what military figures the core group of characters encounter have less information than you'd anticipate.
There's nothing groundbreaking about "Cloverfield" in terms of its thrills or special effects, though what it makes it unique is how it portrays the creature's arrival. The shaky, hand-held camera barely stays level for long, and some 70+ minutes of this approach tends to go a long way. Watching the film at home may make the effect less potent than it was in theaters (where there were countless reports of audiences feeling ill), but it still could prove to be a turn-off for some viewers.
That disclaimer aside, "Cloverfield" is really just an old-fashioned monster mash, and its effects (from Double Negative and Phil Tippett's Studio) are effective enough to provide satisfying entertainment for sci-fi/fantasy aficionados. Had the human element of the movie worked at all, Abrams and his group would've had something special here, but the weak and unappealing characters come across more as types than real people.
Hitting its 15th Anniversary this week with a 4K UHD Steelbook, "Cloverfield" offers an attractive (as much as it can be given the "low fi" approach to the visuals) Dolby Vision HDR grading with 5.1 Dolby TrueHD audio. Extras in the two-disc set, carried over from past releases, offer several (non-creature) deleted scenes, a pair of slightly different alternate endings, outtakes, a 30-minute Making Of, some shorter featurettes, and commentary from director Matt Reeves. A Digital HD copy and Blu-Ray are both housed inside the Limited Edition UHD Steelbook set.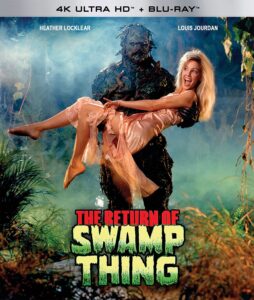 Lightyear Entertainment jumps into the 4K UHD fray (always a welcome development when another label decides it's time for 4K) in early February with a title that B-movie fans should find appealing: THE RETURN OF SWAMP THING (88 mins., 1989, PG-13), director Jim Wynorski's 1989 sequel which earned a few surprisingly positive reviews upon its initial run.
This follow-up to Wes Craven's comparatively more serious – and disappointing – 1982 DC Comics adaptation features Dick Durock back reprising Swamp Thing. So too, surprisingly, is Louis Jourdan, returning as mad scientist Anton Arcane, still trying to meddle in genetic manipulation and here including his stepdaughter (Heather Locklear) in his nefarious plans. Sarah Douglas co-stars in a sillier but also more entertaining film than Craven's stoic predecessor, enhanced by humor and a freewheeling tone that makes it more fun, and less pretentious, than its predecessor.
Last seen in a 2018 MVD Rewind release, Lightyear's 4K UHD sports a fresh 4K restoration (1.85) from the original interpositive, graced with Dolby Vision HDR mastering that results in a brighter, less murky image than previous editions (the easier to see all the shenanigans going down in the swamp). Lightyear has also included a new interview with producer Michael E. Uslan and a Rifftrax music video for "Your Ever-lovin' Swamp Thing" by the Rifftones, while also reprising the 2018 Blu-Ray and its extras: commentary from Wynorski, composer Chuck Cirino and editor Leslie Rosenthal (a 2003 Wynorski DVD commentary is also on-hand); interviews with Wynorski, Rosenthal, Cirino, and Lightyear Entertainment executive Arnie Holland; the trailer (in HD), plus promo TV clips, trailers, Greenpeace PSA's, and a photo gallery accompanied by Cirino's soundtrack.
Also New & Noteworthy
VOODOO MACBETH Blu-Ray (108 mins., 2022; Lightyear Entertainment): Fascinating docudrama is set in 1936, when a pre-stardom Orson Welles directed – at the behest of producer John Houseman – an all-black cast in a rendition of Shakespeare's "Macbeth" set in Haiti. This feature looks at the mounting of that production, and specifically the relationship between Welles (Jewell Wilson Bridges) and Broadway actress Rose McClendon (Inger Tudor) – making for a compelling drama for Welles and movie buffs in general. Lightyear's Blu-Ray includes a 1080p (2:1, 5.1) transfer with commentary from director Zoe Salnave and writer Erica Sutherlin, plus actual footage of the 1936 play.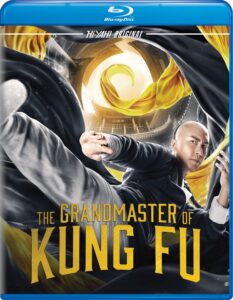 THE GRANDMASTER OF KUNG FU Blu-Ray (75 mins., 2019; Well Go USA): Hi-Ya! Original is set at the end of the Qing Dynasty, where an established martial arts master battles a Japanese military commander for the control of Tian Jin Wei, a stronghold representing Chinese cultural traditions that were being threatened by pressure from Japan and other exterior forces. Zhang Mingxi's 2019 feature (1080p, Mandarin DTS MA with English subtitles) is available January 31st.
DEATH KNOT Blu-Ray (101 mins., 2022; Well Go USA): Corneloio Sunny's Indonesian thriller offers horror fans an unnerving time when two children head back to their hometown – and a gaggle of angry villagers – after their the suicide of their mother, a practitioner of black magic. Whether or not they can rid themselves, and their village, of her curse makes for a stylish if formulaic outing, new on Blu-Ray from Well Go USA, the disc offering DTS MA audio and a 1080p transfer. In Indonesian with English subtitles.
DETECTIVE KNIGHT: REDEMPTION Blu-Ray (97 mins., 2023, R; Lionsgate): Who knows how many more Bruce Willis-led B-grade thrillers are left on the shelves (given how prolific his "direct to demand" phase was, it's possible there are dozens), but there's at least one more to come as this second entry in Edward Drake's "Detective Knight" trilogy unspools Willis for one more go-around. Despite his top billing, Willis' involvement in this one is constrained as Knight gets his badge back, just in time to stop The Christmas Bomber from causing more terror in the Big Apple. Lochlyn Monro and Paul Johansson co-star with Lionsgate's Blu-Ray (2.39, 5.1 DTS MA) being now available sporting two featurettes and a Digital HD copy.
NEXT TIME: The latest from Kino Lorber! Until then, don't forget to drop in on the official Aisle Seat Message Boards and direct any emails to our email address. Cheers everyone!