Message Board (open 24 hours!)
Twitter - @andredursin (for everything else!)
It might be an overstatement to call Tom Cruise "The Last Movie Star," but it's hard to argue in 2022 there's an actor still working today who commands a project, and the screen itself, the way Cruise still can. It's a commendable feat that's no small accomplishment when you analyze the constrained marketplace that is the U.S. box-office in these post-pandemic times – an era in which movies where teenagers aren't the central demographic have become a nearly extinct species, dominated instead by super-heroes and recycled "Intellectual Properties" owned by massive corporations. TOP GUN: MAVERICK (131 mins., 2022, PG-13; Paramount) is still, obviously, a revisit of one of the all-time '80s blockbusters, but it's been produced with so much skill and soul that it scarcely resembles the generic sequels and comic book films taking up residency in our nation's multiplexes in the 21st century.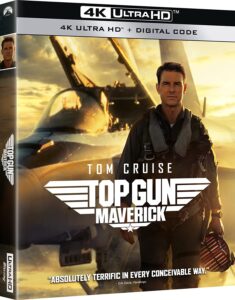 This long-gestating project, which was once planned for release in 2019 but held onto by Paramount (wisely, as it turns out), is as good as any "reboot" Hollywood has attempted over these last several decades – likely because Cruise personally took on this project and has spent years fine tuning every element. The final result, clearly, shows.
"Maverick" tweaks the original "Top Gun" formula but finds an older, wiser – but just as fiery – Pete "Maverick" Mitchell called back to the elite Top Gun flight training school in San Diego. There, much to the chagrin of the Vice Admiral (Jon Hamm), Maverick is placed in charge of the latest graduates from the elite Navy program, with an upcoming mission to shoot down a uranium facility (in the movie's major concession to foreign box-office revenue, the offending nation is not named) as his central focus. Among the new "Top Guns" is "Rooster" (Miles Teller), the son of "Goose" – Anthony Edwards' character from the original, who of course perished in a tragic accident – who was kept out of the Navy by Maverick himself years before. Rooster has never gotten over it, and this dramatic conflict becomes one of several plot threads – along with Maverick's rekindled relationship with local bar owner Jennifer Connelly – that credited writers Ehren Kruger, Eric Warren Singer and Cruise favorite Christopher McQuarrie utilize to put some twists on its 1986 predecessor's formula.
Ultimately, the movie doesn't stray too far off the beaten path, though there are some surprises in the final half-hour that are effectively handled by director Joseph Kosinski, who between this movie and the under-appreciated "Tron: Legacy," seems to have a firm grasp on helming contemporary reworkings of movies from the 1980s. Visually, as you'd anticipate, the film is a trip – the aerial sequences are outstandingly edited and easier to comprehend than those in the original "Top Gun," with Cruise occasionally flying on his own, in footage you can tell hasn't been doctored by modern CGI.
The sound design, editing and effects are just expertly handled on every front – but lurking underneath it all is an emotional undercurrent absent from the original. Cruise wells up a couple of times in a performance that replaces the actor's youthful cockiness with more of a world-weary eye reflecting his life experience – Cruise's scene opposite a frail Val Kilmer manages to include some of his finest work, wrapped up in a well-oiled machine of a movie that doesn't have a wasted scene within it.
So much of today's programming is "more of the same" that to rave about a modern sequel revisit that likewise gives you "more of the same" seems like it could be overstating its virtues – but I'd argue that's not the case with "Top Gun: Maverick." This picture goes above and beyond in terms of entertainment value, coming off as a celebration of not just its predecessor but every reason why we go to the movies in the first place. This picture's ending had me fighting back tears (I ended up losing that battle) no matter I knew exactly what was coming – and that entirely speaks to Cruise, Kosinski, and the production team getting nearly everything right, from its story and characterizations, sense of humor and dazzling action, all the way down to the undeniably effective hodge-podge soundtrack (is it Harold Faltermeyer, Lady Gaga, Hans Zimmer or Lorne Balfe? Does it really matter when it works so well?) that swells with emotion at just the right moment.
Debuting on 4K UHD from Paramount, "Top Gun: Maverick" offers reference-class Dolby Vision HDR (2.35) and a Dolby Atmos soundtrack every bit as potent and immersive as you'd hope. Extra features in the 4K UHD include nearly 90 minutes worth of behind-the-scenes content and a digital HD copy. No doubt this will be the top-selling disc of 2022, and for obvious reasons.
Also New From Paramount: Annette Bening and Bryan Cranston play a Michigan couple who uncover a way to cheat the Massachusetts lottery in David Frankel's enjoyable character comedy JERRY & MARGE GO LARGE (96 mins., 2022, PG-13). This true story, brought to the screen by director Frankel and writer Brad Copeland, premiered on Paramount+ earlier this year and comes to Blu-Ray this week for those who might've missed it (1080p, 5.1 DTS MA, with a Digital HD copy)…Another streaming series, HALO (455 mins., 2022) is an adaptation of the hugely popular Xbox video game franchise, set after the Covenant and its alien invaders have begun wiping out human worlds throughout the galaxy. Master Chief is the only thing standing in the way of their conquest, though beyond the central premise, there's little connecting this serviceable sci-fi series to its Xbox predecessors. Still a good looking production (1080p, 5.1 DTS MA), "Halo"'s first season premieres on Blu-Ray this month sporting over five hours of extras (featurettes, etc.) and seven collectible art cards.
---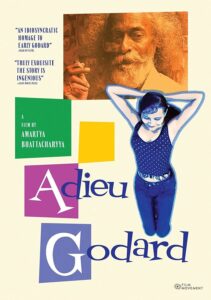 Film Movement New Releases
Debuting on DVD from Film Movement, ADIEU GODARD (87 mins., 2021) is the acclaimed film from Amartya Bhattacharyya. Choudhury Bikash Das plays a "dirty old man" who lives in a remote Indian village working porn when he finds out he's accidentally rented an early Godard film – whoich promptly changes his life. Off-the-wall and often very funny, especially if you're a fan of Godard, "Adieu Godard" debuts on DVD from Film Movement (16:9, 2.9 Odia/English with subtitles) November 15th.
Nana Mensah's QUEEN OF GLORY (78 mins., 2021) chronicles a Columbia doctoral student (played by the director) who finds out she has inherited a Christian bookstore serving Ghanaian immigrants in the Bronx. Her attempts to navigate a way to keep the store going while following through on her planned course of events make for a very entertaining debut picture from Mensah that's light on its feet and genuinely warm. Film Movement's DVD (1.85, 5.1/2.0) includes commentary, deleted scenes, and Anthony Nti's Ghanaian short "Da Yie."
Finally, Bagdan Farcas plays a police detective trying to uncover an arsonist in Bogdan George Apetri's thriller UNIDENTIFIED (123 mins., 2020), which debuts on DVD November 15th from Film Movement. The disc includes Romanian 5.1 audio with English subtitles, commentary from Apetri, and deleted scenes.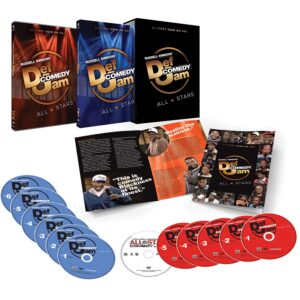 Time Life New Releases: Two major DVD box-sets grace Time Life's new releases, out just in time for gift giving this holiday season.
RUSSELL SIMMONS' DEF COMEDY JAM COLLECTION is a 12-disc set culled from nine seasons of the long-running HBO comedy series — one of the network's flagship original shows of the 1990s. Talents including Martin Lawrence, Chris Tucker, Dave Chappelle, Tiffany Haddish, Tracy Morgan, Steve Harvey, Bernie Mac and Kevin Hart all appeared in what was, for many years, the highest-rated cable comedy show on any network. Some 36 intact episodes from the program have been included here in this 23-hour box-set, offering uncensored stand-up with added star cameos to boot. Time Life's DVD also boasts a 24-page booklet offering background information on the show, a bonus DVD ("Shaq & Cedric the Entertainer Present: All Star Comedy Jam"), and bonus episode "2 Raw 4 TV."
Also new from Time Life, AMAZING GRACE: COUNTRY STARS SING SONGS OF FAITH AND HOPE is a lavish, 10-disc DVD package ideal for Christmas. The extensive playlist includes over 150 live performances of gospel and classic old-time spirituals from the likes of Alabama, Alan Jackson, Dolly Parton, George Jones, Randy Travis, Reba McEntire, The Gatlin Brothers, Oak Ridge Boys, Vince Gill and many others. A 36-page booklet includes archival photos while two bonus DVDs are on-hand in the form of "Opry Gospel Classics," boasting even more vintage performances from Johnny Cash, Loretta Lynn, Barbara Mandrell and more. Licensed through the Grand Ole Opry and Gaither Music Group, this Time Life DVD package is now available and highly recommended for anyone with an interest in the genre on their holiday list.
DEVIL'S WORKSOP Blu-Ray (86 mins., 2022, R; Lionsgate): A solid cast tries to overcome formula in this generic horror outing. Timothy Granaderos stars as an actor who hires a Satanic expert (Radha Mitchell) in order to prepare for a possible role as a demonologist. She's up to more than she initially appears, but writer-director Chris Van Hoffman fails to muster much excitement out of this hum-drum independent outing with Emile Hirsch also slumming alongside Mitchell, who's obviously capable of more. Lionsgate's Blu-Ray (1.85, 5.1 DTS MA) is now available along with a Digital copy.
THE WITCH 2: THE OTHER ONE Blu-Ray (138 mins., 2022; Well Go USA): Sequel to the hit Korean sci-fi suspenser "The Witch" continues its plot of a bio-engineered young woman, here on the run from assassins trying to track her down. A behind the scenes segment joins one of Korea's top box-office hits of the year so far, presented on Blu-Ray by Well Go sporting a 1080p transfer and 5.1 DTS MA audio, in either subtitled Korean or an English dub track…Also new from Well Go, HANSAN: RISING DRAGON (130 mins.) is set in the year 1592, where Admiral Yi and his fleet of "Geobukseon" have to take down invading forces from Japan. Big-scale sea battles are in abundance in this prequel to the Korean smash "The Admiral: Roaring Currents," debuting on Blu-Ray with a 1080p transfer and either Korean (subtitled) or English dubbed 5.1 DTS MA audio. A commentary and featurettes are also included.
DOOM PATROL – Complete Third Season Blu-Ray (529 mins., 2021-22; Warner): With Dorothy's battle with the Candlemaker having finished, the Doom Patrol is tasked with attempting to figure out where each of its members and their particular allegiances lies. Meanwhile, Madame Rouge pops in from a time machine with a secretive mission she can't remember! Amusing comedy and comic book action mix in this latest season of the well-reviewed DC series, on Blu-Ray (1080, 5.1 DTS MA) with numerous featurettes and a Digital HD copy this week from Warner...More DC live-action series entertainment is on tap with The Complete First Season of PEACEMAKER (346 mins., 2022), the HBO adventures of the title hero who continues to find justice (by any means possible). John Cena reprises his "Suicide Squad" role to superb comedic effect in a well-mounted series that teams up Peacemaker along with Emilia Harcourt and a ragtag team in a show hardcore DC fans should enjoy, unspooling an appealing character drama at its core. Warner's Blu-Ray is out November 22nd with a gag reel, two featurettes, 1080p (1.78) transfers, 5.1 DTS MA soundtracks and a Digital HD copy.
A DISCOVERY OF WITCHES – Complete Collection Blu-Ray (19 hours, 2018-21; RLJE Films): Generally well-reviewed Sundance Now/Shudder original production offers the complete three-season arc focusing on the relationship between "academic witch" Diana (Teresa Palmer) and vampire Matthew (Matthew Goode), from their original meeting to escaping the Congregation and navigating Elizabethan London in an attempt to help Diana control her powers, find the Book of Life, and return to the present day. This colorful series has been brought back to Blu-Ray in a complete series set featuring six discs — all 25 episodes — from the series with over 80 minutes of bonus features, 1080p transfers and 5.1 DTS MA soundtracks.
NEXT TIME: Kino Lorber's November discs, in time for Thanksgiving! Until then, don't forget to drop in on the official Aisle Seat Message Boards and direct any emails to our email address. Cheers everyone!