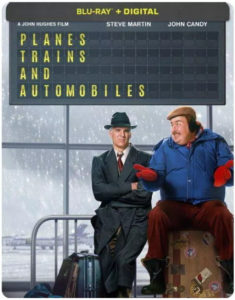 New From Paramount
PLANES, TRAINS & AUTOMOBILES Steelbook Blu-Ray (93 mins., 1987, R; Paramount): John Hughes' holiday classic returns to the format in a new, collectible Steelbook package, though inside resides the same 2011 Blu-Ray transfer recycled once more, with far too much noise reduction by modern standards.
One of Hughes' best films (and arguably his finest feature as a director), this teaming of John Candy and Steve Martin (both tremendous) was just a modest box-office performer back in December '87, when it was out-grossed by the saccharine, cuddly "Three Men and a Baby." Decades later, "Planes, Trains" is the movie audiences keep coming back to – a spirited holiday travel comedy with a heartwarming ending. It's a shame Hughes subsequently abandoned making movies for audiences outside of the 13-and-under crowd, since this picture (one of his few R-rated efforts – albeit only for one well-remembered, profanity-laced Martin tirade directed at Edie McClurg) remains a perennial favorite.
Paramount's old Blu-Ray certainly could be improved with a reduction in DNR and, hopefully, one day will surface as a 4K remaster, but in the meantime, this is all we've got. The DTS MA 5.1 soundtrack is more impressive, featuring an eclectic mix of songs and Ira Newborn score, nearly all of which was tossed aside by Hughes in post-production.
For extras, the BD boasts a couple of excellent supplements devoted to Hughes' career. Presented in HD, "John Hughes: The Voice of a Generation" and "Heartbreak and Triumph: The Legacy of John Hughes" examine his creative process and lasting legacy in an enlightening pair of half-hour programs (included among the interviewees are Hughes collaborators Lauren Shuler Donner, Howard Deutch and Marilyn Vance, plus film alumni Matthew Broderick, Alan Ruck, Jon Cryer and Lea Thompson). A trio of older featurettes (in SD) are mainly comprised of material from the picture's EPK, along with a three-minute deleted scene (in HD) that was restored to syndicated TV broadcasts of the film (one hopes we'll eventually see the hours of excised material editor Paul Hirsch discusses in his autobiography, material that Steve Martin has long said contained John Candy's strongest work).
More Yuletide entertainment is on tap with with Paramount's 75th Anniversary Edition of IT'S A WONDERFUL LIFE (130 mins., 1946). This two-disc set includes both the restored B&W and Colorized versions of the Frank Capra holiday classic on Blu-Ray, along with recipe cards from the "It's a Wonderful Life: The Official Bailey Family Cookbook." For a disc-specific review, check the Aisle Seat Archives page.
Superb transfers are on-hand in a pair of long-overdue Blu-Rays of Warren Beatty box-office hits. Beatty's HEAVEN CAN WAIT (101 mins., 1978, PG) was Beatty and Elaine May's reworking of the '40s hit "Here Comes Mr. Jordan," with Beatty playing a pro football QB who dies en route to the Super Bowl, and is brought back to Earthly terms in the body of a millionaire industrialist. Julie Christie, James Mason, Charles Grodin, Dyan Cannon and Buck Henry – credited with co-directing the film with Beatty – co-star in one of 1978's biggest theatrical attractions, here presented in a satisfying albeit no-frills Blu-Ray (1.85, Dolby TrueHD mono) from Paramount along with a Digital HD copy…Beatty followed the success of "Heaven Can Wait" with REDS (195 mins., 1981, PG), his sprawling look at the romance between journalists John Reed (Beatty) and Louise Bryant (Diane Keaton) as they chronicle the turbulent turn of the 20th century, the Bolshevik Revolution and WWI. Beatty's expensive film is gorgeously shot by Vittorio Storaro and backed with an outstanding supporting cast (Edward Herrmann, Jack Nicholson, Paul Sorvino, an uncredited Gene Hackman) plus music from Stephen Sondheim and Dave Grusin. "Reds" has a freshly remastered Blu-Ray out this week with a new 1080p (1.85) transfer and 5.1 Dolby TrueHD sound (plus its original mono soundtrack) along with a digital code and "legacy" supplements from the previous HD-DVD/Blu-Ray.
---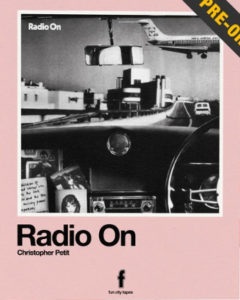 New From Fun City Editions
RADIO ON Blu-Ray (104 mins., 1979; Fun City Editions): With his brother having committed suicide, London DJ Robert (David Bearnes) takes a trip to Bristol to find answers – while encountering a number of assorted characters who provide narrative, and musical, detours along the way. It's a simple premise but one rendered in striking black-and-white terms that represent the stylistic touches of its producer – Wim Wenders – as much as it does its director, first-time helmer Christopher Petit. Robert's journey is punctuated by ample music that matches the mood of a pre-Thatcher England, backed by striking imagery of the country in a time of societal change, with tracks supplied by David Bowie, Devo, and Sting, who also appears in this cult film which oozes atmosphere and transports you to a specific time and place.
Fun City Editions' Blu-Ray includes a new 4K restoration (1.85) from the 35mm original camera negative and enriches the visuals with an impressive array of extras. These include both a new filmed conversation with Christopher Petit along with an audio conversation with the director. Historian/filmmaker Kier-La Janisse also provides a new audio commentary while Petit's follow-up "digital essay" "Radio On (remix") is also included, along with an image gallery, the trailer, and extensive booklet notes with essays from Glenn Kenny, Rudy Wurlitzer and Petit himself.
THE SPORE DVD (92 mins., 2021, R; Lionsgate): Independent horror outing is set in a near future after a plague wipes out most of mankind, all thanks to global warming (of course). From there, a girl holes up in an abandoned cabin – or is it – as various survivors get wiped out, one by one, by the fungus. Pretty standard stuff from writer-director D.M. Cunningham, now on disc from Lionsgate (16:9, 5.1). The DVD also includes a commentary and featurette.
Yuletide Offerings from Lionsgate this month, premiering on DVD, include A GIFT FROM BOB (92 mins., 2021, Not Rated), a sequel to "A Street Cat Named Bob," James Bowen's own story of his turnaround from homelessness and drug addiction with the help of a savvy feline named Bob. This sequel, helmed by Charles Martin Smith, continues Bob and James' (a returning Luke Tredaway) story with positive messages and heartfelt good cheer for the whole family. This Twickenham Studios production debuts on DVD in the US from Lionsgate featuring a 16:9 (2.39) transfer and 5.1 sound…Brande Roderick and Steven Chase star in ACE AND THE CHRISTMAS MIRACLE (92 mins., 2021, PG), a offbeat holiday comedy with the "Baywatch" alum playing a single mom who hires an affable con man (Chase) to kidnap her brother's horse (voice provided by Jon Lovitz). Shenanigans ensue in this family-friendly affair on DVD with a 16:9 transfer (1.78) and 5.1 Dolby Digital audio.
---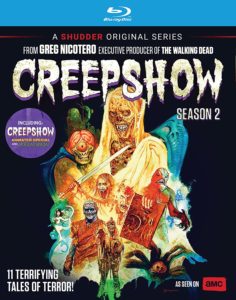 Acorn New Releases
CREEPSHOW: Season 2 Blu-Ray (4 hours, 2020; RLJE Films): More E.C. Comics-inspired mayhem is on-tap in this second season of the Shudder-produced cable series featuring an assortment of stars – many familiar genre vets – encountering supernatural mayhem, including C. Thomas Howell, Ted Raimi, Molly Ringwald, Ali Larter, Ashley Laurence, Denise Crosby, Kiefer Sutherland, Barbara Crampton, Breckin Meyer and Kevin Dillon among others. RLJE's Blu-Ray includes a "Creepshow Holiday Special" and separate animated special; behind-the-scenes raw footage and featurettes; a comic art booklet; photo gallery; 1080p transfers and 5.1 DTS MA soundtracks…More horrific fun is on-tap in Season 2 of ELI ROTH'S HISTORY OF HORROR (4 hours, 2021), the genre auteur's survey that here encompasses "House of Hell," "Monsters," "Witches," and "Chilling Children," with interviewees including Stephen King, Quentin Tarantino, Bill Hader, Nancy Allen, Rob Zombie and Slash among others. Additional featurettes, 2.0 DTS MA sound and 1080p (1.78) transfers adorn RLJE's currently-available Blu-Ray.
KEVIN CAN GO F—K HIMSELF Season 1 Blu-Ray (6 hours, 2021; AMC Studios/RLJE): "Schitt's Creek" alumnus Annie Murphy receives her own breakout series with "Kevin Can Go F—k Himself," a dark comedy wherein literal "sitcom wife" Allison Roberts escapes her conventional confines and heads out with her neighbor on a journey that shifts from laugh-track laden comedy to single-camera drama. This is an ambitious series from producer/creator Valerie Armstrong that doesn't always hit the mark, but manages to remain a compelling view throughout its eight episodes thanks to its intriguing concept and Murphy's performance anchoring all aspects of the material. Three featurettes are on-tap along with 1080p (1.78) transfers and 5.1 DTS MA soundtracks.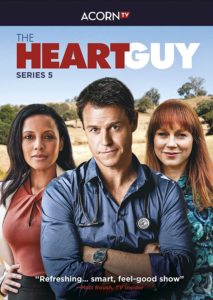 Also New on Blu-Ray From Acorn: Guy Pearce returns in Season 3 of JACK IRISH (229 mins., 2021), the Aussie noir that picks up Jack's life three years after its second season. Irish is now working as a lawyer and father who's lost touch with his old crew, at least before an old ally returns, seeking help to uncover the culprit behind the death of an off-duty police officer. This well-reviewed import is back on Blu-Ray here with four episodes on two discs (1080p, 2.0 DTS MA) from RLJE…Series 2 of MS. FISHER'S MODERN MURDER MYSTERIES (381 mins., 2021) again spotlights the delightful Geraldwine Hakewill as a PI working out of the Melbourne Adventuresses' Club with help from ex-spy Birdie Birnside (Catherine McClements) and Violetta Fellini (Louisa Mignone). Joel Jackson's James Steed is, of course, also along for the ride in this '60s set spin-off of the original Phryne Fisher adventures, with RLJE's Blu-Ray boasting eight episodes on two discs (1080p, 2.0 DTS MA)
On DVD from RLJE and Acorn: Julie Wassmer's popular novels featuring WHITSTABLE PEARL (298 mins., 2021) have been newly adapted in this Acorn series. Kerry Godliman plays a single mom who starts up her own PI agency in the small seaside town of Whitstable. Mysteries and character-driven drama intertwine in this first season of the show, presented on two DVDs featuring all six episodes (16:9, 2.0). A 38-minute "Page to Screen" featurette is the set's lone supplement…Series 5 of the hit series THE HEART GUY (391 mins., 2021) is now available, with Rodger Corser's Hugh Knight and his family facing their biggest obstacles ever in the final season of the series. All eight episodes are included on two discs (16:9, 2.0 stereo)….The Sundance Now series THE DROWNING (187 mins., 2021) chronicles the efforts of Jodie Walsh after her son vanishes from a lakeside picnic. Years later she meets a boy who she firmly believes is him, only to have others convinced that she's wrong, in this absorbing series with a strong performance from Jill Halfpenny. RLJE's DVD includes a 16:9 transfer, 2.0 audio and a very brief featurette.
Two "Halloween Pop-Up Collectible" DVD releases are new from Acorn and RLJE for the hit series MIDSOMER MURDERS and MURDOCH MYSTERIES. These Limited Edition releases include collectible pop-up packaging for the MIDSOMER episode "The Magician's Nephew" (with commentary by John Nettles and Jane Wymark), plus a two-episode MURDOCH set featuring "Sir, Sir? Sir!!!" and "Murdoch and the Cursed Caves" (both DVDs 16:9 and 2.0)…A HOUSE DIVIDED Season 3 (5 hours, 2020) continues to follow the Sanders family as they navigate chaos and turmoil as their empire falls apart around them (16:9, 2.0 Dolby Digital).
---
GHOSTBUSTERS AFTERLIFE (**, PG-13): Hollywood's latest corporate IP revival also tries to tap into the nostalgia for the 1984 "Ghostbusters" t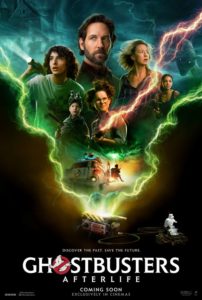 hat Columbia's female-cast 2016 "not a remake/sequel" mostly missed. Hiring original director Ivan Reitman's son, Jason, as director/co-writer starts off the goodwill that this belated sequel tries to keep going by way of a story that revolves around the late Egon Spengler, Harold Ramis' character, and how he left the big city for rural flyover country – all the better to keep the spirits at bay.
The latter include Gozer and other returning beasties who appear to haunt his family – including estranged daughter Carrie Coon and her kids Finn Wolfhard (the charisma-free lead from "Stranger Things") and the quite excellent Mckenna Grace, who inherit Egon's weirdo farm and try to piece together what to do with all the old Ghostbusters equipment and why the original group fell out with one another in the process.
"Afterlife"'s script may have read OK on paper but the final result manages to be two things: first, it's a passable "family movie" for those of us with kids, but secondly – and for everyone else – it's a bizarre reworking of its 1984 predecessor that's shockingly bereft of humor and energy. The younger Reitman may have had his heart in the right place – stocking the film with the same dramatic beats as the original, Elmer Bernstein's themes from the '84 movie, and expected last-minute cameos – but his streak of busted, post-"Juno" movies continues with a picture that seems to be so preoccupied with its characters and their respective stories that it forgets to be thrilling, scary, or magical. There's the science-crazy Grace, trying to connect with Egon himself; the older brother trying to impress a girl at his new drive-in job; their mother, whom Egon never knew, hoping to make a fresh start; the town science teacher (Paul Rudd), who wants to woo her; Grace's new pal Podcast, who the movie tries to fashion as a diminutive Dan Aykroyd; the town sheriff (Wokeem Woodbine), who disappears after a single scene; plus late appearances by villainous Gozer and Ivo Shandor (J.K. Simmons), the original 'Busters, and a CGI recreation of Egon himself that's on-screen so much that it verges on bad taste (or perhaps crosses that line, depending on your point of view).
With all of this happening, Reitman and co-writer Gil Kenan attempt to adhere to the main dramatic structure of the 1984 movie, but there's one problem: the failure of the 2016 movie led Sony to cut this film's budget to roughly half that of its predecessor. That resulted in rural Canadian shooting locales and a notable reduction in special effects – a major problem because there's just not enough ghosts or bustin' going on here. The gang meets a Slimer-like creature named Muncher, but one set-piece involving the apparition aside, the picture is just curiously light on the supernatural build-up to the drama, preferring instead to go along with the family's story…and playing ultimately like something Reitman, whose own work has been playing to diminishing returns for years, was more interested in than making a comic fantasy.
Subsequently, "Afterlife" misses a sense of playfulness and humor – the kind the elder Reitman was so expert at cultivating during his heyday. Only Rudd brings an infusion of comedic energy to his part with the actor's typical aplomb, with much of this movie lacking wit and levity – even a typical episode of "Stranger Things" has far more laughs than this film. And how in the world with an audience favoring the younger set did Reitman and Kenan not repurpose the iconic "he slimed me!" sequence from the 1984 movie?
"Ghostbusters: Afterlife" still isn't the worst reycling Hollywood has given us of late, if only because the people who made it did, at least, seem to care. Unfortunately, they're not as capable in terms of being creative talents as their predecessors, leaving us with another curiously flat remake whose best moments we've all seen before.