Years ago when Rykodisc tapped into the vast catalog of MGM (really United Artists) soundtracks, various Film Score Monthly writers jumped into select one project or another to write liner notes. "Dibs" were obviously called early for, say, "Octopussy" or anything by a name film composer, but something like "Rancho Deluxe" fell to my lap. Music by Jimmy Buffett? "Hey, no problem, I know Margaritaville," I said – of course, while my initial knowledge of this 1975 Frank Perry film was quite limited, I was able to track down a VHS copy and realized, ultimately, I was being done a favor by tackling the project nobody else wanted, since RANCHO DELUXE (93 mins., 1975, R) is a terrific slice of '70s cinema. At last brought to Blu-Ray thanks to Jonathan Hertzberg's Fun City Editions, this is a wonderfully offbeat little movie that shows what Hollywood was willing to bankroll back at the time, especially compared to the bloated, risk-free spectacle of 21st century "franchise cinema."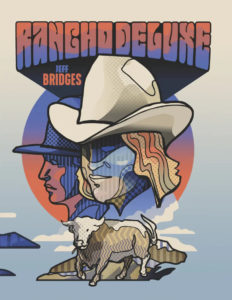 Thomas McGuane ("The Missouri Breaks," "92 In The Shade") penned this original story of two young rustlers (Jeff Bridges, Sam Waterston) weaving in and out of their daily Montana existence by shooting the occasional cattle on the land of rancher Clifton James. James hires a grizzled livestock detective (Slim Pickens) and his sexy niece (Charlene Dallas) to take on the rustlers as Harry Dean Stanton and Richard Bright's hapless ranch hands prove ineffective in stopping Bridges and Waterston, who spend the rest of their time fooling around with local girls and trying to make ends meet.
Shot on-location by cinematographer William A. Fraker, "Rancho Deluxe" is a genuine one-of-a-kind movie. The lead characters are indeed a little aimless and "disaffected" but McGuane's script doesn't portray them in a cynical or downbeat way – this isn't "The Last Picture Show," and in fact most of the characters in the movie are rendered in a perfectly neutral, if not sympathetic, manner. There aren't "good guys" or "bad guys," just people – sometimes comically rendered but never overdrawn – whose interactions distinguish a film where the dialogue and performances trump story-driven drama (there isn't a whole lot) and tension (ditto). This is as "laid back" a picture as you'll find, with director Perry making arguably his last "good" movie before a slew of '80s misfires like "Mommie Dearest" (see review below) and "Monsignor." Bridges and Waterston, meanwhile, have solid chemistry together, James and Pickens are terrific in performances to play to their respective strengths, while Elizabeth Ashley and Dallas, respectively, fill their wise female counterparts.
Not a box-office hit but still a generally well-reviewed film whose admirers have always been quick to champion its low-key virtues, "Rancho Deluxe" was somehow previously passed over when it came to a Blu-Ray release. One would've assumed this picture would've been high on the list for other boutique labels, but we can be thankful Fun City got their hands on it, since the picture's naturally grainy appearance has been perfectly rendered in a brand new 2K transfer (1.85) from its 35mm interpositive. Other labels in the past may have been tempted to douse the image with noise reduction, but there's no such filtering here, resulting in a highly detailed image that perfectly preserves Fraker's Montana lensing. The DTS MA mono sound is fine given the source material's constraints and some wonderful extras include a marvelous new interview, conducted online, with Bridges and Jonathan Hertzberg. There's also a 10-minute chat with McGuane, an image gallery, the trailer, a booklet essay from Gavin Smith, and a new commentary from Nick Pinkerton.
Fans will also be happy to find four scenes from the TV version of the film offered in the supplemental section, all newly scanned in HD as well. These include more material between Waterston and his father (Joe Spinell), and have never been seen before in this kind of pristine condition.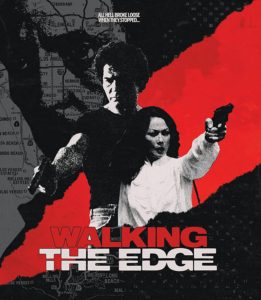 Spinell also appears in last month's Fun City release, WALKING THE EDGE (94 mins., 1983, R), a crime thriller starring Robert Forster as an L.A. cabbie who ends up in the midst of widow Nancy Kwan's quest for vengeance after drug pushers killed her husband and teenage son.
With his moppy hair and sneakers, Forster almost looks like he's channeling David Letterman, which adds some level of unintentional charm to director Norbert Meisel's 1983 film. The director was married to Kwan and gives her character a strong presence, but only in the first half – the stronger portion – of the film. After Kwan's character holes up in Forster's apartment – and he knows how to woo a woman, grabbing McDonald's and a bottle of wine before they hilariously hit the sack – the movie turns into a much more tedious, formulaic exercise wherein Forster tries to "take out the trash" and outwit the remaining goons.
"Walking the Edge" remains watchable – despite being humorously stilted at times – mainly due to its vivid capture of L.A. during the summer of '82. Forster's cab passes by large billboards advertising "Star Trek II," "An Officer and a Gentleman" and "Creepshow," while the location filming in general adds a great deal of cinematic value for its rendering of the environment alone. It's a strange movie made at an interesting time – a few years later, Kwan's heroine would've been the one taking charge in this kind of film – but it's mildly entertaining on a modest scale, especially for B-movie fans.
This is yet another superb Fun City Editions release, offering a new 4K restoration (1.85) from its 35mm original camera negative. Fresh extras include a new interview with composer Jay Chattaway, who I met on Martha's Vineyard while visiting Lukas for the first time years back; a conversation with Randy Jurgensen; and a video essay by filmmaker Chris O'Neill. There's also a new commentary with Chris Poggiali and Matt Verboys, plus an archival commentary with Meisel, Kwan and Forster from the old Anchor Bay DVD.
---
New From Paramount
John Krasinski's year-long delayed A QUIET PLACE II (96 mins., 2021, PG-13; Paramount) is a strange sequel to review because it's well executed and thoughtfully written – just as the first film was – and that counts for a lot given the current state of movie-going in 2021. Yet the film still leaves a lingering sense of deflation since it's so similar to its predecessor that the element of surprise the original offered is absent here – the basic formula is the same, the dramatic beats are the same, yet because we know everything there is to know about the aliens, the individual set-pieces, by the end, feel tired.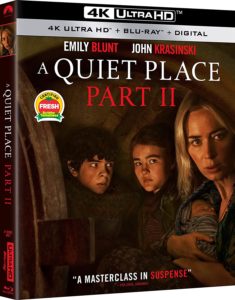 Picking up right where its predecessor ended, "A Quiet Place Part II" follows its rural farming family as they try to stay alive after an alien apocalypse, this time minus their patriarch. Out into the countryside Mom (Emily Blunt) and her three kids go, only to run into a local man (Cillian Murphy) who's been relegated to becoming a survivalist after losing his family. Blunt's deaf teen daughter (the expressive Millicent Simmonds) wants to broadcast her hearing-aid frequency across the landscape since it disables the creatures and makes them vulnerable to attack – but Murphy's reluctance is initially hard to overcome, all the while Blunt tends to their injured teen son and oxygen-equipped infant, whose intermittent cries threaten them all.
"A Quiet Place Part II" still looks great, the characters remain compelling, and writer/director Krasinski does a good job cross-cutting action scenes late in the movie – yet at a tidy 96 minutes, there's not much room for anything else. Eventually, I wanted more of the latter and less of the same "creature encounters" we've seen before, which regrettably give this sequel a major feeling of deja vu. What's worse, the wider story doesn't advance much at all, and the slender running time means the story just ends, albeit on a moment that's not nearly as emotionally charged as the original installment.
The picture also suffers from too much "kids in jeopardy" – the baby, the daughter, the surviving son, it's a movie that seems to get its kicks out of placing these children constantly in peril, all of which felt a little distasteful after a while. Yes, there's plenty of that in the first one, but this sequel doesn't veer off that angle and match its predecessor's emotional range – it's more interested in the repetitive encounters with the creatures and how the characters overcome them, yet since we've already been exposed to this world, none of it – especially the opening "prequel" set-piece – has the same impact.
Ultimately "A Quiet Place II" is still worth seeing if you enjoyed the original film, but it's hard not to feel that the concept has reached its end point with this sequel – in so far as a 90 minute movie with limited dialogue goes. Paramount's gorgeously rendered 4K UHD (2.35) includes both Dolby Vision HDR and Dolby Atmos audio along with Krasinski's "Director Diaries" and additional featurettes. A Digital HD copy and the Blu-Ray are also on-tap.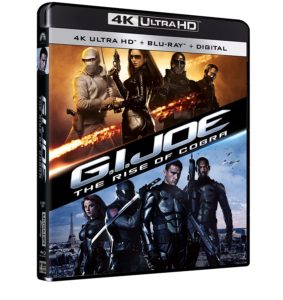 Also new from Paramount on 4K UHD this month – to coincide with the release of the "Snake Eyes" prequel – are the earlier entries in the studio's wayward "G.I. Joe" franchise: Stephen Sommers' overstuffed (but kind of fun) G.I. JOE: THE RISE OF COBRA (117 mins., 2009, PG-13; Paramount), as well as its less entertaining 2013 continuation, "G.I. Joe: Retaliation," which unceremoniously killed off much of the original cast (whom, presumably, the sequel's scaled-down budget could not afford).
Amazing as it may seem, apparently I never formally reviewed the 2009 film, which managed to make a profit while simultaneously failing to propel the Hasbro characters into a stable cinematic franchise as Paramount hoped would happen a la "Transformers." It still offers the same sorts of brainless popcorn fare as director Sommers' "Mummy" and "Van Helsing" pictures, with talented stars like Joseph Gordon-Levitt essaying Cobra Commander and Sienna Miller making for a fetching Baroness – it's bloated, dumb and kind of like watching Hollywood play with action figures on a massive scale…which, admittedly, is all this movie is, complete with colorful special effects and spectacle to match.
Paramount's 4K UHD of "G.I. Joe: The Rise of Cobra" is a little bit of letdown as the Dolby Vision HDR grading is quite strong yet not all that different in comparison to the movie's included, older Blu-Ray. The 5.1 DTS MA sound is also a reprise from that release, with the only extra being the 2009 commentary from Sommers and producer Bob Ducsay plus a Digital HD code.
Four years after its release, "Rise of Cobra" was followed by the decidedly less ambitious G.I. JOE: RETALIATION (110 mins., 2013, PG-13; Paramount).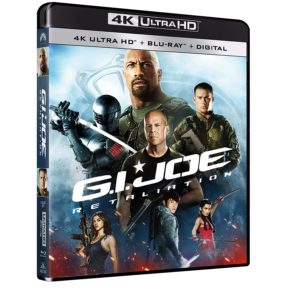 Nowhere near as entertaining as its more engaging predecessor, this tired and decidedly lower-budgeted sequel tries to restart the franchise with Dwayne Johnson as Roadblock — one of the last remaining G.I. Joes who has to save the world, and clear the troop's name, after Cobra wipes out Duke (a 10-minute cameo for Channing Tatum) and unseen members of the prior movie's cast. Jonathan Pryce is back in a dual role as the President and the Cobra-copycat version, who schemes to spring Cobra Commander (obviously not Joseph Gordon-Levitt, who had better things to do) out of prison in order to launch a satellite that will give the bad guys control of the entire world. Joining Roadblock in patriotic opposition are Snake Eyes, Lady Jaye (Adrienne Palicki) and Sgt. Joe Colton, the original "Joe" who, as played by Bruce Willis, looks like he just rolled off the set of "Red 2" or any number of other direct-to-video flicks the actor has been appearing in.
Director John M. Cho, subbing for Stephen Sommers, has no choice here but to dial back on the spectacle: with a reduced amount of special effects, it takes nearly 45 minutes for "GI Joe: Retailiation" to get things going. When the "action" finally does start, it's distressingly bland, uninspired stuff, without all the gadgets and wild comic-book fun of the original movie, and visually dominated by bland Louisiana shooting locales. The script by Brett Reese and Paul Wernick ("Deadpool") is likewise no more than workmanlike in its approach, with the story having a decidedly fragmented feel to it — no surprise considering the sequel underwent heavily-publicized reshoots and a release date that pushed the movie back from Summer 2012 to Spring 2013 at the very last minute.
The delay may have polished the final product, yet the band-aids are obvious, and sequences that should've been entirely discarded (such as The RZA's hilarious performance as Snake Eye's "sensei") are still retained in an abbreviated form. There's also a notable lack of chemistry between the actors, with Willis' would-be rousing appearance as the original G.I. Joe coming off as little more than an afterthought — evidence of a wider lack of vision that permeates every element of this by-the-numbers sequel.
"G.I. Joe Retailiation" likewise debuts here in another decent, though not essential, Paramount 4K UHD catalog package. The disc boasts Dolby Vision HDR grading but doesn't appear all that differently than its standard 1080p disc, which is also included and offers an hour of fluffy featurettes, four minutes of deleted scenes, and commentary from Chu and producer Lorenzo di Bonaventura. The DTS MA soundtrack offers a bland score by Henry Jackman, and a digital copy rounds out the disc.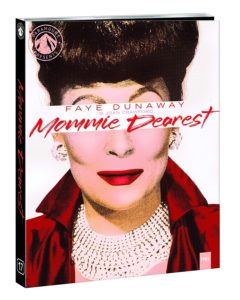 Paramount has issued a 4K remastered "Paramount Presents" Blu-Ray of Frank Perry's critically derided – yet perennially cult-friendly – 1981 release MOMMIE DEAREST (1981, 128 mins., PG; Paramount).
One of the quintessential camp titles of all-time previously found its way to DVD in a bare-bones 2001 effort from Paramount, later enhanced by a later DVD featuring commentary from filmmaker John Waters, who discussed his appreciation for Perry's bio-pic of Joan Crawford, with Faye Dunaway's portrayal of the actresses' terrifying descent into alcoholism and abuse of her adopted child Christina making for uneasy viewing at times. Yet the movie is still well-shot, capably scored by Henry Mancini, and compulsively watchable for its portrayal of the era, its stars, and the studio system that was to blame for many problems of the people who worked in it.
Hollywood voyeurs and fans of so-bad-it's-good cinema will savor Dunaway's melodramatic plunge from start to end, and Paramount's new Blu-Ray is geared towards that audience. In addition to Waters' archival commentary, the new disc includes an interview segment with Justin Bozung on the film and a fresh commentary by "American Drag Queen" Hedda Lettuce. Reprieved from the last release are three featurettes touching upon the production of the movie (featuring interviews with producer Frank Yablans, co-star Diana Scarwid and others) and its cult following with Waters and even Crawford impersonator Linsynka interviewed.
Technically the 1080p (1.85) transfer is superb with both a 5.1 DTS MA remix and the original mono soundtrack also included. The trailer ("Joan Crawford: the most dramatic role of her life WAS her life!") is also on-hand along with a brief photo gallery.
---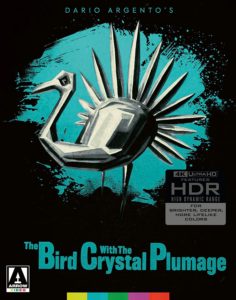 Arrow New Releases
THE BIRD WITH THE CRYSTAL PLUMAGE 4K UHD (97 mins., 1970; Arrow): Arrow's latest stellar 4K UHD offers a new Dolby Vision HDR presentation of Dario Argento's 1970 directorial debut. Credited as the film that launched the Italian "giallo" genre, this taut, crisply directed tale focuses on an American writer (Tony Musante) in Rome who witnesses a vicious attack on a woman in a crackerjack opening set-piece. Musante is then drawn into a web of murder and suspicion, first from the police who are leery of his story, and later from a mysterious individual who makes disturbing calls to his house. Memorably shot by Vittorio Storaro and scored by Ennio Morricone, this first Argento film is one of his more memorable, with the director employing numerous visual flourishes that later trademarked classics like "Suspiria."
Blue Underground previously brought "Bird" to Blu-Ray several years back before Arrow's superior 2017 Blu-Ray edition. This 4K, Dolby Vision-graded transfer benefits enormously from that disc's same restoration of the original camera negative, exclusively produced by Arrow. On the supplemental side, extras are carried over from that edition: a commentary is on-hand from giallo expert Troy Howarth; a visual essay by Alexandra Heller-Nicholas looks at Argento's work; fresh interviews are included with critic Kat Ellinger, Argento himself, actor Gildo DiMarco, and an archival interview with actress Eva Renzi. Trailers, a fold-out poster, six lobby card reproductions, and a superlative 60-page booklet, meanwhile, offer new appreciations of this Argento landmark.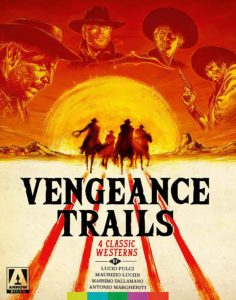 Also new from Arrow this month is a terrific Blu-Ray western box set, VENGEANCE TRAILS. This is a four-disc retrospective of Italian spaghetti westerns that followed in the wake of Sergio Leone's Dollars entries, starting with future gorehound Lucio Fulci's MASSACRE TIME (92 mins., 1966), which finds Franco Nero and George Hilton playing brothers who take on a businessman and his son; Maurizio Lucidi's MY NAME IS PECOS (85 mins., 1966) featuring Robert Woods as a Mexican gun-for-hire who returns to Houston to seek vengeance on the man who murdered his family; Massimo Dallamano's BANDIDOS (91 mins., 1967), another tale of revenge wherein Enrico Maria Salerno stars as a gunfighter who teams up with a young apprentice to take on the ex-protege who betrayed him; and Antonio Margheriti's AND GOD SAID TO CAIN (100 mins., 1970), wherein Klaus Kinski decides to spend his first moments free from prison tracking down the men who framed him for a crime he didn't commit.
All four movies have been restored in 1080p (2.35) with three of the four (sans the Margheriti film) newly restored in 2K from their original 35mm camera negatives. English and Italian audio tracks are included on each film plus separate credit reels in each language, plus new commentaries, interviews, documentaries, and limited-edition packaging with reversible sleeves (sporting original theatrical artwork). Highly recommended for western fans – especially of the Italian variety!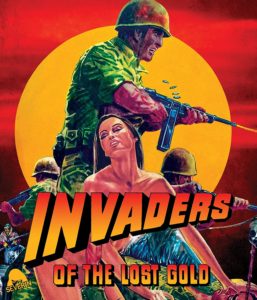 Severin New Releases: Chief among Severin's new cult titles this month is INVADERS OF THE LOST GOLD (88 mins., 1982, Not Rated), a grade-Z actioner starring Stuart Whitman as a veteran guide heading an expedition that includes Woody Strode and Harold Sakata (Oddjob!) into the jungle, looking for millions in lost loot. Edmund Purdum is another one-time star who appears in this nutty exploitation affair chock full of gore, nudity and violence – at least it's never dull! Severin's Blu-Ray includes a 2K scanned (1.85) transfer with mono English audio, outtakes from "Machete Maidens Unleashed" sporting crew interviews, and an interview with director Alan Birkinsaw…Gore and comedy intertwine in SKINNED DEEP (98 mins., 2003, R), director Gabe Bartalos' briskly-paced story of psycho freaks hanging out off the beaten path and one girl (Karoline Brandt) who runs afoul of them. Warwick Davis appears with Severin Films' Blu-Ray (1.33) scanned in 2K and extras including commentary, a retrospective documentary, the trailer, and an archival Making Of.
The real-life Halifax Police strike formed the basis for STRIKE (84/92 mins., 1983), also known as "Self Defense," an effective and wild Canadian exploitation film that sees a gay bar attack victim holing up in a building that finds itself under siege from a right-wing militia group. The violence is disturbing – especially in lieu of the last year – and the film is solid for what it is. Severin's Blu-Ray has been scanned in 2K from the original negative (1.85), recently discovered in Nova Scotia, with two cuts of the movie and the trailer on-hand…another slice of Canuxpolitation, BORN FOR HELL (91 mins., 1975), hails from Montreal filmmaker Denis Heroux, who later produced "Atlantic City" but here tells a shocking tale, based on a true story, of a Vietnam vet terrorizing young women in Chicago. Heroux moves the story to Belfast but retains the terror with Severin's Blu-Ray debuting his Director's Cut in the U.S. for the first time via a fresh 2K scan of an uncut print discovered in Canada's National Archives. Severin's disc includes loads of extras, interviews and even the U.S. video cut named "Naked Massacre."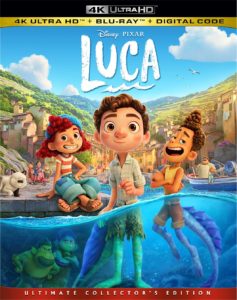 New From Disney
It's hard to know if some of the pandemic-constrained box-office receipts being taken in by Summer '21 movies would've been all that different had there never been a pandemic. For example, would Pixar and Disney's LUCA (95 mins., 2021, PG) have really been a blockbuster in any time period? Somehow it's hard to envision that happening for this colorfully drawn yet blah adventure-fantasy that adapts a coming-of-age story to a pair of young sea monsters who leave the ocean, for a time, and adapt to human life on the lovely Italian coast.
Set in the late '50s, the environment of "Luca" is beautifully drawn — especially here in Disney's sumptuous 4K UHD (HDR10) presentation with Dolby Atmos sound — but for me, the setting was more interesting than the basic plot line, credited to Jesse Andrews and Mike Jones. Director Enrico Casarosa's movie has the right atmosphere, but the story is ho-hum, mostly predictable and never really kicks into another gear, making this the kind of Pixar B-tier project that's still perfectly suited for children — just less so for parents having to sit through it with them. Disney's 4K UHD looks and sounds marvelous and includes the Blu-Ray and a Digital HD code. The BD's supplements include deleted scenes and featurettes, detailing the loving attention to detail the filmmakers did bring to "Luca"'s period environment.
---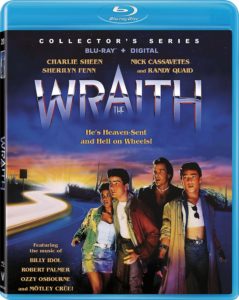 New From Lionsgate
Debuting at last on Blu-Ray from Lionsgate – as part of its fan-favorite "Vestron Collector's Series" – THE WRAITH (93 mins., 1986, PG-13) is a highly engaging slice of '80s B-movie hokum about a group of Arizona teens including a sadistic racing gang leader (Nick Cassavetes) who end up being schooled by a mysterious stranger (Charlie Sheen) they all have vague recollections of, and who drives a smokin' hot black Dodge Interceptor with supernatural-like powers.
Mike Marvin's eccentric little movie — which shares more than a few conceptual similarities with the later Brandon Lee-Alex Proyas cult hit "The Crow" — also might sound like a dense dramatic yarn, but it's oddly played like any number of '80s youth pictures, backed by sunny Reed Smoot cinematography and an upbeat, rockin' soundtrack populated with tunes from Robert Palmer, Billy Idol and Bonnie Tyler among others. The picture sports some well-choreographed car chases, an interesting plot (written by Marvin) that leaves key questions unanswered, Randy Quaid as a frustrated cop, Clint Howard as an unhinged gang member, and a particularly fetching Sherilyn Fenn in mid '80s attire. "The Wraith" might be a minor and uneven work, but it's quite a bit entertaining if you can approach it with the right mindset.
Lionsgate initially brought "The Wraith" to DVD in a 2010 Collector's Edition – now, over a decade later, the movie is back with a lovely new 1080p (1.78) Blu-Ray transfer and crisp 2.0 DTS MA stereo soundtrack. Both of these are big improvements over an aged HD master that's been streaming for a while, doing justice to the movie's '80s visual aesthetic and score by J. Peter Robinson. All-new extras include a commentary from supporting cast members Dave Sherrill and Jamie Bozian; stunt coordinator Buddy Joe Hooker and transporation coordinator Gary Hellerstein; visual FX producer Peter Kuran and animator Kevin Kutchaver; a "Then and Now" filming locations featurette; and isolated score selections with an audio interview with Robinson. An alternate title sequence, still gallery and trailers are also included, plus interviews with Marvin and Howard – and a Marvin commentary, detailing the low-budget film's troubled shoot – carried over from the DVD.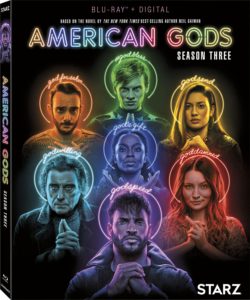 Also New & Noteworthy
TV on DVD: The 10th Season of THE WALKING DEAD (17 hours, 2019-20) finds spring-time bringing a new hope to the survivors, even with the Brutal having beaten them back into more confined borders and the vile Whisperers posing a separate threat to their very existence. Political allegories, human in-fighting and the usual gore fills this tenth go-around for the AMC series, which has debuted on Blu-Ray (1.78, 7.1 Dolby TrueHD) this month from Lionsgate. The set includes the "six additional episodes of the extended 10th season" including the Negan backstory episode, plus commentaries and "In Memoriam" featurette, along with a Digital HD code…Season 3 of AMERICAN GODS (8 hours, 2021) picks up its storyline with the war continuing to build between the Old Gods (mythology) and New Gods (technology). After Shadow Moon uncovers the truth about his father's Old God identity, he seeks to forge his own path and retreats to Lakeside, Wisconsin – only to have fate, naturally, follow him there. Three featurettes are included in this third season of the Starz series, preserved here by Lionsgate in a multi-disc Blu-Ray sporting 1080p (1.78) transfers, 5.1 Dolby TrueHD soundtracks and a Digital copy.
The Saban Films release INITIATION (96 mins., 2021, R) sees a murderer hitting pledge week, leading to a group of victim/suspects trying to elude the killer and uncover his/her/its identity – before it strikes again! John Berardo directed and co-wrote this agreeable B-movie, more a mystery-thriller than a slasher, with Yancy Butler and Lochlyn Monro appearing opposite a young cast. Two featurettes are included in Lionsgate's Blu-Ray alongside a 1080p (2.39) transfer, 5.1 DTS MA sound and a Digital HD copy…From Lifetime comes the V.C. ANDREWS' LANDRY FAMILY 4 Movie Series (2021), a DVD compilation of four films adapted from Andrews' books about young Ruby Landry, who pokes about the various mysteries and horrors lurking within her family tree. Lifetime produced four films from Andrews' books here – "Ruby, "Pearl in the Mist," "All That Glitters," and "Hidden Jewel" – all starring Raechelle Banno and with a consistent supporting cast and crew that runs throughout all of the 87-minute, Canadian lensed productions. Lionsgate's DVD includes 16:9 transfers and 2.0 Dolby Digital stereo soundtracks.
In THE HOUSE NEXT DOOR: MEET THE BLACKS 2 (94 mins., 2021, R), Mike Epps returns as best-selling author Carl Black, who here relocates his family back to the Chicago home he grew up in, hoping to stay away from trouble. Instead he meets a zany new neighbor (Katt Williams) who he believes is a vampire in Deon Taylor's sequel which tried — to very mild results — to navigate a pandemic-restricted box-office earlier this year. Lionsgate's Blu-Ray (2.39, 5.1 DTS MA) includes cast/crew commentary, featurettes, bloopers, deleted scenes and a Digital copy.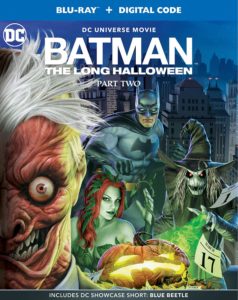 Finally, it's nearly a new month so it must be time for – yes – another Bruce Willis direct-to-video thriller. This one, the bizarrely titled MIDNIGHT IN THE SWITCHGRASS (100 mins., 2021, R), offers a better cast than most, with Willis and Megan Fox essaying FBI agents who end up collaborating with a local cop (Emile Hirsch) in tracking down a possible serial killer. Lukas Haas (yes, the names just keep on coming!) also appears in Randall Emmett's pedestrian effort which never gets enough juice from its performances (though Hirsch still seems to care) or story line to score. Lionsgate's Blu-Ray includes a commentary from Emmett, a 1080p (2.39) transfer, 5.1 DTS MA sound and a Digital copy.
BATMAN: THE LONG HALLOWEEN Part Two Blu-Ray (87 mins., 2021, R; Warner): Bloodier and nuttier second half of DC's adaptation of "The Long Halloween" finds the mysterious Holiday Killer continuing their reign in Gotham City while the Falcone and Maroni crime families continue to spar in the underworld. After Poison Ivy, Scarecrow and Mad Hatter break out of Arkham Asylum, the ante is upped while Batman, James Gordon and Harvey Dent (or at least his sane half) try and piece the puzzle together. If you enjoyed the first half of "The Long Halloween" you're likely to savor the rest of this DC animated offering, new to Blu-Ray on August 10th. Warner's package includes a DC Showcase short featuring the Blue Beetle in his own adventure, complete with a Saturday morning '60s TV vibe. Two additional bonus cartoons, a look at the next DC animated movie, "Injustice," an attractive 1080p transfer and 5.1 DTS MA sound are also included along with a Digital HD code.
NEXT TIME: Blake Edwards' SKIN DEEP gets rolling on Blu-Ray. Until then, don't forget to drop in on the official Aisle Seat Message Boards and direct any emails to our email address. Cheers everyone!