THE MARKSMAN (108 mins., 2021, PG-13; Universal) is yet another routine Liam Neeson action flick, this time with Neeson cast as an Arizona rancher trying to protect a woman and her son — just having crossed over the Mexican border — from a drug cartel. Ultimately tasked with transporting the boy to family members in Chicago (is he trying to get him killed?), Neeson does his usual thing while defying the authorities in a film that's competently directed (by former Clint Eastwood protege Robert Lorenz) and scored (by former "24" vet Sean Callery), but the story is utterly formula and predictable at each turn. A featurette is included in Universal's now-available Blu-Ray combo pack (2.39, 5.1 DTS MA), which also features a DVD and Digital HD copy.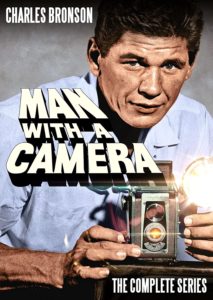 New from MPI is a most welcome slice of vintage TV: the late '50s ABC series MAN WITH A CAMERA (29 episodes), which helped establish Charles Bronson on the scene, with the future international action star playing Mike Kovac – a former WWII combat photographer now working in NYC alongside a police lieutenant (James Flavin) to expose criminals and save the girl – who comes in the form of Angie Dickinson, Yvonne Craig and others. Shot in Hollywood at Desilu Studios, this series has long been a cult favorite and the entire run of the show – some 29 total episodes – has been collected here by MPI in crisp B&W transfers supplied by the UCLA Film & Television Archive. Recommended for both Bronson buffs and TV Golden Age addicts alike.
SHITHOUSE Blu-Ray (101 mins., 2020, R; IFC/MPI): Cooper Raiff wrote, directed and stars in this independent offering as a college freshman who decides to branch out and join a fraternity with a legendary party rep. He connects with a girl (Dylan Gelula), only to have her not remember anything from their night together, in a well-reviewed indie comedy debuting May 18th on Blu-Ray (1.85, 5.1 DTS MA) from MPI and IFC. The disc includes deleted scenes, bloopers, the trailer, and "Madeline & Cooper" short.
---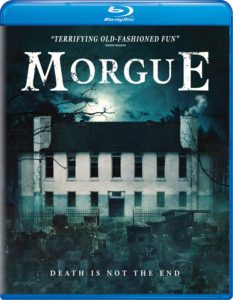 May Horrors!
Andi Matichak stars in SON (98 mins., 2020, Not Rated; RLJE), a thriller from Irish director Ivan Kavanagh about a distraught mother to an eight-year-old boy who's the subject of a failed kidnapping. Shortly thereafter the boy turns ill, leading the mother to question her sanity and whether or not her son is part of some kind of cult worship/assassination/etc. There's a real sense of paranoia in Kavanagh's film and the performances by Matichak and Emile Hirsch are strong, but the picture ultimately leads nowhere fresh or interesting. RLJE's Blu-Ray (2.39) is out May 18th and includes deleted scenes and a featurette.
No more surprising – though at least somewhat more entertaining – is the import MORGUE (81 mins., 2021, Not Rated; Well Go USA) from Paraguayan director Hugo Cardozo. This one follows the familiar plot of a new, night-time security guard who finds out there are dead things running about in his supposedly quiet new line of work. The thrills are overly predictable but at least the film keeps moving, with Well Go USA releasing "Morgue" on Blu-Ray May 11th sporting a 1080p transfer and DTS MA audio, in Spanish/Quarani with English subtitles.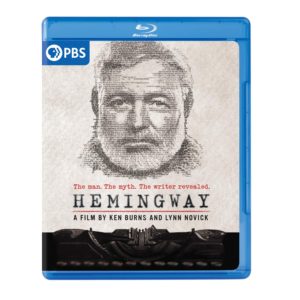 PBS New Releases: A big roster of new titles from PBS Home Video hits retailers this month, starting with a series that captivated my Mom's historical interest: ATLANTIC CROSSING (7 hours, 2021). This elegantly produced historical drama centers around Princess Martha (Sofia Helin) of Norway, who finds refuge in the White House during WWII thanks to the efforts of President Roosevelt (Kyle Maclachlan). Their friendship and her outspoken views on the Nazis who have come to occupy her native country makes for a superb series, presented here on three DVDs by PBS (16:9, 2.0 stereo)…Masterpiece fans may also want to check out the value-priced Masterpiece DVD Triple Feature that includes MRS. WILSON with Ruth Wilson; FLESH AND BLOOD with Imelda Staunton, Francesca Annis and Stephen Rea; and THE CHAPERONE starring Elizabeth McGovern and Haley Lu Richardson. This four-disc set features the complete contents of each previous DVD release — check the Aisle Seat Archives for my individual reviews of said titles.
A trio of new PBS Nature titles are available this month as well: BEYOND THE ELEMENTS (170 mins., 2020) is a three-part continuation of David Pogue's "Hunting the Elements" series, profiling additional investigations into the molecules and chemical reactions that led to the creation of human existence and the universe itself; BIG BEND: THE WILD FRONTIER OF TEXAS 55 mins., 2021) is a lovely travelogue doc, looking at the National Park along the Rio Grande River and detailing its vast ecosystem; and PUMAS: LEGENDS OF THE ICE MOUNTAINS (55 mins., 2021) includes gorgeous photography of Chile's Torres del Paine National Park, where a female Puma is followed as she educates her young cubs in how to survive amongst its vast mountain terrain. All three DVD titles include fine 16:9 transfers and 5.1 (2.0 on "Beyond the Elements") soundtracks.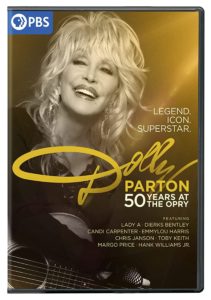 Ken Burns fans should certainly check out his latest documentary endeavor, HEMINGWAY (6 hours, 2021), produced and directed once again with Lynn Novick. This appropriately poetic examination of the author, his life and times utilizes extensive extracts from his texts along with biographical information to weave a personal portrait of the man and his art. PBS' Blu-Ray includes both 5.1 and 2.0 audio along with a detailed and satisfying 1080p transfer (1.85).
Finally, Dolly Parton's music is given a tribute concert in DOLLY PARTON: 50 YEARS AT THE OPRY (75 mins., 2019). This Nashville-taped performance offers Dolly belting out hits like "9 to 5," "I Will Always Love You," "Here You Come Again" and numerous others, with Hank Williams Jr., Dierks Bentley, Margo Price and Lady A among the contemporary artists performing alongside the music legend. PBS' DVD (16:9, 2.0 stereo) is now available.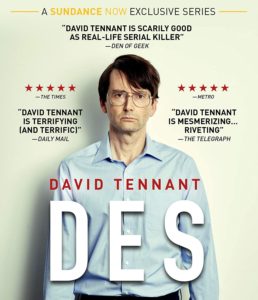 Sundance Now New Releases: David Tennant switches gears, big time, in DES (145 mins., 2020), a compelling ITV tele-film starring the ex-"Dr. Who" as Dennis Nilsen. The infamous "kindly killer," Nilsen was a quiet middle-aged man who, over the course of some 5 years, murdered a total of 15 men on the streets of Soho. Daniel Mays and Jason Watkins co-star in this Lewis Arnold-helmed production that Sundance Now and New Pictures has released here in a single-disc Blu-Ray (1080p, 2.0 DTS MA) that also includes a 10-minute featurette…Sven Nordn and Carrie-Ann Moss star in WISTING: Season 1 (436 mins., 2020), a Norwegian import wherein the title detective (Nordin) teams up with an American FBI agent (Moss) to track down an American serial killer in Norway. This flavorful series takes great advantage of its location filming and comes recommended in the Sundance Now/RLJE DVD, which includes the series' first 10 episodes spread across three discs (16:9) with stereo sound, in Norwegian/English with English subtitles.
The Acorn original FINDING JOY (147 mins., 2020) is back in its second season, new on DVD. Amy Huberman wrote and stars in this series as a Irish woman who, after becoming an internet sensation, here works overtime to cultivate subscribers in her new online video channel. All six episodes from the series' second season are included here along with a generous 36-minute featurette, 16:9 transfers and 5.1 Dolby Digital sound.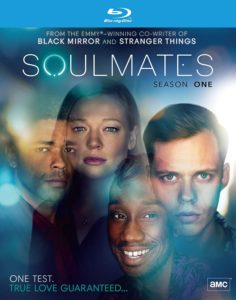 AMC Studios' SOULMATES (aprx. 5 hours, 2020) is set in the near future where a test can determine who your true love is. From there, Will Bridges – vet of "Black Mirror" and "Stranger Things" – spins a six-episode anthology series looking at the ramifications of this scientific breakthrough, with predictably mixed results. RLJE's Blu-Ray includes a 1080p (1.78) transfer with 5.1 DTS MA sound and a featurette.
Lionsgate New Releases: It was just a matter of time before the sport of kiteboarding became the focal point for a motion picture, and Andrew Stevens' SEND IT! (101 mins., 2021, R) is just the picture to do it. Kevin Quinn stars as an aspiring kiteboarder who attempts to navigate the rocky road to the sport's world championships, meeting party-hardy goers and the lovely Claudia Lee along the way. Stevens managed to get a cameo from Richard Branson in this agreeable, formulaic and good-looking sports comedy, co-starring Denise Richards, Patrick Fabian and Michael Jai White, which Lionsgate debuts on DVD (16:9, 5.1) this month.
NEXT TIME: Fun City Editions Restores Michael Ritchie's Classic SMILE! Until then, don't forget to drop in on the official Aisle Seat Message Boards and direct any emails to our email address. Cheers everyone!