Offering a pair of Blu-Ray premieres and format reprisals of three '80s classics, Paramount's five-disc Blu-Ray anthology JOHN HUGHES: 5-MOVIE COLLECTION gives viewers convenient access to Hughes' complete cinematic output at the studio, offering some of his finest work both as a director and writer/producer.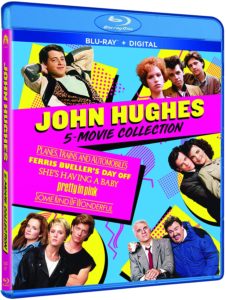 FERRIS BUELLER'S DAY OFF Blu-Ray (102 mins., PG-13, 1986) kicks off the set and is presented in its original Paramount Blu-Ray release. That disc was initially released in 2009 and, as such, could benefit from a new 4K remaster (there have long been rumors about a Criterion edition that has yet to materialize), but it still holds up fairly well.
The film itself requires little introduction: Hughes' seminal 1986 comedy offers Matthew Broderick in one of his quintessential roles as a high schooler who decides to take a day to enjoy the sights and sounds of Chicago, pair up with girlfriend Mia Sara, help his best friend (Alan Ruck) fight his disconnected parents, all the while avoiding his school principal (the marvelous Jeffrey Jones) and obnoxious sister (Jennifer Grey), each in hot pursuit. Hughes' film has endlessly quotable lines, hilarious moments, and sensational sequences from start 'til end.
Paramount's original DVD contained a sporadic commentary from Hughes (which was excised from subsequent releases across both DVD and Blu-Ray), but nothing in the way of Making Of material. The Blu-Ray rectified that by adding four excellent, 2009-produced featurettes which essentially comprise an hour-long documentary: "Getting the Class Together," "The Making of Ferris Bueller's Day Off," "Who Is Ferris Bueller?" and "The World According To Ben Stein" offer interviews with Matthew Broderick, Alan Ruck, Jeffrey Jones, Jennifer Grey, Ben Stein, producer Tom Jacobson, co-star Edie McClurg and other supporting players, with vintage interviews of John Hughes and Mia Sara interspersed throughout.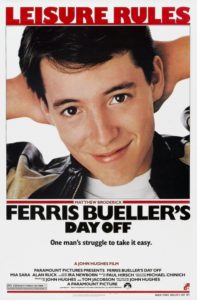 These featurettes offer a delightful retrospective on the production of the movie and the often improvisational nature of Hughes' style. Consequently, it's refreshing (and deservedly so) to see as much attention here given to the "bit parts" that made "Ferris Bueller" a classic, from McClurg and Ben Stein to Richard Edson and Kristy Swanson, as opposed to stars like Broderick, Ruck and Jones. Everyone discusses how quickly the film went into production, how fast Hughes worked on the script, and how willing the director was to let his cast take chances — all of which paid off splendidly with a movie that remains a viewer favorite, now some 35 years after its initial release (was I just out of 5th grade that long ago? Yikes!).
The Blu-Ray also offers "The Lost Tapes," a series of videotaped 1986 interviews with the stars mostly in-character, in addition to taped footage of the dining room sequence — noteworthy here because it contains dialogue which didn't make it into the final cut. A photo gallery rounds out the disc, which sports a superb 1080p transfer in the film's original Super 35 (2.35) aspect ratio, as well as an active Dolby TrueHD soundtrack.
"Ferris Bueller" is one of a handful of fine John Hughes films that remain as current today as they were when initially released. Isn't it a shame that we seldom see movies about adolescents made with not just the humor but the sincerity and energy that Hughes brought to "Ferris Bueller's Day Off."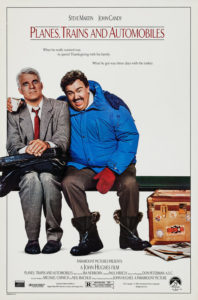 As a director, Hughes followed "Ferris" with PLANES, TRAINS & AUTOMOBILES (93 mins., 1987, R), which is in dire need of remastering as this 2011 Blu-Ray transfer is merely mediocre at best, boasting AVC encoding but far too much noise reduction by modern standards.
One of Hughes' best films (and arguably his finest feature as a director), this teaming of John Candy and Steve Martin (both tremendous) was just a modest box-office performer back in December '87, when it was out-grossed by the saccharine, cuddly "Three Men and a Baby." Decades later, "Planes, Trains" is the movie audiences keep coming back to – a spirited holiday travel comedy with a heartwarming ending. It's a shame Hughes subsequently abandoned making movies for audiences outside of the 13-and-under crowd, since this picture (one of his few R-rated efforts – albeit only for one well-remembered, profanity-laced Martin tirade directed at Edie McClurg) remains a perennial favorite.
Paramount's Blu-Ray certainly could be improved with a reduction in DNR and, hopefully, one day will surface as a 4K remaster. The DTS MA 5.1 soundtrack is more impressive, featuring an eclectic mix of songs and Ira Newborn score, nearly all of which was tossed aside by Hughes in post-production.
For extras, the BD boasts a couple of excellent supplements devoted to Hughes' career. Presented in HD, "John Hughes: The Voice of a Generation" and "Heartbreak and Triumph: The Legacy of John Hughes" examine his creative process and lasting legacy in an enlightening pair of half-hour programs (included among the interviewees are Hughes collaborators Lauren Shuler Donner, Howard Deutch and Marilyn Vance, plus film alumni Matthew Broderick, Alan Ruck, Jon Cryer and Lea Thompson). A trio of older featurettes (in SD) are mainly comprised of material from the picture's EPK, along with a three-minute deleted scene (in HD) that was restored to syndicated TV broadcasts of the film (one wishes we'll eventually see the hours of excised material editor Paul Hirsch discusses in his autobiography, material that Steve Martin has long said contained John Candy's strongest work).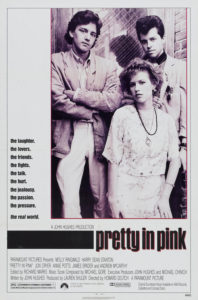 Hughes wrote and produced the 1986 Molly Ringwald hit PRETTY IN PINK (96 mins., PG-13; Paramount), which remains a bona-fide teen classic of its kind. Ringwald is at her finest as an artsy "poor" girl caught in a triangle between her friend (Jon Cryer) and a good, rich kid from another social universe (Andrew McCarthy). James Spader, meanwhile, memorably essays McCarthy's would-be best friend, with "adult" support from Harry Dean Stanton as Ringwald's father and a rockin' soundtrack sprinkled with original score by Michael Gore.
"Pretty In Pink"'s Blu-Ray (1.85, 5.1 DTS MA) hails from just a year ago and is part of the new "Paramount Presents" line of 4K catalog remasters. An isolated score track of Michael Gore's contributions (which director Howard Deutsch wanted more of; Hughes preferred more songs) debuts here along with a short interview with Deutsch. The trailer is also included, though only a fraction of the 2006 Making Of documentary is included, related to the movie's original ending. Note that this infamous, original ending isn't screened intact, but rather discussed at length and backed with videotaped set footage of its filming — something that may disappoint "Pretty in Pink" fans hoping to finally see Cryer get the girl (he gets Kristy Swanson instead, which as it turns out wasn't a bad consolation prize!).
Hughes followed up the success of "Pink" by offering SOME KIND OF WONDERFUL (94 mins., 1987, PG-13) to Ringwald, which she declined and thus ended the duo's profitable, three-film collaboration that originated with Hughes' first features at Universal ("Sixteen Candles," "The Breakfast Club"). The resulting movie was something of a pre-production mess as well, with Martha Coolidge ultimately dropping out as director (apparently after shooting had already started) along with Kim Delaney and Kyle MacLachlan, who were cast alongside Eric Stoltz in the Hughes written-and-produced vehicle. According to reports, "Pink"'s Howard Deutch promptly took over and re-cast Lea Thompson in the Delaney role and Craig Sheffer in MacLachlan's part, and had Hughes' original script reworked.
The finished product bears no evidence of the troubles, however – "Some Kind of Wonderful" does recycle elements from previous Hughes pictures (notably the romantic triangle of "Pretty In Pink"), but works because of the conviction of the performances. Stoltz and Thompson are both excellent (keep in mind this was a "Back to the Future" reunion for the duo, since Stoltz originally had Michael J. Fox's role before being dumped), but it's Mary Stuart Masterson – as the cute tomboy musician in love with Stoltz – who makes the drama work. Masterson is simply terrific and John Ashton (as Stoltz's father) and Elias Koteas (as a crazed high school classmate) lend additional support in the ensemble cast.
Paramount's box-set offers the debut of "Some Kind…" on Blu-Ray in a healthy, good-looking 1080p (1.85) transfer with 5.1 Dolby TrueHD sound. The disc offers a new interview with Deutsch plus an archival commentary with him and Thompson (who married after making the film) plus some (not all) of a 2006 multi-part Making Of featurette that only skims the surface of the movie's turbulent pre-production, focusing instead on its shooting and final release. Deutch, Masterson, Stoltz, and Thompson are all on-hand to give their recollections. There's also a vintage "John Hughes Time Capsule" wherein Kevin Bacon interviews Hughes about his work on the film, shot in 1986 during the production of "She's Having A Baby."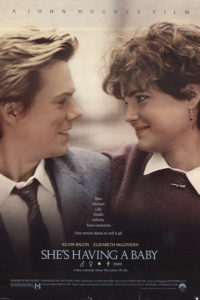 Speaking of that, the other film making its overdue Blu-Ray debut here is, in fact, SHE'S HAVING A BABY (105 mins., 1988, PG-13). I remember seeing the trailer for this movie for not just months but what felt like years before Paramount eventually released it to mediocre box-office in February of 1988. When the film finally surfaced, it proved to be a very uneven and often contrived picture about the trials and tribulations of a young '80s couple (Kevin Bacon, Elizabeth McGovern), from their marriage to parenthood and assorted suburban Yuppie adventures inbetween.
Hughes' script offers some effective moments, fantastical comic passages, and moments of dramatic tension, especially late – but it's also choppy and never finds a comfortable rhythm. While the picture certainly doesn't coalesce into a substantive package, it's not an entirely unlikeable film, and is worthwhile to check out as part of Hughes' overall filmography, particularly since it's his last stab at a film with "adult" subject matter.
Like "Some Kind of Wonderful," this is a newer 1080p (1.85) AVC encoded Blu-Ray presentation with 5.1 Dolby TrueHD audio and a top bit-rate. Though obviously not derived from a 4K restoration given the source, the transfer is still naturally delivered with extras including the trailer (albeit not the dialogue-less one I saw for months on end; that one can be seen here) and another archival, roughly half-hour interview segment between Bacon and Hughes.
Paramount's five-disc set is capped by the inclusion of Digital HD copies – a highly recommended package for Hughes fans as it collects some of his strongest cinematic output in one convenient, affordable release. Highly recommended!
Also New From Paramount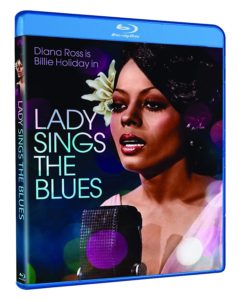 Making its Blu-Ray debut, the Billie Holiday biopic LADY SINGS THE BLUES (143 mins., 1972, R) is less of an accurate historical rendering of the legendary jazz songstress' troubled life than it is a starring vehicle for Diana Ross.
Then fresh off her work with The Supremes and looking to break into acting, Ross committed to this production from Motown's Berry Gordy that apparently takes more than a few liberties with Holiday's life, showing her struggles to make it in NYC and improbably becoming a nightclub sensation. Terence McCloy, Chris Clark and Suzanne De Passe's screenplay is episodic in nature and spends a lot of time on a romance between Holiday and Louis McKay (a suave Billy Dee Williams whom Ross shared an off-screen chemistry with), who became Holiday's husband, along with the expected song sequences where Ross gets a chance to shine.
There's a superficial nature to the movie's structure – it comes off like too many "movie biopics" – and certain elements involving Holiday's addiction feel sensationalized. Sidney J. Furie captures the drama in full widescreen, but one feels an opportunity was missed with "Lady Sings the Blues" to create something special, especially given its subject matter. Nevertheless, Ross carries the film with a believably understated performance, and her vocal performances are interesting – she doesn't so much attempt to imitate Holiday's unique style but bring her own "personality" to it.
Paramount's Blu-Ray boasts both a detailed, attractive 1080p (2.35) AVC encoded transfer with a 5.1 Dolby TrueHD soundtrack. Extras have been ported over from the 2005 DVD, including deleted scenes, a commentary from Gordy, Furie and Shelly Berger, and a retrospective featurette sporting Ross' involvement.