Message Board (open 24 hours!)
Twitter - @andredursin (for everything else!)
Whatever happened to Richard Franklin? The Australian auteur became a hot commodity for a while in the '80s thanks to genre films like "Psycho II" and the kid fantasy "Cloak and Dagger," but he saw his career fizzle out after misfires like the barely released 1986 ape thriller LINK (103 mins., R; Kino Lorber). Produced for Thorn EMI before their film division went belly-up and was sold to Cannon, "Link" stars Terence Stamp as a daffy college professor whose work with intelligent simians results in one of those predictable "don't mess with nature" plots, forcing grad student Elisabeth Shue to battle a chimp gone wild in Stamp's isolated British manor.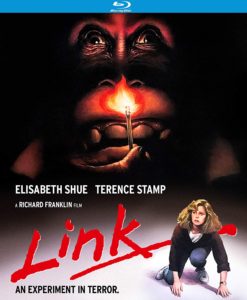 Jerry Goldsmith's goofy score – with a few notes clearly presaging his "Gremlins 2" theme – is one of the chief assets of this tepid thriller, which for years Franklin claimed was sabotaged due to pre-release cuts. Thorn EMI's movie division rolled out a handful of mostly disastrous flops before it went under prior to "Link"'s release – and in a brief Aussie phone interview contained in Kino Lorber's Blu-Ray, Franklin reveals that Universal initially supported releasing the film and suggested cutting it to 103 minutes. Ultimately, Cannon's purchase of Thorn EMI's slate relegated the film to very limited distribution and a fast track to home video, where it's only been sporadically available since.
Some 25 minutes of deleted workprint scenes are a nice inclusion in Kino Lorber's "Link" Blu-Ray – the movie's worldwide debut in the format – yet none of them would have improved the final product. "Link" was deemed as a failure even by its director, and it's hard not to agree with him: after Shue heads to scientist Stamp's isolated British coastal home, she meets his trio of intelligent chimps…one of whom doesn't take to Stamp's plan of ridding himself of the eldest member of the group. After Stamp goes missing, the remainder of the film is strictly a chase picture wherein Shue uncovers the culprit (you know who) and Franklin tries as hard as he can to make the claustrophobic stage sets cinematically compelling as Shue and friends run from the homicidal chimp (really a thinly disguised orangutan).
Frankly "Link" may have been more palatable had it been shorn of more of its 103 minutes, as Everett de Roche's script is painfully thin on compelling dramatic content. Once Stamp departs, "Link" becomes a tedious, ineffective thriller minus actual suspense, clumsily making its way to a feeble finish line.
Kino Lorber's Blu-Ray offers a nice 1080p (1.66) Studio Canal-licensed transfer that looks like a fresh scan with warm color and nice detail. Sadly the soundtrack doesn't fare as well, with the movie's Dolby Stereo mix ineffectively translated here into a muddled mono soundtrack instead (after digging around, I found the 2001 Anchor Bay DVD that I covered for an FSM "Laserphile" column, and confirmed it was in fact in stereo). That disappointment aside, the Blu-Ray also includes some welcome supplements, including a commentary from film critics Lee Gambin and Jarret Gahan, the before-mentioned deleted scenes (mostly from the film's first half), a brief phone interview extract with Franklin, a full run of trailers, and a "demo" of Goldsmith's catchy main theme.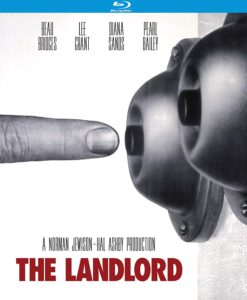 THE LANDLORD Blu-Ray (110 mins., 1970, PG; Kino Lorber): Iconoclast filmmaker Hal Ashby's directorial debut hasn't received a lot of play since its 1970 release, and in today's hyper-sensitive political/racial climate, it will be interesting to see what viewers think of it.
Ashby's "The Landlord" stars Beau Bridges as a rich Long Island boy who leaves his family's estate in order to evict the residents of a Park Slope ghetto so he can turn it into a swinging new pad for himself. Instant friction with the Black residents – played by Pearl Bailey and Lou Gossett Jr. among others – results, as well as a relationship with a mixed-race dancer (Diana Sands) and a gradual awakening of Bridges' privileged psyche.
Kino Lorber has assembled some wonderful, lengthy new interviews with Bridges, co-star Lee Grant and producer Norman Jewison, who worked with Ashby on "The Landlord" and relays, like Bridges and Grant, his recollections of the late filmmaker. Tellingly, these conversations are mostly focused on Ashby himself and less on "The Landlord," which Jewison notes was a "love it or hate it", divisive film even at the time of its release. It's certainly offbeat and strange, utilizing a strident tone and disjointed editorial rhythms to create a very odd atmosphere from its first frames to its last. It also, while serving as a "movie of its time" commentary on race relations, includes some imagery and dialogue that's decidedly un-P.C. and would probably confuse modern viewers in terms of its tone, which aims for a satirical bent but isn't always funny.
Kino Lorber's Blu-Ray doesn't indicate the nature of the source elements, but this MGM-licensed transfer (1.85) is dynamic, boasting nice colors and detail. The DTS MA mono sound is perfectly acceptable, with the trailer also on-hand. A very weird movie, "The Landlord" hasn't aged well but it was always an "out there" proposition to begin with, making it worthwhile viewing mostly for Ashby devotees.
THE BEDROOM WINDOW Blu-Ray (112 mins., 1987, R; Kino Lorber): Curtis Hanson ("L.A. Confidential") directed and scripted this surprisingly good 1987 thriller for Dino DeLaurentiis' short-lived DEG studio. Executive produced by Robert Towne, "The Bedroom Window" is an enjoyable Hitchcock-esque affair starring Steve Guttenberg – then trying to break free from the handcuffs of the "Police Academy" franchise – as a yuppie architect having an affair with his boss' wife (Isabelle Huppert). After she witnesses a crime, Guttenberg tries to keep their affair a secret by reporting it himself – leading to all kinds of problems – in a picture adapted from Anne Holden's novel "The Witnesses."
Guttenberg isn't exactly Cary Grant but Hanson's sure hand makes the film an enjoyable view, especially in Gil Taylor's original scope cinematography, captured nicely here by Kino Lorber. The 1080p (2.35) Studio Canal-licensed transfer is superb with a commentary from historian Peter Tonguette and overseas theatrical trailer (as evidenced by the 20th Century Fox logo) on-hand for extras. The score, credited to Michael Shrieve and Patrick Gleeson, is strictly a product of its time, and is presented in its original mono soundtrack.
MIDAS RUN Blu-Ray (106 mins., 1969, PG; Kino Lorber): Lighthearted late '60s comedy opens with some "mod" moments – including its lead character participating in a college campus "sit in" – but otherwise is a pretty old-fashioned affair. Richard Crenna plays a writer and just-fired professor called to Italy by what he hopes is a publisher for his new book; it turns out he's really a secret service agent (Fred Astaire) recruiting him to pull off a heist – as well as the capture of a former war criminal (Aldofo Celi).
This ABC-produced Selmur Pictures release is one of those movies with credited "Guest Stars" like Cesar Romero and Roddy McDowall, as well as a bouncy Elmer Bernstein score with a theme song warbled by lead actress Anne Heywood. The Italian-based shoot offers genial interplay between the stars but Alf Kjellin's direction and the script by Berne Gilger, James Buchanan and Ronald Austin aren't especially remarkable on any level. Still worth a look for nostalgia buffs, "Midas Run" makes its Blu-Ray debut via a good looking 1080p (1.85) transfer with the trailer and a new commentary from historians Lee Gambin and Emma Westwood on the supplemental side.
---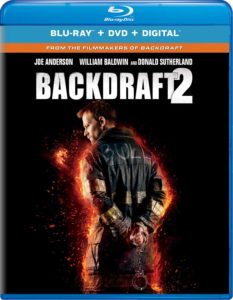 Also New & Noteworthy
BACKDRAFT 2 Blu-Ray Combo Pack (102 mins., 2019, R; Universal): Surprisingly OK direct-to-video sequel to Ron Howard's 1991 hit was written by Gregory Widen, who also penned the original. It's also, understandably, much more of a smaller-scale mystery wherein Joe Anderson's Steven McAffrey – son of Kurt Russell's character from the first film – is assigned to investigate a suspicious fire that claims the life of several Chicago trick-or-treaters. Aiding him are his Uncle Brian (a returning William Baldwin, channeling his brother Alec like never before) and the goofy arsonist Ronald Bartel, again played by a scenery-chewing Donald Sutherland.
Gonzalo Lopez-Gallego's direction is a step-up from the usual small-screen fare and the movie is nicely shot, doing as good a job as it can to mask the mostly Romanian shooting locations. On the downside, there's not a lot of action to compensate for the modest budget, the love interest is terrible, and the running time could've been trimmed a little – yet on the whole, "Backdraft 2" isn't bad and "stays in its lane" as an effective B-sequel.
Universal's Blu-Ray of the Raffaella DeLaurentiis production includes a terrific 1080p (2:1) transfer and 5.1 DTS MA soundtrack, plus a DVD and Digital Copy. Randy Edelman's mostly subdued synth soundtrack steers clear of any flourishes from Hans Zimmer's score from its predecessor, though there's a nice, elegiac solo piano rendition of "The Fighting 17th" performed over the end credits.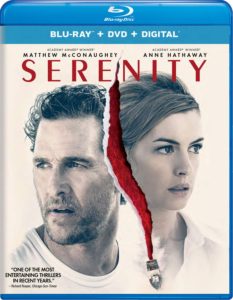 SERENITY Blu-Ray Combo Pack (107 mins., 2019, R; Universal): Absolute head-scratcher from writer-director Steven Knight was sold as a smoky modern film noir with fishing boat captain Matthew McConaughey brought in by his ex-wife (Anne Hathaway) to do away with her abusive new husband (Jason Clarke). Of course, all isn't what it seems – and we're not talking about just a couple of twists in the plot, but rather a genre switch altogether that eventually turns "Serenity" into a massive shaggy-dog joke that's hard to digest. Even more puzzling is how Knight managed to lure in a terrific cast, from the three leads to Diane Lane and Djimon Hounsou, all of whom must have wondered if the movie's central reveal was going to work with an audience. It didn't – "Serenity" quickly tanked at the box-office this past winter after bouncing around the release schedule by its distributor — yet there's a definite "train wreck" type of feel to it all that may make it worthwhile viewing for the curious. Universal's Blu-Ray combo pack of the Aviron Pictures release includes an attractively lensed 1080p (2.35) transfer and 5.1 DTS MA sound along with a Digital HD copy.
APOLLO 11 Blu-Ray (93 mins., 2019, G; Universal): The odyssey behind NASA's famed mission has been chronicled in countless documentaries, but this new effort from Todd Douglass Miller is not only well-executed, but contains archival footage culled from 65mm reels and previously un-cataloged audio – resulting in a breathtaking cinematic experience, recounting the story of Neil Armstrong and Buzz Aldren's trip to the moon from a fresh angle (and certainly far more satisfying than the Ryan Gosling dud "First Man"). Universal's Blu-Ray combo pack includes a dynamic 1080p (roughly 2:1) transfer with 5.1 DTS MA sound – this is a presentation that seemingly could've benefitted even more from a 4K UHD release but still looks great on its own merits. A Digital copy is also included along with a brief restoration segment running under five minutes.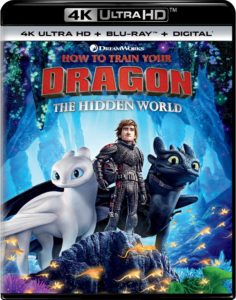 HOW TO TRAIN YOUR DRAGON: THE HIDDEN WORLD 4K UHD Combo Pack (104 mins., 2019, PG: Dreamworks/Universal): Rousing, satisfying conclusion to Dreamworks' animated franchise from writer-director Dean DeBlois gives viewers the final (?) adventure of Hiccup and his dragon Toothless. Here, the duo discover a hidden dragon world and a love story between not only Hiccup and Astrid but Toothless and a female dragon who factors prominently into the movie's moving ending. Spectacular use of HDR powers Universal's 4K UHD combo pack, which boasts Dolby Vision and thundering Dolby Atmos audio – this is a reference-quality package technically, sure to delight kids and home theater enthusiasts alike. The Blu-Ray also looks nifty, with extras including an alternate opening and deleted scenes, featurettes, commentary, two shorts and a Digital HD copy. Highly recommended!
COLD PURSUIT 4K UHD Combo Pack (119 mins., 2019, R; Lionsgate): Liam Neeson's out for revenge again – but the mood is decidedly different in this wintry remake of a hit Norwegian film from the same director, Hans Petter Moland. In the English language "Cold Pursuit," Neeson plays an unassuming Colorado plow driver who goes off into the snow-ridden tundra in search of the drug lord who killed his son, yet the road to revenge is paved with black humor a la "Fargo" instead of "Taken." Atmospherically shot, "Cold Pursuit" fared fairly well with critics but performed to only lukewarm box-office receipts – perhaps a function of Neeson's overuse in this genre, or the hubbub over his "racially insensitive" remarks on the interview circuit prior to the film's release. Either way, Moland's film is quite watchable if a bit uneasy in its tone at times. Lionsgate's 4K UHD sports Dolby Vision and Dolby Atmos audio; deleted scenes; an interview with both Neeson and Moland; a Making Of featurette; trailer and Digital copy…Also new from Lionsgate this week is Season 5 of POWER (10 hours, 2018), the Starz series from executive producers Curtis "50 Cent" Jackson and Courtney Kemp. Again tracing the relationship between James St. Patrick, his former partner Tommy Egan and archenemy Kanan Stark, Season 5 also finds Ghost seeking revenge for his daughter's murder. Lionsgate's fifth-season DVD offers 16:9 (1.78) transfers and 5.1 sound….Debuting in a Blu-Ray/DVD combo pack is TRADING PAINT (87 mins., 2019, R), a Saban Films production starring John Travolta and Toby Sebastian as a father/son racing duo who have fallen out with one another personally and professionally – with the son taking a lucrative offer from their family's rival, setting the stage for a duel on the track between the two. It probably says something that former music superstar Shania Twain receives second billing in the fine print but isn't even mentioned on the packaging of Lionsgate's Blu-Ray, with Karzan Kader's formula outing co-starring Michael Madsen and Kevin Dunn. Lionsgate's BD (2.39, 5.1 DTS MA) also offers a DVD and Digital HD copy. Another Saban production, FEARLESS (91 mins., 2019, R), is a rote genre exercise that functions strictly as a vehicle for Olivia Wilde. Here, Wilde's heroine flees from an abusive husband, then makes a point to help other domestic-violence victims by way of her intensive martial arts training. Lionsgate's Blu-Ray is out May 28th, featuring a Making Of featurette, Digital HD copy, 1080p (2.40) AVC encoded transfer and a DVD copy.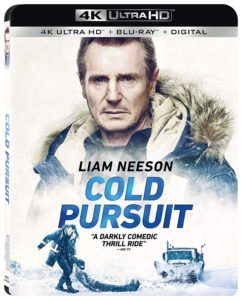 CRANK 4K UHD (87 mins., 2006, R; Lionsgate): Jason Statham gives an appropriately cranky performance as a hitman poisoned with a Chinese toxin that forces him to keep his adrenaline going — or else perish as a consequence — in the manic 2006 hit "Crank." Writer-director duo Mark Neveldine and Brian Taylor fashioned a non-stop 87 minutes of raunchy action, sex, violence, and cartoonish pratfalls, following Statham's Chev Chelios as he attempts to set things right with his girlfriend (Amy Smart), get some payback from the adversary responsible for his predicament (Jose Pablo Cantillo), and possibly get a cure…if he can find one. "Crank" is wild, unbridled entertainment that works for about 2/3 of its duration, before the feeling that what you're watching is little more than a video-game settles in. It's ultimately a one-dimensional ride in terms of dramatics and narrative, but I give the movie credit for being amusing, empty cinematic calories that Statham fans happily consumed. Lionsgate's 4K UHD includes Dolby Atmos and Dolby Vision capabilities with liberal use of HDR – there are also a few UHD exclusives like the "More Stories From Crank" and "Crank @ Comic Con" featurettes. Other extras are ported over via the also-included Blu-Ray (commentary, interviews, promotional footage etc.) with a Digital HD copy rounding out the affordable Lionsgate 4K catalog package…Is it really the end for Tyler Perry's title character? A MADEA FAMILY FUNERAL (109 mins., 2019, PG-13) purports to be the final installment of Perry's long-running series, which here places Madea and her family in the middle of a reunion when an unexpected passing ends up revealing family secrets. Madea has to (of course) save the day and reconcile old wounds in this supposedly last appearance for Perry's alter-ego, out in a Blu-Ray/DVD combo pack June 4th from Lionsgate. In addition to a fine 1080p (1.85) transfer, 5.1 DTS MA sound, a DVD and Digital HD copy, the disc includes deleted scenes, outtakes, and three featurettes…Finally, Lionsgate releases a DVD of Gaspar Noe's CLIMAX (87 mins., 2018, R) next week. This is an offbeat, strident tale of a French dance troupe whose inhibitions are unleashed after consuming sangria that's been laced with LSD. A little of this goes a long way, frankly, but it's at least stylishly lensed. Lionsgate's DVD includes a featurette, 16:9 (2.40) transfer and 5.1 audio.
ISN'T IT ROMANTIC Blu-Ray Combo Pack (88 mins., 2019, PG-13; Warner): Thoroughly innocuous Valentine's Day release offers a couple of laughs but isn't likely to linger long in the memory bank. Rebel Wilson here gets to strut her stuff as a lead in a lighthearted spoof of romantic comedies of all kinds, from Disney to Hallmark, hitting upon all the expected beats and messages about fantasy and surviving reality — but "Isn't It Romantic" ultimately can't quite get its act together in spite of Wilson's efforts and director Todd Strauss-Schulson's prior work on the indie favorite "The Final Girls," with the frivolity over and done with well before the 90 minute mark. Warner's Blu-Ray includes a sunny 1080p (2.40) AVC encoded transfer, 5.1 DTS MA sound, DVD and Digital Copy, plus deleted scenes and the "I Wanna Dance!" featurette.
THE TOYS THAT MADE US – Seasons 1 and 2 DVD (aprx. 8 hours, 2018; Screen Media): Most-welcome physical media release of the terrific Netflix documentary series from creator Brian Volk-Weiss that profiles iconic '80s toy lines (Kenner's Star Wars, Hasbro's G.I. Joe and Transformers, plus Barbie, He-Man, Lego, Star Trek and Hello Kitty). Each hour-long episode is sure to appeal to nostalgia buffs while still presenting an enlightening, entertaining doc that even those unfamiliar with the toys should enjoy. Debuting on DVD, Screen Media's two-disc set features all eight episodes from the show's first two seasons in 16:9 transfers and 2.0 sound. A deleted scene from the Star Trek episode and feaurette with Volk-Weiss comprise the special features.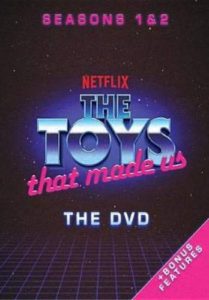 BONANZA: Season 9 DVD Volumes 1 (13 hours, 1967-68) and Volume 2 (15 hours, 1968; CBS): TV western fans have reason to saddle up and return to the Ponderosa thanks to CBS' ninth-season DVD set of the legendary sagebrush saga. Once again offering full-length episodes with original music and vibrant color transfers from original 35mm film elements, "Bonanza"'s Season 9 shines on DVD. Here, David Canary joins the cast with the episodes highlighted by Michael Landon's directorial debut, "To Die In Darkness," plus fan-favorite shows "The Late Ben Cartwright," "A Dream to Dream" and "Showdown At Tahoe." CBS' DVD splits the season into two manageable, separate volumes with original NBC and sponsor promos, photo galleries with rare pictures, excerpt from a Danny Thomas special (Volume 1) and commentary on the episode "To Die In Darkness" by Andrew J. Klyde (Volume 2).
NEVER LOOK AWAY Blu-Ray (188 mins., 2018, R; Sony): Exceedingly well-made dramatic work from Florian Henckel von Donnersmarck, who wrote and directed this story of an aspiring German artist (Tom Schilling) and his relationship with a fellow student (Paula Beer) and her father (Sebastian Koch), who's really a Nazi doctor who had his record expunged following the war. Set during and after WWII, "Never Look Away" was partially based in fact but, either way, spins a story appropriate to time and place, with strong performances and technical credits – the score by Max Richter and Caleb Deschanel's cinematography giving the production a strong emotional backing throughout. Released overseas by Disney, Sony brings the multi-Oscar nominated "Never Look Away" to home video this month sporting a 1080p transfer, 5.1 German DTS MA sound, a Q&A with the director and trailers.
RUBEN BRANDT, COLLECTOR DVD (94 mins., 2018, R; Sony): Extremely offbeat and engaging animated feature designed by Hungarian animator Molrad Kristic, "Ruben Brandt" is a therapist whose nightmares are inspired by works of art – which he conspires to steal (!) along with several of his patients from museums around the world. This R-rated and adult feature is consistently interesting, capped by widescreen (2.39) framing that one wishes Sony released in high-definition as opposed to DVD. That said, the standard-def presentation is workable with 5.1 Dolby Digital English audio.
---
Warner Archive New Releases
It may not be regarded as one of the classic screen musicals but there's nevertheless a lot of history involved with MGM's 1950 production SUMMER STOCK (109 mins.; Warner Archive).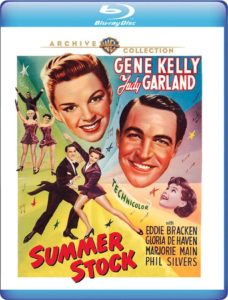 Notable for being the MGM swan song of Judy Garland, "Summer Stock" paired farmer Judy with summer stock auteur Gene Kelly, whose traveling troupe rehearses their latest production on struggling Garland's farm land. Eddie Bracken (Judy's other suitor), Gloria DeHaven (her actress sister), Marjorie Main and Phil Silvers lead the formidable support to Judy and Gene, who despite some difficulties behind the scenes (production on the film stretched into months as a result), are both fine in this escapist, albeit overlong, slice of fluff. On the musical end of things, the Harry Warren-Mack Gordon songs are breezy but offer no particular highlights outside of the climactic "Get Happy" number, which caps the fun in memorable style.
Warner Archive's Blu-Ray offers a lovely 1080p (1.37) color transfer with dual-channel DTS MA mono sound. Extras include a retrospective featurette, classic cartoon ("The Cuckoo Clock") and Pete Smith short "Did'ja Know?", the trailer, and an audio-only outtake song "Fall in Love." Not a classic but still worthwhile for Golden Age musical fans.
Also New From Warner Archive: In time for Triple Crown season, Warner Archive debuts the 1936 First National farce THREE MEN ON A HORSE (86 mins.) on DVD this May. This Mervyn LeRoy production stars Frank McHugh as a greeting card writer who spends his downtime dreaming about betting on horses and authoring a little black book of winners that his wife (Carol Hughes) believes houses the names of his girlfriends! Joan Blondell also stars in this fast-moving farce presented on DVD with a 1.33 B&W transfer and mono sound.
---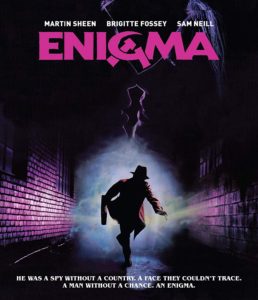 Arrow/MVD New Releases
ENIGMA Blu-Ray (102 mins., 1982, PG; S'More Entertainment/MVD): Scarcely-released UK/French co-production stars Martin Sheen as a codebreaker pressed into service at the behest of the CIA. Sent behind the Iron Curtain in order to stop the assassination of five Russian dissidents, Sheen and his ex-mistress (Bridgitte Fossey) have to contend with a scheming KGB operative (Sam Neill) in Jeannot Swarzc's 1982 effort. Released by Warner Bros. internationally and Avco Embassy in the U.S., "Enigma" offers a stellar cast – Derek Jacobi, Frank Finlay and a terribly dubbed Michael Lonsdale lend able support – and a John Briley script with an intriguing premise. Alas, Swarzc's film is fairly feeble in its execution, with Sheen an uncertain choice for the material and the visuals hampered here by a dated, ugly MPEG-2 encoded transfer (1.77) that resembles an HDTV master from a couple of decades ago. MVD's Blu-Ray also includes a photo gallery, Dolby Digital mono sound and a blocky trailer seemingly ripped from the internet…Also new from MVD's Marquee Collection is THE BIG WHITE (105 mins., 2005, R), Mark Mylod's film with Robin Williams, Holly Hunter, Woody Harrelson, Giovanni Ribisi and Alison Lohman leading an ensemble cast in the story of a travel agent (Williams) who tries to collect his living brother's (Woody Harrelson) life insurance via a discovered corpse. The investigator doesn't buy it – and neither do the hit men who killed the victim – in this strained, would-be Coen Brothers "dark comedy." MVD's Blu-Ray offers a 1080p (1.85) transfer, featurette, photo gallery, trailer and 5.1 Dolby Digital sound.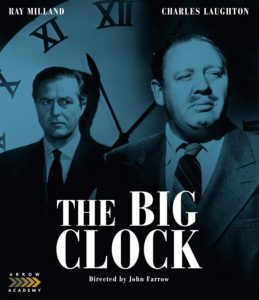 THE BIG CLOCK Blu-Ray (96 mins., 1948; Arrow): Highly-regarded 1948 thriller stars Ray Milland as a publishing editor whose boss (Charles Laughton) offs his mistress (Rita Johnson) after spending a night on the town with the married Milland. Now pegged for the crime, Milland tries to clear his name at the same time his wife (Maureen O'Sullivan) returns from a planned vacation trip he missed due to a deadline. Directed by John Farrow, this Paramount release served as the basis for the '80s Kevin Costner potboiler "No Way Out," and at least offers a more satisfying story line, scripted by Jonathan Latimer from Kenneth Fearing's book. The movie is a bit talky and slow-going, especially early on, but seasoned supporting turns from the likes of Elsa Lanchester amongst others makes "The Big Clock" an entertaining and appealing view.
Arrow's Blu-Ray of "The Big Clock" includes a better-than-average Universal B&W catalog master (1.37) where the only shortcoming is a print that shows its age in various places. Extras are highlighted by Adrian Martin's commentary; an analysis of the film from critic Adrian Wootton; an appreciation of Laughton by actor/scholar Simon Callow; the 1948 Lux Radio Theatre adaptation with Milland; a promo gallery; and the original trailer.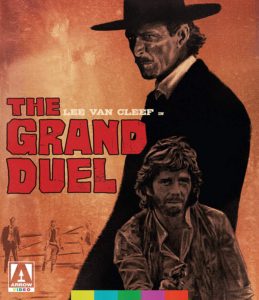 THE GRAND DUEL Blu-Ray (94 mins., 1972, R; Arrow): Lee Van Cleef stars in Giancarlo Santi's memorable 1972 Spaghetti Western. Previously (and still currently) available on Blu-Ray as a low-priced Mill Creek offering as well as a Blue Underground DVD, Arrow now brings this fan-favorite genre exercise back to Blu-Ray with a new 2K restoration (2.35) from the original 35mm negative. This results in a much improved presentation over Mill Creek's effort, with both English and Italian soundtracks and a slew of extras on-hand. These include a new commentary by historian Stephen Prince; a new interview with Santi; additional conversations with writer Ernesto Gastaldi and actor Alberto Dentice (aka Peter O'Brien), plus producer Ettore Rosboch and assistant director Harald Buggenig; comparisons between different versions, video appreciations, still galleries, a 1984 sci-fi short "Game Over" with actor Marc Mazza and plenty more. A strongly recommended upgrade for fans of the film.
YAKUZA LAW Blu-Ray (96 mins., 1969; Arrow): Teruo Ishii's 1969 Toei film is an anthology that spans three historical periods — the Edo Period with samurais starring Bunta Sugawara, the Meiji Period with Minoru Oki, and a then-contemporary story with Teruo Yoshida – in its chronicle of brutal vengeance and torture in the Yakuza. Violent and unflinching, "Yakuza Law" is presented here in a Toei licensed 1080p (2.35) widescreen transfer with Japanese audio and English subtitles. Extras include a commentary from Jasper Sharp, a vintage interview with the reclusive Ishii and an image gallery.
---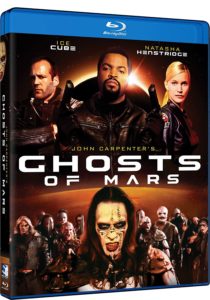 Mill Creek New Releases
GHOSTS OF MARS Blu-Ray (99 mins., 2001, R; Mill Creek): Natasha Henstridge is a policewoman on Mars in the 21st century who uncovers that the human Martian colonists are being possessed by — yes, you guessed it — ghosts of Mars! In a direct throwback to "Assault on Precinct 13," Ice Cube plays a prisoner who just may help her out in combating the army of the Martian undead that threatens to take over all the invaders.
This basically final John Carpenter studio outing was mostly dismissed as a tepid but so-bad-it's-almost-good rock & roll actionfest, complete with bad make-up (the Martians look like refugees from a KISS concert, as many pointed out) and weak performances, plus a recycled storyline from Larry Sulkis and Carpenter himself, who likely sensed with this picture that his best work was all behind him.
Mill Creek's Blu-Ray brings "Ghosts" back into format circulation after Sony's 2009 release was discontinued. This bargain-priced disc includes the archival featurettes and Carpenter and Henstridge's commentary from that disc, along with a comparable 1080p transfer and 5.1 DTS MA sound.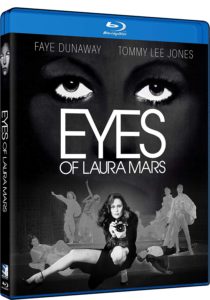 Also new from the Columbia vaults is the first U.S. Blu-Ray release of EYES OF LAURA MARS (104 mins., 1978, R), the disco-era guilty pleasure starring Faye Dunaway as a fashion photographer who comes to have visions of murders – all of whom are people she knows. Tommy Lee Jones co-stars with Raul Julia (billed here as "R.J."!), Brad Dourif and Rene Auberjonois comprising a stellar supporting cast; it's a silly yet slickly made thriller with a sometimes hysterical script credited to John Carpenter and David Zelag Goodman, which Irvin Kershner helms with more flamboyance than one might anticipate.
Dated as you might expect but nevertheless a film that's developed a cult following, likely due to Carpenter's involvement as he wrote the script for "Blob" producer Jack H. Harris (though Carpenter eventually disowned the finished film), "Eyes of Laura Mars" debuts on Blu May 14th from Mill Creek. The Sony licensed transfer (1.85) is competently rendered here though doesn't quite have the pinpoint detail of Indicator's region-free UK release. The sole extra is Kershner's DVD commentary, which too often talks about the action on-screen instead of the actual shoot.
---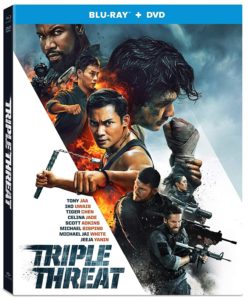 Label Wrap
Well Go New Releases: TRIPLE THREAT Blu-Ray (98 mins., 2018, R; Well Go): Martial arts superstar Tony Jaa and Tiger Chen lead a team of mercenaries against a squad of ruthless assassins (Scott Adkins, Michael Jai White, Michael Bisping) in this Hong Kong actionfest that tries to put a kung-fu spin on "The Expendables." Iko Uwais, Celina Jade, and Jeeja Yanin co-star in this reasonably entertaining import, shot in English by director Jesse V. Johnson, that Well Go bows on Blu-Ray and DVD this week in a combo package. Extras include cast interviews and trailers, a 16:9 transfer and 5.1 DTS MA audio…Coming May 21st from Well Go is a change-of-pace project for HK star Donnie Yen. BIG BROTHER (102 mins., 2018)finds Yen trying to venture into territory usually covered by Jackie Chan, with Yen playing an ex-soldier whose new gig involves teaching troubled teen delinquents. Life lessons and a dependable formula follow in this 2018 release, debuting on Blu-Ray from Well Go featuring a 1080p transfer and DTS MA Cantonese 5.1 audio with optional English subtitles…Recently released on DVD is ANOTHER SHOT (85 mins., 2017), a Hong Kong import from director Larry Yang featuring former NBA star Stephon Marbury as himself — and specifically how he rekindled his love for the game after leaving the NBA by heading to China and working with local players to win the country's championship. Yang's film offers a needed spin on the usual sports-underdog formula though Marbury is a bit stiff off the court. Well Go's DVD includes a 16:9 transfer and 5.1 English audio.
From MPI: The British chiller WHITE CHAMBER (89 mins., 2019; Dark Sky/MPI) finds Shauna Macdonald as a woman who wakes up being interrogated by a military leader (Oded Fehr) whose government has declared martial law. Paul Raschio wrote and directed this cautionary tale set in a "near future" where political freedoms have been sacrificed, and does a fairly good job at building character and suspense – minus gore – until an unsatisfying ending that's likely to confound some viewers. MPI's Blu-Ray is out May 21st featuring a 1080p transfer (2.39) and 5.1/2.0 Dolby Digital sound.
SHOAH: FOUR SISTERS Blu-Ray (273 mins., 2017; Cohen): When French documentarian Claude Lanzmann produced his seminal portrait of the Holocaust, "Shoah," he had so much material left over that he was able to craft a series of supporting features over the years since its 1985 release. Chief among those is this 2017 assemblage of additional anecdotes, produced before Lanzmann passed away, centering on four women from different portions of Europe who survived the horrors of Nazi imprisonment. This harrowing series of interviews, conducted in the late '70s, makes for an essential companion to "Shoah," and debuts on Blu-Ray this month from Cohen. A conversation with Bernard-Henry Levy is on-hand, moderated by Deborah Lipstadt at the Streicker Center, plus a 1080p transfer (1.33) and 5.1 DTS MA sound.
Film Movement New Releases: Felix Randau's ICEMAN (96 mins., 2018, Not Rated) is set in the Otztal Alps over 5000 years ago, where a tribal clan leader finds his family murdered and their holy relic, the Tineka, stolen. The "Iceman"'s attempts to reclaim it forms the basis for this prehistoric variant on "Taken," debuting this month on DVD from Film Movement with a 5.1/2.0 Dolby Digital soundtrack, a 16:9 transfer and English subtitles. A Making Of featurette is also included…SARA STEIN: FROM BERLIN TO TEL AVIV – THE COMPLETE SERIES (369 mins.) stars Katharina Lorenz as a German detective of Jewish descent who moves to Tel Aviv, helping to keep the peace while acclimating to life in Israel and pursuing a slew of cases. This interesting series is new to DVD next week from Film Movement in a two-disc set featuring all four movies (Shalom Berlin, Shalom Tel Aviv; Jewels in the Grave; Masada; and Old Friends) in 16:9 (1.78) transfers with the original German/Hebrew/Arabic soundtrack and English subtitles…Also new on DVD June 4th is ALL YOU EVER WISHED FOR (87 mins., 2019), an independent tale of a New York executive (Darren Criss) whose life is turned upside down after he's kidnapped and held for ransom in an Alpine village — one with a gypsy curse forcing everyone who stays there to fall in love with the first thing they see. For Criss, at least it's the lovely Madalina Ghenea, in a film that puts a spin on the usual rom-com formula by way of a fanciful mood concocted by "Rain Man" writer Barry Morrow. Film Movement's DVD offers a 16:9 (1.78) transfer and both 5.1/2.0 soundtrack options.
NEXT TIME: Back to the '70s! EARTHQUAKE! CAN'T STOP THE MUSIC! Until then, don't forget to drop in on the official Aisle Seat Message Boards and direct any emails to our email address. Cheers everyone!