One of the wonderful things about watching classic films in a remastered presentation, and especially at a higher resolution than you've seen before, is that you can appreciate them anew, on their own terms. Not as the start of a franchise, not as a genre benchmark that was copied hundreds of times over – but a solitary work of cinema that remains contemporary even though it was released some 40 years ago. That's the case with ALIEN (****, 116 mins., 1979, R), Ridley Scott's classic which rode the sci-fi wave that "Star Wars" ignited and became a classic in its own right thanks to Scott's direction, the film's evocative production design and striking H.R. Giger creature effects.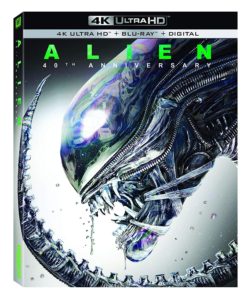 The story may be simple and derivative (and methodically paced), but everything about the execution of "Alien" is elegant and eerie – and works every bit as well today, especially when viewed apart from a succession of mostly (far) inferior sequels that form a franchise that, honestly, hasn't ever held together. Watching the film again in Fox's new (and ridiculously inexpensive) UHD 40th Anniversary package enables the viewer to reassess the film in a brilliant 4K master, separating it from the sequels and clones, and appreciate it just as it was: a groundbreaking, hugely effective film that catapulted Scott, as well as Sigourney Weaver, into superstardom and remains a spellbinding cinematic ride.
What the UHD accentuates through HDR isn't so much color scheme but rather the detail that lurks in the shadows – and, in this instance, there's a lot of area that's enhanced by the 4K presentation. The sequence where Dallas (Tom Skerritt) pursues the Alien through the corridors of the Nostromo has long had problems in previous releases replicating the Captain's flickering flamethrower and general use of lighting, especially in muddy standard definition. Even more than the superb Blu-Ray, the 4K UHD of this sequence looks properly lit and shaded, with detail emerging from the sides of the image that wasn't fully visible before. In numerous other sequences, the enormity of Scott and Giger's design can be more fully digested as well, with layers of lighting being heightened by the use of HDR. It's a really terrific, and consistent, transfer that trumps an already-great Blu-Ray that offers nearly the same level of detail as what you see on the UHD.
The 4K UHD otherwise presents a reprise of the Blu-Ray right down to its 5.1 DTS MA soundtrack with one exception: the theatrical version's 4.1 and 2.0 soundtracks are here encoded in "lossless" DTS MA (the Blu-Ray only housed them in a Dolby Digital container), with two commentaries and a pair of isolated score offerings. That means that both the film's theatrical version and the more recent, so-called "Director's Cut" are included — as Ridley Scott has stated about the latter, it's not really a "Director's Cut" but an alternate version with extra footage. It's also a bit faster-paced, as evidenced by the shorter running time, adding a couple of extra glimpses of the alien and the infamous cocoon scene at the end (which thankfully was trimmed from its unexpurgated outtake state on previous laser/DVD editions). The UHD also comes with a Digital HD copy and the same Blu-Ray from the essential "Alien Anthology" box-set, minus its phenomenal special features disc.
"Alien" was, of course, followed by James Cameron's spectacular – but very different – "Aliens" and then a myriad of ill-conceived, mostly disappointing follow-ups that tried too hard to make Sigourney's Ripley a focal point. Scott himself initially had a good idea going with "Prometheus," his belated (and often unnecessarily derided) prequel, but then negated nearly all of that film's goodwill when he returned for the disappointing, downbeat – even sleazy – follow-up "Alien: Covenant."
For all of those reasons, the best way to watch "Alien" is to forget everything that's set both before and after – and just soak in the picture as if it's 1979 all over again and you're seeing its indelible images for the first time. Thanks to Fox's 4K UHD, it's easier to do that than ever before.
---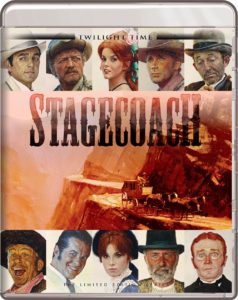 Twilight Time New Releases
I can't say I'm a huge fan of 20th Century Fox's color, widescreen remake of John Ford's STAGECOACH (114 mins., 1966; Twilight Time), yet this all-star production still offers a fair amount of appeal for western fans – not to mention a strong Jerry Goldsmith score to boot.
Ann-Margret steps into Claire Trevor's original role in this workmanlike adaptation of the original Dudley Nichols screenplay (and Ernest Haycox story) about a stagecoach bound for Cheyenne and the various calamities that ensue for its passengers along the way. Make no mistake, Alex Cord is no John Wayne as the "Ringo Kid" and director Gordon Douglas' movie fails to approximate the original – which served as a blueprint for the western genre altogether – but there's still some nifty Cinemascope cinematography courtesy of veteran William Clothier and an attractive supporting cast (Bing Crosby, Red Buttons, Mike Connors, Van Heflin, Stefanie Powers, Keenan Wynn and Slim Pickens in Andy Devine's original role) on-hand to make this a pleasant way to kill off a couple of hours for buffs.
Twilight Time's Blu-Ray follows their DVD release – one of their initial offerings – with a 1080p (2.35) transfer, isolated score track, a new commentary with historians Lee Pfeiffer and Paul Scrabo, and a reprise of Julie Kirgo's liner notes, which put this often unfairly maligned remake into the proper cinematic perspective.
THREE COINS IN THE FOUNTAIN Blu-Ray (102 mins., 1954; Twilight Time). WHAT IT IS: Entertaining mid '50s studio fluff shot in the glory of Cinemascope, "Three Coins in the Fountain" tells the story of three American secretaries (Jean Peters, Dorothy McGuire, Maggie McNamara) and their respective suitors (Clifton Webb, Louis Jourdan, Rossano Brazzi) in a colorful confection courtesy of writer John Patrick and director Jean Negulesco. With scenic Italian backdrops captured in scope, a lovely Victor Young score, and the classic Frank Sinatra-crooned title track (even though the Chairman receives no credit!), "Three Coins" is a terrific slice of Golden Age studio filmmaking enhanced here by Twilight Time's great Blu-Ray. TWILIGHT TIME TECH SPECS: A fresh, impressively detailed 1080p (2.35) AVC encoded transfer awaits viewers here, plus a barrage (5.1, 4.0, 2.0 DTS MA) of audio options and Young's isolated score. A commentary from historian Jeanine Basinger, trailers and a Fox Movietone newsreel round out a splendid release for Golden Age fans.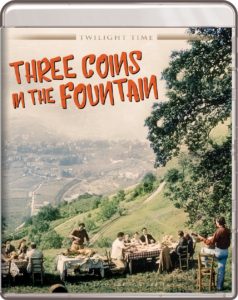 THE SNAKE PIT Blu-Ray (108 mins., 1948; Twilight Time). WHAT IT IS: Searing and groundbreaking – particularly for its time – portrait of a young woman (Olivia de Havilland), suffering from schizophrenia, who's sent to an asylum finally receives a sterling, domestic Blu-Ray release from Twilight Time. This Anatole Litvak production boasts an unflinching (especially considering the era) account of mental institutions and a phenomenal de Havilland performance, as well as functions as an effective melodrama and studio entertainment on top of it all. TWILIGHT TIME TECH SPECS: The Fox licensed (1.33) AVC encoded transfer boasts 2.0 and 1.0 DTS MA audio options, an isolated score track, commentary with historian Aubrey Solomon, Fox Movietone news reels, two vintage radio adaptations and the original trailer.
MELVIN AND HOWARD Blu-Ray (95 mins., 1980, R; Twilight Time). WHAT IT IS: Cult-favorite character drama debuts on Blu-Ray for the first time courtesy of Twilight Time. Jonathan Demme here helmed Bo Goldman's original screenplay, which profiles the unlikely meeting between an everyday deliveryman (Paul LeMat) and a grizzled Howard Hughes (Jason Robards), who years later, bequeaths millions to him in a contested will. Strong performances from the leads, Mary Steenburgen, and character actors like Michael J. Pollard and Pamela Reed, make for a memorable little slice of Americana. TWILIGHT TIME TECH SPECS: Twilight Time's 1080p (1.85) AVC encode is derived from a pretty solid Universal master with a good amount of detail and mono sound. Extras include the trailer, an isolated score track, and archival commentary with Demme and production designer Toby Rafelson.
---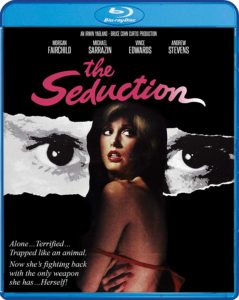 Shout! Factory New Releases
THE SEDUCTION Blu-Ray (104 mins., 1982, R; Shout! Factory): Morgan Fairchild fans have always had an obvious fondness for this 1982 Avco Embassy programmer, but outside of its star, there's scant reason to check out this plodding "thriller" about a news anchor (Morgan) stalked by a crazed photographer (Andrew Stevens) who just…can't…let…her…go.
Though the "crazy fan" genre had only been partially exploited by the time of the film's 1982 release, "The Seduction" is tediously assembled, with writer-director David Schmoeller failing to deliver suspense, shocks or excitement from his completely routine, lifelessly delivered script. Stevens' villainy is blandly conveyed, supporting roles (from the likes of a wasted Michael Sarrazin, Vince Edwards and Colleen Camp) are perfunctory at best, and there's no surprise involved in any element of the picture.
To his credit, Schmoeller — whose subsequent career output was mostly confined to collaborations with Charles Band's Empire and Full Moon labels – did get the most bang from his buck in what was otherwise a modest production – the Mac Ahlberg widescreen lensing is nice and Lalo Schifrin's score adds a touch of class, complete with a Dionne Warwick opening ballad. Yet "The Seduction" is one of those pictures that could be viewed on fast-forward without any detriment to the pedestrian storytelling involved –and what's more, doesn't even make good on delivering "so bad it's good" laughs for the B-movie crowd.
Scream Factory brings "The Seduction" to Blu-Ray on May 21st sporting a nice 1080p (2.35) AVC encoded transfer and DTS MA mono sound licensed from Studio Canal, which only recently started licensing out titles to Blu-Ray boutique labels. New interviews with Fairchild, Stevens and producer Bruce Cohn Curtis highlight the special features, which also reprises featurettes from Anchor Bay's DVD, the still gallery and theatrical trailer.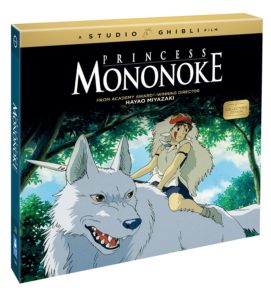 Coming May 14th in a new Blu-Ray Special Edition box, PRINCESS MONONOKE (133 mins., 1997, PG-13) is a Hayao Miyazaki work that quickly became one of the most acclaimed animated movies of all-time upon its international release. Still, despite nicely detailed animation and a gorgeous score by Joe Hisaishi, the film left me a little cold.
Yes, this fairy-tale adventure (suitable only for teenagers due to a good deal of violence) became – for a brief time – the highest grossing picture released in Japan, and there are some unforgettable sequences mixed into the fabric of Miyazaki's film. But at over 130 minutes, this is a sluggish, slow-moving fantasy, one that tends to ram home its pro-environmental message without adding any additional subtext. Although the film featured a high-profile English-dubbed track featuring the likes of Minnie Driver, Billy Crudup, Billy Bob Thornton, and Claire Danes among others, perhaps something was lost in the translation of the film to American shores — or too much of the movie is steeped in Japanese culture and legend to have the same significance here. (As my friend Paul MacLean pointed out to me, why is the movie called "Princess Mononoke" when she's basically a supporting character to the Prince?).
Still, even for those unfamiliar with anime, I would recommend the movie due to its artistic design and the lyrical score by Hisaishi, both of which are prominently highlighted by Shout and GKids' new Collector's Edition Blu-Ray. The disc itself is similar to past Ghibli releases – including an attractive 1080p (1.85) transfer, 5.1 Japanese or English audio, a featurette on the dubbing of the American version and storyboards included – but this new deluxe, hardbound package also boasts an added CD copy of the soundtrack and a glossy 40-page book.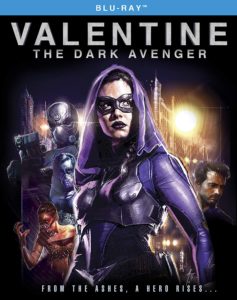 VALENTINE: THE DARK AVENGER Blu-Ray (97 mins., 2018, Not Rated; Shout! Factory): Indonesian-produced adventure stars Estelle Linden as an aspiring actress/waitress who takes a job for an American film producer (Matthew Settle) playing a super-hero. Her actual fighting ability proves to be hugely successful after her "audition" catapults her, and her alter-ego, into genuine hero roleplaying. Shout debuts "Valentine: The Dark Avenger" on Blu-Ray May 14th featuring the trailer, an image gallery, 1080p (2.35) transfer and English/Indonesian 5.1 DTS MA sound plus an English soundtrack (with some dubbed portions)…Also new this month from Shout on Blu-Ray is Ethan Hawke's music biopic BLAZE (129 mins., 2018, R), the story of Blaze Foley, a songwriting legend whose country voice gave rise to the "outlaw music movement" spearheaded by the likes of Merle Haggard, Willie Nelson and Kris Kristofferson among others. Hawke's unusual film bounces from three different time periods, with Ben Dickey playing Foley and Alia Shawkat as his love Sybil Rosen (who also wrote the film with Hawke). Shout's Blu-Ray offers a 1080p transfer (2.39), 5.1/2.0 DTS MA sound, a featurette, the trailer and a commentary from Hawke…New on DVD, the SESAME STREET: AWESOME ALPHABET COLLECTION (130 mins.) offers several recent episodes from the series focusing on letter-specific vignettes with guest appearances from the likes of Pharrell, Norah Jones, Ricky Gervais, Maya Angelou and others. Bonus features include printable activity sheets, all on one DVD with a 16:9 transfer and stereo sound.
---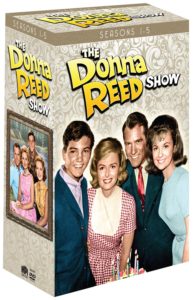 TV on DVD New Releases
THE DONNA REED SHOW Seasons 1-5 DVD (82 hours; MPI): Running from 1958-1966 on ABC, mostly on Thursday nights for the duration of its run, "The Donna Reed Show" is one of those classic sitcoms that never generated as much enthusiasm in syndication as some of its peers. The series starred Reed as a matriarch to a pair of teenage kids (future teen chart-toppers Shelley Fabares and Paul Petersen) and married to a pediatrician (Carl Betz) whose fluctuating work schedule meant Reed's "Donna Stone" had to often tend to assorted domestic issues on her own. Eventually, Petersen's real-life sister Trisha was added to the cast as an adoptee after Fabares left the series, with later years finding the likes of Bob Crane joining the series in support.
MPI's Complete Seasons 1-5 DVD box set, out May 14th, includes the first 186 episodes of the series in remastered versions that the packaging claims are indeed uncut (reviews I checked out of earlier DVD releases indicated that certain episodes were derived from trimmed syndication edits). This is vintage sitcom goodness, wholesome TV that's consistently written and appealing, with guest stars running the gamut from Harvey Korman and Cloris Leachman to Buster Keaton, Marion Ross, John Astin, Ted Knight, Richard Deacon, Esther Williams, Don Drysdale and many others.
As if the remastered episodes weren't enough, this deluxe DVD release – the year's best so far in terms of catalog television in the format – also sports brand-new interviews and featurettes with Fabares, both Paul and Patty Petersen, and guest star Jimmy Hawkins. Original promo spots, cast and sponsor commercials, Reed's public service spots, the 1959 cast Christmas greeting, a conversation with composer Stu Phillips on his work on the series plus song outtakes; rare behind the scenes footage, photos, and Reed's "This Is Your Life" episode are also present and accounted for.
Also new from MPI is the terrific HBO special GEORGE CARLIN: 40 YEARS OF COMEDY (60 mins., 1997). Originally broadcast live at the Wheeler Theater in Aspen, this was Carlin's 10th special but markedly different from his other stand-up shows, here with a young Jon Stewart conducting an hour-long interview with Carlin along with offering highlights from his years performing live. Three new segments of stand-up are also included in what was a solitary broadcast now available on home video for the first time May 7th on DVD.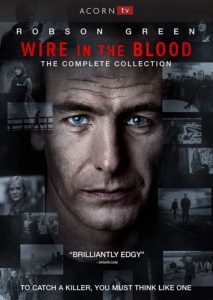 WIRE IN THE BLOOD – The Complete Collection DVD (35 hours, 2002-03, 2005-08; Acorn/RLJ):"Grantchester"'s Robson Green starred as Dr. Tony Hill in this acclaimed British mystery/crime series, playing author Val McDermid's unflappable forensic profiler, called into assist the police when serial killers ravage Northern England. Like so many genre protagonists before him, his unorthodox methods and gruff exterior prove to be a turnoff before his insights bring him closer to his colleagues, who ultimately find his assistance invaluable. Hermoine Norris, Simone Lahbib and Mark Letheren also star in this smart, occasionally grizzly mystery series, which aired in the form of some 24 cycles over a period of six years (only a fraction of which were reportedly culled directly from McDermid's books). RLJ's attractive DVD box set houses the complete run of "Wire in the Blood" in 16:9 transfers and 2.0 stereo soundtracks. The feature-length mystery "Prayer of the Bone" is the lone special feature in the 13-disc box, available this week from Acorn and RLJ.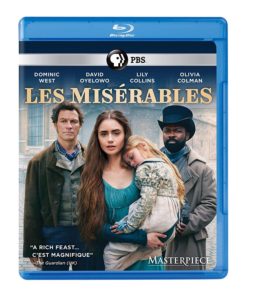 PBS New Releases: The well-reviewed, lavish Masterpiece/BBC co-production LES MISERABLES (6 hours, 2019) adapts the oft-told Victor Hugo novel for a properly period-set production, minus songs but now with racially diverse, contemporary casting. "The Affair"'s Dominic West essays Jean Valjean with David Oyelwo as Javert and Lily Collins as Fantine with the likes of Adeel Akhtar, Olivia Colman, David Bradley and Derek Jacobi in support. It's an interesting tactic utilizing people of color, especially in antagonistic roles, but Tom Shankland's direction is on the nose with Andrew Davies' script making for a spirited telling of the Hugo perennial. PBS' Blu-Ray includes the complete six-part mini-series on two Blu-Rays with 1080p transfers, 2.0 stereo sound, and several featurettes…New on DVD this week from PBS is Season 3 of UNFORGOTTEN (275 mins., 2018), which brings back Sanjeev Bhaskar and Nicola Walker as investigators who recover the remains of a teenager who went missing around the turn of the 21stcentury. Seeking to right the wrongs of prior investigations, Sunny and Cassie try to sort through the four suspects now under the microscope for the crime in this satisfying third season of the ITV series. PBS' DVD includes UK length original episodes, a number of featurettes, a 16:9 transfer and 2.0 stereo sound…Coming May 14th from PBS is Season 5 of FINDING YOUR ROOTS (10 hours, 2019), the latest season of the enlightening, entertaining PBS series hosted by Henry Louis Gates, Jr. In this 10-episode fifth season, Gates looks at the genealogical backgrounds of Ann Curry, Kal Penn, Lisa Ling, Laura Linney, Marisa Tomei, Michael K. Williams, George R.R. Martin, Sheryl Sanberg, Christiane Amanpour, Joe Madison, Michael Strahan, Marina Abramovic, Ajenadro G. Inarritu, Tulsi Gabbard, Marco Rubio, Paul Ryan, Seth Meyers, Andy Samberg and Sarah Silverman – a most diverse group of guests across all ends of the racial (not to mention political) spectrum. PBS' three-disc set includes 16:9 transfers and stereo soundtracks.
---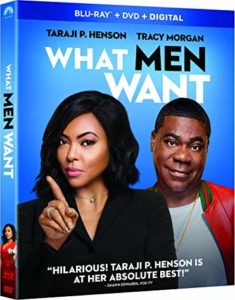 Also New & Noteworthy
WHAT MEN WANT Blu-Ray Combo Pack (117 mins., 2019, R; Paramount): It's odd how remakes today try to pretend that their predecessors never happened. While "What Women Want" became one of Mel Gibson's biggest hits, it's not even acknowledged in this rote, gender-switching remake from director Adam Shankman, whose comedy is severely hampered by modern day social engineering. Instead of Gibson gaining the ability to hear the innermost thoughts of the opposite sex, here it's sports agent Taraji P. Henson who gains the ability – the problem is that, unlike Gibson, who learned lessons about his "toxic masculinity," the screenplay from Tina Gordon, Peter Huyck and Alex Gregory doesn't come down nearly as hard on feminine shortcomings. Serving instead to reinforce masculine stereotypes, "What Men Want" is mired in messaging instead of comedy, resulting in a disappointing vehicle for the "Empire" star. Paramount's Blu-Ray of this moderate box-office performer arrives May 7th featuring over an hour of bonus content; a gag reel; and 10 deleted/extended scenes. The 1080p transfer and 7.1 Dolby TrueHD sound are both fine, with a DVD and Digital HD copy also on-hand.
THE LEGO MOVIE 2: THE SECOND PART 4K UHD Combo Pack (107 mins., 2019, PG; Warner): Sequel to the original "Lego Movie" didn't meet with nearly the same level of commercial enthusiasm as its predecessor – something likely attributable to the amount of peripheral series and spinoffs ("Lego Batman Movie," "Lego Ninjago Movie," etc.) that Warner Bros. produced in the interim between the principal installments.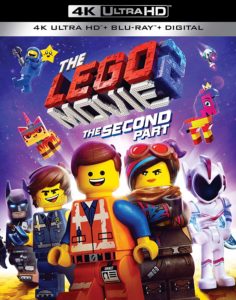 Taken on its own terms, though, "The Lego Movie 2" fulfills all the requisite checkmarks – it entertains kids while still offering enough humor and visual invention for adults to maintain interest. No, the plot – with Bricksburg having been dismantled by Duplo invaders, relying on Emmet and Lucy to save the day (along with numerous familiar faces) – isn't quite as consistently funny and the picture not as fresh overall, even with a returning Phil Lord and Christopher Miller authoring the screenplay. Yet, the true test is whether the intended audience of our household – who just turned 5 – enjoyed it, and on that end "The Lego Movie 2" gets a hearty two thumbs-up.
Available this week, Warner's 4K UHD of "The Lego Movie 2" boasts an expectedly vibrant, gorgeous HVEC HDR encoded transfer with immersive Dolby Atmos audio. The Blu-Ray is perfectly fine but here's one of those instances where HDR truly takes advantage of your 4K capability and results in a beautiful image. Extras include deleted scenes, music videos, a Making Of, the Blu-Ray and Digital HD copy.
DESTROYER Blu-Ray Combo Pack (121 mins., 2018, R; Fox): Nicole Kidman gives a committed performance as an undercover FBI agent who loses her partner in a botched raid. Years later, the same group of criminals she was after are back, leading her on a revenge-seeking vendetta in Karyn Kusama's fiery but relentlessly downbeat crime drama that tells a parallel story to negligible dramatic effect. Kidman's superb, but the one-note "Destroyer" doesn't satisfy with a payoff not worth the wait. Fox's Blu-Ray combo pack includes a DVD and Digital HD copy, Making Of featurette, two commentary tracks, gallery, a 1080p (2.40) AVC encoded transfer and 5.1 DTS MA sound.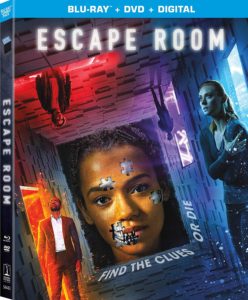 ESCAPE ROOM Blu-Ray (100 mins., 2019, PG-13; Sony): Low-budget Neal H. Moritz programmer turned a tidy profit this past winter. Tapping into the fad of interactive mystery "rooms" around the country, "Escape Room" brings together six strangers where it turns out the game is actually a real struggle for life – or death. A no-name cast populates this by-the-book genre exercise, like "Saw" with a PG-13 rating, but director Adam Robitel paces the film well, enough to keep you watching until its rather weak ending. Sony's well-stacked Blu-Ray offers eight deleted/extended scenes, an alternate ending, several featurettes, a 1080p (2.39) AVC encoded transfer, 5.1 DTS MA sound, the DVD and Digital HD copy.
MISS BALA Blu-Ray (104 mins., 2019, PG-13; Sony): "Jane the Virgin" breakout star Gina Rodriguez struts her stuff as a young woman who ends up having to rescue her abducted friend while navigating the CIA, DEA and a Mexican drug czar in this winter box-office underperformer. "Twilight"'s Catherine Hardwicke helmed "Miss Bala," named for the Tijuana beauty pageant Rodriguez's friend ends up in, and for a while the film is fairly entertaining – at least until the movie goes full guns-blazing into a dumb action climax. Rodriguez, at least, is always fetching and compelling to watch, as evidenced by Sony's Blu-Ray. The disc includes an attractive 1080p (2.40) transfer with 5.1 DTS MA sound, deleted scenes, featurettes, a digital HD copy, and commentary from Hardwicke.
THE PRODIGY Blu-Ray/DVD (92 mins., 2019, R; MGM/Fox): Nasty and ultimately unsatisfying Canadian lensed horror film stars Taylor Schilling as a Mom whose formerly well-tempered eight-year-old (Jackson Robert Scott) begins displaying psychotic behavior. It's all tied to the death of a serial killer, of course, who wants back into the living realm (guess where) in a movie that becomes increasingly unhinged and predictable, leading into the requisite downer ending fans can see coming from a mile away. Director Nicholas McCarthy's minor effort, released under the recently resurrected Orion banner by MGM, comes to Blu-Ray this week from Fox sporting a 1080p (2.40) transfer, 5.1 DTS MA sound, a Digital copy, promo featurettes and McCarthy's commentary.
FIGHTING WITH MY FAMILY Blu-Ray/DVD (109 mins., 2019, PG-13/Unrated; Universal): Writer-director Stephen Merchant tries something a little bit different with "Fighting With My Family" – the biopic of WWE personality Paige (Florence Pugh), whose life as a British teen named Saraya Knight with a wrestling-loving family (including dad Nick Frost and brother Jack Lowden) results in her audition – and eventual acceptance – into the big time. The Rock appears as himself in this family dramaedy that's leisurely paced and will mostly appeal to wrestling fans, though Pugh is appealing enough to sustain interest even for those with zero interest in the "sport." Universal's release of this MGM production contains both an unrated version and the theatrical edit each running precisely 109 minutes, along with deleted/extended scenes; a gag reel; a couple of featurettes; a 1080p (2.40) AVC encoded transfer, 5.1 DTS MA sound, a Digital HD copy and Merchant's commentary.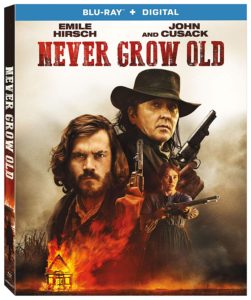 REPLICAS Blu-Ray Combo Pack (107 mins., 2019, PG-13; Lionsgate): Keanu Reeves fails to tap back into the sci-fi vibe of "The Matrix" with "Replicas" – instead, this winter box-office bust is more along the lines of "Johnny Neumonic." Reeves plays a brilliant scientist who tries to bring back his late wife (Alice Eve) and kids after they're killed in a car crash; while thankfully far from "Pet Sematary," "Replicas" still poses a nightmarish situation for Reeve when he finds out he only can bring back three of his four perished family members. Jeffrey Nachmanoff's film is stilted, slow and mostly dismal going from start to end, squandering a decent cast with a weak script by Chad St. John. "Replicas" is now on Blu-Ray from Lionsgate featuring a 1080p (2.40) AVC encoded transfer, 5.1 DTS MA sound, a DVD, Digital HD copy, commentary, Making Of and deleted scenes.
Also New From Lionsgate: The Irish chiller THE HOLE IN THE GROUND (90 mins., 2019, R) offers yet another twist on the old "missing kid returns…but is it really the same kid?!" sub-genre of the horror realm, with director Lee Cronin going for a slow burn in his story of a mother who fears her son may no longer be her own after he disappears in the Irish countryside. Unsettling and fairly well done in spite of the familiar subject, Lionsgate brings the film to DVD April 30th featuring a featurette, 16:9 (2.40) transfer and 5.1 Dolby Digital sound…Coming May 14th on Blu-Ray, NEVER GROW OLD (100 mins, 2019, R) stars Emile Hirsche in a downbeat western as an undertaker with a young family who wrestles with the choice to take on notorious outlaw Dutch Albert (John Cusack), a criminal who's taken over their formerly quaint home town. This is an internationally-mounted Saban Films production that debuts on home video featuring a Making Of featurette, 1080p (2.40) AVC encoded transfer, 5.1 DTS MA sound and a Digital HD copy…Also new from Lionsgate May 14th is LIFELIKE (95 mins., 2019, R), the futuristic story of a couple (Addison Timlin, Drew Van Acker) who decide to buy a lifelike new android (Steven Strait) to work in their home – leading, naturally, to unforeseen consequences once his A.I. goes haywire in Josh Kanowicz's independent production. Lionsgate's DVD (2.40, 5.1 Dolby Digital) includes a behind-the-scenes featurette with cast/crew interviews and a trailer gallery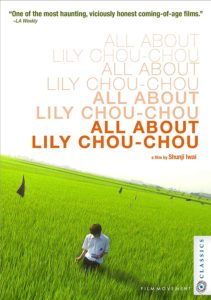 Film Movement New Releases: Shunji Iwai's ALL ABOUT LILY CHOU-CHOU (146 mins., 2001) receives a Blu-Ray release for the first time this May from Film Movement. This lengthy coming-of-age drama focuses on an 8thgrader afflicted by bullying and teen prostitution who seeks solace in the music of Lily Chou-Chou, a Bjork-like singer. Film Movement's Blu-Ray (1080p 1.78) offers a Making Of featurette, new essay by Stephen Cremin with Iwai's prologue, and 5.1 DTS MA sound (Japanese with English subtitles)…Don DeLillo's novel "The Body Artist" was adapted by director Benoit Jacquot for the film NEVER EVER (86 mins., 2019, Not Rated), a well-executed French thriller about a performance artist (the fetching Julia Roy) who falls for a filmmaker (Mathieu Amalric) who later dies in an accident, leaving Roy alone in a house that turns out to be, well, "occupied." Film Movement's DVD (1.85) includes 5.1 Dolby Digital French audio with English subtitles…Olga Chajdas' polish import NINA (130 mins., 2019) tells the story of a relationship between a housewife (Julia Kijowska) who can't have a child and not only finds the proper surrogate (Eliza Rycembel) but falls for her at the same time. "Nina" comes to DVD on May 14th from Film Movement featuring a 16:9 (1.66) transfer, 5.1 Polish audio with English subtitles, and Lauren Wolkstein's short "Social Butterfly"…Also on May 14th, Film Movement releases BOSCH: THE GARDEN OF DREAMS (90 mins.), Jose Luis Lopez-Linares' documentary about painter Heironymus Bosch's oft-debated painting, produced in honor of the 500th anniversary of his death. Film Movement's DVD includes a 16:9 (1.78) transfer and 5.1 audio.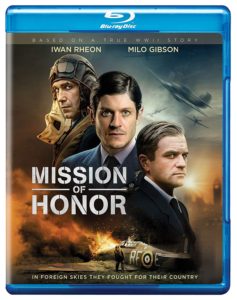 LEVEL 16 Blu-Ray (102 mins., 2018, Not Rated; Dark Sky/MPI): Low-budget independent film tries to channel "The Handmaid's Tale" for this chronicle of two 16-year-old girls about to be "purified for adoption" at a boarding school that's much more like a prison. Fans of dystopian future fare might take to this rough-around-the-edges Canadian production from writer-director Danishka Esterhazy. Dark Sky's now-available Blu-Ray includes a 1080p transfer, 5.1/2.0 audio, a Making Of, interviews and the trailer.
MISSION OF HONOR Blu-Ray (107 mins., 2018, Not Rated; Cinedigm): Modestly-budgeted independent film tells the story of Squadron 303, comprised of pilots who banded together over England to participate in the Battle of Britain utilizing mostly older RAF planes and secondhand uniforms. "The Battle of Britain" this film isn't, but "Mission of Honor" is a laudable attempt to retell the famous story, even if the writing and even the music is occasionally awkward. Mel Gibson's son Milo co-stars. Cinedigm's Blu-Ray boasts a 1080p transfer (2.35), 5.1 DTS MA sound, a featurette and Q&A with director David Blair.
MY SCIENTOLOGY MOVIE DVD (99 mins., 2017, Not Rated; Magnolia): Documentary filmmaker Louis Thereoux helmed and starred in this tale of the Church of Scientology – but, more precisely, how they denied Theroux entrance to its headquarters and later tried to turn the tables on him. Thereoux then attempts, with ex-scientologists, to find a way inside and expose the Church in one of the more amusing portraits of scientology, though this is an increasingly populated genre at this point. Magnolia's DVD of the BBC co-production includes a 16:9 (1.78) transfer and 5.1 Dolby Digital sound.
NEXT TIME: BOOM! with Liz Taylor and Richard Burton and other cult faves! Until then, don't forget to drop in on the official Aisle Seat Message Boards and direct any emails to our email address. Cheers everyone!